The 10 Best PBN Hosting Providers in 2022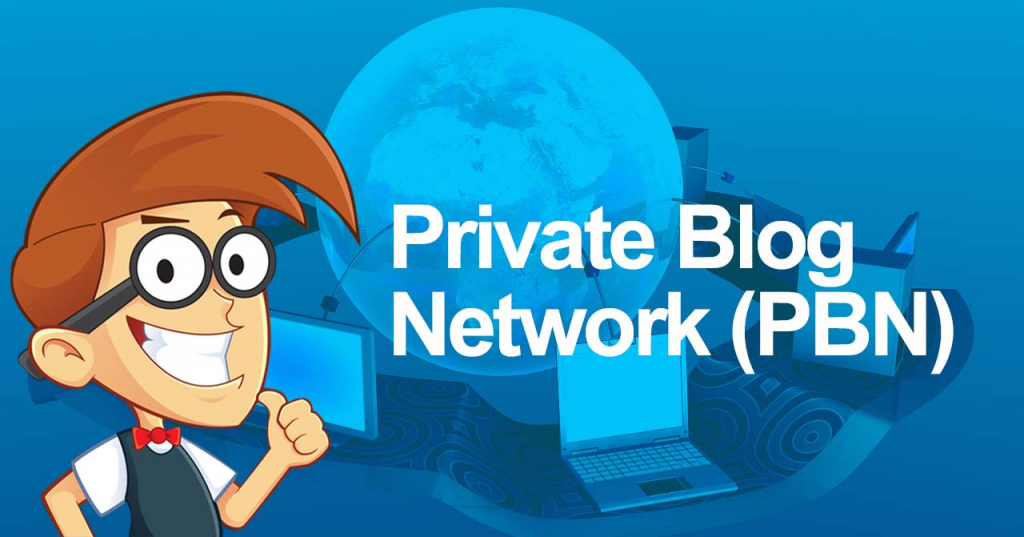 What is a PBN hosting provider? At a glance, this seems like a technical area, but it isn't. Understanding PBN networks can help you monetize your sites faster. Before we get into the best PBN hosting providers, let's briefly look at PBN hosting.
Private Blog Networks are an advanced and effective SEO method for ranking your websites. For a PBN to be useful, the blogs need to be hosted on different hosts on different IPs and must have no common identifiable properties (also called a footprint). The idea is that the blogs look like they belong to different people that link to your website because it offers quality information.
---
What is a Private Blog Network (PBN)?
It is a network built to improve the ranking of a money site. One way you can get a site to rank higher is to have incoming links from multiple sites.
This is usually done through link building, where you have to establish relationships with other site owners who are willing to link to your site and publish on topics relevant to yours. It can be time-consuming and often costs a lot of money. Site owners and bloggers usually request a fee to host a link.
If you can build your own network of sites leading back to your money site, you can get around this problem.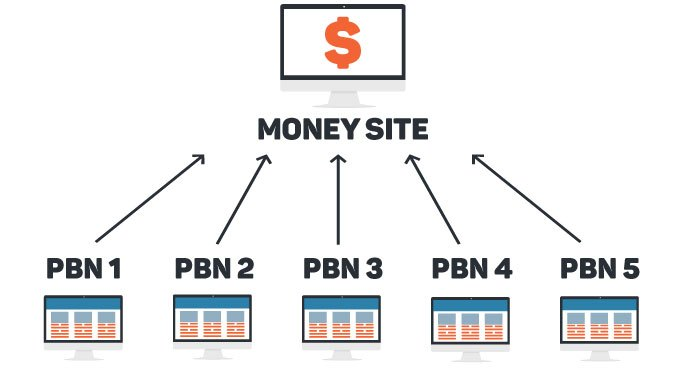 However, if Google knew that this is how you are ranking your site you would be penalized, and your money site might also suffer in the process. Most people get caught because they buy cheap hosting, where IP addresses sit next to each other and can easily be traced back to the same owner.
That's where private blog network hosting comes in. It allows you to establish multiple sites that cannot be linked to one another.
---
Why PBN Hosting?
It's not just Google you have to worry about if you run a PBN.
It isn't unusual to find bloggers with hundreds or even thousands of sites. Managing them can become a problem very quickly. Not only do they have to manage each account, they constantly have to keep a close eye to ensure the domains don't expire. It is extremely time-consuming, especially when you consider that blogging in itself is a full-time activity.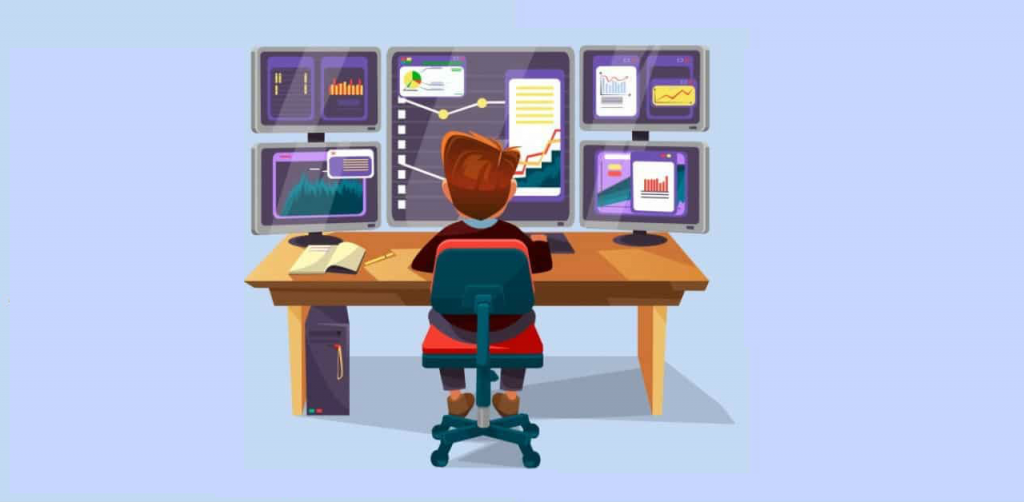 Some people opt for shared hosting plans from companies like Hostgator or Bluehost, but this has its own challenges when it comes to creating IPs for each unique domain. This approach also costs a lot more than PBN hosting.
Let's review the top software of 2022
---
Best PBN Hosting Providers of 2022
EasyBlogNetworks, EBN in short, is the most popular PBN hosting, and for good reason. It offers a large selection of hosts, a very intuitive user interface, autopilot maintenance, and all of this for a very competitive price.
EBN is the only service that does third party security audits, and has great review from known authorities in the industry for low deindexation rates.
It publishes more than 69 customer reviews from different sources, and boasts a 97.9% recommendation score.
In short, EBN is by far the best solution for building and hosting your PBN.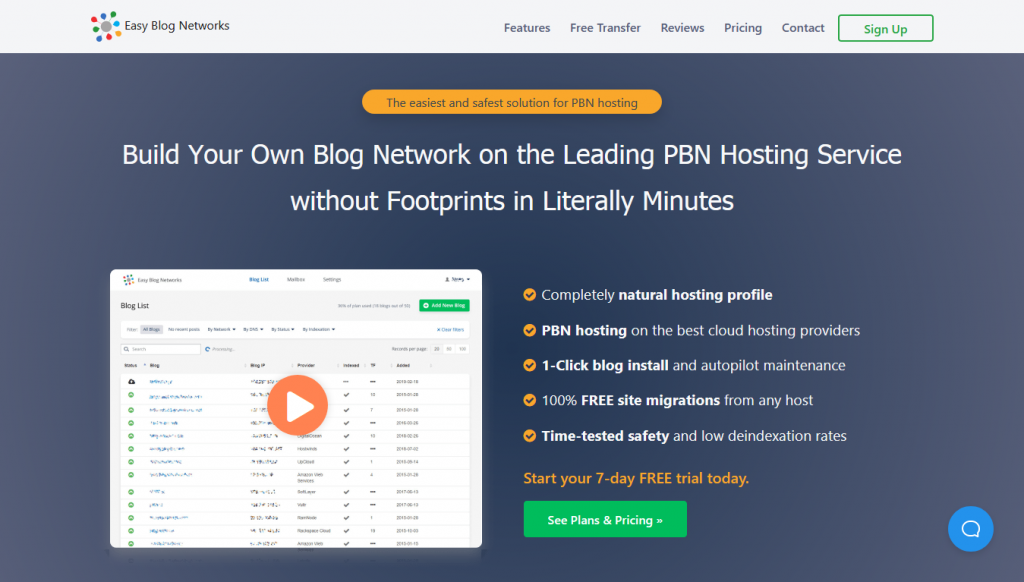 Key Features of EasyBlogNetworks
– Completely natural hosting profile
– Hosting on the best cloud providers
– 1-Click blog install and autopilot maintenance
– 100% free blog migrations from any host
– Time-tested safety and low deindexation rates
– 7-day free trial
---
PBN dot hosting started of as a HTML-only host, however they've modernized and now also offer WordPress installs. Their user interface is simple to use, and the prices are competitive. They have a unique way of hosting your blog network, and as such can be a good idea for diversifying your risk.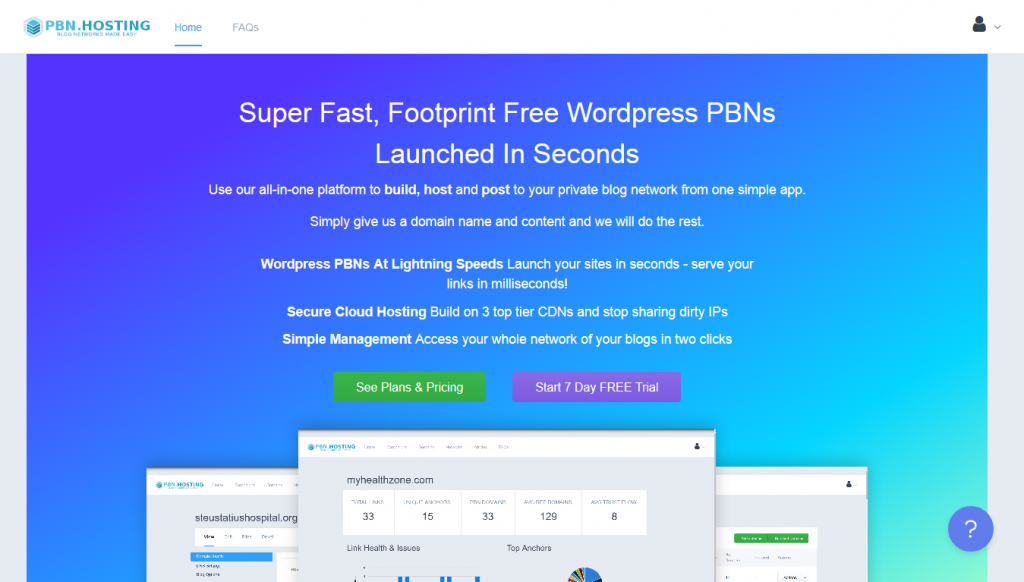 Key Features of PBN.Hosting
– Daily automated updates and backup
– Totally anonymous hosting across 6 top tier CDN systems
– Dynamic IPs that constantly change
---
Bulk Buy Hosting has become rather popular in recent years. Although it doesn't have as many bells and whistles as some popular services, it has serious benefits that some are happy to take advantage of.
It has accounts with all the popular hosts. Any sites you add to your account are hosted by over 40 companies, including namecheap, HostGator, stablehost and others.
It has an easy-to-use dashboard and setting up domains is easy. Just add to your dashboard, and it automatically creates cPanel accounts on one of the many services it uses.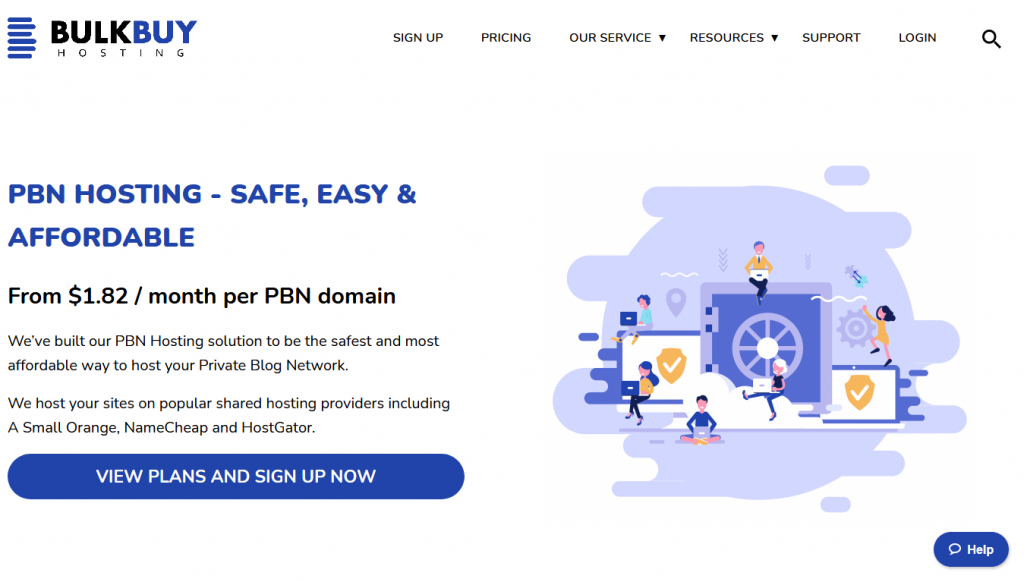 Key Features of Bulk Buy Hosting
The PBN site builder in the dashboard allows you to order sites built quickly. The dashboard provides room for order notes and you can customize your website.
You get free SSL certificates.
Take advantage of the email forwarding feature, and have your emails automatically moved from your PBN email to your primary email address.
The service gives you free migrations and daily backups.
A variety of integrations – Spamzilla, Slack, PBN Builds and Domain Comet make it easy to manage and scale your PBN.
---
iPage has been around for more than 20 years and hosts more than one million sites. It allows unlimited domains at very low prices, which makes it very popular. It offers one plan with many features, so you don't have to waste time comparing and contrasting different plans.
The shared hosting plans come with plenty of features, and you'll find it easy to manage your PBN.
The website builder makes it easy to set up sites. You can install WordPress and other apps with a single click, and you have a drag-and-drop website builder that you can use for up to 6 pages on each site.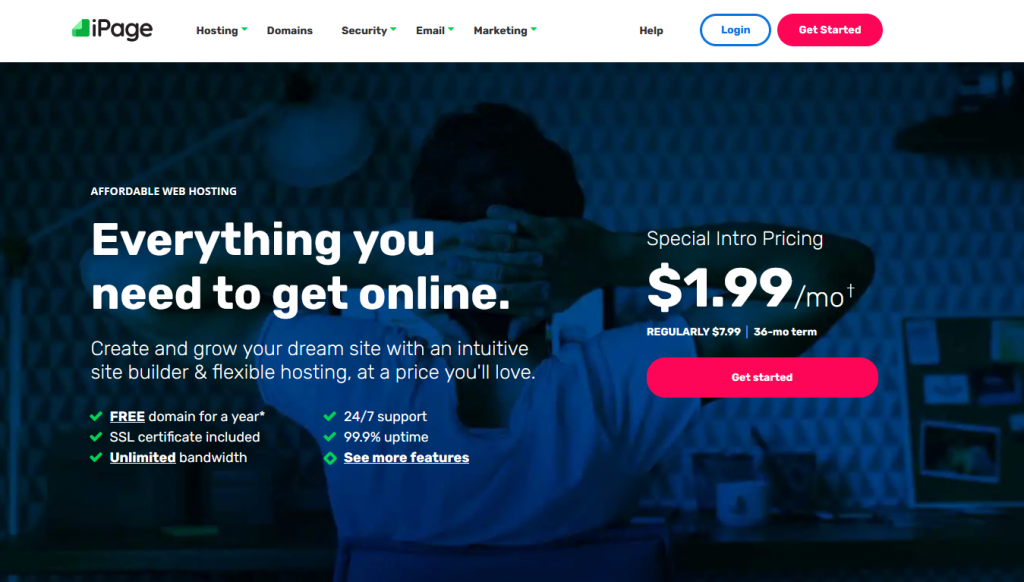 Key Features of iPage
The service provides unlimited disk space for your sites.
Scalable bandwidth means there are no data transfer limits.
You can host unlimited domain names under one account.
It also allows you to set up unlimited databases for your websites.
SSL certificates are free.
You get one-year free upon registration.
---
Reseller Club is owned by the same company that owns hosting giants Bluehost, Hostgator and SiteBuilder. As the name suggests, it specializes in selling hosting on behalf of other companies. 
It also has a fair PBN hosting offer, and many people choose it because it provides features at affordable prices.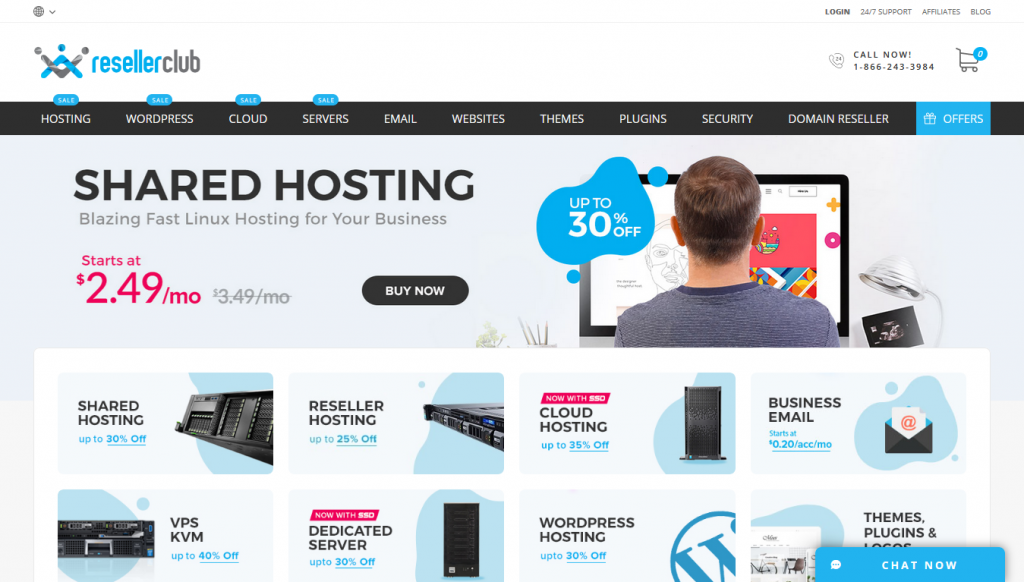 Key Features of ResellerClub
It comes with plenty of web design options, and there numerous development products available.
It comes with an intuitive user interface and setting up new sites is easy.
There are many plans you can choose from.
The website building package provides everything you need – a drag-and-drop builder, responsive site design, extensions, a content editor, and e-commerce enabled.
Each client gets free backup, and you can request a restore.
---
Host Papa has several things going for it; it is affordable, it comes with clean IPs, it has good uptime and provides excellent customer support.
The host uses the best cPanel software. With it, you can quickly and easily create and manage website and email accounts and see your website stats.
Host Papa works for PBNs because it takes a proactive management approach – accounts are monitored by an experienced team that flags and corrects problems before they affect site performance.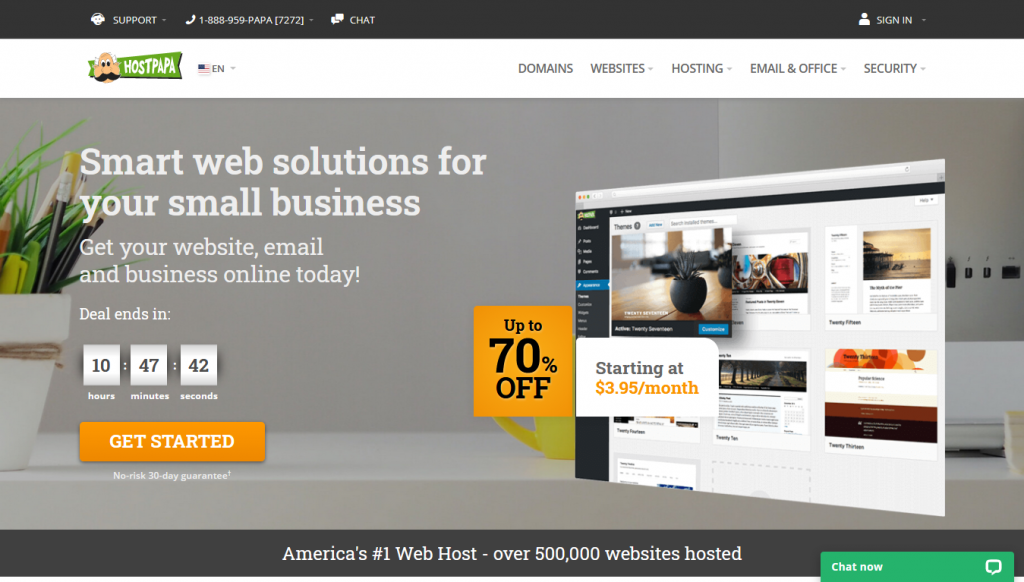 Key Features of HostPapa
You get a website builder, email, 24-hour support and a 30-day money-back guarantee.
The website builder is easy to use, and you can have a site going in minutes.
You get an unlimited number of websites, unlimited storage, unmetered bandwidth.
The service is fast and rarely has downtime.
You can scan sites daily for malicious activity.
It provides automatic backup for all sites.
---
One of the main reasons why people choose WPX hosting is that it hosts its own servers and has in-house security solutions. You can use this service to host multiple sites for the cost of one website.
However, it's only recommended if your sites have content good content that users can appreciate.
It is a client-centric PBN hosting solution, offering fast migration, an intuitive user interface, good DNS management and excellent security.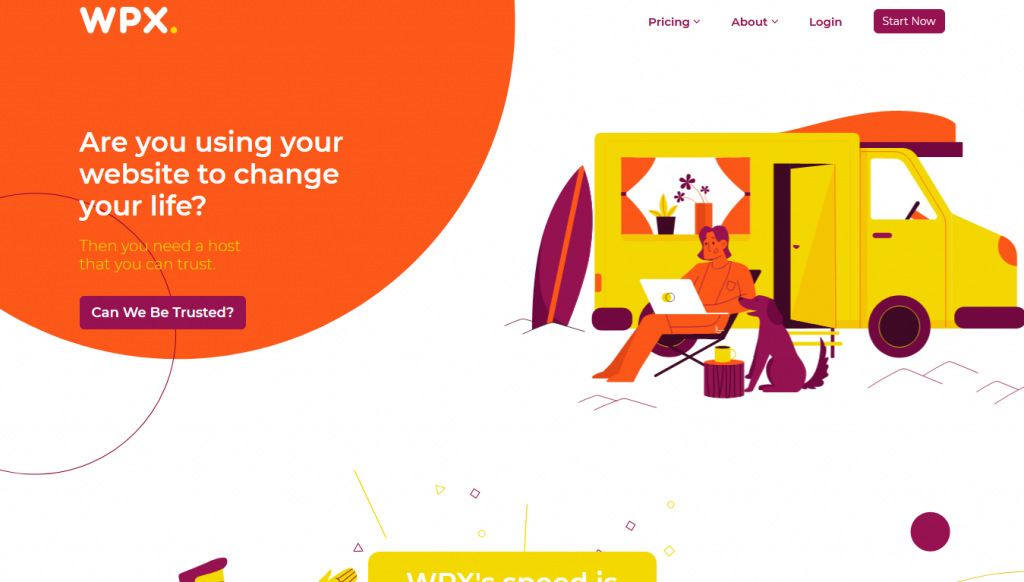 Key Features of WPX Hosting
It has powerful servers for high page load speeds and minimum downtime.
This host is an ideal solution for sites that get lots of traffic daily.
It works at enterprise level – the management team does the rest, and all that's left to you is to manage your blogs.
It uses HHD storage that offers excellent processing speeds.
You can host many websites under one account.
Sites are backed up daily.
Site migration is fast and free, and you also get free SSL certificates.
---
What makes PriorityProspect unique is its database of global IP addresses that you can choose from. This matters, because it provides additional stealth to your PBN.
This service has its own vetted domain market place, so each domain you get is clean, has good metrics and a healthy backlink profile. For those who would like niche-specific domains the team is available to help you find just what you're looking for.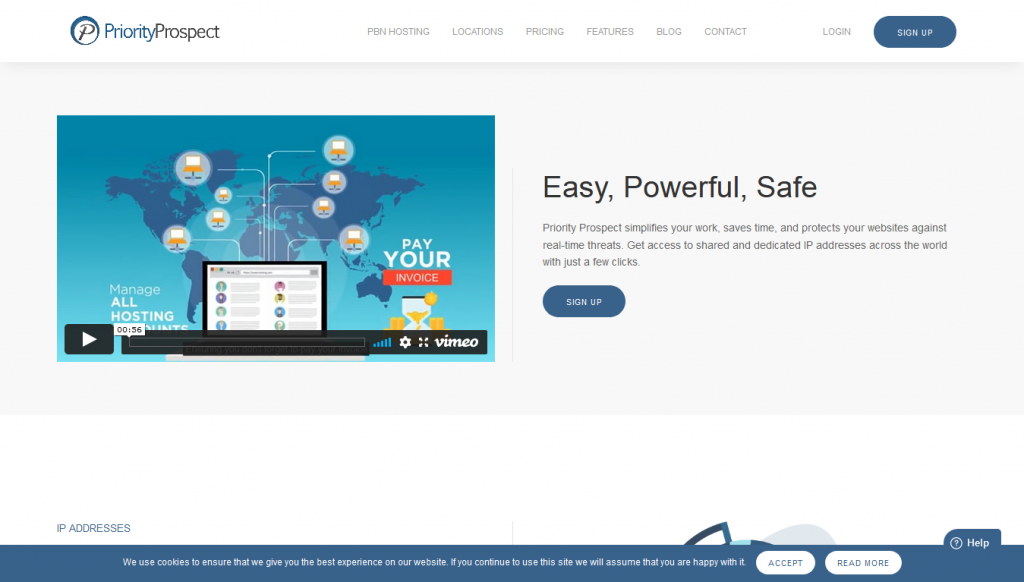 Key Features of PriorityProspect
As mentioned, they offer global IP addresses.
The cloud IP network allows for better security and website speed.
A cloud firewall blocks all suspicious traffic and keeps your PBN safe.
Additional security is provided by a Wall Application Firewall.
The custom-built dashboard is user-friendly. You can manage all domains and subdomains from a single screen, and the process to install SSL certificates is easy.
---
LaunchCDN goes on the simple premise of PBN hosting made simple. It works a CDN to minimize page load delays. Multiple server locations ensure that users can enjoy fast loading speeds.
The company offers PBN hosting, PBN packages and PBN site builds. It's a one-stop solution for anyone looking to build a PBN. They guarantee that Google will not de-index you because your sites will leave no footprints.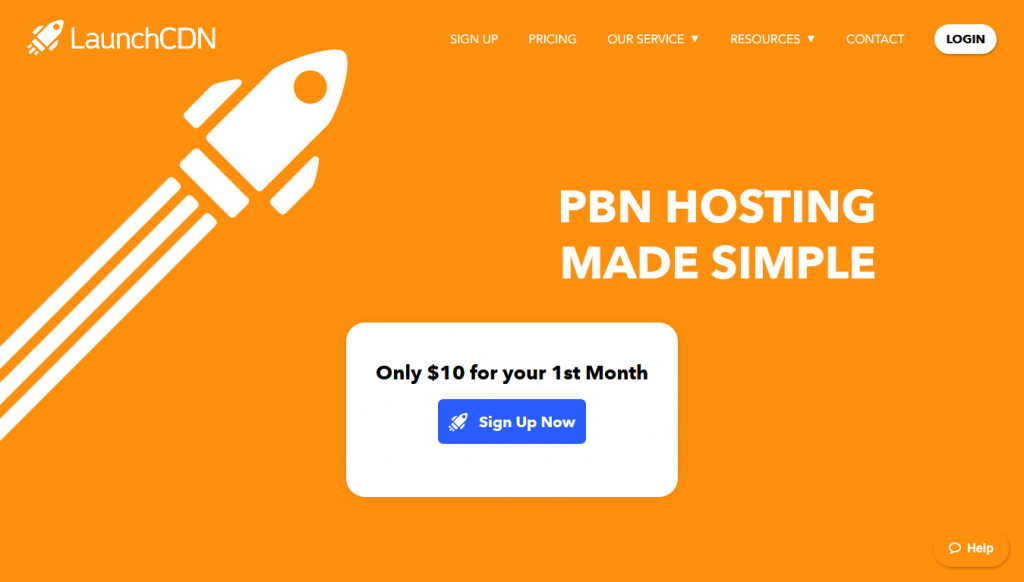 Key Features of LaunchCDN
You can choose from a selection of CDNs, including Amazon Cloudfront, Cloudflare, and MaxCDN. Your site will be sitting on the same servers as some of the largest and most popular websites.
The company takes steps to make sure that your PBN doesn't leave footprints.
It's easy to host and maintain a WordPress site on LaunchCDN.
You can set up domain emails to forward to your primary email address.
You get free SSL certificates and they are easy to set up.
The company offers good customer support.
---
GoPBNs unique selling point is that you can create and manage up to 1000 blogs without technical expertise. The company relies on some of the biggest server companies worldwide, so their speeds are good.
You can manage all your blogs from one location and the intuitive user interface means you don't need technical expertise to use this service.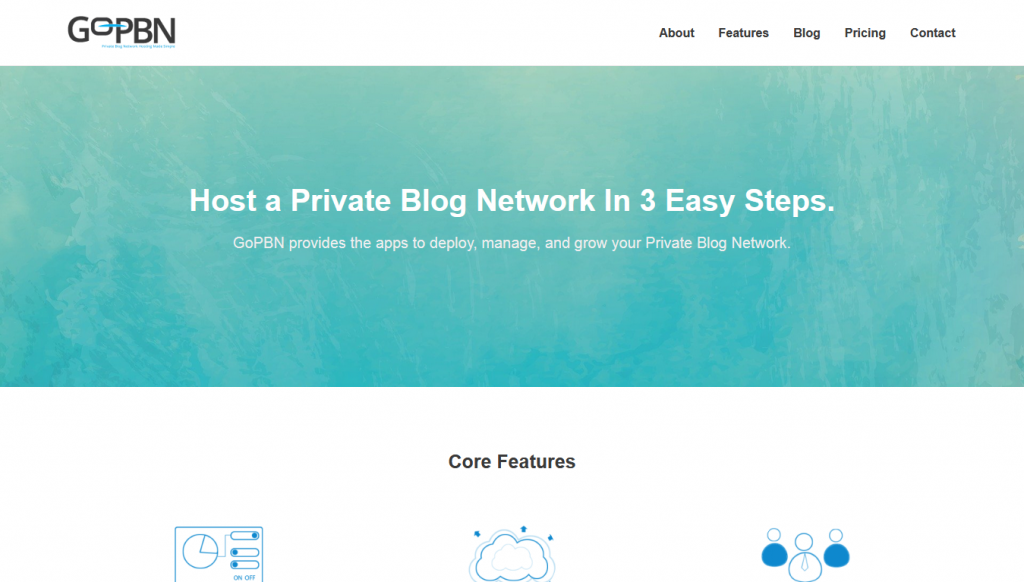 Key Features of GoPBN
Each blog is hosted on a unique IP address so there is no risk that you'll be de-indexed.
You have your choice of CMS. The company works with some of the world's best providers of cloud storage.
There are footprints, so Google will never link your blogs.
You can host your blogs from 12 different locations.
It has a friendly user interface.
Note: EasyBlogNetworks have acquired GoPBN, and they have announced that all users have been transferred to EBN.
---
Conclusion
There are many PBN hosting providers out there. Most people will choose one based on price – they go for those that charge a few dollars per month per blog. While this is an important consideration, it should not be the only one.
The most important is anonymity. The whole point of a PBN is to stay under the radar, so this should be your first consideration. It would help if you also looked at how many blogs you can host. Check how easy it is to set up and manage blogs – the best ones have an easy user interface and don't require any technical expertise to use.
Our pick is Easy Blog Networks. It has all the features one needs to run a PBN successfully and its services come at an affordable price.