The 10 Best Architecture Software
Technology has evolved- and with that, so has every industry and its related working methodology.
Modern architecture software is capable of performing every task starting from the initial design to interior decoration, building framework and a lot more.
These tools can be used to even detail every component inside a building. Further, it give you a highly accurate idea of what the finished infrastructure will be.
There is plenty of architecture software in the market- but choosing one that offers an intuitive UI along with capabilities for creating sophisticated designs is a challenge.
Build up a strong, dynamic & responsive portal for your architectural business. select the best one from the following post
Best WordPress Themes For Architects & Designers 2022
In order to help make your job easier, here is a roundup of some of the best architecture software along with what they have to offer.
Check all the services in detail as per your needs and choose service wisely – by the end, you'll know exactly which one is the right option for you.
---
GenieBelt is architecture software with project management capabilities.
It comes equipped with project overviews, live program management, instant analysis and reporting. Plus, you can share documents as well as an automated drawing utility.
All these tools are geared towards giving the user complete control.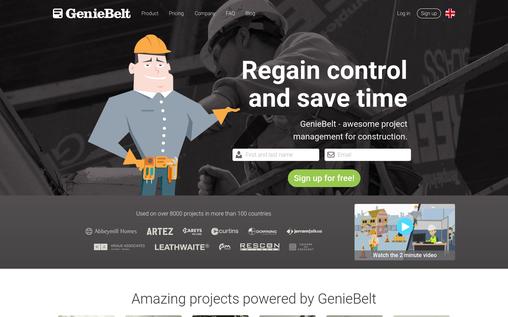 A few features of GenieBelt are as follows:
Program management in real time
Automatically constructs a detailed audit trail
Can be used on a PC, tablet or smartphone
Fast and simple signup
Projects can be run on trial plan as well
Price:
Paid plan begin from $50/month.
A simple yet highly functional user-interface with numerous capabilities make GenieBelt a very efficient architecture and project management utility.
---
ArchiCAD is among the first of BIM or Building Information Management tools launched for architects. It can be used for 2D planning as well as 3D modelling.
It has an efficient client management utility and can be used for drafting, manufacturing design data. Also, it can be used for project & proposal management.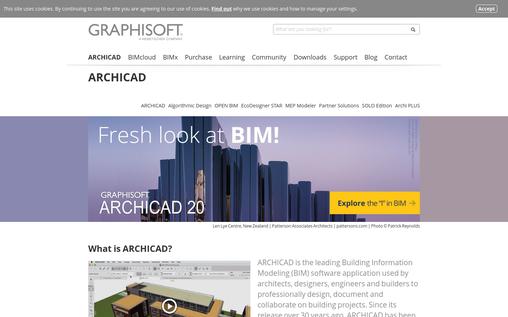 An overview of the features that come with ArchiCAD is as follows:
Ideal for 2D drawing and 3D modelling
Intuitive invoicing and billing interface
Powerful presentation and visualization tools
Task, project and proposal management capabilities
Cross-platform integration for the most file-systems
Price:
Starts from $330
With a host of features and a history that goes back to 17 years, ArchiCAD continues to be among the most preferred tools among architects, engineers and product managers.
---
progeCAD Professional is a CAD application that can be used for 2D and 3D designs. It works with the DWG files from AutoCAD versions 2.5 to the latest 2022 release.
It has commands like AutoCAD to make usage easier. Plus it comes with the ribbon interface, concept sketch, MultiCore support and a host of editing commands.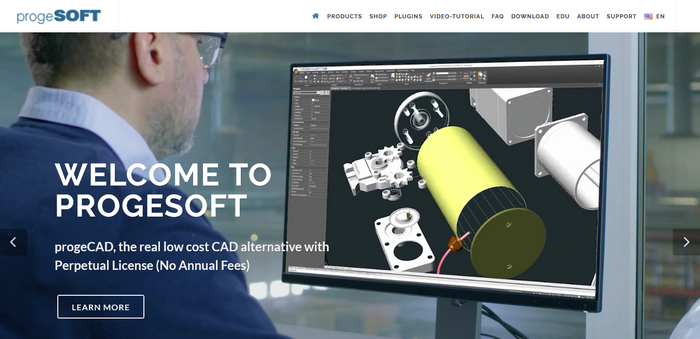 progeCAD professional tool is listed ahead:
Supports all DWG versions from 2.5 to the latest 2022 release
Compatible with PCG and ISD data files from 3D scanners
A host of new commands added to the latest release, include XOPEN, VPSYNC and others
Equipped with DWG converter to work wither other types of CAD software
For those looking to get an architecture software to compare with a range of tools across different versions, this is the best options.
---
SketchUP Pro is a software designed for 2D/3D drafting. It aims to provide better visualization, communication and planning of construction projects.
The software focuses on providing high details in the models, with precision as high as 1/1000th of an inch. This software can be used from the starting stages of the design process to the end of construction.
It encompasses diagramming, programming, design detailing and a number of other features into a single suite.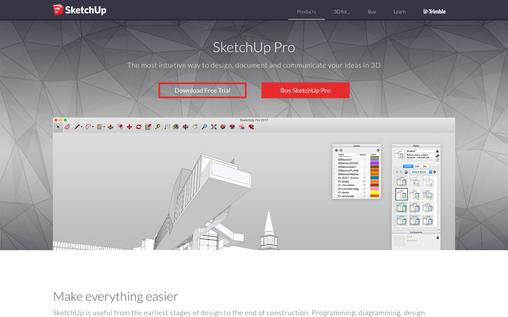 SketchUP Pro excellent features are:
Simple to use with an intuitive interface
It can generate 3D Models with high detailing
Animated walkthroughs to explore every detail of the tool can be included
Accurate and scaled diagrams of every design
Models can be imported from most major formats
Price:
SketchUp Pro costs $695 USD (Lifetime purchase).
It offers all the design and project execution tools that architects and product engineers could require. With a lifetime license and great support, SketchUp Pro is a comprehensive architecture suite for all needs.
---
ConceptDraw Pro is a tool that comes with a host of tools for drawing, along with templates. Plus it also has custom printing solutions, object libraries and file-export capabilities.
The software is highly versatile and has Live Object technology. This makes presentation and visualization even more effective. Concept Draw has been around since 1993. The only drawback of this tool is that it does not support 3D modelling at present.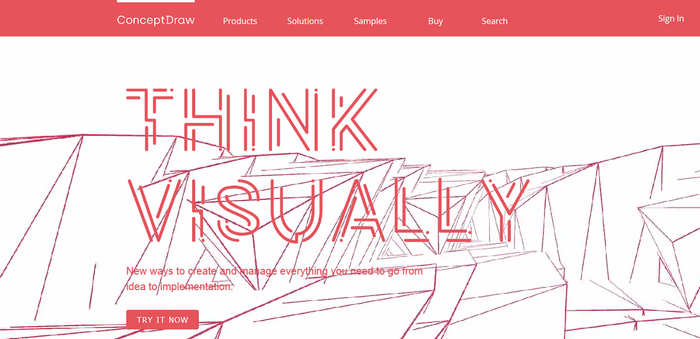 Features that ConceptDraw PRO offers:
2D Drawing and drafting capabilities
Project and documentation management
Presentation and virtualization capabilities along with Live Object Technology
Several points of integration to provide greater usability
Price:
ConceptDraw PRO suite license costs $299.
With a host of integration points, design and reporting tools as well as an intuitive interface. ConceptDraw PRO 10 is a highly versatile tool for design and virtualization.
---
Chief Architect tool is designed for architects, designers, professionals as well as remodelers. Even those who wish to do a bit of DIY home design can make use of Chief Architect.
It can be used on Mac, Windows as well as Android and iOS. The tool is can be used to make 3D home designs. It is exclusively made for residential home construction and design.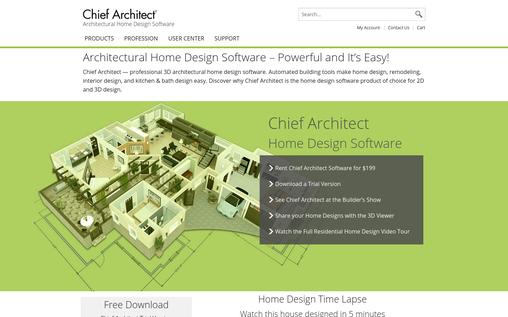 Features that Chief Architect comes with are as follows:
Made especially for residential home design
Easy to use for professionals and DIY users alike
Can be used for remodelling, home design, bath/kitchen design, and interior design
Training and webinars for easier learning
Price:
$199/month or $2695 lifetime
Chief Architect is primarily for home-design and remodelling requirements. The 3D viewer makes it easy to share designs, and the easy-to-use interface makes it the ideal tool for home users.
---
MicroStation is a CAD software that can be used for 2D as well as 3D drafting and design. Complete architectural package that provides capabilities of working with vector graphics elements.
It can be used on all Windows systems from OS NT/2000 and above. It can be used for modelling, visualization, and documentation of projects.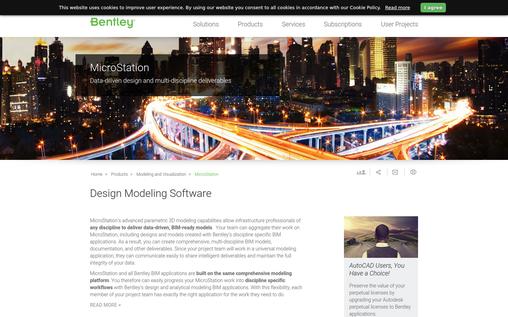 Features that come with MicroStation is given ahead:
Document, visualize the documented projects with high precision
2D and 3D PDF documents can be created with embedded i-models
Can be used for all types of projects, including industrial, residential and others
Project and Task management tools embedded
Price:
$5,234 for a lifetime license
---
SmartDraw is one of the simplest yet effective tools in drawing and creating designs.
You can use it to whip up a highly detailed plan of an office, home or the entire building.
It is very easy to use and comes bundled with several thousand templates for faster design and drawing.
There are also over 70 typesof diagrams, charts and other graphics that can be edited as desired.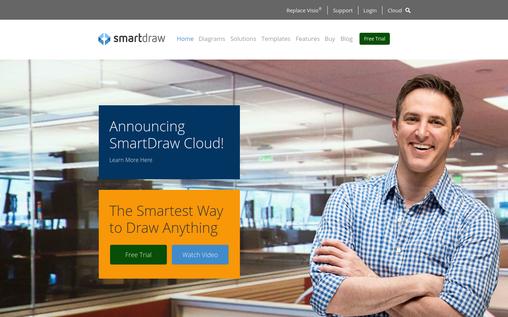 A few features that come with the SmartDraw software are as follows:
Easy and simple alternative to Office and Visio®
Large variety of templates, designs and formats to choose from
Formatting tools for better outputs
Integration with a host of tools including Office tools, Drive storages and SharePoint®
Price:
The Standard License costs $197, Business License costs $297 and the Enterprise Edition is priced at $497.
A simple and easy to use tool along with integration options with many commonly used applications, SmartDraw is an effective and efficient way to create all types of designs and drawings.
---
Envisioneer by Cadsoft is 3D home design software. It can be used by builders, architects, interior designers and even homeowners.
This is an easy-to-use utility that is trying to make the process of home building seamless and simple.
It is equipped with 3D BIM model design capabilities. Also, it has integration partners that allow for working between different tools and platforms.
There are a host of software-types to choose from under Envisioneer to ensure that you get the right one for your requirements.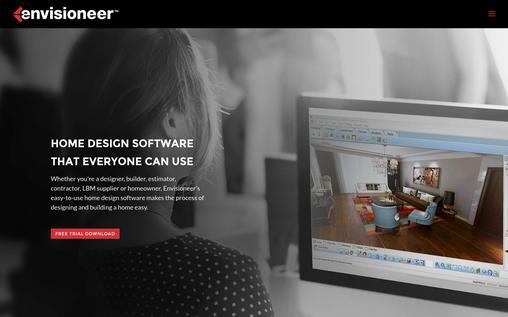 Envisioneer commendable features are:
A single unified workspace for all requirements
Integrate with Autodesk, 2020, Mitek, SketchUp and Mitek among many others
Choose the package that best fits your needs
VR Mode lets you immerse in the new space before actually building it
Price:
$99 for Personal Architect, $895 for Pro Architect, $195 for Building Essentials and $2,495 for Construction Suite.
With features that will work for everyone ranging from a homeowner to professional architects, Envisioneer is a suite of architecture tools for every design and construction need.
---
Arcon Evo is a software that aims to provide developers, & architects with a unified solution for all CAD requirements.
It can be used to create highly detailed plans, cross sections, elevations and a lot more. Equipped with 3D modeling capabilities to provide quick and effective demonstrations.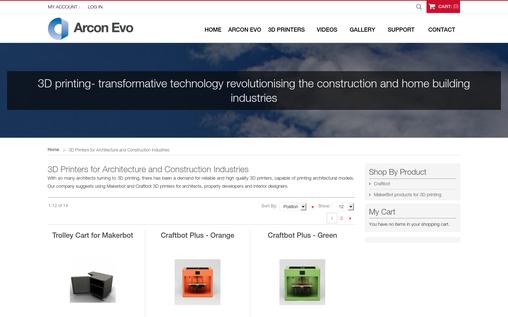 Arcon Evo superlative features are:
2D to 3D conversion interface
3D model design with finishing, furniture, decoration as well as lighting
Virtualization and presentation capabilities
Training support via online teaching and webinars
Price:
£550 or USD 685.
As a highly detailed design tool with 2D to 3D modeling capabilities, Arcon Evo is the ideal choice of architecture software for engineers, architects and building professionals.
---
Conclusion
There is a large variety in terms of the capabilities of architecture software. The above list of the 10 best architecture software covers almost all the aspects of construction and architecture. And from this, you can surely find the right software to fit your specific design and construction requirements.
With tools designed for all types of users- right from homeowners to building professionals, there is little that this list does not cover.
You can easily find the tool that meets your needs and helps you create the best designs with utmost sophistication. Start by matching your requirement set to what the tool offers, and you will be on the right path in no time.
You May Also Like:-