8+ Best Flipbook Software 2022 – Create Professional Flipbook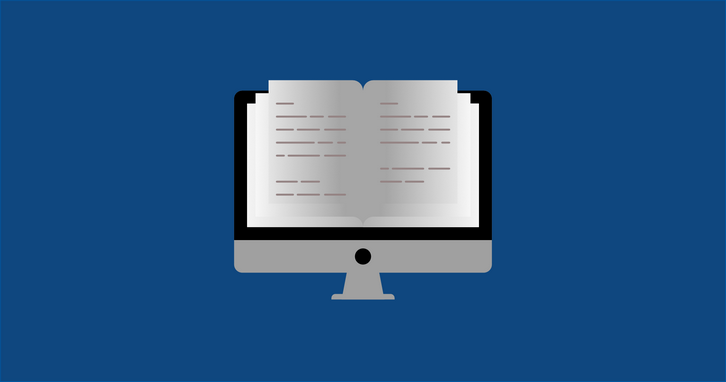 A flipbook is a professional and brilliant way of presenting a magazine or catalog in PDF format. By clicking the interface, users can flip through the book and the program reacts by an animated page turn.
The current use of flip books is to replace conventional digital PDFs and paper documentation, including reports, presentations, publications, catalogs, brochures, books and more. It provides a beautiful cross-platform solution for different devices and browsers.
In this blog, we are going to highlight some of the best online flipbook tools for publishing digital content. The list contains both free & paid software so you can choose what suits best as per your requirements and needs.
Take a look at the software and by the end you will find one that suit's your requirements.
---
The FlipHTML5 is a top-class flipbook publishing tool which gives you documentation that looks like books with real-life flips. This software is compatible with Mac and Windows. It's a popular flipbook tool that contains Google AdSense, interactive content and other features.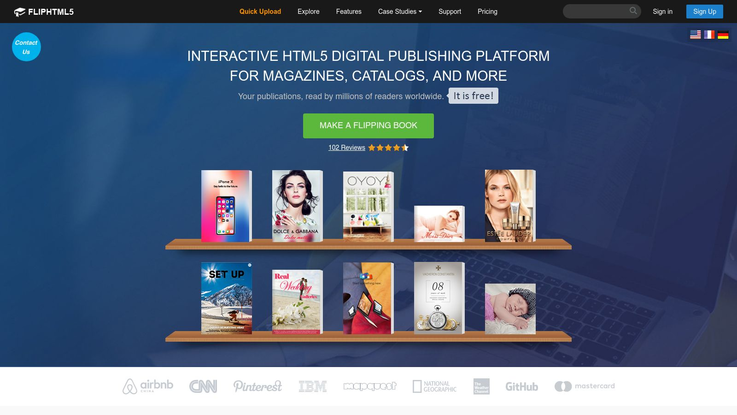 Features of FlipHTML5:
Easy and quick publishing- A user-friendly and intuitive UI of this software enables beginners to begin a flipbook project in a matter of minutes, and create the digital flipbook. The user is able to import a PDF document from a computer or upload it into a FlipHTML5 cloud.
Conversion to PDF- In just a few minutes with FlipHTML5, users are able to convert any PDF to interactive and incredible online publications. With FlipHTML5, creating online publications and flipbooks is extremely simple if users have a PDF.
Animator editor- You can add animations with its editor to enrich your digital publications for true interactivity. Everything in real time and without writing a single code line.
Auto-flipping mode– This mode appears to make your publications an excellent feature. You can read your publications easily by auto-flipping mode without turning the pages one by one manually.
Pricing
FlipHTML5 provides users with five different plans, which are different in prices depending on their services and features. Here is a quick overview of all the plans.
Pro- $15 / month
Gold- $29 / month
Platinum- $25 / month, $299 Billed annually
Enterprise- $999 with a one-time payment
---
FlipBuilder is a professional and innovative digital publishing platform, offering the best solution for converting static PDF files into a superb online flipbook. You can create an elegant digital journal online in several steps, as opposed to traditional print-based publications.
If you want to publish e-books, e-book distribution companies, journals, company flyers, event leaflets or annual reporting, newsletters, educational books, interactive books or sales slicks you can use the flipbook series.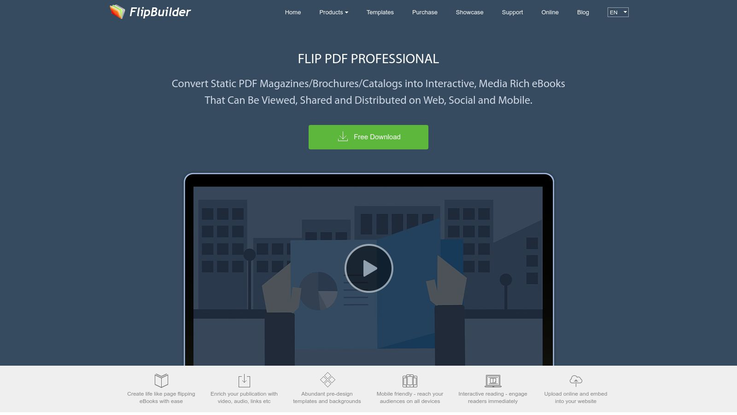 Features Of FlipBuilder:
Flip-image- Build page-flipping eBooks based on Adobe Flash.
Mobile flipbook version- For mobile devices such as iPad, iPhone, and Android, publish HTML5 mobile flipbook version.
Digital bookshelf- Collect flipbooks published for personal bookcase design. The easy-to-use user interface facilitates the publishing of digital versions.
No coding required- Create page flip books with no programming or coding capabilities required.
Cloud hosting- Offer your user a cloud hosting publishing solution that does not have websites (servers).
Multi-language- Offer the user interface with 11 switchable languages.
Batch convert mode- It supports batch convert mode for converting PDF to flipbooks or combining all files into a book.
Pricing
For current pricing & plans, please contact the sales of FlipBuilder.
---
AnyFlip is a leading digital publishing solutions technology provider that helps to convert your PDF into an interactive digital flip book in a few minutes. This flipping book software enables you with an elegant flip effect to convert any printed material into a unique digital publication. It allows delivering your content via the web or tablets, mobile devices.
Moreover, it allows you to create your different digital content such as catalogs, brochures, reports, newsletters and other marketing content with modern interactive features.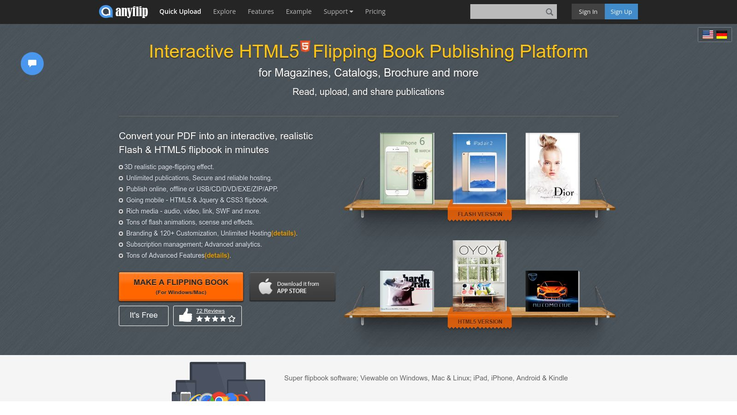 Features Of AnyFlip:
Design personal homepage- Design your homepage and share your own digital publications with others, including your customized banner and image profile on AnyFlip. AnyFlip is a good way for several authors to design and add content to the publication, and allow the publisher to customize the look and feel of the personal homepage.
Mobile-friendly- It enables readers to directly access digital magazines using Anyflip's HTML5 technology on their mobile devices. AnyFlip allows users to produce mobile flipbooks which can be viewed on portable devices such as iPhone, iPad, iPod or Android.
Amazon S3 powered- You can restrict access to your PDF content and protect it through its cloud-based solution. AnyFlip cloud uses Amazon S3 to store all your book information and personal information to secure all your data on the cloud.
Password security- Set a password to protect your flipbook. By adding a password to your book, you can protect your magazine against unauthorized access. Keep your magazine safe & secure!
Pricing
AnyFlip offers a free version with basic functions for users, which permit them to convert a PDF file into a flipping page book and 3 paid plans with advanced features. The plan starts from $15/month.
---
FlowPaper Zine is a pdf flip book viewer tailored for magazines, books, catalogs, and other high-quality print publications. Here, the layout in your publication is preserved and you can provide your readers with a realistic and maximized viewing experience.
The publishing software divides your PDF documents into small sections and optimizes the loading speed of your online publication even with very large PDF documents.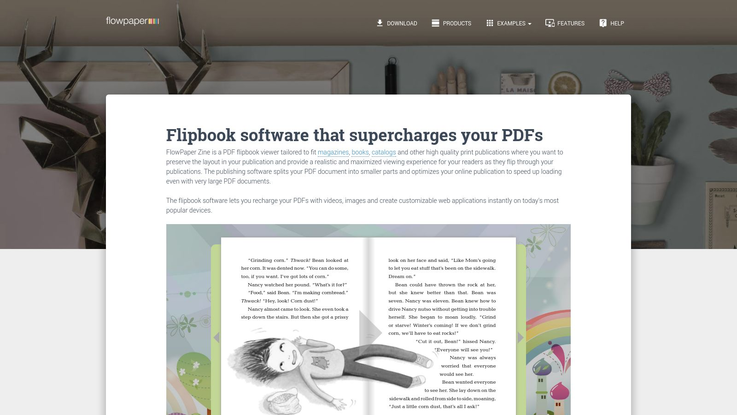 Features Of FlowPaper:
Advanced e-reader- The viewer supports all features of a modern online PDF viewer, such as page turn effects, searches, highlights & print, and accessed from any modern device such as an Apple iPad.
Zoom, pinch, and pan- Its latest version supports the entire range of touch-enabled displays and systems, including iPad / iOS and Android. The PDF viewer is paned, zoomed or pinned.
Add videos and links- FlowPaper Zine allows you to add videos, images, and links to any location in the publication of the flipbook. Resize your media and place them wherever you want them.
Analyze & track- Improve your statistics by gathering data from your PDF documents. A zine can track what page your viewers are reading, by adding a tracking code from Google Analytics.
Pricing
It provides a free trial in which you can turn your PDFs into online publications. Furthermore, to get access to other advanced features, you can buy their premium plans that start from $95 with a one-time fee.
---
Flipsnack is a wonderful solution for journal publishers who want to protect their content and yet making it easy to read. People worldwide select Flipsnack for creating, downloading, sharing or incorporating catalogs online.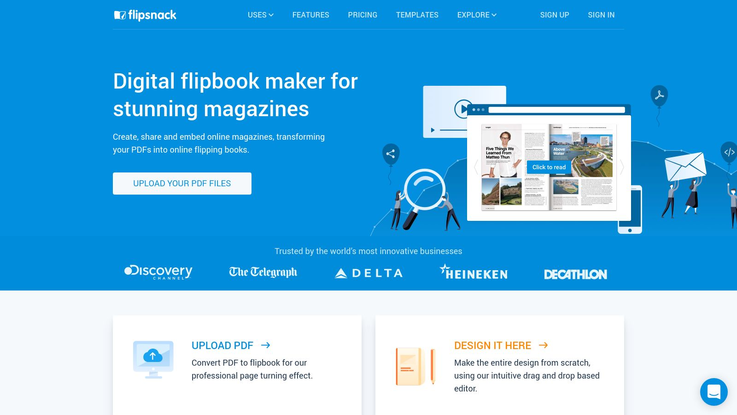 Features Of Flipsnack:
Advanced personalization- The software offers comprehensive customization options to help you monitor your publications, appearance, and functionality. They look personalized and can be perfectly integrated with your website.
Automated publishing- You don't need to set a reminder to publish your monthly or promotional magazine later. You can upload this version into Flipsnack and schedule the publishing date as soon as you have the final version of the pdf. Your flipbooks are published on the selected date automatically.
Collaboration- You get the whole team working together with multiple users. It's the easiest way in which drafts can be managed, reviewed and approved before the release goes live. Up to 10 users can collaborate under one master account with the Elite Plan.
Google Analytics- Collect all your website information and publication information in one place via a flipbook connection with your Google Analytics account.
Pricing
There are multiple plans provided by Flipsnack and the starting price is $14.00/month/user. Each pricing plan offers both monthly and annual options.
---
Turn your files into an impressive flip-book page using the PDF Flip. It helps you convert the PDF in minutes to a digital flip-book. It also allows you to add audio or even some of your flip pages to the flipbook.
you can simply import your PDF, and then choose theme templates from a variety of presets from the Flip Book.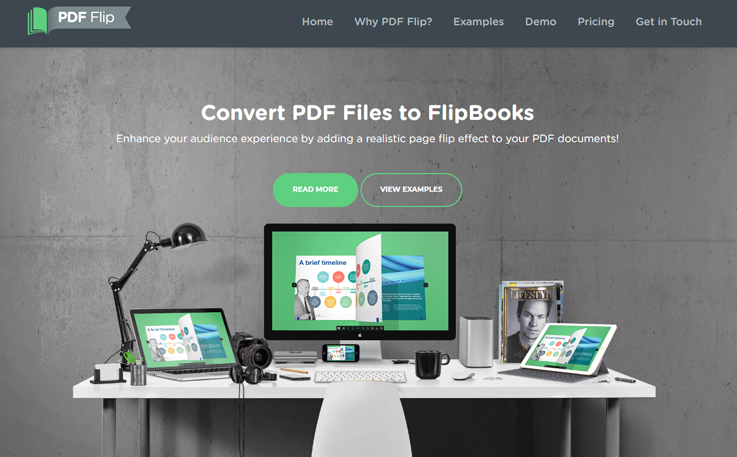 Features Of PDF Flip:
Minimal & light- The system of PDF Flip Page uses light resources to minimize the loading time.
Hosting on your site- PDF FlipBook publications can be hosted and managed directly on your website.
Free e-mail support- You get 3 months of free e-mail support and fast response time for every purchase.
Fully responsive- Powerful layout that automatically adapts to any screen size with its responsive feature.
Pricing
Offers two paid plans:
Basic Edition- $69, one-time payment.
Premium Edition- $89, one-time payment.
---
PUBHTML5 is one of the leading platforms for publishing digital content. It has changed the rules of publishing digital content and transforms them into rich media experiences. Further, it lets you convert printed materials into a unique digital broadcast with this digital publishing software.
This innovative publishing software allows you to supply the web, tablets, mobiles and social media channels with your content. The HTML5 software of PUB is ideally suited for publishing online magazines, catalogs, product catalogs, newspapers, corporate newsletters, annual reports, e-books, event flyers or any kind of print material of various pages.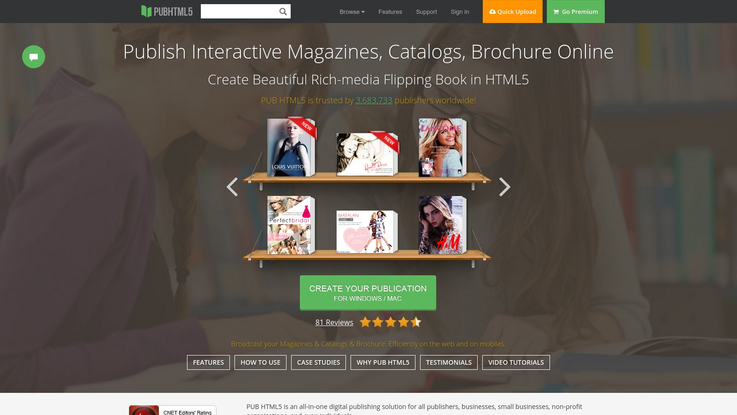 Features Of Pub HTML5:
HTML5 animation- Use the intuitive Animation Editor to design and publish animated and interactive content from desktop to mobile.
Cloud platform- The intelligent Pub HTML5platform uses the renowned PUB HTML5 cloud platform to provide secure, high-level user experience on every device. It reaches and delivers on a global basis and provides unrivalled reliability and safety to your customers.
Integration with Google AdSense- Pub HTML5 integrates Google AdSense in order to help you generate a new stream of revenue by displaying ads in the HTML5 release. Google AdSense ads are less intrusive, with more click throughs.
Create shoppable publications- Enhance your sales by linking your interactive publication to your online shop. Each product detail page in your online stores can be linked to a product. It makes continuing shopping on your site very simple for your customers.
Pricing
Pub HTML5 provides users with five different pricing plans along with the free trial. Here is a quick overview of all the plans.
Pro- $15 / month
Gold- $29 / month
Platinum- $25 / month, $299 Billed annually
Enterprise- $999, One-time payment
---
aXmag converts your existing PDF as an online magazine with a stunning 3D page turning effect. Further, it can stream across different devices, such as PC, Mac, iPad, Android phones, tablets, etc.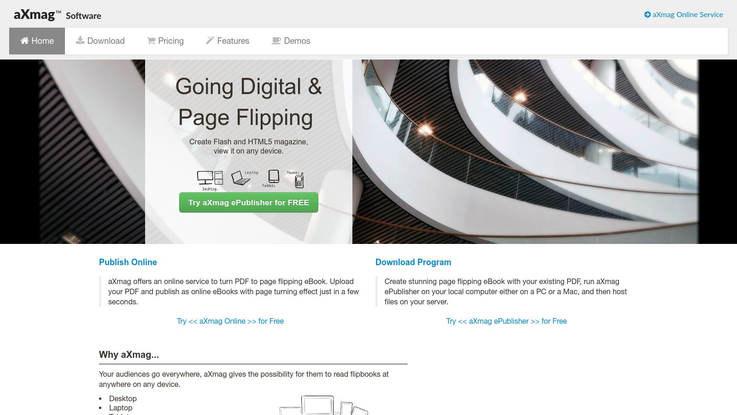 Features Of aXmag:
3D page turning effect- aXmag converts your already existing PDF into an online magazine with a magnificent 3D page rotating action, which then streams access via PCs, Macs, iPads, Android phones, tablets, etc.
Rich ebook content- aXmag supports rich content types, multi-font text, transparency images, PDF boots, hyperlinks, video clips, audio embedding, and PDF content which are well converted or can be inserted in the flipping book page.
Get your site quickly indexed- SEO-friendly online magazine that can be indexed and searched through Google's text information, it gets more information from your eBook and helps your potential public with the keywords.
Pricing
It offers multiple plans and the pricing that starts from $380 with a One time fee.
---
FlippingBook is a leading digital editor software in the world. It lets you create products that help your businesses get more from its digital content. This tool allows you to create not only books, but also catalogs, well-structured and incredibly looking documents, and even photo albums.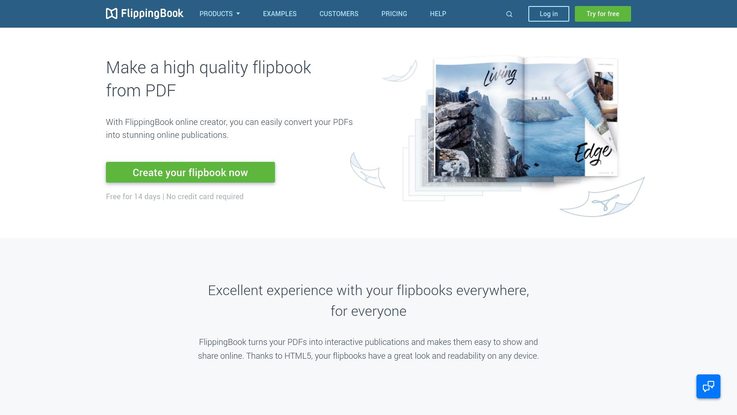 Features Of FlippingBook:
Easy browsing- You can easily browse your HTML5 flipbooks with the help of an interactive content table and text search.
Update with the same link- With just a few clicks, keep your flipbooks up to date. The content can be changed while the link remains unchanged.
Secure content- Set a password and delete sharing, printing and downloading options. Moreover, you can send reports and customer proposals in private.
Website embedding- Make your digital books a seamless experience by integrating them in your website.
Pricing
There are four plans provided by Flippingbook. And the starting pricing is $44 / month.
---
Conclusion
Here in this article, we have highlighted some of the best flipbook tools for publishers and indie writers. It is crucial to select the right solution for publishing digital content to a different business. So make sure your specific requirements are carefully considered while you choose software that best suits your business needs.
You May Also Like To Read