7+ Best Flowchart Software 2022 | Reviews & Comparisons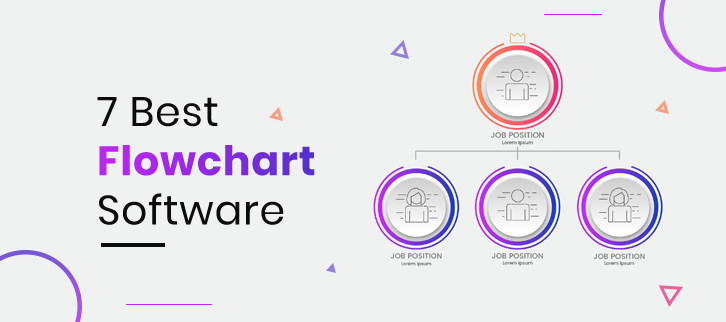 At old times, creating a flowchart to manage work was a difficult task because it required a lot of efforts. Nowadays it is much easier to create them, faster to change, and are endlessly reproducible. All the efforts to draw a diagram & flowcharts has now become easier and it can be done with flowchart making software.
| | | |
| --- | --- | --- |
| Service Name | Pricing | Unique Feature |
| Lucidchart | $9.95/Month | Database design tool, UML diagram, iPhone, Android & iPad mockups |
| Edrawsoft | $99/Year | Supports on Windows, Mac, and Linux. |
| Gliffy | $7.99/Month | Integrated with Jira & Confluence |
| Cacoo | $4.95/Month | Supports TypeTalk & Slack |
| Microsoft Visio | $4.69/Month | Supports XML, Binary & Macro Formats |
Flowchart maker software provides an editor for drawings and diagrams, where shapes can be dragged and dropped. In fact, these software offers you to complete all the flow of information, code execution of the software and a dozen other business-critical processes in clear diagrams. In this article, we'll give you information related to the best flowchart making software of all time. Here is the list of software that makes your work easy and attractive –
---
LucidChart is a cloud-based service that allows you to create diagrams of different kinds. It is also referred to as a flowchart software which allows you to create organizational charts, mind maps, prototypes, wireframes, etc. & supports different browsers and platforms.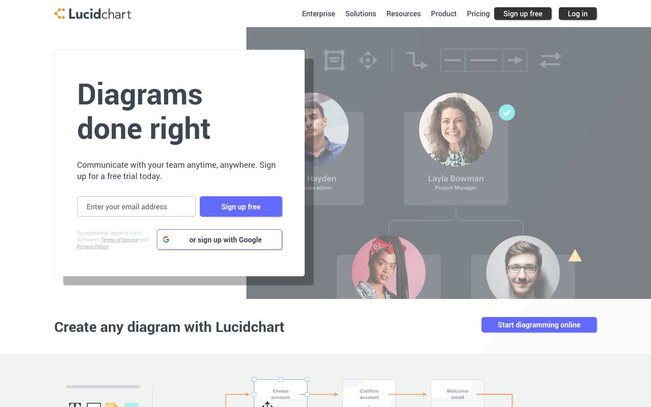 Features Of Lucidchart:
You can create complex diagrams, flowcharts & anything easily by making collaboration with your teammates anytime, anywhere.
Import the data from different platforms like Visio, Gliffy, Omnigraffle, etc.and save your time of recreating anything.
Improve security and manage user accounts with easy access to this advanced Lucidchart software.
Integrate G Suite, Microsoft Office, Atlassian, and other leading applications seamlessly to maximize your business productivity.
It comes with the advanced functionality of automated diagramming that makes your employees work more efficiently.
Pricing Of Lucidchart:
Lucidchart is a freemium service that offers you two different plans such as –
Free Plan – This plan offers you to make real-time collaboration with your employees by simply signing up.
Pro Plan – Buy this plan at $11.95/month and enjoy all the premium features of Lucidchart.
You can also buy an annual plan where you have to pay only $9.95/month.
---
Edraw is a comprehensive diagram software that makes it easy for you to create professional, corporate flowcharts, network diagrams, business presentations, database diagrams, etc. It provides you a great way to create visual diagrams in a variety of easy-to-understand styles for professionals, students, and teachers.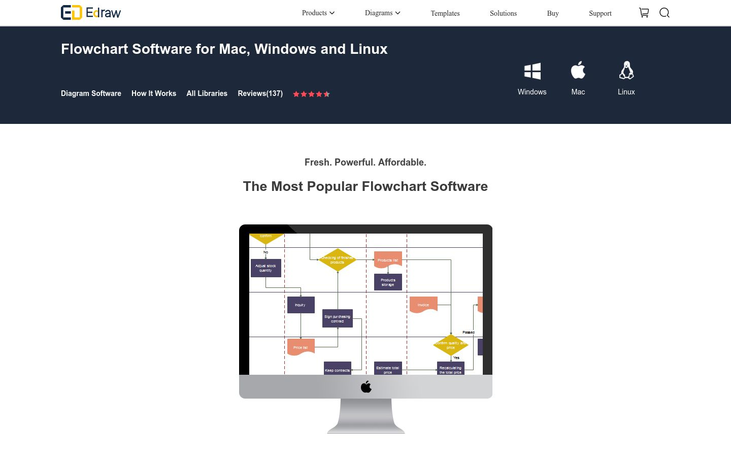 Features Of Edrawsoft:
It is a multiplatform designer program which is Mac OS X, Windows, and Linux compatible.
Rapidly create process flowcharts, workflows, etc. by using this vector-based flowchart software.
You can create different types of flowcharts by simply dragging pre-made shapes from the library panel.
Create professional diagrams by using abundant arrows, line styles, gradient fills, etc. with minimal time and effort.
This software works smoothly with other programs like Word, Excel, etc. through which you can export your chart data with a single click.
Save your flowcharts in various graphics formats like BMP, JPEG, EMF, WMF, PDF, SVG, etc.
Pricing Of Edrawsoft:
Flowchart maker comprises with various plans for single, multiple users and it also offers an academic plan with 30% education discount. These are the pricing plan of Edrawsoft with 3 different license options –
Single User – It starts with $ 179 for perpetual, $ 245 for a lifetime and $99 for subscription license.
Multiple Users – This plan also contains three license option in which perpetual cost you $750/5 users, lifetime costs you $999/5 users and the last subscription costs you $320/5 users.
Academic – In this plan of Edrawsoft you'll get 30% off.
---
Gliffy Diagram is one of the best chart making software that contains quality features for organizations of all sizes. It is a software for diagrammatical construction, editing, and sharing that file. Gliffy is designed particularly for those who require collaboration & provide sufficient information for simpler uses such as venn diagrams and org charts.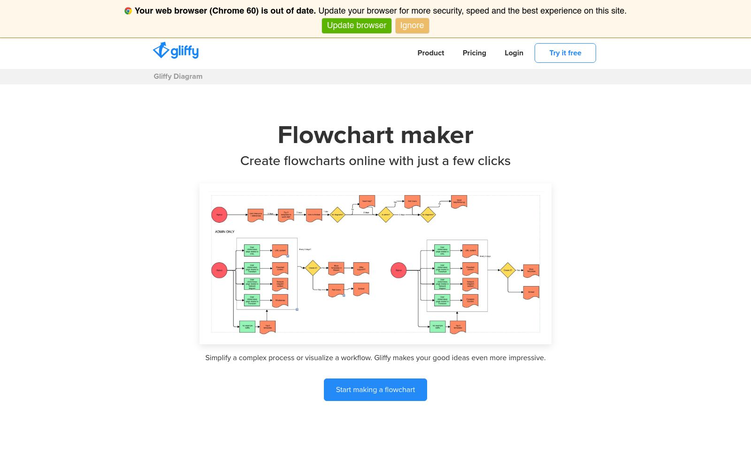 Features Of Gliffy:
This flowchart maker comes with a drag and drops functionality that helps you to create different types of diagram.
Use pre-built templates to create flowcharts, Venn diagram that makes your work easy and quick.
It comes with an ability to import Visio files and export images & SVG vectors from different platforms.
Gliffy flowchart maker is integrated with Jira tickets & Confluence docs that help users to make and upload diagrams quickly.
Pricing Of Gliffy:
This service offers you a 14 free trial option to explore & it also offers different plans for Jira & Confluence. These are some paid plans –
Single User – It starts from $7.99/month
Multi-User – Buy this plan at $4.99/ month for the team.
---
Cacoo Digital Graphics Manufacturer is a browser-based software that contains templates and a library of forms. The software offers a good collection of templates on wireframes, network diagrams, org-chart, Venn diagrams, Gantt-chart database diagrams to make these charts and diagrams efficiently. It enables multi-user editing and provides activity alerts in real time. Users may share their work with others via emails, social media, and connections. Cacoo has multiple export and integration options, embedded diagrams, history, etc.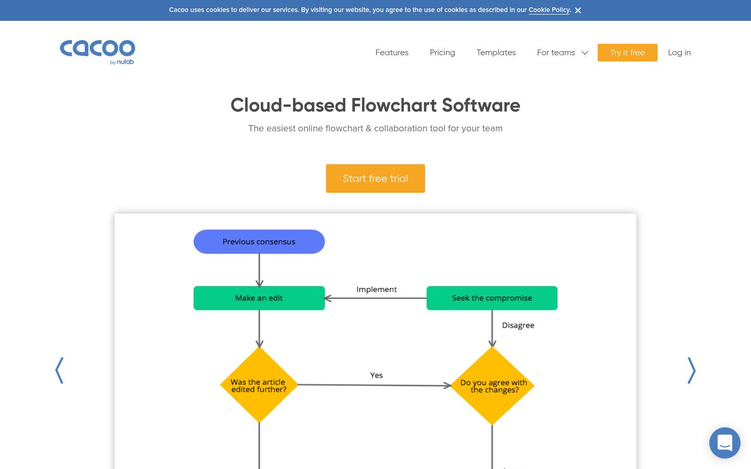 Features Of Cacoo:
It is the easiest flowchart and collaboration tool that offers you a variety of templates and shapes that makes you business & engineering work easy.
The key templates it offers are network diagrams, organizational diagrams, floor plans and a lot more.
Share chart files with anyone you want to and collaborate on your best ideas with them.
This flowchart maker offers you secure file management option where you can share organized project folders to everyone with individual security settings.
It connects to various cloud services, such as Google Drive / Docs, Confluence, Adobe Creative Cloud, Box, and Dropbox.
It works with TypeTalk and Slack to support information streaming that informs other team members when a diagram is updated.
Pricing Of Cacoo:
Cacoo offers 14 days trial period for those who want to check out the available features. There is also a free plan in which you can create 6 diagrams with limited sharing. The other pricing plans are as follows –
Team – When you pay annually for 3 users the plan costs you $5/month. Whereas, the monthly plan will cost you $6/month for the same.
Individual – Buy this plan at $4.95/month and get access for 1000 diagram sheets with unlimited sharing.
Enterprise – This plan comes with a price tag of $600/yr & can be installed on a private server of 10 users.
---
EDGE Diagrammer is an ultimate tool for diagramming that allows you with hundreds of predefined arrowheads and drag and drop shapes for defining styles. To establish your diagram methods, you can save your styles in diagram templates. EDGE Diagrammer has a whole range of flowchart templates, network templates, block diagrams, org charts, and more to start.
With minimum effort,  you can create flowcharts and similar diagrams by using this software. It connects lines to figures and attaches the labels to lines when you draw your diagram. And when you move objects it recalls these relationships and automatically adjusts them. The size of a shape can also be adjusted by adding texts.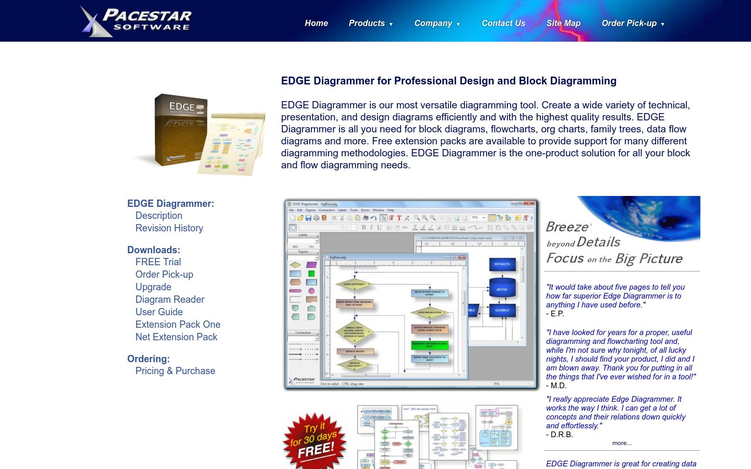 Features Of Edge:
A most versatile diagramming tool with an effective quality of creating a wide range of technical, presentational and design diagrams.
Create diagrams by styling shapes, adding a range of text styles and connecting shapes to intelligent lines that maintain fluxes and links.
It includes all the features like zoom complete, OLE connectivity, poster printers, import and export graphics.
Use alignment and arrangement tools to customize the diagram templates and make them more attractive.
Pricing Of Edge:
Pacestar Edge Diagrammer is an affordable tool that offers you 30 days free trial plan. It also offers a one-time purchase plan for individual and multiple users –
Individual – It is the most straight forward plan that comes with a price tag of $149.
Multi-User – The second plan to use this tool for your enterprise starts with the pricing of $999.
Other – To know about this plan, just click the below link button and grab the information from the service platform.
---
SmartDraw is an organizational and business-based flowchart making solution used for documenting, managing and planning processes. It is powerful and user-friendly so that users can create any diagram using SmartDraw, whether it's a diagram or a graph. You can use SmartDraw to create flow charts, residential & business plans, organization charts, CAD & engineering charts, electrical designs, and more. It automatically adds, moves, and deletes forms to many drawing processes. The app is clever enough for drawings to be reworked.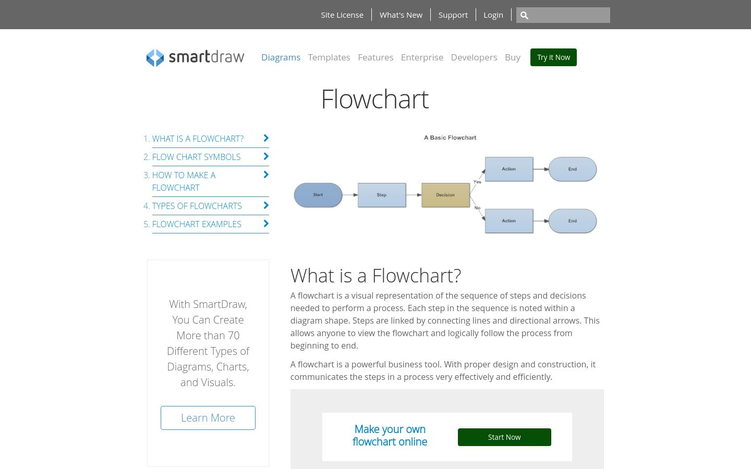 Features Of SmartDraw:
Create professional quality diagrams by adjusting its shapes automatically with the help of intelligent formatting engine.
SmartDraw is integrated with tools like Microsoft Word, Excel, PowerPoint, or Outlook through which you can easily send diagrams to various platforms with different graphics formats. It also comes with an integration of cloud storage apps like Trello, Jira, G Suite, etc.
This tool comes with smart engineering power of AutoCAD that provides drawing options like no others.
It contains 4500 templates for 70+ diagram types that allows you to make flowcharts and diagrams for multiple niches like engineering, health care, software design, etc.
Export and import diagrams from Visio.
You can collaborate & share your files anywhere with non-SmartDraw users also by using various file sharing apps like Dropbox, Box, Google Drive or OneDrive.
Pricing Of SmartDraw:
You can experience all the features of SmartDraw by purchasing it with these plans –
Single – This one-time purchase offer costs you $297 for a limited period of time.
Multiple – You have to pay $595/year for this plan in which you got access for 5+ users.
---
Creately is a collaborating and simplistic diagramming tool that made diagramming simple so that your thoughts can be easily converted into images. It supports various types of diagrams from flowcharts to advanced infographics.
With Creately, if you have a modest diagramming needs, you can even start free on the Cloud or always use the solution without cost. In addition, you can look forward to complete, easy-to-use packages in your accounting ledgers if you need more than the cost-free version.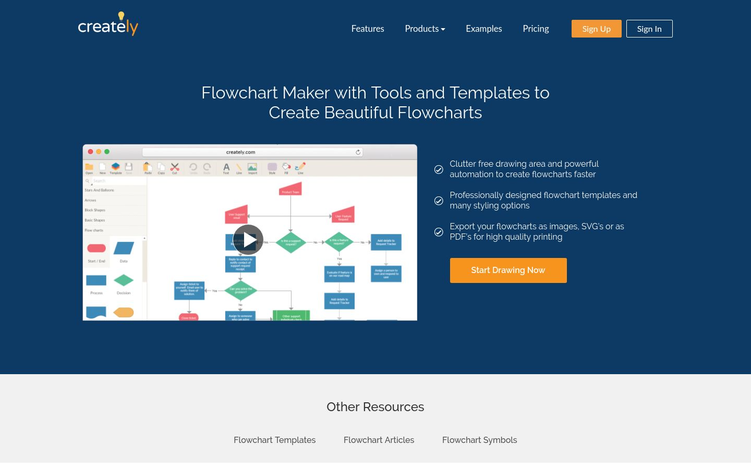 Features Of Creately:
Create & align diagrams of different shapes, colors, themes and size with the help of its drag & drop functionality.
This tool comes with advanced feature of smart shapes & connectors that adapt shapes & links intelligently according to the diagram or its neighboring shape.
You can collaborate with anyone by sharing links & files through emails and provide access them to see or to edit a file as per your choice.
Export & import diagram or PDF files on Creately from other platforms like Visio.
Work online or offline on your desktop or mobile by enabling its synchronization and utilize 100,000+ diagram examples to create a new one.
Similarly, like all other tools, Creately also works with Chrome, G Suite, Jira & Confluence.
Pricing Of Creately:
You can create diagrams and enjoy limited features of Creately by simply signing up on Free public plan. Creately also offers two other paid plans for users –
Personal – Buy this plan at $5/month and get unlimited diagrams & projects.
Team – This plan starts from $25/month in which you got all unlimited features for 5 users.
---
Visio is a powerful tool for creating and editing diagrams. It was one of the first products with intelligent drawings and presently it retains the ability for the tool to restructure a drawing smartly as the user moves objects. Its obvious big sales point is its part in the Office 365 suite which is designed to be seamlessly integrated with the other Office tools. With Visio, Microsoft offers four options: two online and two standalone Windows applications.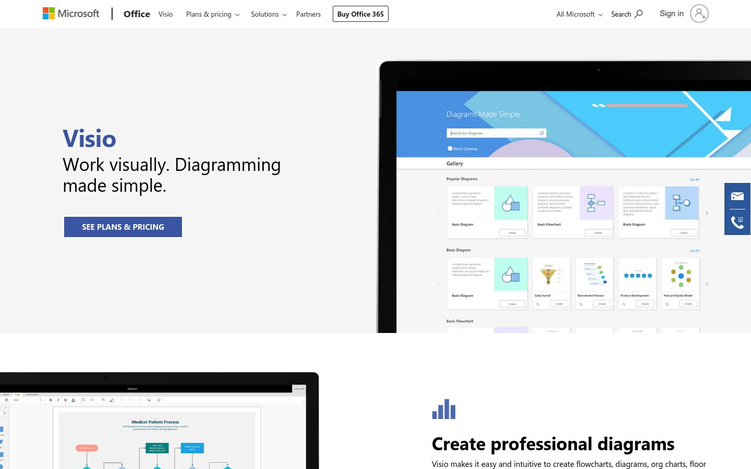 Features Of Microsoft Visio:
With Visio, you can easily create first-class illustrations with commonly used diagrams and rich sets of form.
Online users can view and work together in the file uploaded on SharePoint Online or OneDrive by sharing diagrams and entering a comment.
Visio diagrams support different types of file formats like XML, Binary & Macro.
You can gain insights by connecting flowcharts & diagrams to real-time data.
It consists of a slider which allows you to zoom in. Also, the Pan & Zoom function can be utilized to zoom into a diagram region.
Pricing of Microsoft Visio:
The pricing starts at $4.69/month.
---
Textografo is a tool designed for business analysts, product managers, UX designers, and other industry-leading users. It provides versatile performance and intuitive interface to make it easy to create mind maps, flowcharts, decision bodies, organizational charts and a range of animated and static diagrams for users. The platform employs powerful technology Text-to-Diagram, which allows you to create text-by-text diagrams to be generated with the use of keywords & hashtags.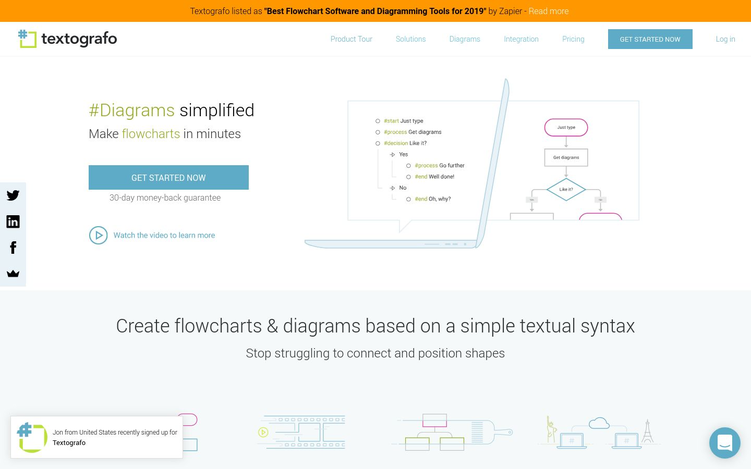 Features Of Textografo:
It offers a simple text syntax which enables you to create lightning-speed diagrams and flowchart.
This software includes decision trees and exciting process variability that allow you to build interactive decision-making bodies for phone written documents, troubleshooters, diagnostic systems, process guides and more.
You can communicate efficiently with the project stakeholders by sending clear visual content rather than the boring explanations for a memo.
Textografo lets you create text-to-mind maps to break the linear barrier. It takes the best of your team by integrating the conventional methods with modern, flexible and shareable techniques.
Pricing Of Textografo:
Experience the features of textografo by purchasing it with these plans:
Essentials – The plan starts at $8/month in which you get 5 private diagrams & 50 shapes with 30 days money back guarantee.
Premium – In this plan, you get all the amazing features with unlimited quantity at $14/month.
---
Conclusion
In this article, we have examined and compared the highest flowchart program. As we know most of them offers a free trial so you can try them and choose one of the best flowchart makers that fulfill your all needs and requirements.
You May Also Like: