The 11 Best Catering Software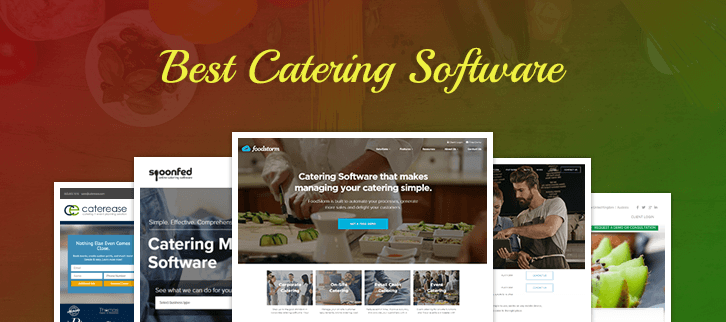 Catering management is not an easy task but it can be made simpler with an ideal catering management software. Catering software is specially designed for agencies providing catering services for events and occasions.
Such software helps in managing every aspect of your catering business such as orders, billing, invoicing, employee scheduling, hospitality groups and more. With it, you don't need to waste your time on spreadsheets for staff management and cost tracking as this software can do it all for you.
Since there is so much catering software out there, it might be time-consuming and very confusing to choose the right one for your business.
So, to help you, we have the list of 11 best catering software curated and defined right here for you. Let's explore each one of them.
The Best Catering  Software
Compared (in full)
Check all the services in detail according to your requirements and choose wisely. By the end you will know which one is most suitable for your business.
---
PeachWorks helps you to efficiently allocate your resources while you're providing service in a restaurant. With Peachworks, you can easily manage your recipes. It automatically calculates theoretical inventory and nutrition information. You can also customize or make your own apps to meet your needs  all while leveraging PeachWorks' auto-mobilizing benefits, interface and reports.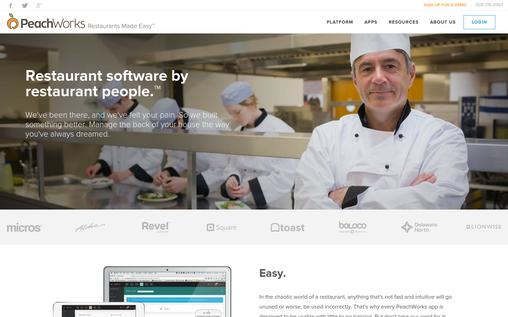 Key features of PeachWorks:
You can count, report and keep track of your inventory by combining it with POS integration and recipes.
You can create employee schedules with PeachWorks by complying with the necessary laws and company policies.
PeachWorks allows you to create a detailed checklist and you can also get real-time alerts on a task's progress.
The team app lets you distribute information, encourage team collaboration and get feedback.
You can slice and dice all the important data like inventory, employee scheduling and others with the advanced reporting tool.
---
Flex Catering is a web-based catering management software. It's an all-in-one solution for events and corporate catering. It's complete set of features covers everything from taking orders online to integration with accounting software.
It was built for efficiency so you can easily manage your events, orders, kitchen production, customers and more. Flex Catering's main advantage is the simple, great looking interface.
In addition, it has the most advanced online ordering module in the industry. From a production perspective, it allows you to take orders with multiple delivery times, create comprehensive packing slips, prep sheets and dispatch reports.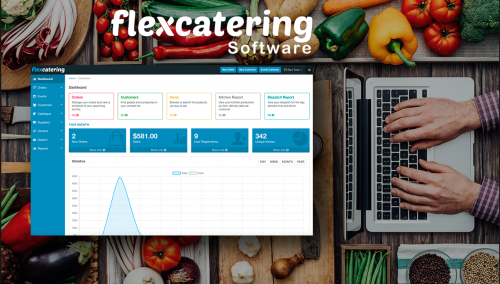 Key features of Flex Catering
Process orders online or over the phone.

Order workflow with beautifully designed quotations.

Allows your customers to order online anytime, anywhere.

Comprehensive event management with proposal, running schedule and staff management.

Easy to use calendar for events and orders management.

Complete reporting provides the most advanced production capabilities and insights about business performance.

Management level dashboard.

Secure credit card facility.

Third party integrations such as MailChimp, Xero, Quickbooks, Stripe and more.

Multiple kitchen locations so you can manage multiple branches in one place.
---
CaterTrax is a web-based catering management software that easily manages your kitchen, customers and hospitality operations.
The TRAX platform enables you to streamline orders and operate multiple lines of business efficiently. It allows you to build comprehensive packing slips, preparation sheets and routing sheets. With this software, you can offer your customers an easy and reliable interface for navigation.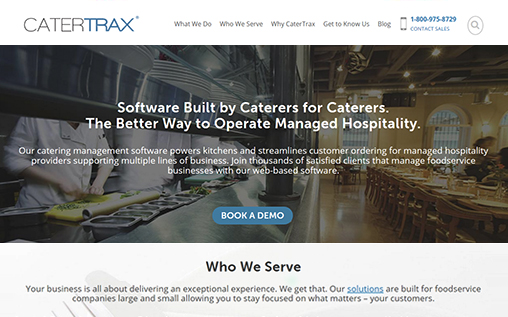 Key features of CaterTrax
You can see order history, order confirmation and you can also track the order.
Allows your customers to order anytime, from anywhere.
The ordering option can be modified for customers and staff.
This software automatically generates an invoice for you to email to your customers.
You learn insights about your customers, create loyalty programs and track  customer satisfaction.
You get various marketing tools to distribute coupons, send seasonal promotions and engage with your customers via social media.
The credit card and merchant processing can be done in a single system with CaterTrax.
---
Spoonfed is an online catering management software for caterers, sandwich retailers and franchises. It offers loads of features such as ordering, route planning, production planning, online invoicing and lots more.
You can empower your customers with Spoonfed. It provides them with specific menus so that they can order online. The order is automatically processed into production and delivery. The orders can be added or edited anytime by the customers.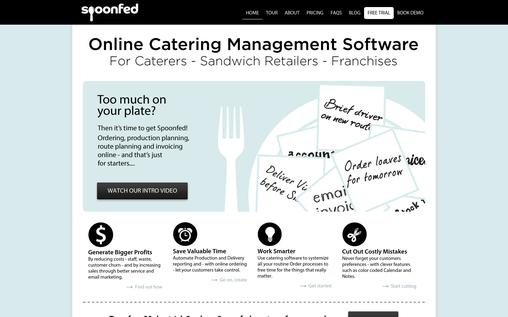 Key features of Spoonfed
Get online ordering processing for your customers with a back office system to quickly process email, phone or fax orders.
You can view all past and current orders of each customer in one place.
All the production requirements can be easily viewed in Spoonfed.
A delivery schedule and notes are automatically produced for drivers for fast delivery.
It is possible to be in control of an unlimited number of branches as you can set branch permission, user rights, specific menus, stocks and more for each branch.
The business intelligence tool allows you to monitor staff and sales performance, track stock, popular menus and more.
Never forget your customer's preferences with a color coded calendar and notes.
It integrates with popular email service providers like MailChimp for email marketing.
It offers a free trial for 30 days.
The price is based upon cost per order and the cost per order gradually decreases as the order increases. The starting price is $0.75/order up to 200 orders.
---
Caterease offers both catering and event planning solutions. The simple interface lets you easily get started. It offers a web-based and desktop version.
You can create a custom contract and email it to your customers with the help of Caterease. The scheduler tool allows you to view all the important events in the upcoming days, weeks and months. You can also create a separate schedule based upon your sales representative, category and more with Caterease.

Key features of Caterease
You can easily create detailed events by creating custom fields, editing them and more with Caterease.
You can create standard menus, client-specific menus and specific meals according to your needs.
You can keep track of each activity, event and others with its intuitive dashboard.
The automatic notification feature notifies you via email or text about the latest changes in the plan or schedule.
The employee-manager lets you view the detailed list of employees with their information and their schedules which allow you to choose the right staff for each event.
You can either choose a desktop package or hosted package with Caterease. For desktop the starting price is $1295 and for the hosted one you pay $65/month
---
Pxier catering is a hosted software that's full of exclusive features. Some of its biggest clients are Radisson Hotel and Choice Hotels.
This software is designed to control your catering business needs such as customer management, invoicing, payments, contracts, customer feedback and more.
You can get started with Pxier without any setup cost and easily create standard and specific menus according to your needs.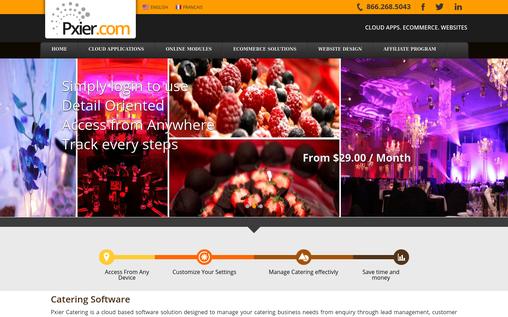 Key features of Pxier
Allow your customers to book request online through your website.
Get your catering contracts instantly signed by your customers electronically.
The services and rental feature allows you to build a master list of all products and services you would like to offer to your customers.
A professional invoice with detailed information can be easily created and emailed to your customers with Pxier.
Allows your customers to pay through various payment methods like credit card, PayPal and more.
The advanced reporting tool lets you view business progress, sales data, catering events and more for further improvement to your business.
The inventory management solution included with this software allows you to track and manage every item in your stock.
It is available for a 30 day free trial.
You can choose from Starter, Advanced, Professional and Enterprise Packages. The starting price is $29.
---
EventPro is an all-in-one catering software that provides all the necessary features required for effective catering management.
You can add and edit the event dates in advance and view all the upcoming events by filtering them on the basis of days, weeks, months and years. It is very easy to organize your events, whether it is an indoor or an outdoor event, with EventPro.
The beverages along with their prices can be added and edited quite easily according to your requirements. This software is available in both cloud and desktop version.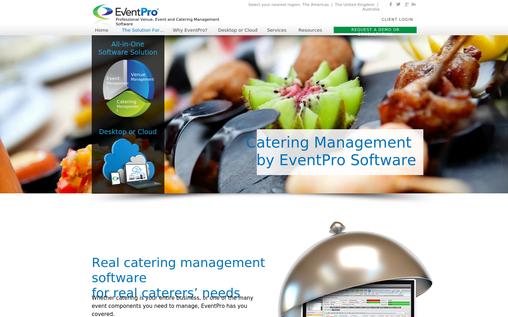 Key features of EventPro
Lists of important things like chairs, tables and others can be created and tracked.
Details of staff can be recorded and viewed so as to accurately assign the right staff to the right event.
Your revenue and costs per item and event are automatically calculated by EventPro.
The advanced reporting tools let you view all the important finance, booking and management data for further improvements to your business.
Your customers can easily book the events online by looking at the available place, time, price, menu and more.
You can send professional invoices with all the order details online to your customers.
The integrated CRM allows you to easily manage your clients and keep track of their communications.
---
Restaurant Catering Systems has developed marvelous catering software with plenty of features. It will help you save time and enhance customer experience.
This catering management system will let you convert your prospects into loyal customers as you can record all their necessary information like contact number, meeting dates and more and access them whenever you want.
You can also create a reminder. The task of creating a quote is quite simple with Restaurant Catering Systems as you only need to compile and edit a standard cover letter, quotes, agreements and others and then send.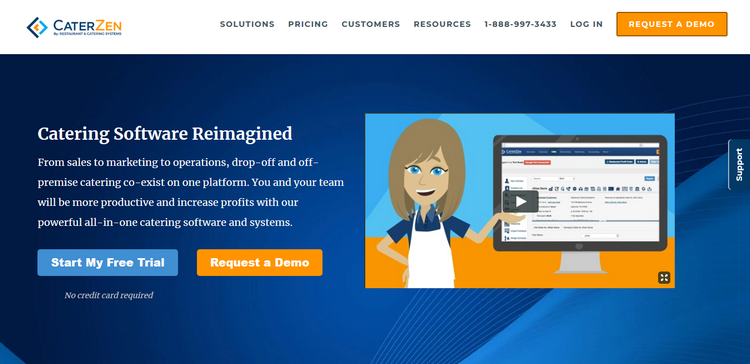 Key features of Restaurant Catering Systems
You can add, edit and keep track of orders, phone calls, meetings and proposals with the incorporated Customer Relationship Manager.
Your customers can order online from any devices, view order history and more.
You can easily create professional, detailed invoices and send them to your customers.
It is easy to create standard and specific menus, manage delivery times, schedule orders for your drivers and more with the advanced catering operations system.
Its accounting system allows you to create invoices, process credit cards and accepts checks.
It has a phone tracking system to record all incoming and outgoing calls. The call recording can be attached to customer records and can be emailed or played back.
A smart sales analytics system lets you view key information like lead source, sales increments, employee performance and more.
---
ReServe is fully integrated cloud software that automates the entire event booking process from inquiry to invoicing and everything in between for easy catering management.
It lets you manage unlimited events with the help of a drag and drop multi-view calendar which prevents you from double booking.
It is extremely easy to create event orders and proposals with the help of point-and-click technology offered by this software.
Key features of ReServe
The customer relationship management tool allows you to maintain important customer records such as phone conversations, buying history, emails etc.
You can easily generate automated to-do lists and follow-up reminders for maintaining your customer base.
The e-payment integration feature allows you to electronically process and record all payments, deposits and recurring payments associated with an event.
You can instantly send a professional invoice to your customer.
This software automatically tracks all the important changes in event orders.
The items and cost of the food and beverages can be easily added to the menu and the software automatically calculates the profitability and cost.
Financial and historical reporting shows you all important information like forecasts, invoices, payment summaries, revenue and more to further improve your business. You can also schedule the reports to be e-mailed or exported at pre-defined times.
This software can be accessed from multiple devices such as mobile, tablet and PC for greater flexibility and control.
---
Planning Pod is an easy-to-use online catering software that simplifies how you manage your clients and events. You can track all the necessary information like menus, price, rentals and more on a single platform.
It consolidates everything in one place to avoid duplication, allowing you and your staff to have access to up-to-date catering information. With Planning Pod, you can easily create unlimited menu templates, adding your own food and beverage list. You can further edit the menu in the future according to your needs.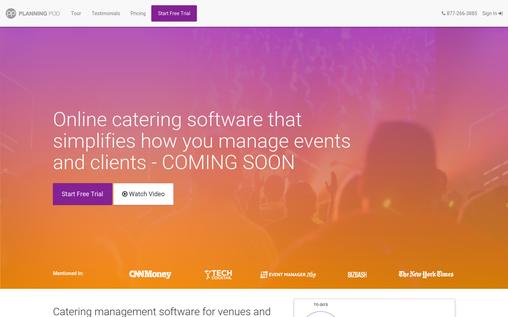 Key features of Planning Pod
It allows you to build your own mobile-friendly event website with social sharing option to attract attendees.
The room scheduling tool prevents double booking as you can view the booked banquet and spaces with dates on the master calendar.
You can select the right staff for the right event by viewing all the necessary staff information and do correct staff scheduling.
All inventories assigned to each event can be viewed which allows you to effectively manage your resources.
Get various business management tools such as lead tracking, invoicing, payments and e-signatures.
You can view the reports showing detailed information of your contacts, leads, invoice, orders, payments and more.
It integrates with MailChimp, Salesforce, Dropbox and other popular applications.
There are six packages to choose from at the starting price of $9.99/month.
---
Foodstorm is one of the most reliable catering software to manage large catering operations. It allows you to automate processes, enhance your sales, delight your customers and more.
Your customers don't have to waste their precious time by asking you a lot of stuff before ordering. This software is compatible with smartphones to provide a pleasant customer experience and allows them to order from anywhere.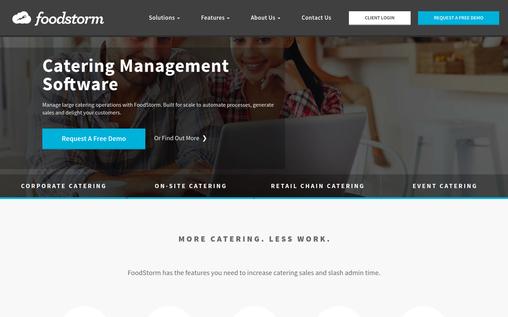 Key features of FoodStorm
Foodstorm offers you an online shopping cart where customers can place their orders online through your website. This saves your time and gives customers more control while ordering.
You can view all your orders on a single platform which allows you to track your orders easily.
You can quickly add and edit new orders by adding custom fields.
Custom and personalized emails can be created to be sent to your customers providing details about their orders and quotes.
The advanced reporting tool lets you create custom reports, view sales growth, top customers and more to improve your business.
It seamlessly integrates with top software like Xero, SAASU, PayPal, MailChimp and more for added functionality.
Your customers can pay online via credit cards for their orders.
---
Conclusion
Now that you know about the top catering software, do you still want to perform catering management function with your spreadsheet? Well, it is your choice. However, you will lag behind the competition if you do so.
You simply cannot compete with other agencies if you use manual management. All of the catering software has its own distinct features, and you should analyze your business needs carefully before implementing any of the catering software on this list.
You May Also Like:-