Moovly Review – Video & Whiteboard Animation Software
Editor Rating:





User Ratings:





(1)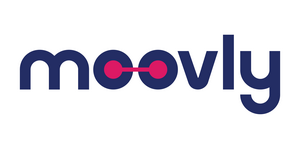 Moovly is considered one of the best video and whiteboard animation software. It has been described as effective, easy to use, affordable and has great customer support.
If you are in the market for whiteboard animation software you may notice that these adjectives are used to describe lots of other software in this category.That is why we are doing this review; to determine whether Moovly is really as good as some reviews claim it is.
What is Moovly?
Simply put, it is online software for creating and editing videos and whiteboard animation. It has a vast collection of features including editing tools, free graphics and sounds, collaborative sharing and more.
With this tool anyone can create videos and animations; it's designed with ease of use in mind, and you can present ideas clearly and keep them interesting.
Its customers include Air France, University of California at Berkeley, Cisco, IBM, Unesco and Vodafone.
Moovly is cloud-based, which means that you don't need to download it to use it, but you can download the app if you would like to create videos and whiteboard animations on the fly.
Although it can be categorized as an enterprise tool, it is often used on a smaller scale. Many people use Moovly to create videos for social media, small marketing projects and home videos. It is also quite popular among students and educators.
For this review we will be looking at the following:
The library/templates/gallery
User interface
The stage
The timeline
Video adjustments
Customer support
Library
Moovly has an extensive multimedia library, with more than 70 million templates, info-graphics, animated clips, stock images, animated clips, story blocks and more. They are laid out clearly in menus, are easy to find and apply.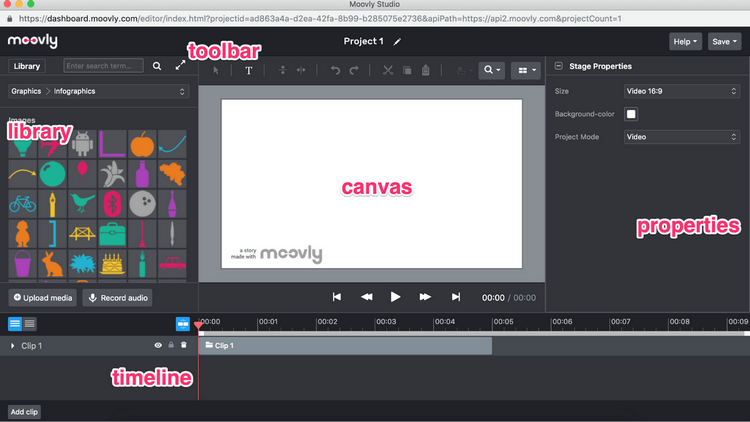 This is one of the greatest collections for any whiteboard animation and video creation software. What makes Moovly unique is the ease with which you can use these items. A simple drag and drop feature means that even newbies can use this tool with ease.
Moovly has templates that you can use to build skyscraper and banner ads. For businesses that cannot afford to hire a graphics designer this feature can be very useful.
The software has a personal library where you can upload your own images and photos, video clips, screenshots and scans. You can upload images from your device or cloud. Personal library space is determined by the type of license you buy.
User Interface
The Moovly interface is easy and straightforward and even if you have never made a video you can find your way around. Creating a new project is intuitive because everything is well-labeled.
When you open the software there is a "Create Project" tab, and you can also see your projects, gallery, templates and there is a tab for archived items.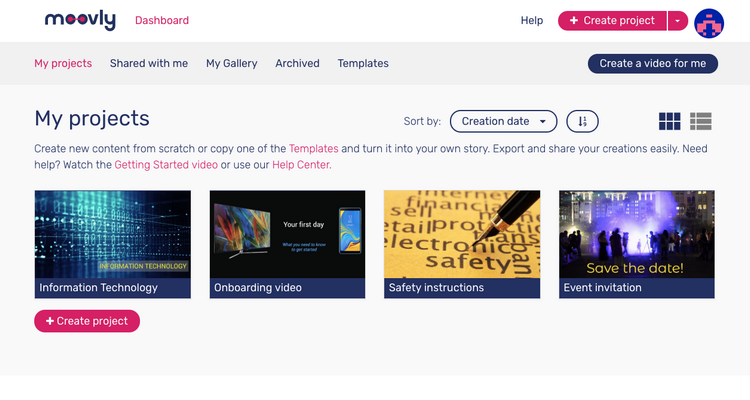 An instructional video on the home page takes you through a step-by-step process on how to use the different features of the software.
The Stage
When you are creating animations you need a stage; think about is as a whiteboard where you mount your clips and templates and arrange them into the kind of video you want.
Moovly has a pretty neat stage. It is plain white and all you have to do is place clips, images, animations and text – the software does the rest. The stage allows you to edit and move content around to achieve the desired effects.

You can make adjustments to the stage itself using a panel on the right side of your screen; to adjust the background color, stage size or stage properties just click on the tab and choose whatever you like.
The Timeline
You have to choose how long you would like to showcase each object that you drop on the stage, and you do that using the timeline. It appears in the form of a bar at the bottom of the stage and is very easy to use. As you add objects to your stage the timeline is adjusted automatically, but you can change it to suit your precise needs.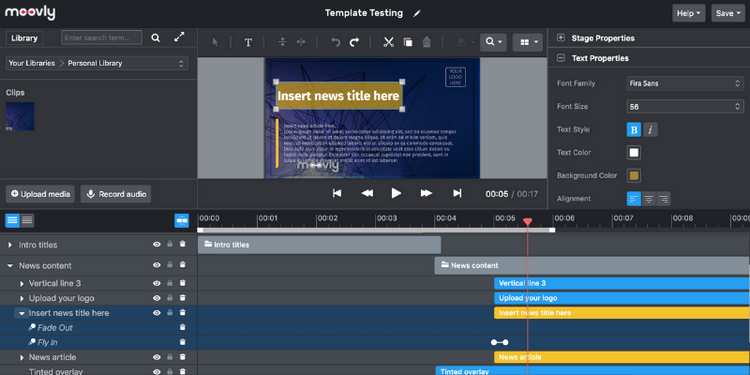 The timeline gives you the option to animate objects, and you can choose timelines for the animations as well. You can also create overlapping animations using the timeline feature.
Video Adjustments
Moovly has a revolutionary video editing tool that allows you to do all sorts of things. At the most basic level you can pick a video template from the library or import onto the stage. Once there you can animate, add text and voice and share with others.
The video adjustments feature can do much more than that: splitting videos, looping, pausing, tinting and synchronization are just some of the available functions. You can also change text font, formatting and size.
The Moovly app can be used to import videos from Storyblocks and iStory Getty Images giving you access to millions of objects that you can use to enhance your videos and presentations.
If you don't have time to make videos in-house you can contact the company directly and have them do it for you. If you have a Pro subscription and you choose this option you can edit the video and add or remove content for up to a year.
Customer Support
Moovly offers two types of customer support: you can chat with a rep or use their FAQ section. The reps are knowledgeable but not reliable as they are not available 24/7.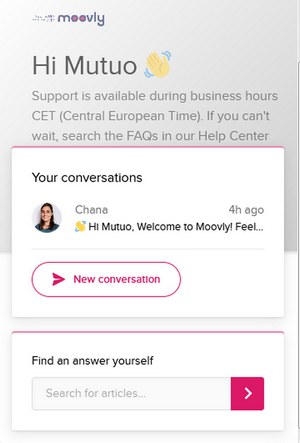 However, the FAQ section is quite comprehensive and has answers to all sorts of questions that users may have as they use the software. Questions are answered in detail with accompanying diagrams.
Why choose Moovly?
While all these are pretty neat features, would they compel you to buy Moovly? Why do so many people and businesses make it their video and whiteboard animation software of choice? There are many reasons:
It is very user-friendly and can be used by people of all ages and backgrounds. So long as you have basic computer expertise you can create videos using Moovly.
Beginners can choose the free account; although you cannot export videos that you make with this account, you have access to more than 1 million objects in the assets gallery.
Moovly is affordable, and their most expensive package is still cheaper than many other video editing tools in the market.
Everything is easy with Moovly; once you click the link you can start using the software.
Moovly doesn't limit creativity. In addition to the millions of objects available in their gallery, you can import your own and use them to come up with the amazing videos.
The software is updated every two weeks, and users can look forward to new features that they can use to improve their videos.
You can save, publish or share your videos with the click of a button.
Moovly is available as an app for Android and iOS and videos are easily sharable on different social media platforms.
Moovly for Educators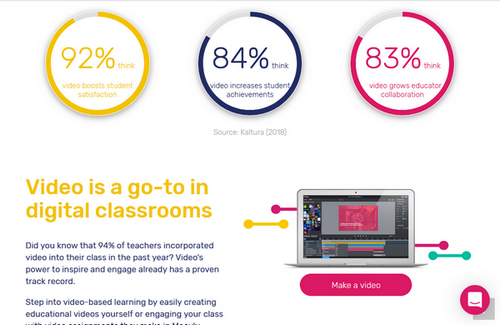 Teachers have been using Moovly to make learning more interesting. Many use it to create videos to support other learning material, while others encourage students to use it to express their own ideas.
Is there anything that's not to like?
There are two main problems with Moovly:
Since the software cannot be downloaded, you have to have an internet connection to be able to use it. For those who have erratic internet or no connection at all Moovly remains out of reach.
The software doesn't have a monthly subscription which locks out a lot of small businesses that cannot afford to buy the yearly subscription.
Moovly Pricing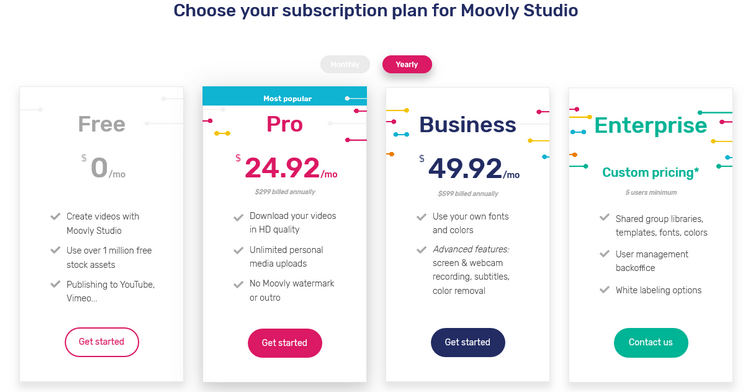 Moovly comes in 4 packages:
Free
Pro for $24.92/month.
Business for $49.92/month.
Enterprise for a minimum of 10 users at $599/year/user.
The Privacy Policy is not very clear about refunds; it only says that you can cancel your subscription before the next renewal date and they will stop billing you.
Do we recommend Moovly?
Yes; Moovly is definitely excellent video and whiteboard animation software. It is easy to use and has no hidden features. While it's true that you need a stable internet connection to use Moovly, most people have internet anyway so this is not a problem.
The only issue we may have with Moovly is the pricing. There is only a single package that you can pay for annually to enjoy a significant discount. If you choose to pay monthly you will pay a substantial amount more than you would for other software that has similar features.
Moovly user testimonials
June C likes that the software is easy to use, but thinks they can improve the pricing plan:
"I had prayed to find the perfect video making tool that day, and played around with about four. Moovly was the easiest to use, most affordable, and met my needs. I am still learning the system, but trust that it can probably do far more than my non-tech savvy mind can comprehend. As I am still in the development phase of my business, I cannot afford the yearly plan."
Jared E likes the array of features that are available on Moovly:
"The ease and simplicity of this software helps us cut down on the production time. It is clear that the software is constantly improving. I've seen some glitches with their new site release that may be more browser related. Their transitions are somewhat limited."
Sean W is impressed by all the aspects of Moovly:
"The video format options and templates are pretty amazing. The pricing is reasonable as well, and the customer service is easy to work with, answered my questions quickly and thoroughly. I have no issues or negative feedback on this program, it has worked wonderfully for me, and I would recommend it to others."