Vyond Review – Is it Good Whiteboard Animation Software?
Editor Rating:





Vyond started off as GoAnimate, a 2D animation software company, in 2007. It rebranded to Vyond in 2018, and according to its founder, Alvin Hung, the new name is supposed to reflect the vision that the company has for the future. So what is it, and how does it fare as whiteboard animation software?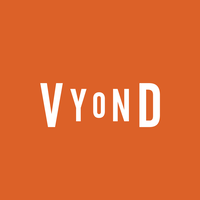 If you are new to whiteboard animation software, you may wonder what it is. In a nutshell, it is software that's used to make sketches or doodles.
If you have ever seen an explainer video with a hand drawing as a voice explains a concept, idea or product, it has been done with whiteboard animation software. These videos have become very popular in recent years because they are easy to make, require hardly any expertise and are professional.
What is Vyond?
Vyond is whiteboard animation software that is used to create interesting, informative animation videos in minutes. By the end of 2013 it had been used to create more than 10 million videos, and the numbers continue to grow by the day.
Vyond's popularity continues to grow because it has a vast array of "pre-animated" assets or characters. It is very easy to use; you can create a doodle sketch by dragging and dropping characters, text and actions, props, backgrounds and more. The software is suitable for marketing, schools, and a variety of other niches.
There are 3 versions of Vyond: Vyond Studio, Vyond for Enterprise and Vyond Secure Suite. It can be a bit confusing because when you get to the pricing, you find 3 plans, Personal, Business and Enterprise. Don't let this faze you; we suggest that you visit their website and pricing page to see exactly which version and pricing plan is best for you.
Vyond Features
This is one of the most important features of any whiteboard animation software. Drag-and-drop makes it very easy for anyone to create doodle sketches.
Vyond is great in this aspect; open a template, choose the characters you want, drag and drop them onto the template and edit until you get what you are looking for.
A vast library of characters
Vyond has tens of thousands of characters, backgrounds, props, text types, sound effects, music clips and templates. The characters cover all niches (including, surprisingly, supreme court justices!). You can apply different actions to each of them, apply sound, provide varying backgrounds and more.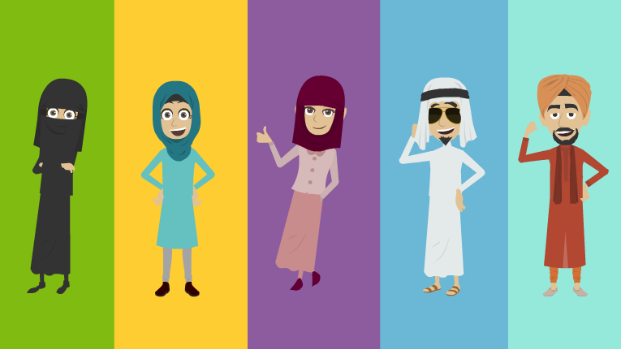 14-Day Money Back Guarantee
Alternatively, you can change existing characters' clothing, hairstyles and facial features.
You don't have to guess or fumble around to make a Vyond whiteboard video. When you get into the software, you are prompted to choose between Contemporary (common business concepts), Business-Friendly (2D animation) and Whiteboard Animation (dynamic drawing).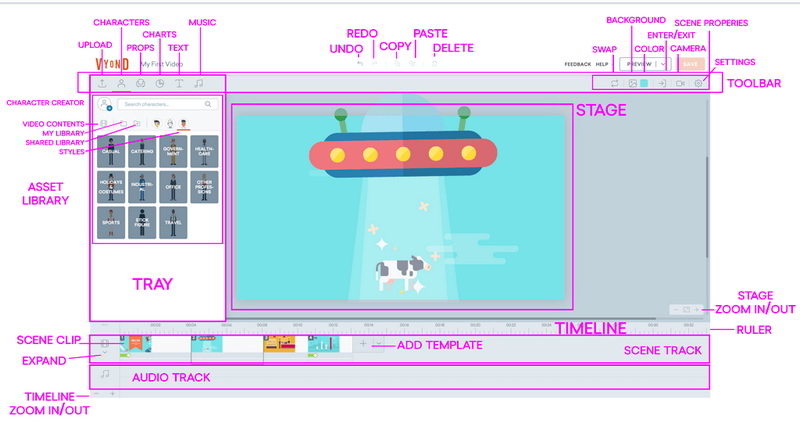 Once you choose the type of video you want to make, you get a short tour of how to create a video. You will see all the elements that you need to include, how to drag and drop characters, how to work the timeline and more.
A variety of video versions
You can upload and distribute videos in different formats including MP3, JPG, GIF, WAV and more. You can export videos to YouTube, Wista, Vidyard, Vimeo, Vzaar and Wevideo.
You can record a voiceover directly into Vyond and then upload it into your video, or you can use another software, import the clip and merge it into your video. The software has more than 50 songs in the library that you can choose from to enhance video quality.
One common problem with whiteboard automation software is that a lot of it has lip-sync issues; you have to guess where to place voice clips so that they can match with animations. Not Vyond; you only need to overlay voice clips and they are automatically synced with the character's actions.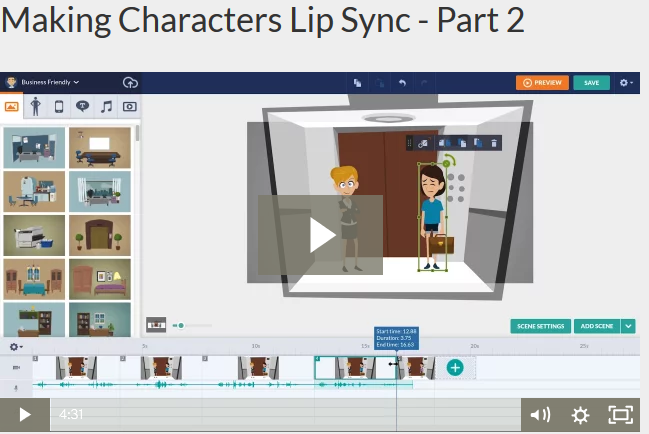 You can add a camera to scenes, adjust its size and position, and play around with delay, duration, and movement.
Zoom in and out of your video
Want to make your video more realistic? Add emphasis to certain scenes? Use the zoom in and out function within the software on any part of your video.
Get your characters to run or walk and talk at the same time
This isn't very easy to do with many other whiteboard animation software, but with Vyond it only takes a few short steps to get characters to do multiple actions at the same time.
How it Works
As mentioned, Vyond is easy to use and you don't need any technical expertise to make whiteboard videos. On the Resources page on the Vyond website there is a detailed post that explains the steps that you need to take to make a video.
It tells you how to make an outline of your ideas, how to turn them into a script, how to choose a storyboard and characters, how to edit, add audio and more.
Vyond takes the guess-work out of video making by making sure you know what to do every step of the way.
Why Choose Vyond?
More than 12 million videos have been created using Vyond, and there are good reasons why people continue to choose it:
It doesn't watermark your videos. Logos and watermarks can be problematic when it comes to sharing. Some software requires users to pay more to remove them, but not Vyond. Whichever version you choose, you will be able to create doodle sketch videos that are free of watermarks.
You can create videos for any niche because there is such a variety and richness of characters.
Videos made using Vyond can be downloaded at 720 and 1080P.
You can create unlimited videos with this software.
You can make videos unique by creating your own images and audios.
The software allows you to change characters universally; if you have a common character in several scenes and would like to change it you don't have to go scene by scene, but rather make the change to one and apply to all the rest.
Vyond makes top-quality videos.
Cons of Vyond
As with all software, there are some things that aren't to like about Vyond:
Some features are only available if you buy the more expensive plans. This is normal with this type of software, but we wish it could be different.
It is not mobile-responsive yet; for now, you can view videos only on desktop or laptop.
If you would like to access Live Chat you have to pay more, and the same goes for the online community forum.
How Can You Use Vyond?
Vyond is recommended for online marketers, teachers, learners, HR companies, PR agencies, security companies, product development companies and everyone else who would like to create professional-looking videos on the fly, without the hassle and at a reasonable budget.
Customer Support
If you choose the Essential Plan in the Personal package you do not get Live Chat support, but all other plans, which cost more, come with this feature.
The website is rich in support; it has an area for webinars, announcements and a community forum. You will also find comprehensive posts on getting started with Vyond, how to make videos, account options and technical help.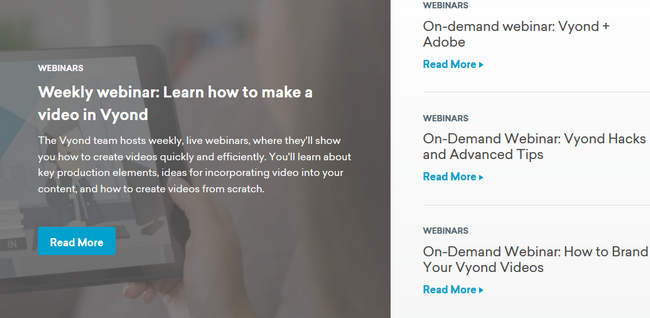 A list of promoted articles covers areas like how to create, edit and upload videos, how to transition scenes, how to password-protect videos, how to import assets, how to merge videos and more.
Vyond Pricing
Vyond has a variety of packages that you can choose from and they can be confusing. We suggest you look at the features of each and then decide which one suits your needs best.
Personal
Essential: $49/month/user, or $299/year/user
Premium: $89/month/user, or $649/year/user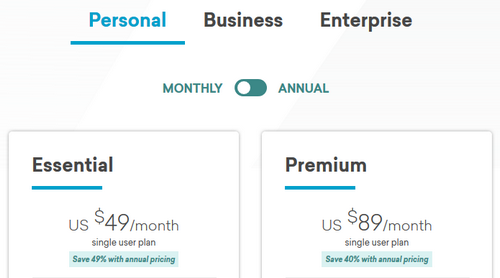 14-Day Money Back Guarantee
Premium: $89/month/user, or $649/year/seat
Professional: $159/month/user, or $999/year/seat
Enterprise
Professional: $159/month/seat, or $999/year/seat
Enterprise: Contact the company for details
Do We Recommend It?
Vyond costs more than some whiteboard software animation, but we highly recommend it, and here is why: it can do a lot of things that other software cannot.
It is feature-rich, comes with detailed videos and posts on how to use it, doesn't leave a watermark or logo and can be used to create unlimited videos.
If you wish to create truly professional videos that you can share with confidence, we recommend that you invest in Vyond.
User Reviews
Tim Spaid says: "My primary use has been creating videos in the eLearning space. I've used most of the graphics styles to provide learners a different experience from one course to another."
According to an anonymous reviewer: "I have enjoyed making videos with Vyond, am very happy with the options available. Kudos to the software for providing as much customization as it does."
Claudia Fernandez likes what it has done for their business: "Overall I think Vyond has brought more benefits to our company than what we could have imagined. It has decreased the training durations since we can now create videos for knowledge instead of instructor lead training sessions."