The 10 Best Digital Asset Management Software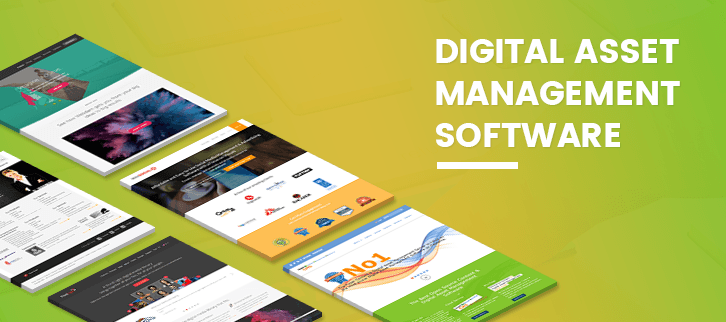 As your company flourishes, your asset list also increases. The digital assets are equally important as the physical assets. These digital assets may include photos, videos, articles, presentations, research documents, etc. initially you can save the digital assets on your in-house server but with the growth of your company, it might be difficult to access those files.
To solve this problem Digital Asset Management software is used which in turn saves your company's time, money. A DAM is an alternative to task manager and file organizer along with this it helps you to store your assets and share them.
In today's digital era asset management has become a necessity to have a backup and share the files.
So here some of the best digital asset management has been coated from which you can choose the best fit.
The Best Digital Asset Management Software
Compared (in full)
Check all the services in detail as per your needs and choose service wisely – by the end, you'll know exactly which one is the right option for you.
---
Thirdlight is one of the best available asset management software online. It collects your photos and digital media files and makes them user-friendly and web based applications. You can access your media files from any PC, laptop, mobile devices.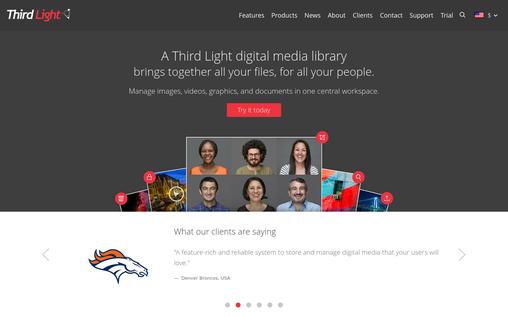 Features of ThirdLight:
Thirdlight put all your photos, graphics, videos, and text files together in a secure and consolidated format
Two options are available to save your digital assets ie you can save them on a high-speed personal cloud provided by Thirdlight or can store on your own local server
It shares media files through web links, dropbox and other social media sites
It can also do the editing of your digital assets which can be used for any purpose
Pricing:
The starting price of ThirdLight software is $230/month which provides you with 120Gb storage capacity and then the price goes on increasing with increasing features.
---
MavSocial provides a solution that is free and easy to handle. The digital assets stored in MavSocial are stored and organized together without the use of a lot of tools. Social media management is time consuming and difficult task, but MavSocial makes it look easy to handle and use.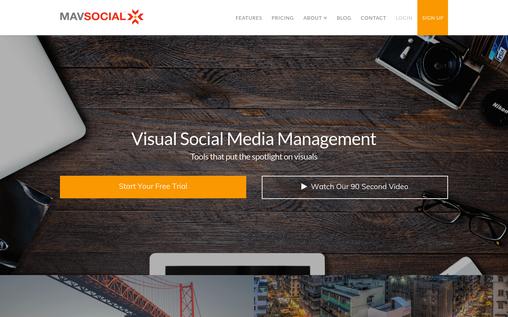 Features of MavSocial:
It can upload images, files safely within few seconds and supports most of the file formats available online
Mavsocial content calendar designs your survey in such a way that it is easy to schedule posts in one centralized window due to which it is easy to keep a check on it
You can publish your content on most of the social media siteswhich includes Facebook, Twitter, LinkedIn etc and the content can be posted in any language
It examines, analyze and compare the surveys which improve the quality with less time and effort. You can download the results in PDF or Excel file
Pricing:
To get start on Mavsocial it gives you the free version which includes 1 user and 2 social media sites. Then you can upgrade your services to professional version which start from $59 per user/ month.
---
Brandfolder is one of the most dominating and easy digital asset management platform available online. It is used to store, share and exhibit your assets and simplifies it by putting user and asset on the same page.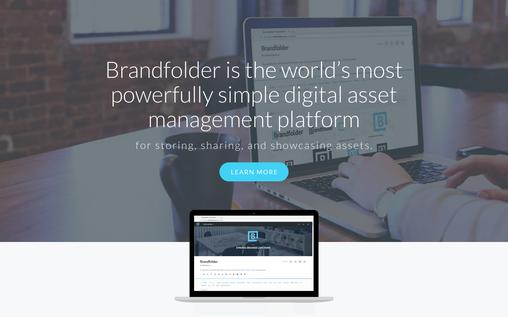 Features of Brandfolder:
Brandfolder can upload multiple files at a time and arranges them according to their tags which makes them easily searchable
Multiple actions like editing, deleting move and share can be performed at a time
You don't have to search the specific asset in different desktop file or cloud storage rather you can search them through asset thumbnail by using Brandfolder
The important searches can be pinned on the top of the page so that it is easy to get when required
The privacy is maintained in Brandfolder, you can use enclosed logic to expose specific assets ie filtering sections, queries etc
Pricing:
Brandfolder provides you with the free version for trial and then the price go on increasing with increase in features.
---
WebDAM is the most cost effective and impressive digital asset management software available.WebDAM helps to organize your digital assets and get the full benefits by making them easy to schedule, share and distribute. It has the entire latest feature available online which makes the work faster and produces powerful results.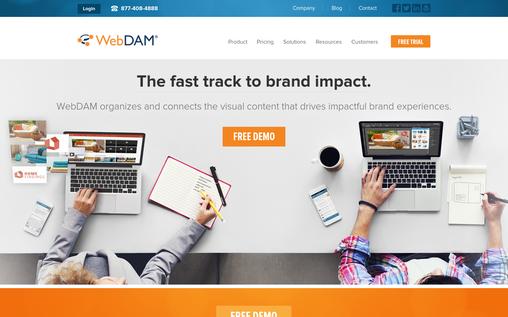 Features of WebDAM:
WebDAM can handle a large amount of digital assets at a very high speed. It also uploads the files with latest options such as drag and drop, web forms and FTP
It provides with the powerful search engines which shows all the available options to make the search easy and go to the desired file within seconds
You can search, preview or download the desired files from any mobile device
WebDAM is linked with most of the today's social media sites which helps your social media management effort easily on them
Real time results are provided by WebDAM.the automatic analytical dashboard gives the digital file up growth and usage of your account
Pricing:
To get the right price plan for your company you just have to complete a form and customized rate will be available to you.
---
AssetBank is one of the highest rated digital asset management software available online. Over 200 companies use this software worldwide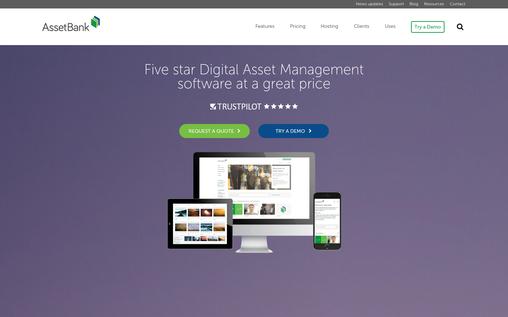 Features of AssetBank:
Whether you are a new user or shifting from an existing system, it is easy to add the assets on your account
It allows you to upload a file in bulk or even one at a time and automatically creates a preview of your files when you upload for the first time
It is very easy to locate your files on AssetBank by using advanced search options which saves your money and time
You can crop, edit, resize and even reform the assets before you download and can create image preset also
Pricing:
AssetBank provides a trial version to experience its services and then it starts charging from £295 per month which includes 50+ users which go on increasing with the advancement of the features.
---
Widen is content technology company and is one of the most popular software available online. Widen is very easy to use and have automatic interface. There are a large number of features which manage marketing and creative workflows and ensures that data is connected.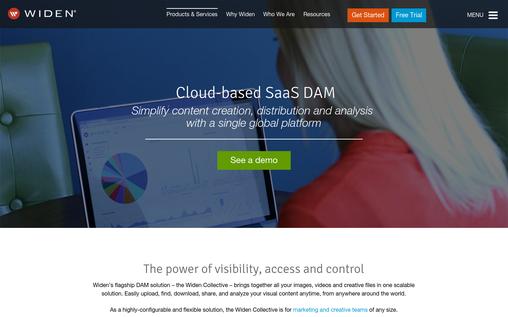 Features of Widen:
You can create a personalized experience which keeps users engage and brings them back for more
You can point out specific user groups with graphical HTML systems messages via Widen
Widen helps you to keep an eye on the progress of your asset with the help of its powerful and customized tools
17500+ customers over 200 countries use widen to get the digital asset management because it provides high-speed network, global brands and easy distribution
Pricing:
The average cost of services provided by Widen is $20k -$30k per year. The yearly subscription is based on numbers of users, storage and other features.
---
It provides the single hub to the customers to manage their digital assets. You can connect to one community and use the DAM tools. It is supported by Widen but it deals with support, news and state to help the user.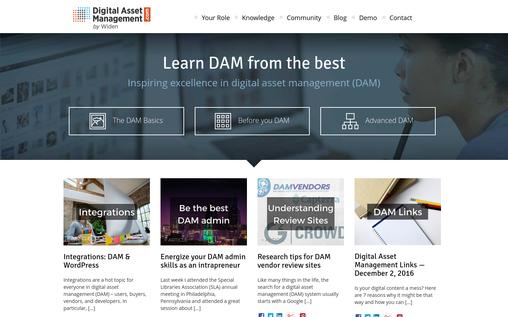 Features of DigitalAssetManagement:
DAM is the management, designing and distribution of digital assets from one place
The assets can be moved internally and externally, internally it can be shifted from one department to other while externally websites, social media sited provide the platform to move
DAM can help your company to save time and money as it provides you with the fastest and reliable tools which makes assets available for further use
Pricing:
The average cost of services provided by DigitalAssetManagement is $20k -$30k per year. The yearly subscription is based on numbers of users, storage and other features.
---
HyperCMS is providing the customers to have full charge of their digital assets. It support the organization to reach the target customers faster with its services. Their tools help to release the full possibility of their content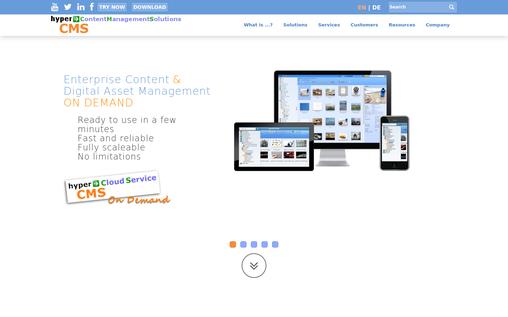 Features of HyperCMS:
It gives a very user-friendly and perspective interface, which allows managing all kind of assets easily on any mobile device
You can edit and disclose the content on your website by using you can see is what you get interface. It can also copy the contents from office documents such as Excel, or word and paste it directly on a website
By using drag and drop facility of HyperCMS you can upload a large number of files from different locations such as dropbox, local file system etc
The graphical user interface supports numerous languages without limitations
It acts like a centralized data hub for digital assets and enhances the management of your files
Pricing:
Three plans are available for the customers to choose from ie basic, premium and priority.The basic plan starts from £199 per month and then cost price of the plan go on increasing with features.
---
It provides the simple, easy and fast method to manage your digital assets. There is no need to install the software only you need is to have a browser. It is the most famous online digital asset manager available.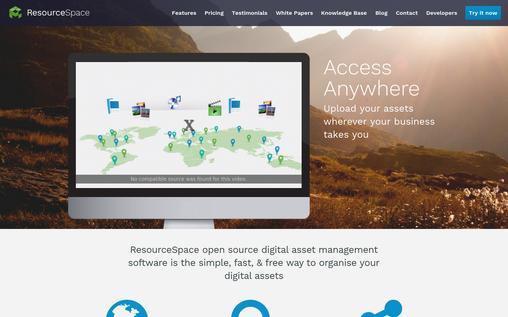 Features of ResourceSpace:
A good user interface is available to help you organize and use the resources
It is compatible with most of the browsers on all platforms and it is compatible on both the desktop as well as other mobile devices
ResourceSpace provides you the automatic preview and alteration for various document formats
Pricing:
ResourceSpace provides you with free version as it is a free software and then its price starts increasing from $1260 and so on with the increase of features.
---
Marcom personalize and regulate marketing content the digital assets in your organization. It controls and send all the assets whenever it is needed.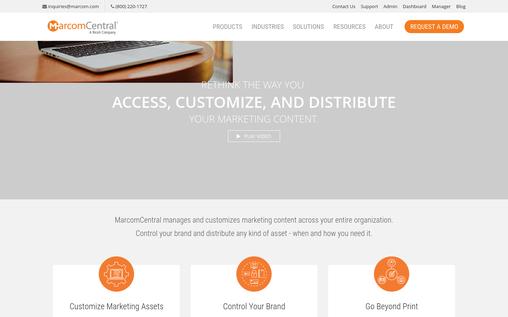 Features of MARCOM:
You can search any asset via powerful search tools, use the keywords or SKUs to find the marketing content
Personalization of your digital asset can be done by using the easy to use templates
It provides service through which you can have all the contents arranged in a proper way under one roof
Pricing:
Marcom gives the free version of its services to you and then the cost of its services go on increasing with the increase in functions.
---
Conclusion
I hope these 10 online digital asset management tools are useful for you. So choose the best according to you requirement. Is any better online DAMs tool missed? Share it in the comment box below and we'll look forward to review it.
You May Also Like:-