The 4 Best Popup Builders in 2022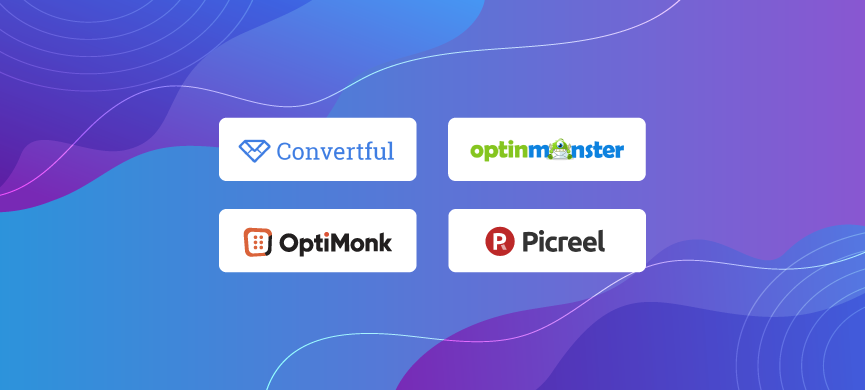 Are popup builders a good idea? What is the best popup builder?
Popups are controversial. Some people find them annoying, intrusive, disruptive and even unnecessary. Studies about pop up builders are just as mixed. One studied 2 billion popups and found that on average, a pop up has a conversion rate of about 3%.
The best popups had a conversion rate of about 10%. The same study found that many websites had popup builders that had a conversion rate higher than 50%.
It's important to put these numbers in context. The average webpage has a conversion rate of about 2.4%. The best websites have an average conversion rate of about 11.5%.
Based on these numbers, popups improve the conversion rate on webpages. If you have two web pages, and one has popups and the other doesn't, you can expect the one that has popups to convert at a higher rate than the one that doesn't.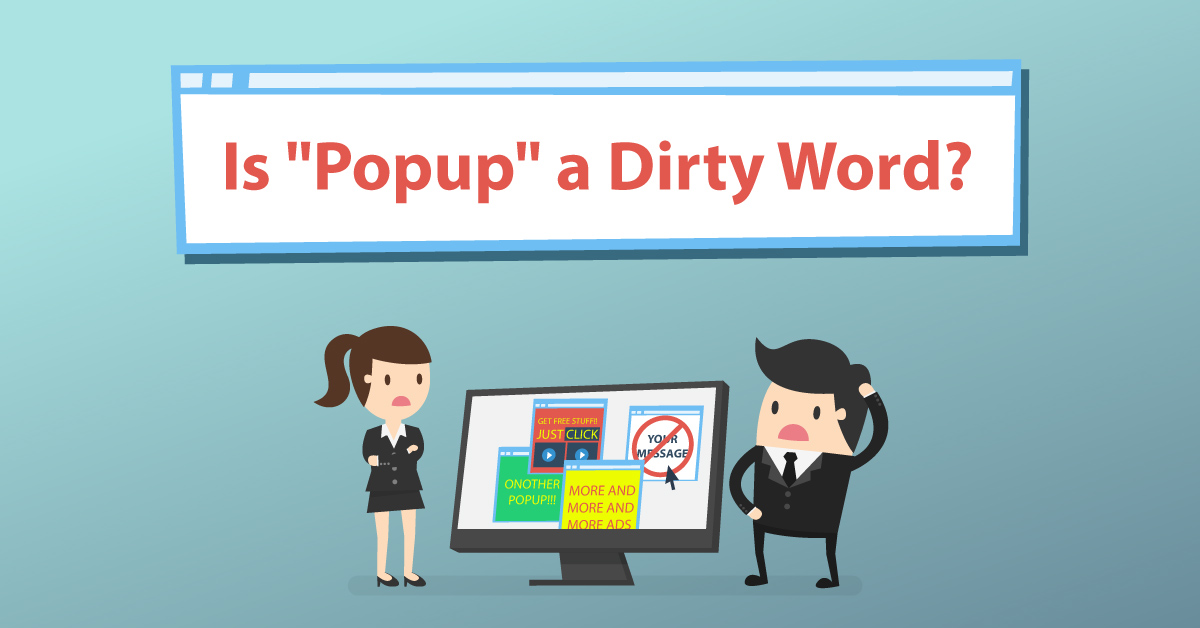 Yet a lot of digital marketers and web designers will avoid popups because they believe they do more harm than good. So who is right?
You could argue about this forever. The bottom line is popups remain popular because they seem to improve conversion rates.
Why Do You Need Popups?
There are multiple ways that a popup builder can benefit your business. When you are designing a website, consider the following benefits of popups:
They are one of the fastest ways to grow an email list. One of the most common uses of popups is to ask site visitors to leave you their name and email address.
You can answer visitor questions. When a user comes to your site it's a sign that they are interested in your products or services. They may have unanswered questions, and you can have popup forms where you ask them to leave their name, email address and questions.
Popup forms are a good way to segment the visitors on your site. By asking them to leave details about themselves you can send them more targeted offers.
You can use popups to increase social media following – ask visitors to share or like your social media pages.
Use popups to drive sales by providing offers like slashed prices, free shipping, coupons and more, especially when it comes to exit intent pop ups.
Highlight the most important areas of a webpage using popups.
What to Look for in Good Popup Builders
What is the best popup builder? With so many, how can you tell the one which will give you the best conversion rate? There are a few things that the bets popup builders have in common:
The best popup builders have a high conversion rate.
They come with defined trigger actions. These are actions that a user takes to cause a popup to appear. They can include hovering the cursor in a certain area on the screen, scrolling to a certain point in a post, clicking certain links or spending a certain amount of time on a page.
Good builders have popups that can be customized to fit in different areas of the screen.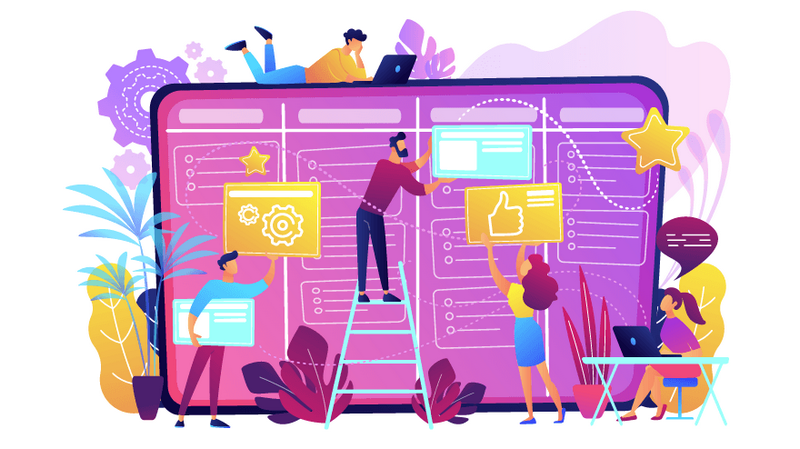 They can provide detailed analytics.
You get a variety of options. They include email opt-ins, promotions, notification bars, sidebar widgets, social integrations and others.
They are customizable – you can create popups that suit your particular needs and adapt them to your brand.
You can target specific user segments. They come with a variety of targeting and trigger options.
The best pop-up builders provide dozens of templates and a drag-n-drop builder or simple editor. They don't require any knowledge of coding.
If you use WordPress, you'll find there are many popup plugins that help you with implementation.
---
The 4 Best Popup Builders of 2020
Convertful is the ultimate popup builder software. It was voted the 2018 AVA Digital Awards winner and received the 2018 Great User Experience reward from Finances Online.
It contains a huge variety of popups, all of which can be launched within minutes and have proven conversion rates. The software has more than 100 templates and a flexible drag-and-drop editor means you don't need any coding experience to get Convertful to work.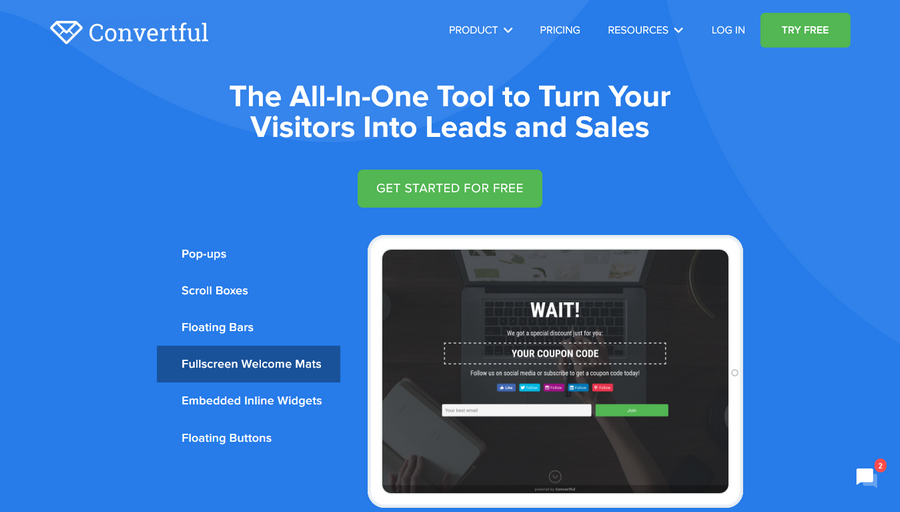 Convertful Features
This software has a wide variety of pop-ups. They are all based on successful campaigns, so you can be sure that if implemented properly, they will work. They include segmentation survey popups, social subscription popups, scratch card gamification popups, cart abandonment popups, deadline pop-ups and many more.
You can send account-based pop-ups to spur users into action. If, for example, a user has spent a certain amount in your online store, you can send them a popup that tells them that they qualify for a discount or a prize.
Content locking popups allow you to give site visitors access to premium content only if they opt-in.
Convertful provides useful deadline funnels. You can install popups on your site that have countdown timers letting users know that they have to act within a certain period to reap the benefits of an offer.
You can drastically reduce cart abandonment rates using Convertful pop-ups.
Welcome video popups allow you to increase sign-up rates.
You can also increase sign-up rates by offering site visitors welcome giveaway contests.
The drag-n-drop editor offers unlimited form fields and a customizable layout. It also has customizable positioning, animations and positioning.
You have a host of elements that you can insert into popups. They include images, progress bars, share buttons and a countdown timer.
Convertful is mobile-friendly.
You can show the right offer to the right user at the right time because all popups can be targeted. You can target according to exit intent, the amount of time a user spends on a page, the elements they click and more.
A variety of targeting rules provide the flexibility you need to make sure your popups target different segments.
Drawbacks of Convertful
Convertful is an excellent popup builder, but it does have one drawback: the way pricing is structured. Many users feel that instead of limiting the number of visitors, the software should limit the number of widgets instead.
---
View Listing
OptinMonster specializes in creating great visual offers and then presenting them to website visitors at the right time using behavioral segmentation.
You can show highly converting popups at the right time to the right website visitors by looking at their behavior. This includes things like what websites they come from, what they have bought in the past, what pages they like to visit, how long they stay and so on.
A powerful testing module allows you to create and test different offers to see which one has the highest conversion rate. It's easy to set up OptinMonster popups, and you can get them on your website within minutes.
The software amassed more than 1 million customers to date, including big names like Harvard University, Patreon, McAfee, Pinterest, American Express and Capterra.
That's not to say that OptinMonster is only ideal for big businesses. It works just as well for small and medium-sized operations, as well as for bloggers and digital marketers.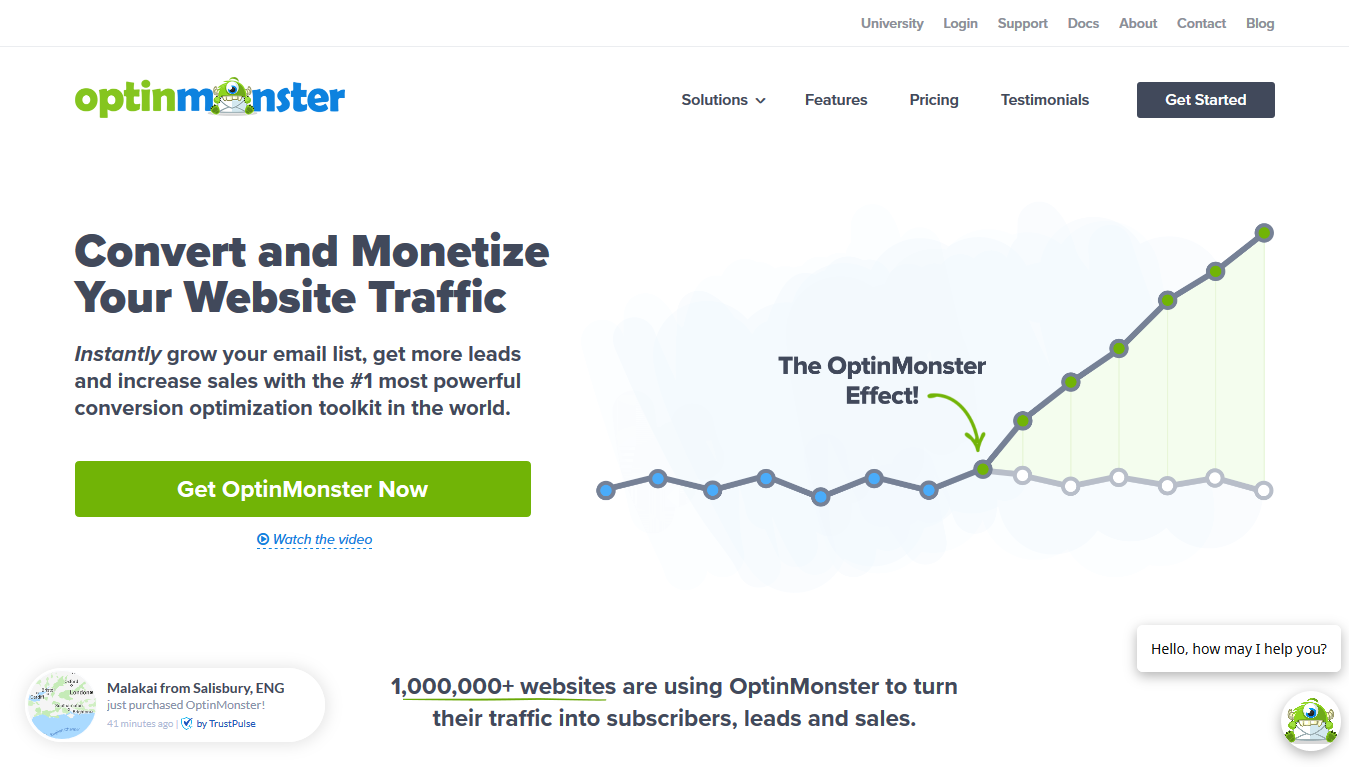 OptinMonster Features
OptinMonster has beautiful, high converting forms that you can use to appeal to any demographic.
It has highly effective lightbox popups that you can use to increase lead capture and sales. When they appear on the screen everything else fades into the background, and there are no distractions. They compel the user to take decisive action so that they can accomplish a certain goal.
The easy drag-n-drop builder allows you to create effective, highly converting campaigns within minutes and you don't need to have any coding expertise or special skills.
Yes/No forms allow website visitors to choose the action they want. Giving users two choices eliminates confusion and studies have shown that it's easier to convert them this way. Yes/No forms are also a good way to segment users.
Your mobile campaign will also benefit from OptinMonster's pop-up builder. The software has pop-up forms designed especially for mobile.
You'll be able to customize success messages with this software. You can personalize thank-you messages for users who opt-in or buy, confirmations for certain actions and more.
Use OptinMonster to create pop-ups that help minimize cart abandonment rates. It's also ideal for increasing social media engagement.
MonsterEffects is a really cool feature that allows you to use animations in your pop-ups, keeping them engaging and interesting, which in turn increases opt-ins and sales.
Popups integrate with Google Analytics so you can see exactly how each is doing.
Drawbacks of OptinMonster
While their popup builder templates are customizable they can be better. You can change things like fonts and colors but you cannot move items around to get a truly customized popup.
---
View Listing
You'll always find Optimonk in lists of the best popup builders. Its premise is that it will help you grow your business by converting site visitors into leads and those leads into sales using powerful pop-ups. These appear to the right users at the right time, because you can use the software to segment users.
The software will let you create unlimited offers using dozens of templates on an easy-to-use editor. You don't need to have any coding or technical expertise to get OptiMonk to work for your online business.
Visitors who leave your site without buying are not lost. So long as there are popups in place to gather their email addresses, you can integrate this information with email marketing software and follow up.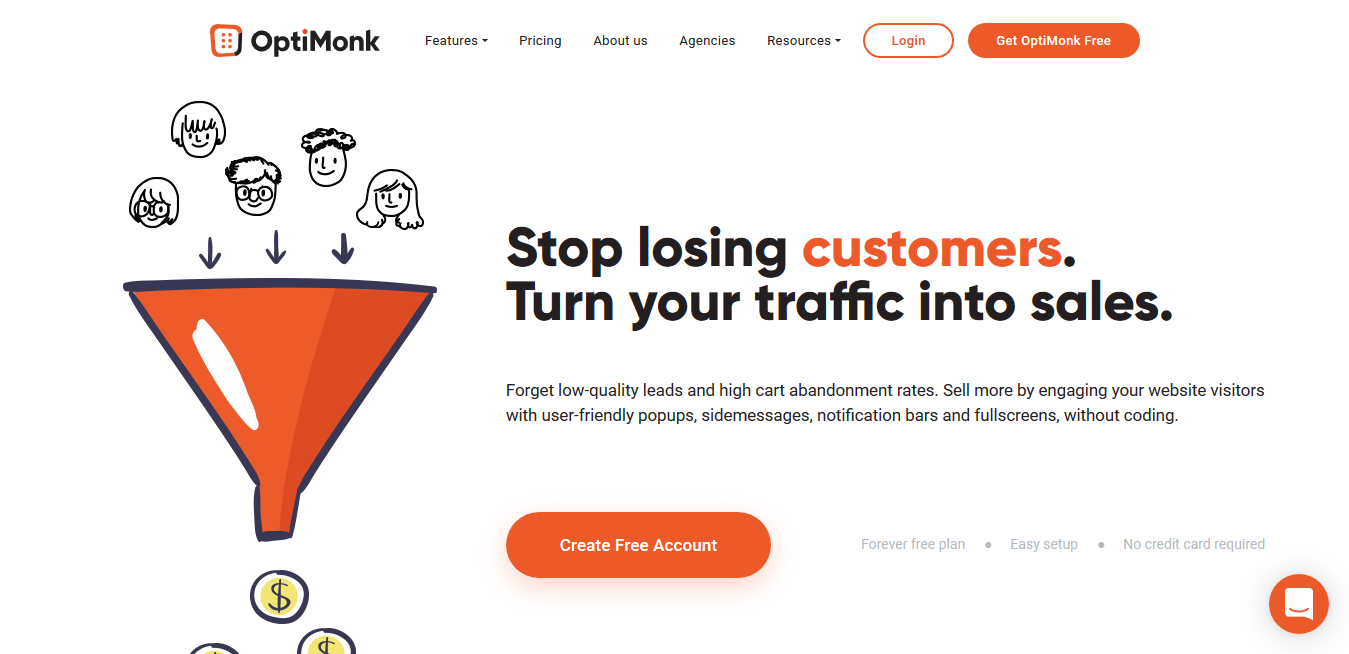 OptiMonk Features
More than 200 templates are enough to keep your site interesting and popup messages varied. You can adjust font and layout accordingly, and there is an advanced image editor for those who want to do more.
OptiMonk exit-intent popups ensure that you capture the details of as many visitors as possible before they leave your site.
You can target visitors based on where on your site they click. If, for example, they click near the bottom of the page you can send them an offer for the product they have been reading about.
Use Javascript to trigger events that are not handled by similar types of software.
If a user visits your site and then there is inactivity (no scrolling or clicking), you can send them a pop-up to nudge them back into action.
You can also target visitors by how much time they have spent scrolling a page.
Segmenting visitors with this software is easy. The information you gather using popups allows you to learn more about them so that you can send them more targeted messages.
OptiMonk has specific cart rules that create sales funnels. Even if a site visitor doesn't buy the first time, they are in the funnel and you can follow them up later.
Use the A/B testing module to test your popups and find out the ones with the highest conversion rate.
An advanced analytics module gives you a breakdown of the numbers, what they mean for your business and what you can do to make them even better.
OptiMonk Drawbacks
The biggest problem with OptiMonk is that pricing is based on pageviews. This makes it expensive when you run a campaign. Some users have also complained that it has a steep learning curve because it has so many features.
---
View Listing
Picreel works by tracking a site visitor's footprint and then at the right time, presenting them with the right offer. You can use it to capture leads, give special promotions, gather information through customer surveys and even get them to register for special events.
Some of Picreel's biggest customers include Forbes, EarthTech, WickFire, 3DCart and Virgin. It integrates with common e-commerce software and platforms.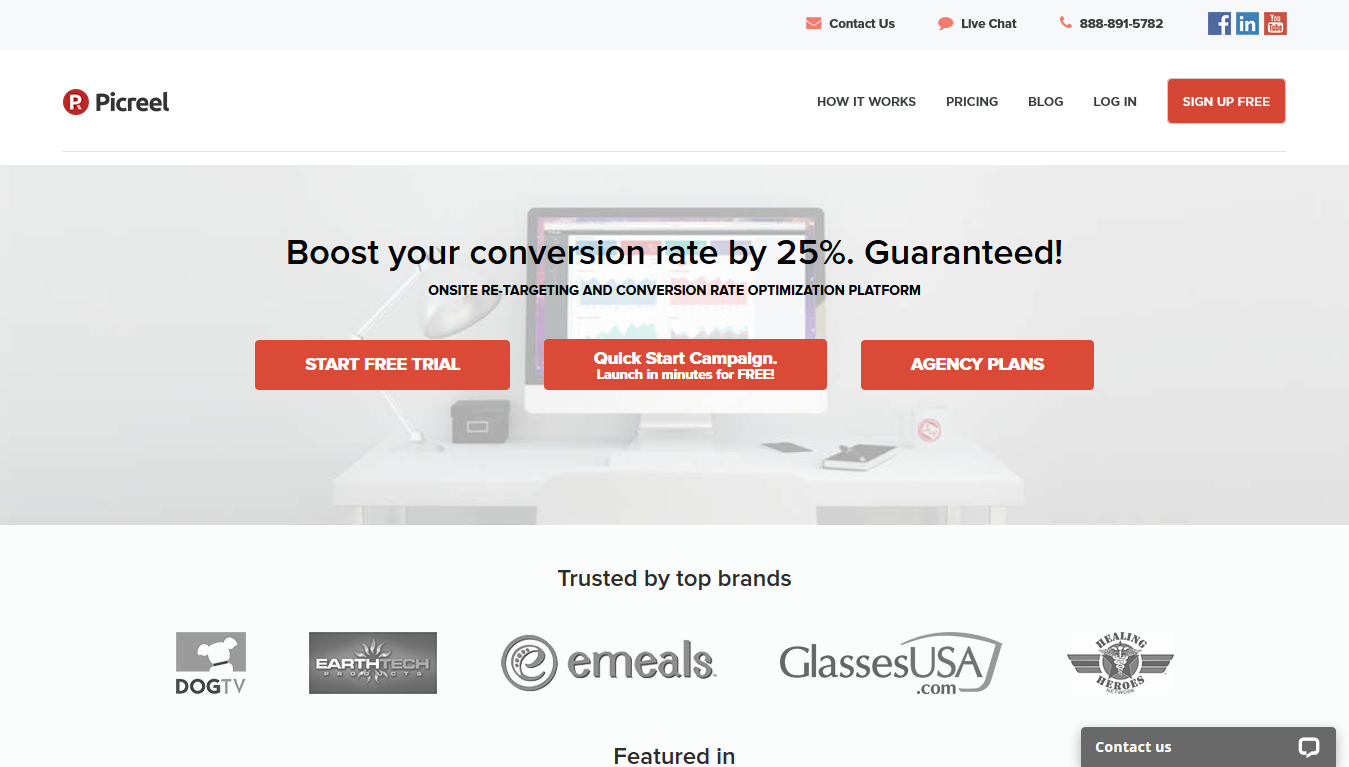 Picreel Features
An-easy-to use editor allows you to create offers within minutes. The editors have customizable features – you can change font and colors to suit your brand.
Picreel has a powerful analytics module. You can see statistics from each popup including clicks, impressions and conversions.
The A/B testing feature lets you test all popups before you implement so that you can keep only those that work.
The analytics databases are linked, allow you to customize offers. You can refer to site visitors by name and remind them about products that they were interested in the last time they visited your site.
Use Picreel to make sure that visitors to your site never leave without seeing your latest offer. If you don't have any offers you can create a popup that encourages you to leave their name and email address.
Picreel has mobile capability. Your popups will appear on mobile devices and you can analyze data from specific devices.
A variety of case studies on the Picreel website will help you get started with real examples of how to make it work.
Picreel Drawbacks
The Picreel interface could use some work. Some people feel it's a little confusing and gets glitches from time to time. Also, instead of the default interface taking you to a summary of your campaign it takes you right into the detailed data – not useful is all you want is a quick overview.
---
Conclusion
As you can see, even the best popup builders will have lots of great features but there will be one or two things that are lacking.
As you choose, you have to decide which one best meets your needs. The one that will work best is the one that fulfils most of your requirements. For us, it's Convertful, which is comprehensive and quite easy to use.
All the ones discussed here easily qualify for the category of best popup builder for digital marketing, but you should do your homework and proper comparative analysis so that you can find one which works for your business.