How To Choose The Right Marketing Automation Tool

There are many processes inherent to digital marketing, such as email marketing, SEO, lead generation, and so on. However, over the past few years, a new tactic has emerged: marketing automation. How do find the right marketing automation tools?
Different marketing automation tools fit different requirements, so you need to make sure that whichever tool you pick is the right one for your business. In this article, we'll go through the advantages of using marketing automation, and how to figure out which tool suite best fits your business.
Without further ado, let's get started!
---
What Are The Advantages of Marketing Automation?
1. Customer acquisition is easier and cheaper
Automation not only saves you time, it saves you money too. If you avoid repetitive tasks, you can focus on what really matters.
In this case, marketing automation takes over conversations with prospects until they are ready to convert. Then, you just need to jump in and close the sale.
This makes it easier for you to find the users that are more likely to buy from you. You can target and score leads as you acquire them and focus conversion efforts in the right places.
At the same time, drive your cost per acquisition down since you don't need to spend so much time working on conversations that can be automated.
Lead conversion takes a shorter time too, because the process is automated.
2. The average order value (AOV) increases
By streamlining your sales process, you increase customer trust with a shorter margin for error. This increases trust in your brand. By creating a good relationship with your customers, they'll feel comfortable buying more from you..
It's all about creating a great customer experience. Once you've got that figured out, your average order value increases.
3. Increase customer loyalty
Marketing automation can also help increase your customer loyalty. When users have a really good experience with a specific brand or product, they have no reason to buy from your competitors.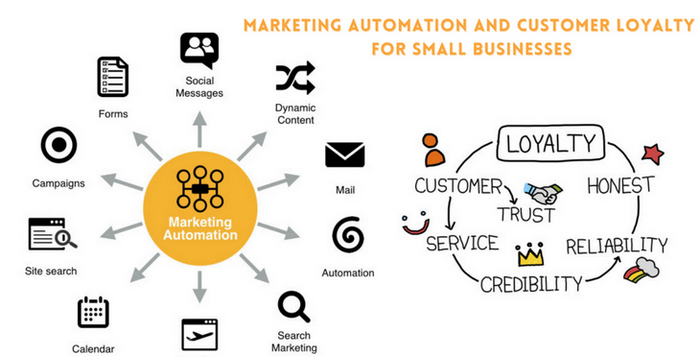 This means you'll have a loyal customer base that will stick to your products, coming back to you again and again.
4. Purchases become more frequent
By automating your marketing, you remind your users that you're there for them. They might not be planning on buying anything, but if they get a good offer from you at the right time (according to the triggers in your automation), why not?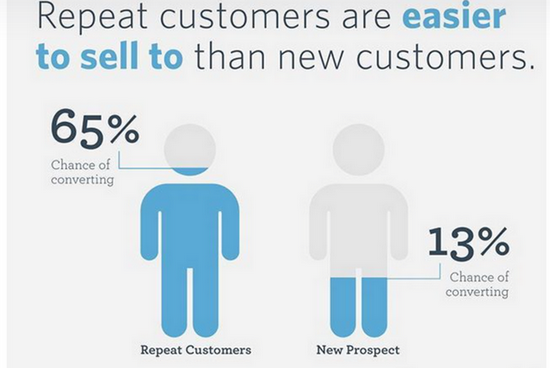 This is not exactly a button that gets you conversions with zero effort, but it's quite close. After all, you can set your automations for all future prospects, with a very limited need for optimization.
Of course, you'll have to update your automations every now and then, but most of it is "set and forget".
5. Automation improves your conversion rate
Once again, automation helps increase your productivity and sales at the same time. By increasing the number of users you can message at a time, it's easier to target hot leads for your business.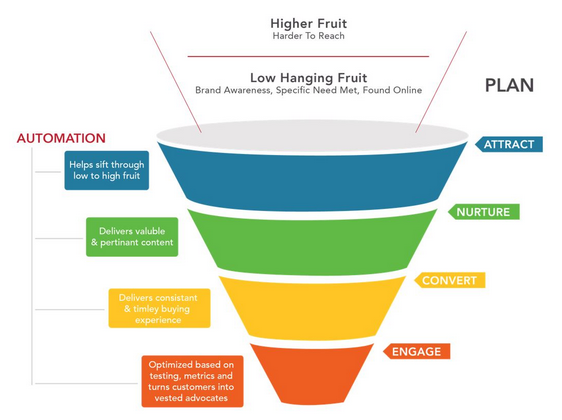 This will then increase your conversion rate if you use a lead scoring system – a few tools like Platformly offer you an integrated lead scoring feature. This feature can help increase your conversion rate by allowing you to focus on promising prospects and dropping off inactive leads.
---
How To Assess Your Needs For Marketing Automation
In the previous section, we mentioned a few key advantages of marketing automation. However, there are no two businesses alike – and your needs should be the most important thing to consider when selecting a marketing automation tool.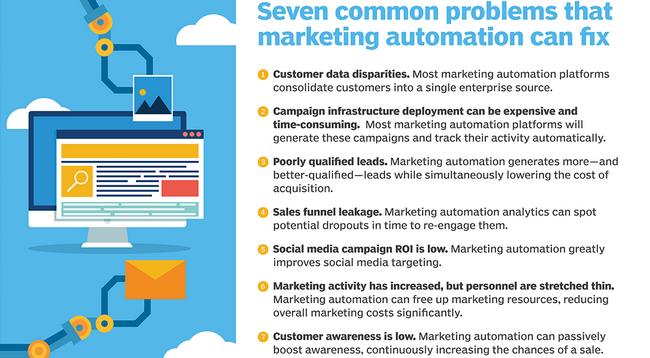 So, in order to choose the right platform for your marketing automation, you need to ask yourself a few questions. We'll go through the more important ones, in our opinion.
1. Your goals
How do you measure your brand's performance? Is it through conversion rate, free trials, new contracts, newsletter subscriptions…? This should play a part in your decision to subscribe to a marketing automation software.
Let's say your brand sends newsletters with special offers. In that case, any new subscriber is a potential customer. So it would make sense for newsletter subscribers to be one of your main goals – if not the main one.
Therefore, the marketing automation tool you pick needs to be able to help you achieve your main goals. Using the same example from before, in this case it would be important for the marketing automation software that you choose to include a powerful and highly customizable email builder to create your newsletter.
It is also relevant to choose a platform that allows you to measure your CTR (click-through rate), deliverability, and so on. Only through measuring results, can you make sure you're doing what's best for your business to thrive.
2. What other tools do you use that require integration?
This is especially important if you already have a large software stack. You need to make sure that whatever software you choose for marketing automation is going to integrate well.
As an example, Platformly integrates tools commonly used such as Google Analytics, Slack, Shopify and more.
A native integration allows you to connect actions taken in different platforms, to create intricate automations that join several apps together.
3. How detailed will your automation flows be?
Some marketing automation tools allow you to get quite granular when it comes to creating automation flows. Other apps are more focused on email building, or opt in pop ups…
If your business needs highly detailed automation, you need to make sure the software you pick has that ability.
However, if you don't need all those bells and whistles and your automations are basic (abandoned cart emails, email subscription management, and so on), it's not worth it to spend that extra on something you do not need. Analyze each software thoroughly to find out which one best fits your situation and goals, as mentioned above.
---
What You Should Consider When Evaluating a Tool
Now, we've gone through what you need to assess when it comes to your business's needs. Other than that, you also need to evaluate the tool itself: does it fit your needs? Is the price/quality ratio reasonable? Which tools do you need?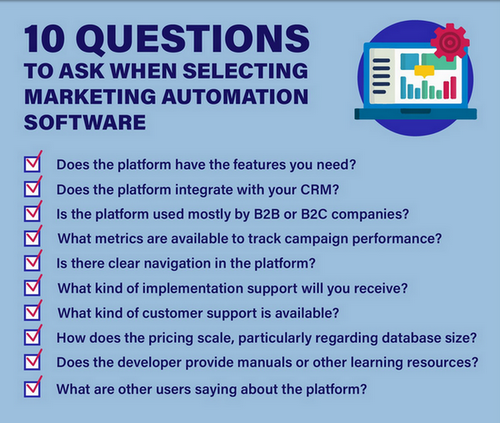 In this section, we've summed up a few items you should consider when picking a marketing automation tool suite. Let's dive in.
1. Interface
Even though there are a few similarities, there are no two tools alike when it comes to the interface.
Each interface values some specific features (which are easy to access), and those features vary a lot. This means that something you can reach in two clicks in an app might be six clicks away in another one.
The best way to know is through testing, of course. So we recommend creating a shortlist of the softwares you think will be best for you and testing a few.
Most marketing automation tools have a free trial period or a money-back guarantee. This gives you enough time to test the tool to find out if the interface is intuitive enough for you according to the tasks you need to perform.
2. Features
These are usually easy to check. Just look up the tool you're interested in and likely their website will have a feature list. This is easy to do, but at the same time can get quite confusing.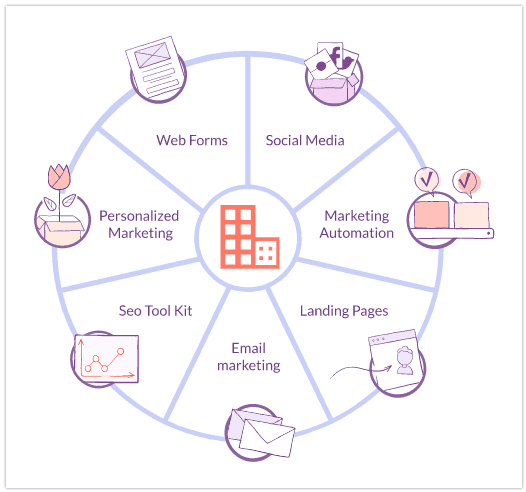 We recommend listing the features of each tool and creating a comparison board. You can also read reviews (you can find a few here at WooFresh), especially from reviewers that are not affiliated with any brand.
Independent reviews, comparison articles, shortlists – all these are great for comparing features between marketing automation apps.
3. Integrations
This item has two different aspects to it. First of all, we already mentioned that you need to make sure your marketing automation software integrates well with the apps you're currently using for your business. This is essential regarding your current needs.
At the same time, there might be apps that interest you and that you're planning on subscribing to in the near future. You need to think ahead – do the apps that you want to get match each other? Are the integrations native or through webhooks? Are those incoming or outgoing webhooks? These are all questions that you need to ask yourself before committing to a marketing automation tool.
4. Customer support
In an ideal world, everything would flow smoothly from the moment you subscribe to a marketing automation service. However, you need to accept that things can go wrong even with the best of services.
Therefore, customer support is at the foundation of a good service. To find out, look for testimonials from customers of the service you're after. Sometimes, you can find these on the service's website. If you're not sure, google "product X customer support review" or something similar to get a feel of the general opinion.
5. Training and learning resources
Sometimes, you don't need to wait for customer support. If there are training and learning resources available, you might be able to find the answer to your question from these materials first.
Learning resources usually offer you tutorials about most functions in your marketing automation software. Ideally, the right tool for you should have an easy setup that can be executed following simple instructions.
Not every app is easy to use, but if there are learning resources readily available, you can make it work without having to go back and forth with customer support.
6. Userbase
It's important to make sure that the marketing automation tool you pick has the resources to adapt to what you need, according to your niche. For example, let's say you have a dental care clinic. The ideal marketing automation software for you would be one that is integratable with a CRM that allows you to schedule activities (like appointments) and send notifications about services and offers.
As you can see, each niche has its own requirements. Therefore, you should research the userbase of each specific software. Usually, the software itself will claim to be "ideal for small to medium businesses" or "the ideal choice for IT professionals" and so on. You can also ask for references from peers on Twitter, Reddit…
7. Pricing
Of course, pricing is something everyone cares for when subscribing to a service. When it comes to marketing automation softwares, pricing plans can be slightly complex and multi-layered. Usually, you are charged by the number of contacts, plus the number of messages (email or SMS) you are going to send monthly. Also, you can have several users for the same account, or need to create several dashboards, and so on.
If you know what you need, it becomes easier to understand how the pricing model works.
For the same value, you can get more or fewer contacts in your audience, more or fewer monthly sends, transactional emails, SMS marketing, and many other features. You need to assess your needs, as previously stated, so you can make an informed decision according to what you value.
8. Onboarding
It's not easy to create a simple onboarding process. However, if done right, onboarding can create a great user experience right from the beginning.
Research is, once again, everything. Onboarding is arguably the most important part of a customer experience with a SaaS: after all, if you can't get past the initial setup of the marketing automation service, you'll never be able to use it for your business.
So, make sure that the software you choose has an easy onboarding process that will not leave you alone to figure it all out..
Now, you probably have an idea of the answers to these questions regarding your ideal marketing automation tool. In this next section, we'll give you a few examples of tools that you can use for marketing automation, according to your use case.
---
The Tools We Recommend
Of course, we'd like to share with you our software recommendations. Each of these tools is different, and that's why we're mentioning them – this will give you several options. Read on to find out which are our favorites for marketing automation.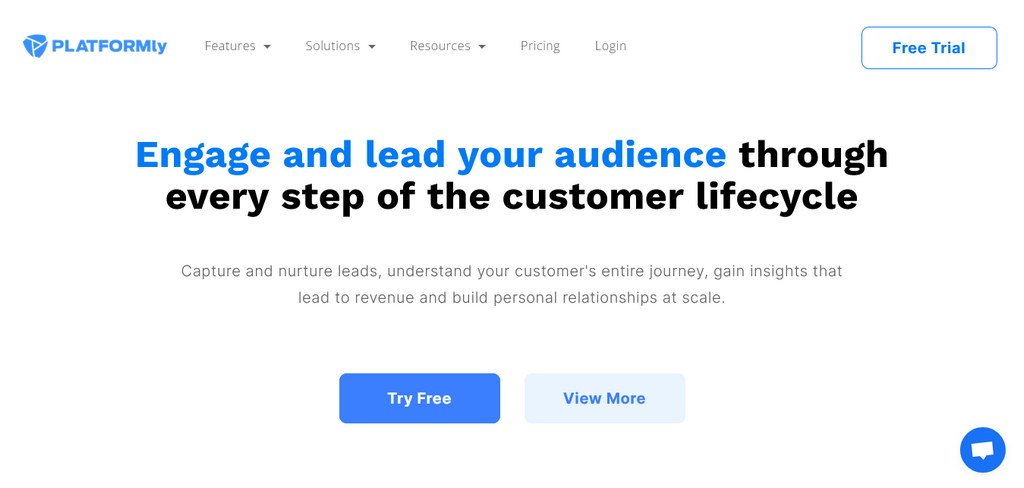 This service offers email marketing, marketing automation and more. Although it's not widely known, it provides customers with a very easy to use interface and a great user experience.
Even though it's a very comprehensive SaaS, onboarding is easy by just following the steps that appear when you log in for the first time. Actually, User Pilot wrote a case study about Platformly's onboarding process.
The friendly customer support team also helps users overcome any possible hiccup, always available no matter your time zone.
Integrations allow you to move data easily between the several platforms you might use.
Pricing plans are based on your number of contacts, and how many emails you are going to send per month. Also, other features can be leveraged by choosing between the Starter, Growth and Unlimited packages.
Prices start at $19 and you have a 15-day trial to see if Platformly is what you need for your business.
| | |
| --- | --- |
| Pros | Cons |
| It's an all-in-one tool, with marketing automation, CRM and analytics modules | Lots of functionality can be confusing for beginners |
| The tool has a drag-and-drop easy-to-use email builder | The knowledge base needs improvement |
| Your email list is segmented accordingly so you can target the right prospects with the right message | It doesn't integrate with as many marketing apps as some others in this category |
| The software has a good UI and is easy to learn | |
| It is well supported | |
---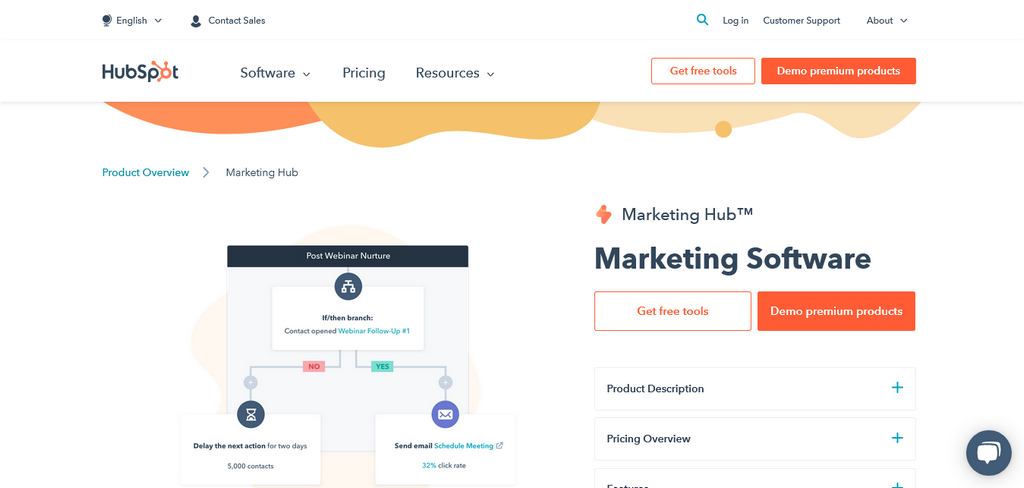 Unlike Platformly, Hubspot has been around for quite a while. In fact, these two SaaS couldn't be more different.
Hubspot is quite complex to onboard and might be too advanced for simple daily use. However, advanced users that are disappointed with simpler tools might find the Hubspot tool box is precisely what they were looking for.
You can also pick between different areas (such as sales, marketing, etc.) and subscribe to only those features that you need from Hubspot. This is a very clever approach that gives you complexity without having to pay for tools you don't need.
| | |
| --- | --- |
| Pros | Cons |
| The platform is well-designed and easy to use | Similar tools often have more customizable CRM solutions |
| A powerful automation module allows for customization, and you can use it for social media as well as email | It gets expensive as you scale |
| It has a good segmentation module that allows you to customize your lists | The Hubspot Academy gives you all the training you need to benefit from the tool |
| Hubspot is a good solution if you're looking to collect customer data | |
| You get a lot of tools under one roof | |
---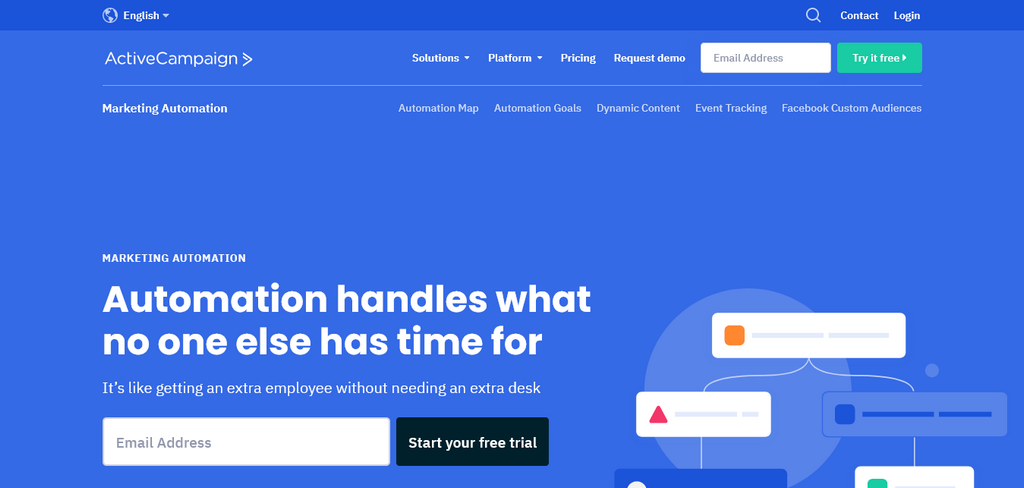 ActiveCampaign is another behemoth in email marketing and marketing automation. It offers over 500 automation templates, which is great when you're starting out. Once you learn the process and evaluate what your company needs, you can grow out of these templates and create your own exclusive automations.
Also, when it comes to pricing, ActiveCampaign starts with contact lists up to 500 contacts. This plan costs you only $9 per month, which is great for the level of customization it provides.
Another strength of this tool are their integrations: this software integrates with over 850 different platforms. Not bad, right?
| | |
| --- | --- |
| Pros | Cons |
| The software has high email deliverability rates | The email builder is not the sleekest |
| There are features for advanced users for those who want to do more | The advanced features take time to master |
| Machine learning helps improve your campaigns over time | It can be slow at times |
| The software seamlessly integrates different online marketing functions | |
| You get a versatile email builder | |
---
View Listing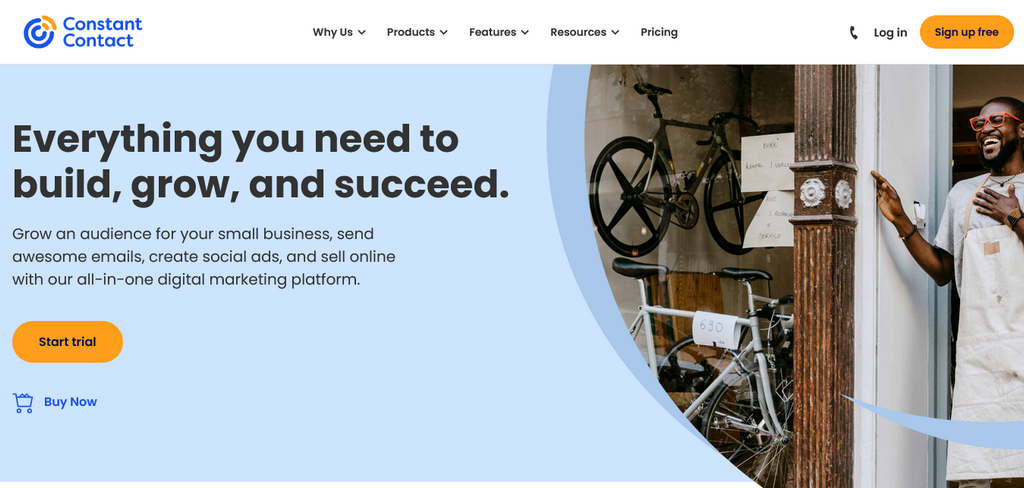 If you run a small business or a non-profit organization, Constant Contact is very likely to fit your goals. It has been around for 20 years now and has grown steadily in its features and tool set. Constant Contact keeps up to date with current marketing trends, and allows you to not only create email marketing automations but also to create a website or an ecommerce shop easily.
Of course, if you don't need a website builder, you could go with an easier tool like Platformly.
Pricing plans for Constant Contact start at $20, and there is a free trial available if you're not sure about buying it for your business. There is scalability, so you can get more services and features as your company grows.
| | |
| --- | --- |
| Pros | Cons |
| It has an intuitive and well-designed user interface | Templates are not very flexible |
| The software integrates with a wide range of third-party apps | Pricing can be expensive as you scale |
| You get high email deliverability rates | It doesn't have multi-channel automation |
| It has an impressive set of niche features | |
| You get a good email tracking module | |
---
View Listing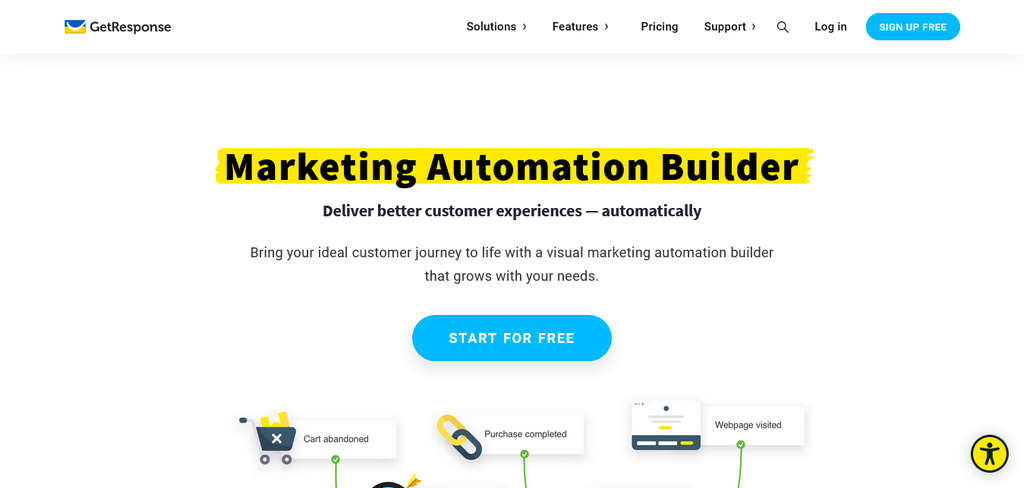 This platform boasts over 30 tools in its suite, which might be a little intimidating to begin with. However, the biggest strength of GetResponse is its Free plan, which is enough if your main goal is to keep costs low.
Just like Platformly and Constant Contact, GetResponse also allows you to create a website or a landing page using its editor. This tool is very useful if you don't know how to code and want to get things done by yourself.
Small to medium businesses, solopreneurs, and non profits will love to use GetResponse, as it is a very simple tool that you can start using for free. Also, when it comes to pricing plans, they are tailored to each business or individual, starting at $10.50 per month.
| | |
| --- | --- |
| Pros | Cons |
| It has a user-friendly interface | The basic plan doesn't give you access to all automation features |
| You get a webinar functionality | You only get dedicated support if you buy their most expensive plan |
| It has a good split testing tool | The drag-and-drop feature needs improvements |
| You can integrate a variety of third party sales and marketing apps | |
| Allows multiple languages | |
---
Wrapping Up
Using the guidelines we suggest in this article, you'll find it's easy to pick the right tool for your business.
We use Platformly ourselves. We love the interface, the great customer support and the drag and drop builder. It is a very comprehensive tool suite at a reasonable price. It is also adapted to suit the needs of small and medium businesses.