The 4 Best Free Email Signature Generators of 2022 + Tips
What is an email signature generator? Does it add any value to your email campaigns?
You've seen email signatures before; they appear at the end of emails, and they tell you who sent the email, what company or business they are from, their contact details, website URL and so on.
More impressive ones might have a nice profile picture of the sender or the company logo right next to the signature.
To the novice, this may look like rocket science. Many email marketers don't bother to find out how they can add an email signature to their campaigns because they assume it takes some coding, and you need technical skills to include one in your communications.
You don't need to know how to code. Anyone can use this nice piece of branding. All you need is an email signature generator.
Create the email signature, upload it to your service provider and save it as your default signature.
Each email you send out after that will include your signature, and you have one more way to showcase your brand and impress recipients with your professionalism.

---
What is an Email Signature Generator?
An email signature generator is a software that allows you to create customized email and save it to your email provider. After that, all your emails will go out with this signature.
There are many free email signature tools available online. The best include customizable templates that make it really easy to create signatures.
As with most free software, you have to be careful with the signature generator you choose. Some offer more features than others. Some are easier to use and some work with a wide variety of email clients.
This post looks at the best free email signature software you can download and start using right away.
Before we look at them, it's worth exploring why you should bother with email signatures and how to create one in a few simple steps.
---
Benefits of Email Signatures
If you have the right email signature tool it doesn't take more than a few minutes to brand your emails. Before you add extra content to your email, it's important to know its impact and whether there are tangible benefits. At a glance, here are some of the benefits of email signatures:
Brand awareness – think about how many emails the people on your email list receive every day; possibly dozens. What makes yours stand out? A signature is an excellent way to reinforce your brand. Your emails are more memorable, and over time, you build awareness of your brand and your products.
Personal touch – automatically generated signatures help add a personal touch to your emails. Those who receive your emails know that they were sent by a real person, not a robot. It helps build trust in your brand.
You're easier to find – if a user wants to find your contact details all they have to do is go to your website, click on contacts, and see how to get in touch with you. But what is someone who's reading an email would like to call you or visit your office? You make it really easy for users to find you, and this has its advantages.
Professionalism – brick and mortar businesses take the time to print out stationary for communication; it shows they are professional. The same happens when you append a signature to your emails. Recipients see that you are a professional business and they are more willing to engage with you.
Additional links – if you don't want to clutter your email with links the signature is a perfect place to put them. You can add your website URL and social media links.
Promos – do you have a sale or registration drive coming up? Just add the details to your signature with a link to the relevant page.
---
How Do I Create a Professional Email Signature?
What does a professional email signature look like? The steps to create one vary in different signature generators. However, the following tips will help ensure that your signatures are impactful and impressive:
Your signature should have your name and job title, business name, contact information, phone numbers, and website URL. Arrange this information so that the most important details appear first (your name, title, email address and contact details in that order).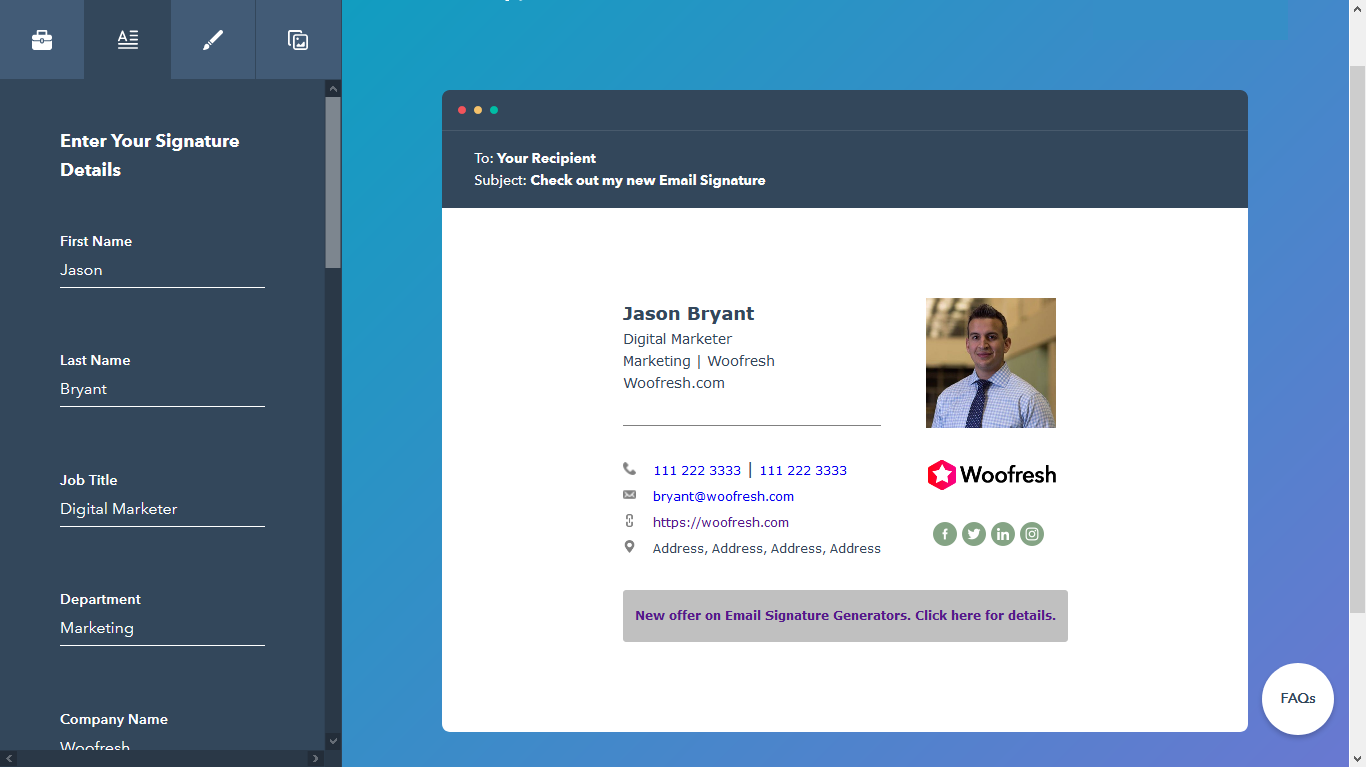 Choose a font that compliments your brand. If you have an established business font it would be best to go with that to maintain consistency.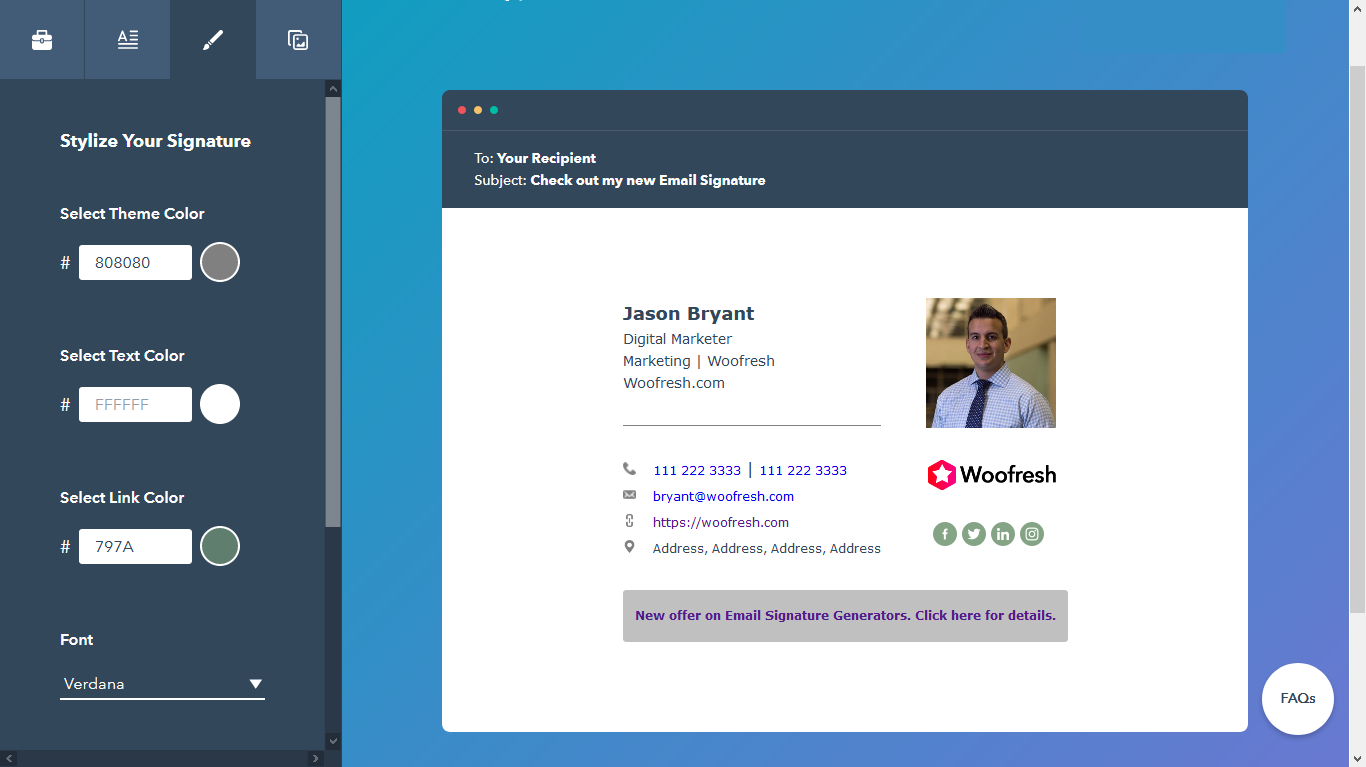 Make sure that you use colors and design styles that are consistent with your brand. In other words, stay consistent as it helps with brand reinforcement.
Additional information should be at the bottom of the signature (social media icons, discount offers, personalized meetings etc.).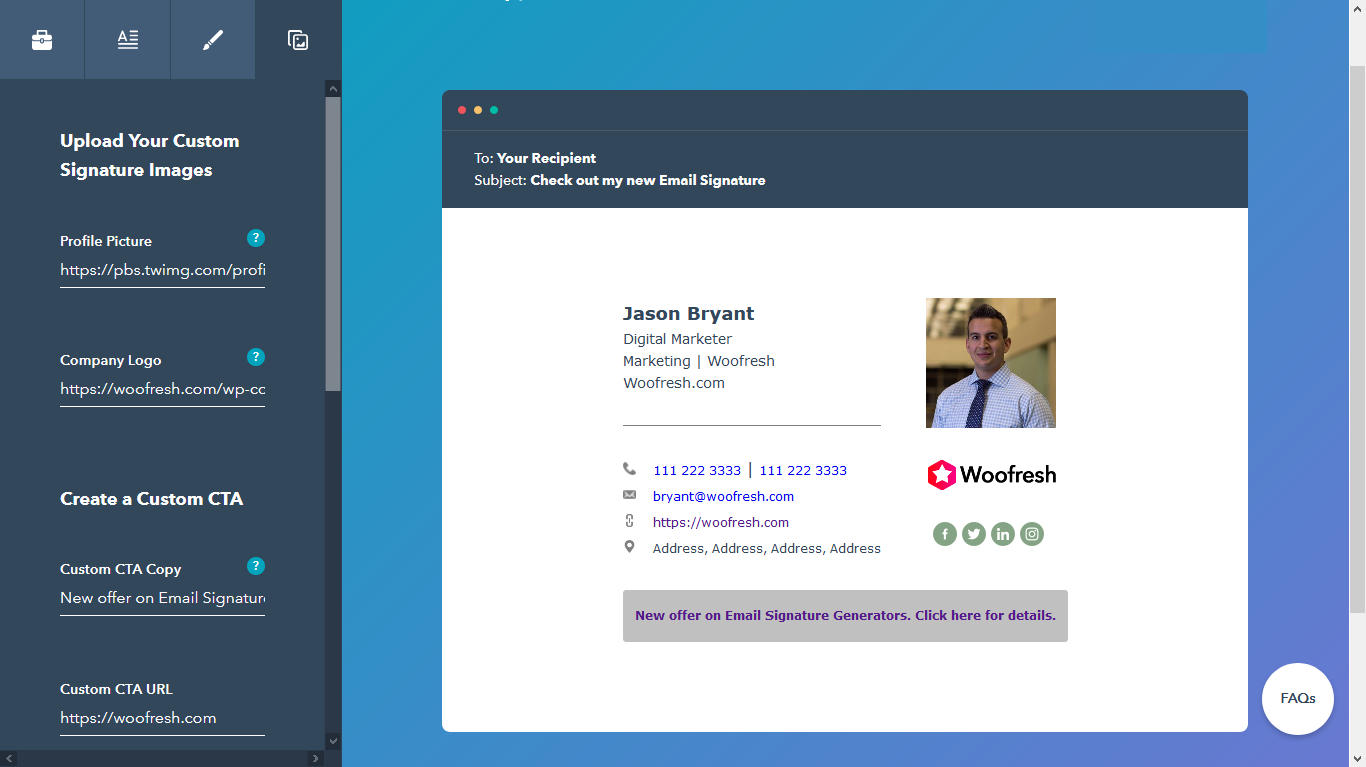 Each link in your signature should have a URL or UTM tag. These tags allow you to monitor traffic trends for Google analytics. Each time a user clicks on a link from the signature it will be included in reports.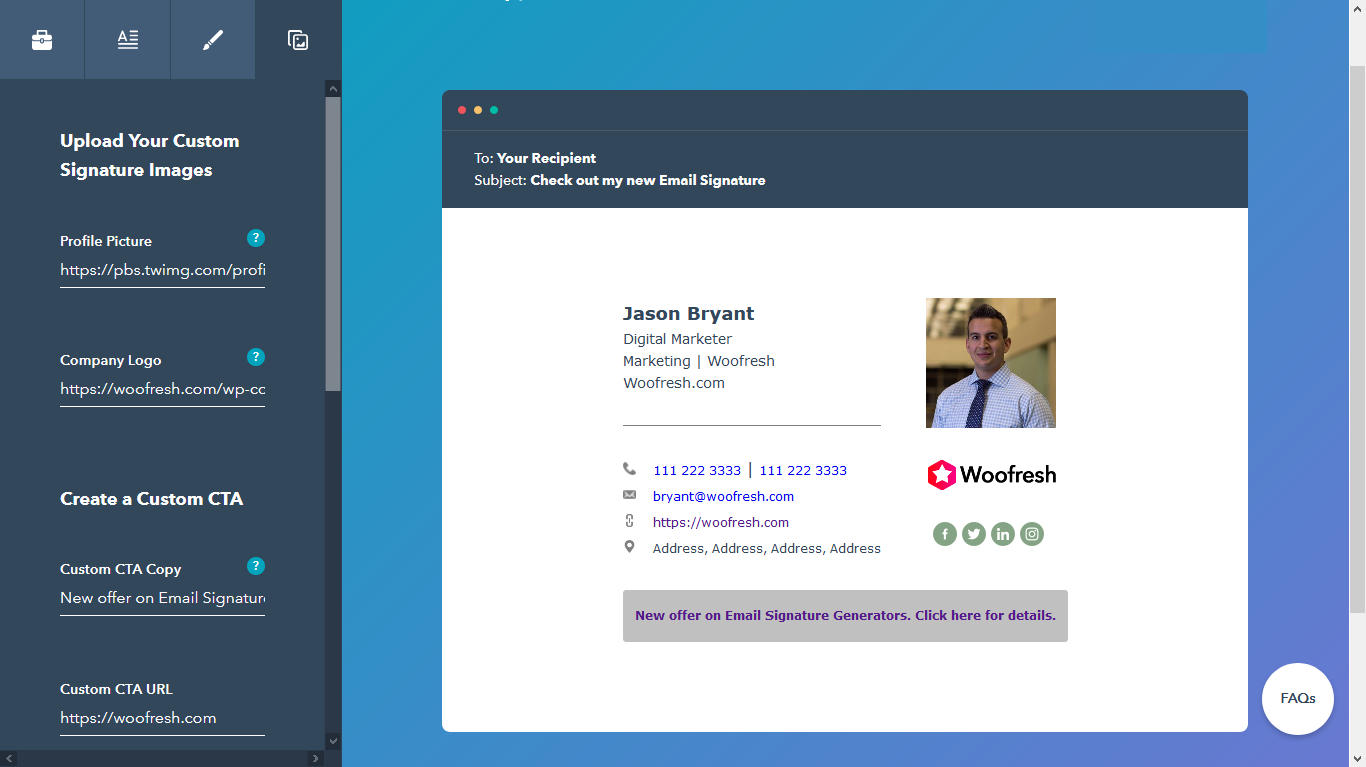 Make sure that your signature renders properly on mobile devices.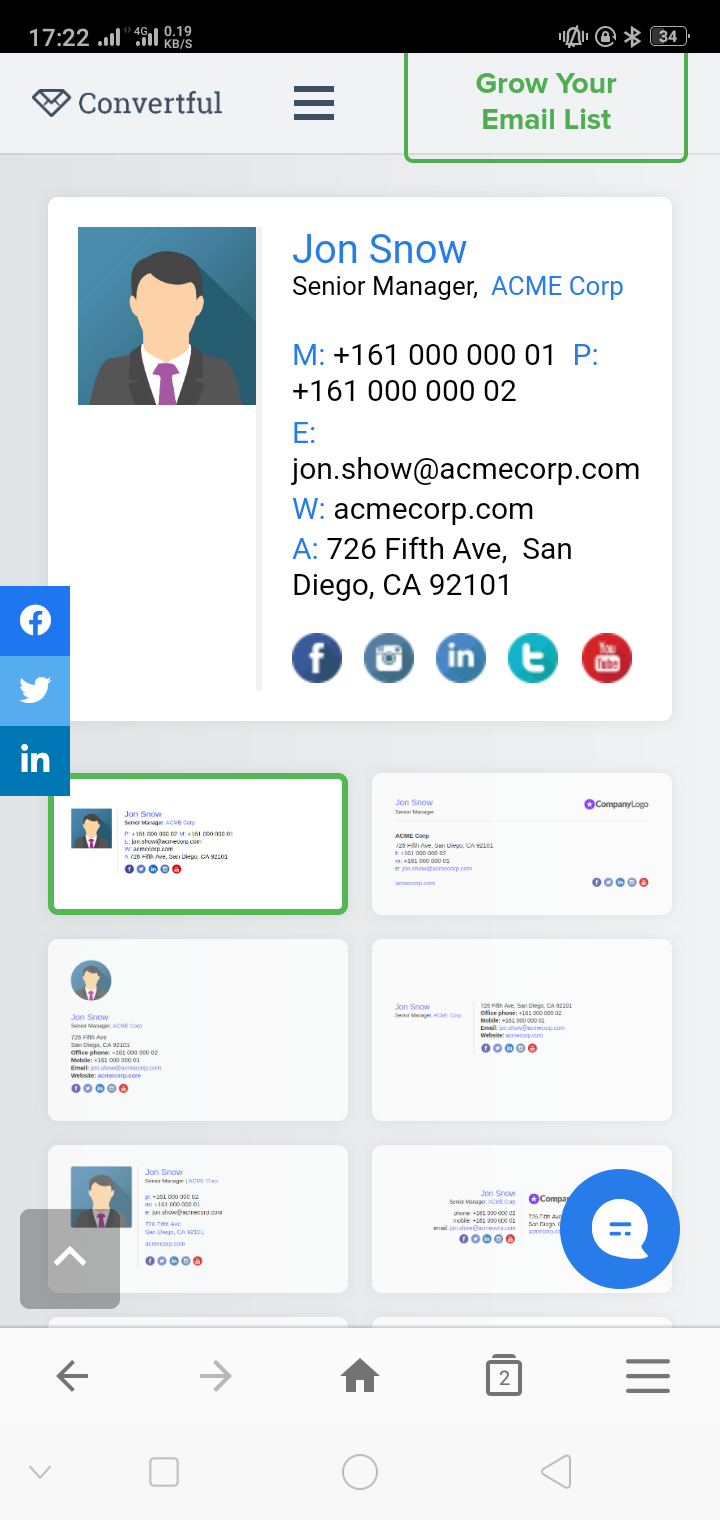 ---
Best Free Email Signature Generators
Read Review
View Listing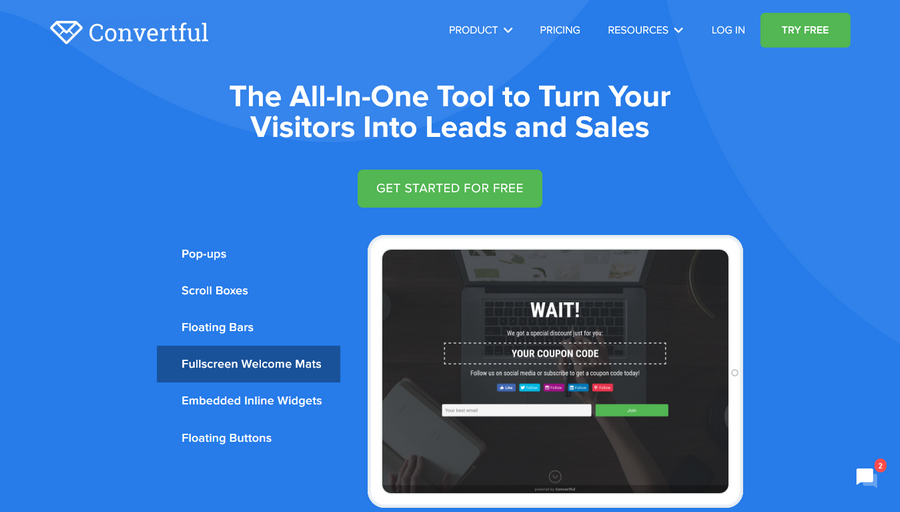 The Convertful email signature template generator is easy to use and you can have a signature ready in as little as 5 minutes.
All you need to do is fill in the necessary fields – name, email address, mobile phone, job title etc., and then click "Create Signature".
The tool provides fields for personal data, company data, social links, call-to-action, and design, and there is a disclaimer section as well.
The software comes with several templates, so choose the one that best represents your brand.
Convertful is more than signature software. It's an all-in-one tool for converting visitors to leads. It offers spin-to-win gamification, social subscription popups, segmentation surveys, quiz funnels, cart abandonment popups, account-based offers and more.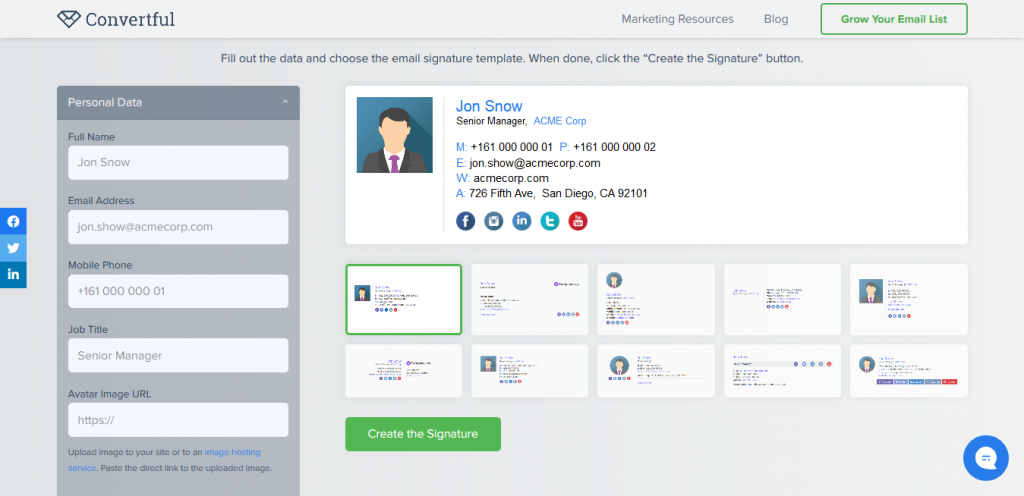 With Convertful you have support for different types of campaigns and conversion hacks that will help boost sales, as well as many other useful online marketing tools.
---
View Listing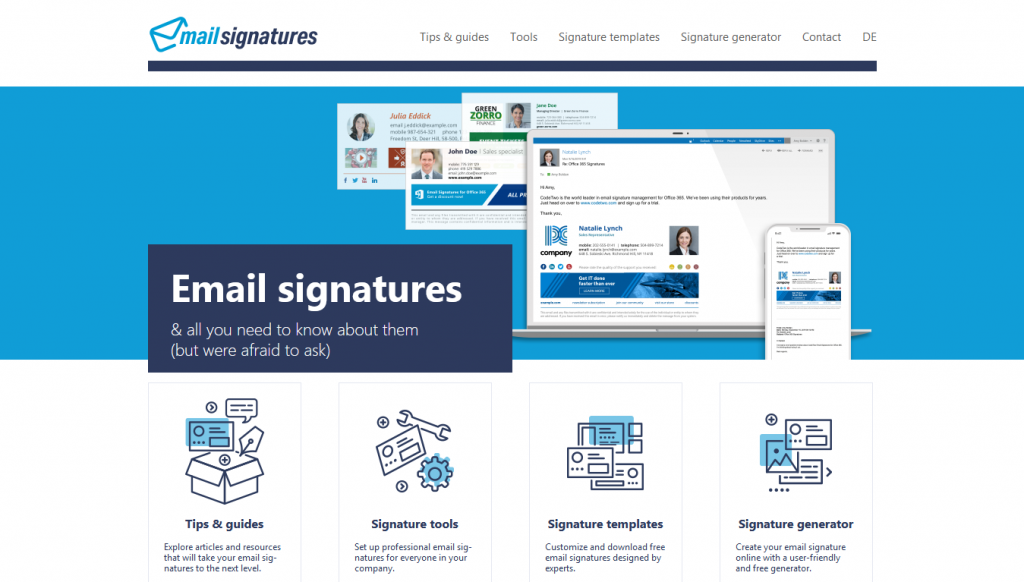 Mail Signatures provides everything you need to automatically generate signatures. It has a variety of templates to choose from, there are fields where you input all the necessary details and you even get a Dark Mode preview.
To create a signature, you begin by choosing an email platform. Options include Outlook, Outlook 365, Gmail, Exchange Server, Yahoo, Apple Mail, Opera Mail and several others.
Fields are grouped into personal data, company data, graphics, style, disclaimer text and social media links.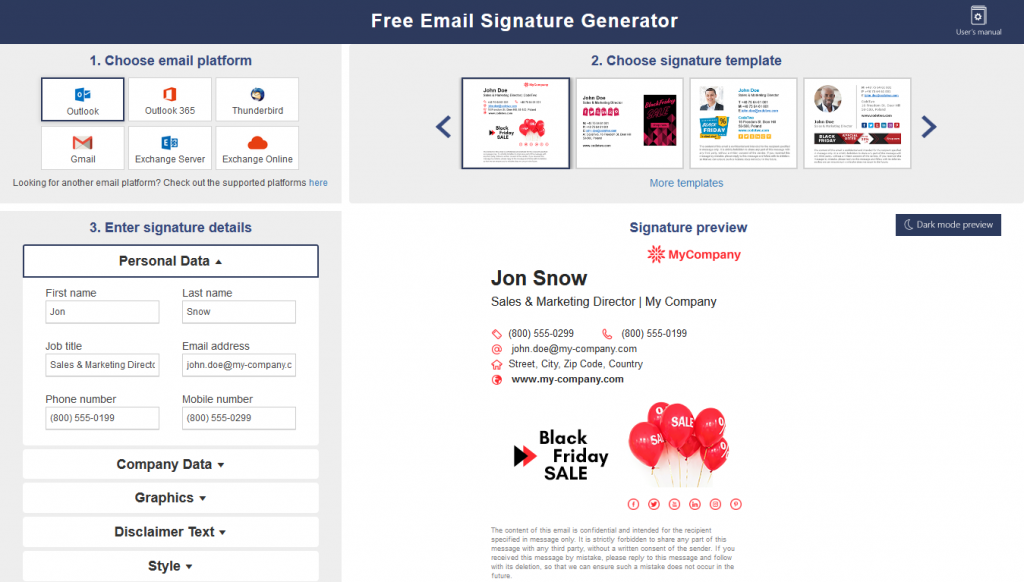 There is a detailed user guide on the site that takes you through the process of setting up a signature.
---
View Listing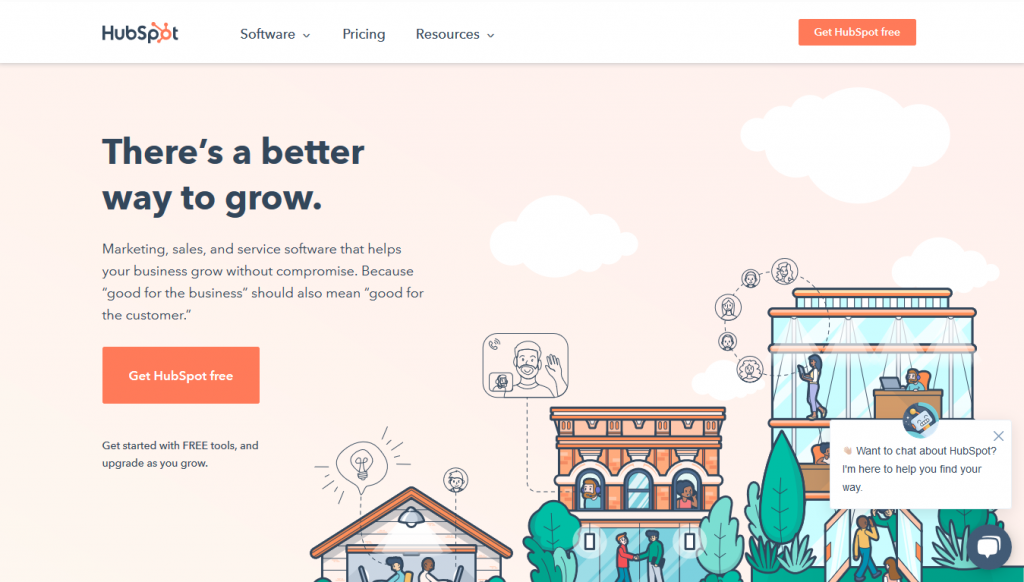 While most online marketers are familiar with Hubspot, they may not know that it has a signature generator. It comes with six templates, so you can select one that best suits your needs.
After you choose a template you add the signature details. Here, you have fields for personal details (name, title, company name, phone number etc.). You can also enter social links, and there is room for custom fields.
The next step is to customize your signature, and here you can choose color, text and font. The last step is to add images (logo or avatar).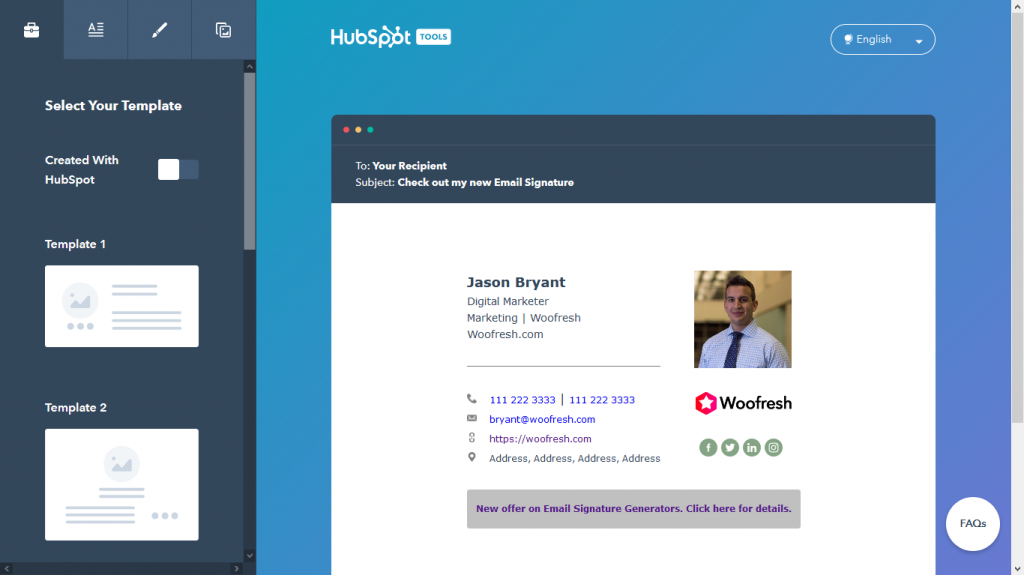 As far as signature generators go, this one is pretty easy to use, and in a few steps you can set up and save a customized signature that will go out on all your messages.
---
View Listing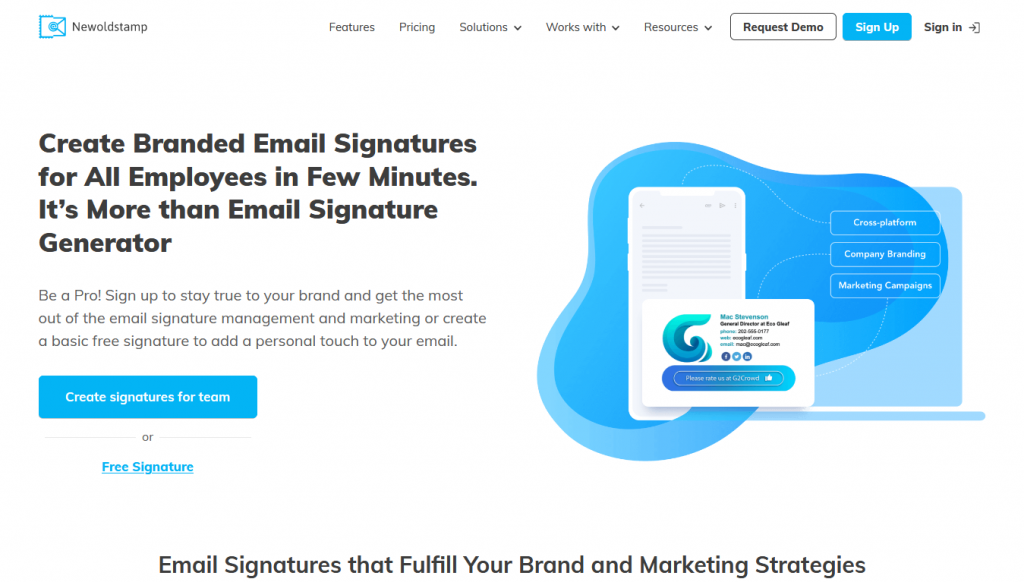 Newoldstamp is an email generator tool for teams. You can use it to create signatures for all team members which can be managed from a single dashboard.
The software provides a large variety of signature templates. There are also banners, social icons and apps, all which you can add to your signature.
To add details, click on "Signature Details" and you'll find fields for name, title, company and more.
There is a section for you to add a photo, avatar or logo, another for social icons, one for banners and one for apps.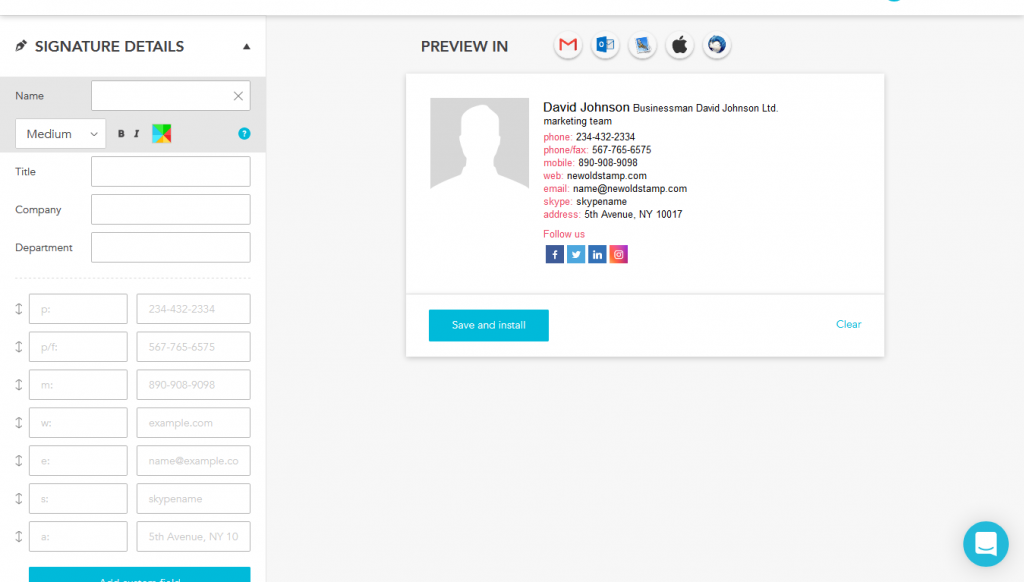 One of the best things about Newoldstamp is that there are examples to show you what different signatures should look like. You can, for example, see samples of double logo signatures, signatures for managers, freelancers, marketers, students and many other categories.
---
Conclusion
Signing each email you send sends a powerful message to recipients. It helps reinforce your brand, shows that you are a professional and provides an overall good impression. The most efficient way to do this is with email signature software.
The best free email signature generators are very easy to use – you can create a signature in just a few minutes. They allow you to enter multiple fields, and they work with a variety of email clients.
They also have many templates that you can choose from, and you can upload an image of yourself or your business logo to give your emails a personal touch.
The email signature generators discussed here will work for most small businesses. However, before you decide which one you'd like to use, make sure it works with your email clients and has all the fields you'd like to appear in your signature.