Slack Review: Everything You Need to Know
View Listing
Editor Rating: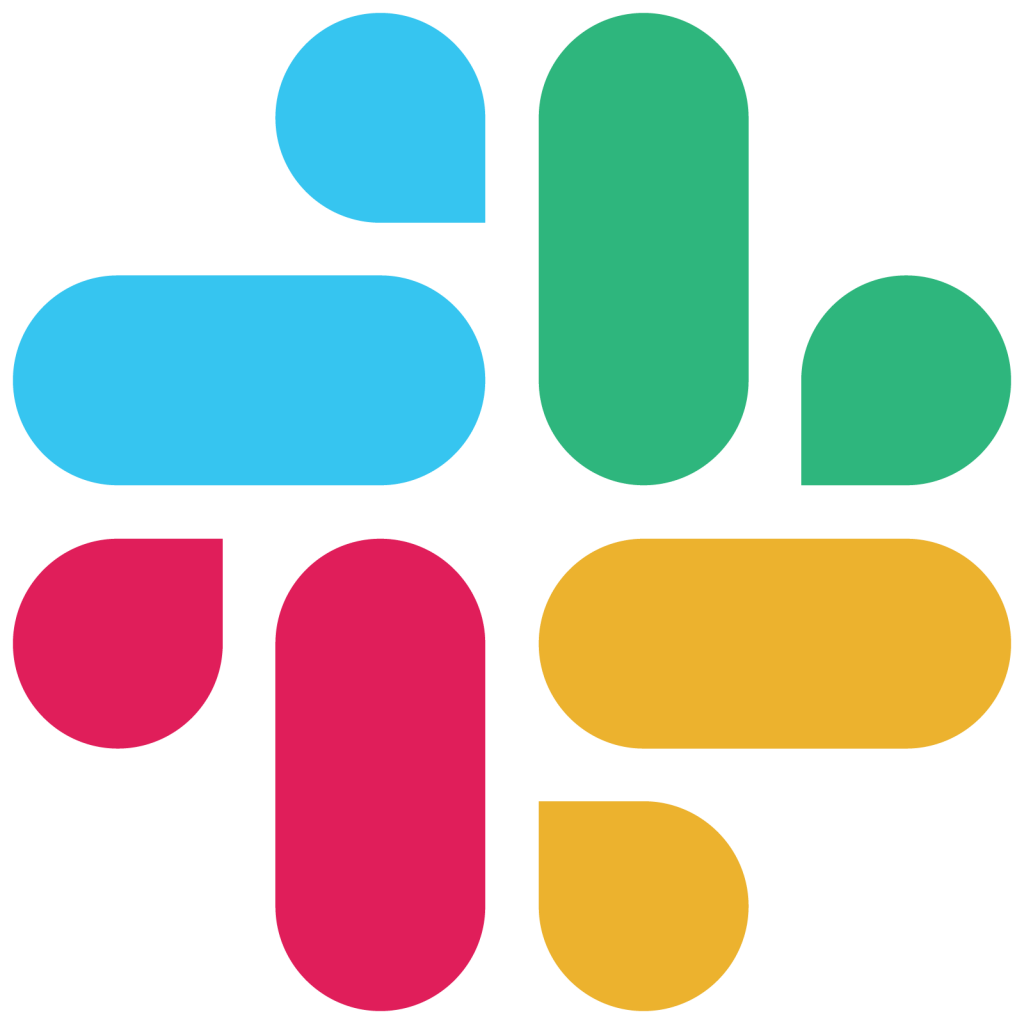 Salesforce has acquired Slack for a whopping $28 billion. Given that it's not nearly as old as many other workplace collaboration software, it has many people asking, "Why Slack?" To answer this question, we're going to do a complete Slack review.
It will look at common questions: what is Slack? Why should you communicate with Slack over email? How does this software work? And more.
But first, let's get a little background into this software. Slack started as internal team communication software for a gaming company in 2009. As the tool was refined over time, Tiny Speck realized that they had a gold mine in their hands. They eventually launched it in 2013, and its user base has kept growing since then.
The company now claims more than 10 million daily active users from 500,000+ organizations around the world. About 100,000 companies are paying for subscriptions, which is how the company makes money.
As companies and businesses struggled to come to grips with the Coronavirus pandemic lockdowns, this app became even more popular. It has now been widely adopted as the workplace communication and project management tool for teams.
It's no longer purely a business tool. Many individuals choose Slack to communicate with friends and relatives as it offers some features that aren't available in other popular chat software.

---
What is Slack?
The Slack app is workplace collaboration software that serves as an alternative to email. Rather than have to deal with an inbox, Slack sends instant messages that you can respond to right away on your phone, tablet, laptop or desktop.
The software allows you to chat with colleagues wherever you are, at any time. It has an intuitive interface, and learning to use it comes easily to most. You can use Slack in many different ways. It's ideal for company announcements, you can use it to assign and track tasks, generate invoices and even share and store documents.
In a nutshell, it makes communication between teams simpler and more pleasant.
The app has grown faster than many other software in this category, which is puzzling for some. Other workplace communication software has been around for longer and hasn't become nearly as popular.
The Slack app offers instant communication and the ability to share work documents, but this hardly unique. Other than that it is visually appealing and has integration tools for developers. It's hard to put the finger on exactly what has made this software so popular. Suffice it to say, it is much loved and for the most part it works.
---
Slack vs. Email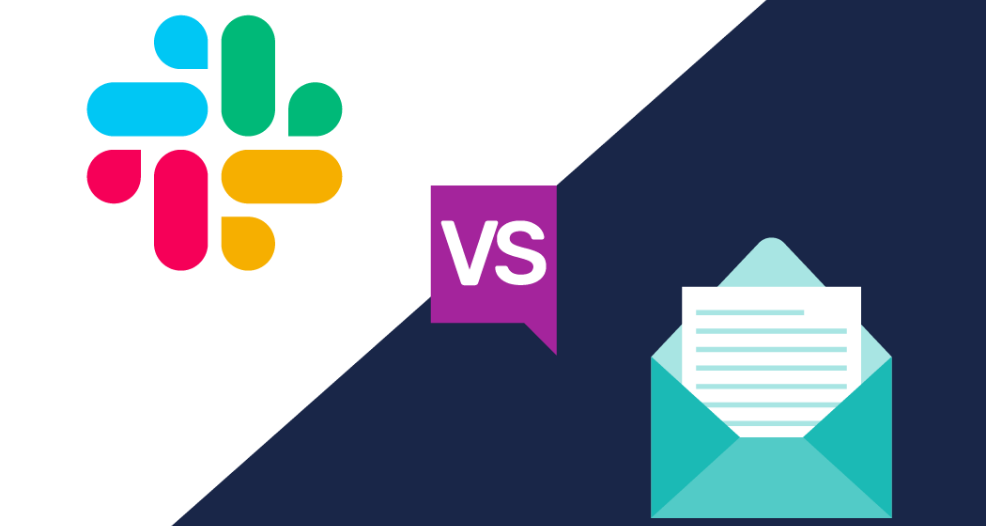 Slack's rise in popularity has many workplace managers wondering whether they should adopt it and drop email.
It shouldn't really come to a question of Slack or email; they both have their place. Each person in the workplace should know when to use Slack and when to use email.
Slack is defined as a chat tool. This means it's for quick questions that need quick answers. If, for example, you would like a supervisor or colleague to clarify a detail that you need to include in a report you're working on, Slack is the right tool to use. If you use email, there is no guarantee that they'll get back to you right away, and this will affect how long it takes to finish your report.
This app is also recommended for brainstorming within teams. It helps the process go faster.
However, after your report is done and you'd like to share it with the rest of the team you can send it by email. There is no urgency to it – recipients can read it and weigh in at their own time. There are other instances when using email is better than Slack:
When you are sending a long message – chat apps aren't designed to accommodate long messages.
When you want to ensure privacy. One of the issues with Slack and similar chat software is that there is no guarantee of privacy. Your supervisor can read your messages (they make this clear on the company policy). If you want to send a private message you're better off using email.
The issue of Slack vs. email shouldn't arise in an organization where good communication is encouraged. They should both be available to all as everyday communication tools. Emphasis should be on getting everyone to understand which context is ideal for which tool.
---
Slack Features
Channels





Slack channels are platforms where teams can communicate and share files and other important work documents. You can create a channel for anything you want – a project, a team, an event – and you can invite anyone you want to be a member.
Everyone within the channel can see all the communication, and this keeps them in the loop. You can address a message to one member of the channel, a group or everyone.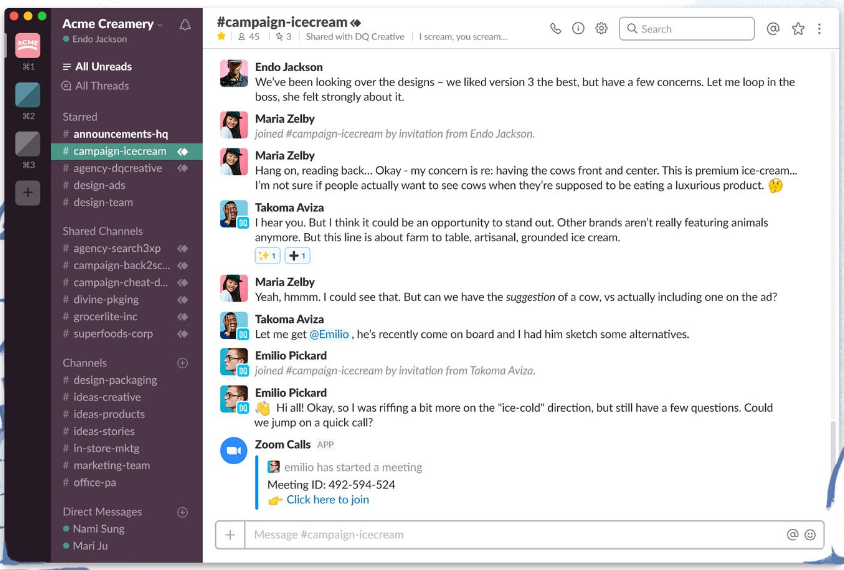 You can create 3 types of channels: public, which are open to all within the organization, private where only members can see messages and Slack Connect channels that allow you to invite other organizations to join the conversation.
Channels are important because they help you organize communication within the workspace.
---
Searchable History





This is one of the advantages that this software has over some other popular workplace chat apps. You can type in specific keywords to find previous messages and files. If you need a particular file from a conversation you had in the past just type in the file's name and the conversation is highlighted with the file attached.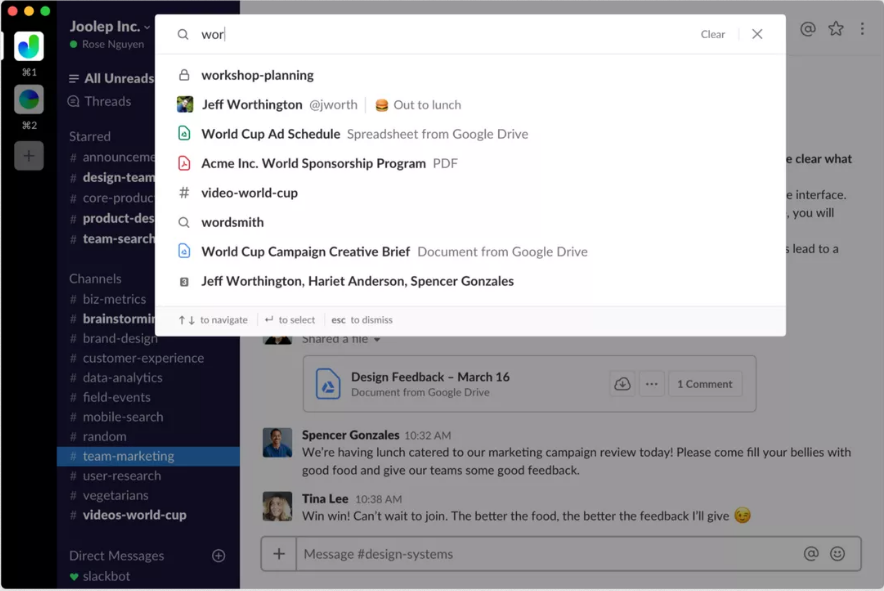 ---
Integrations





The Slack app connects with a huge variety of everyday workplace apps. They are divided into categories, and there is also a search bar that helps you quickly find whatever app you'd like to connect with.
A new working-from-home category has proved very useful in recent months, with apps like Obie, Loom, Donut, Clockwise and more.
Daily tools include Google Calendar, Outlook Calendar, OneDrive, Google Drive and others.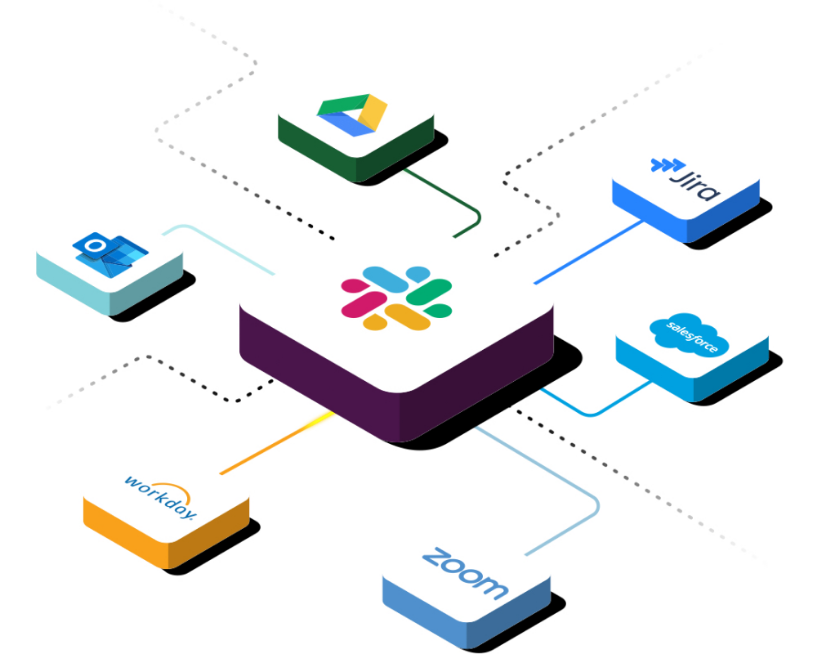 In the essential apps category we have Zendesk, Zapier, Hubspot, Fuze and a host of other sales, marketing and reporting software.
The list goes on and on. If you have software you'd like to connect to Slack, odds are it's already part of the 2,000+ app integration package.
---
Workflow Builder





This module allows you to get work done on time and in a more systematic fashion. Workflows allow tasks to be assigned to the right people, standardize the way information is shared within the team, and everyone can see what needs to be done and when it needs to be done.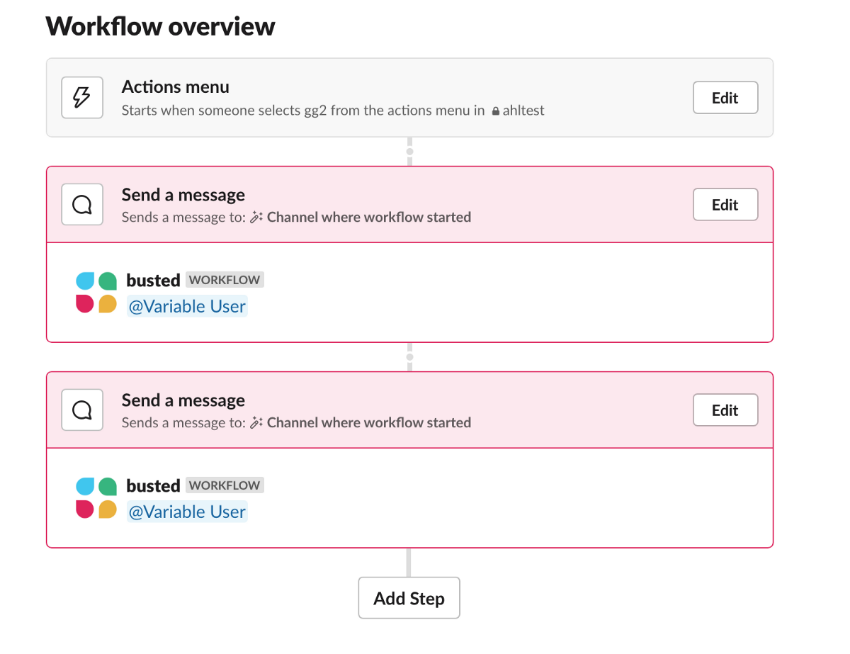 ---
File Sharing





Sharing files is easy and doesn't require any complicated steps. Just attach the file you want and click send, and it will be received at the other end immediately. Not only can you share files, you can also collaborate on them within Slack.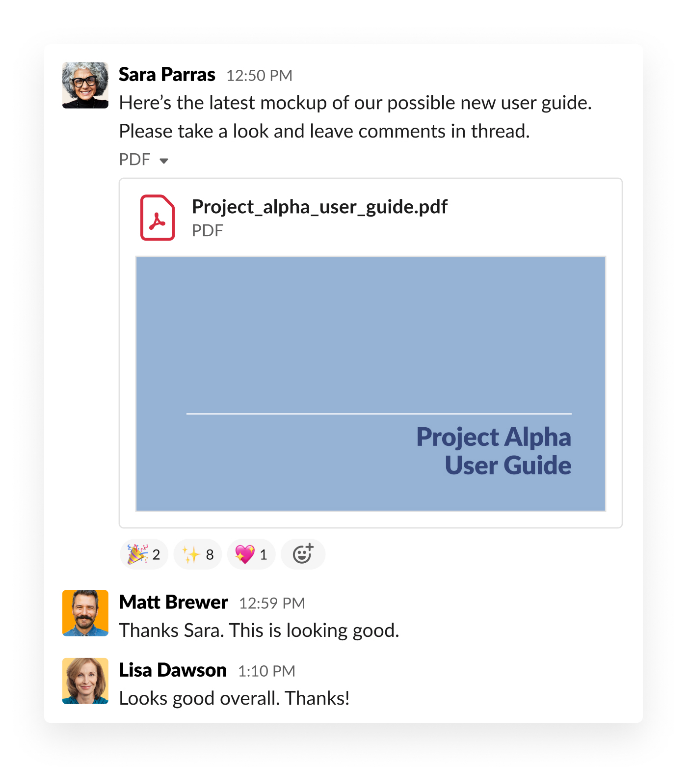 ---
View Slack on any Device





You are no longer tied to your desktop or laptop. Use this app to communicate on any device available to you at any time. You can either download the app onto the device or log in directly through your browser.
---
Enterprise-Grade Security





Slack was hacked soon after it was launched, and it seems they learnt a lesson from this. Today, the app uses the best security features to ensure communications are kept secure. With identity and device management allows only people with approved devices to access company information.
All data is encrypted, and additional measures like Slack Enterprise Key Management and audit logs provide added layers of security. You can also choose which country you would like to store your data through the Data Residency feature.
---
Enterprise Key Management





If you would like to take further steps to make sure your data is always secure, you can use the Enterprise Key Management feature. Get your own keys from the Amazon Key Management service to encrypt communications. Any team member who is privy to sensitive conversations is assigned a key that can be revoked by admin whenever necessary.
---
Slack Video Conferencing





Sometimes, chat is not enough; you want to communicate complex ideas or read someone's reaction. The video conferencing feature allows you to talk to others on the screen of any device.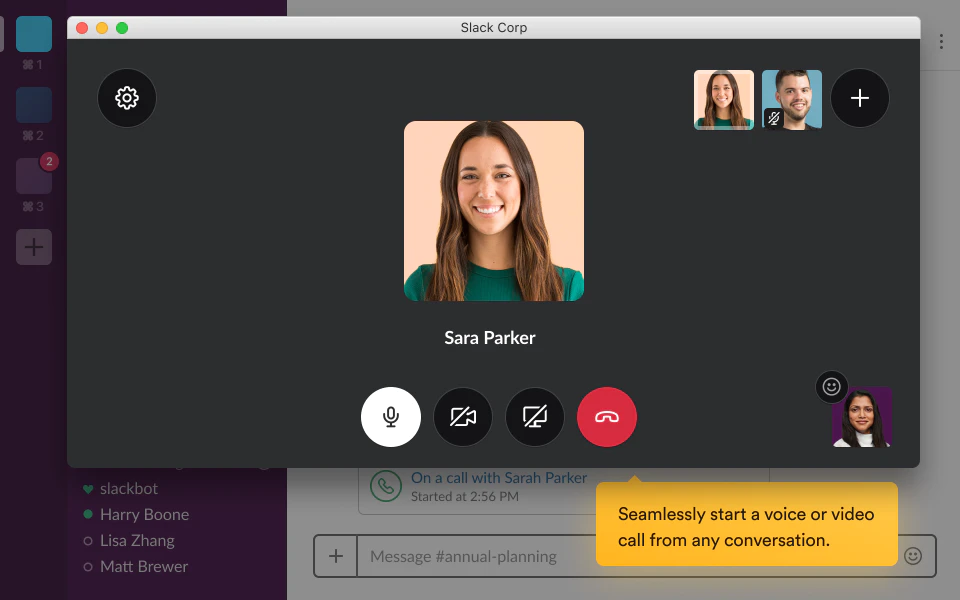 During video calls you don't have to leave the chat, and you can share files and show others your screen. If you don't have want to join a video call you can still listen and contribute to the conversation via audio.
---
Slack Voice Calls





You can make calls to your teammates straight from your chat. There is a phone icon within every chat, and all you have to do to connect is click on it. You can invite others to join your voice call.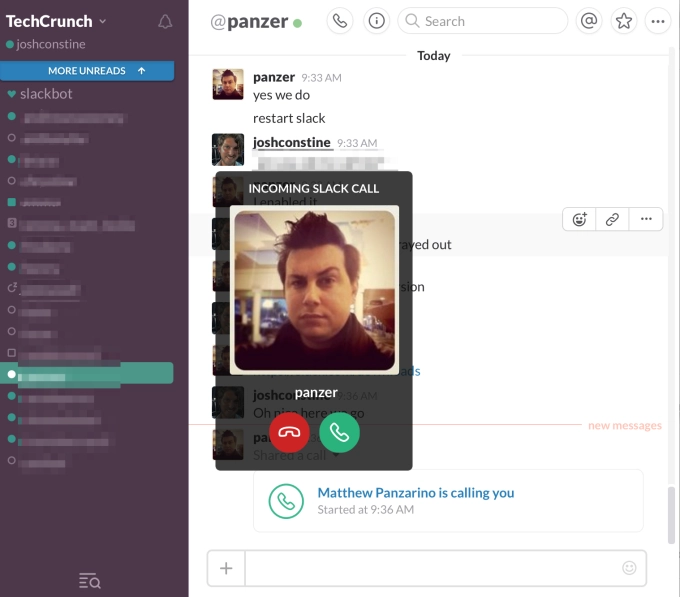 Note: For voice and video calls, if your admin has set up another app as the default calling client calls made from Slack will be routed through this app.
---
Drawbacks of Slack
You don't have to read a Slack app review to see that there are people who think this app presents some problems in the workplace.
It has excellent communication and file exchange features, but there is a growing feeling that there is more to this app than meets the eye. So why is Slack bad?
According to a Wired article entitled "How Slack Ruined Work", it is making addicts of users. Instead of people focusing on productive tasks, they spend too much time communicating on Slack, which makes jobs take longer to complete.
The problem, according to this article, is its need for immediate response. When someone sends you a message you know that they need a quick response, so you'll abandon everything you're doing to attend to that message and the next and the next, and before you know it you've spent a couple of hours just dealing with Slack chats.
Users who are very active on Slack also report working for longer hours because they need to make up for their time spent on the app.
It's all a matter of discipline. Anything can be addictive. When email became a primary means of communication at the workplace there were similar complaints, but people have learned how to use it without letting it get in the way.
If you are worried about how people will use Slack within your organization, you can develop team communication guidelines about how best to use the app to minimize interruptions.
---
There are three pricing tiers you can choose from:
This costs $6.67/month/user (billed annually) or $8/month/month/user (billed monthly). Features include an unlimited message archive, unlimited app integration and group video calls.
It costs $12.50/user/month (billed annually) or $15/user/month (billed monthly). Top features include 99.9% guaranteed uptime, SAML-based single sign-on and data export for all communications.
For this you need to contact the team for a quote. You can expect to get unlimited workspaces, data loss prevention features, offline backups, 1 TB of storage for each user, two-factor authentication for conversations and more.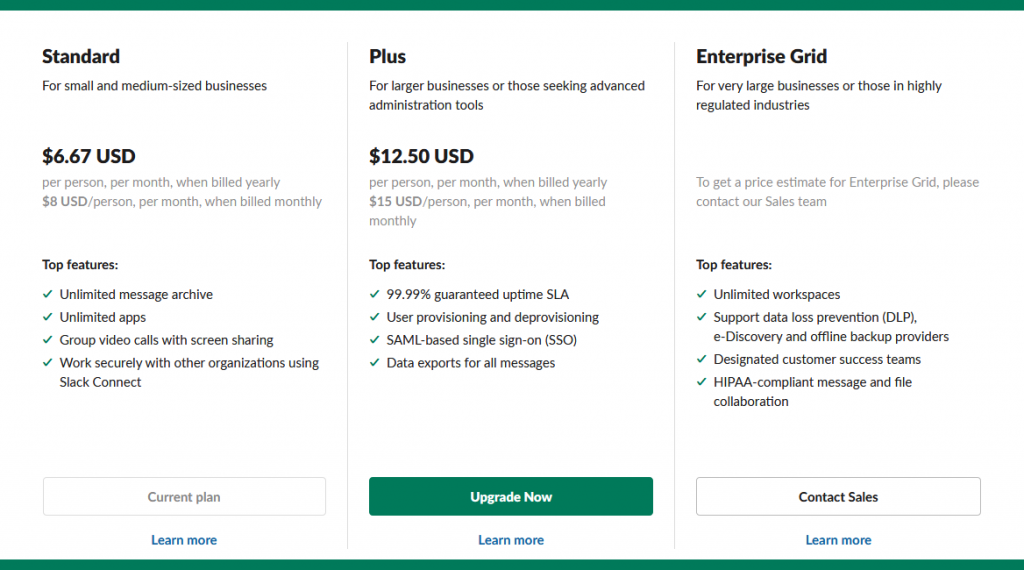 ---
Conclusion
Workplace collaboration tools are a dime a dozen. Everywhere you look you'll find software that claims that it can streamline and improve the way teams work.
Slack has managed to surpass all these tools and go right to the top despite being a recent entrant into this niche.
Although it is a basic communication tool, it has additional features that make it a better choice than similar software. The fact that you can create channels helps teams stay organized and keep everyone on the same page.
File sharing is also a big plus, and the fact that it is searchable makes it preferable.
If all you need is to help team members keep in touch, the free version of the Slack app will do but if you want to take collaboration to the next level there are paid versions that offer excellent features.