The 10 Best Law Practice Management Software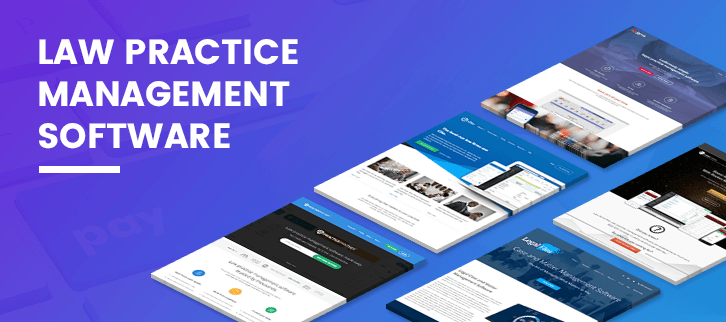 ---
Law Practice Management Software is introduced to eliminate the manual handling of all law firm cases, billings, bookkeeping and client's records to book their schedules, appointments and deadlines.
Isn't it amazing if your entire work is being automatically handled and managed by just the software?
Yes indeed it is, there are a lot of advantages attached to the legal handling software that will let you manage the deadlines that are a part of any lawsuit and add reminders which will be automatically added to your calendar, organize client files all your clients details will be arranged at one place, coordinates communications, documents retrieval and more.
As the competition is growing you should grab every opportunity that can lead your business and help you bring huge amount of goodwill and decrease your labour cost.
Have a look to these WordPress templates which are specially designed for lawyers 

Defense Attorney WordPress Theme
To help you get all these frames and more. We have gathered almost 10 best law practice management softwares. Start digging each of them and find the best that fulfill your needs and prosper your desires.
---
The Best Law Practice Management Software
Compared (in full)
Check all the services in detail as per your needs and choose service wisely – by the end, you'll know exactly which one is the right option for you.
1. Firm Central
Centralize all your law firm files and client data in a simple yet productive software that is Firm Central legal management software. Customize, build and save your firm's form to Westlaw Doc and form builder, then share them through firm central software. Firm's central matter management allows you to organise about anything from your dashboard any information, notes, documents, calendar, events and communications. This particular software is a secure legal practice solution. Pricing for this software is divided into three categories, so that according to your needs you can pick them.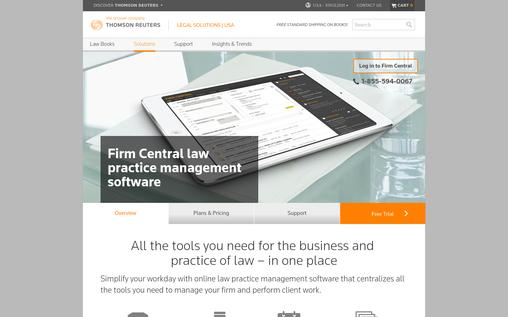 Remarkable features Are –
Matter management – allows you to manage in-house counsel staffs as well as outside counsel law firms. Manage everything from just one place.
Time and Billing – track and record billable time and associate applicable fee.
Scheduling and calendaring – Firm Central deadline assistant calculates and manages court deadlines based on Westlaw legal calendaring rules or your own custom rules templates then you can sync the end date with your calendar and share key dates with your law firm.
Document assembly – you can draft your legal forms very quickly and efficiently. Westlaw doc and Form builder allows you to save, customize and automate the forms.
---
2. Clio
Clio is one of the most comprehensive yet easy to use cloud based law practice management software. It gives you top to bottom approach i.e., manages your invoice, client cases, documents, billing and reporting. You can easily share documents with your clients and perform dynamic tasks, schedule a meeting and much more. Clio is integrated with the accounting software like QuickBooks online Xero to streamline your accounts process and help you track your spending on cases and create bills etc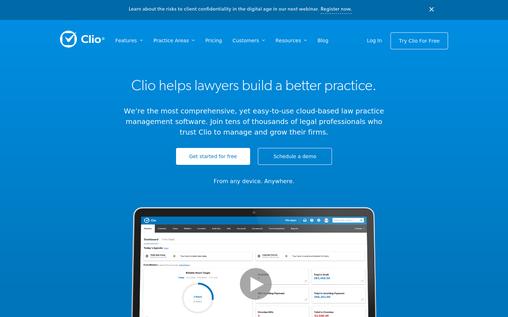 .
Remarkable features Are –
It integrates you with hundreds of most use web Apps to centralize your practice tools in one location.
Advanced document management that lets you create, share and store unlimited numbers of files. You can easily find with ease all the information to stay organized in your practice and create templates to generate routine legal documents.
Robust security features to keep your and clients information safe.
Quick and easy billings so that you get paid faster. Also you can keep track of the funds in your trust accounts.
Google and Outlook calander sync.
Dropbox and Box integration for file sharing and collaboration.
In-house counsel manage all your administrative task from one place.
---
3. PracticePanther
PracticePanther is another brilliant law practice management software that helps lawyers manage their invoices, files, time, task etc. PracticePanther comes integrated with varieties of Apps that manages your task with your regular activities. Take for example Gmail automatically creates labels for every clients and matter, you just have to drag and drop emails into labels to view them in PracticePanther. This will increase your customers collaboration. Likewise PayPal can let you collect easy payments, just add a Pay Now button to your invoice and it will automatically generate the invoice and update the software with the paid amount.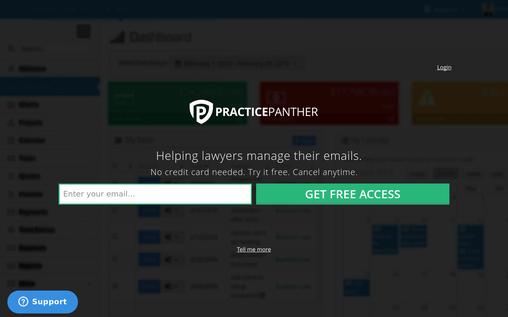 Remarkable features Are –
Automate your work by creating beautiful templates, tasks and events and add it to your contact list. Assign work to the workers and get real time alerts as soon as it's completed.
You can set upto five reminders by popup, email, or text message so that you don't miss any leads.
Document Management you need not to carry or hold a lot of paper works.
Create legal clients intakes forms in seconds, this eliminates your manual data entry and saves a lot of time.
Credit cards and eChecks payments. Stop chasing your clients for payments instead get paid online.
---
4. HoudiniEsq
HoudiniEsq is one of the best feature rich case legal management software for small firms and enterprises. HoudiniEsq is the one 100% based product that can be accessible from almost any devices and it centralizes all your data and communicates, manages all the information related to clients/leads their mails, markets, staff innercaselooks, expenses, time and billing. With HoudiniEsq you can design documents and templates and automate your emails as well. It is customized and extensive you can do almost everything there is no limit to the possibilities.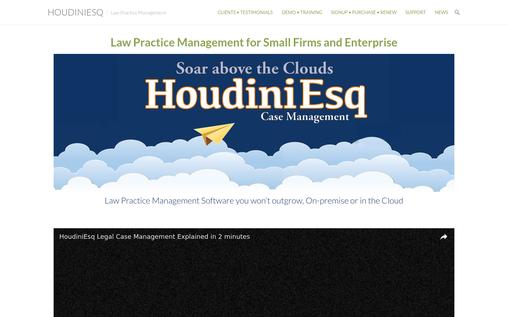 Remarkable Features Are –
HoudiniEsq integrates with Word, Outlook, Excel, WordPerfect, Acrobat, QuickBooks, OpenOffice, LibreOffice, SoftFile, CalendarRules, BIRT, Google Gmail and Google Docs .
Track Time, Trust, Expenses and Case Budgets can be easily managed.
Billing, Invoicing, Statements of your clients are securely managed.
Document management (includes full text indexed).
Document automation & templates (PDF/Word).
Email management (full text indexed + attachments).
Calendaring & Alerts of all the clients' events and cases.
---
5. Leap
Are you wishing to become more efficient, more flexible and make huge bucks from your law firm? Then pick this Leap legal software solution which is a perfect solution for your law related management problems. Leap is loaded with complete integrated legal practice management and legal accounting solution in a single application. It has all such features that will help you boost your firm's productivity.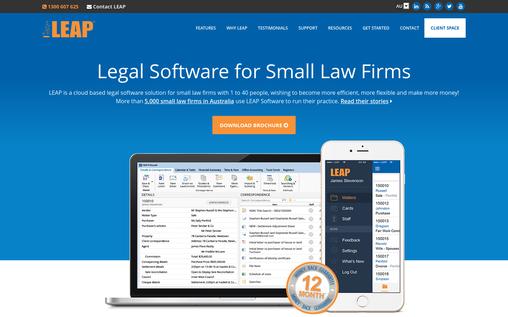 Remarkable features Are –
Leap Mobile applications which allow you to communicate with clients and colleagues, record time and access matter documentation.
Email management – integrate your emails with your legal software. This software merges your client's details with your email system to create professional correspondence.
Client accounting – Leap provides your firm with powerful tools to reduce the number of billing errors as well as it captures all recoveries.
Billing software – eliminates your bookkeeping process, you can track all bills, manage trust and capture all disbursements.
Reporting software – keep all your valuable data on your finger tips. With just single click you can export any data to your spreadsheet, or take snapshot of the invoices for analysis.
Quick cost calculator – all calculators in Leap are accurate and efficient without having to reference external sources or matters ensuring they are easy to find and quick to use.
---
6. Jarvis Legal
Jarvis Legal is another best used legal practice management software. Hiring this software will save your time, you can stay focused on your expertise and generate huge revenues. With Jarvis Legal get things done faster and quicker. Software works in fully automated manner letting you do your billing task, time tracking and centralized case management.
jarvis Legal legal management software helps you collaborate on your cases more efficiently, increase team efficiency by leaving sticky notes, assign tasks with deadlines to your staff, invite co-counsels members to cases or share documents with team mates for review in a simple and intuitive way.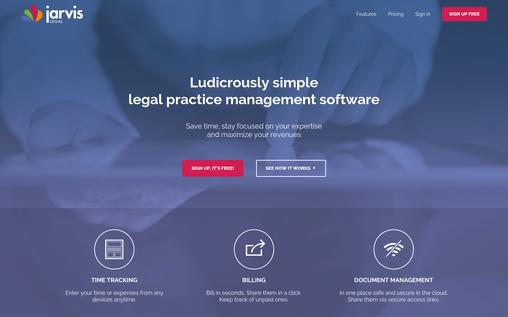 Remarkable features Are:
Document management save a lot of time by Jarvis Legal software and store all of your documents in one place safe and secure with a simple drag-and-drop. Apart from keeping it safe you can also keep them organized by case folders and subfolders.
Jarvis Legal let you keep track of your time from any device at any time. You can also use the timer to enter the time you spent on cases.
Real time reporting is now possible through Jarvis Legal. Access productivity of your firm, clients or practice etc.
Jarvis Legal offers you Trust accounting enter retainers received from clients and manage them from your Trust Account. you can use retainer to pay bills or draft funds from your Trust Account to refund clients.
---
7. RocketMatter
RocketMatter is another powerful legal management software that has everything that you need to boost your profits and run your business efficiently. RocketMatter is a cloud based software perfect for managing a busy case loads with all the tools you need in one place accessible from anywhere and anytime. It offers you to capture time effortlessly without adding the necessary administrative works. Moreover you can track everything that's going on in your firm. RocketMatter quick and comprehensive task features allowing you to view case progress and keep track all around.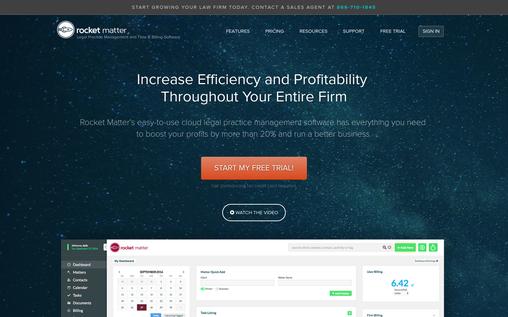 Remarkable features Are:
Fully customizable matter templates you can save your time with predefined matter elements
Automate your client intake
Get your bills done in minutes with accuracy and reliable data.
Get paid faster with RocketMatter payments
Integrated with Quickbooks online that reduces the redundancy of the entries and eliminates your administrative work
You can fully customize your dashboard settings to suit your style.
See your entire schedule at a glance customize your calendar view for those jam-packed weeks.
Powerful analytics help you to view the overall performance of the firms in clicks.
---
8. Amicus Attorney
Amicus Attorney is the leading practice management software for lawyers. It will help you manage all your law-related paper works and help you organize, put you in more control to your law practice. Amicus Attorney let you perform your legal work and makes you and team more efficient. This software offers a desktop solution with complete mobility. You will find the Amicus Attorney fully managed private cloud virtual desktop solution for increased mobility, security, reliability and control. It is super easy to use and a great way to organize your client information, files, cases and a calendar.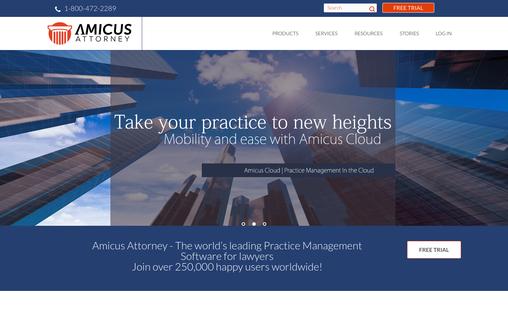 Remarkable features Are:
Client Portal – with Amicus Attorney portal share information electronically with clients. They will be able to use the browser to login and can access their case file or more.
Smartphone Access – let you manage and you can even do your time entries on your smartphones anytime and anywhere.
Firm Management – Amicus Attorney help you manage your firm and wok together simultaneously. Collaborative workflows and delegation systems simplify knowing who has to do what and when.
Accounts by Matter – Amicus Attorney Files contain all the professional and detailed information about each client you are working on. With Amicus Attorney Billing, just click the toggle, and you can see all the billing information too all in one place.
E-Billing – many insurance companies, banks require their law firm to submit invoices electronically. With Amicus Attorney Billing, you can designate files as E-Billing and have time and expense entries configured to capture all the information you need to create e-bills.
---
9. Legal Files
Legal Files delivers the best solution for your case and matter management software. It is the best commercial, off-the-shelf (COTS) system which offers extensive customization capabilities, providing both the low-cost advantage of a COTS application and the uniqueness of a custom-built solution, with the flexibility to meet current and future needs.
With Legal File, you can manage cases and matters, email, documents, and contact information, as well as automate office workflow. Legal files Software also offers an unlimited optional module to meet your e-billing and invoice management needs.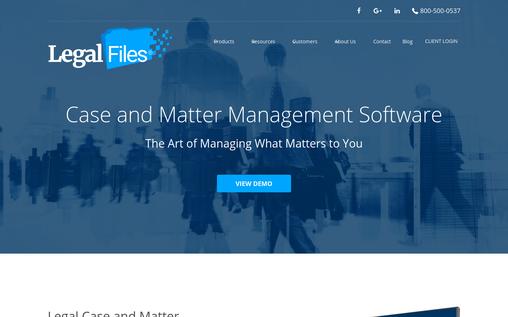 Remarkable features Are:
Legal File software is helping public sector attorneys and governmental agencies make their legal departments more organized, productive and accessible through superior in-house case and matter management.
It is the complete, end-to-end solution that manages every phase of the contract lifecycle i.e, contract creation, review, execution and renewal etc.
Manages all your office documents management in no time. You can keep control and manage task/group/automated scheduling, court docketing, document text searching, File notes, including alerts etc.
---
10. AbacusNext
AbacusNext is yet another but excellent legal management software. You can surely give your practice a private cloud for legal case management software. AbacusNext gives you a complete control on your data, clients and firm.
Its is paired with our legal practice management software, helps you keep track of all important client details and keep cases progressing. Software let you discover how you can track of your case progress and dynamically capture critical case and client details, and prevent important deadlines from falling through the cracks.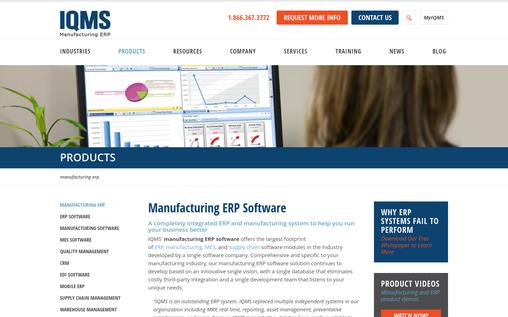 Remarkable features Are:
AbacusNext Law will quickly and accurately search your entire database. Print reports and save it to your files as proof that you completed the conflicts check.
AbacusLaw centrally organizes your entire case events, calendars, documents, emails and more just on your single clicks.
Dynamic data capture is now possible through AbacusNext software. New clients can easily signup and start their cases. Once information is filled software automatically creates and links the matter and contact records and sets rules-based calendar events based on designated rules and/or workflows.
AbacusNext legal management software comes with over 100 standard reporting modules including – Time, Billing and Accounting Reports: Analyze your billable time and financial information for your matters, Operator Audit Report: Reviews all records that have been added or changed by any user, Productivity Reports: Analyze your firm's productivity, attorney time and case types etc.
---
Conclusion
You should now have an idea that by using a legal management software you can handle, manage and fasten your work process in a much easier way than before. It may be not possible manually that every time accuracy is maintained by you or by staff. But the biggest advantage of using this software is you can anytime be assured of 100 secure and accurate data of clients, firms etc.
So, you know your requirements just go through the list above and select the best software that can help you manage your legal handlings and help you earn returns.
You May Also Like:-
---