Bitwarden Review: Everything You Need to Know
Editor Rating: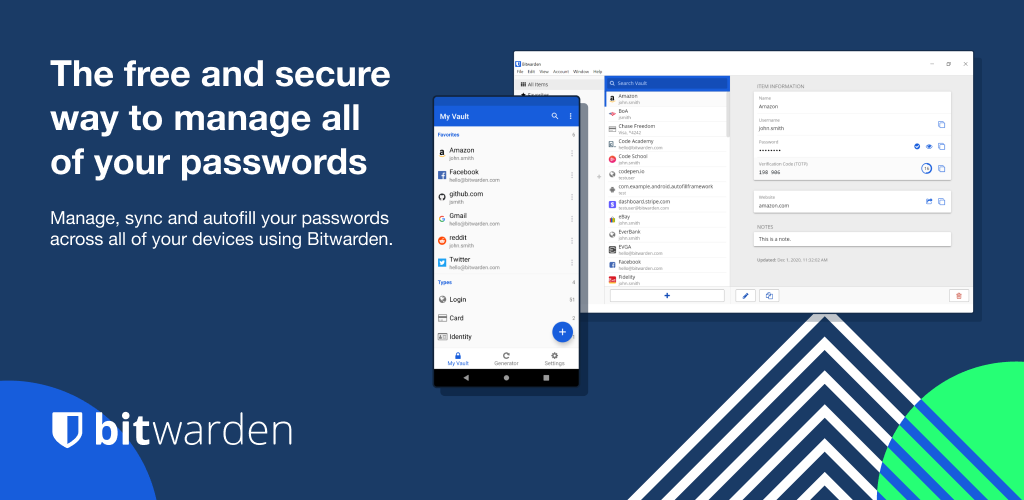 Bitwarden is rather unique; it uses open source code, you can use the free version across devices and it has apps for all platforms and browsers. But how safe is this password manager? Read our in-depth Bitwarden review to find out if it's right for you.
Bitwarden has gained popularity in recent months, but only because another password manager turned tables on its users. LastPass, which was the most popular password tool of the last few years, changed its pricing tiers. Not only did the price of the premium package triple, free users suddenly found themselves unable to use it across devices.
Many LastPass users who weren't willing to pay for a password manager started to look for alternatives. They found that Bitwarden provided the same service with better terms – the free tier is available to use across all devices for unlimited passwords, it is cheaper and it's open source.
Understandably, this password manager isn't very well known; it hasn't been in the market for very long. However, it seems to have a combination of features that users are happy with.
---
What is Bitwarden?
Bitwarden came to market in 2016 with mobile apps for iOS and Android as well as browser extensions for Chrome and Opera. By 2018, it had developed stand-alone apps Windows, macOS and Linux and added browser extensions built for Firefox, Safari and Microsoft Edge.
Since its creation, this software has undergone several independent audits and passed, and this gives users a degree of confidence in the software. When LastPass announced a change to its free tier, CNET recommended Bitwarden as the best free app to use across devices.
If you're new to password managers you may be wondering what exactly Bitwarden does. Think about how many passwords you have to keep track of every day. For the average person, there are dozens.
Hackers and other unscrupulous entities have forced us to make our passwords more complicated than ever; today, many websites will only accept passwords that have at least 8 characters, a mix of both lower and upper case, letters and numbers and at least one special character.
This makes our passwords impossible to remember. Some people take to writing them down or recording them in a spreadsheet. Hardly ideal, because if someone gets hold of these, they have access to your work, emails, your travel, your finances – literally, your "life".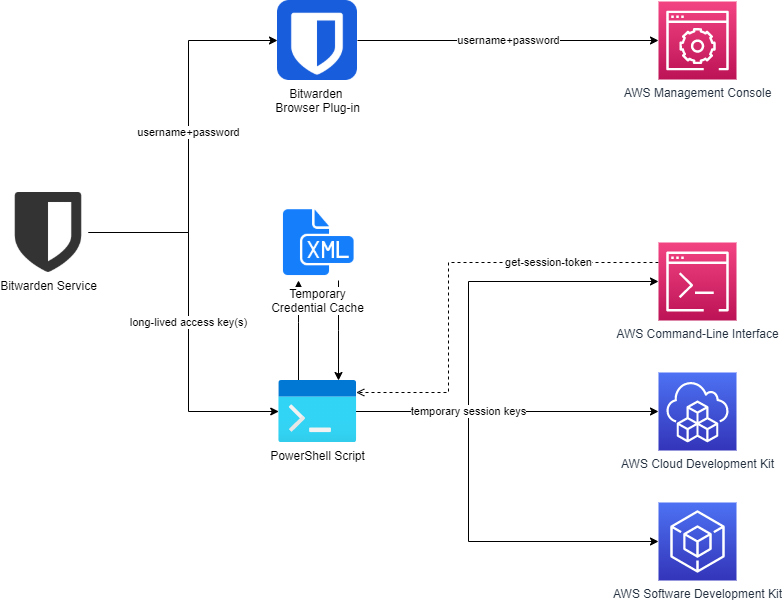 Password managers are the easiest, safest and most convenient way to manage logins. They can store unlimited passwords safely.
When you sign up for a password manager you're assigned a vault, and all your passwords are encrypted and stored in this vault. You'll only ever need to remember the password to your vault. Better yet, password managers generate passwords for you and then auto-fill websites whenever you visit.
You never have to remember more than your vault login if you sign up for the right password manager.
To help you understand why Bitwarden is one of our top picks, we have done a full review that tells you the features, pros and cons of this password manager. We'll also look at pricing and answer a few frequently asked questions.
---
How Does Bitwarden Work?
In a nutshell, it remembers and inputs passwords for you so you never have to remember a password. You can also use it to generate new passwords.
All your passwords are encrypted locally before they are sent to your vault. This is called zero-knowledge. It means that even if hackers gain access to Bitwarden's servers, they'll not find anything there that they can use to gain access to your accounts. In addition to that, no one in the company knows your passwords.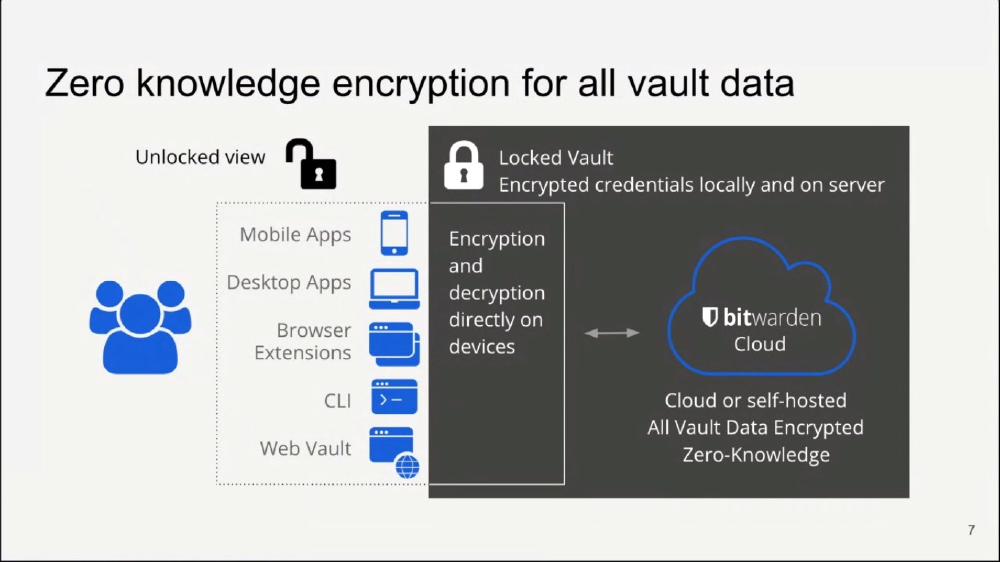 The software encrypts your data and adds a few other layers of security to ensure that your information is safe at all times.
This isn't to say that password managers like Bitwarden are bullet-proof. Depending on the kind of security features they use, some of them can be hacked. LastPass has been a victim of breaches in the past, although the hackers didn't get away with much.
To counter against this, Bitwarden conducts independent security audits from time to time. The fact that it is open-source ensures that it uses the latest available encryption technologies to keep user data safe.
---
Bitwarden Features





Encryption Algorithm
Bitwarden uses two types of encryption to keep your data safe: AES-CBS 256-bit encryption and PBKDF2.
AES-256 bit encryption: this is a variation of AES-256 encryption, which is the most secure form of encryption we have to date. It's used by the US government and other governments across the world to secure secret data. It is considered unbreakable, at least for now.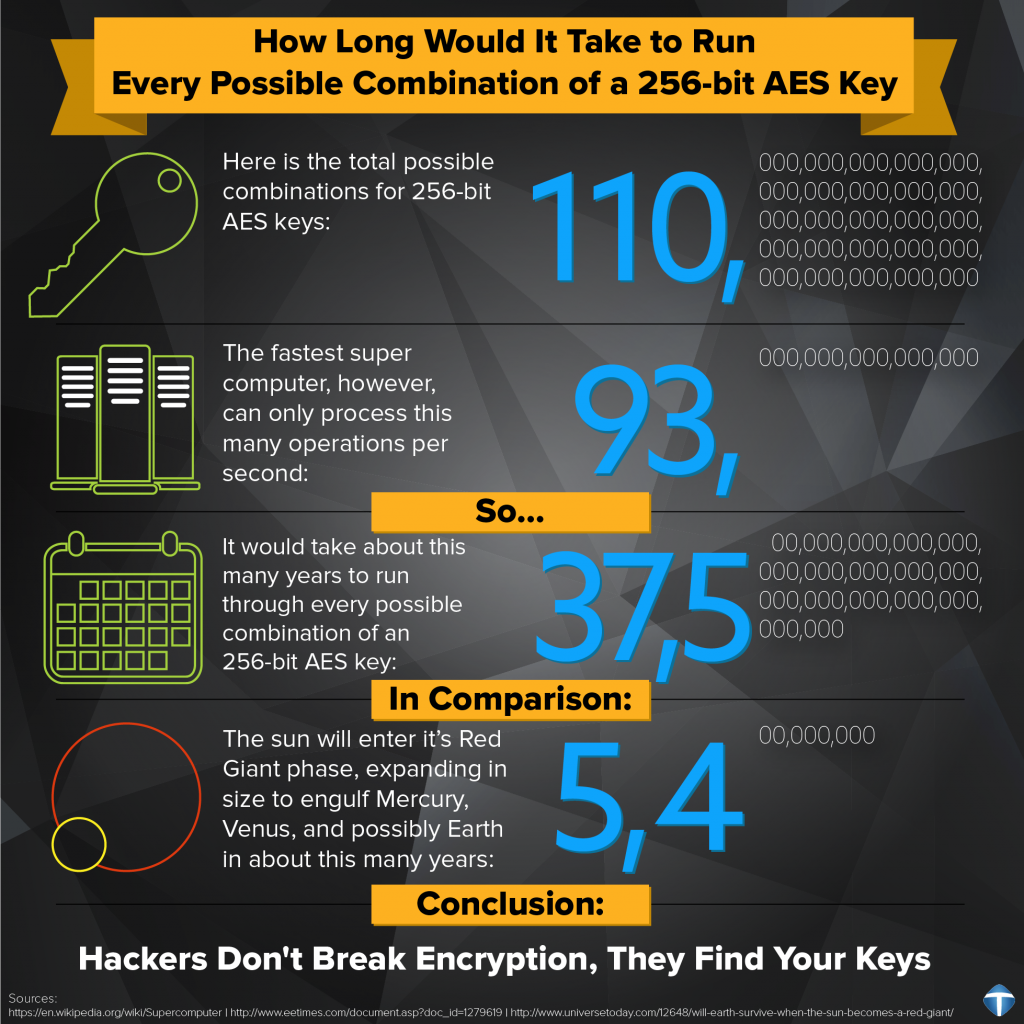 PBKDF2: this derives the encryption key for your master password and has more than 200,000 iterations. The password is then salted and hashed with your email address before it is transmitted to Bitwarden's servers. It may all sound complicated, but all it means is that your password is encrypted using countless iterations before it is stored making it impossible to hack.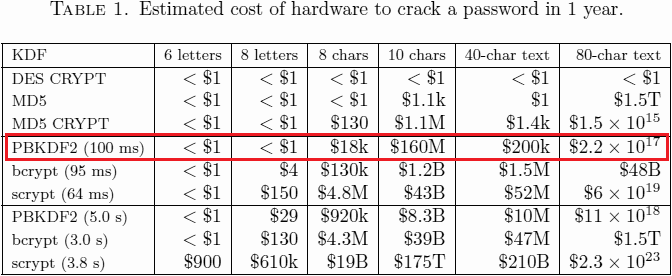 Browser Extensions
Many people want to know whether they'll get a Bitwarden Chrome extension before they sign up. Chrome is the most popular browser in the world, so it makes sense.
As mentioned earlier, there's a Bitwarden Firefox extension as well as extensions for Google Chrome, Opera, Safari and Edge. The latest versions of Tor, Brave and Vivaldi are also supported.

Extensions are available for download on the Bitwarden website, and after you download you'll see a Bitwarden shield on your toolbar.
After you download, you can visit any site, and the password manager will ask you whether you'd like to save your credentials. If you agree, your password and username are saved to your Bitwarden vault.
When you visit the site again after that, allow Bitwarden password manager to autofill your username and password automatically.
If you have existing passwords, you'll receive a prompt asking whether you'd like Bitwarden to update them for you. Say "Yes" so that the software can generate longer, more complex and secure passwords for your sites.





User Interface & Performance
The web app, mobile and desktop apps are all pretty well designed. They are all neatly laid out and you'll easily find what you need. There are no superfluous features, and many users who have little or no experience with password managers find that they can easily navigate the app.
If you would like to add a layer of security, we recommend you use the web app. It has the option for 2-factor authentication as well as a password generator.





Storage
All your data is stored on the Microsoft Azure cloud. The company doesn't manage or maintain any servers.
You can attach and store files that contain important information on Bitwarden. You can, for example, scan your passport and other documents and save them in your vault as attachments.
Each attachment must be at least 500 MB if you're uploading from a desktop and at least 100 MB if you're uploading on mobile.
All users get unlimited storage but free users are not able to encrypt attachments.





Sharing

Once you have a Bitwarden you can share passwords, notes and other information with colleagues, friends and family. Files are limited to 100 MB and you can also share text.
The "Send" feature is available on desktop and mobile apps, browser extensions and the web app.
To share, click on "Send", attach the file you'd like to share and write a message and the name (email address) of the person you want to share with. The software does the rest.
The people you want to share with don't need to have Bitwarden accounts to gain access. You can share passwords and documents with several people at the same time, and you can also limit the duration to which they can have access.
Note: Although the "Send" feature is convenient and easy to use, you can only use it to send individual pieces of data. If you want to share a folder or your entire vault, you should use the "Organization" feature which is a little complicated.





Import & Sync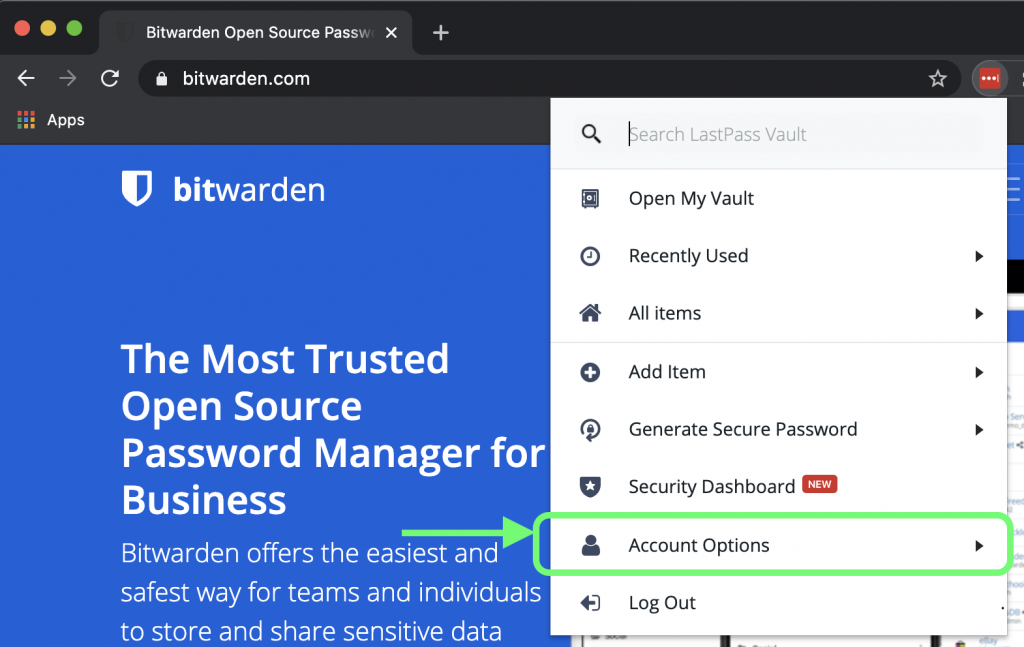 It's important to choose a password manager that can sync new passwords across all your devices and that allows you to import and sync old passwords that you have saved in your browser or another password manager.
If you want to import passwords from another password manager you should do it from inside your vault. You can import from more than 50 password managers. You can also import existing passwords from browsers.





Two-Factor Authentication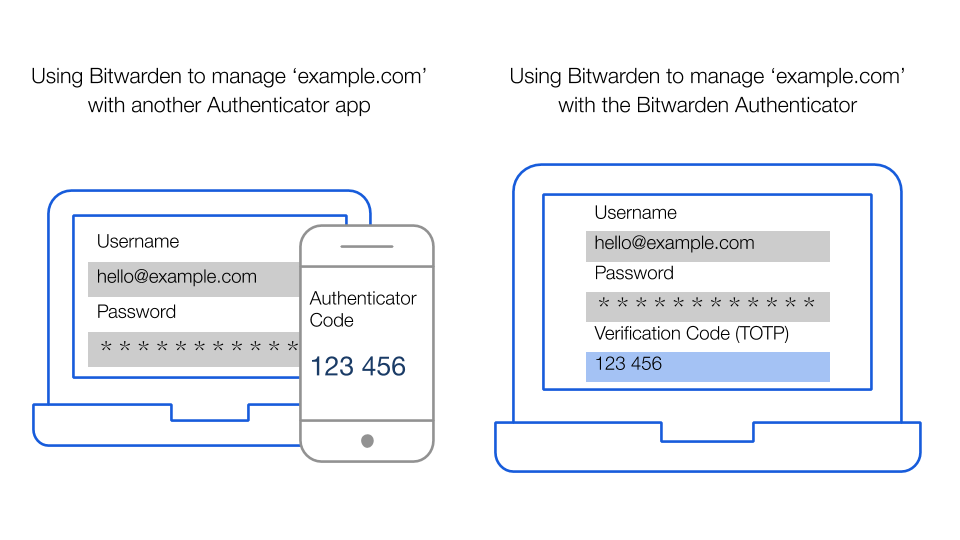 2FA greatly enhances the security of your passwords. Even if someone is lucky enough to guess your password, they would need to input a second factor that only you can provide.
You can access Bitwarden 2FA on the "Settings" menu in the web app, and it's available to free and premium users.
This feature requires the use of authentication apps.





Checks For Leaks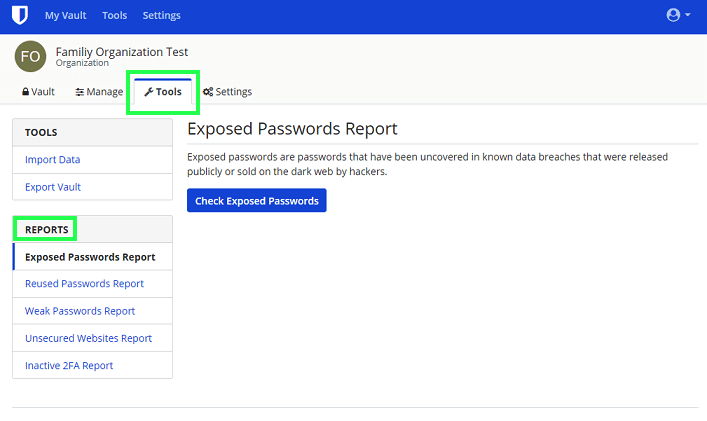 Bitwarden password manager is very secure when it comes to checking for breaches. It provides a variety of reports for premium users:
Vault health reports
Password reuse reports
Password strength reports
Unsecure website reports
Breached database reports
Username breach reports





Dark Web Monitoring
This feature is only available to premium users. It shows you when any of your passwords or usernames have been sold or released on the Dark Web.
---
Pros of Bitwarden
It is very secure – uses the best encryption protocol in the market.
The free version is probably the best among password managers.
You can customize it to suit your security requirements.
It is open-source, which makes it highly transparent.
It has a clean and user-friendly interface.
Great for users who have no experience with password managers because it is clutter-free.
The premium subscription is generally cheaper than others with similar or fewer features.
You can use it across all your devices and with any browser.
Cons of Bitwarden
Some feel that the user interface could be better-looking.
User data is stored in a 5-Eyes country. This is not a problem because it's all encrypted and therefore useless to authorities.
Customer support could be better especially for free users.
---
Bitwarden For Desktop/Web App


As you may have picked up by now, the Bitwarden web app has some features that aren't available in desktop and mobile apps. When you
You can use both the desktop app and web app to create and edit passwords in your vault. However, if you want to set up two-factor authentication, run security reports or import passwords you should use the web app.
The desktop and web apps look alike, with a list in the middle that shows you the items in your vault, while the left has a menu that you can use to filter items by type.
---
Bitwarden For Mobile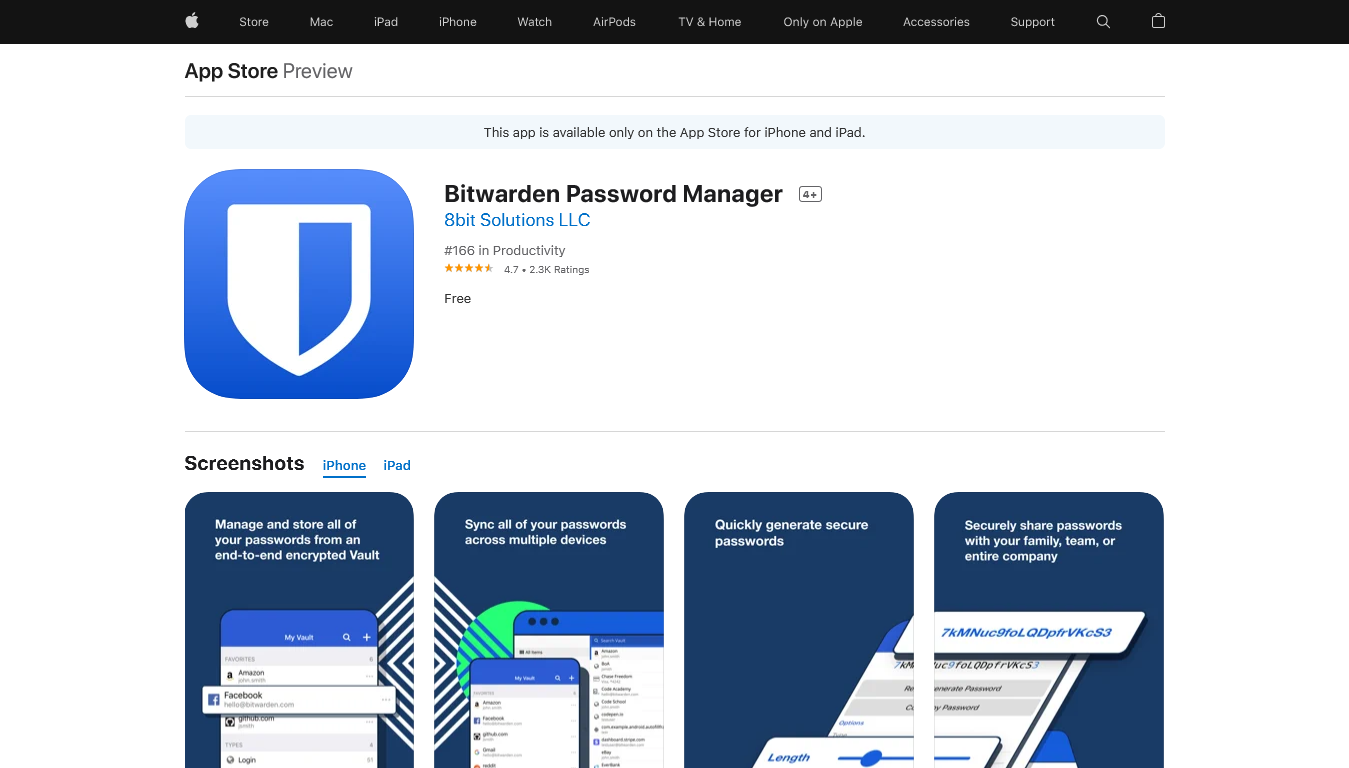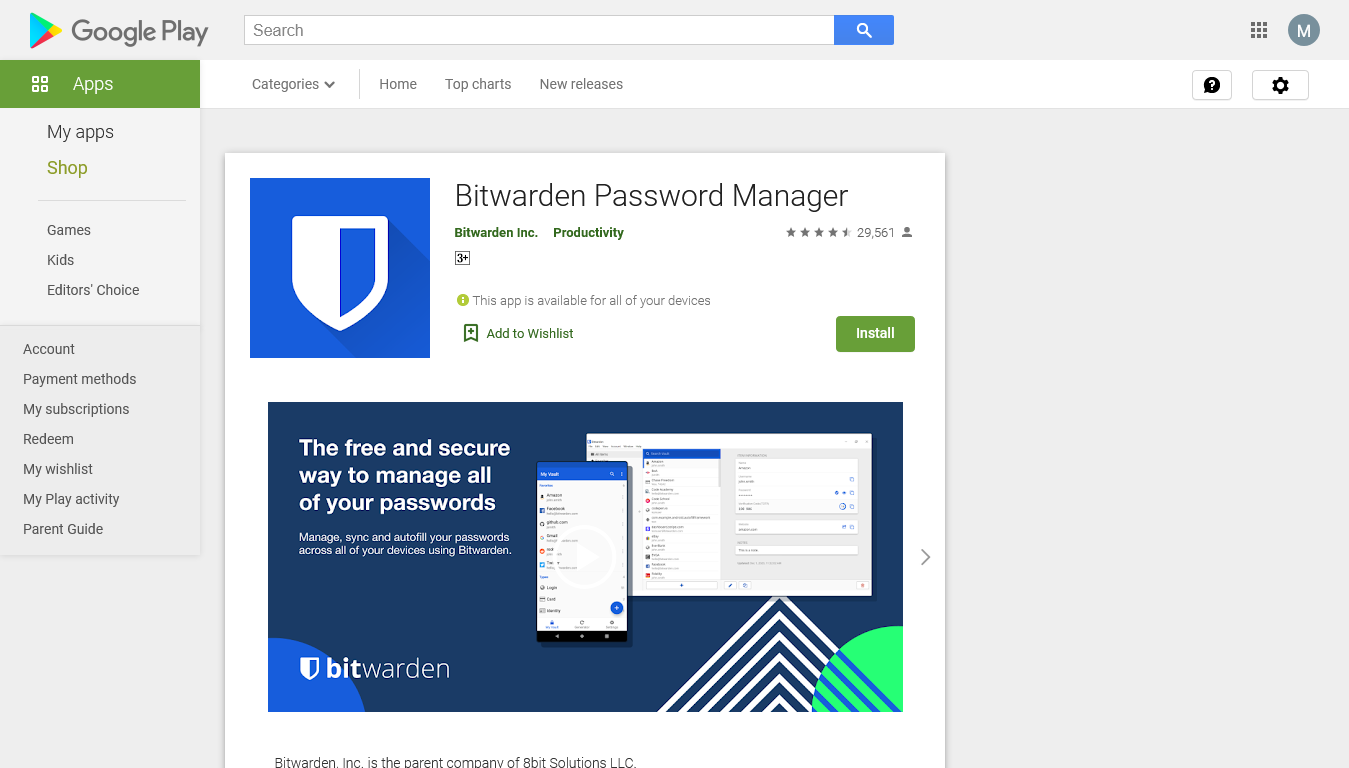 Bitwarden has mobile apps for both Android and iOS. They look alike and have the same features including biometric authentication and autofill options.
At the bottom of the Android app is a navigation bar with options like "My Vault", "Send", "Generator" and "Settings".
In the vault your items appear organized by type, folder and unorganized items. You can tap on any item to view or edit it.
The mobile apps are pretty stable and haven't been known to crash.
---
Bitwarden Comparisons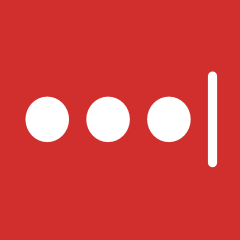 Is Bitwarden better than LastPass? It depends and although we will not do a full comparison here, let's look at a few things that can help you decide.
These two password managers have some things in common: they both use AES-256 encryption, both have two-factor authentication, they allow you to share passwords with others and they also perform security checks.
However, the big difference is that Bitwarden is Open Source software, and many users feel that it is more trustworthy. The code that runs the software is regularly checked, updated and improved by independent experts, which is why the company has passed several audits without any problems.
Bitwarden is also cheaper than LastPass, and its free tier can be used across all your devices for unlimited passwords. LastPass only supports one device type for free – you cannot use it on your mobile and computer at the same time.
When it comes to usability, LastPass is a little easier. It has a better UX design and the autofill function is easier to set up and use than on Bitwarden. For example, there are fewer steps involved in signing up for a new account on LastPass than on Bitwarden.
It's a tough call between these two password managers. If you are on a tight budget, the obvious choice is Bitwarden. Even if you are not, Bitwarden has more to offer whether you are a free or paid user.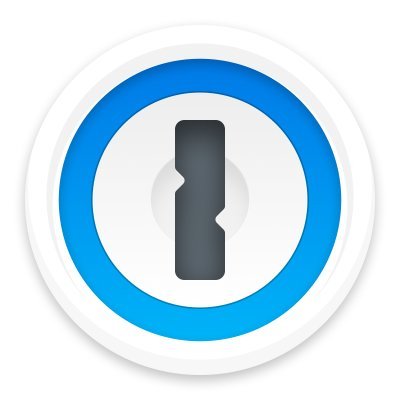 Here again, Bitwarden wins in several areas: it is open-source, it is cheaper and employs a few additional security features than 1Password.
However, there is one area where 1Password wins: its user interface is better designed – it looks better and is easier to use.
Both these password managers offer robust security, and if you have to choose, you may want to think about the difference in their pricing and the fact that Bitwarden is open source, which offers several distinct advantages.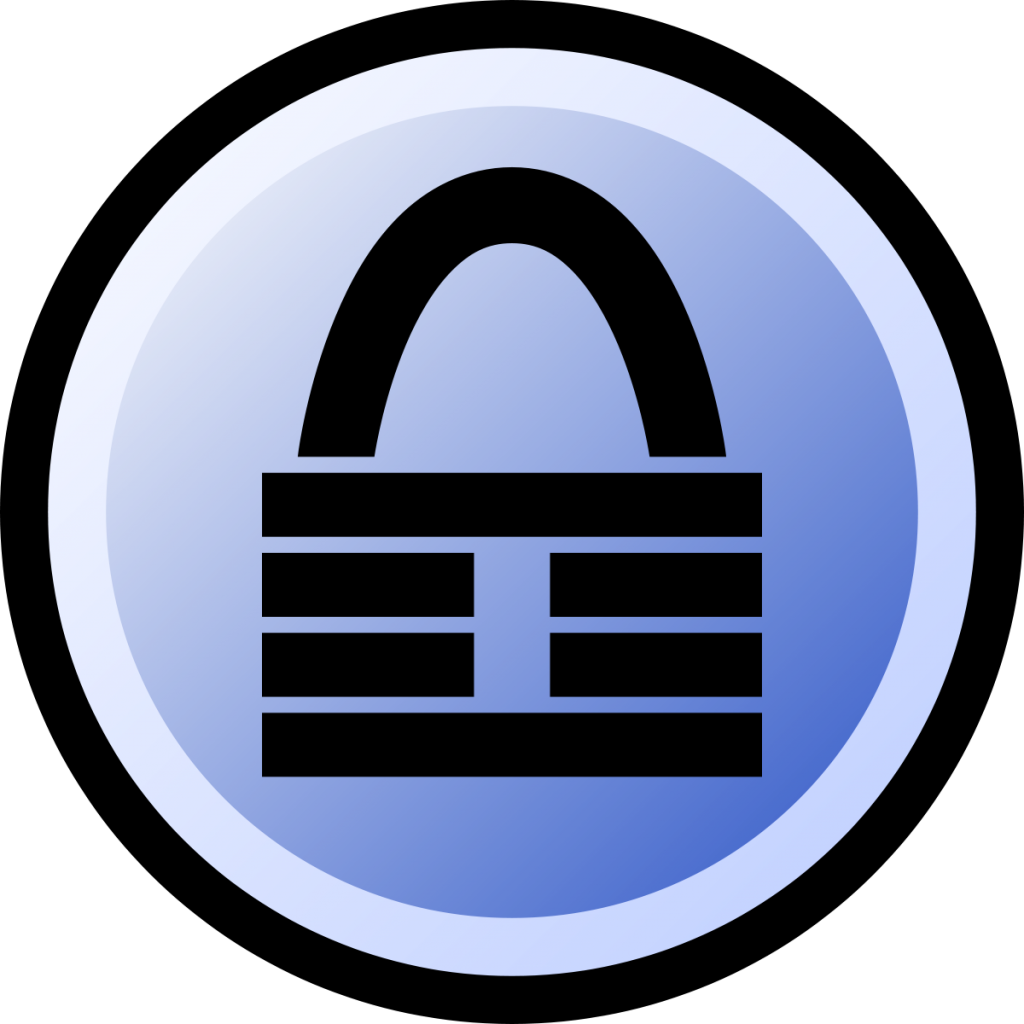 Is Bitwarden better than KeePass? Both of them have some important features in common: they are both Open Source applications which makes them both secure and transparent. Both also use AES-256 encryption, which is the most secure encryption protocol in the market.
Bitwarden and KeePass are compatible with all commonly-used browsers and platforms. However, the user interface on KeePass is rather outdated. Bitwarden's isn't very inviting, but when compared, Bitwarden comes out on top.
Both of these apps have excellent free subscriptions. However, Bitwarden has paid subscriptions that give access to more features.
If all you're looking for is a free password manager, KeePass is the one for you. You can access all features without paying a dime. However, if you're looking for something more, Bitwarden is it; for a few dollars a year you have access to premium features.
---
Bitwarden Pricing
Individuals and families have two pricing options:
Individual

Basic Free Account
Bitwarden Premium Account which costs $10/year

Sharing

Free 2-Person
Family Organization which costs $3.33/month and can be used by up to 6 people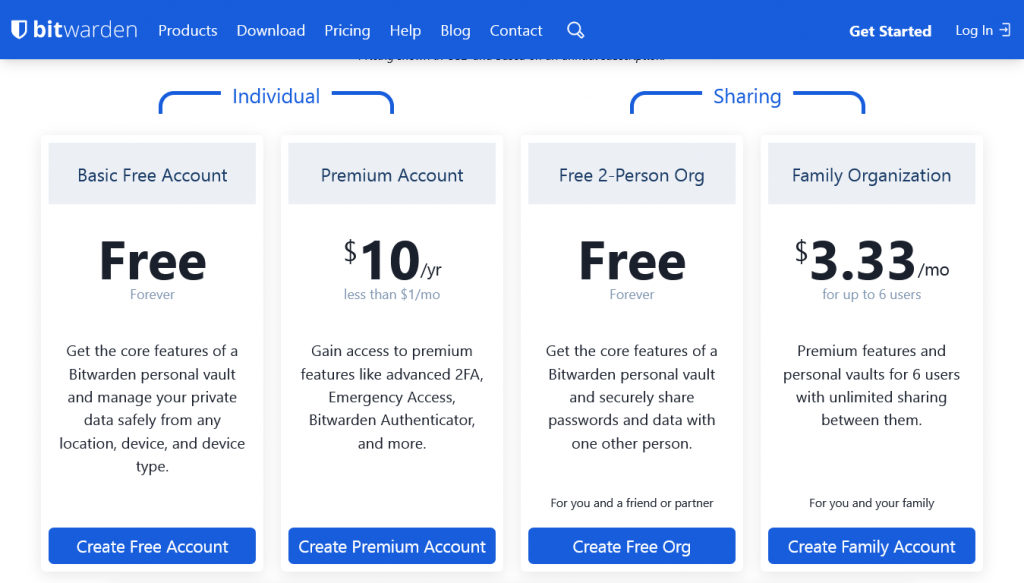 For businesses there are two options:
Teams Organization for which you pay $3/month for each user
Enterprise Organization which costs $5/month for every user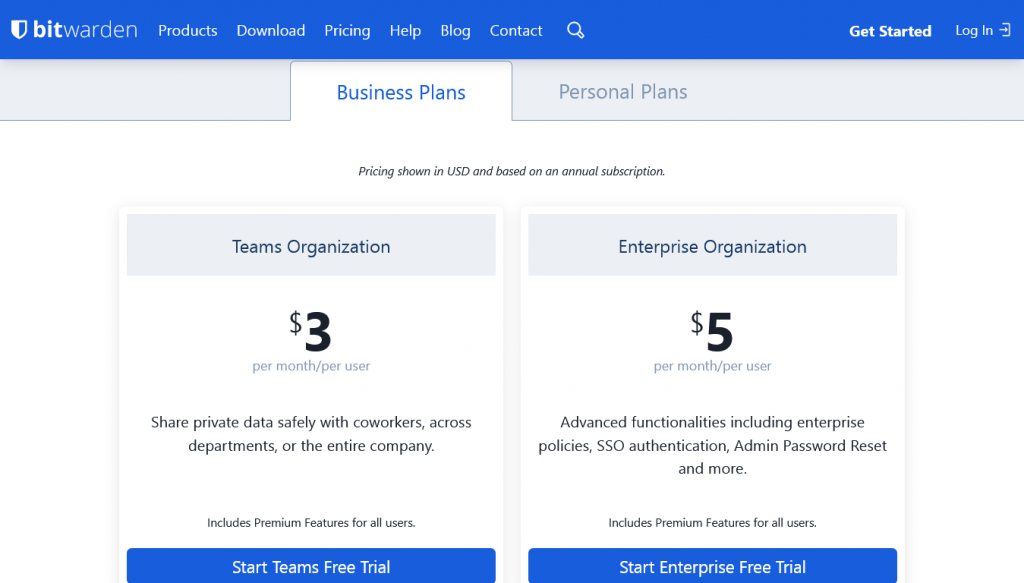 Every Bitwarden account comes with important core features. In other words, whether you're on a free subscription or have Bitwarden Premium, you can expect to enjoy features like zero-knowledge encryption, unlimited device types, unlimited vault items, secure password generator and more.
---
Customer Support
You can contact them via email. They can certainly do better because it usually takes them a few hours to respond. This can be a huge inconvenience if you're having a problem logging in to an important site.
The company also has a Help Centre and an active community forum.
There is an on-demand demo on the website as well as occasional live weekly demos.
---
FAQ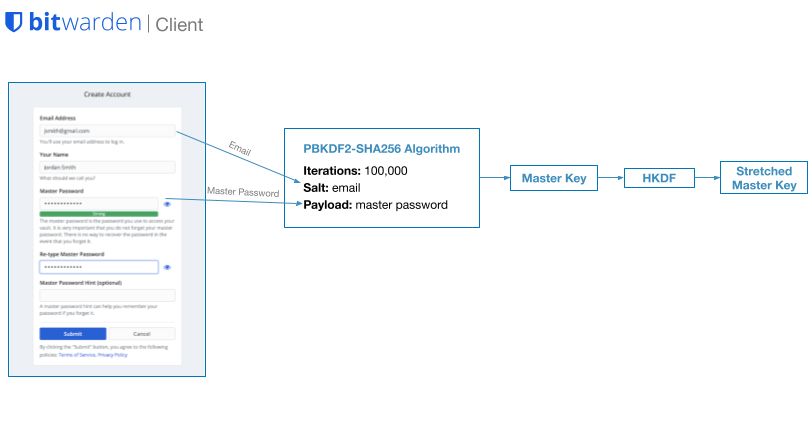 Yes, Bitwarden is safe. It uses AES-256 encryption as well as salted hashing and PBKDF2 SHA-256 to keep your passwords safe. Encryption keys are generated and stored locally so you don't have to worry about hacks into company servers.
Bitwarden has a free subscription that gives you all the important features you need to generate, encrypt and store passwords safely. They are called core features, and they include password encryption, use across unlimited devices, unlimited passwords, a password generator, free cloud hosting and more.
Bitwarden works by encrypting your passwords and storing them safely in a vault. Your passwords are complex and impossible to crack, and you only have to remember the password to get into your vault.
It is easy to use even for those who have never used a password manager before.
It's easy to use Bitwarden. Create your Bitwarden account on their website and then download the app and the appropriate browser extension. You can visit the Vault to create folders to categorize your passwords, and then import existing passwords from your browser. If you have been using another password manager, you can import your passwords.
Each time you visit a website Bitwarden will ask if you want it to auto-generate and store the password for you. Once a password is in your vault it will be filled automatically each time you revisit the website.
The only password you need to remember is the one to get into your vault.
---
Conclusion
For those who are on a tight budget but would still like a password manager that's feature-rich and easy to use, Bitwarden is the answer. It certainly has one of the most comprehensive free subscriptions, and getting started with it is easy.
It uses strong encryption, you get adequate storage for notes and attachments and you can use it across all your devices.
The only area we feel this software could do better is customer support. A chat function is important for password managers because sometimes users need help now, and cannot afford to wait an hour or two for an email response.