Top 8 Video Conferencing Software for 2022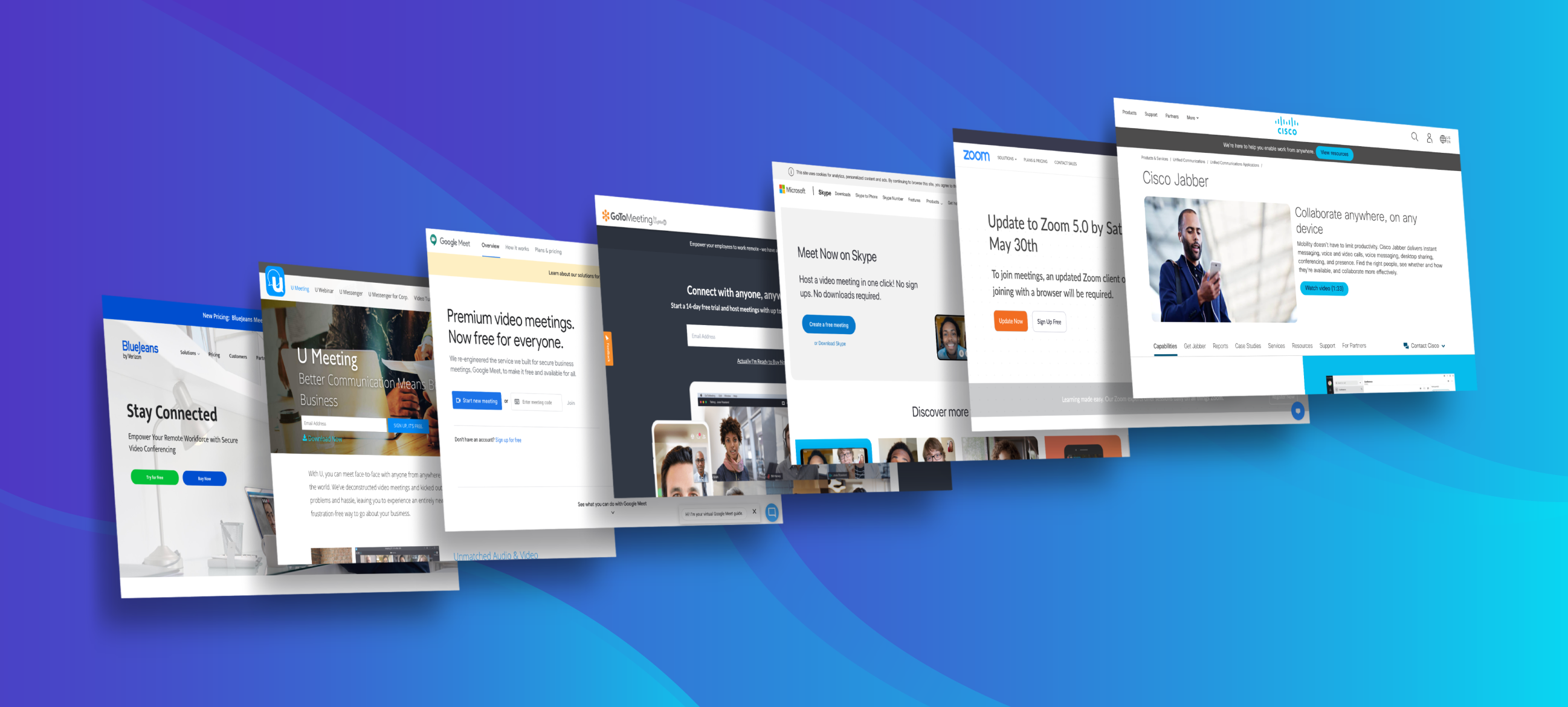 In March 2020 Google searches for video conferencing software went up by more than 600%. Other iterations of the phrase, like video chat software, video call software and web conference software experienced similar spikes.
To say that video chat has become the new normal is an understatement. The Covid-19 pandemic has changed the way we communicate. As soon as it became apparent that it was spreading through social contact, almost every country in the world introduced some form of social distancing.
Very abruptly, we had to comply with shelter-in-place orders, lockdown, quarantine and other measures that cut off face-to-face communication. Families have found themselves cut off from one another. Businesses that want to stay open are now forced to find ways for employees to communicate.
Whereas in the past video conferencing software was a nice tool to have in the bag, it has become a must-have. It is vital in helping businesses, families and friends stay connected.
More importantly, it's the only way for most professionals to communicate with one another and keep businesses running. For many, video chat software is a necessity; without it everything would shut down.
The Best Video Conferencing Software 2022 compared (in full)
| | | | | | | | |
| --- | --- | --- | --- | --- | --- | --- | --- |
| Name | Multiple Webcams | Remote Control | Private & Group Chat | Document Sharing | HD Video Quality | Pricing(Monthly) | Free Trial |
| Zoom | Yes | Yes | Yes | Yes | Yes | $14.99/Host(Pro) | Yes |
| | Yes | Yes(Business) | Yes | Yes | Yes | Free | No |
| | Yes | Yes | Yes | Yes | Yes | $14/Host | No |
| | Yes | Yes | Yes | Yes | Yes | $15/Host(Pro50) | No |
| | Yes | Yes | Yes | Yes | Yes | Free | No |
| | Yes | Yes | Yes | Yes | Yes | $6.67 | Yes |
| | Yes | Yes | Yes | Yes | Yes | $12.49/Host | Yes |
| | Yes | Yes | Yes | Yes | Yes | Contact Cisco | Yes |
---
What is the Best Video Chat Software?
With dozens of video conferencing software in the market, choosing a suitable one for your needs can be a challenge. Many people have opted to go with Zoom. This despite the fact that it has proved to have significant security issues.
As its usage surged from 10 million users in December 2019 to nearly 300 million in April 2020, the software has experienced a number of problems including leaked emails and photos, hijacking of chats by strangers, a weak encryption design, "Zoombombings" that allow strangers to cut into video chats and more.
Zoom's popularity hasn't waned. More and more people continue to download and use both the free and paid versions of the software. The fact that Google banned employees from using it doesn't seem to have dampened user enthusiasm.
What does this tell us?
That there is a need for a detailed comparison of video conferencing software. As mentioned, there are dozens of online meeting software options. This post will look at the best, their features/benefits and drawbacks. It will also look at pricing options.
For anyone whose interested in finding the best video chat software, you'll find everything you need here.
---
Best Video Conferencing Software 2022
Zoom is one of the best video conferencing software. It's probably the most-downloaded software during the Covid-19 pandemic. At one point, in just one week since the pandemic began, it gained more than a million mobile users. They don't seem to care about security flaws, some of which have led to lawsuits.
As we know, the fact that something proves to be popular online doesn't always mean that it's the best. It often just means that everyone wants to be on the same bandwagon.
That's why Zoom deserves an in-depth look, to find out what exactly it has to offer.
Zoom was launched in 2013 and was mainly geared towards businesses. Within a few months of coming to market it had more than 1 million users. By the end of 2019 it had 10 million users. Today, it has about 13 million users and numbers keep growing. What is it about this software that makes it so popular?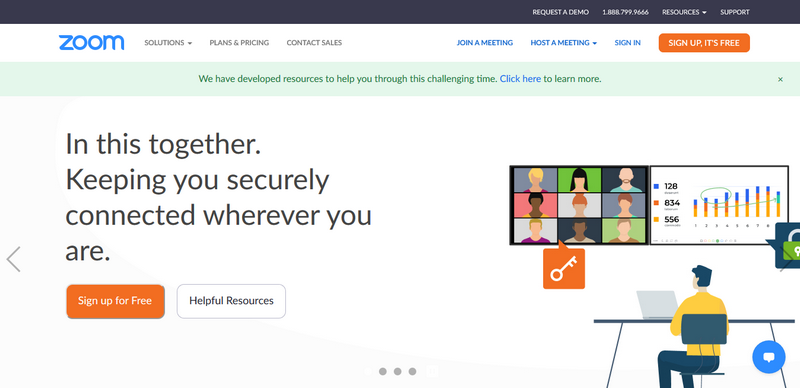 Zoom Features
Video conferencing on Zoom is easy. Just download the software and join a conversation.
Zoom works just as well for voice as it does for video. It provides high-quality audio and video calls. The high image resolution is one of the reasons why this app is so popular.
You can use Zoom from anywhere on any device. The software uses WebRTC technology. It's an open-source project that allows mobile apps and web browsers to communicate in real-time through common interfaces.
The software has Zoom rooms with everything you need to conduct a business meeting. You can reserve a personal meeting room.
You can have up to 100 participants on a free video call, and you can see up to 49 of them on your screen. Although this is more than most people will ever need, it gives plenty of wiggle room especially for businesses.
You can use common scheduling apps, like Google and Microsoft calendars, to set up calls in advance ensuring that no one ever misses a video conference.
It offers virtual functionalities that keep participants engaged in meetings.
You have a choice of virtual backgrounds that you can use to hide messy rooms, and if you like, you can even touch up your own appearance and look more presentable for virtual meetings.
The waiting room feature allows you to see who is coming into your meeting in advance. If you don't want them to join you can block them.
Multi-share allows participants to share screens. Everyone in the meeting can see important documents. You can enable and share two monitors at the same time.
The company offers great customer service, including phone support.
The scheduling feature doesn't leave anything to chance. Colleagues, friends and family are reminded of up-coming video conferences in advance.
The software allows you to choose a co-host for meetings.
The issues that have emerged during the Covid-19 pandemic have forced Zoom to seriously revise its security, and it's now safer than it was before.
Zoom Drawbacks
The most obvious drawback of Zoom is the security lapses that we already mentioned. Some users are nervous about email and photo leaks. The fact that strangers can barge into chats is another significant security issue that cannot be ignored. However, the company has already addressed these issues, and promises to make the software even more secure in the future.
Zoom Pricing
Zoom has a free plan that can host up to 100 participants for each meeting. Paid plans include Pro for $14.99/month, Business for $199.90/month and Enterprise for $1,999/month.
---
View Listing
Skype is a leader in the video conferencing niche. It has been around for years. However, since most people became home-bound due to Covid-19 restrictions, it has been overtaken by Zoom. There are lots of searches for "Skype vs. Zoom", which shows that people want to be able to compare these 2 communication tools before they buy.
Skype is owned by Microsoft. It started off as VoIP software, but over time evolved to include video conferencing and instant messaging. It works on Windows, Mac, iOS and android. It's also compatible with Alexa and Xbox.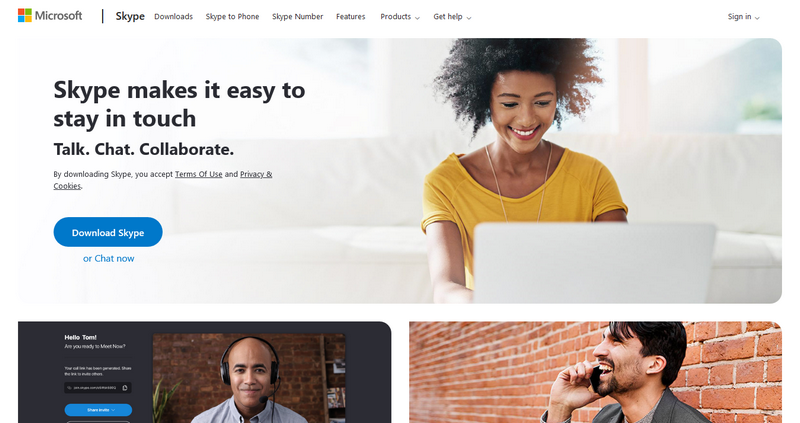 Skype Features
Although Skype started off with a busy interface it has been cleaned up over the years, and the current version is simple and easy to use.
End-to-end encryption allows you to make your conversations more private.
Skype has a top-quality voice call function. Affordable calling rates allow you to call landline and mobile contacts.
The service offers top-quality video through proprietary codecs. However, this depends on the participants' internet connection. If it isn't good, they may not be able to connect, or calls may drop and have difficulty reconnecting.
Skype has a cool screen sharing feature – you can show others photos, videos and documents during voice calls.
You can record and send video messages for friends, family and colleagues who are offline. They will receive a notification, and they can open and view the video at their leisure.
The software has a robust business feature. Skype for Business allows you to connect up to 250 people into conference calls, with high-end encryption for maximum security.
You can schedule calls on Microsoft Outlook, and the software integrates with many apps.
Skype Drawbacks
The biggest problem with Skype is that it's chunky and bandwidth-intensive. Whether you are initiating or receiving a call you need high-speed internet to avoid dropped calls and delays.
The Skype messaging app has been a target for hackers for years. The company has implemented security for video calls, but for some reason, they stop there.
Skype charges for calls, and it isn't cheap.
Skype Pricing
Frustratingly, Skype doesn't openly display pricing on their website. However, it offers both a free trial and a free plan.
For paid packages, Online Plan 2 costs $5.50/month/user. You can buy the Microsoft Essentials package for $5/month/user, or the Office 365 Premium package for $12.50/month/user.
If you would like Skype for business, the Enterprise plan will cost you $2/month/user.
---
Zoom vs. Skype
As people try to decide which video conferencing software is best for working from home during the Covid-19 lockdown, Zoom vs. Skype searches have increased significantly. Very briefly, here's how the two compare:
Skype has the ability to support only 50 participants for both voice and video calls. Zoom can accommodate 100 participants on conferencing calls and you can see up to 49 of them.
Skype has recently upgraded to allow video calls without downloading the software. Zoom requires download and installation if you want to initiate calls.
Skype integrates with Microsoft software as well as a few other business apps. Zoom integrates with dozens of apps in a variety of categories including healthcare, finance and hospitality.
Both apps have end-to-end encryption for added security, but serious security flaws have emerged in Zoom which the company says they are working to fix.
Skype has free Skype-to-Skype communication, but you need to pay to call a landline or mobile. Zoom's free plan allows 40 minutes of free video conferencing per session. However, after the 40 minutes are up you can re-start the call. There are no limitations to how many free video call sessions you can enjoy.
Skype works with all web browsers, as well as Windows and Apple devices. Zoom is compatible with all browsers, and also works on Linux and Blackberry.
You can customize your background on Zoom, but you can only blur it on Skype.
Zoom offers 1GB of storage for video and voice calls, but Skype deletes all recordings after 30 days.
---
View Listing
GoToMeeting online chat software remains one of the best video conferencing software of 2022. Whether you are hosting a scheduled or on-demand meeting, a group or a one-to-one chat, it has lots of features to ensure that it goes smoothly.
The software was popular even before the current pandemic forced users to look for conference call services. It's particularly favored by businesses because it has top-notch video call quality, a selection of useful features and good customer service.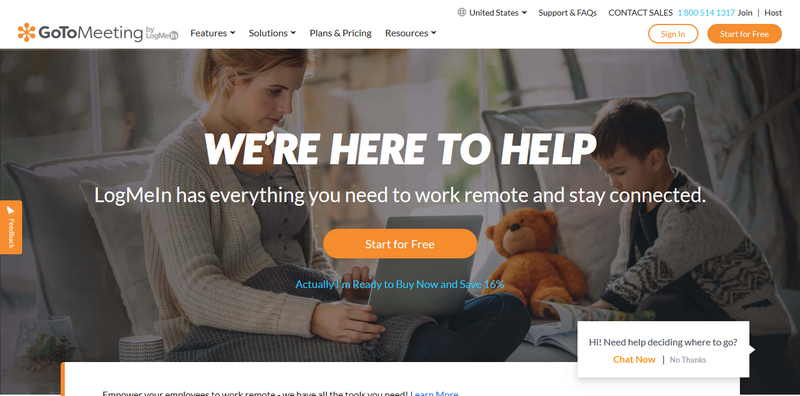 GoToMeeting Features
Conference calls – you can initiate and participate in conference calls from all iOS, Mac and android devices. GoToMeeting offers toll-free numbers for more than 50 countries, and unlimited calls. If you would like to keep a record of your meeting just activate free conference call recording.
GoToMeeting is excellent for video calls. You can call from desktop or mobile, and to ensure that there are no dropped chats the software automatically adjusts bandwidth for each user. Up to 25 users can join in on each video call and enjoy exceptional HD video conferencing.
Screen sharing means that you can share supporting documentation with the rest of the team during meetings. If you're talking to family and friends, share your screen to show them photos and videos.
Transcriptions and recordings make it easy to retain details of your meeting. To save meeting click on the record button, and after the meeting is done you'll have video and audio of each person who participated.
Hardware bundles ensure that the video and audio quality remain high at all times. Whether you have a one-to-one meeting or a large conference chat, you get top quality every time.
Drawbacks of GoToMeeting
You need to have a stable internet connection. If your internet connection dips even a little the session can crash.
GoToMeeting doesn't work well with old technology. The company is keen to release solutions for the latest hardware, but those with old hardware may struggle with this software.
Although the company recently released a chat feature, it isn't nearly as good as other business chat solutions such as Slack or Hangouts.
There is no free plan.
GoToMeeting Pricing
The Professional package costs $12/host/month. The Business Package is $16/host/month. Call customer service for a quote if you would like the Enterprise package.
---
View Listing
CyberLink U Meeting, more popularly known as U, may not be the best video conferencing software out there but it has some great things going for it. This software started off as a tool for small business, but with regular improvements and updates it's gaining momentum among mid-sized businesses.
Many people buy CyberLink U Meeting because it has an easy user interface – you don't have to spend time educating colleagues or family members on how best to use it.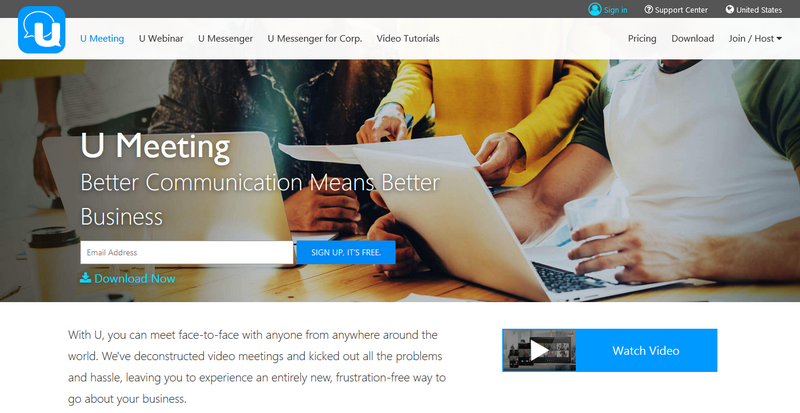 Cyberlink U Meeting Features
It has a neat and uncomplicated user interface, allowing people of any age to use it without difficulty.
Video calls are browser-based, so there is no software to download.
Some features allow you to increase the privacy of your video chats. You can password protect each meeting and ask the software to verify server certificates before admitting participants.
You can initiate and participate on video calls from any device. It works smoothly with iOS and android, Windows and Mac devices.
When new participants join a video call they are muted to minimize disruptions.
The software allows you to send out invitations to participants, so you have control over your meetings.
You have different views for different types of meetings. If you have a presentation you can choose "Speaker View", and if you have discussion you can choose "Gallery View".
You can share your screen with other video call participants, and the software has a laser pointer to help explain your screen.
You can schedule meetings on Google and Outlook.
Easy management options for business administrators.
Cyberlink U Meeting Drawbacks
The main problem with this software is that it doesn't allow you to record your meeting.
Cyberlink U Meeting Pricing
The free version allows up to 25 participants per meeting, and you can only hold 30-minute meetings. For Pro-50 you need to pay $29.99/month/host. Pro-100 costs $49.99/month/host, and if you want Enterprise, contact the company for a custom quote.
---
View Listing
Google Meet, or what many people know as Google Hangouts, is one of the tools in the G Suite platform. Competition from Zoom has forced Google to give their video conferencing tool some much-needed updates and a facelift, and now it can compete up there with the best video conferencing software of 2022.
Google Meet is made mainly for businesses, so it can support a large number of participants while maintaining high quality video.
A dedicated meeting phone number means that only those who are invited can attend. The software can schedule calls through the Google calendar.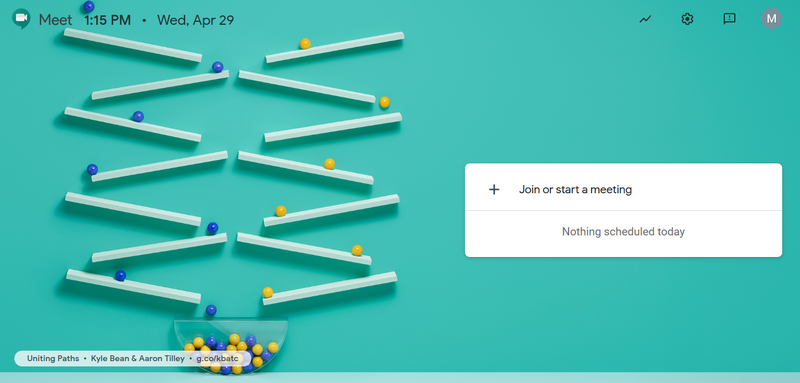 Google Meet Features
You can host a video conference meeting for up to 250 participants, and all you need to do is send them all the same link.
It works with iOS, android, Mac and Windows.
When you buy Google Meet you get a host of other useful business tools. They include Gmail, Google Drive, Google Sheets, Google+ and Keep.
There is a Live Polling feature that allows you to collect participant opinions.
A text chat allows participants to contact each other even as they participate in video chats. They can share images and documents.
To follow up video chats, participants can share projects, timetables, ideas and more through Google Docs, Google Sheets and Google Calendar.
There is no software to download. You can initiate video calls directly on your browser.
It has a clean interface, and you can see everything you need to do a successful video conference.
The software has good security and offers a high level of encryption.
Google Meets Drawbacks
The biggest problem with Google Meet is that it is only available on Chrome. If you are setting up a meeting with people who use other browsers, they have to download and familiarize themselves with Chrome first so that they can use the software.
Google Meets Pricing
You cannot buy Google Meets as a stand-alone software; you have to buy G Suite, which gives you access to a host of other business tools.
The Basic edition costs $6/user/month. Business edition costs $12/user/month, while Enterprise edition costs $25/user/month.
---
View Listing
Slack has distinguished itself as a leading workplace chat app, and has recently added a video conferencing facility to enable teams to hold meetings, share information and keep in touch without much fuss.
Teams can collaborate from anywhere in the world, share screens and documents and integrate other software that is common in the workplace.
You can join a Slack video call from your desktop or your phone, and you can even listen to others meet without joining in.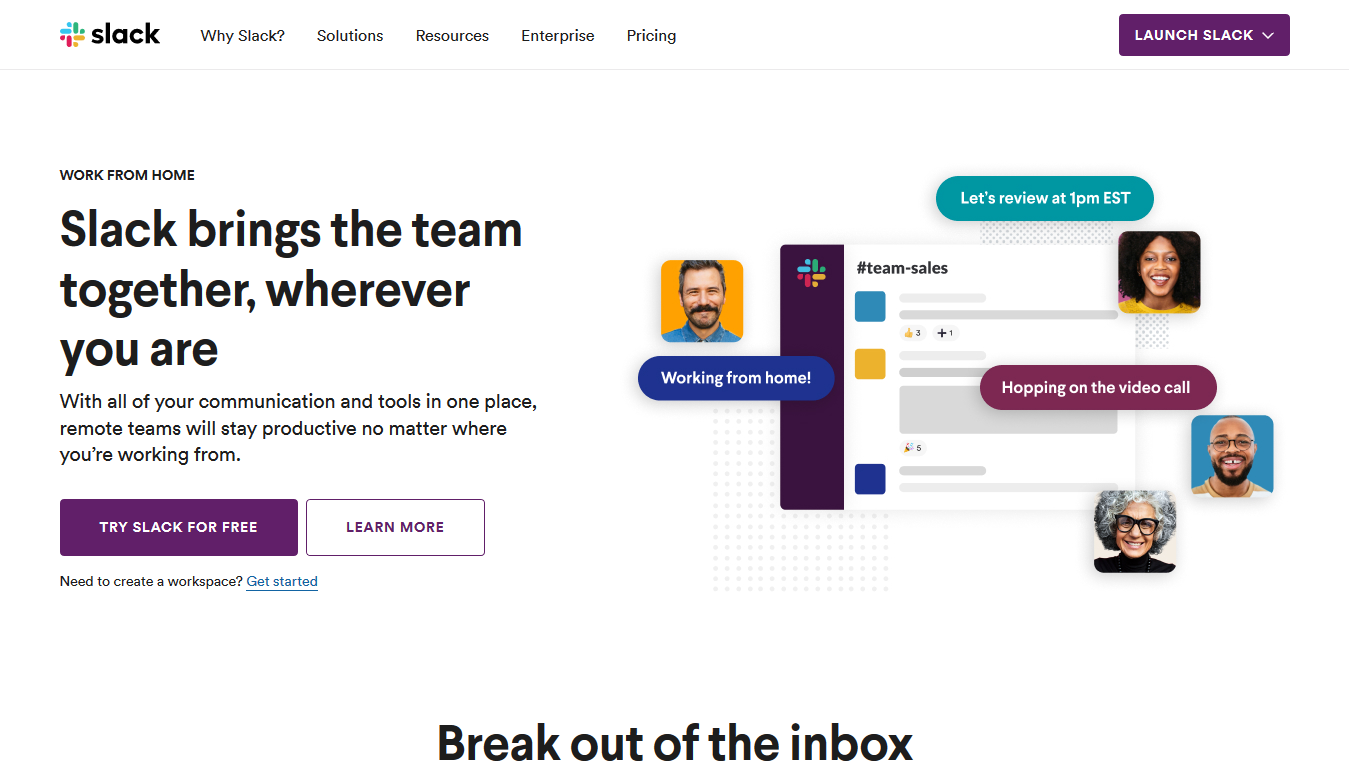 Slack Video Chat Features
You can start a video call from your chat app. There's nothing to download – just hit the call button for the contact you'd like to conference with.
Share your screen with the rest of the team during video calls so that they can understand what you are talking about.
It integrates with most common business software, so it will fit right in with your existing setup.
Initiate calls with other members of your team by inviting them and sending them a link that they can click on to join the call.
Video calls can accommodate up to 15 participants for each session.
Slack Drawbacks
If you want to video call using Slack you must be on one of their paid plans. Also, you in order to talk to anyone you have to belong to the same workspace.
Slack Pricing
Slack Standard is $6.67/month/user and Plus is $12.50/month/user. These are yearly rates.
If you want to pay monthly, Standard will cost you $8/month/user and Plus is $15/month/user.
The Enterprise Grid Plan is reserved for big businesses, and you can contact the Slack team for a quote.
---
View Listing
BlueJeans describes itself as simple, smart and trusted. It qualifies among the top video call software for 2022 as it's packed with features. It's a great tool for those who work from home and is ideal to conduct professional meetings. It offers HD video, Dolby Vision sound and advanced security features.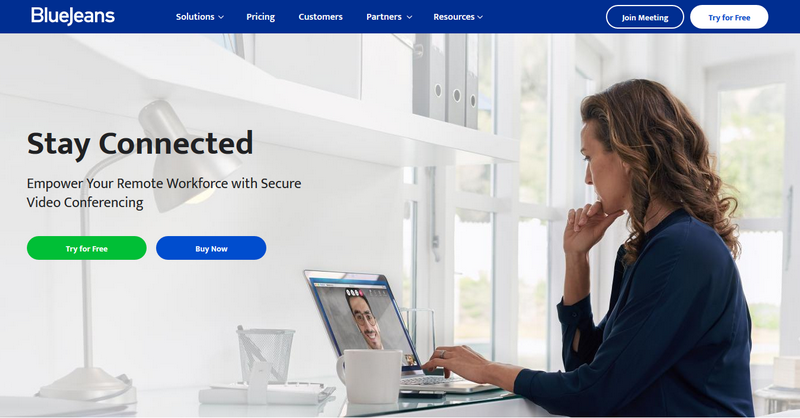 BlueJeans Features
It works with Windows, Mac and Android, Linux and iOS. You can use the software on all the common browsers, and it works on all devices.
It has a simple user interface and a short learning curve.
Meetings and data are secured using end-to-end encryption. You can add a password to determine who can join your meetings, and you can also silence or expel participants.
You don't need to download and install the software. Initiate or join a meeting directly from your browser.
Participants can join meetings at the touch of a button. They can participate by writing notes which are highlighted for the rest of the group and saved for future reference. Important points can be tagged, and automated transcription means you never miss anything.
You can create a to-do list for meeting participants, and the software has a follow-up feature to make sure that nothing falls through the cracks.
Have you missed a meeting? There's no need to watch the whole of it. The software brings you just the highlights.
It integrates with dozens of apps including Slack, Microsoft Teams and Skype.
Your meetings are all recorded and saved on the cloud and can be shared afterwards.
The app has smart user controls, and it will remember your choices for future meetings.
BlueJeans Drawbacks
You need to have a fast internet connection to use BlueJeans. Weak connections often experience lags.
BlueJeans Pricing
BlueJeans offers a one-month free trial. After that, you can pay for BlueJeans Standard for $9.99/month/host. For BlueJeans Pro you'll pay $13.99/host/month and if you want BlueJeans Enterprise you need to call the company for a custom quote.
---
View Listing
More commonly known as Jabber, this business communication tool is relied upon by hundreds of companies to keep teams connected. You can use it for video conferencing, voice calls, voice messaging, instant messaging and desktop sharing.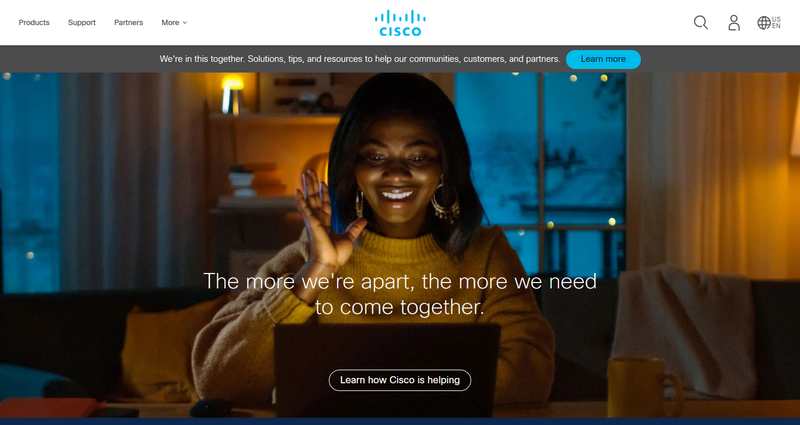 Cisco Jabber Features
You can use it for video and audio calls. You don't need to download the software to join a video call; just click on the link that the initiator has sent you. However, you can also download the app for your desktop or mobile.
You can reserve special rooms for important meetings.
Transcribe and record meetings so that you can refer to them in future.
For scheduling, you can integrate Jabber into your calendar and email software.
Meeting participants can be assigned different roles.
Jabber allows meeting participants to share files before and after video calls.
Jabber Drawbacks
The biggest problem with Jabber is the user interface. It isn't very easy to use, and implementing conference calls can be a little difficult.
Also, compared to other video conferencing software, the app integrations on Jabber are rather limited.
Jabber Pricing
There is a free version of Jabber. However, if you want to make use of all the features you have to contact Cisco for a quote.
---
How to Choose Video Call Software
Whether you are using free or paid video conferencing software there are some important things you should keep in mind as you choose.
The first is security. As amply demonstrated by the recent Zoom debacle, it's important for this type of software to have air-tight security features, especially if you plan to use it for business.
Look at how many participants you can loop into a call. There are days you'll need to hold group video calls, and you need software that can allow all of you to set up and communicate with ease.
If video conferencing software requires high bandwidth it may not be ideal, especially if you don't have a stable internet connection. Remember, not everyone you call has fast internet, so it helps if you can choose software that isn't bandwidth intensive.
Choose software that's easy to use. There are options now that don't require download and installation. Make sure it has a friendly user interface.
Can the video chat software keep a record of meetings? This is especially important if you plan to use it for business. It should also integrate with your favorite apps.
Make sure it provides high quality voice and video feeds.
Choose software that's affordable, especially if you are buying video conferencing software for business.
---
Conclusion
With so many of us confined to our homes video conferencing software has become a necessity. Although there are dozens of options in the market there are only a handful of video chat software that provide top quality audio and video and other features at an affordable cost.
All of the ones discussed in this post have impressive features that are sure to make personal and professional communication easy.