Best Quotation Software Software 2022 | Create Business Quotes
"Now help your customers with their queries by allowing them to create and send quotes to you and expand your business faster with quotation software."
If you are looking for trustworthy and popular quotation software? Then you are in the right place. We are here to introduce some of the best & leading quotation software that are convenient & completely manageable.
But before we start, we would like to explain here that what quotation software actually is? And how can you improve your business with this software?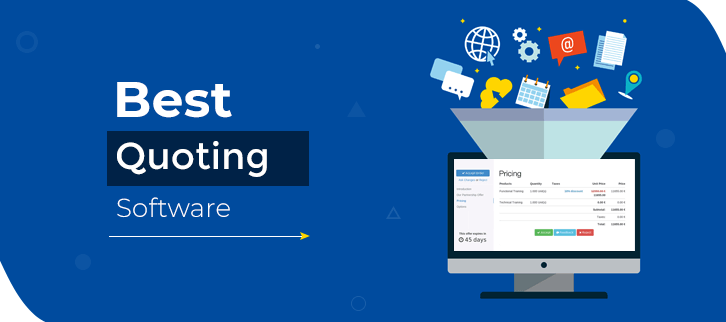 Quoting software is also known as "software offers" and "estimate software." This software basically helps you to generate quotes for your customers more quickly & with fewer errors and improve your business sales process conveniently.
But here the question arises is this enough to build a good relationship with your customers?
What do you think?
I think to impress your customers and make them loyal towards your organization for a long time it is important that they can also be authorized to communicate with you regarding their queries. Isn't it?
Hence, you can make this possible with ideal quotation software. You can build a complete interactive system for your business and allow your clients to share their viewpoints with you via creating and sending quotes.
Further, quotation software comes with some prominent features such as e-signature, quote creation, robust CRM system, and much more.
Curious to know more about Top Quotation Software?
Don't worry, we are here with this article which includes notable quotation software along with their key features.
Best Quotation Software Comparison Table
| | | | |
| --- | --- | --- | --- |
| Service Name | Price(Month) | Unique Feature | Rating |
| PandaDoc |  $25/User | Supports electronic signature | 4.9 |
| Zoho Creator |  $15/User | Includes Zoho Creator App for iOS and Android devices | 4.5 |
| QuoteAnywhere | Contact QuoteAnywhere | Integrated with ERP system | 4.4 |
| Experlogix | Contact Experlogix | Displays realistic images of products | 4.6 |
| Quotient | $25/User | Google Analytics compatibility | 4.7 |
Take a look at the top 5 best quotation software:
So, let's begin…
---
This simple citation software comes with powerful CPQ features and helps you to enhance your CRM in no time. PandaDoc enables your team to send and track quotation and eSign quotes. Also, it provides over a dozen integrations with tools such as CRMs, invoicing and payment systems.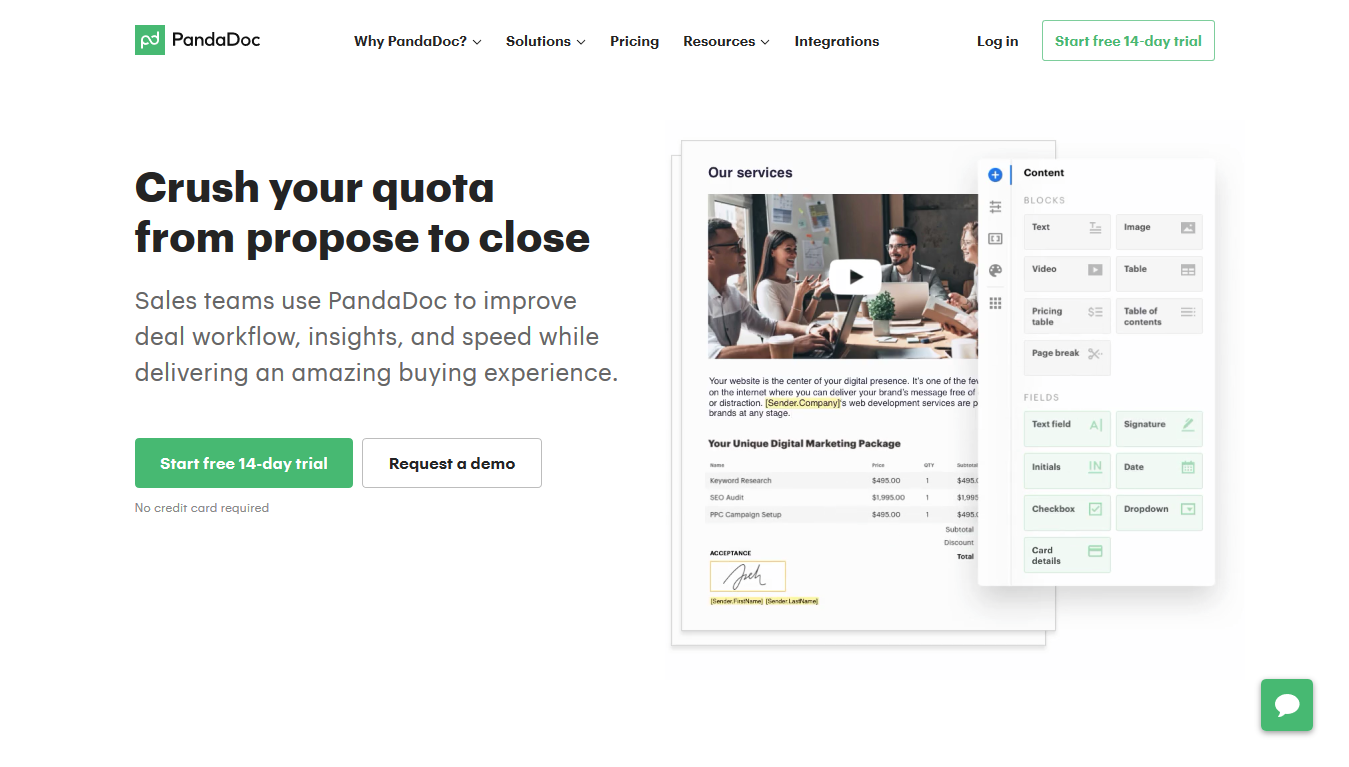 Features Of PandaDoc:
The product catalogue provides to an admin with the capacity to generate personalized quotes without any mistakes in a few minutes.
Moreover, you can specify quantities, SKU number, name of product and description, by personalizing your proposal software catalogue, and you can also add an image in this product.
PandaDoc robust price table software works for you in practice. Here, customers can enter optional items, line item discounts, editable quantity and select multiple options.
The secure integration of Stripe enables you to pay your quote recipient by credit card or ACH when they signature on it. Just link your bank details and cash flow to the Stripe software account. When the invoice is due, you can even send follow-up records to customers.
Every quote includes eSignatures that comply with the law i.e ESIGN and UETA. And your customers can register for free with our electronic signature software from any device.
Pricing Plans
Business Plan: Get this plan at $49/per month which empowers you with eSignatures, approval, content library workflows.
API: Pay $375 to buy the Rest API which comes with 250 documents, unlimited templates, embedded signing and more.
---
Automatically generate quotations and respond more to customers with Zoho Creator. You just need to open this application to manage all the quotations for your products and services. Also, you can get quote requests, process them and send them to your customers straight away.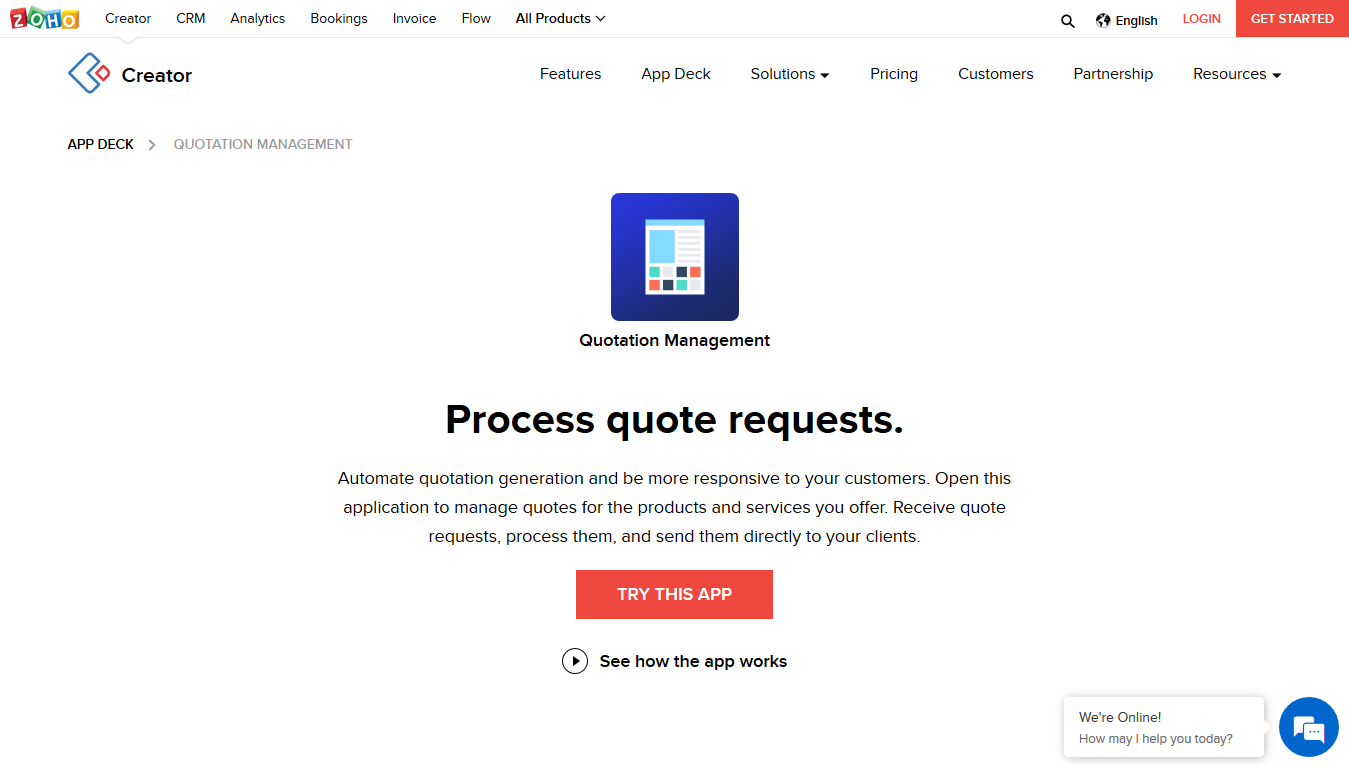 Features Of  Zoho Creator:
Create full quotes with customer name, quotation number and product details, together with custom notes and images. You can convert these quotes into sales orders directly and send them to your customers with one click without re-entering data.
You do not need to search for customer information using spreadsheets or multiple email threads. It helps you in saving all the information in a single database and make collaboration easier for your team and customers.
Enter the product name, the unit rate and a unique ID to add new products and services. Retrieve from this catalogue specific product details directly and use them for quotations.
Always connected with your business, no matter where you are, just download the iOS and Android Zoho Creator App. Here, you can check quotes, and contact with clients.
In this software, you can check the status of almost 31 elements like barcodes, location coordinates, or files.
Pricing Details
Zoho Creator comes in 3 different pricing plans
Basic: Buy this plan at ₹400 which offers you three apps compatibility and 25,000 records.
Premium: Get this plan at ₹800 with 50 apps and unlimited records.
Ultimate: Pay ₹1,400 t get this plan which empowers you unlimited apps and records.
---
QuoteAnywhere G2.0 is an ideal software for quoting real sales mobility. It offers the possibility to collaborate with prospects and customers during the sales process. Further, you can build site surveys that automatically create quotes, give details of your customer's device locations and installation teams!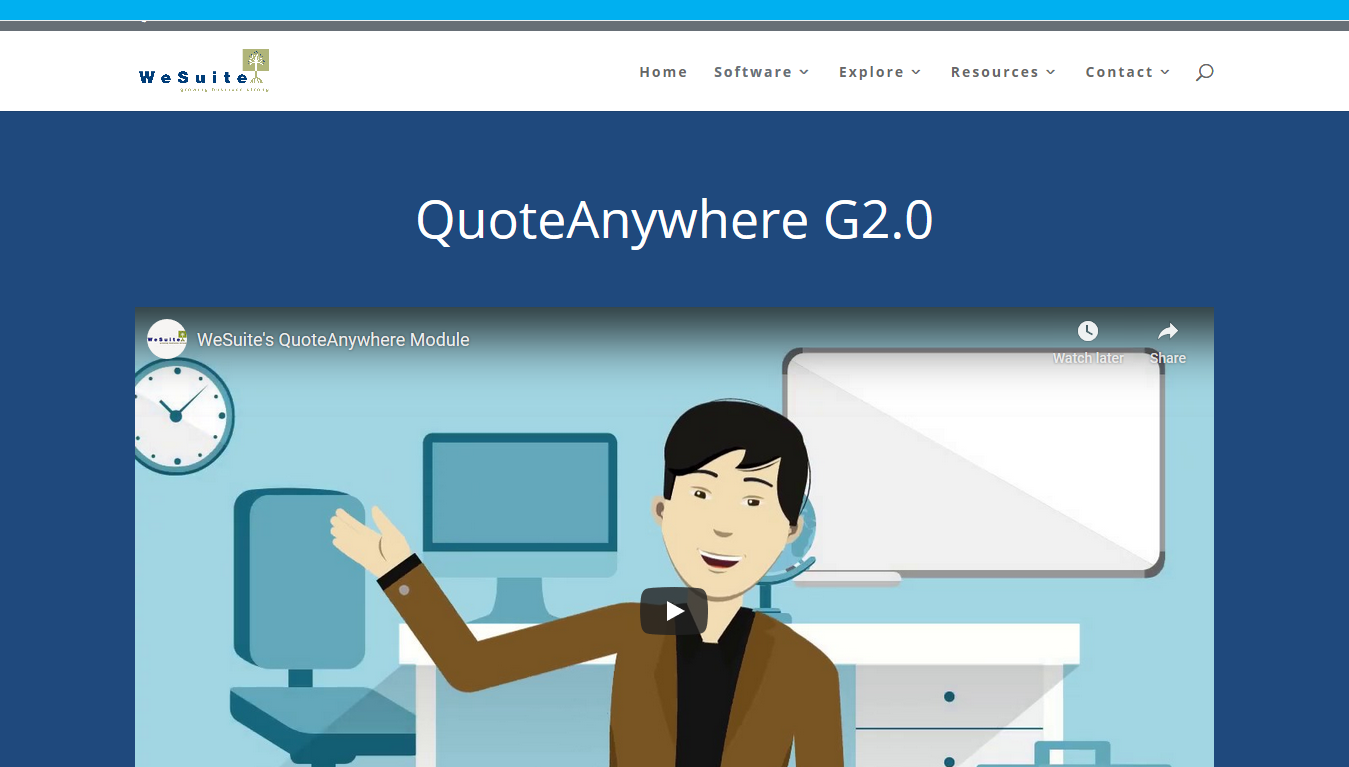 Features Of QuoteAnywhere:
Customers & prospects can sign at the quotes. To automate the process, select integrated signing services either with DocuSign or original.
QuoteAnywhere G2.0 contains important board sales reports.
It integrates with ERP so,  you can even keep track of your quotes and sales fees. ERP solutions for the easy transfer of won sales job information, sales summary information, status, forecasting.
Create new budgets, add new orders, generate offers and contracts with just a few clicks from your iPad, tablet.
Moreover, you can record customer information, products & services, sales documents generate & sign.
Pricing Plans
Please contact the website owner to buy the QuoteAnywhere services.
---
In a variety of industries, Experlogix has successfully implemented CPQ solutions for a decade. You can rely entirely on Experlogix to grow your business faster. Further, with this software, you can get multiple benefits through which you can easily improve your financial results, increase customer satisfaction and create real business returns.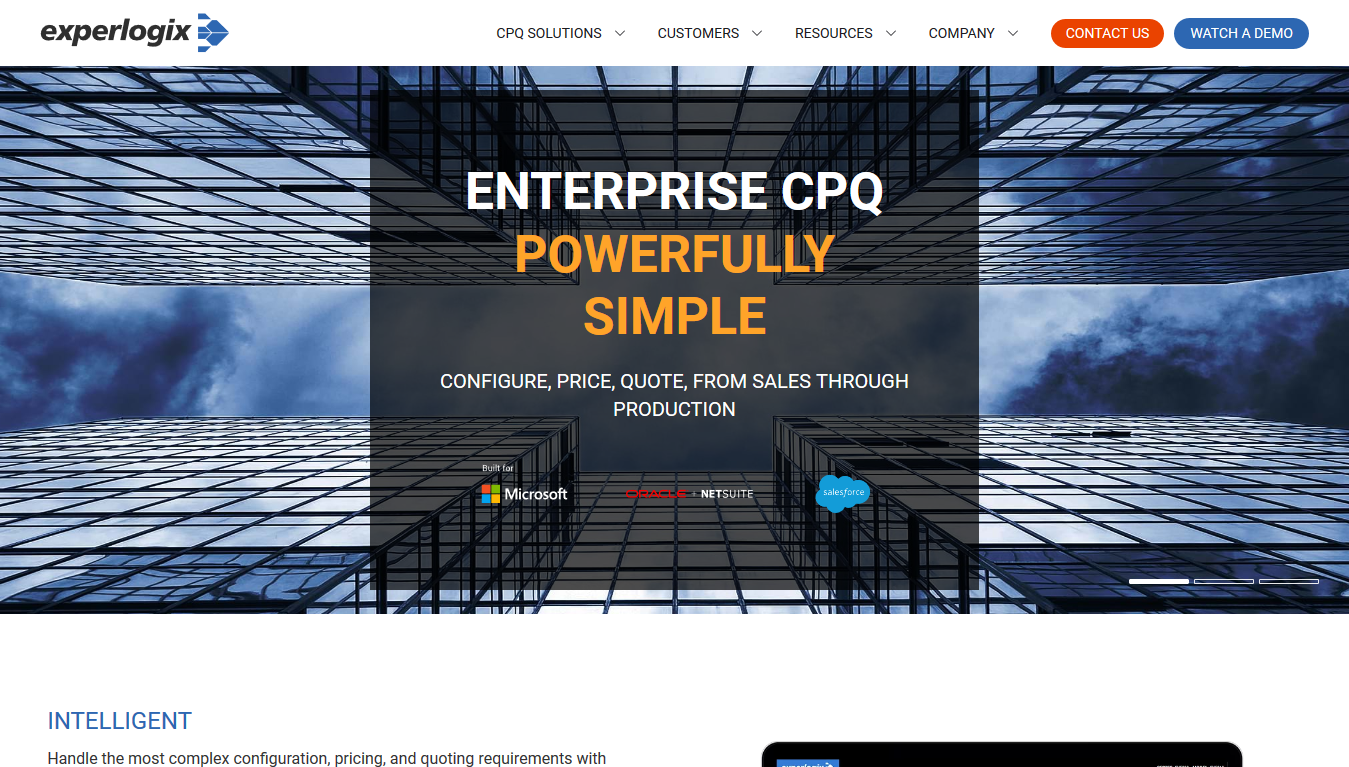 Features Of Experlogix:
Enable your sales representatives and partners to take less time and sell more. Lend quotes more quickly than your competitors.
Every time you deliver 100% exact quotations and orders, eliminating costly replenishment and customer head-ace.
Enhance your results with smart product recommendations to increase sales and margins.
Furthermore, you can save the data in the cloud, or even can download the data on the local server.
Pricing Details:
You can contact the owner to get the pricing plan details.
---
The quotient is a breeze and will be a good breath of fresh air for your customers. With this software, you can deliver fantastic looking quotes whenever needed and allow your customers to accept it online, anytime. Also, you can see precisely when a customer opens your quote.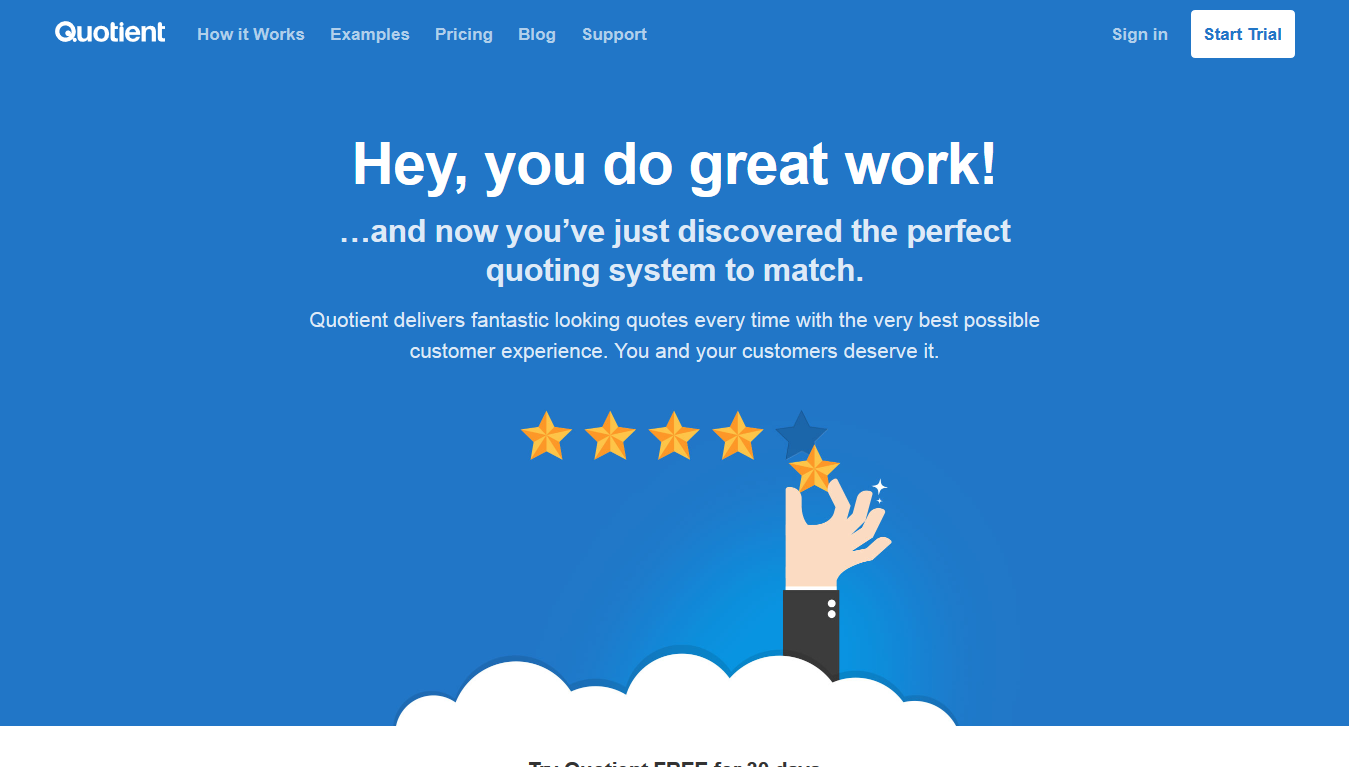 Features Of Quotient:
You can post this directly on the quote if your customer has a question. Your responses will be a ' paper trail ' throughout the sales process. It's all on the same page for everyone on the team.
In addition, each item can be stored in a content library. These can be quickly examined if items are added to a new quote or template.
Nothing is difficult to understand. In the Dashboard, check the stats of your sales figures with ease.  However, you can gain knowledge into how your sales are being tracked.
It is like getting super power to know when and how often your client has opened your quote. Your customer appreciates the customer service, as you know when to monitor them.
Pricing Details
The pricing comes with two different plans.
One Man Band Plan: Purchase this plan in the $25/per month in which you can add 1 team member.
Business Time: At $45 month you can avail the services of this plan which includes 5 members compatibility.
---
Wrapping Up:
Here, in this article, we have mentioned the top-most quotation software that will give you the best opportunity to create and deliver fantastic looking quotes to your customers and improve your business growth more rapidly.
Still, in case of any kind of queries or suggestions related to the above-mentioned quoting software, feel free to get in touch with us by commenting below.
You May Also Like To Read:-