The 10 Best Classroom Management Software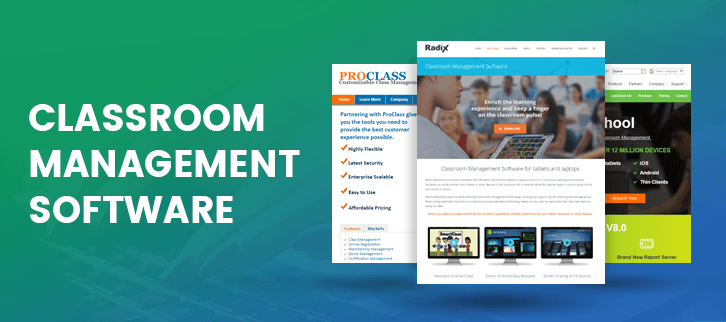 Today technology has entered into every walk of our lives and even class management can be done by using software. Classroom management software assists in the creation of a class environment meant for a better learning experience for students.
Classroom management software can be used by schools, learning centers or any educational institution to increase classroom engagement, motivate students and improve student behavior and progress.
You can eliminate distractions, monitor classroom activities, enhance knowledge sharing and more with these programs. There are many classroom management software out there so it might be confusing for you to choose the right one for your school.
To help you out here we have a list of 10 of the best classroom management software to choose from.
The Best Classroom Management Software
Compared (in full)
| | | | | | | | | |
| --- | --- | --- | --- | --- | --- | --- | --- | --- |
| Name | Multiple Devices | Internet Safety | Real-Time Monitoring | Private Chat | Ease Of Use | Pricing(Monthly) | Free Trial | Demo |
| Faronics | Yes | Yes | Yes | Yes | Yes | Contact Faronics | Yes | No |
| | Yes | Yes | Yes | Yes | Yes | Contact RenWeb | No | No |
| | Yes | Yes | Yes | Yes | Yes | Contact LanSchool | Yes | No |
| | Yes | Yes | Yes | Yes | Yes | $2.00 | Yes | No |
| | Yes | Yes | Yes | Yes | Yes | Contact BlackBoard | Yes | No |
| | Yes | Yes | Yes | Yes | Yes | Contact Mythware | Yes | No |
| | Yes | Yes | Yes | Yes | Yes | Contact PROCLASS | No | No |
|  Radix | Yes | Yes | Yes | Yes | Yes | Contact Radix | Yes | No |
| | Yes | Yes | Yes | Yes | Yes | Contact ClassCharts | Yes | No |
| | Yes | Yes | Yes | Yes | Yes | $12/Student License | No | Yes |
Check all software in detail according to your needs and choose wisely; by the end of this article you'll know exactly which one is right for you.
---
Faronics is an effective and feature-rich classroom management software that helps teachers create a better learning experience while helping IT professionals to easily manage and support multiple labs.
You can easily manage a computer-based learning environment with the help of Faronics as it helps keep the entire inventory up-to-date. Your students can take help directly from the teacher with the help of this software.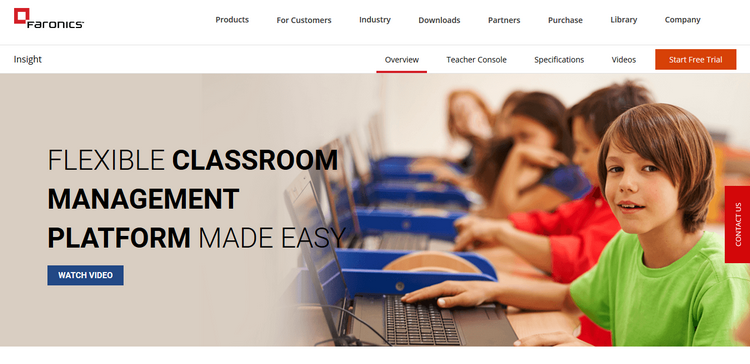 Key features of Faronics
The classroom monitoring feature allows you to see what the students are doing.
You can block students' access to USB, CD/DVD drives and web browsing with a single click.
Manage multiple labs, schools, and networks with central management.
Educate, monitor, assist and communicate with the entire class from one central computer.
Share the teacher's screen with students or let the student share their screens with other students.
The student and teacher can have one-on-one discussions with the help of the Faronics interface without interrupting the class.
The power status of all the connected devices can be monitored, the power scheme modified and you are notified if the power on any devices runs low.
The teacher can directly communicate with IT staff instantly if any problem arises
---
RenWeb provides a comprehensive, robust solution to manage your classroom. It is one of the most popular school administration programs for private and faith-based schools.
It allows the schools to record all the contacts of the student along with their parents' information. Demographics are systematically entered in the database for better organization of information.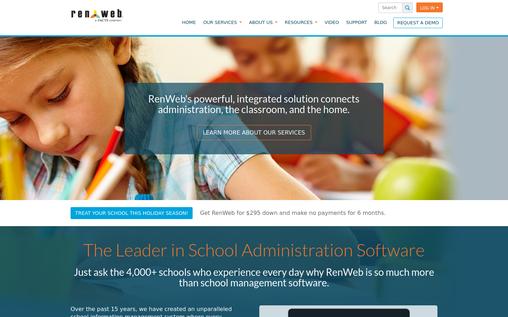 Key features of RenWeb
It integrates with online application and online enrollment for admissions.
The group email tool lets you build groups of students, parents and others based on grade, level and others.
The online grade book automatically creates an electronic portfolio of your students, provides web tests, records grades, assigns and collects homework and more.
The secure ParentsWeb portal lets parents view the student's records, announcements, calendar and more.
Teachers can take attendance and immediately report it to the administration. It can be taken twice per day, per period and more according to requirements.
It offers a suite of mobile and tablet friendly tools that you can access at anytime, anywhere.
The starting price of the software is $295 for six months.
---
LanSchool is a classroom management software with plenty of useful features. It has a simple interface and all the necessary functions can be quickly accessed via a simple interface.
You can save valuable time using this software. You don't need to go and collect assignments. Your students can send them and you can collect the assignments instantly with the help of LanSchool.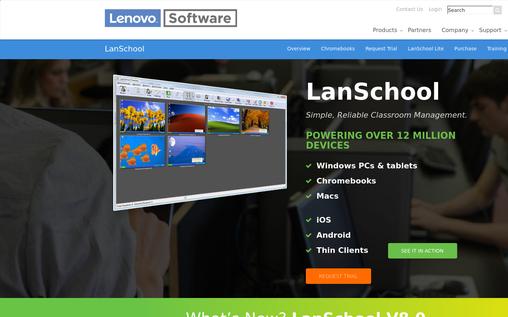 Key features of LanSchool
Teachers can use the thumbnail view to see each student's screen and easily monitor activities.
The teacher can instantly broadcast their screen to the students for better teaching.
Teachers can communicate with the students through audio chat and messages. They can chat with an individual or groups of students and quickly answer questions.
You can quickly provide polls and quizzes and share instant results.
All the students' screen can be blacked out to grab attention and you can also restrict access to specific websites or applications.
You can develop customized tests and evaluate them in real time. The grade can be exported to the concerned people.
---
Jamf provides iPad classroom management software to enhance teacher effectiveness and student learning. For teachers, it is exceptionally easy to manage the classroom with the help of Jamf software. You only need an iPad with Jamf software installed on it. You can focus on an individual or a specific group and send them customized messages to guide them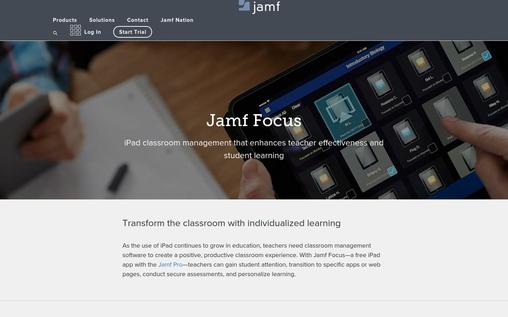 Key features of Jamf
Assessments can be taken easily and securely with Jamf; you can focus on your students individually, in a group or you can shift your focus on the whole classroom with just a couple of clicks.
Teachers can easily find all the required books from the iBook store and distribute them among students.
You can prompt your students to share their screens on Apple TV and you can showcase their work by eliminating the additional time required to initiate AirPlay.
You can view the iPad battery level of your students in the classroom with Jamf.
Reset lost or forgotten passwords easily in case a student is locked out of their iPad.
Choose between Jamf Now and Jamf Pro. The starting price is $2/month.
---
If you want simple, powerful and innovative classroom management software Blackboard is the answer. It helps you to reach your students in real-time. Teachers can easily view course details before starting a class with ultra course view.
Creating an assignment is pretty easy with Blackboard and students can submit it from their screen without any difficulty.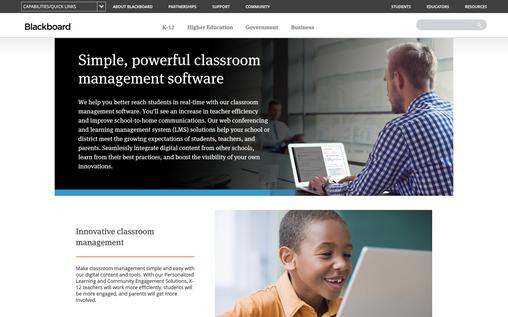 .
Key features of Blackboard
Teachers can quickly start a discussion on the subject matter, organize the discussion and students can easily view the recent discussions.
You can easily create a learning profile, add important information and view all the people who are engaged in that particular course.
Teachers and students can have personalized communication with a messaging tool and an instructor can send group messages and course announcements.
A comprehensive report of students, like their assignments, performance, grades and more can be viewed by the instructor to improve their performance.
The browser-based web conference allows you to connect with your students anytime and your students don't need to install anything to participate in a web conference.
---
Mythware is a classroom management software that allows the instructor to remain in total control of the classroom. You can supervise the students, communicate with them and enhance collaborative learning with Mythware.
It is compatible with all major operating systems like Windows, Android, iOS, and Linux.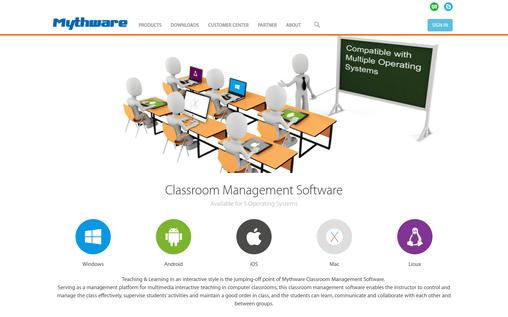 Key features of Mythware
You can monitor and control your student's activities by monitoring their screens, launching the necessary apps, closing unnecessary apps and more.
Teachers can distribute files to all students and students can send required files to the teacher without any difficulty.
Teachers can easily conduct surveys among the students and results are instantly generated in the form of bar graphs.
Quizzes can be easily conducted by the teacher and the results can be imported in HTML files.
The interactive whiteboard lets you demonstrate the things you want to share by allowing you to write and draw. Students can also share with their teacher on a whiteboard.
---
PROCLASS provides all the necessary tools for class management. It is a secure and easy-to-use software for continuing education providers, studios and non-profits. Its intuitive dashboard allows you to access its features easily.
It is very easy to accept students online via a detailed and dedicated customer portal. Students can easily access and edit their personal details through the same customer portal.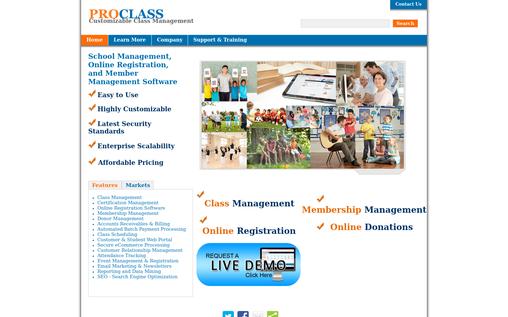 Key features of PROCLASS
You can track attendance and history of your attendees with PROCLASS.
You can restrict child or adult registration.
Location and classroom can be easily assigned to students.
A record of credit and certification can be viewed and tracked.
Your students can be assigned to multiple teachers for an assignment.
Course materials for a specific class can be viewed in PROCLASS for fast creation of lessons.
---
Radix is an advanced class management software that can utilize your student's laptop and tablet by transforming it into a learning device. Teachers can broadcast their screens to a student's device for a better presentation.
A specific student's screen can be selected for answering queries. You have full control of each  student's screen but it doesn't allow them to be distracted from your presentation.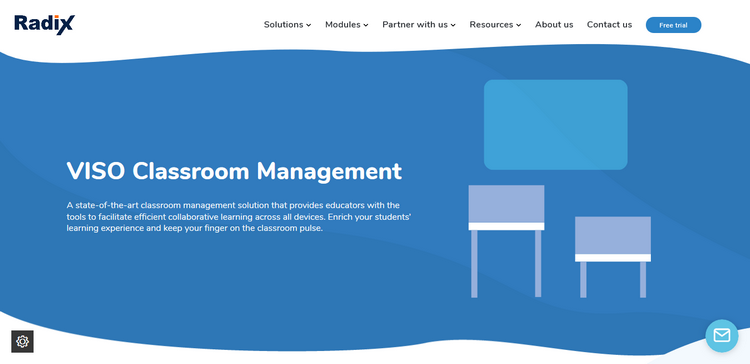 Key features of Radix
You can see your students' screens in thumbnail view.
The students attending a class can be viewed and saved in the software.
All connected students and teachers can browse e-books and websites together with the help of this software.
The teacher can send assignments and files to the students and students can submit them to their teacher instantly.
The raise hand function allows the student to get special attention whenever there is confusion.
The teacher can choose to view only selected apps on devices by blocking all unnecessary software.
The teacher can run a survey or quiz and get instant results.
---
ClassCharts is class management software developed by the group of experienced teachers. With it teachers can manage their students' behavior. You can award the students merits with a couple of clicks and attach detentions for misbehavior.
It can be used to notify the parents via email or app. Inbuilt artificial intelligence in this software automatically analyzes behavior in various seat plans and then suggests the best seat plans for optimum performance.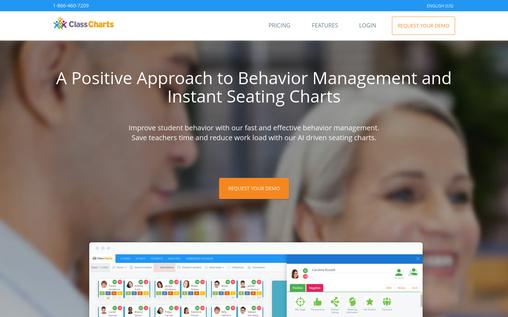 Key features of ClassCharts
Real-time behavior reports are automatically generated by the software to see the progress and decline of each student's performance which can be reported to the concerned staff.
You can easily create and rearrange the best seat plans for the students.
The teacher and parents can share specific information and discuss it for better teacher-parent interaction.
The powerful data wall feature lets you select specific students, analyze their performance and share it with concerned authorities.
You can easily set homework in a few minutes and embed a homework calendar in your school's website so parents and students are always aware of expectations. Also, there are iOS and Android app for easy share.
The price of the software starts at $295/year.
---
The final classroom management software on this list is Net Control and it offers plenty of exclusive features for efficient class management. Presentation becomes quite easy with Net Control as teachers can broadcast their screens to students and can also turn on voice and add images. Teachers can monitor students in real-time by viewing their computers.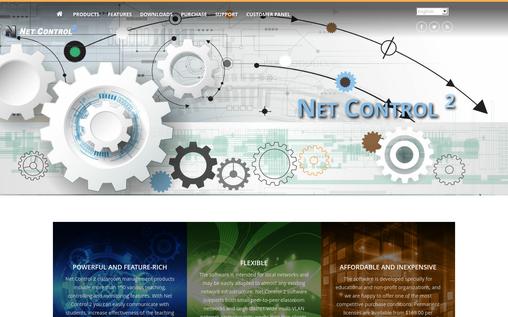 Key features of Net Control
Communication between students and teachers can be done via different mediums like chat, voice, a graphic message and more.
Teachers can run an instant quiz, polling and more.
The websites and apps can be restricted by the teacher to avoid distractions.
Send work documents to students and collect them back when required by sorting with folders.
You can grade the work of the students, award them and use the built-in planner for lesson planning.
You can restrict students from accessing undesirable websites and applications.
It allows you to co-work where you can play multimedia files together with students, open necessary applications and documents on students computers and browse websites synchronously.
You have a variety of options to choose from: NetControl 2 Small Class, NetControl 2 Class, Unlimited License and Net Control Pro. The starting price is $169.
---
Conclusion
Classroom management software can provide teachers and parents with deeper insights into students' progress and behavior. It's very helpful for engaging students in the learning process. Classroom management software can work alongside your school's learning management system and student information system.
You May Also Like:-