Convertful Review – Is This The Best Lead Capture Software?
Editor Rating:





User Ratings:





(12)
What if you could capture most visitors to your site and convert them into sales? That's what this Convertful review is about. With this software, lost leads and sales will stop holding you back.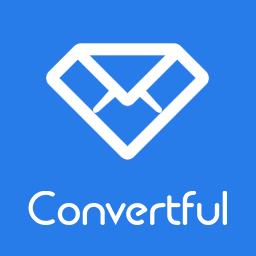 Digital marketing is all about leads. A business that doesn't have leads will stagnate and eventually die. But getting leads is not enough. You have to be able to convert them into sales for business to thrive.
Collecting and converting leads needs careful thinking about, and the right software that can automate the process. Convertful comes highly recommended.
What is Convertful?
Convertful is the ultimate tool for converting website visitors into leads and then into sales. It puts together the right features to ensure that lead generation and conversion happen automatically in the background, leaving you to attend to other parts of your business that require your input.
This software is ideal for digital marketers, bloggers, e-commerce businesses of all sizes and anyone interested in capturing and converting leads.
It has been called the best lead capture software in the market, and with good reason: it won the 2018 AVA Digital Awards for Great User Experience.
Convertful is fast – you can start the process of capturing leads in less than 20 minutes – and you don't need to know how to code to use it. It integrates with other essential digital marketing software and has a roadmap where you can follow the team's progress as they add new features and improve the software.
But first things first, before we get into the Convertful review, let's talk a little about lead generation and conversions.
What is Lead Generation & Why Does It Matter?
Lead generation is a part of the customer life cycle. It is the process of generating interest in a product so that you can get a potential customer into the sales pipeline. You can generate leads through many different channels.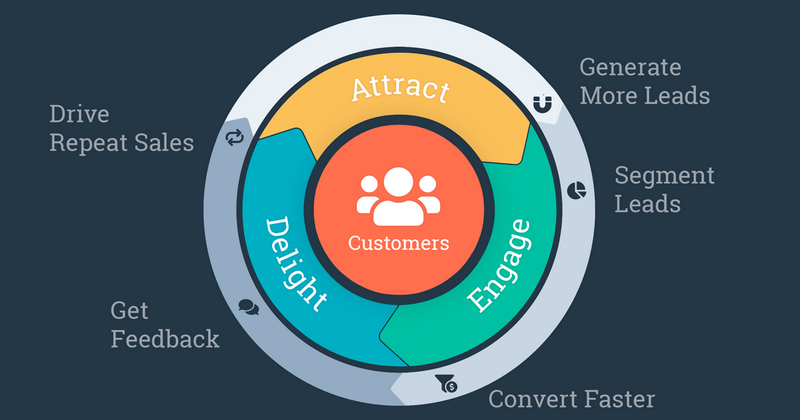 Imagine that you have a store in an excellent location that has lots of foot traffic. Unfortunately, most of the people who pass by just don't bother to look at your store – they are too busy on their way to another destination.
Or imagine that they stop by, browse your products, leave and you never hear from them again. You'll be losing a lot of potential sales. Ideally, you want to get these people interested in your store and your products. If they don't buy right away, the least they can do is leave you their contacts, and you can get in touch with them in the future when you have something that could appeal to them.
That's what lead generation is: getting users interested enough in your website, products and services enough that they are willing to leave you their contact details and are happy to receive communication from you in the future.
Online lead generation is a difficult process that is often fraught with hurdles. Most users are unwilling to leave their email address behind because they don't want to get a barrage of unwanted communication in their inboxes.
Others may leave you their email address, but when you send them an email, they will not read it, or they will mark it as spam.
But what happens most often to site visitors is that they simply leave, and you have no way to get in touch with them and get them into your sales cycle.
The best lead generation software aims to get over these hurdles. It's designed to make it easy for users to leave you their information. It offers something so good that they want to engage with you, and that way you can get them into the sales cycle and work on converting them. This is what is called a Call-to-Action. CTA's should be powerful enough to help you achieve your aim in a short time and with minimum effort.
This Convertful review will highlight several features that allow you to do exactly this.
What is Lead Conversion?
Once you've managed to convince a lead to leave you their email address, you have to drive them down the sales funnel or cycle until they do what you want. For most digital marketers, that's to make a purchase.
A lead's value is in whether you can convert it or not. You can have one million leads, but if you are only able to convert 10 or 20 of them every month, you don't have a healthy conversion rate.
The best online businesses are those that have a high lead conversion ration – they can convert most of the leads they have into sales.
How does Convertful help with lead generation and lead conversion? By putting together powerful features that help you get users into your sales funnel, and then get them to buy from you and hopefully become repeat buyers.
Convertful Features
Widgets
Lead generation and conversion is all about inviting users to take action, and in this sense, Convertful delivers by bringing you different kinds of widgets for different situations: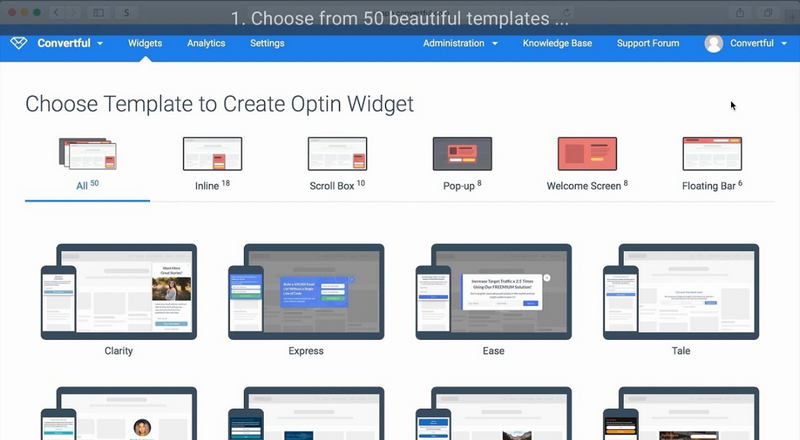 eCommerce Widgets – these are to help you reduce cart abandonment rates (and increase conversion). You can recover about 20% of buyers who would otherwise have left your site. For eCommerce widgets you also have spin-and-win gamification, scratch card gamification, segmentation survey, discount widgets, social follow coupons, giveaway contest widgets and many more.
Blog/Magazine/Media widgets – it offers Yes/No welcome mats for new subscribers, targeted content widgets, Yes/No exit intent pop-ups, end-page bar offers and content lock widgets.
Pop-Ups – You get a variety of these, including gamification pop-ups that help increase subscriber numbers, conversions and return customers.
Other widgets include scroll boxes, floating bars, welcome screens and in-line widgets.
Templates
The software provides more than 100 different templates, all based on successful campaigns that you can use to design your lead generation strategies.

They include Spin-to-Win, Social Subscription Pop-Ups and Segmentation Surveys. There are Cart-Abandonment templates that you can use to recover leaving buyers. It has quiz templates to help you learn more about leads.
You can tailor user experience and offer them what they're looking for, create account-based personal offers, welcome videos, giveaway contest templates and more.
Customization
Manually customization of templates and widgets is a time-consuming process that requires technical expertise. That's why Convertful has put together powerful customization features.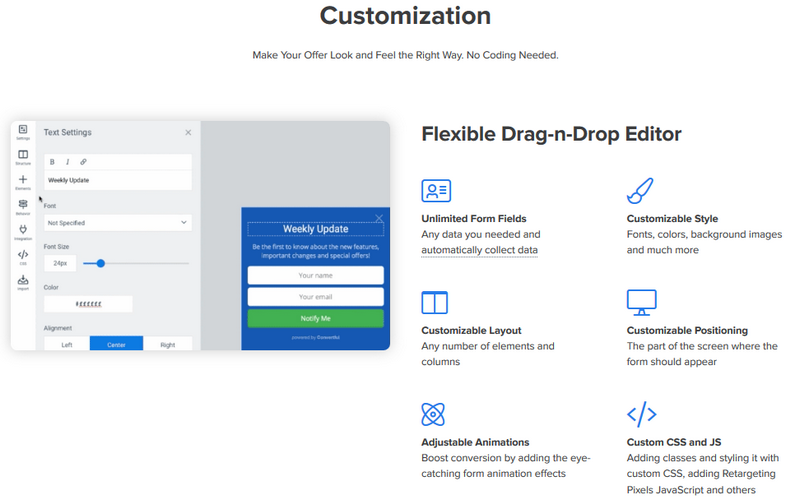 Convertful has a flexible Drag-n-Drop editor that you can use to add form fields, change colors, fonts and background images, customize widgets and templates, choose on what area of the screen you want them to appear and add adjustable animations.
Element types include text, buttons, images, progress bars, follow buttons, video and share buttons and a countdown timer among others.
Analytics
For a lead generation and conversion campaign to be successful you have to keep an eye on the numbers. How many leads are you able to generate for a certain product in a given period?
How many of those leads are you able to convert? What does it take to convert one lead, and how much does it cost?
Convertful brings you all these things with the analytics module. It has Real-Time Analytics, A/B split testing, Lead Notifications and an in-depth Reporting Module.
Subscribers

You need to know how many subscribers you have in your email list, where they are from and even see the sign-up page. For this, Convertful has a Subscriber feature that tells you everything about all the users on your email list. You can export the list to Excel for easier manipulation.
Integrations
Integrations are important in digital marketing – you need software that can sync with other common tools to perform everyday tasks.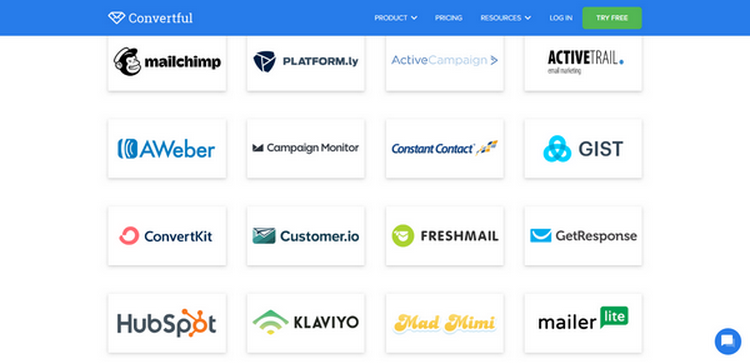 Convertful can integrate with other software including ActiveCampaign, HubSpot, InfusionSoft, Klaviyo, Platformly, AWeber, Customer.io and many more.
Mobile-Friendly Designs

The software can create mobile-friendly designs that can be fine-tuned and previewed. This is important because today, many users access the net through mobile devices.
Unlimited Sequences
You can create multi-step sequences to boost lead generation and conversion with a few simple clicks.
You can, for example, create sequences where you ask users a series of questions based on their answers so that you can know their preferences, purchase history or even find out what they would like to get from your website in the future.
Precision Targeting
This is becoming very useful for lead generation and lead conversion. It allows you to display specific messages on screen at precise times depending on whatever action a site visitor has taken.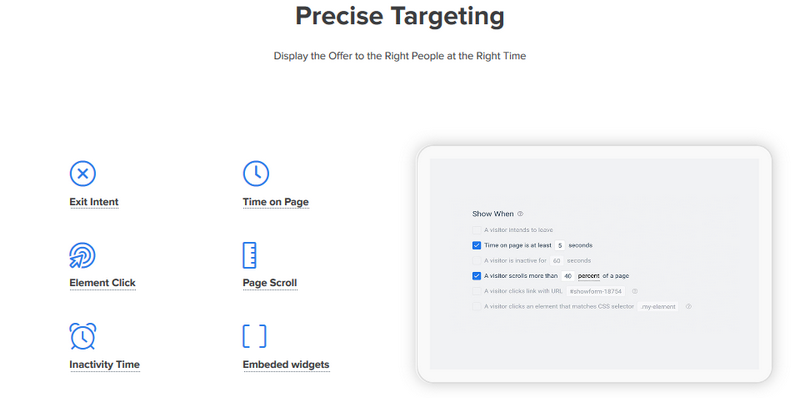 If, for example, they click on a product link, you can display similar products along-side, which gives them options. If they don't like your primary product they can click on the alternatives. That way you don't lose them.
The precision Targeting module for Convertful will show Exit Intent, Time on Page, Element Click, Page Scroll, Inactivity Time and Embedded Widgets.
Targeting Rules
These have to do with setting up your site so that when a user takes a certain action, another is automatically executed. This is very helpful in converting visitors into leads and getting them into the sales funnel.
The rules in Convertful target user behavior, visit source (where visitors to your site come from), user history (when they last visited, how long it's been since they last visited, number of visits), and the setup they are using to view your site (screen width, platform, cookies and person parameters).
You can also target visitors based on the widgets they interact with and the types of posts they look at, as well as their location.
You can extend targeting rules to include other software like Platformly, ActiveCampaign, AWeber, ConvertKit, Drip, MailChimp and several others.
Button Actions
Convertful allows you to set up rules for when a user clicks certain buttons on the site. You can send them additional data, send information straight to a database, send notification emails, redirect them to another URL, open a certain widget and more.
You can also set up "don't show again rules" to determine exactly how long a visitor will see a widget or a form.
Agency Tools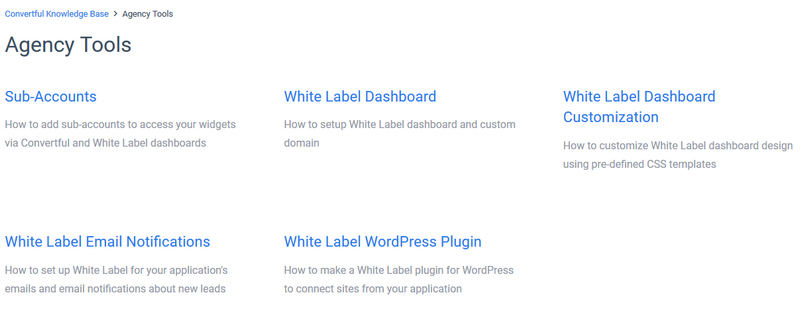 As we said in the beginning, Convertful is an ideal tool for businesses of different sizes, including SEO and marketing agencies. If you own an SEO agency and you would like to help your customers generate and convert leads it has everything you need.
This includes unlimited sub-accounts, a white-label dashboard, white-label email notifications, a white-label WordPress plugin, white-label widgets and an organized widget list.
Use Cases
Do you ever buy new software then get stuck because you are not sure how best to use it? Not Convertful, because it comes with real-life cases.
It tells you which widgets and forms are best for which cases and shows you examples of how you can use them for different scenarios with maximum effect.
You can see how to create an offer using a referral source, see how to create offers for content upgrades, welcome discounts, deadlines, webinar promotions, notifications for a cookie policy and more.
Customer Support
The Convertful team is available for any user who runs into problems. You can get in touch with them by submitting a support ticket.
There is an extensive knowledge base on the website that takes you through step-by-step processes of using the software and there are supporting videos for different topics.
Watch this short clip to see how to get started with Convertful:
Are There Any Drawbacks to Convertful?
The biggest problem is that the software has plans that limit visitors. True, they offer a high quota, but it may be better to limit the widget elements and charge more for each additional one.
Convertful doesn't have live chat support, which would be useful as one can get solutions on the fly.
There are limited visual options for mobile. You cannot add background images.
Some users want the option to be able to create their own widgets from scratch.
Pricing Plans
Convertful has a pricing plan that allows you to scale as your business grows.
There is a free plan that allows up to 1,000 visits and gives you all the widgets and elements. It is branded, but you don't get support. If you would like a paid package, they are priced as follows: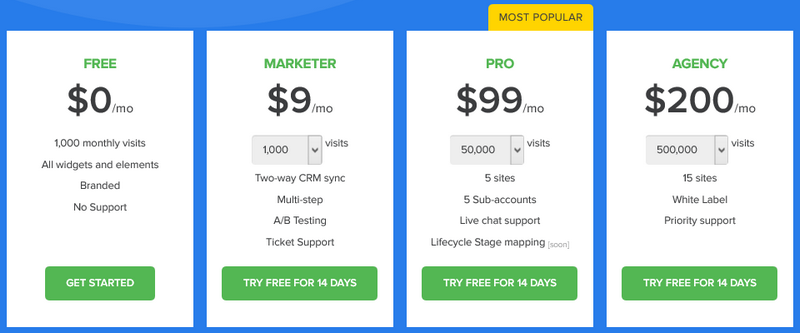 Marketer for a minimum of $9/month. You get at least 1,000 visits a month, CRM sync, A/B, testing, support and other features. For additional visits you need to pay a higher fee.
Pro for a minimum of $99/month. It allows a minimum of 50,000 visits, you can use the software on 5 sites, you get support and a host of other features. If you would like to have more visits, you need to pay more.
Agency for $200/month, which allows a minimum of 500,000 visits. You can use it on 15 sites, it has white-label features and everything else you need to generate leads for customers. For 1,000,000 visits it costs $299/month.
All plans are free for the first 14 days.
Convertful vs OptinMonster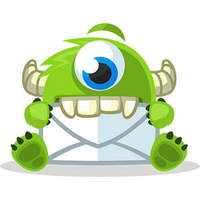 OptinMonster is a popular conversion tool, so it's interesting to see how it compares to Convertful. While both tools fall within the same category, there are some important differences.
Convertful has a powerful A/B testing module and is an excellent retargeting tool. Retargeting tools are used to display website messages to repeat visitors. If, for example, a visitor spent a lot of time on a certain page, you can use this software to make sure that the next time the user visits the site they are reminded of their interest in that page. They can be provided more information about the products and maybe even offers and discounts.
OptinMonster is better at personalization, which means that it can be used to create personalized website experiences for different users. It's used to enhance user experience.
Both Convertful and OptinMonster support a myriad of integrations. However, OptinMonster does not work on Linux devices.
In terms of customer experience both tools score equally but Convertful gets a much higher score for customer support, ease of doing business and product development.
OptinMonster, just like Convertful, has an agency module.
Convertful vs OptiMonk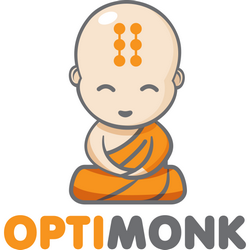 OptiMonk is also a popular lead generation and conversion tool.
While Convertful is aimed at all types of online businesses, OptiMonk is geared towards eCommerce businesses that are looking to generate more sales.
You can integrate OptiMonk with most CRM and CMS platforms, and Convertful integrates with a variety of software as well.
Both tools have a powerful agency module.
---
Conclusion
Whatever business you are trying to do online, you would like to convert users into leads and then active buyers. You should be able to do this efficiently and fast.
Convertful is an affordable tool that can help you achieve your goals. It is affordable, easy to use and has a dedicated support team. It may not have live chat, but all support tickets are resolved in the shortest possible time.
The other major benefit of Convertful is that it is in continuous development. The team is always working on new features to improve lead generation and conversion rates.
Whether you are just starting in digital marketing or have been doing it for a while Convertful makes lead generation easier. Because you can customize their experience you'll find that converting them is also easier and faster.