The 10 Best Digital Signage Software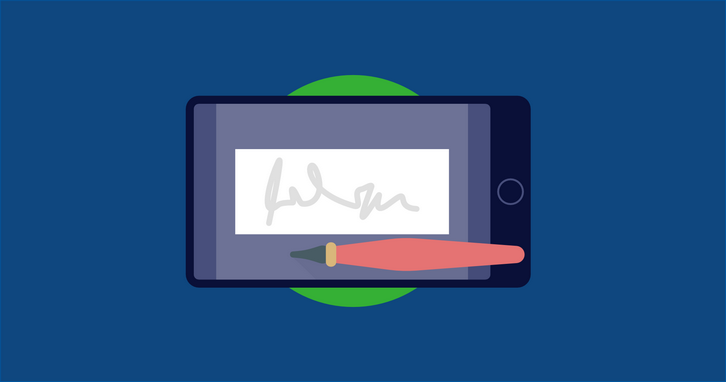 In today's business landscape, digital signage is one of the most eye-catching and effective communications mediums available in the market.
Before investing in to digital signage software, it is important to understand what exactly digital signage is and how it works.
These software's can be easily found in transportation system, public spaces, stadiums, museums, hotels, retail stores, restaurants etc.
There are some of the best digital signage software's mentioned below with help of which you can enhance your business standards.
The Best Digital Signage Software
Compared (in full)
Check all the services in detail as per your needs and choose service wisely – by the end, you'll know exactly which one is the right option for you.
---
OnSign TV is a professional digital signage platform, which is super easy interface, reliable and is available with affordable price rates.
OnSign TV is cloud-based digital signage software, which is, used to manage multiple screens and is suitable for businesses of all sizes.
It enables users to access and control screens from any location as well as offer drag and drop interface for creating campaigns. OnSign TV enables users to, easily deploy different screens with the desired formats, and manage it directly from a browser over internet.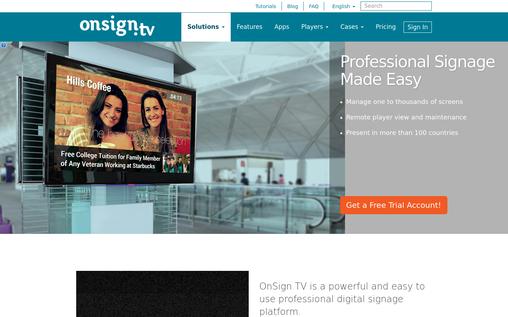 Key features of OnSignTV:
Content scheduling
Media library
Automatic player updates
Remote deployment
Multi screen support
Video wall ready
Digital menu boards
GPS capability
Media RSS
Playlist management
Visual editor
Touch screen ready
Audit log
Layout management
Campaign management
Real time monitoring
Real-time clock
Multi-location support
---
Viewneo is a digital signage platform, which target businesses of all sizes with an affordable solution, which will help them to, further boost their business profit. It is, served by a cloud-based, centralized login. This software need no installation and can be, easily accessed on all devices along with native app support for Android and iOS.
By making use of available playlist-oriented approach, signage content is stored and uploaded within integrat ed hosted media database managed web dashboard. Video and image assets are, converted to the necessary format automatically to required formats.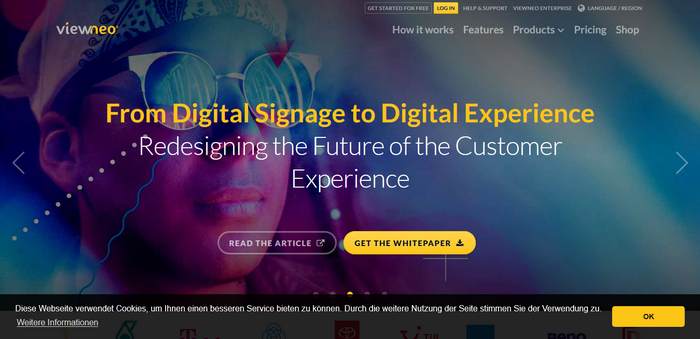 Key features of Viewneo:
Upload as well as store files to an integrated media database
Automatic player updates
Facility of content scheduling
Media library
Integration with Twitter, Facebook, and YouTube
Remote deployment
Nested playlists
Multi-screen support
Integrated drag and drop-based Content Designer
Native player apps accessible for android and iOS
Web-based dashboard UI
Serve and manage advertising channels to digital signage
Support for serving and adding HTML5-based content
200+ professionally designed signage templates and themes
Automatic file conversion for documents, images, and videos
Timer mode for setting inactive and active display times
Access control and alarm function
Supports office and PDF documents
---
ZionWorx is one of the best digital signage software. ZionWorx is affordable, high-quality software, which is easy to use.
It offer stress-free video playback along with integrated video codecs and offers support for live video inputs and motion backgrounds.
It offers seamless integration along with Microsoft PowerPoint. Using ZionWorx, any audio, video, or image file can be, easily used without dependency on anything else to be installed on the computer.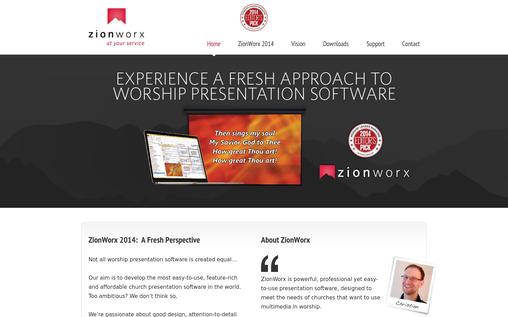 Key features of ZionWorx:
Powerful theme engine
Intuitive interface
Visual song arrangements
Playlist packaging
Bible gateway integration
PowerPoint integration
Live video inputs supporting text overlay
Adaptive text layout
Import songs from external sources
Instant alerts
Song usage reports
---
DSPlay is a web-based content management program for digital signage used in different organizations. DSPlay is one of the most reliable and versatile software solutions, which is, used for managing and creating a modern digital signature environment.
It will allow you to create playlists and Medias. You can also customize different messages, templates besides web service integration using DSPlay.
Using DSPlay digital signature software, media conversions as well as post-processing also became very easy for users.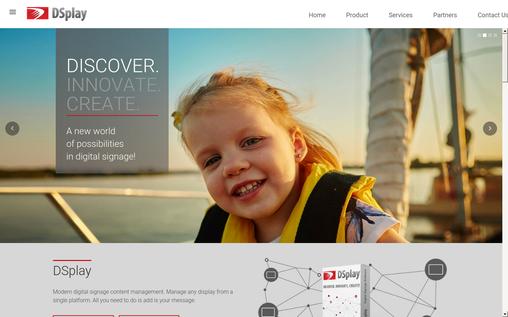 Key features of DSPlay:
Administration and maintenance
Cloud hosting
Alerting and reporting
System administration and maintenance
Campaign design
Infrastructure assessment and preparation
Testing and optimization
Physical installation
Operation and support
Template development
Digital media creation
Opinion polling
Product Directories
Live feeds
Audience experience design
Digital strategy formation
---
MAPTmedia is free cloud-based CMS software, which is, used to manage your digital signage or touch screen KIOSK. It support different multiple screen content management, RSS feeds, video as well as mobile web options.
MAPTmedia is free version software, which offers online data storage for managing a single digital solution.
There is no sign up fees or credit cards needed to install as well as use MAPTmedia free version. It is, used in different hospitals, colleges, universities etc.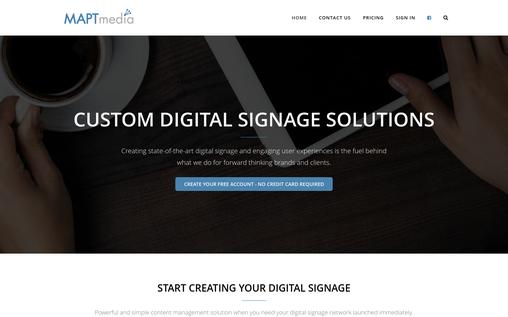 Key features of MAPTmedia:
Offer signage solutions with carefully crafted designs
Content scheduling
Multi-screen support
Remote deployment
Cloud-based CMS
Media library
Fully customizable
---
NoviSign Digital Signage is independent software, which is responsible for managing dynamic campaigns from cloud to any particular IP-based sign anywhere in world.
NoviSign Digital Signage software makes technology easily accessible to large and small business organizations.
Using this digital signage software, user can broadcast different or same targeted messages to any number of signs at unlimited number of locations. It can be easily implemented and is cost effective.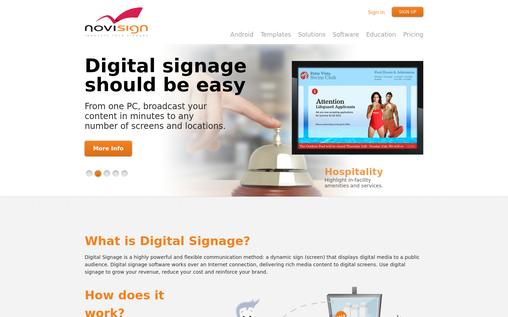 Key features of NoviSign Digital Signage:
Content scheduling
Automatic player updates
Media library
Remote deployment
Multi-screen support
---
Navori QL Professional is enterprise-grade software. It consist QL Server featuring multi-user, playlist scheduling, multi-level web content management module, rule-based playback, monitoring as well as reporting.
Navori QL Player is a powerful digital signage software which runs on Android players or Windows PCs sharing the same set of professional features such as native playback of images, multi-layer templates, videos, live TV, MS-Exchange, RSS and XML feeds, Google calendar, and video streaming.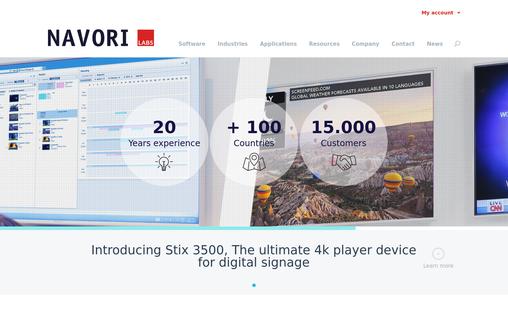 Key features of Navori QL Professional:
Content scheduling
Automatic player updates
Media library
Remote deployment
Multi-screen support
easy to use
Customizable
---
Build your own digital posters; attract more and more customers by showing special offers, product promotions, and menus using POSTAR digital signature software.
Your posters get ready just within seconds without wasting money and time with chalkboards, printers, and designers.
Simply choose a template and add your text. The most interesting about this particular software is that you can create as many posters as you like and just update them instantaneously.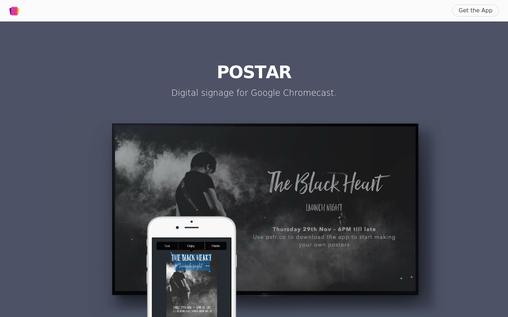 Key features of POSTAR:
ployment
Automatic Player Updates
Media Library
Reliable
compatible
powerful
Easy
Multi-Screen Support
Remote De
---
CoreVine will let you make your brand stand out from the crowd with customized and creative digital signage, which make a lasting impression. It offers a dynamic interactive gateway to; easily communicate directly with associates or customers.
In the digital signage industry, CoreVine is a worldwide leader and is engaged in building intellectual digital signage solutions, which improve brand loyalty, reinforce business objectives, increase sales, and optimize the customer experience.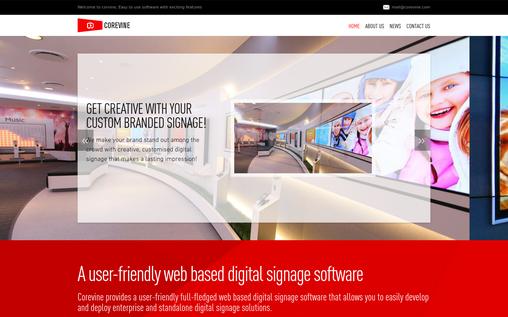 Key features of CoreVine:
Content scheduling
Media library
Multi-screen support
Remote deployment
Simple installation
Unleashed creativity
Modern pricing structure
---
AAZTEC offers powerful digital signage software that allows customers to communicate their messages in an effective and eye-catching way. Aaztec Signage Suite is digital signature software with a conscientious medium, which amplifies customer engagement.
Aaztec digital signature software is renowned software, which is, known for providing quality digital signage service. This particular software is available with a number of interesting features such as a cloud-based content library, drag, and drop scheduling.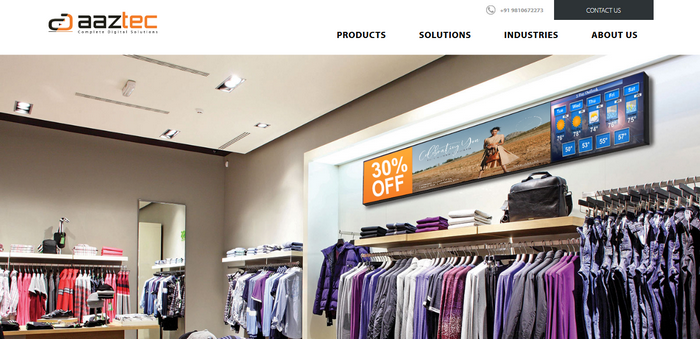 Key features of Aaztec Signage Suite:
Low cost of ownership
Customizable
Dynamic
Easy to use
Offer turnkey solution
---
Conclusion:
Digital signage software requires no paint or paper for digital signs; they are environment-friendly as compared to traditional signs. Digital signage consist of technologies such as LED, LCD as well as the projection for displaying content such as video, digital images, streaming media etc. Using these above mentioned some of the best digital signature software's; you can boost your business profit.
You May Also Like: