9 Best Client Portal Software 2022 | Features & Pricing
Managing business clients is not a difficult task until you gotta handle a lot of them at a single place. Its a fact that to grow business first you need to manage your clients properly. For this purpose, there are various software available in the marketplace. And in this article, we'll tell you what is customer/client portal software and which software are best that helps you to grow business.
Features And Pricing Of Client Portal Software
| | | |
| --- | --- | --- |
| Service | Price(Month) | Unique Feature |
| Suitedash | $19.00 | Integrated Email Marketing |
| Clinked | $99.00 | Public & Private Cloud Solution |
| SupportBee | $15.00 | Knowledge Base Software Integration |
| Huddle | Contact Huddle | Integrated With Okta, SalesForce |
| SmartVault | $25.00 | Hubdoc, DocuSign, Quickbooks Apps Integration |
Customer Portal is a website or a web application which allows enterprises to share important documents or information with their customers in a secure storage environment.
Usually, several companies use client management software to manage profiles, check transaction records, send safe messages, upload files, etc. And here is the list of best client portal software –
---
SuiteDash is a fully integrated cloud-based platform, which allows users to share a file from anywhere and anytime. It is one of the best business management and customer portal software which is designed to make your workflow easy. It combines several tools to maximize your productivity such as private chat system, client management, time tracking, and bill generation support.
It helps to solve the problem of using multiple tools for different aspects of the business by combining the most commonly used business tools into one cloud-based software platform where the tools are already pre-built and fully ready to use.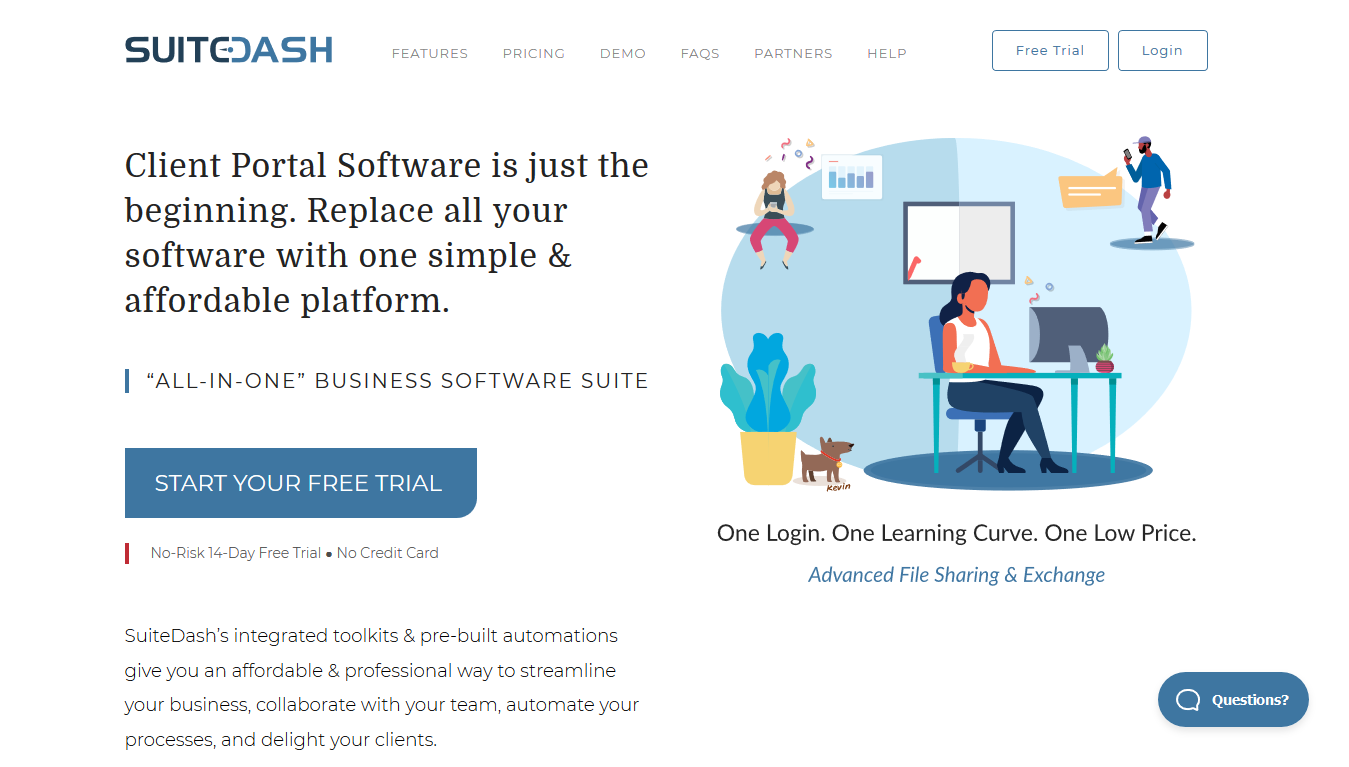 Features
Offers your management options to maintain your task, project & business.
Allows you to customize the client portal you create as per choice.
With its billing and invoice options, you can manage the bills & customize the invoices easily.
It also allows you to permit customers to view the billing & invoices online.
Provide access to clients to view & download the post files and documents.
SuiteDash contains many other features like white label branding, built-in calendar & live chat, etc.
Pricing
This software comes with a free trial of 14 days & its paid plan starts at $19/month.
---
Clinked is fast, reliable and easy to use in minutes. Moreover, the sharing can be set up and let the users upload multiple files easily. Enables you to organize documents for each particular user. It includes many features, including downloading files of any size, file and folder permissions, and much more. The FTP alternative can be used.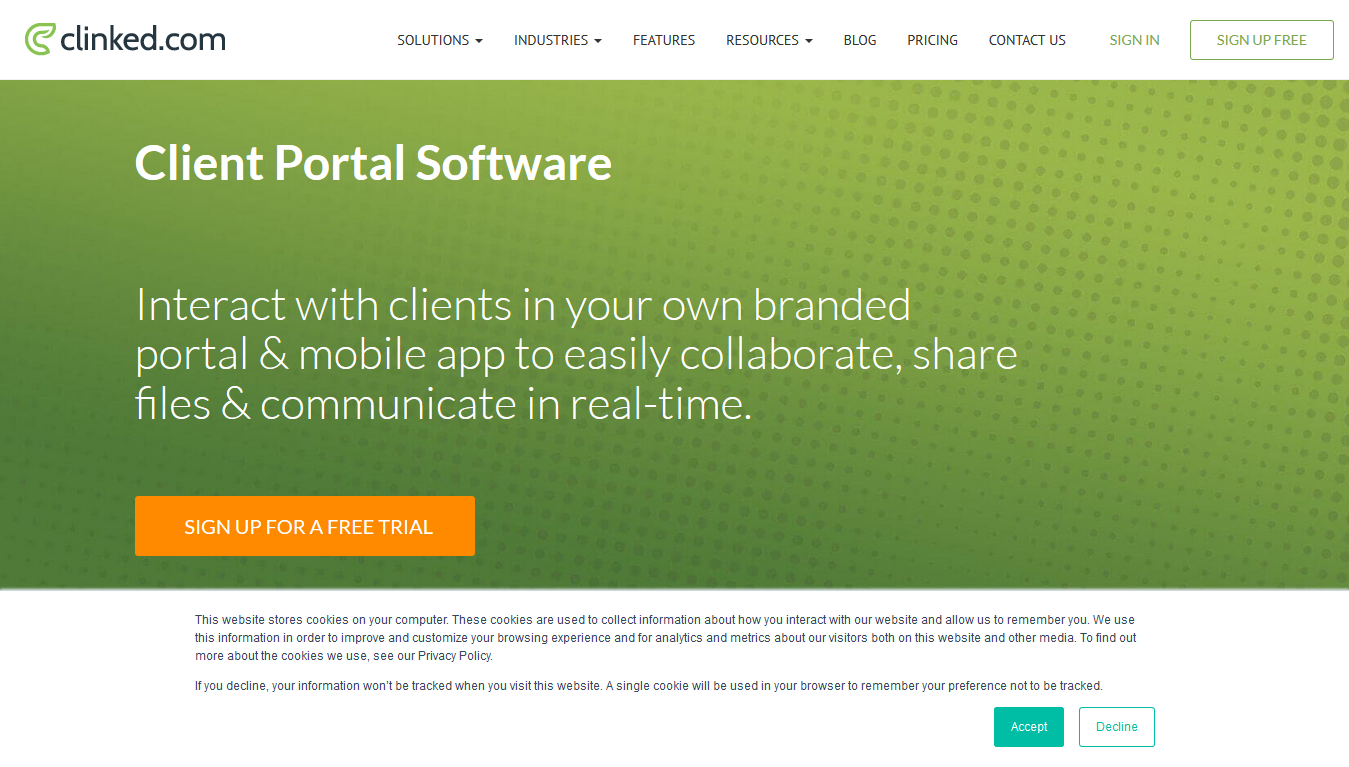 Features
Provide professional services in a secure environment by using your own white-labeled customer portal for team members and customers.
Create trust with your customers by ensuring the highest possible security in file storage and accessibility for their data.
Clinked allows you to integrate different format media files, tables & links to web pages.
Offers you various important features like data security, group chat integration, work collaboration option, better client retention, etc.
Clinked supports 13 languages that help you to grow your business worldwide.
Pricing
Clinked comes with a 10 days free trial option and its basic plan costs you $99/month.
---
The customer portal software of SupportBee offers your customers a dedicated space for managing and monitoring their support requests. This transparency and accountability of SupportBee can ensure that your customers don't lose their demands in the black-holes of the company.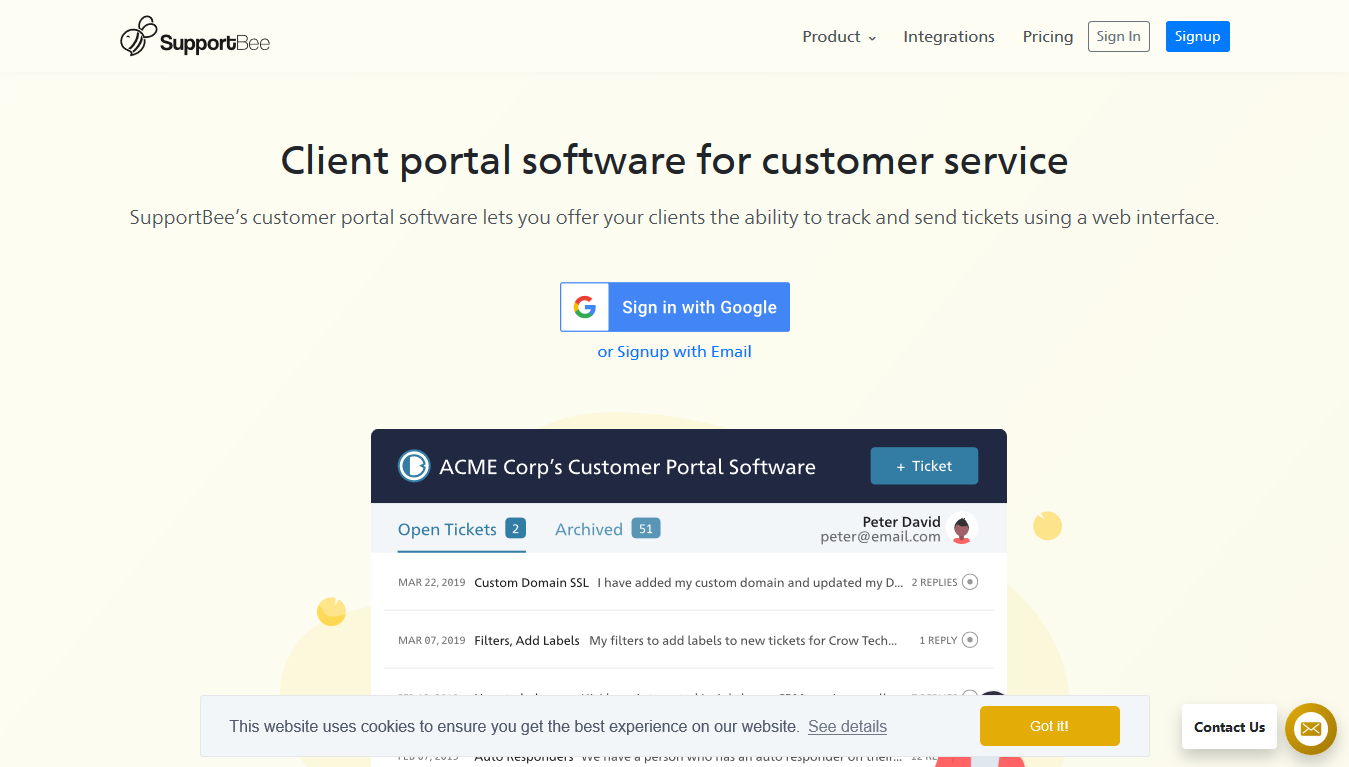 Features
Supportbee provides your customers with a dedicated space to manage and monitor their support requests progress.
Provides you advanced support options like ticket system, HTML email rendering, workflow automation filters and many more.
Enables your customers to solve their problems itself with the help of integrated knowledge base software.
Customize your client portal brand with your own logo & color combination.
Integrated with 40+ third-party apps that help you to improve your workflow.
Pricing
Supportbee offers you 14 days free trial option and it contains two different plans – Startup at $15/user/month & Enterprise at $20/user/month.
---
This customer portal provides your customers to examine the work online, share information securely with other members. It is one location, which you can access via your web browser, so it's easy to set up and use, even for your customers. Using Microsoft office online, you can review and co-edit the documents with your clients.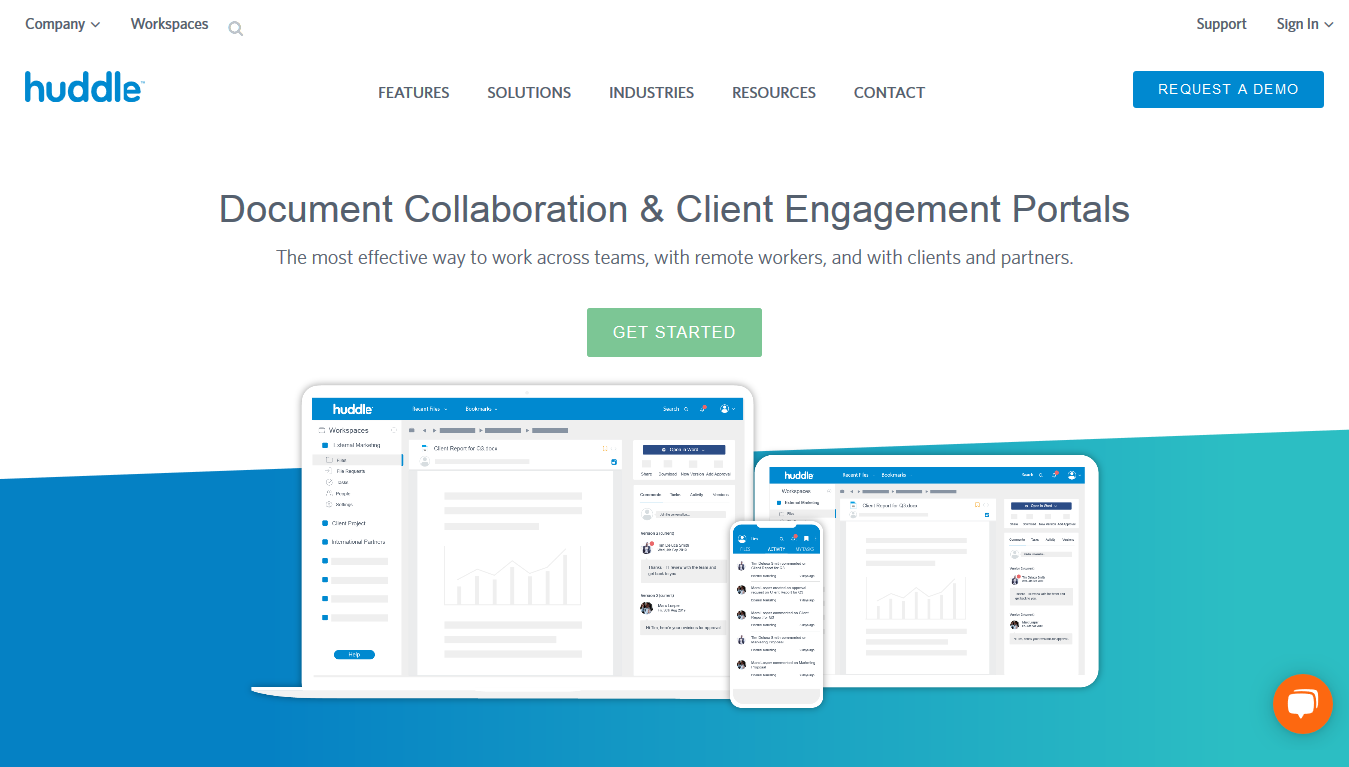 Features
Makes document collaboration simple and secure that enables you to spend less leading third-party apps and business systems like Okta, Salesforce, and SharePoint.
Huddle facilitates secure external cooperation with partners and customers.
Huddle comes with Microsoft Office & Google apps integration for work.
Seamless integration with other features like file management, email integration, public file sharing, cloud storage, etc.
Pricing
This software comes with a starting plan of $10/user/month & you'll also get a free demo via contacting the vendor.
---
SmartVault provides a secure client portal where users are allowed to download their files. It allows you to collaborate with members of the projects without compromising on security, privacy, or convenience. It is easy to send a document to the right people in a single step when you store the document in the SmartVault.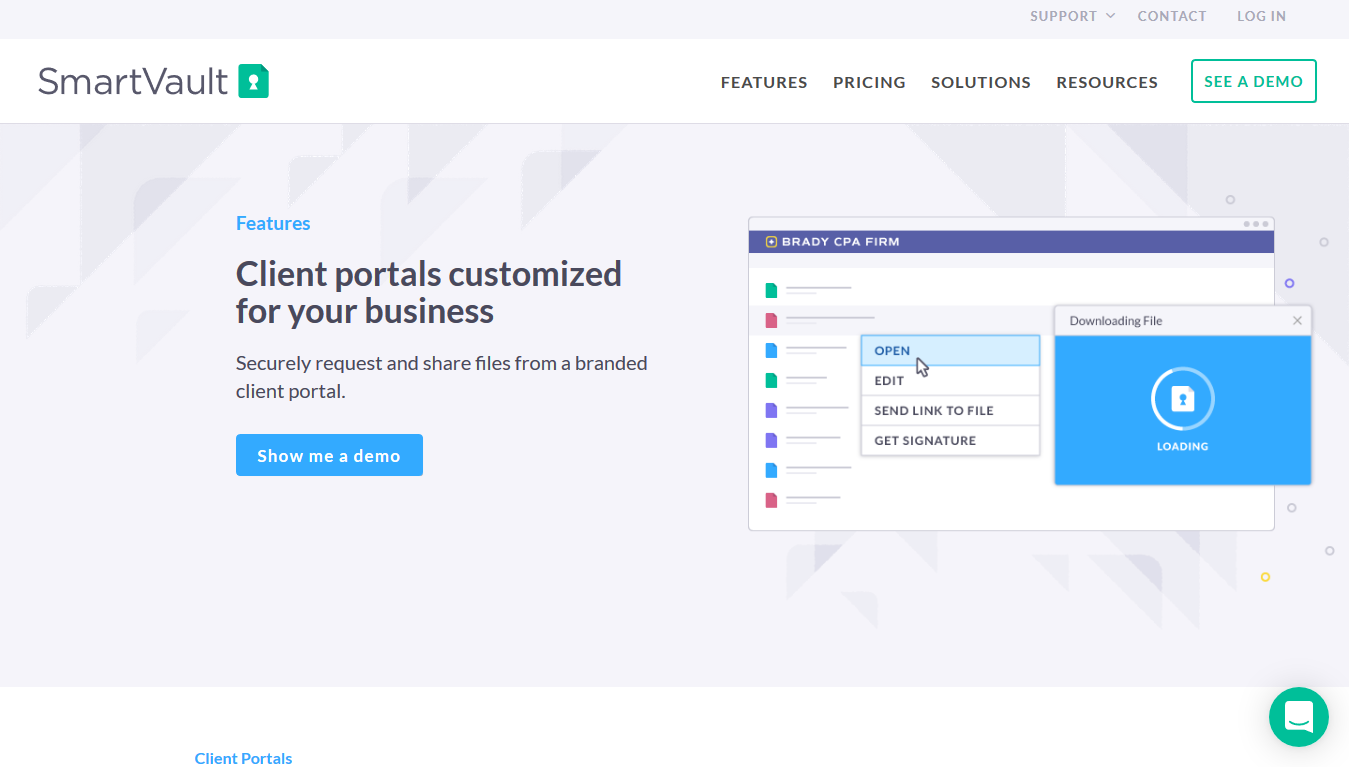 Features
Supports different file formats like PDF, graphics, images, etc. & it also supports files from Microsoft Word, Excel, and PowerPoint.
Share your files securely by using its built-in feature like e-signature & KBA.
SmartVault support various compliance tools such as HIPAA, FINRA, SEC, etc.
Automate your client workflow by using its apps integration like Hubdoc, DocuSign, Quickbooks.
Pricing
It will cost you $25/user/month & get an experience of its features by trying its free demo via.  contacting the service vendor.
---
OneHub is a cloud-based data room that allows you to quickly and securely collaborate on sensitive information critical to your business. It lets you, customize your logo and brand colors to provide your customers with a more professional look.
Accountants can share sensitive information using a customer portal in a convenient and secure way. It is incredibly easy to set up our customer portal for accountants. Onehub enables your customers to directly use their branded and secure workplace to send and receive confidential documents, seamlessly and securely.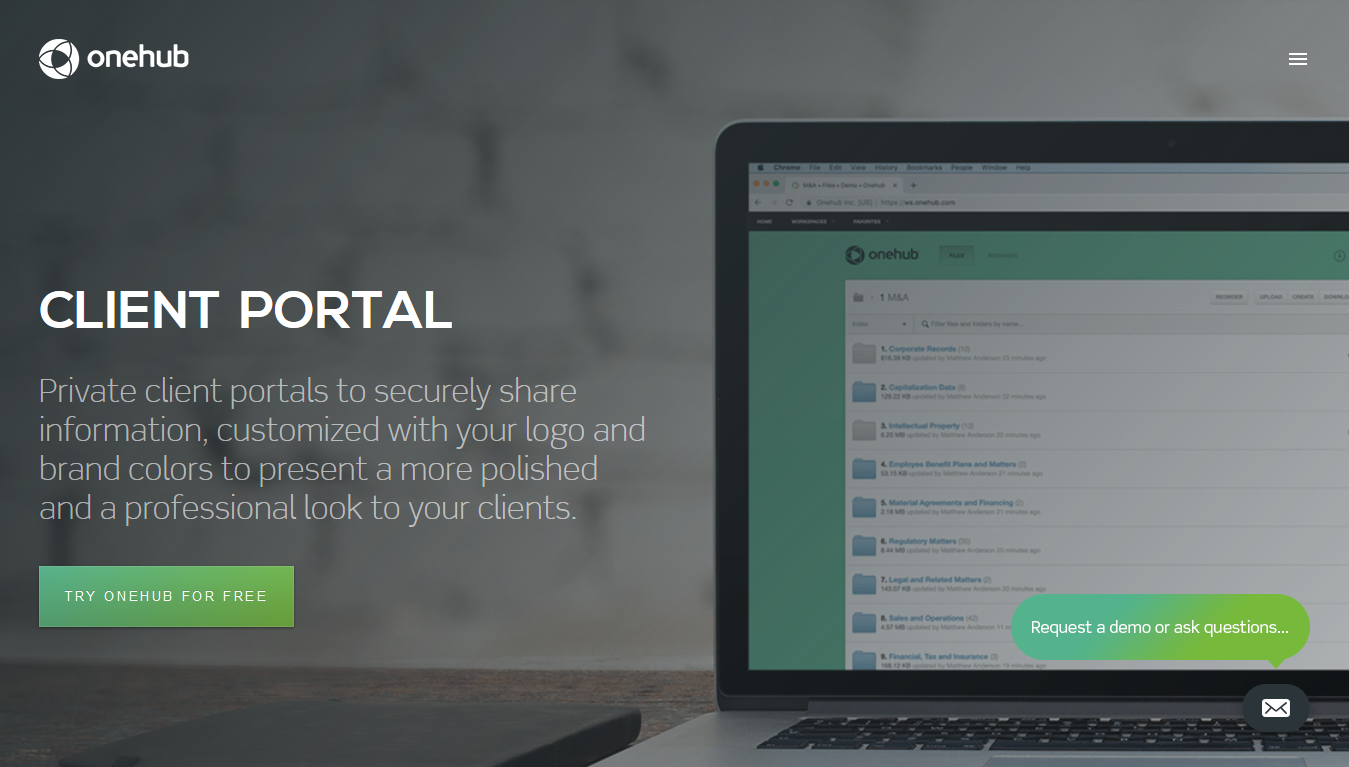 Features
It allows users to upload their files easily by using its drag & drop action.
Organize the content of your customer portals just as you like so your customers can find anything quickly and easily.
Provides an online data storage system where users can store their data securely.
Track every event that happens in your client portal including the individual file-sharing activity of every user with the help of its advanced tracking system.
Allow users to send comments, email, manage workflow tasks, create dashboards, & receive new posts and files notifications.
Pricing
Offers a 14 days free trial & then this service will cost you at $29.95/month.
---
Acuvate customer portal offers an excellent tool for collaboration, communication, data management and the automation of business processes. This customer portal is also advantageous for a support organization, enhanced ROI, personalization, and improved ties.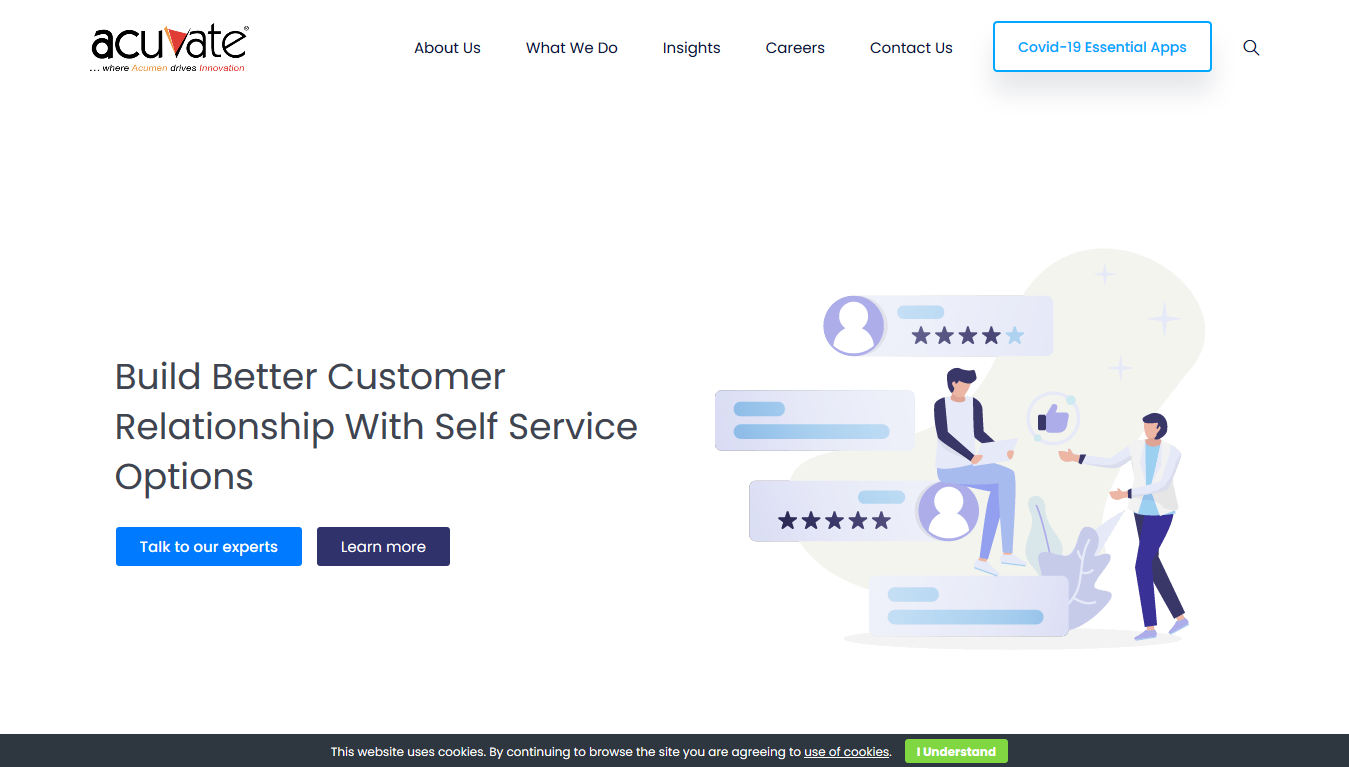 Features
Acuvate provides you an order management options so you can easily place, draft, track orders. It also comes with a 360-degree product view option for better user experience.
Offers you finance dashboard from where you can manage & view your invoices, payments, credits limits, etc. via company codes.
This client portal software comes with some ERP integrating services like SAP, Oracle, CRM, etc.
Expand your business worldwide by using its multi-language & multi-currency options.
It has a responsive design that enables you to work on different gadgets like mobiles, tablets, desktop, etc.
Pricing
To know the pricing plan of this service you need to contact the vendor.
---
Mendix provides an intuitive, personalized and adaptable customer portal to manage different project members and providing the required documents. This will make it easier to understand and access your service by setting up a customer portal.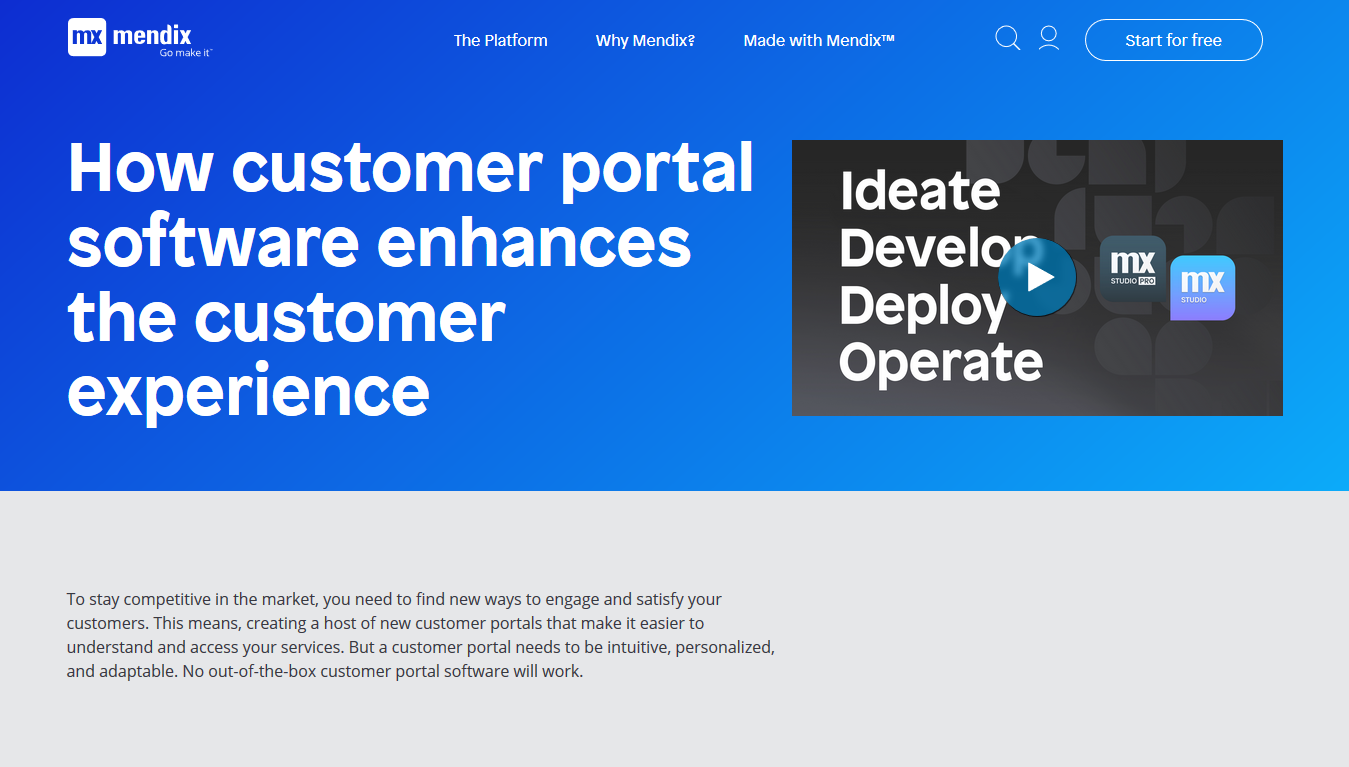 Features
It offers you various management options like carrier, expense & patient management.
Provides an automated backup facility that helps you to store important data.
Mendix also contains various features like supply chain visibility, sales order entry, employee directory, etc.
Pricing
Contact vendor to get the pricing plan for this service.
---
Customer portal is an excellent and simple WordPress tool that you can use on your web today to track the project and allow your customers to access all files at any time. This portal works in three easy steps, namely creating the portal, providing your client access and continuing to update the modules.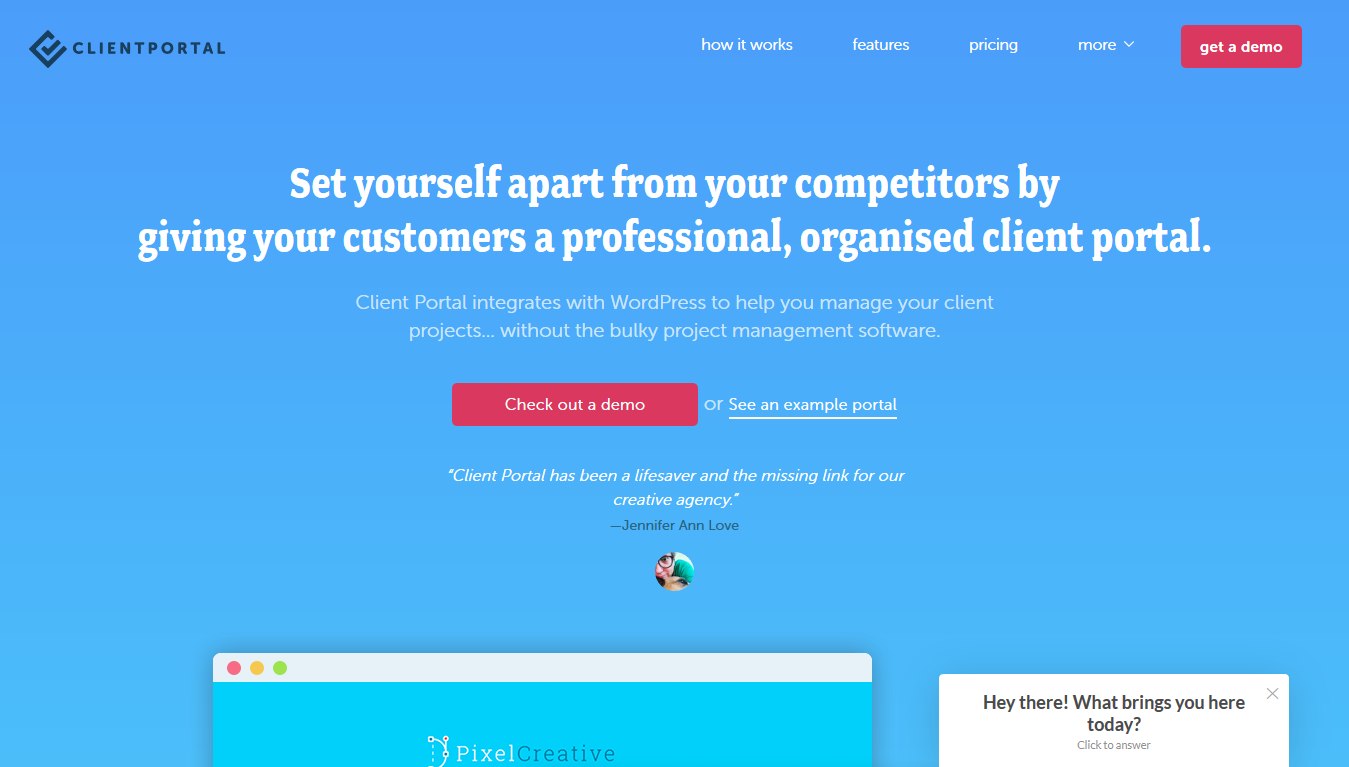 Features
ClientPortal allows you to provide a platform for users from where they find anything they need.
Customize your portal by changing its logo and colors.
Communicate with your clients by managing and showcasing the working hours.
Pricing
This service offers single site & multi-site licenses that cost you $199/year & $399/year.
---
Conclusion
At last, after discussing all the details with you I hope you'll understand & choose the best client portal software that helps you to manage your clients with ease.
You May Also Like:-