9 Best Logo Animation Software 2019 | Build Professional Logo
Want to make an animated logo without any hassle?
There were times when it was not so easy and handy to design an animated logo for a normal person. But now the time has been changed, an animated logo reveals your company's businesses. It's an amazing way in which a logo and the tagline having transitions and motion effects to make it more engaging.
An animated logo can become a dominating tool for advertising and also showcasing it to people in your presentation or video. Hence, by the help of logo animation software, you can easily create an animated logo with ease, as these animations can be used to make the presentation more engaging.
---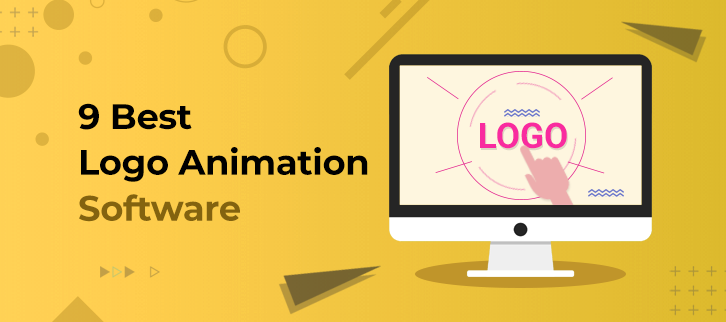 ---
You may have found that there are many of the programs to choose from. That is why we have created a list of the best- animated logo making software.
Logo Animation Software Comparison
Service

Pricing

Unique Features

$12/per month

Sketch your own logo.

View the logo in different styles.

$999/per month
Offers amazing logo fonts.
Create logos on the cloud.

$20/per month

Drag and drop feature to create & edit the logo.
Create animated logos.

$200-$500

3D character and illustration.
Architectural 3D

$19/month

No limit on the length of the animation.
Control the speed of the animation.
Following are the services which we are going to discuss here:
Let's take a look,
Animaker is a cloud-based animated logo maker. It has numerous built-in templates and characters that makes it user-friendly. Simply, all you need to do is just drag-and-drop the logo and customize it accordingly for implementation.
Deeply speaking, it is a saas video animation software. That helps you to create various types of logo video animations like infographic, whiteboard or cartoons. Anything you want in a few minutes.
Apart from this, it also supports more than 50 most spoken languages in the world.
Also, it supports a number of animated characters, properties, BGs, icons, charts, and maps in the world. using all these elements, you can create an extensively amazing logo video for different businesses.
---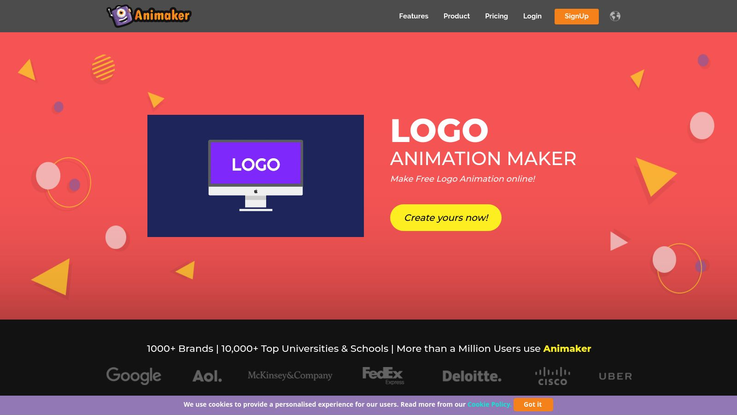 ---
Key Features
World's largest animation library has made it extraordinary. Also, a

nimated characters, icons, bags, charts, and maps are some of them. Thinking beyond the boundaries, it lets you customize the logo as per the need.

Unique logo styles from one place. That can be further mixed in one video as well.

Board style gives the user an option to view the logo in different styles.

Awesome sound effects, text to speech feature and voice recording features give life to your logo. Change the background theme and also add sound effects to draft more attention.

Sketch your own logo with Tetris style and many more.
Pricing
Free – For 2min video with 5 time export per month.
$12 plan – For 5min video with 20 time export per month.
$19 plan – For 15min video with 40 time export per month.
$39 plan – For 30min video with 100 time export per month.
---
Renderforest is what you are looking for, its an easy, quick and affordable software for promotional business logos and much more. Further, this logo animation software lets you create professional animations for intros, promo videos, music visualizations, slideshows, landing pages or a professional website.
---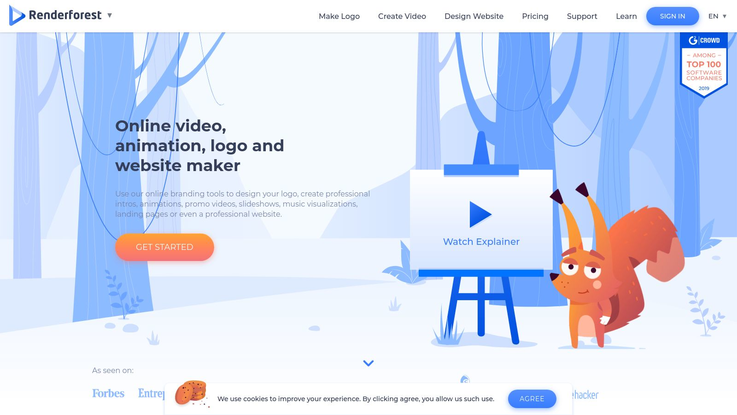 ---
Key Features
Renderforest logo maker has an AI and machine learning algorithm that fulfills the user requirements with ease.

It offers amazing logo fonts.

Create logos on the cloud by the help of built-in tools.

Wide storage of logo styles. You get geometric, organic, minimal, complex or abstract logos all at one place.

Stunning layouts designed by professional logo designers.

Edit your logo anytime and anywhere in the future. Also, it enables you to port the logo if required with no extra charge or fees.

It offers handcrafted design solutions. In order to make the logo more engaging.
Pricing
Free – Unlimited 360p videos.
$999 plan – 5  HD720 Videos per month.
$1999 plan – 20  HD720 Videos per month.
$2699 plan – 40 HD720  or 20 HD1080 Videos per month.
$3499 plan – 100 HD720  or 50 HD1080 Videos per month.
---
If you want to make stunning logos in flash then you need the help of an amazing platform. For this solution, you get Biteable logo maker. Studio quality animation, logos, snaps, and effects. By some specialists, it is said that, Biteable process anime faster than another platform.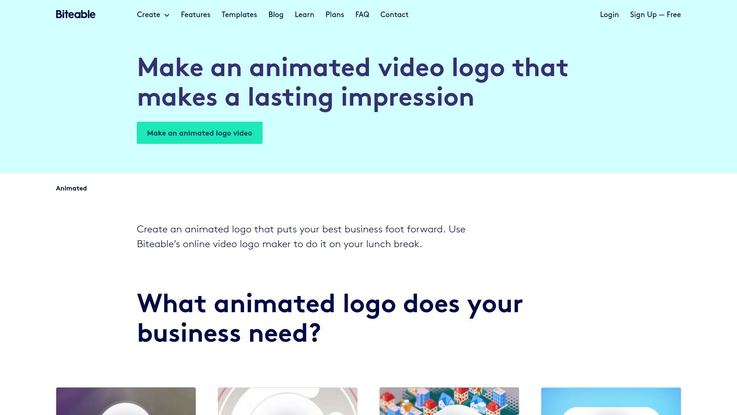 ---
Key Features
Lots of animated photo scene and a lot more styles with

prebuilt templates

that make it easy to use. Create animated logos that bring you under the spotlight.

Drag and drop feature making it simple to create and edit logos.

Share logos directly to YouTube, Facebook, and other social media and use there also.

Professional quality animations and logo styles take your design to another level.

Large scheme of colors, predefined themes and so on redefines your style with your logo.

Its fast interaction lets you create animated logo before your coffee gets cold.

Its features are made for the globe and enterprise users. It is fun to create a bunch of logos here.
Pricing
Trail – Try for free logo animation software. No credit card required.
Starter – $20 Make 1 video per month.
Pro – $29 Make 3 videos per month
Unlimited – $49 Make unlimited videos all the time.
---
If you need a cutting edge logo, you don't require a pro designer or a handsome amount of money. This Quince Media is an animated logo video maker software. That helps you in making all kinds of animation media. It makes decisive anime for all platforms.  If you need a reliable and creative platform, then it will be a good choice for you.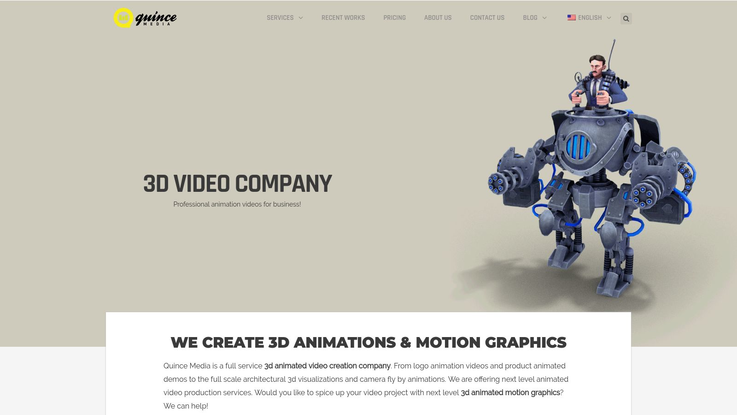 ---
Key Features
2D product animation designers can use it for their commercial use.

 

Promo video motion graphics is a unique configuration as it is the most effective way to communicate.

 

3D character and illustration make this 3d animated motion graphics platform more attractive to the animators. By building awesome characters with unbeatable graphics gives a boost to the site.

Architectural 3D animation. Architecture's task is made easy with it. Get some cool features like video gallery & more.
Pricing
$200-$500 plan – Offer 2d logo animated videos and basic 3d logo animations.
$500-$1000 plan – 3d logo animations & shorter product 3d animated videos in HD or 4K resolution.
$1000+ plan – 3d logo animation projects as well as extended length 3d product animations.
---
Logo animation often needs a creative mind and a perfect handcraft. But it is not so easy to combine them into one place. This is why OFFEO's logo was made. As cutting edge logo animation software adds a new dimension to the workers and animators. It makes the company, websites or any other platform recognizable. It is a simple yet powerful branding strategy. Also, it lets you turn the logo into short animation and helps you to polish your old logo here.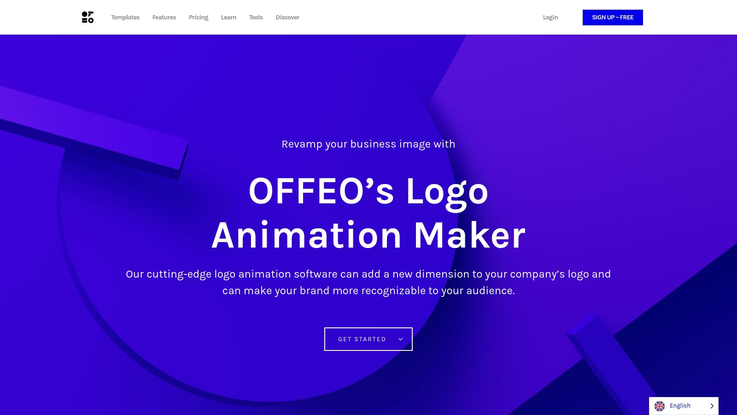 ---
Key Features
Highly customizable software that is very much user-friendly.

It is also very affordable and compatible with general users.

Easy to edit and offers a large library function.

It needs an internet connection. Without it, the software becomes very dull and weak too.

It is a little pricey for beginners and there are no annual plans which make it expensive.

It is not yet usable on a mobile platform. Available for PC only which makes it limited to a certain platform.

There is no limit on the length of the animation for the logo.

Control the speed of animation as you need.

Different color palettes for each template. Browse a bunch of it and choose one from them.
Pricing
Free – Unlimited standard quality video downloads (Half-res with watermark).
Premium – $19 Unlimited high-quality video downloads
---
Looking for something simple and easy? So, if you need a hassle-free uncomplicated platform for a splendid project, then you need to visit MotionDen. It's an online logo maker that helps you create intros, slideshows, promotional business logos and a lot more. Also, it provides DIY platform that claims to be the world's simplest logo maker.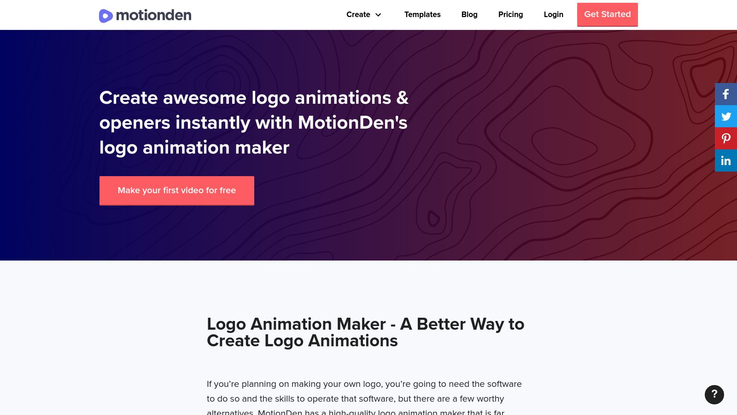 ---
Key Features
It will not render longer logos, the server often times out.

Editing logos are fine. You can customize lots of images with templates.

It crashes while trying to edit texts. So, it is not suitable for editing texts.

A large collection of professionally designed logos can create a great intro to fulfill your requirements.

Option to make a 3D logo enhances its performance for logo designing etc.

Modern edged text is a fine way to show your style of presentation over a boring typical one.

It works fully on the cloud. So, there's no issue of any external installment and something like that. Design logos online in a faster and better way.
Pricing
$9 plan – Basic HD quality videos.
$39 plan – Full HD quality videos.
---
If you need 3D and 2D animated logos in one place, then Reallusion can be the best solution. Users can get pro animated logo designing solution. animated logos attract users more than general ones. If you are looking for a professional platform for your logo then it will be one of the best offline logo animation software. It performs on windows and is licensed to trialware.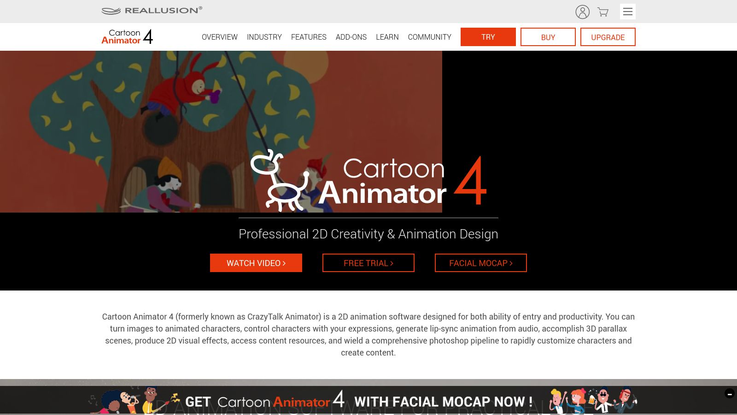 ---
Key Features
Drag and drop to create any 2D motion effect of your logo.

Define how your animated logo comes in front and moves, loops and attracts the visitors.

Creative control features let animation move smoothly preserving its performance.

Create an interior and exterior logo with magnificent professionalism in case of 3D logos.

Intense quality control by PBR, VXGI and IBL technology. Turn a 3D text into a real logo.

Modified interface control helps you to manage and assign materials.

Thousands of ready designs to create a different logo.

Content open API is another feature that lets you add the program with python. Thus, you can program your logo motion by yourself.

Material generation assistant helps in superb texturing and designing.
Pricing
$9 – Basic HD quality videos.
$39 – Full HD quality videos.
---
Fed up of installing software updating and analyzing software? Then get in touch with Viddyoze. It is a cloud-based platform that allows you to generate a professional animated logo. An engaging animated logo can be made with a few clicks. It was developed to assist the entrepreneurs in video and animated logo making. It's the best leading platform for jazzing up videos and logos.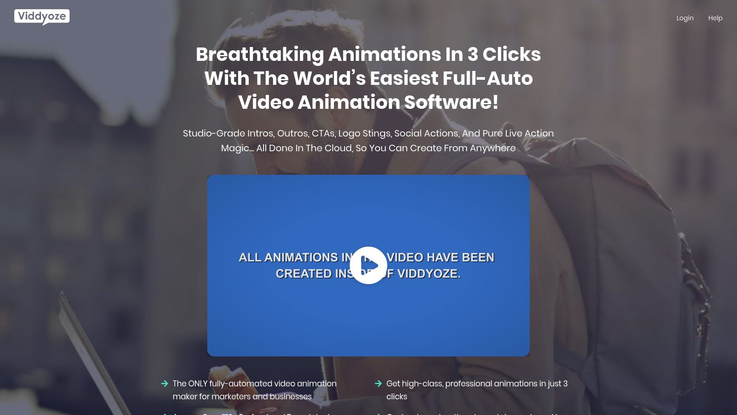 ---
Key Features:
Smooth animated transition lets you take your animated logo to the next level. You can make an endless transition.

Live action animation feature is the exclusive content of this platform.

It mixes logos and characters in a single video and has a movie filter creating a difference with others.

Viddyoze template club assists with hundreds of unique templates. That gives a new look to an old logo.

Lots of readymade logo designs available. Floral, abstract, liquid, acrylic and many more.

100% money back if you are not satisfied. Within 30 days you can get a full refund.

It features multi-rendering processing and enters into a new dimension of logo editing.
Pricing
Viddyoze Personal – $77 maximum of 30 renders per month.
Viddyoze Commercial – $97 unlimited renders.
---
Looking for logo animation software for your company? Then you must visit TryViews. It will help you reveal your professionalism and sales. You can proof your presence and unique quality with it.  It can also create motion logos that are on another level. Animated logo has always created a good impression on the users. So, using this splendid software will help a lot.
---
Key Features
Easy to edit and offers a large library function.

Its features are made for the globe and enterprise users. So, everyone can get what they want. Management tasks to user collaboration, all in one place.

You can't start it for free. Need to pay to save the work after done.

Modern edged text is a fine way to show your style of presentation over a boring typical one.

It's generally a site only for logo designs.

Supports most of the operating system. So no tension for your device platform.

You can add information about your choice before getting the logo. Describe your favorite in brief to get a logo that supports you and represents you.

Upload example, so that they can clearly get knowledge about what you want. And it's cheap too.
Pricing
You can get in touch with their sales team to get the pricing details.
---
Conclusion
There are many logo animations software that adds a new dimension to the workers and animators. Here, we present 9 best animation software. You can select whichever seems best for your businesses and start getting the results you are looking for.
You May Also Like To Read-