9 Best Knowledge Base Software 2022 (With Pricing)
We need to consider multiple factors when selecting knowledge base software. This is what makes things tough at times because most of the software offers limited features. The best knowledge base software must facilitate the user with better knowledge empowerment, self-service customer support as well as promising information management.
Generally,  the available software packages offer some of the required features while ignoring other critical ones. Still, there are some excellent software solutions that stand out due to their ability to provide a complete package the user is looking for.
The knowledge base software must make it easier for managers to make wise decisions in order to deliver the best possible results. Also, the main idea is to use these software solutions to achieve better results in terms of ROI.
---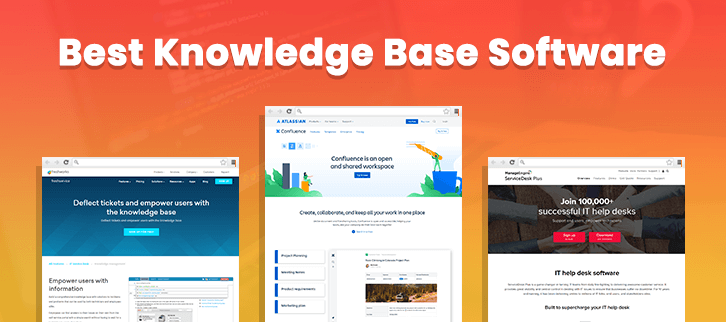 ---
So, we went through overall scores of knowledge base software and after analyzing their features we managed to finalize a list of 9 best knowledge base software for 2022.
In this post, we are going to present the salient knowledge base software with their features along with its pricing plans. Therefore, it will help you make the most suitable decision based on your particular needs.
Top Knowledge Base Software Comparison
Service Name 
Pricing( /month)
Collaboration

Content

Management

Decision

Tree

Discussion

Boards

Zoho Desk
$10.24
✔
✔
✔
✔
Zendesk
$89
✔
✔
✔
✔
Atlassian Confluence
$20
✔
✖
✖
✔
Freshservice
$21.31
✖
✔
✖
✖
KnowledgeOwl
$79
✖
✔
✖
✖
Following are the services which we are going to discuss here:
Let's take a look,
Powered by Zoho, this online platform serves its users with helpful tools to efficiently respond to the queries. Along with customer support, these tools enhance an agent's productivity. A centralized knowledge hub is extremely important for companies having support service teams and dedicated customer support.
Additionally, the software serves with help desk, call center, social support, ticketing system, insights, agent productivity, reporting, collaboration, knowledge base, and forums.
Even the Zoho Desk free edition serves with the knowledge base. Moreover, Zoho Desk provides a multi-brand portal which is highly customizable. It serves users with resources, information, FAQs, and articles. Besides this, the smart search filters, auto-suggest, SEO tools, secure access, and built-in reports make this software highly recommended.
---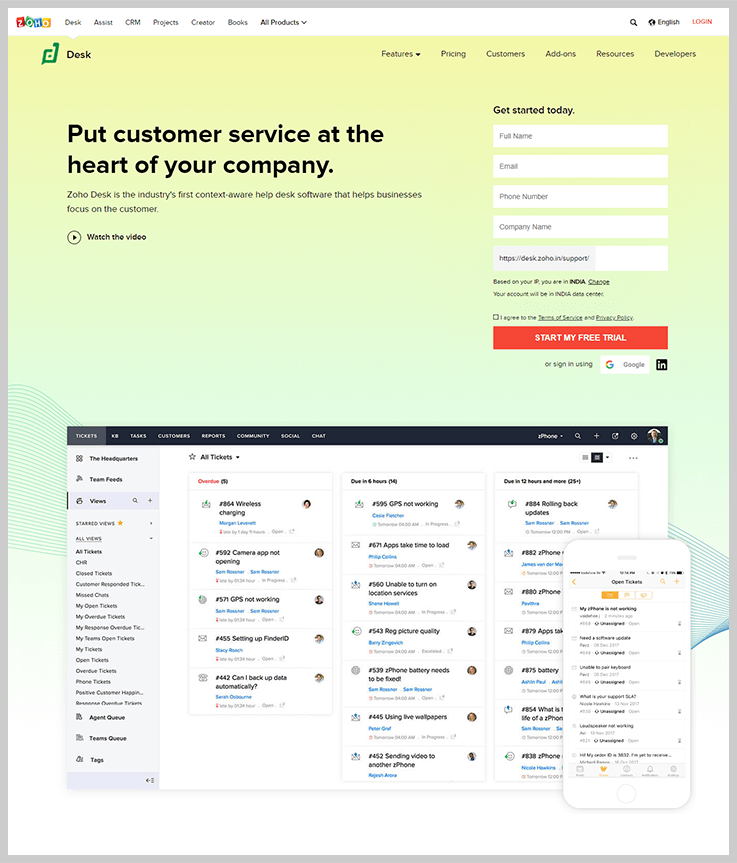 ---
Features
Self-service allows the customers to find answers to their queries. Consequently, it takes away the burden from the support team and agents.

Multi-brand – It serves the customers with knowledge base articles about different brands the company is offering.

Customization – You can customize the portal in order to match the design with your company's website.

Google Analytics Integration – It helps you understand and evaluate the engagement level of the customers.

Further, Zoho Desk also supports a ticket system through which customers can submit tickets and get the solution of their queries.
Pricing
Free – The free edition allows you to allocate 3 agents.
Professional – $12 per month (for each agent).
Enterprise – $25 per month (for each agent).
---
If you are looking for an easy-to-use knowledge base software, then you need not underestimate ServiceNow. This is arguably the best user-friendly knowledge base management solution that is efficient and reliable in many ways.
Besides, this is a creative software and its out-of-the-box solutions facilitate the agents, employees, and even the customers. Also, the workflow is efficient and the publishing tools make life easier for the agents especially when they are searching for and creating content in an attempt to resolve an issue.
Furthermore, the service portal is impressive. It helps the employees as well as the customers to find a solution to the problem in no time. It not only reduces the cost of the service but also elevates the satisfaction level.
This software efficiently documents answers to ensure the provision of consistent answers for employees and customers. The incorporation of the knowledge base helps to address various business issues.
Apart from this, ServiceNow encourages knowledge sharing and crowdsourcing within the company which eliminates the chances of the information gap. The service portal lets you access knowledge, and the employees and customers have an easier way to browse and search for the knowledge they are looking for. It is compatible with mobile as well as desktop devices.
---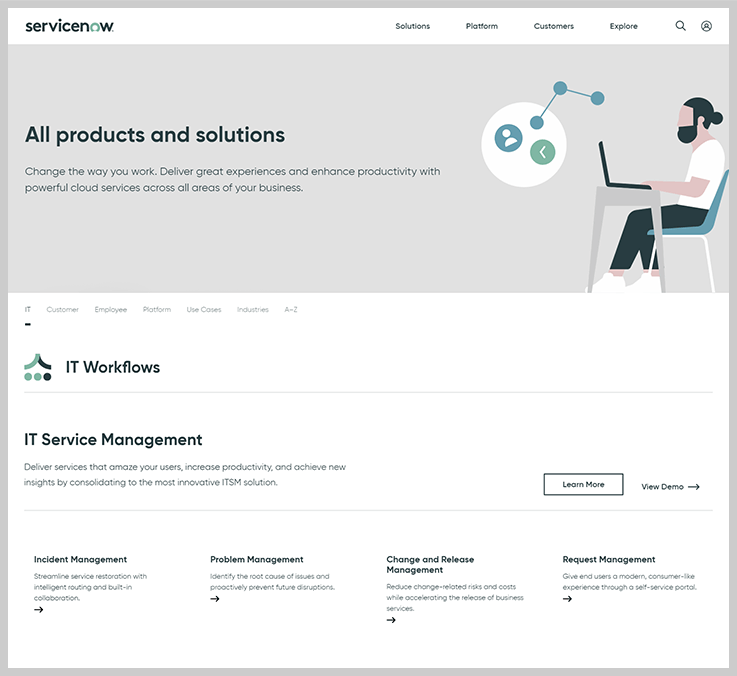 ---
Features
Search Engine Optimization Tools ensures better indexing of knowledge base articles on different search engines.

Sorting and filtering feature enables the well-targeted search.

Allows you to easily update and create different versions, and track changes for the articles.

Easy subscription for articles and knowledge base for both employees as well as customers.

The search result list highlights both internal as well as an external knowledge base.

Contextual search enables the software to display better results in accordance with the text/query.
Pricing
ServiceNow offers quote-based pricing packages only.
---
This knowledge base software helps in organizing content and making it easily accessible for internal teams and external customers. Also, it gives teams quick and easy access to solutions.
With features like easy content creation, organization, and powerful search engine, Confluence provides a convenient platform for knowledge management to help employees and customers to help themselves.
Furthermore, Confluence helps the organization to maximize its productivity. The team members can give their feedback in seconds to make sure that the final version of the content is up to the mark.
---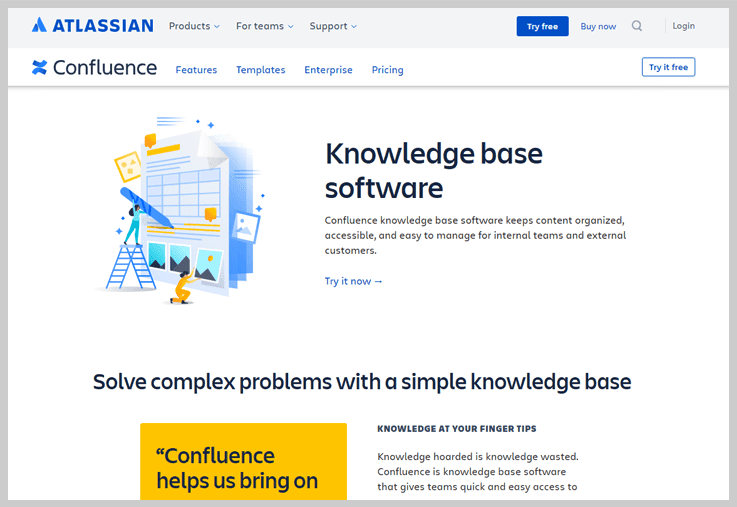 ---
Features
Using pre-made templates, you can create, edit, and share knowledge base documents.

With RSS feeds, page watch, and blog updates, you can communicate with your internal and external users.

Various feedback options including file comments, page, and inline context.

Connect with end users via page comments.

Receive all insights by just connecting to Jira.

Sync between desktop and mobile devices.

Supports a structured hierarchy.

A better search option to quickly find the required information.
Pricing
Free trial for 7 days
Confluence for IT Teams – $20/month (integrated with a knowledge base and service desk).
---
As the name suggests, there is, in fact, a fresh twist to the online ITSM solution. Ticketing is much better with this software than most of the knowledge base platforms.
In addition to the common features, such as management for the incident, problem, asset, release, etc., the software enables you to share the knowledge base via the cloud.
Besides, the set and configuration of Freshservice are by far the easiest as compared to the other platforms in our list. Plus, the administration of the helpdesk is quick and easy which means that you can spend more time on other important activities.
Powerful automation makes it easy to get on with the Smart Workflow add-on that helps you to simplify even the complex workflow. And, it is also available with the demo version!
---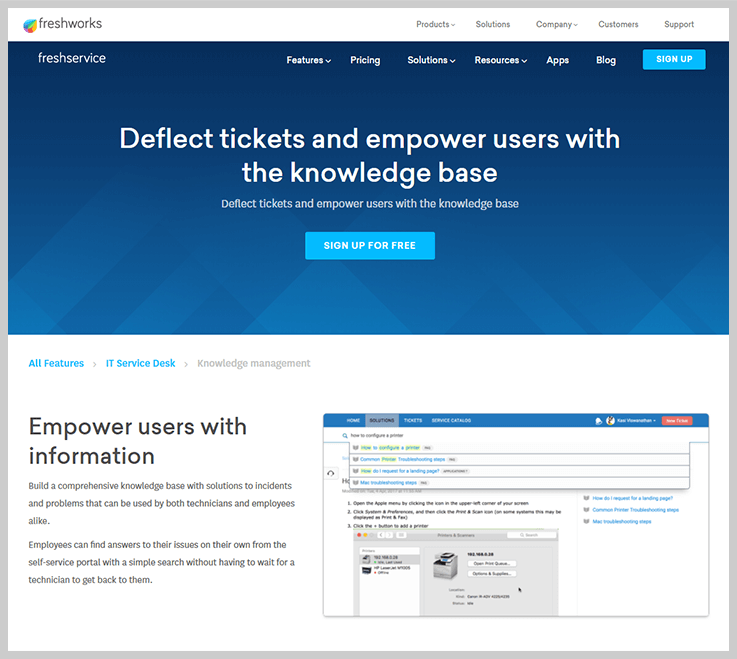 ---
Features
 Segregating the Service Requests becomes easier with Self Service Catalog.

There are impressive branding options. The use is fairly easy. Also, accessing CSS/HTML has become easier.

This is an easy-going portal and you can customize it with advanced customization options.

The embedded widget option becomes more useful as you can embed it into SharePoint.
Pricing
Sprout – Free (up 100 assets and 3 agents)
Blossom – $29/month for each agent (also charges 20 cents/month per additional asset)
Garden – $49/month for each agent (also charges 20 cents/month per additional asset)
Estate – $79/month for each agent (also charges 20 cents/month per additional asset)
---
To many, this is arguably the best knowledge base software for [ CY] for many reasons. First of all, this is a comprehensive suite to facilitate the support team. The objective is improving customer support for all types of businesses regardless of their size.
Additionally, this software features an impressive module to support knowledge base. You can easily build online communities, customer portals, help centers, and FAQs.
Perhaps the best part of Zendesk is that you can evolve with time and provide an up-to-date knowledge base article to the users. You can organize and structure the content in the database with much more freedom.
In addition, there is an AI Bot that is efficient enough to direct the customers (with common queries) to the right and most relevant article. It helps to take away the burden from your agents to let them maintain their high level of performance without getting overloaded.
---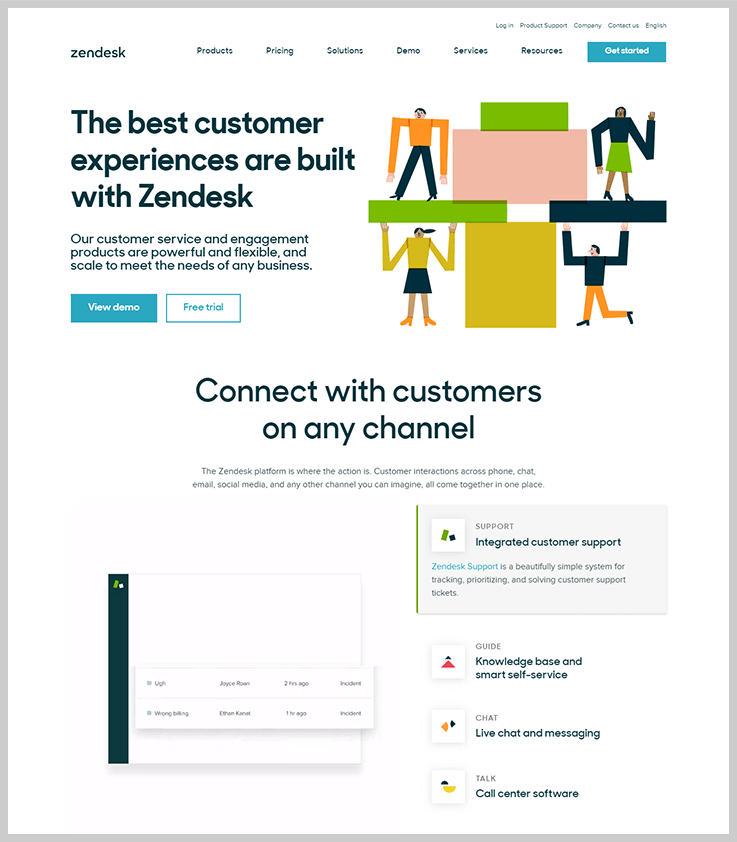 ---
Features
Ticket management is simplified

Centralized customer interaction

In-depth insights to help you make a better decision in order to increase the efficiency of the support team

CSS rebranding

No restrictions on the use of data

Open API and REST API Compatible

AI Knowledge Management

Intuitive search capabilities
Pricing
Essential – $5/month for each agent (Free trial available)
Team – $19/month for each agent (Free trial available)
Professional – $49/month for each agent (Free trial available)
Enterprise – $99/month for each agent (Free trial available)
Elite – $199/month for each agent (NO FREE TRIAL)
---
When it comes to customization, KnowledgeOwl stands out. This platform enables you to build a knowledge base, websites, software documentation, and manuals, etc. To make sure that the members of the team stay on the same page, you can create an easy-to-navigate, robust, and secure resource.
KnowledgeOwl facilitates you with management, writing, and publication of FAQs. Also, it helps to increase the sales on your application or website. In addition, with this impressive software, setting up self-service sites with better knowledge base search engine has become way easier than it was before.
Additionally, you can create an easy and clean interface to facilitate your customers. With the help of API, you can build customized integrations and pull/push the information into the system whenever you want.
---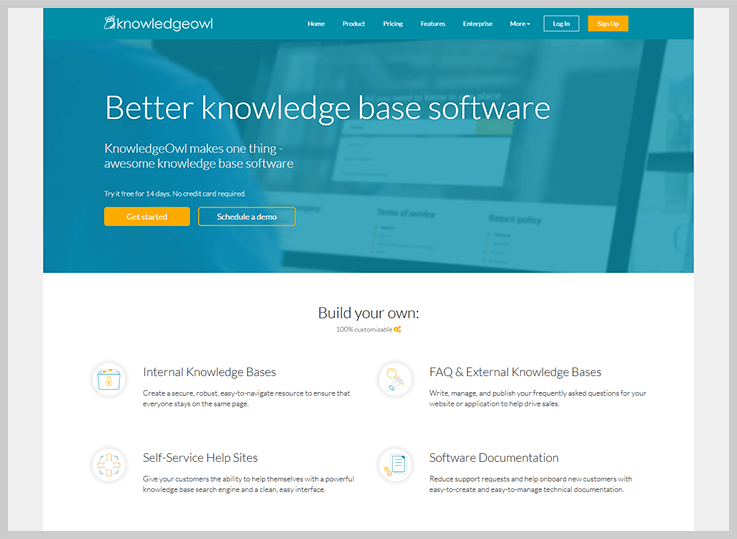 ---
Features
6 publishing statuses (ready to publish, draft, needs review, published, rejected draft, and deleted)

WYSIWYG Editor enables you to create content the way you can create in any word processor

Embed videos from community/third-party hosts, for instance, Vimeo, YouTube, and Wistia, etc.

Remote authentication setup

30-seconds auto-save (if you leave the device without saving the changes)

Create PDFs to save the knowledge base

Authorize access to determine who can modify, delete, or access the files
Pricing
Solo – $79/month (1 knowledge base and 1 user)
Team –

$99/month (1 knowledge base and 2 users)
$20 per additional user
$40 per additional knowledge base

Business –

$299/month (2 knowledge base and 2 users)
$20 per additional user
$40 per additional knowledge base
A 14-day trial is available for all packages (Does NOT require a credit card)
---
If you are looking to make full use of all essential content management features then you need not overlook Helpjuice. This software is simple and fast. Along with this, there are some impressive styling tools which help you to answers effectively.
This software makes it easy to display Q&As in different categories. You can set tags to facilitate search. Also, it allows multiple authors to answer the same question and it keeps recording the revisions.
Levels of access depending on your choice which includes specific users, public, URL-based, and internal users. The analytics tool is also pretty good and gives you an insight into the important factors you can work on to improve results.
Helpjuice allows you to monitor the preferences of people and what they are getting from the knowledge base. You can monitor the number of times people have read your answers and if they have been helpful or not.
---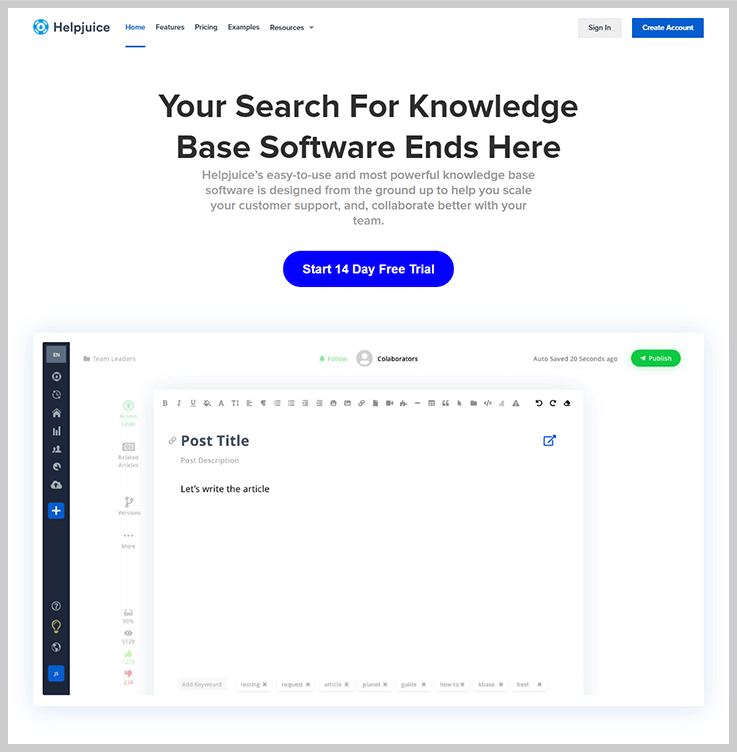 ---
Features
Track the performance of your authors and rank them accordingly.

Track activities and set permissions.

Centralized knowledge base.

Custom branding and personalization features.

Intelligent search with auto-suggest.

Question grouping (categorization).

Allows users to rate the questions.
Pricing
Limited – $189/month

15 users

15 integrations

All features
(14-Day Trial is on offer)
Unlimited – $369/month

Endless users

Unlimited integrations

All features
You can also avail its free trial of 14 days before using any paid plans.
---
ManageEngine emerges as one of the most promising helpdesk solutions you need to consider in 2022. The portal can forward all request to the support team upon simply pressing the request tab.
The software can auto-assign the request in accordance with the rules of the business. It is intelligent enough to assign a request to the right person based on his expertise.
In addition, you can easily un-assign a request and pick someone better in the team to handle it. You can edit the description to explain the resolution of the issue. The software comes with a start/stop timer to facilitate the team members when working with SLAs.
Furthermore, you can use filters in the request list. It makes things easier when you are trying to locate request which matches certain criteria, or instance, due date, unassigned, due today, overdue, and pending, etc.
---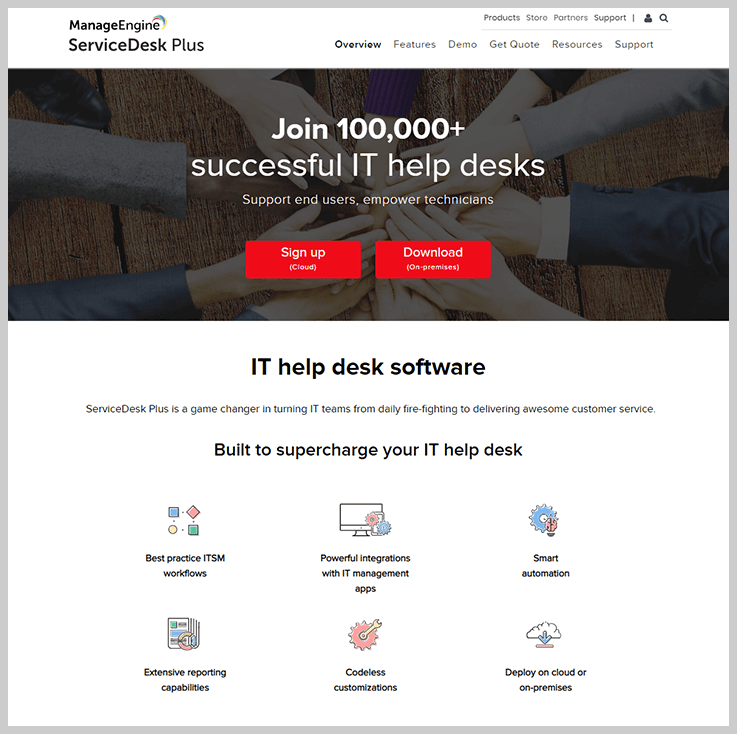 ---
Features
Self-service portal to easily track the status of the request

Creation of request logs

Knowledge base search

Password reset option

Build a service catalog

Create SLAs, approval workflows, etc.
Pricing
The pricing is based on custom quotes
---
This customer support software is yet another helpdesk based on the cloud. The best thing about this platform is its impressive provision of ticket management for businesses. This efficient system pushes out all the rigorous tasks.
Moreover, setting up this platform is easy. You don't have to be a tech-expert in order to get things right. This software mainly targets small businesses to improve their customer support services.
Categories, assignments, priority setting, and status tracking works like other software solutions. The automation features are good though.
Features
Robust ticket management system (initiates tickets via social media, email, direct message and also through the system)

Mobile app compatibility (supports iOS, Windows, and Android phones)

Gives real-time alerts and ticket previews

Easy and quick set up

Customizable dashboard

In-depth analytics and reporting

Low price in comparison to the features it offers
Pricing
Mighty – $39/month for each user
Fantastic – $59/month for each user
Enterprise – $79/month for each user
Enterprise plus – $99/month for each user
---
Conclusion
There remains no reason for small businesses to compromise on customer support service. So, these solutions bring a tremendous opportunity for all to make the most of the contemporary business practices. Here, we present the 9 best knowledge base software. You can select whichever seems best for your businesses and start getting the results you are looking for.
You May Also Like To Read-