The 4 Best SEOprofiler Alternatives in 2022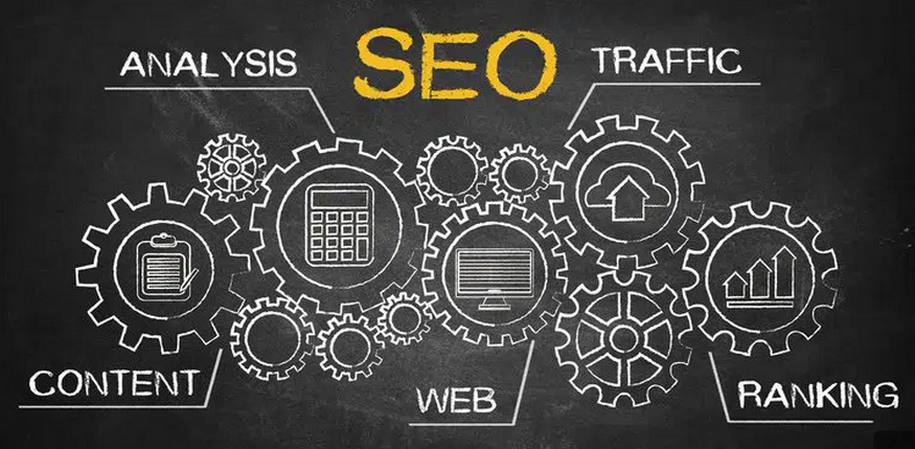 SEOprofiler announced at the end of April 2022 that it was closing down. It has been a reliable tool, trusted by SEO professionals to provide vital data for keyword research, backlink analysis, website and mobile optimization, competitor monitoring and more. Those who relied on this tool are now looking for alternative ways to get the same metrics. This post tells you about alternatives to SEOprofiler, their key features and how you can use them to stay on top of rankings.
The digital landscape is highly dynamic and every so often, a tool that digital marketers and SEO experts have relied on for years goes out of the market. SEOprofiler was one of the first casualties of 2022, and Alexa will follow in May.
These are reliable tools with robust features, and marketers need to replace them with similar or better solutions.
Replacing a tool that you've relied on for a long time isn't easy. You may have the lingering feeling that other tools won't give you reliable data, or they will have a steep learning curve or may be expensive compared to what you were using before.
These are all legitimate concerns, but with a little bit of research, you can find SEO software that does just as well if not better and is affordable and easy to use.
If you were a fan of SEOprofiler do not despair. We have done some research into alternatives to SEOprofiler that offer similar features.
---
What Happened to SEOprofiler?
We don't know the exact circumstances that caused the company to shut down. According to a Reddit post, the closure was due to "health reasons and personal circumstances". This is rather vague, but it's all we know so far.
However, the company seemed to struggle a little bit towards the end.
Customers complained about the free trial trapping users into buying. One person called it manipulative and a waste of time.
Some complained of long response times from servers and error messages, slow response times from the customer service desk and others were unhappy with the data they got from the free trial.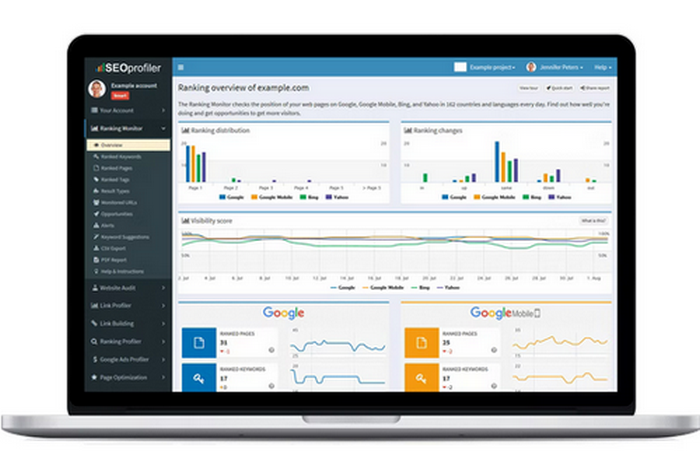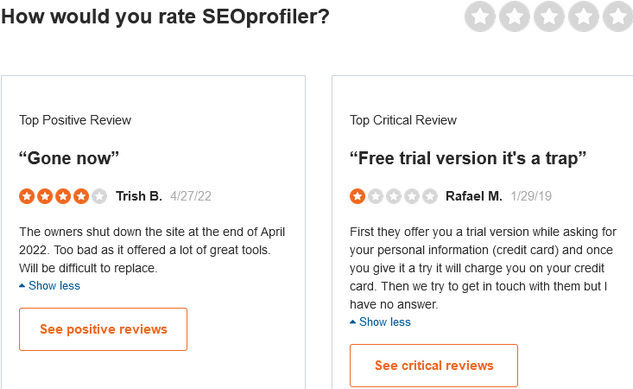 That said, there was lots of praise for this tool. Many were happy with how easy it was to use, how much analytical data it provided and how reliable the software was. Lots of SEO professionals had used it for years without any problems.
Now that it's gone, it is important to find alternatives that work.
We have tested many tools over the years, and we are confident that below are the 4 best alternatives to SEOprofiler. They have similar features, provide more or less the same website metrics and are easy to use.
---
The 4 Best Alternatives to SEO Profiler
Read Review
View Listing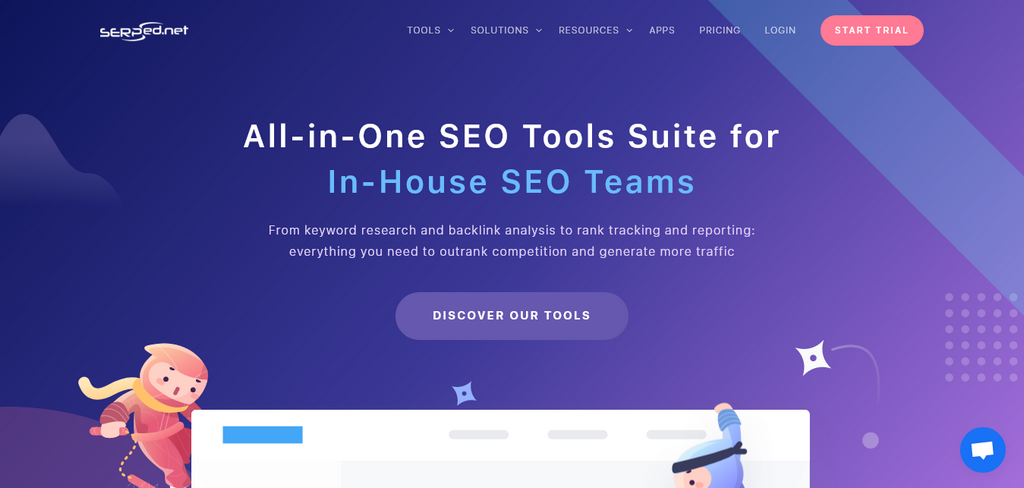 SERPed.net, is one of the best SEOprofiler alternatives. It is a cloud-based all-in-one SEO tool for small businesses, agencies and freelancers. The sofwtare brings together all the vital features for SEO under one convenient umbrella, keeping your data in one place so that it's easy to track and see trends.
This tool combines metrics from Majestic, Ahrefs, SEMrush and Moz, as well as the major search engines, so you don't have to pay for them individually. The cost savings (more than $500) make it a worthwhile investment for anyone who's looking to grow their business on a budget.
SERPed.net was created with a simple aim in mind: to make SEO accessible and easy. It was designed by a team of SEO experts who understood the specific problems users face with such tools, and they designed features to make SEO management easy even for novices.
With more than 45 different features in the toolkit, you have everything that you need to optimize and rank websites.
SERPed.net Features
The software has more features than we can discuss in this review, so let's focus on the most important ones:
Keyword Research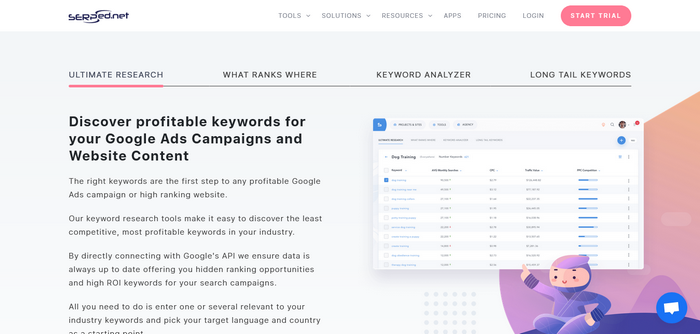 Under this feature, you get 4 keyword research tools, all of them necessary for comprehensive research:
It helps you discover the best keyword opportunities for content and Google Ads campaigns. A quick search using this tool shows you the least competitive, most profitable keywords.
Ultimate Research pulls data from Google API so you always have the latest data. You can filter search results by monthly search volume, cost per click, organic traffic value and more.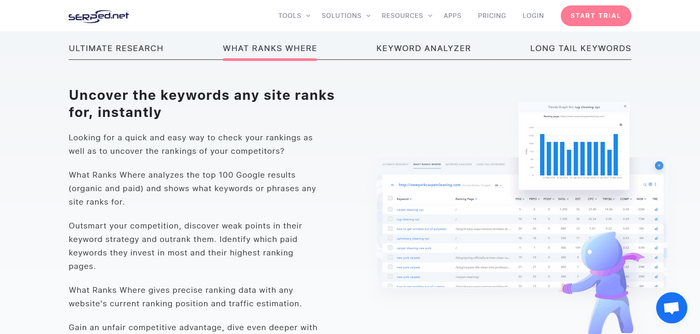 It tracks your ranking and you can also use it to see how your competitors are ranking.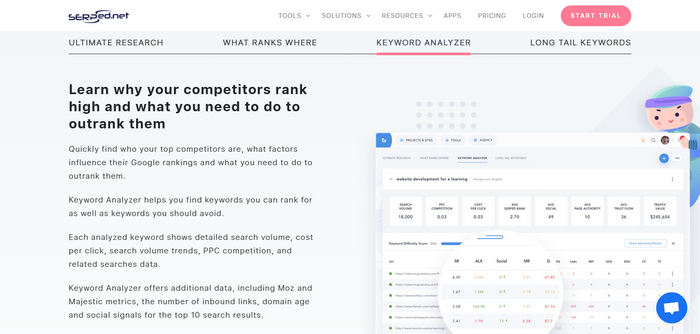 This is a vital tool as it tells you who your competitors are, what they are doing to rank and what you can do to outrank them. It shows you keywords you can rank for and also tells you about those you should avoid.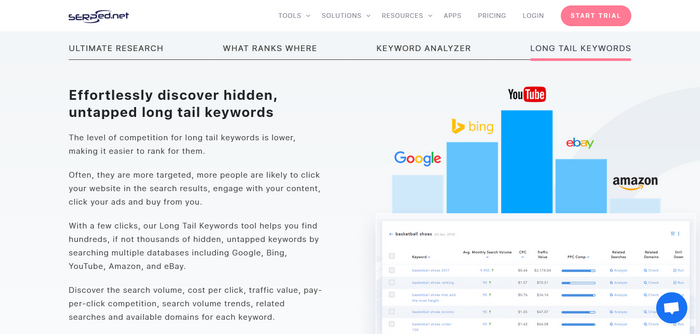 Long-tail keywords are often under-utilized even though they are less competitive and more profitable. SERPed.net shows you thousands of them that you can include in your content right away to start ranking.
SEO Analysis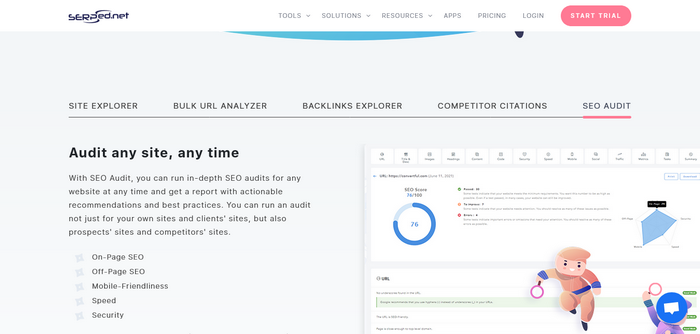 For this feature you get Site Explorer, Bulk URL Analyzer, Backlinks Explorer, Competitor Citations and an SEO Audit tool.
Site Management
The Site Management feature helps you keep track of everything that's happening on your website.
It comes with an unbeatable combo of features: Site Manager, Backlinks Manager, Web Analytics, Uptime Monitor, Cash Flow Manager and Site Crawler.
Rank Tracking
Under this feature, you get several tools that help you track your rank as well as that of your competitors. They include Rank Tracker, Local Tracker, Instant Check and YouTube Tracker.
Additional features include a Domain Finding Tool, a Client Acquisition tool, a Link Indexer and a Content Curator.
---
View Listing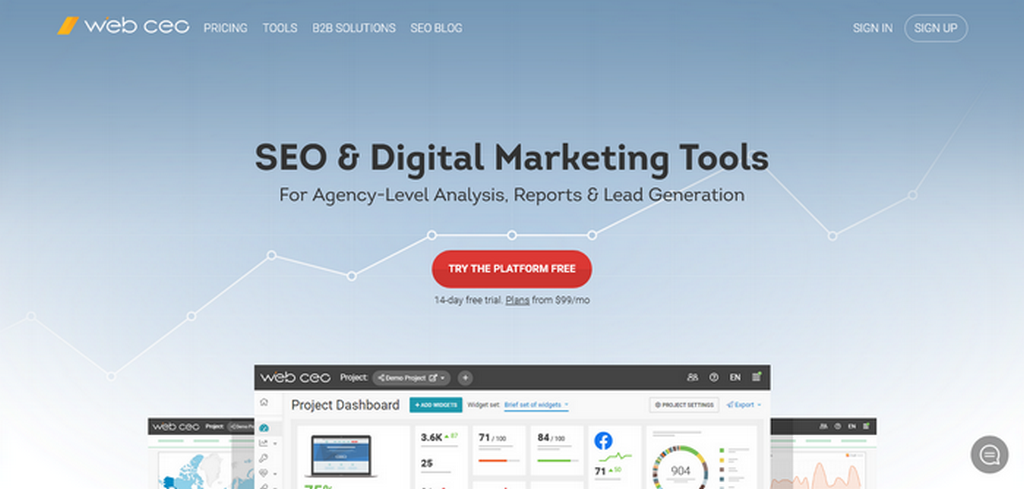 Web CEO doesn't have as many tools as SERPed.net but it brings together everything you need to run a successful SEO strategy. It may not be very well known but it is one of the best SEOprofiler alternatives.
It is good software for small businesses and freelancers and many users attest to its power to help websites rank.
You can use it for keyword research, website audit and optimization, competitor analysis and much more.
It has three plans that you can choose from: Startup, Agency Unlimited and Corporate. The difference between the three is the number of projects you can use them for and the degree of automation available as you scale upwards.
The cheapest package, Startup, is geared toward small businesses and is focused on lead generation while the more expensive packages are for medium-sized businesses and offer a bigger variety of solutions.
Web CEO Features
Rank Tracking Tool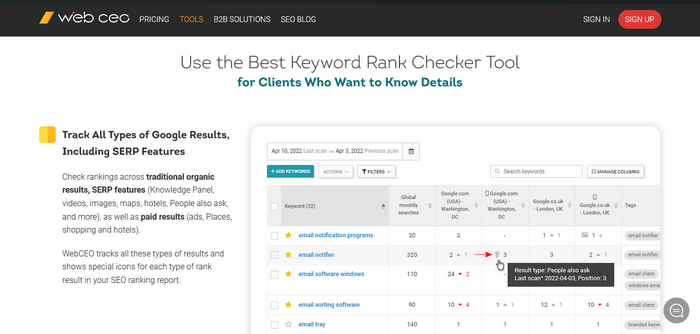 This is a vital feature of any SEO tool. In Web CEO, it helps you track your website's ranking as well as that of your competitors. You can use it to rank by city, region or country.
It also shows you which competitors are using the same keywords you are as well as what strategies you can employ to outrank them.
Keyword Research Tool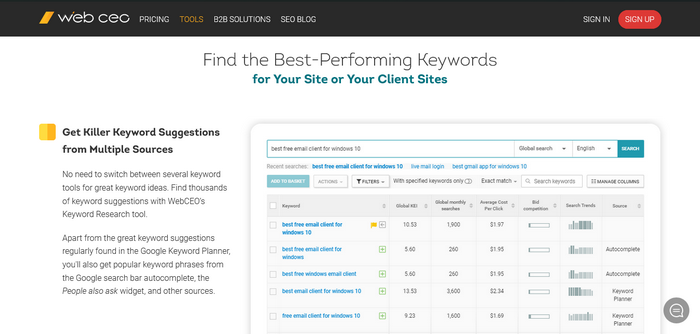 This tool pulls keywords from Google Ads Keyword Planner, Google Autocomplete, Related Searches and People Also Ask. You can see what keywords your competitors are using and incorporate them into your content.
Site Audit Tool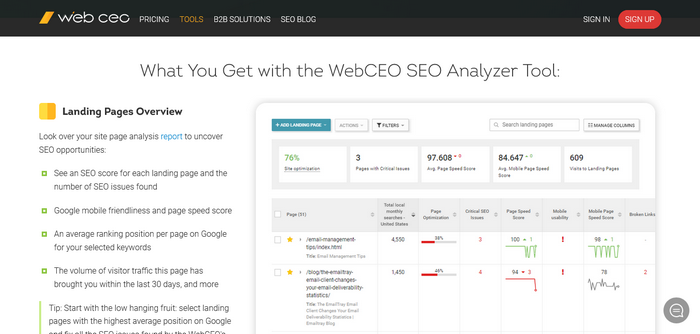 This one is split into 4 different tools. You get a Technical Audit Tool that you can use to check for bad links and pages and folders disallowed in robots.txt. You can also use it to identify issues that hinder page access.
The Internal Links tool shows you the authority of links on your site while the SEO Analysis tool highlights SEO problems and gives you tips on how to correct them. You can use it to measure and optimize page-load speeds.
Site Map Generation creates a map for your website in just minutes and monitors page indexing by search engines.
Web CEO also has a backlink checker tool, an organic traffic analysis module, social media analytics and SEO metrics for competitors.
---
View Listing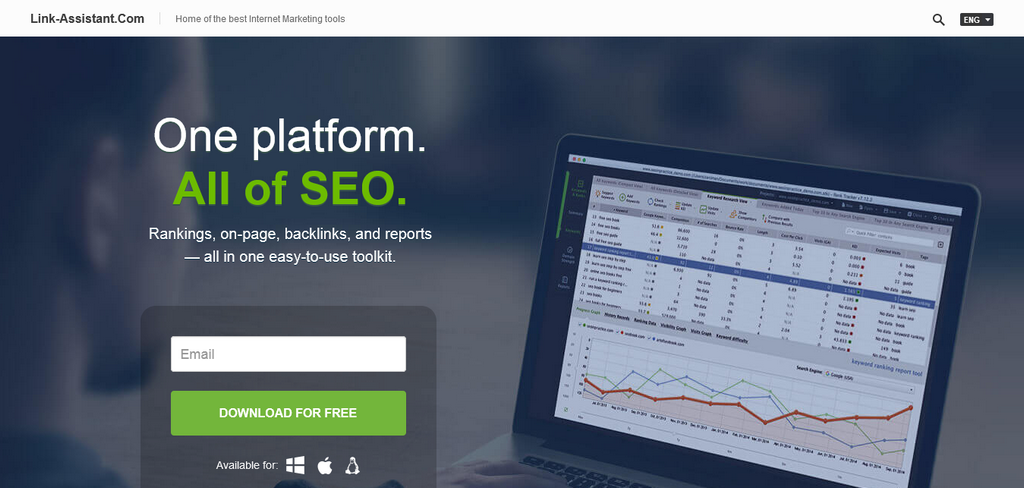 SEO Powersuite is a collection of 4 tools designed to make life easier for SEO professionals and novices alike: Rank Tracker, Web Site Auditor, SEO Spyglass and LinkAssistant.
They help study competitors and keyword rankings, keyword research, backlink building, as a content optimization tool and for website auditing.
SEO Powersuite was released in 2005 and has grown steadily over the years. Today it has a user base of more than 2 million.
One of the main reasons why this tool is popular is its low cost. You get lots of features under one umbrella at a cost that many small businesses and freelancers can afford. Tools with a similar collection of features tend to charge more.
It comes with certain limitations though. For example, you need a license for each user. If you have more than one person doing SEO, you'll need to buy several licenses.
SEO Powersuite Features
Rank Tracker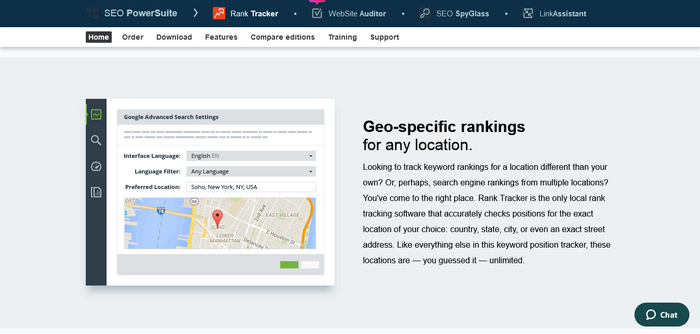 It monitors your rank, but what makes it unique is that you can use it to track both local and global rankings. You can see your rankings over time, and this module also contains 23 keyword suggestion tools that show you low competition and profitable keywords that you should include in your content.
You can use this module to schedule tasks that will happen automatically in the background, and you also get detailed ranking reports.
LinkAssistant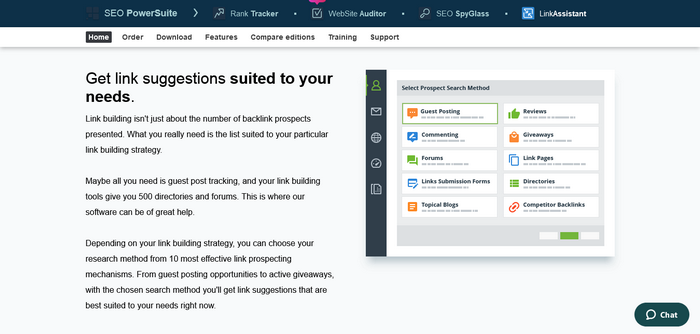 This module gives you access to a huge database of backlinks and referring domains. It helps you find broken links fast to reveal your website authority.
With this module you can see your site's linking history, the quality of referring domains and backlinks, top linking countries and a summary of linked pages.
You can connect the software to your Google account and see where your referral traffic is coming from. You can also organize linked pages to see the ones that bring in the highest number of backlinks.
Website Auditor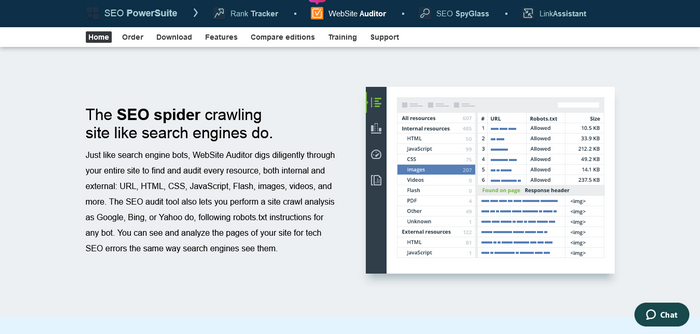 This module crawls websites to reveal issues that may be affecting page load speed and site performance.
You can use it to find broken links and images, duplicate content, crawling errors, poor mobile usability, internal linking problems and many other issues that may affect ranking.
---
View Listing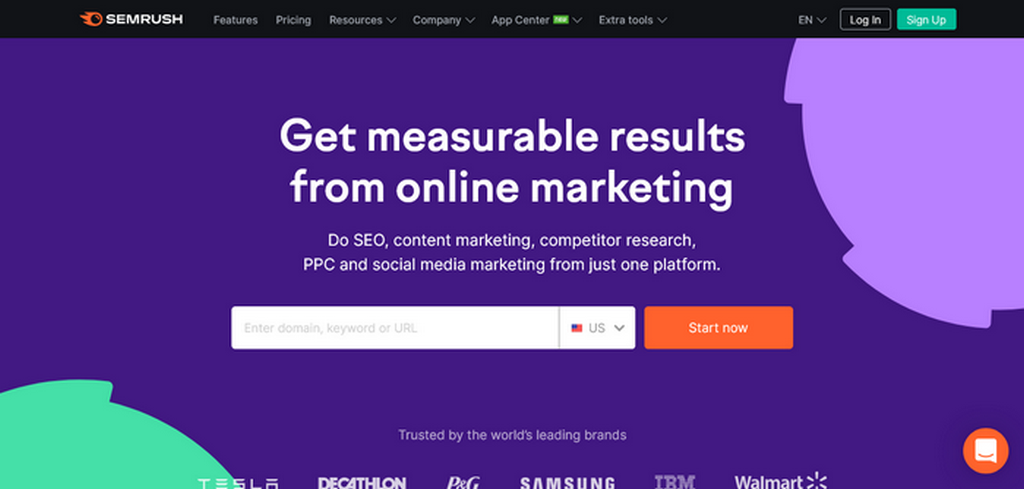 If you aren't worried about your budget SEMrush comes highly recommended. It is one of the most popular tools in the industry and puts together a list of impressive features for SEO.
It has everything that freelancers, small and medium-sized enterprises and big companies need to carry out an SEO campaign.
Whether you're a seasoned SEO professional or just starting an online business you'll find that SEMrush makes optimization and digital marketing easy.
You can use it to understand which keywords you should be targeting, your website's performance over time, your competitor's performance and how to gain valuable backlinks.
SEMrush Features
SEMrush is considered one of the best SEOprofiler alternatives. It has more features than we can discuss here, but here are the most important ones:
Keyword Research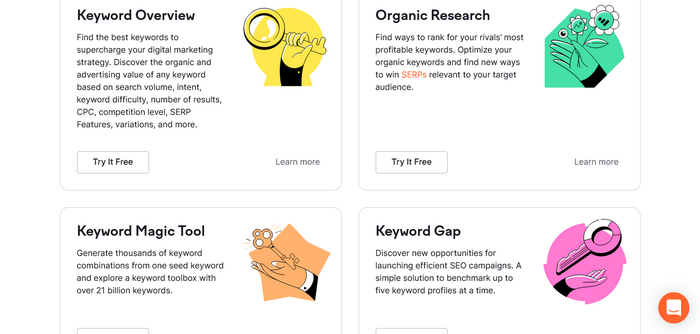 This feature brings together 6 tools that you can use to refine keyword searches and target those that are most profitable.
Keyword Overview shows you the advertising value of different keywords while Organic Search shows you what keywords you should target to outrank the competition.
The Magic Keyword Tool is a database that can help you generate thousands of keywords with just one query and the Keyword Gap tool shows you keyword gaps so that you can position yourself to fill them.
On-Page SEO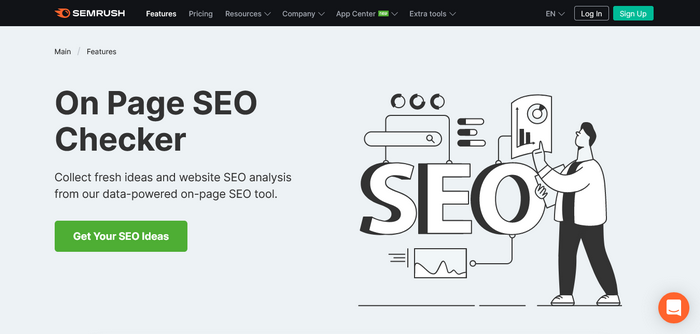 This one combines 3 tools: Site Audit, On-Page SEO Checker and Log File Analyzer. The Site Audit module helps you analyze a page in minutes to find issues and gives you suggestions on how you can fix them.
The SEO Checker module gives ideas on what you can do to improve page rankings and the Log File Analyzer shows you how Google crawlers interact with specific pages on your site.
Local SEO Tools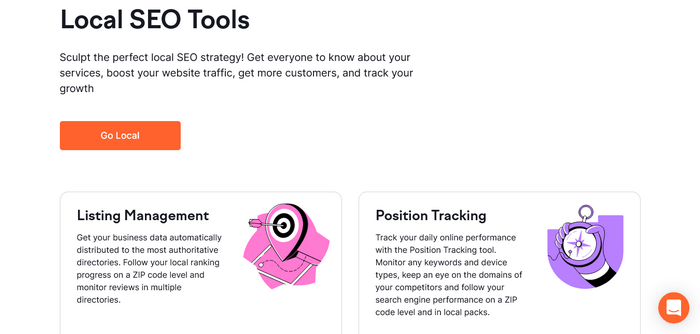 Here you get a collection of 4 tools: Listing Management which lists your business in authoritative directories and Position Tracking which tracks daily website performance.
On-Page SEO Checker analyzes competitor trends and strategies and there's a Social Media Toolkit that you can use to schedule posts and updates on social media channels.
Link Building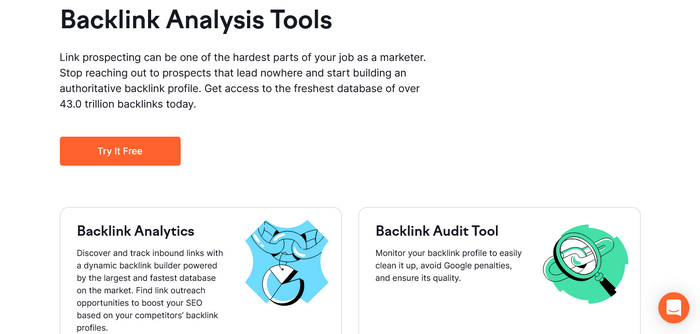 This module has Backlinks Analytics, Backlink Audit, Backlink Gap, Bulk Backlink Analysis and a Link Building module. All of them are geared towards helping you develop a winning backlink strategy so that your website can gain authority over time.
---
FAQ
SEOprofiler was cloud-based software that helped SEO entrepreneurs achieve higher rankings. It was feature-rich, with modules for keyword research, backlink analysis, off-page and on-page SEO, website audit, competitor analysis, ranking and more.
The company had its main offices in Germany and was around for a little more than 20 years.
What happens to my SEOprofiler subscription?
The company stopped accepting new subscriptions in late March 2022 just as it closed down. Since then all subscriptions have been canceled and those with annual subscriptions were promised partial refunds.
Can I save my SEOprofiler ranking data?
The data was available to export until 26 April 2022 but not after that because the app was no longer available.
You can view your historical data on Google Search Console but if you want an in-depth analysis you should sign up for software like SERPed.net, SEMrush or the other two discussed in this post.
What are SEOprofiler Alternatives?
There are many free alternatives to SEOprofiler. Some tools are completely free while others offer a free trial period.
If you choose software that's completely free remember that it comes with limitations. It will not have all the modules that you find in paid alternatives like SERPed.net or SEMrush. They also often have usage caps.
That said, tools like Google Keyword Planner and Google Trends are great for keyword research and Google Search Console helps you track keyword rankings free of charge.
Conclusion
SEOprofiler went out of business but that doesn't have to slow down your SEO. You can still dominate rankings if you find good alternatives to SEOprofiler.
Make sure to choose software that brings together enough tools to help you find the right keywords, understand what your competitors are doing and outrank them. It should also provide thorough website audits.
All the ones in this post are good SEOprofiler alternatives but if we had to choose we'd go with SERPed.net. It is feature-rich and easy to use, is well-supported and comes at a reasonable price.