The 10 Best Remote Support Software
Remote Support Software is utilized as operating system or software, which allows you to remotely connect and control a system from another computer. Technically, the controller is called the Client and the system, which is controlled, can be coined as Host. The Client can take over the mouse and keyboard of Host and access it as its own.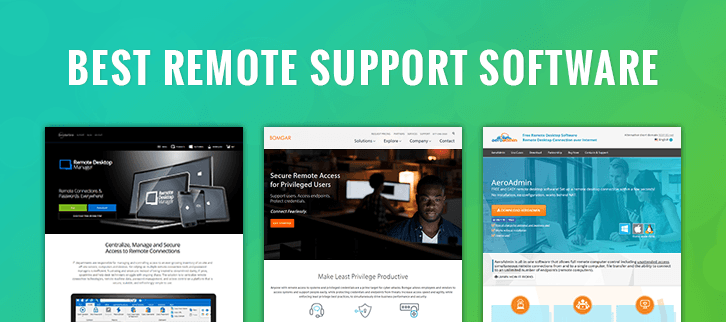 Currently, the Remote Support Software usage range from personal purposes to large corporate. Large corporates use these software's to resolve various software related issues at their clients' ends. It can also be utilized to fix the system related problems within an organization, which has its offices at different locations. These platforms are extremely useful and save a lot of logistics and communication cost. However, a trusted Remote Support Software shall be used to avoid any malware and hacking issues.
Hey! Are you aware of multiple WordPress plugins which are availabe to enhance the customer support operation? If not, then check it out here-
Best WordPress Customer Support Ticket System Plugins


You must be dealing with the difficulty associated with the website of your customer support agency. Right?
Check out the latest, TechSupport – Technical Support Company WordPress Theme

Although 'Windows' also has its inbuilt Remote Access tool, there are some better options available in the market, which are detailed as follows:
---
The Best Remote Support Software
Compared (in full)
Check all the services in detail as per your needs and choose service wisely – by the end, you'll know exactly which one is the right option for you.
---
---
---
---
---
---
---
---
---
---
Conclusion
In today's scenario, where everything is connected to the internet and a quick resolution of issues, faster fixation of bugs are need of the hour, Remote Desktop Software plays a crucial role in the same. On one side, they save on logistics and on-site costs; on the other side the quality is not compromised. Hence, these software's can be used as an effective tool to enhance the productivity and profitability of any business or industry.
---