5 Best Pharmacy Software 2022 | Attributes & Pricing
Drug software makes it easier for doctors to deliver drug information with a pharmacist and helps to provide customers with more ease. Pharmacy systems also automate tasks associated with the pharmacy business. This may include e-signature, point of sale, retail management and other features.
These tools may include the suggestion of alternative medicines, dosage guidance or patient assessment and care at high risk. Pharmaceutical software may be integrated with EHR management and medical practice software to help patients.
Here we offer you a list of top 5 best pharmacy management system which provides great convenience and manageability for the pharmacists.
The Best Pharmacy Software 2022 Compared (in full)

| | | | | | | | | |
| --- | --- | --- | --- | --- | --- | --- | --- | --- |
| Name | Inventory Mgmt. | Reporting | Clinical Info. Mgmt. | Dispensing Workflow Mgmt. | Pricing & Billing | Price (Month) | Free Trial | Demo |
| Chetu | Yes | Yes | Yes | Yes | Yes | Contact Chetu | No | Yes |
| | Yes | Yes | Yes | Yes | Yes | Contact Octal IT | No | No |
| | Yes | Yes | Yes | Yes | Yes | Contact hCue | No | Yes |
| | Yes | Yes | Yes | Yes | Yes | ₹999 | No | Yes |
| | Yes | Yes | Yes | Yes | Yes | Contact EnterpriseRX | No | No |
---
Chetu is a custom-designed pharmacy software which includes the management of the workflows for delivery, master patients, indexes, approved drug lists, and stocks. This software helps to track all the medical shop's profits, losses, profitable customers and products. Furthermore, it also functions for a medical shop as an accounting tool. It comes with a privacy measure in which it encrypts the prescription dispensers and storage cabinets details.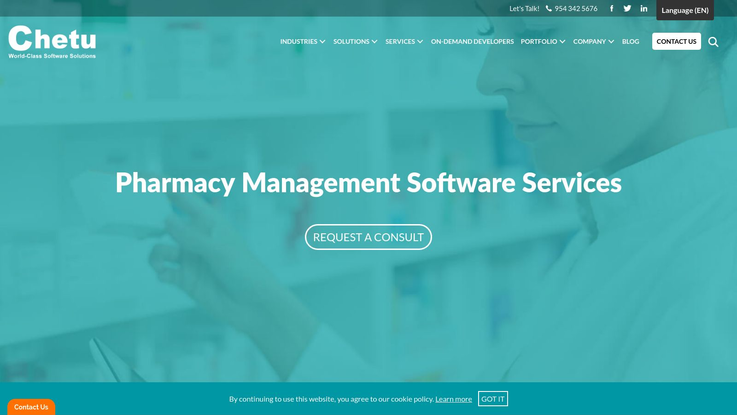 Key Feature
It speeds up pharmacy workflows and improves the precision to automate prescription filling and formula composure by using programming robotic dispensing systems.
In order to simplify referrals, verification of assurance eligibility, prior approval, processing of claims, management of appeals, referrals advice, coordination of benefits as well as risk evaluation and mitigation strategies (REMS), they offer customized revenue cycle Management (RCM) integrations.
It provides modules for document management to access electronic health and medical records, to maintain the physician or pharmacist notes, to accept electronic faxes, to monitor trails and Electronic Batch Records (EBR), and to integrate information from physical forms using scanning technology.
Pricing
Contact the website owner for the pricing details.
---
This pharmaceutical software is used for the management of patient indices, approved lists of medication, compliance management, reports & assessments, decision management, and form databases. This pharmacy software incorporates a variety of features, from POS to back offices to facilitate your everyday routines.
Moreover, it improves the customer experience by reducing time & cost with the help of prebuild features.
Key Feature
For secure transmission of electronic prescriptions between health centers, pharmacies, and insurance verifiers, it offers e-Rx architectures. The system speeds up a medical prescription filling, renewal, modification and cancelation, and prior authorization.
This software automates inventory processes, such as restocking, counting, tracking, storage, and medication distribution, using DBMS, barcodes, and national drug code manifests. In order to help wholesalers deal, accounting and RCM modules are integrated.
It has fitness apps that provide on-demand medicine services, patient prescriptions, and other services while using all cutting-edge technologies.
Pricing
Contact the website owner for the pricing details.
---
hCue is a GST-free pharmaceutical software which allows you to increase your revenue to the next level. This pharmacy management solution for streamlining small to mid-sized pharmaceuticals operations and processes has been found to provide incomparable scalability and flexibility with regard to licensing, deployment and updating that significantly cuts costs.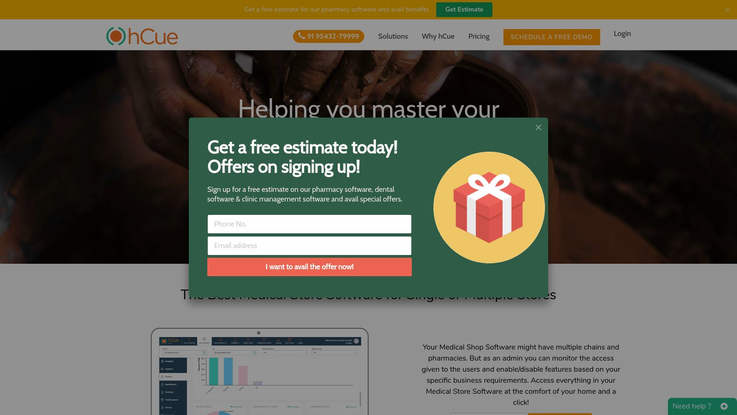 Key Feature
The medical shop software of hCue functions on all platforms that provide pharmacy owners with flexibility.
Owners of pharmaceutical stores can now analyze data via custom dashboards.
This software is integrated with Inventory Software, Payment Wallets like PayTM, UPI and swipe machines.
Profound market insights for hCue pharmacy software to boost revenues and repeat success.
Pricing
For information on company pricing and other product details please contact hCue. You can also submit a demo request to see if the software fits your company perfectly.
---
Marg gives you complete control over inventory, accounting, shop items, customer information, advanced search, and reports so that business decisions can be made quickly. It really helps you to grow your enterprise at speed. Pharmaceutical software helps shop owners manage various records such as billing information, accurate drug storage, reporting, one-way order management, and a lot more.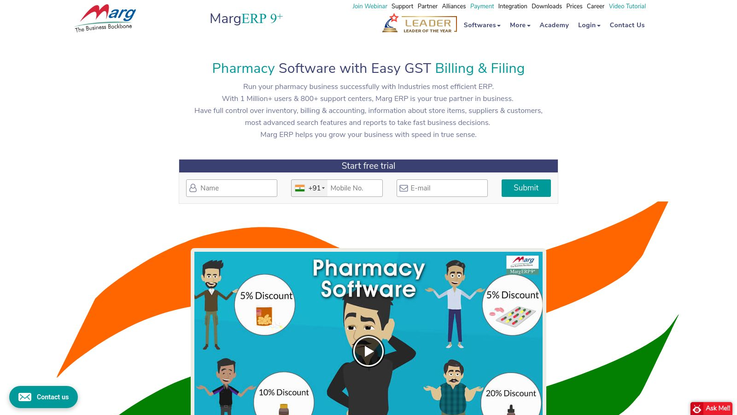 Key Feature
Check suppliers ' offers and deals, smart suppliers ' reports and records, view pending returns, expire & purchase smart reports wisely.
Improve customer experience with cashier administration and home delivery functions in Marg.
Early identification prevents the expiry of products. Replace near expiration products with new ones, and prevent any expiry losses.
Accept payments through several modes together with multiple customers that are charged on one PC at the same time.
Push transactions from Excel, JSON or CSV file into the GSTN portal and directly file your GST returns from the Marg portal.
Pricing
Pricing begins at ₹999. For more details contact Marg ERP.
---
EnterpriseRx is a completely hosted pharmaceutical management system that integrates a centralized online application with pharmacological workflow, clinical programs, and data on pharmacies. Whether you have multiple pharmacies or want to expand your company, EnterpriseRx enables you to manage pharmacies efficiently and provide better care to patients.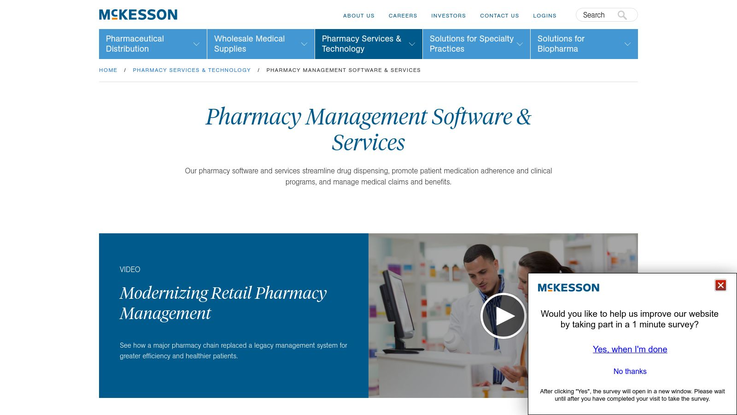 Key Feature
Promote patient involvement with telephone reminders, emails, text messages and personalized advice to patients for medical conditions.
In order to operate an efficient multi-store operation, the regional or national pharmacies rely on this company pharmaceutical software.
Establish a consistent level of service and improve patient care by accessing information on patient profiles from all the places by using one centralized application.
Create your own clinical programs or integrate independent programs to promote patient well being, compliance with medicines and the efficiency of pharmacies.
Pricing
To obtain the current pricing, please contact McKesson Pharmacy Systems.
---
Conclusion
In this article, we have discussed the best pharmacy management software of all time that helps you to grow your business online. I hope you got all the information about services and it will help you to choose the best pharmacy management software according to your requirements and needs.
You May Also Like To Read: