10 Best MLM Software 2022
Multi-level marketing helps direct marketers to track shipments, inventory, and email marketing campaigns simultaneously. Some organizations use systems to convey a marketing methodology in which two sources of profit are derived i.e. co-ordinating deals produced by individual sales representatives and commissioning salesmen and businessmen made by various people.
 Top Multi-level Marketing Software Comparision
| | | |
| --- | --- | --- |
| Service Name | Unique Feature | Ratings |
| Epixel | Business Intelligence Tool | 4.5 |
| Ventaforce | KYC Data Verification Option | 4.6 |
| ProMLM | Integrated With Cheetah Builder | 4.3 |
| LeadMLM | Uses Internal Mail System | 4.4 |
| InfiniteMLM | Supports Genealogy Tree Option | 4.7 |
In this article, we try to provide comprehensive information in order to find the best features and properties in the MLM software that you can use in order to conclude which is MLM's best software to launch in the marketing industry. Here are the best MLM software that helps you to grow business –
---
1. Epixel
Epixel MLM Software is a multi-level marketing solution for managing, controlling and organizing your network marketing enterprise. It is a suite which brings together a wide range of MLM systems, with each module designed to address the specific needs of different MLM plans. Epixel lets users choose a particular module to help them achieve success by running the MLM program. Epixel offers a number of modules, including Binary MLM, Matrix MLM, UnilevelMLM, etc.
---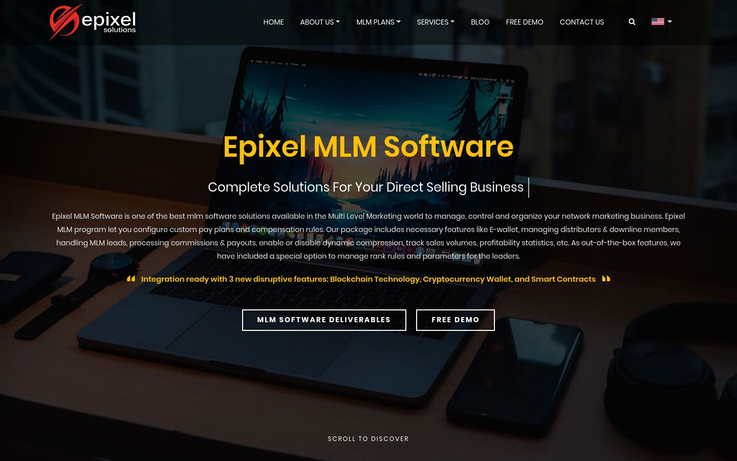 ---
Key Features:
Web-mobile-oriented software solutions specially developed for direct party sales like Avon or Tupperware parties.

Epixel offers you various management options like lead, order, shipping, inventory, etc.

Provides customized host parties solutions, administer consulting, incentive programs and process contracts.

Uses real-time Business Intelligence Tools (BI) to provide information with a simple user-friendly version.

The multi-level marketing software from Epixel can also be integrated with any electronic commerce system.
Pricing Plan –
For pricing plan, you need to contact the service vendor.
---
2. Ventaforce
Ventaforce is a dynamic and robust MLM software developed to grow business online.
It is software that addresses all of the concerns of a network marketing company, including payment processing, multi-language management of inventory, etc.
---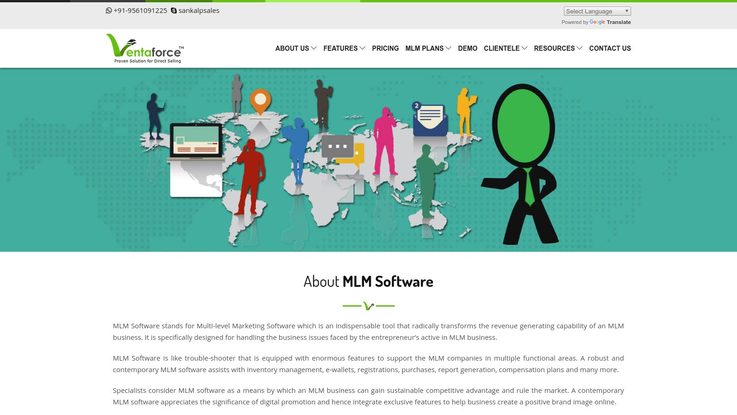 ---
Key Features:
Offers many impeccable features like tax management, commission management, report analysis, etc. for unique and unparalleled success.

Provides you multi-language and currency options that help you to spread your business globally.

It enables you to accept a large number of payments through cards, net banking, cash, DD, wallets, etc.

Compatible for combining business plans to personalize the options. All reports or data can be exported from the system to excel or printed in PDF format.

It allows you to store the data or information of your clients through the KYC data verification option.
Pricing Plan –
This service comes with a one-time starting price of $2200/user.
---
3. Pro MLM Software
Pro MLM offers the best MLM marketing software solutions for domestic and international clients by integrating the advanced and unique features, . The software integrated and delivered all sorts of MLM compensation plans such as binary MLM plan, forced MLM plan, Australian plan, party plan and many more. In addition, we also provide consulting and installation services, design services, customization services and data migration services.
---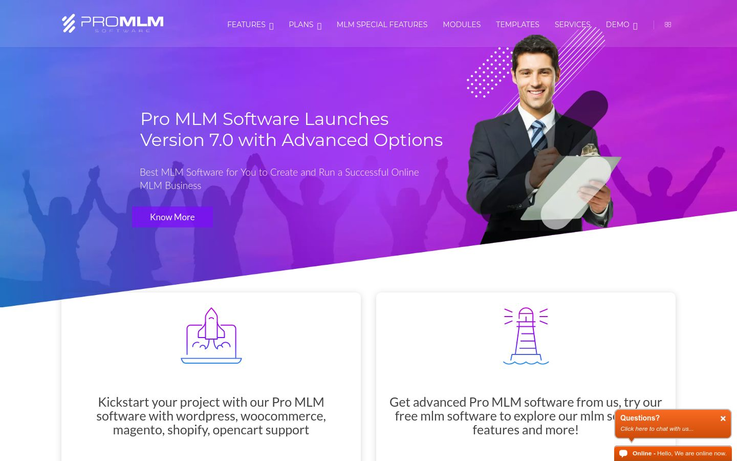 ---
Key Features:
Each registered user receives a replicated website that can be used as a downline recruiting tool with our Pro MLM software.

The product or service provider offers an online subscription option that allows customers to access products or services.

By using its card widget builder, users can change the card product design themselves without coding.

Supports 120+ payment gateways that give users the freedom to choose the right payment gateway.

Admin can create unlimited coupons through the software and allow stockists to sell eCoupons to others.

Integrated with Cheetah builder that allows you to create landing, replicated and lead capture pages.
Pricing Plan:
You need to contact to service vendor to get the pricing plan.
---
4. Lead MLM
This tool is a leading provider of MLM software solutions for MLM Business to make the networks work smoothly and to manage several knots through a highly organized downline network. Lead MLM has always been an ideal MLM software provider with efficient MLM Plans, which can be integrated to provide an effective optimization process which helps the company to increase its profit.
---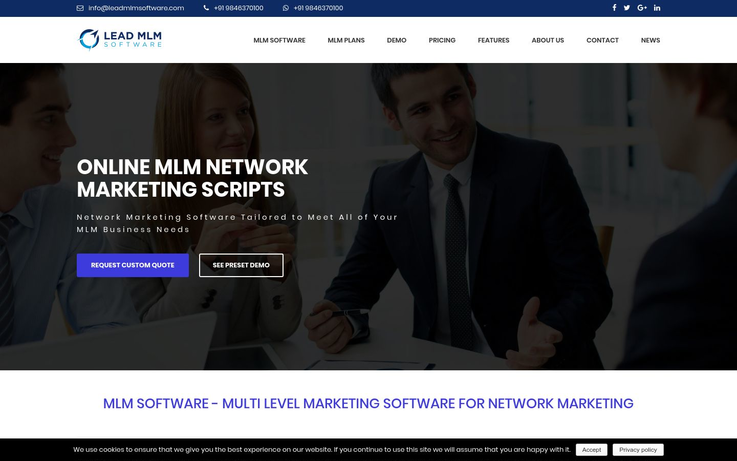 ---
Key Features:
It offers you has 10 different thematic colors for your software interface.

The promotional tool allows users to share their links on different social media sites to promote their business.

Admin can add new affiliates to the system so they can use your referral links and to earn rewards.

Its internal mail system plays an important role in transmitting and passing information through the MLM platform.

In Lead MLM software, users can send an application to withdraw their profits and admin has the option of releasing the amount throughout the MLM structure.
Pricing Plan:
The MLM software comes with a one-time pricing plan & it starts with a price tag of $650.
---
5. Infinite MLM
Infinite MLM Software provides a broad range of MLM Compensation Plans, Add-ons and customization to meet different businesses of various customers. The software can be integrated with Magento and Opencart to enable online transactions such as product purchases, repurchases, registration, product order, product deliveries and more.
---
---
Key Features:
Integrated with two most popular e-commerce websites i.e. Magento and Opencart that facilitate online transaction like product purchase, repurchase, registration, product order, etc.

Supports Genealogy Tree option that allows you to represent members in form of a tree as per their positions.

Software comes with an advantage of multi language and currency option that lets you expand your business worldwide.

Comprise with SMS integration that provides notifications to registered members for every payout, new membership, birthday recall of every user.

With E-pin you can make safe purchase of produvts and joining.

Export the reports in a variety of formats, such as Excel, PDF and CSV.
Pricing Plan:
This software comes with a one-time purchase plan of $950/user.
---
6. SecureMLM
Secure MLM Software is a fully-functional network marketing software with some unparalleled features used in MLM. It's business plans exist today like Binaria Plan, Unilevel Plan, Party Plan, Gift Plan, Matrix plan, MLM Board, Step Stair MLM Plan, etc.
---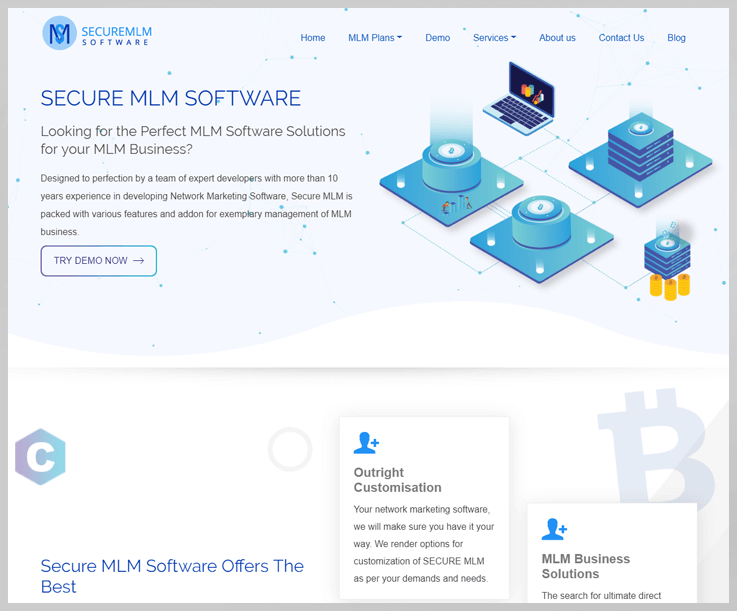 ---
Key Features:
Supports all e-commerce platforms and payment gateways like PayPal, Magneto, WooCommerce, etc.

It comes in the form of mobile app that helps you to manage direct selling business anytime, anywhere with a single touch.

Provide support to users with the help of ticket generating support system.

It also contains features to create pages like Autoresponder, Lead Capture,etc. to grow business.
Pricing Plan:
To enjoy the services of this software you need to contact the vendor through the website.
---
7. Exigo Nano
Exigo is an open source flexible MLM software platform that has developed into a complete turnkey solution requiring little or no technical expertise.
---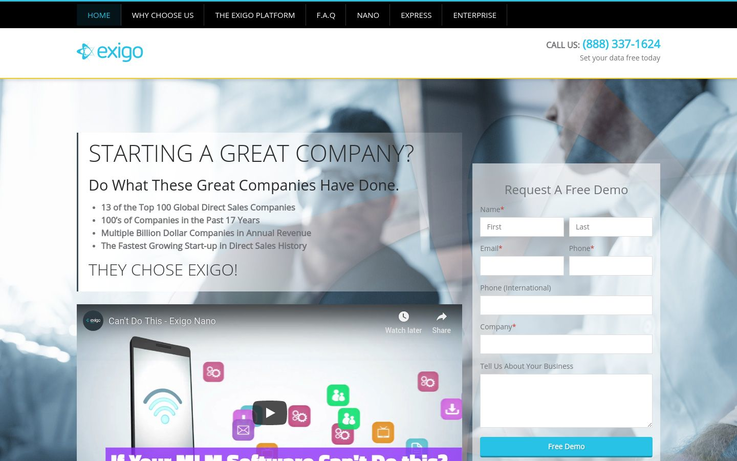 ---
Key Features:
Exigo offers you multiple management options like commission, distributor, inventory, etc.

Enables you to create point balances and customer subscription.

With custom reporting engine, you can create commission , qualification and may other reports.

Manage payout plan and structures.
Pricing Plan:
To know about pricing plan you need to contact to vendor of this software.
---
8. MLMVibes
MLM Vibes, the innovative software firm of MLM, focuses on providing its customized MLM software solutions that are technologically advanced in compliance with its MLM software requirements. MLM Vibes software can be integrated into the existing business easily.
---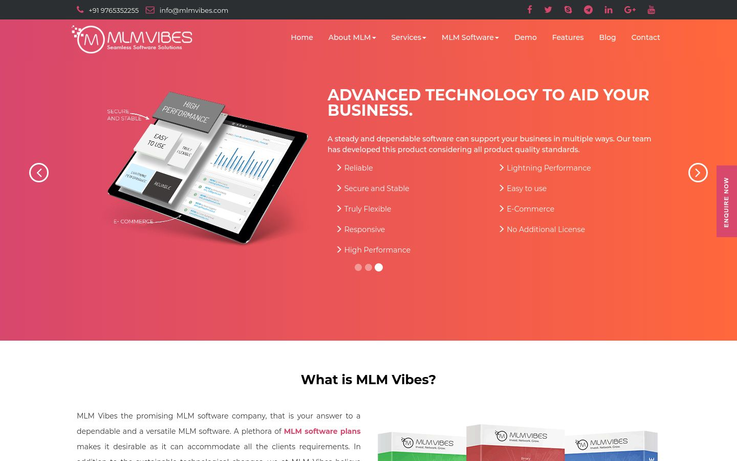 ---
Key Features:
Provides custom design option that allows you to customize as per your taste and requirements.

Offers you domain registration option to create a business website.

The software provides multiple payment options like net banking, wallet transfers, etc.

Analyse the behaviour of users & their activity with the support of Google Analytics.

Contains e-wallet options that makes your transactions & money storation process simple and secure.

The backup system helps you to restore software to the preceding stage without any data loss.
Pricing Plan:
To get the details of pricing plan of this software you need to contact through website.
---
9. S4DS
We offer a unique one-stop service software (SaaS) which enables customers to manage their e-commerce and all activities in direct selling processes. Direct sales companies achieve faster customer base growth in one country or many countries and minimize costs leading to stronger relations with sales.
---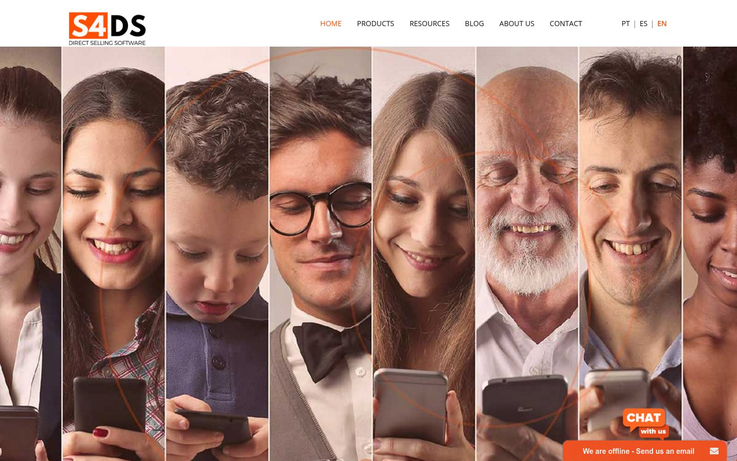 ---
Key Features:
Supports Amazon cloud which is one of the most popular content delivery network.

Manage your leads easily by using its lead management option.

Provides full coverage in all direct sales models including MLM, Bi Level, Party Plan, Catalog sales and e-commerce.

It has fully integrated CRM and social media integration options.
Pricing Plan:
It contains various packages but to know the pricing of all you need to contact the vendor.
---
10.
NetSoft
Netsoft offers highly advanced MLM software designed and developed exclusively for multi-level marketers and MLM companies. MLM software solutions enable you to monitor sales, products, delivery data, commissions, and more so that you can generate higher sales.
MLM Software is indeed a great solution for your MLM business with online mlm software.
NetSoft MLM is a highly secure with 2FA and 5S module provides simplicity, stability, security, speed and scalability.
---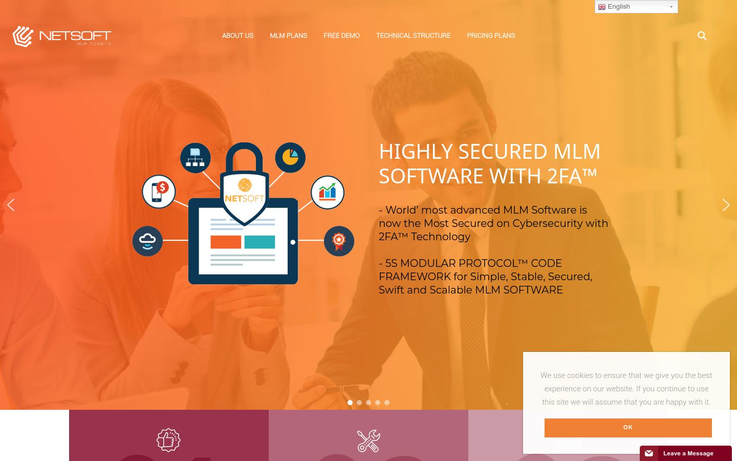 ---
Key Features:
Make your direct sale and MLM business available for your members via mobile APPS on iOS, android and Windows.

Supports purchasing options like PV (Purchase Volume) & GPV ( Group Purchase Volume).

Integrated with some advanced promotional tools like web messaging, e-mail campaign manager, etc.

For your business model this software supports 120+ payment gateway options & various types of cryptocurrencies.

Allows you to connect & promote your business on different social media platforms like Instagram, Facebook, etc.
Pricing Plan:
To know the price & experience the features of this software you need to contact the vendor.
---
Conclusion
In this article, we discuss best Multi-level marketing software of all time that help you to grow your business online. I hope we provide better information about all the services and it will help you to choose the best mlm software to grow business.