10 Best Absence Management Software 2022
Absence management is essential for companies of all sizes: it not only helps to automatically calculate leave times but also provides a clear overview of the availability of your team members. For this, companies are using different software for special absence management to track their employees leave. Let's, take a look at the most widely used tools and see the benefits they offer to their users.
| | | |
| --- | --- | --- |
| Service Name | Pricing | Unique Feature |
| Breathe | $12.94/Month | Effective Staff Sickness Monitoring |
| Absence.io | $1.69/user/month | Digital Absence Management |
| e-days | $1.94/user/month | Overtime & Toil Leave Tracker |
| Finclock | $4/user/month | Absence Notification |
| Bitrix24 | $69/month | News And Announcements |
The 10 Best Absence Management Software
1. Breathe Absence Management Software
Breathe helps you to manage your business employee absence effectively. The absenteeism of employees affects corporate productivity, costs your business money, and adversely affects employee morals. The absence management software from Breathe gives you control back. Enhance your understanding of the problems associated with absence and you will be more efficient in the business in no time.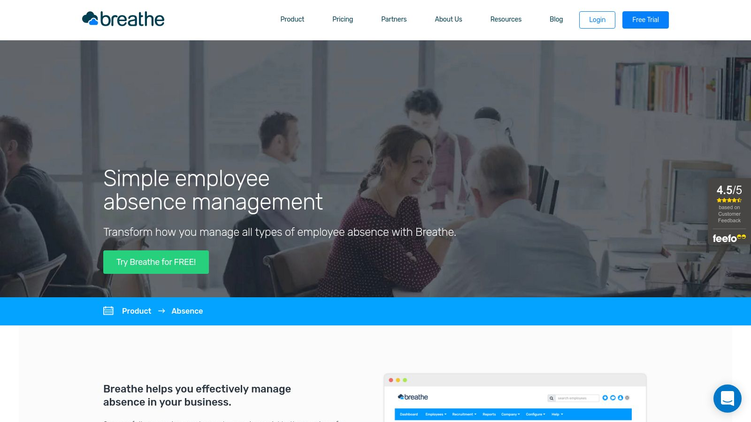 Data accuracy- Everything is precisely recorded in one place with absence management software. Better management of leave allowances and part-time employees can easily calculate their annual leave quotas.
Easy management of vacations- Employees can access and manage their own vacation planners ' requests. Managers can approve or refuse requests for leave, by simply clicking on a button. Managers can avoid clashes and cover key employees deficiencies effectively.
Impactful monitoring of employee sickness- Precise tracking lets you keep track of all personnel illnesses. The supporting data for each employee, like the Bradford Factor score, allows absences to be quickly uncovered.
Increased productivity- This software reduces management, decreases the risk of human error and provides effective information on absence in real time. Understanding sooner rather than later the reasons for absenteeism can solve any problems and maintain high productivity.
Provide your customers a simple and reasonably priced, with one set price for the entire company, without any hidden charges! The plan starts from $12.94 for 1 to 10 employees. It also offers a free trial of 14 days. (No Credit Card required)
This software allows you to customize your company's absences such as disease, home office, etc. The software enables users to tailor absences for their businesses. And it even supports policies on accommodation and holidays.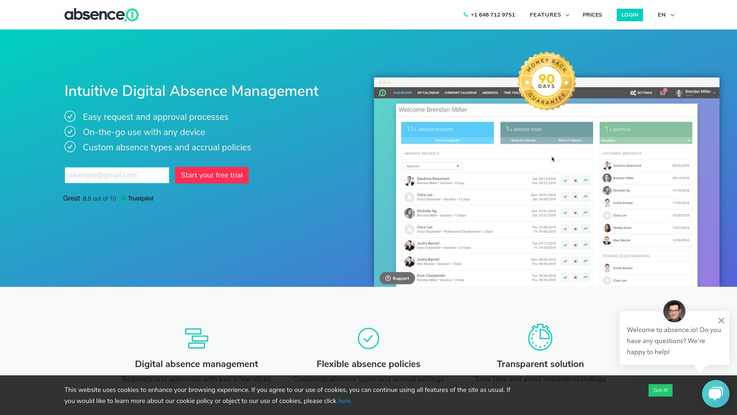 Absence management to suit your requirements- Everything is handled in just a few clicks in one software from the initial request to final approval. You can see all absentees at once in the Team Calendar and even look at the coming birthdays with the intuitive dashboard.
Absences can be handled easily for you and your staff- Employees can easily submit their requests with a quick drag-and-drop option to select the absence type and dates. Your manager receives your application through e-mail instantly and accepts (or declines) in just one click.
Save time and forget about errors- It saves time and eliminates misunderstandings, complex application forms, and approval procedures! You will have a clear overview at all times of all absences within your team, and your staff will know when their colleagues are away. 
Absence.io provides a 30-day free trial, no credit card is required. You can grab multiple plans at $1.69/user/month and get access to all the advanced features like tracking working hours & productivity, manage time entries, tracking over time, etc.
3. WorkForce Absence Compliance Tracker
The WorkForce is immensely configurable and can provide a real-time view of any number of sicknesses, vacations and other staffing hours. This allows staff, Managers, and HR to use the same reliable, up-to-date data.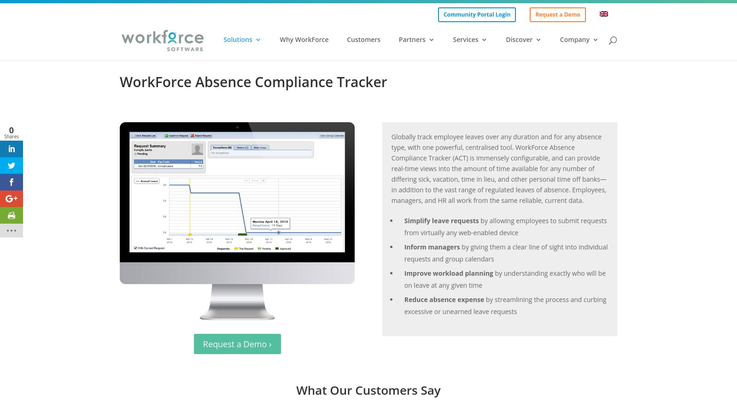 Centralize different time off types- It supports an unlimited number of vacation banks, with a variety of rules and terms. These banks may apply to various workers, accrual increases and accrual frequencies (e.g., week, pay period, or calendar year). This flexibility guarantees you a single, global management platform to automate leaves.
Reduce costs associated with the absence- An automated approach to manage leaves and absence will help to reduce fraud in the absence. When the employee's time off is shown clearly, there is little chance of taking more leave than is permitted. Curbing surplus leave can save a large employer substantially on labor. 
Enhance the staff experience- It provides employees with a highly graphic and guided time-out application experience. The immediate access to time-off bank balances helps them plan more confidently. This software also provides self-service functionality for employees to manage & view leave requests, leave balance sheets available and check work schedules with a web browser.
Staffing Forecast- Employees and managers are able to view future schedules, by predicting the amount of leave available for a future pay period. Any approved leaves and extra leave time which may extend to this point will be automatically included in the projections for the future periods. 
Contact the website owner for the pricing details.
e-days is a leading holiday planner and sickness tracker, making absence tracking easy from anywhere in the world for organizations.
All employees, managers, and administrators have access to the same user-friendly holiday management software, so they can more efficiently monitor leave rights and manage absence more efficiently.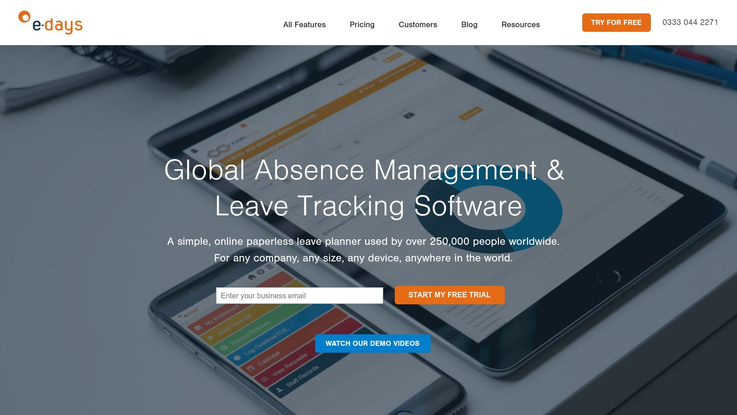 Automated absence reporting- You can use data and analytics for intelligent absence management. You can identify issues caused by absenteeism with data at your fingertips and recognize cost-saving opportunities for your business.
Employee directory and HR document storage- It is designed to reduce the headaches of valuable HR documentation. Use the power of e-day system for an efficient and responsive directory of employees.
Easy online staff vacation planner & reservation system- Annual leave software is easy to use for any company. With the online booking system, employees can quickly and easily submit requests for vacations. This data is then collected and forwarded to the respective authorizing officer for approval. This makes holiday approvals quick and easy.
Overtime & toil leave tracker- e-days allows your staff to monitor their overtime and add directly to the entitlement to their leave, allowing them to use this additional allowance as part of their regular reservation process.
The premium plan starting from $1.94/user/month for up to 50 employees.
Finclock is an excellent absence management system for enhancing employees productivity. It is used by managers and businessmen to save money and time. Finclock has become the best software for managing online absence which reduces wastage of time and improves employee performance.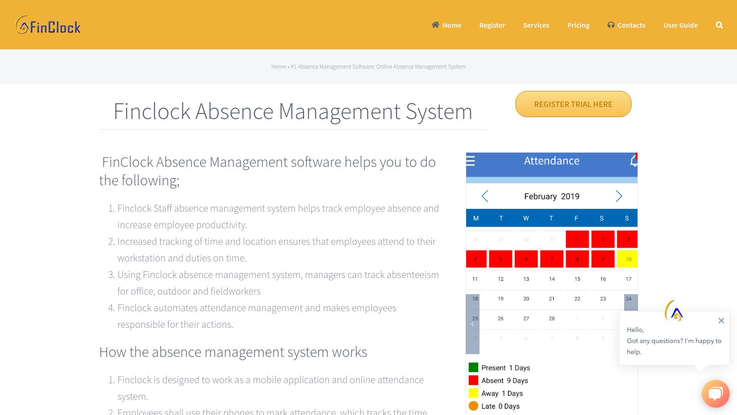 Reduce absenteeism with software absence- This software makes it possible to track the absence of employees for managers and business owners. This is accomplished by keeping reports of employees when they come to work. The system helps employees take charge of their work and reports to the management directly on their problems.
Reporting of absenteeism- Reporting absenteeism is allowed with a certain day of absence being requested by the employees. The managers can give their approval on the requests. The absenteeism reports show the manager why absenteeism is requested and the days when an employee is not at work.
Absence notification- Employee absence notifications are sent directly to managers when an employee does not visit their workplace. These warnings assist the manager in finding an employee replacement.
The finclock absence management software comes with three plans. The starting plan starts from $4/user/month for 1-50 employees.
6. Bitrix24
Within Bitrix24, there are a variety of handy options for free absence management programs. First, there is a company-wide absence chart that shows who's in and who's not, as well as the reason for the absence (annual leave, maternity leave, sick leave and so on). Second, with compulsory clock-in and clock-out, Bitrix24 can track attendance and tardiness.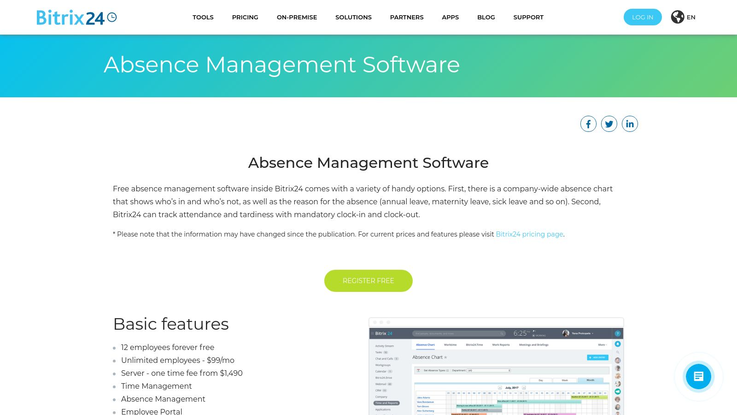 Time tracking- Bitrix24 assists you with flexible workday settings, minimum workday duration, late arrival / early leave alerts, work time reports, work time confirmation by the supervisor, efficiency reports.
Leave applications- Create workflows for custom leave application approval if immediate supervisors or other authorized employees give permission.
News and Announcements- In Bitrix24 it's one of the major functions is to inform and keep employees up to date on all company news. Indeed, the Bitrix24 social network of enterprises may be used for this purpose in many ways.
Bitrix24 provides a free option and three paid plans.
CRM+: For small businesses who want to sell more can buy this plan at $69/month.
Standard: For smaller companies requiring professional tasks and customer management can grab this plan at $99/month.
Professional: For companies of any size that require advanced project management, domestic communications and tools for sale automation can get this at $199/month.
7. LeavePlanner
LeavePlanner is an economical online tool that saves time to alleviate the lack of management. With this complete absence management solution, booking time off, approval of leave for staff and the monitoring of various forms of absence could not be easier.
It is packed with many essential features to save time. It provides the appropriate & individual tasks to managers, employees, and admin to manage the whole system properly. Let's have a look: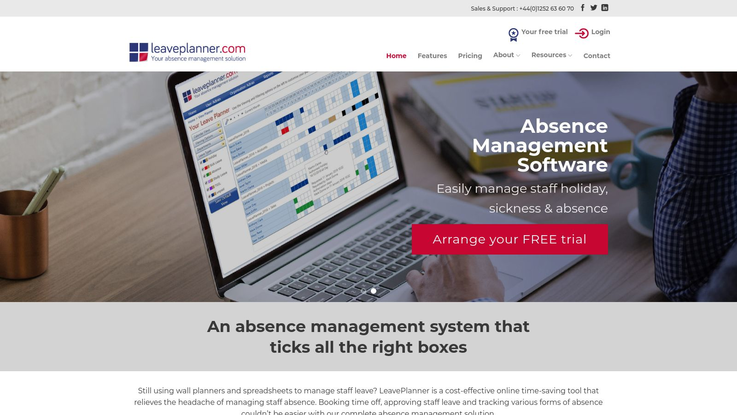 For employees- They can update their details, allocate authorizers to each department or leave type, apply international settings for differing public holidays, define company absence, allowances and limits & many more.
For managers- They have the access to view leave requests for every employee, submit leave requests on behalf of other employees, view reports based on real-time absence data, approve or disapprove leave requests.
For administrators- They can manage various tasks such as allow automatic carry-over of unused leave, add leave blackout periods, set staff leaves limits to maintain staff levels, etc.
The software can be hosted by Enterprise Edition or accessible through the internet via the most popular option Web Edition.
Web edition

: It has multiple plans and the basic plan starts from $23.3/user/month for 1 to 20 employees.
Enterprise edition: The plan starts from $1,632.15 for up to 50 employees.
Note:  All quoted prices are GBP and exclude UK VAT.
Personnel absenteeism is responsible for staffing gaps in all organizations, which have a significant effect on productivity. You can help combat some of these perils with the aid of time and attendance software.
Knowing the true nature of these problems is central to the management of absences. You can better understand and deal with these problems through a strong absence management software.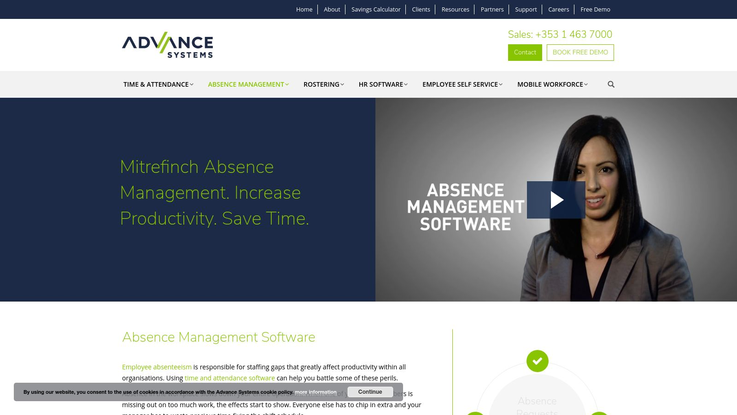 Profiling of absence- Absence categories may be analyzed in proportions. Trends of absence can be monitored easily.
Self-service module- The self-service module of Mitrefinch allows employees to view this information with just a few clicks. The employee is able to view the opening balance, the number of days scheduled & taken and his leave balance.
Absence requests system- It makes time off requests easier than ever. Employees use the self-service module easily to request absences. Supervisors or managers, who approve or refuse these requests, are automatically sent by e-mail.
Contact the website owner to get the pricing details.
My HR toolkit holidays and lack-planing tools inform managers about vacation, sick days and other types of staff leaves. Managers can determine trends and plan workloads for the future with reports and diagrams. Automatic factor calculation from Bradford helps to understand the least predictable type of sick leave.
The tool calculates holiday rights for new workers, full-time and part-time personnel automatically. It also provides for an easier leave confirmation request approval procedure. Therefore the solution helps, as its name suggests, not only HR managers but also team leaders and project managers.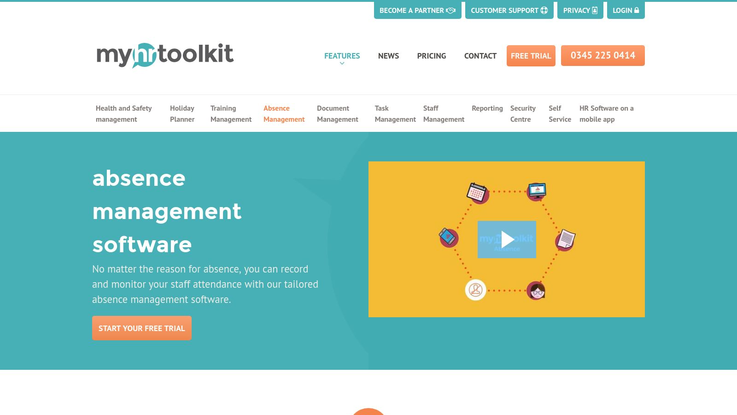 Automatic calculations of the Bradford Factor to flag individual disease patterns.

Contract and statutory sick pay date record and calculate for payroll.

Managers can register a return to work or employees can register via self-service.

View all attendance data, including holidays, disease and training together.

Managers may be appointed to problems through live absence triggers.
All you need to pay is a monthly fee based on the number of employees in your human resources system. No registration fee, setup or access to My HR Toolkit is available. And the basic plan starts from $ 19.41 onwards.
10. AbsenceList
AbsenceList is a cloud-based tool for all size enterprises and organizations. It is the easiest way to efficiently manage the absence of employees. You can create an account easily by sending an invitation to your staff and asking them to send requests when they are absent.
You can see if your staff or colleagues are in the office and if they're going to go for summer, Easter, Christmas or any other holiday.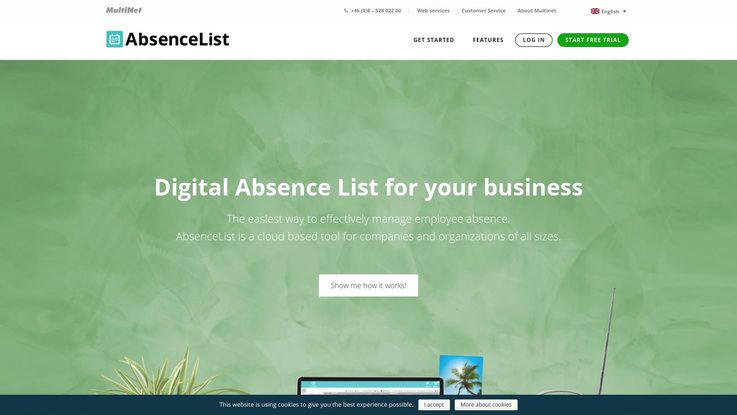 Features-
Wonderful overview- You can check whether your employees are on holiday or at work.
Temp workers- Register temp workers, you know when they should be on site and where they should be.
Reminder- Remind your staff to send requests in their absence.
Pricing Details:
AbsenceList offers you a free trial for the first month after that you only have to pay $1.12/user/month.
Final words:
For a successful team and work management, it is crucial to select the right solution to monitor leave times in a company. So make sure your specific requirements are carefully considered and you choose software that best suits your business needs.
You May Also Like To Read:-