5 Best Clearbit Alternatives | Find The Best One?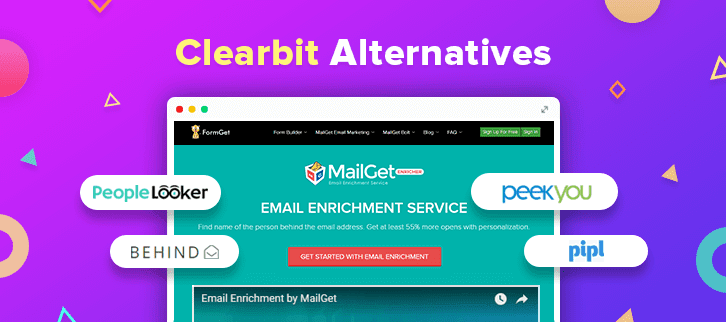 We talk about alternatives when there is a better option that serves the same purpose. For email enrichment, there are few competitors that have an edge over Clearbit.
There are many email enrichment tools in the market that are better than Clearbit because they are:
More accurate: they dig into multiple web platforms to fetch information about leads.
Have wider information range: you only need to provide name, address, and phone number to these search engines to get full background details.
Reliable data: these software will grab user details from the most trusted online sources only.
Many people across the globe seek alternatives to Clearbit.  That's why we have compiled 5 best Clearbit alternatives.
To summarize, here's a, table below which shows various alternatives of Clearbit, their pricing, and features.
Information for people with the same name does not get mixed up as the tools use a "unique algorithm" to distinguish details.
You can get criminal records for contacts from real law enforcement agencies for a deeper insight into leads.
Please read the post below, compare each software with Clearbit and then choose the best one according to your needs
The following articles may be useful as you choose a Clearbit alternative:
---
With the world's largest search engine for people, you can get insight into leads and fetch important details in one place.
Corporate giants like Microsoft, eBay, Twitter, BBC, IBM, Deloitte and many more have used this tool to find, verify and enhance the customers' profiles as it has  up to 20 billion records.
You can collect lead details with whatever information you have: email addresses, phone numbers, addresses or social media account information.
Pipl allows you to get elaborate demographic information (statistical report based on age, education level, income level, marital status, occupation, religion, birth rate, death rate, the average size of a family).

Pricing
Contact Plan: The cost is $0.05/match along with basic details like name, gender, age, address, and landline (for instance, bill to enrich 1,000 leads will be $0.05 * 1000 = $50 ).
Social Plan: This will cost you $0.10/match and you can have additional information like username, associates, images, social profile URLs etc. (example, pay $0.10 * 1000 = $100 for 1,000 email leads)
Business Plan: With this billing plan, you'll pay $0.20/match and get additional information about career, education, email address, mobile phone and a lot more (let's say if you want to get 1000 records details, you need to pay $0.20 * 1,000 = $200 )
Features
Pipl provides API for your application so you can have an enriched list in your website without relying on the software every time. You can get user information in real time by uploading email lists into your system.
Bulk search can be for 100,000 users at once. Details are used to create a distinguished profile for every user.
If you are not ready to get started with the software, you can use the live demo option to see how it works.
---
The free-to-use software fetches all public web content available in a short time. It's an excellent people search engine and is ranked among top-500 sites in the US.
PeekYou has got 3 alternatives for you to begin your search. You can provide a person's name, username or phone number.
PeekYou provides approximately 10 million monthly searches to users so that they can get in touch with their long-lost contacts.

Pricing
To know about the price plans for PeekYou, contact the sales department.
Features
The software analyzes content from 60+ social sites, various news sources, website homepages and blog platforms to find information.
It combines details collected across various platforms like Twitter, Facebook, YouTube, LinkedIn etc. into one comprehensive record.
PeekYou uses a "unique identifiers" algorithm to match public social profiles, blogs, URLs, etc. so that a unique and accurate result is generated even for people with the same names.
---
This email enrichment software lets you find details of US-based leads through 4 ways: people (via name), phone, email, and property (current/past address) search.
You may find multiple entries with the same name; to find the correct person, you can refer to a relative's details. This helps to resolve ambiguity, which is not always possible by altering the name spelling or address.
You can also narrow down your search by providing middle name, city/state or approximate current age to refine a search.

Pricing
The pricing scheme for this software is based on the subscription you choose.
1-month membership at $18.28/month: You get unlimited email, phone lookups, criminal records etc.
3 months membership at $43.86/month: This pricing scheme will give you faster searching with unlimited background reports, contact information, email, phone and address look-ups, and many other features.
Features
The software notifies you via email about any phone number or address updates. It also informs you about new social media profile creation or any crime committed by the user. This keeps the database up-to-date.
The overall background reports contain information from multiple trusted sources that include bankruptcy records, career history, social media profiles and blogs from Pinterest, Vimeo, Twitter, LinkedIn, Google+, current address with a map and satellite imagery etc.
This tool has a reverse phone number lookup feature. You can track an unknown person's details, like name and location.
BeenVerfied is one of the most popular Clearbit alternatives. It's been used by more than 1 million people. With this tool, you don't have to Google or go to the courthouse every time you need to find out more information about a lead. Simply type in their name, phone number address or email address, and you will learn everything there is to know about them.
All data gathered with BeenVerified is credible and reliable. The software relies on dozens of data sources to bring you as much information as possible.
While it was originally engineered for businesses, today people use BeenVerified to find family members, learn more about prospects on online dating sites and find out information about new contacts.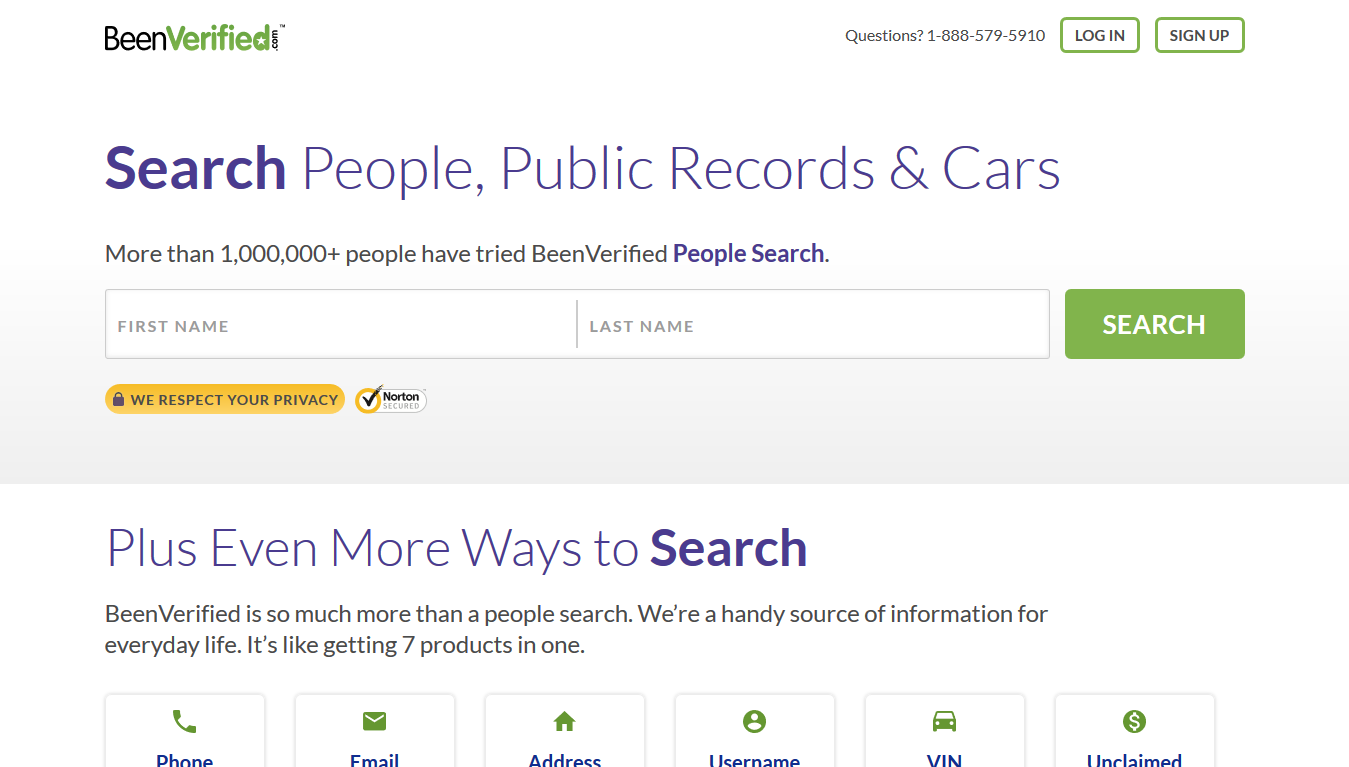 Pricing
You can buy the 1-month membership for $26.89/month. It includes unlimited background reports, unlimited contact information, unlimited phone, email and address lookups and you can access criminal records.
The 3-month membership costs $17.48/month. This one includes all the things you get in the 1-month membership but is about 30% cheaper.
Features
BeenVerified makes searching through public records easier. While other background information services require you to visit several sites to get comprehensive information, BeenVerified is a one-stop-shop where you can get everything you need.
The reports you get from this software are easy to understand; it doesn't present you with unnecessary legalese, and where it's present there are explanations to guide you.
Its price makes it perfect for businesses of all sizes. For less than $30/month you can gather lots of information about leads so that you can create a targeted email list.
---
This enrichment tool requires only an email address to collect all possible details at lightning fast speed. The software offers an all-round profile of the person with 25+ types of details.
For instance, it provides personal details like name, age, gender, photo, and professional details like company's name, job profile, account in social networks like LinkedIn, Facebook, Twitter, Google+, Flickr, YouTube etc.
The software lets you enrich your email list at the lowest price today: 2 cents/email, which cannot be compared to any other service.

Pricing
Starter Plan: This plan provides information for up to 200 leads via emails at $4/month. You can get name, age, gender, occupation, etc.
Rookie Plan: You can obtain data for 1,000 leads for $19/month. The data can be about social media platforms, current location, profile image link, etc.
Pro Plan: At $99/month, you can get an enriched list for 5,000 leads and can look into their bio, followers, following, etc.
Advance Plan: To retrieve information for 10,000 to 1,000,000 leads you pay between $175 and $9999.
Features
This enrichment tool gathers data from multiple, trusted online sources. The information you get is accurate & verified.
You can upload the emails in bulk (in CSV and Excel spreadsheets) and the tool delivers an enriched list in your email. You are able to download the details and start having personalized connections to turn those leads into customers. As easy as ABC.
You are able to check whether the email addresses have the '404 error' or the '200 valid' status.
1200+ companies (and still counting) like Cisco, Harvard & Massachusetts Institute of Technology, Iskcon, Avaya have given positive reviews to MailGet Enricher for having great customer insight for better personalization.
---
Conclusion
I hope this article will help you find a suitable replacement for the Clearbit enrichment tool. The above-discussed software is tried and tested and works very well.
You'll get more accurate lead details in no time, and the data fetched is reliable as it is taken from trusted web sources. Better yet, you can retrieve a large variety of details about your leads.
You can now choose a Clearbit alternative according to your needs and create an enriched email list with ease.
Contact us with questions and/or suggestions.