10 Best DVD Burning Software 2022
DVDs are fairly popular even in this age of digital formats, mainly because they can be used for a number of purposes very easily. Also, it is a portable disc for data copy and backup at home which also offer excellent audio and visual quality. 
However, you can not store data on the DVD just by copy/paste. You need to burn the data on the DVD using some suitable DVD burning tool.
Now, the real question is which is the best suitable tool for burning data on the DVD?
In the early days, it was too easy to burn data to disk using the ' Windows DVD Maker' from your PCs. Unfortunately, Windows doesn't support this option anymore. Since technology has upgraded, there are too many software available in the market to perform this task for you.
Out of the myriad of DVD burning software, you can select the one that suits your PC, supported video formats and compatibility with the OS versions and several other requirements.
Here, we are presenting you the 10 Best DVD Burning Software 2022 available in the market right now which will help you to figure out the best one for you. 
Top DVD Burning Software Comparison
Service Name 
Pricing

Supports

Menu

Audio Editing

Tools

Fast Buring

Speed

Zero Audio

Quality Loss

Nero Burning ROM
$44.95
✔
✖
✖
✔
DVD MovieFactory Pro 7
$54.99
✔
✔
✔
✔
Roxio Easy CD & DVD Burning
$29.99
✔
✔
✔
✔
VEGAS DVD Architect

$99.99

✔
✔
✔
✔
UniConverter by Wondershare
$29.95
✔
✔
✔
✔
Following are the services which we are going to discuss here:
let's begin
---
Nero offers platinum and standard suites with the Nero Burning ROM as one of the software. However, you can use the most basic Nero software by the same name to burn, rip, copy and protect DVDs. While Nero Burning ROM performs all the basic functions of a DVD burning software, there are a few additional features that make it very attractive.
---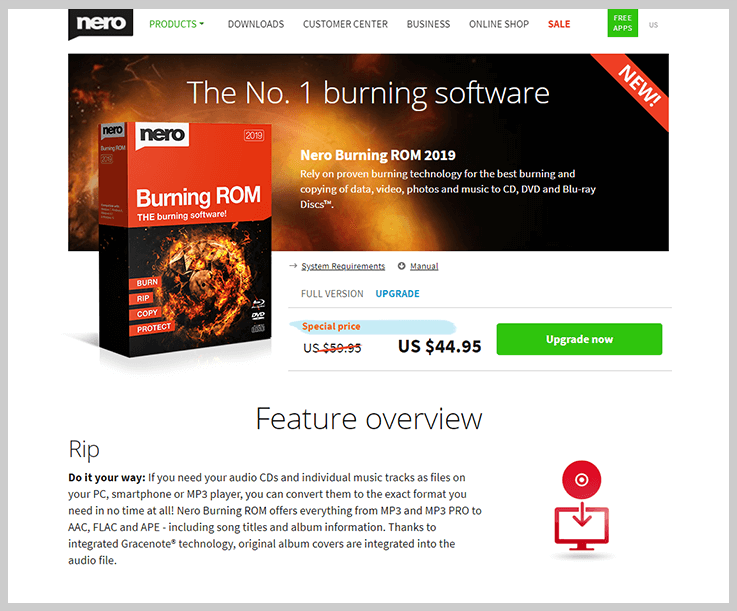 ---
Key Features Of Nero Burning ROM:
It uses SecurDisc 4.0 to ensure data security and make it a reliable product.

You can password protect your disc to restrict access to the data archive. The encryption level can be either top secret (256-bit), secret (128-bit) or none.

It supports all kinds of media, discs, audio formats, codecs and playlist formats. This enables users to enjoy flexibility with the kind of data they would like to burn, rip or copy with sound and video quality intact.

Nero Burning ROM's latest version comes with Gracenote® technology that integrates original cover arts with the audio file.

You can also use it to create ISO images.

Another feature of this software is the CoverDesigner. You can use it to design the disc cover and thus make it visually appealing.
System Requirements:
It is available only for the Windows operating systems. This software does require a good processor (Intel or 2.4 GHz AMD) and at least 1 GB of RAM to operate. Software installation expected to take up 500MB of hard drive space.
Pricing:
For the full version, you just need to pay  $44.95.
---
DVD MovieFactory Pro 7 is a product by Corel. It is truly a professional software that can be used for both home and business. 
---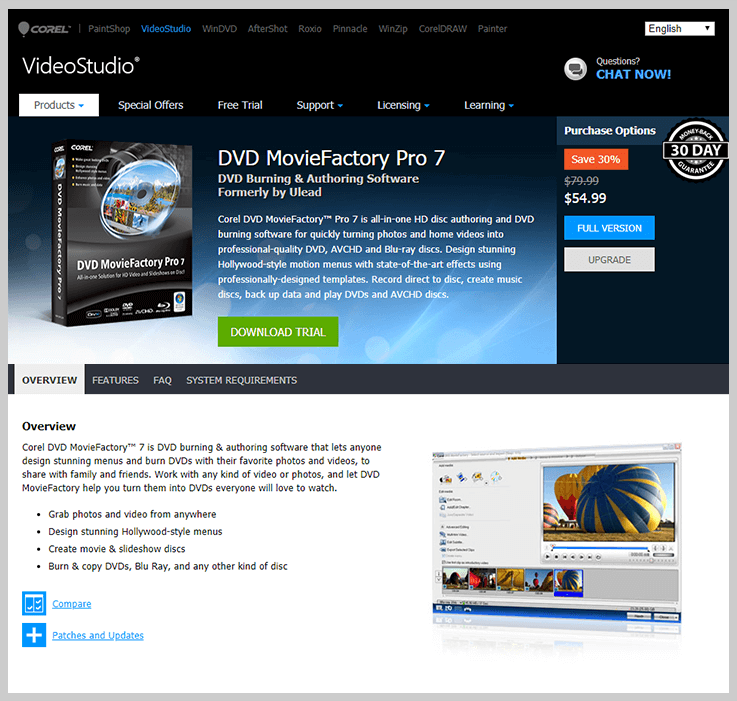 ---
Key Features Of DVD MovieFactory Pro 7:
It offers stunning menu templates which can be used to author the disc as per your liking.

The software supports multiple file formats.

One of its outstanding features is the ability to create HD slideshows and edit high definition videos. You don't need a high-power machine to perform these tasks and the software functions smoothly even on an average machine.

The launcher is simple and can be expanded for a bigger preview of your work.

You can add effects to your audio or video content. The output quality is superior to the original content.

Intuitive navigation makes it nothing less than a professional software.

Basic features of the product include video trimming, advert removal, and photo enhancement.

It comes with a desktop widget which can be used to drop files to the DVD for quick burning.
System Requirements:
DVD MovieFactory Pro 7 requires at least 1 GB of RAM and also supports older OS like Windows Vista and XP. The software installation consumes around 30 GB of hard disk storage.
Pricing:
DVD MovieFactory Pro 7 is priced at $29.99 for an upgrade from the previous versions and $54.99 for the full version. It also provides a 30-day money back guarantee.
---
Another great DVD burning software in the market is Roxio's Easy CD & DVD Burning. It is ideal for both individual customers and businesses. You can purchase this software online either directly from their website, or through retailers and e-tailers.
---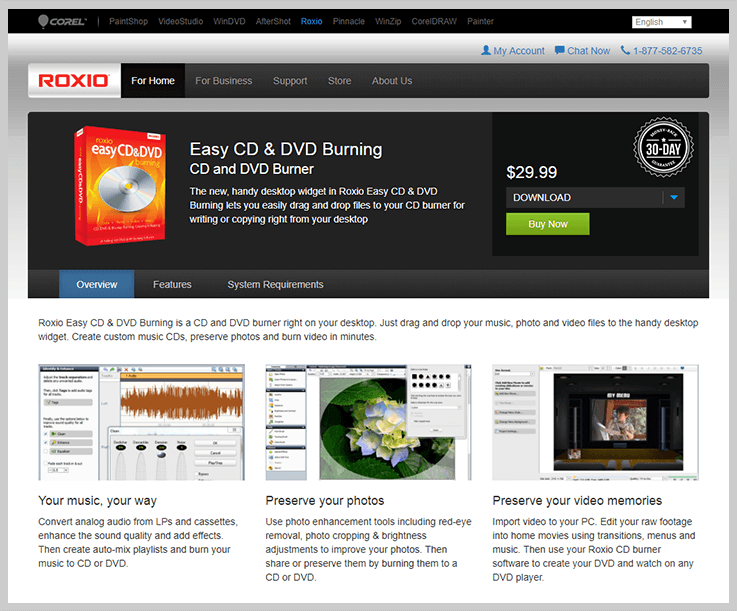 ---
Key Features Of Roxio Easy CD & DVD Burning:
A desktop widget which can be used to easily drag and drop files to your DVD.

You can create music discs with enhanced audio quality and additional effects, you can also edit and store pictures in albums or create slideshows.

Professional level video editing is possible with the software and you can quickly burn your DVD with the edited content.
System Requirements:
It works on Windows operating systems and requires at least 256 MB RAM. The processor performance should be 1.6 GHz Intel Pentium 4 or better. Also, it takes up 1 GB of hard disk space and requires 1 GB of free hard disk for video capture of 5 minutes. The system should also have compatible sound, graphics (DirectX 9 or higher) and 16-bit or better color graphics card.
Pricing
:
Roxio is priced competitively at $29.99 for download. If you are not satisfied with the product you can claim money-back within 30 days of purchase.
---
DVD Architect by VEGAS is a highly professional DVD burning software. It is unique because it takes care of almost every authoring need you can have through its functions.
---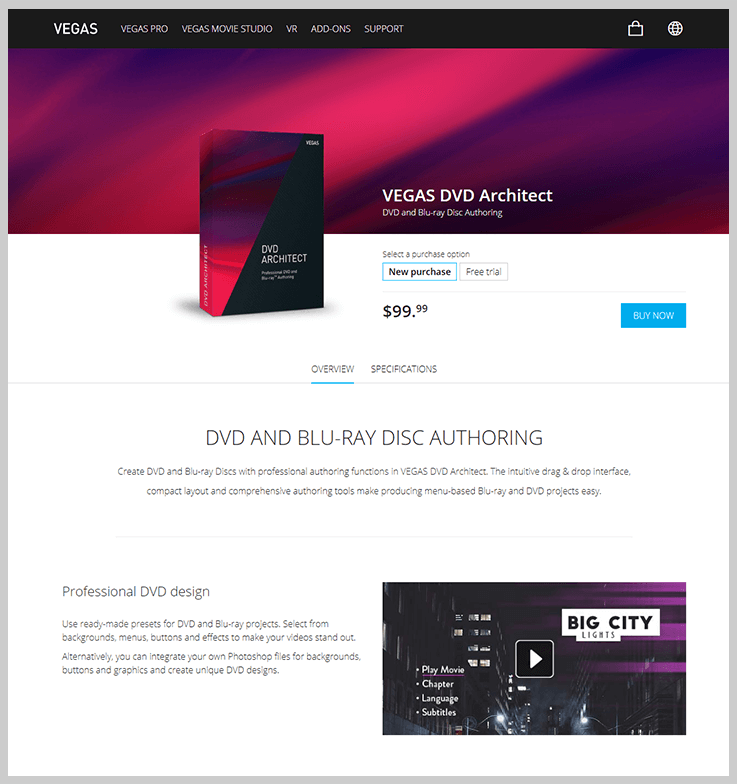 ---
Key Features Of VEGAS DVD Architect:
The interface design is aesthetic and compact. It allows simple drag and drops for files.

You need to follow a few steps to create a menu for your DVD from a selection of HD templates.

Also, You can customize the video script to create variations of your content.

A feature called keyframes allows you to animate graphics on the DVD.

There are a number of presets for DVDs which can be used to directly import the backgrounds and buttons for your project.

You can create a design of your choice by integrating Photoshop images.

It comes with a virtual remote control which can be used to preview your project on a simulated TV screen. This can save you from the hassle of burning an entire DVD for changes.

The underlying burn technology is IMAPI or the Image Mastering API by Microsoft, thus, you get reliable driver upgrades and support, if and when required.

You can also implement a parental control to limit children's access to only age-appropriate content

With VEGAS Pro Chapter Marker you can export captions as a text file and then import it to the DVD Architect as subtitles. It supports a variety of formats.
System Requirements:
VEGAS works on only Windows OS, requires 2 GHz processor, at least 4 GB RAM and up to 1 GB of free hard disk storage. It is recommended to register your product on the website after purchase.  
Pricing
:
This long list of features comes for a price which could be heavier on your pocket compared to any other software. You can take a free trial of the software or purchase the full version for $99.99.
---
BurnAware comes in three editions. This flexibility ensures there is something in store for everyone, either a home user, an individual professional or even a business. It is a very basic software and ideal for anyone who is not looking for any fancy features.
---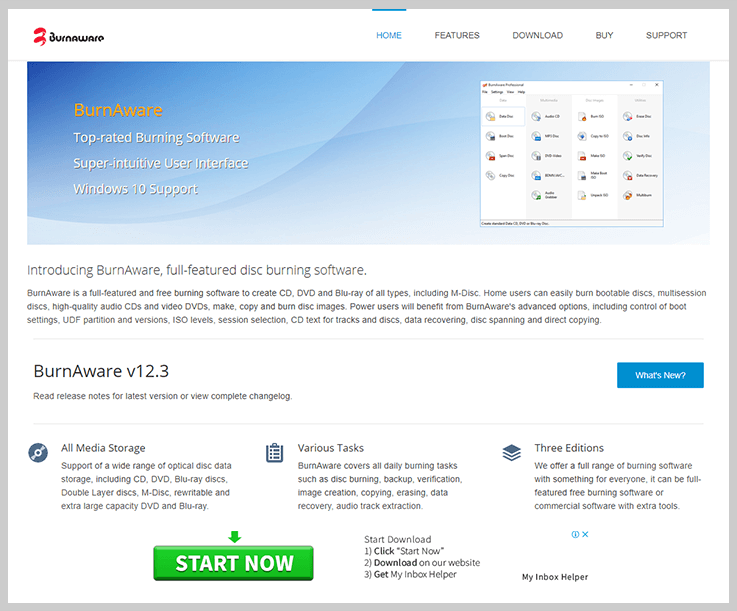 ---
Key Features Of BurnAware:
The free version comes with basic functions like burning, erase, copy and backup.

It can also be used to recover data or extract audio tracks.

Advanced functions offered by BurnAware include the setting of ISO level restriction, BOOT requirements, data verification, etc.

The effective and easy to navigate user interface makes it an ideal choice for home users.
System Requirements:
This software works smoothly on average machines as well. It supports Windows 10 as well as the older versions of the operating system. It requires 600 MHz Pentium processor or anything faster, 20 MB of free hard disk storage for installation and 128 MB of RAM.
Pricing:
BurnAware Premium is priced at $19.95 and is suitable for personal use, lifetime license can be purchased for another $69.95. BurnAware Professional is ideal for commercial usage at $39.95 and a lifetime license for another $119.95. If you don't wish to purchase the lifetime license you can still avail 1 year of upgrades for no additional cost.
---
Mac users can finally take a sigh of relief when it comes to burning DVDs and use this product by Wondershare which comes with a comprehensive toolkit. It is suitable not just for burning DVDs but in fact for all your video needs. Nevertheless, UniConverter is supported on a Windows system as well. This makes it a powerful tool with a plethora of features.
---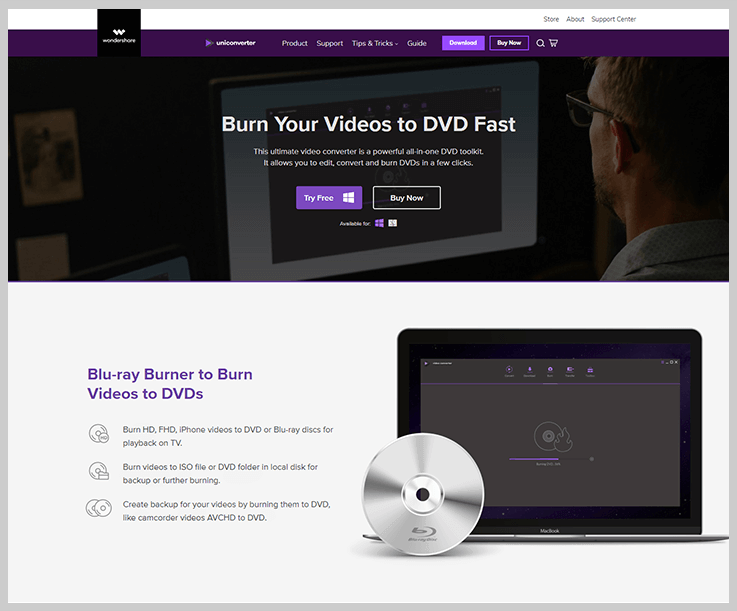 ---
Key Features Of UniConverter by Wondershare:
It is an ideal choice especially if you are looking for a solution that offers video editing features like trimming clips, sound/video enhancements, adding subtitles, etc. along with DVD burning in almost every format

There are a hundred menu templates you can choose from to create a unique and custom DVD.

You can also create chapters of your content in different themes which are pre-loaded and can be customized.

It makes creating slideshows with music and pictures easy.

This software supports every prominent format. Unsupported file formats are automatically converted before data is transferred to your device which could be a Mac, Android, or Flash drive.
System Requirements:
It works on all Mac (iOS Sierra, iOS High Sierra, iOS Mojave) and Windows systems (XP, Vista, Windows 7, 10).
Pricing:
Wondershare UniConverter offers a lot of flexibility when it comes to pricing. The product has free lifetime updates and has three license plans on offer:
The individual plan is for personal use and can be bought based on the number of devices you would want to connect and the license tenure. E.g. the 1-year subscription works on one device for $29.95, while the lifetime license is priced at $49.95.
A family with 2-5 devices can avail the multi-user lifetime license for $108.00.
Commercial users can either create a custom plan or avail the single-user 1-year, single-user lifetime or multi-user license for $59.95, $79.95 and $138.0 respectively.

As a unique offering, Wondershare has student and educator plans as well and you can reach out to them for more details.
These figures are for Mac owners and Windows users can avail these subscriptions for a lower price.
---
TrueBurner is the most basic DVD burning software that you can use. It has a simple interface and is ideal for those who are just starting out in the field and are not looking for any additional features.
---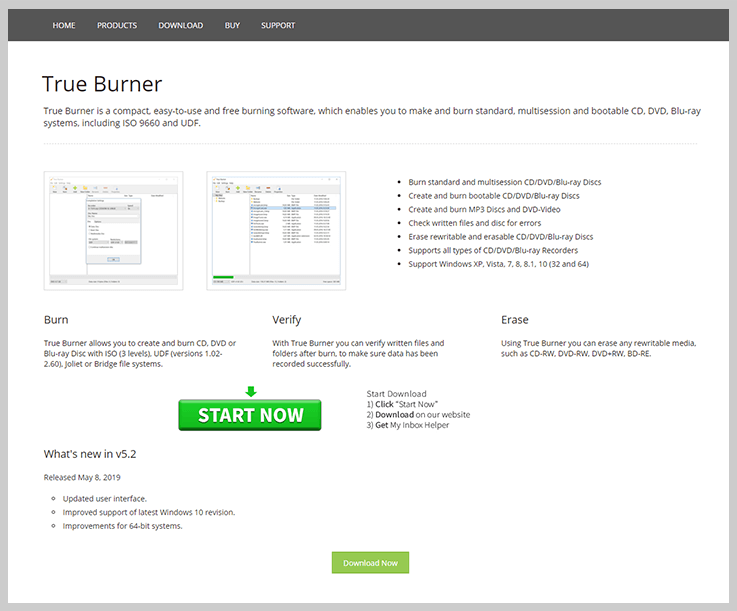 ---
Key Features Of TrueBurner:
The basic functions offered by TrueBurner cover burning, erasing and verifying.

Use it to create DVDs with three levels of ISO, the latest UDF versions and the Bridge system.

You can also use it to erase re-writable discs (DVD-RW and DVD+RW).
System Requirements:
It is an extremely lightweight software and works on the Windows operating systems (XP and higher).
Pricing:
TrueBurner's DVD burning software is free as long as it is for home usage. The professional version has a fixed price of $19.95 for a single-user license.
---
Wondershare DVD Creator has two software in this list. While the UniConverter is recommended for advanced users looking for a complete video toolkit, the DVD Creator is ideal to meet all your DVD needs. It also works on the Mac OS. 
---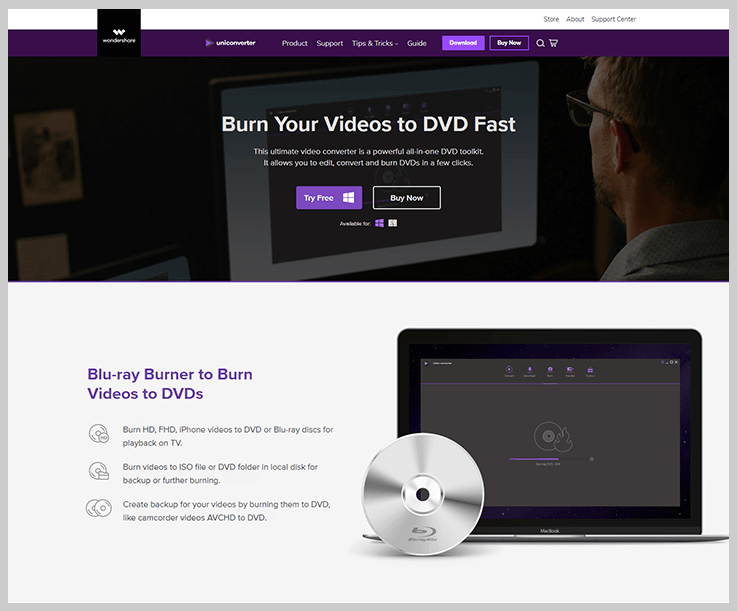 ---
Key Features Of Wondershare DVD Creator:
This software allows you to customize a menu for the DVD with stored templates and create slideshows based on your content.

It supports all popular formats.

The intuitive interface allows you to create DVDs with just one click.

You can also store all your work in progress data in a project file to burn a particular DVD and resume work on another piece of editing.

The in-built video editor makes the task easier by providing features like watermarks, trim, enhance and subtitles.

You can also automatically or manually create chapters for your video.
System Requirements:
It works on all Mac (iOS Sierra, iOS High Sierra, iOS Mojave) and Windows systems (XP, Vista, Windows 7, 10).
Pricing:
For the single-use, pay $49.95 for the one-year subscription for Mac. Lifetime subscription for single usage at $59.95 is the most popular plan. If you wish to install it on 2-5 devices for a lifetime license, go for the multi-user plan priced at $132.95.
Windows users can avail all three plans at a cheaper rate, $39.95, $55.95 and $89.95 respectively.
The company offers a 30-day money back guarantee and 24×6 email support and live chat. Feel free to visit the website for a quick look at the menu themes available with the software.
---
If you are not willing to shell out any money for a good DVD burning software, CDBurnerXP could be the ideal choice for you. It is an award-winning product with a lot of positive feedback from the users. This was featured on Pandia, has a 5-star rating from 'I love free software', is recommended by experts at instalki, has been reviewed by Softmonk, and declared 100% safe by winportal among several other reviewers. It is pretty basic, yet, there are a few powerful features that you can avail.
---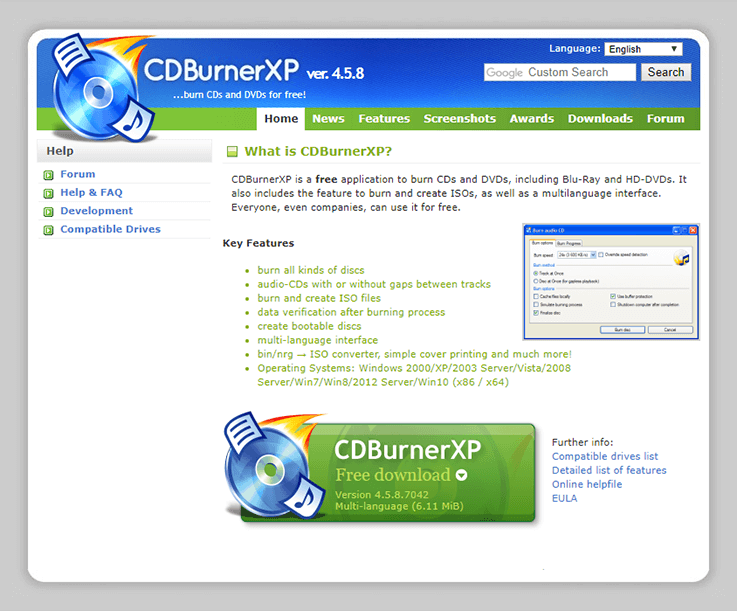 ---
Key Features Of CDBurnerXP:
It offers multi-lingual support on its interface. Hence, you can use it for both home and commercial needs.

This allows you to spread data into multiple discs also known as spanning, burn data in different formats, create backup and bootable discs.

The software can automatically verify data post burn.

You can also use it to quickly erase the disc, retrieve information and edit the DVD file structure.

It doesn't come with adware or any equivalent malware.

Also, you can recover your data through the ISOBuster application in case it doesn't appear on the disc after burning.
System Requirements:
It works on the Windows system (both 32-bit and 64-bit versions are available). If you wish to burn more than 4 GB of data on the disc, make sure you do it with the UDF file system.
Pricing
:
This probably is the best part of this software, it is free!
---
Built specifically for Mac owners, you can use this software for DVD burning without any compatibility issues. It is a classy software which comes with a plethora of amazing features.
---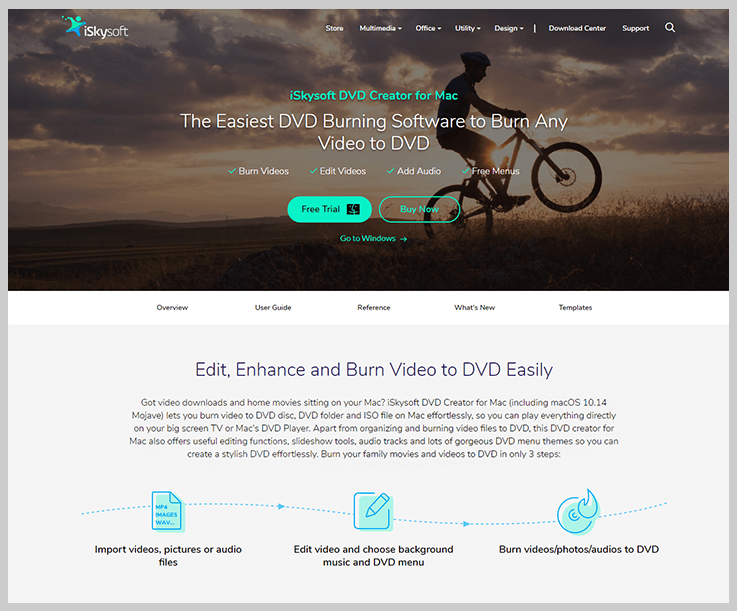 ---
Key Features Of iSkysoft DVD Creator:
You can edit and burn videos, create audio discs.

Use it to create dynamic and appealing free menu templates for your project.

It offers a number of advanced features as part of the package like slideshow creator, video editor, menu themes customizer, etc.

This handy tool has a video editor which allows you to trim the video, enhance the brightness, saturation, etc., and also add watermarks.

It lets you add subtitles and set sound durations as per your liking.

This software supports all popular formats and you can also burn your DVD by converting a web video.

It can be used to burn any content that has been created on the iPhone or iPad.
System Requirements:
It can run smoothly on all versions of the Mac OS (10.5x or higher).
Pricing:
Pay $49 for the full version. However, you can avail the free trial option before you buy to check if it meets your work requirement.
---
Wrapping UP!
Above, we have mentioned the best DVD burning software along with their pros and cons.
Besides that, What works best for someone else might not work well for you. 
While some of us might want an easy to navigate interface, for some the DVD burn speed is more important.
In this case, you can go for the free trial of the software for DVD burning and see which works for you.
And, once you figure out what you really want. You know you need to click on which software's upgrade button.
Then after that, you can go for the full version.
→ You May Also Like To Read: