9 Best Vehicle Rental Software (Car Booking & Reservation)
Are you a budding entrepreneur looking to kick-start your car-rental business?
You're a seasoned player looking for the perfect car-rental booking software?
If your answer is yes, then you've landed in the right place. Here, we provide an exclusive collection of top car rental booking software. 
Finding car-rental software is crucial when starting your own car rental business. With the help of suitable software, you can find many elegant and useful features which will increase your business efficiency and revenue. Also, it will help your customers to rent a car just by sitting at home. Thus, it will save their time which they would spend on physical registration and paperwork.
So, get ready to sail through the 9 Best Car Rental Booking Software Of 2022.
Top Car Rental Booking Software Comparison
Service Name 
Pricing
Billing

&

Invoicing

Split

Billing

Reservations

Management

Vehicle

Tracking

Planyo
$23 / Month
✔
✖
✔
✔
EasyRentPro
$299 – One time
✔
✖
✔
✖
Brolmo

$69/ Year

✔
✖
✔
✔
TaxiMobility
$16/ Month
✔
✔
✔
✔
Following are the software services which we are going to discuss here:
Let's take a look,
SimplyBook.me is one of the giants in the industry of car rental booking software. It provides rental service for a wide horizon of equipment apart from car renting. For example sports items, rooms, bicycle, furniture, etc.
Therefore, this trait has helped put SimplyBook.me among the list of top rental software firms.

SimplyBook.me helps you design your car rental booking website and manage the business effectively.
Also, it helps you check real-time bookings, keep track of reports and client interaction.

---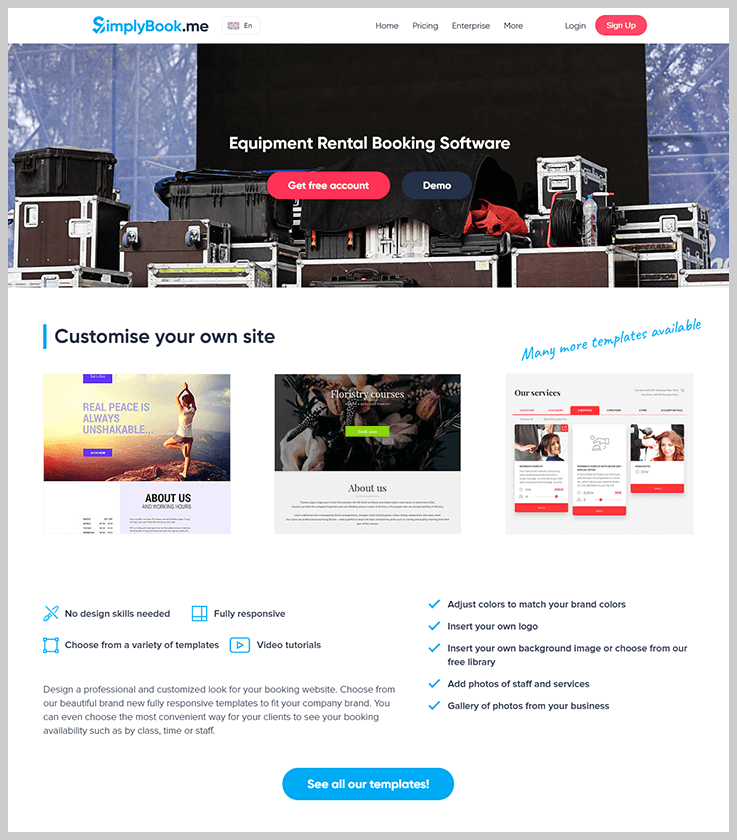 ---
Let's have a glance at some of its key features:
iBOB –

First ever 'smart car rental booking' voice bot that can do several tasks for you. It can take up calls, talk to clients and even schedule your appointments. Get SimplyBook.me software and activate your iBOB now!

Get to know your Clients Better –

SimplyBook.me's intake forms are highly customizable. You have the freedom to amend the drop-down menus, checkboxes and radio buttons present in the forms. This helps you gather exact and personalized information from your clients.

Referral System –

Suppose your client refers your services to his friend and the friend books your service. This makes a win-win situation for both of them. Firstly, the existing client gets a reward for promoting your business. Further, the new customer gets the booking done at a discounted price.

Easy Point of Sale (POS) Feature –

SimplyBook.me's POS feature allows you to accept payment from card, direct cash or gift cards. Your client may book the service online, then visit your store to pay you in cash. Or, he may pay you using a debit/credit card online.

Sales and Service Add-ons –

Want to maximize your revenues? Sell high-quality products to your clients during the booking process. With SimplyBook.me's sales and service add-ons, you can easily increase your sales.



Quick and Seamless Integration –

No bulky and in-efficient integrations to your website. SimplyBook.me's rental software provides streamlined integration to your website. It doesn't matter if it's built on WordPress, Joomla, PHP or MySQL.



Accept Payments –

SimplyBook.me offers integration with many payment processors. For example Stripe, PayPal, Alipay, Mollie, Authorize.Net, etc. Hence, y

ou're free to select the favorite one and use that processor for your payments.
Pricing –
SimplyBook.me doesn't charge you up to 50 bookings. After that, you need to buy a package out the 3 packages: Basic, Standard, and Premium, costing $9.90/month, $29.90/month and $59.90/month respectively. For more information on pricing, kindly visit their official website.
---
Planyo is among the top car rental booking software. It provides one of the most efficient and cost-effective software to manage your business.

Integrating the software to your website is as easy as a child's play. Additionally, it supports websites built on almost all the platform. Planyo is highly responsive with extra functionality of customizing every small detail.
---

---
Some of Planyo's amazing features you wouldn't wanna miss:
No New Window –

Planyo keeps the customer on the website for the entire process of booking. Hence, there are no pop-ups and no new windows, which ensures minimal distraction for the clients.

Numerous Integrations –

It ensures quick integration to all popular website building platforms. Also, there are many cloud-based apps and CRM systems which can integrate with the software.



Language Is No Barrier –

Customers can perform bookings in 30 different languages. Planyo allows you to translate emails and notifications from your customers, into any of these 30 languages.

Timely Reports and Statistics –

Planyo provides myriad reports and activity statistics to keep you up-to-date with the financial health of your business. Also, one more key feature of Planyo is that it can integrate with Google Analytics.

Attract Potential Clients With Coupons –

Market your car rental business with attractive offers and coupons. Unquestionably, providing coupons to your potential clients is like setting an initial bait for the prey!

Personalized Emails & SMS –

Planyo can send personalized emails and SMS to your customers and employees. Thus, informing them about upcoming offers and new services. That's a brilliant promotional technique.

Zero Extra Charges On Card Payments –

It will never charge anything extra from you or your customers for card payments. Furthermore, Planyo supports integration with 70+ payment gateways. For example PayPal, Skrill, SagePay, Mercanet, etc.



Creates and Delivers Invoices –

Planyo can create and deliver the PDFs of the invoices to your clients.
Pricing –
Planyo PRO is available at $22.58/month. For more information about pricing, check out its official website.

---
EasyRentPro is yet another trusted online car rental management software. It has dominated the market for more than 10 years now. Additionally, it provides cutting edge and affordable solutions for car rental businesses.
Today, hundreds of car rental websites worldwide are using EasyRentPro. It's multilingual and runs smoothly on your website.

---

---
Here are some interesting specs of EasyRentPro:
Multi-location Business –

Your booking data is stored on a safe cloud server, accessible from all over the globe. This is especially beneficial for multi-location businesses. Thus, accessing and managing your business becomes a child's play with EasyRentPro.

Rate Options –

Calculating rates, as per the services used is very easy with EasyRentPro. Additionally, it provides options like a day only rates, weekly rates, monthly rates, and season rates. They can be customized as and when required.



Quick and Easy Lookup –

Provides a bird's eye view of total vehicles on rent, upcoming rentals, pending arrivals and available vehicles.

Top-notch Vehicle Management –

Keeps vehicle maintenance expenses, inspections, damages and insurance details on your fingertips.

Payment Processing –

Set a payment processor of your choice in the software itself. Furthermore, EasyRentPro integrates with a card reader and automatically detects the client's credit card information.



Damage Control –

EasyRentPro allows you to record and print the information regarding your vehicle's permanent or temporary damages with exact dates and cost of repair.

Tax & Surcharges Setup –

Provides the ability to set up and add up to 16 tax and surcharges which can be fixed amount, daily amounts, percentages, etc.



QuickBooks Integration –

Direct and hassle-free integration with QuickBooks.



Pricing –
Get free one month trial. Afterward, it costs $299 for Standard, $399 for Premium and $499 for Professional version. For more information, please pay a visit to their official website.
---
MyRent enables you to smoothly manage your online car rental booking business. It has been providing service to more than 500 companies and claims to be the best rental booking software in the market.
Available in two versions i.e. Basic and Advanced. Therefore, it allows businesses to choose the one they need as per their budget and the services.

---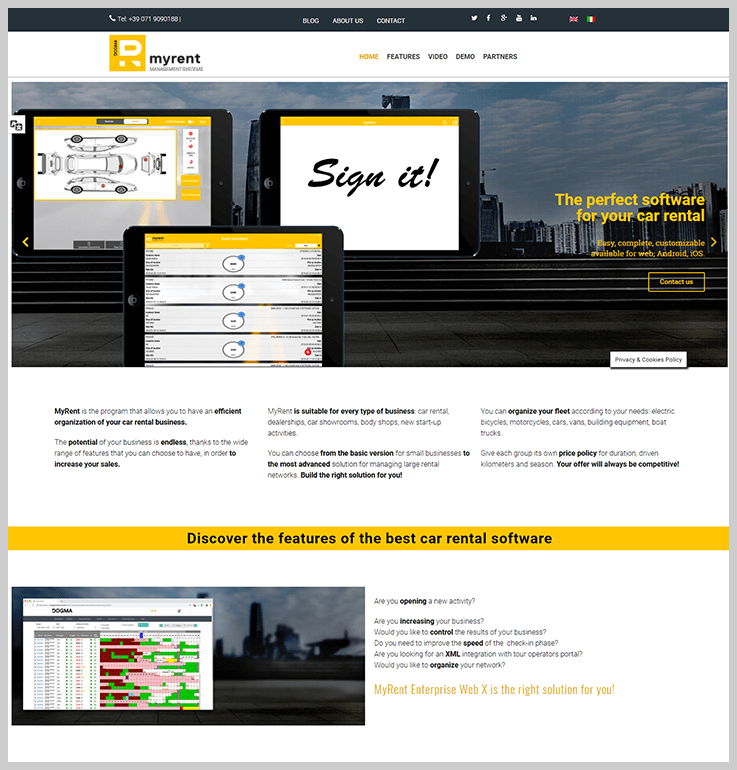 ---
MyRent offers some powerful features:
Quotations –

Create sales quotes in a jiffy. And, fill up the details in a simple form and your quote is ready to send to the customer.

Reservation –

Helps create and manage reservations of both prepaid and non-prepaid type services.

Interactive Calendar  –

With just one click you can check if a vehicle is available or booked on a particular date. Furthermore, easily manage shifts between locations, bookings, and contracts with MyRent's interactive calendar.

Digital Signature –

Easily upload the signature of the customer on the rental agreement using a digital signature pad and pen.

Multi Locations Access –

Manage your car rental business from up to 100 different locations. Whether you're at your office, restaurant, airport or a mall, you can easily rent a car to your clients.



Multi-user Access –

Provides unrestricted access to many users. You can set as many admins as you wish! Also, it allows you to restrict some features to certain users.

Swipe Reader –

One of the unique features of MyRent is its 'Swipe Reader'. With a single swipe, you can add the client's credit card information during payments.



Season Prices –

Amends your pricing and rates for special occasions and seasons. So, the customers are always on the lookout for discounts and offer during festival seasons. Thus, MyRent takes the responsibility to boost your sales during different seasons.

Competitor's Analysis –

MyRent can record prices from many car rental companies as per different seasons. So, this helps in easy competitor's analysis.
Pricing –
For more details, you can visit the official website and ask for a quote.

---
Brolmo offers powerful software to streamline your car rental booking business. A complete solution for all your basic to advanced needs. All you need to do is integrate it with your online car rental booking website and relax!

Brolmo provides many essential functionalities to its software. But, they also assure any customized functionality as and when requested by the client.
---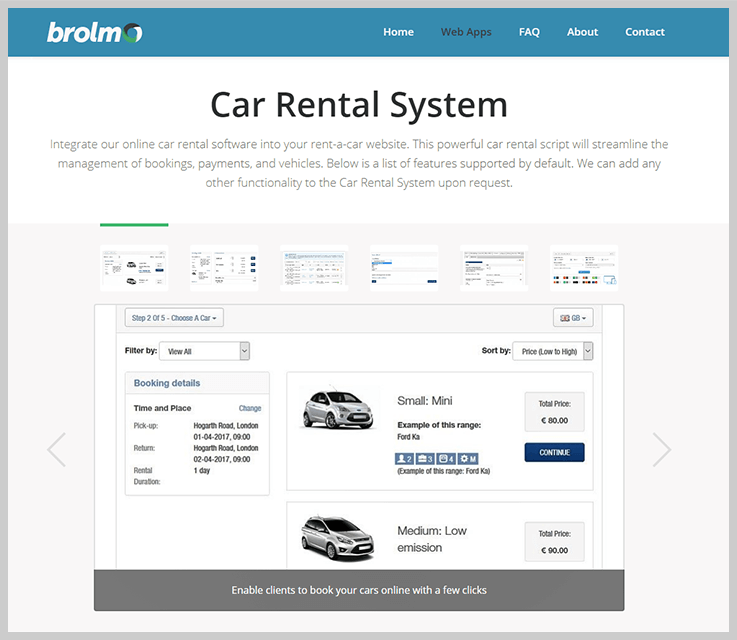 ---
Below are some captivating features of Brolmo:
Easy Car Management – Simple and user-friendly UI, which allows quick management of your car fleet.
Regular Data Back-up – Brolmo's car rental booking software ensures your data safety. It backs up your business data on its cloud server daily.
Custom Modifications – As aforementioned, Brolmo can deliver any kind of customization to their software so that it meets your needs.
Manage Booking Easily – Effortlessly, you can add, edit and delete your bookings. Also, manage customer data and locations with a few simple clicks.
Rules, Regulation & Automation – Functionality to decide and implement your own rules and regulation for car rental bookings and to automate the reservation process.
Integrate Numerous Payment Processors – Can easily get payment via various types of payments processors via., PayPal, Authorize.Net, CC wire transfers, cash, etc. A functionality you can't lose!
New and Dedicated Add-Ons – Customize the facilities for every particular car, as required by the client. Be it a child seat, GPS, full insurance, etc., Brolmo calculates the fare as per the add-ons required in the car.
Email and SMS Autoresponder –

Brolmo's auto-responder sends personalized Emails & SMS to both the customers and admins.



Pricing –
Available at an affordable price of $9/month and $69/year on a yearly subscription. Also, note that the monthly subscription includes a one-time fee of $20 for website integration.
---
TaxiMobility offers an affordable Amazon powered car rental booking software to its customers. It provides an interface which allows you to manage your car rental booking business efficiently. Also, TaxiMobility comes with an app for both the driver and the passengers boarded in your car.
TaxiMobility specializes in customizable applications which fit the requirements of your business. It is available for a 15-day free trial and then it is mandatory to purchase the software.
---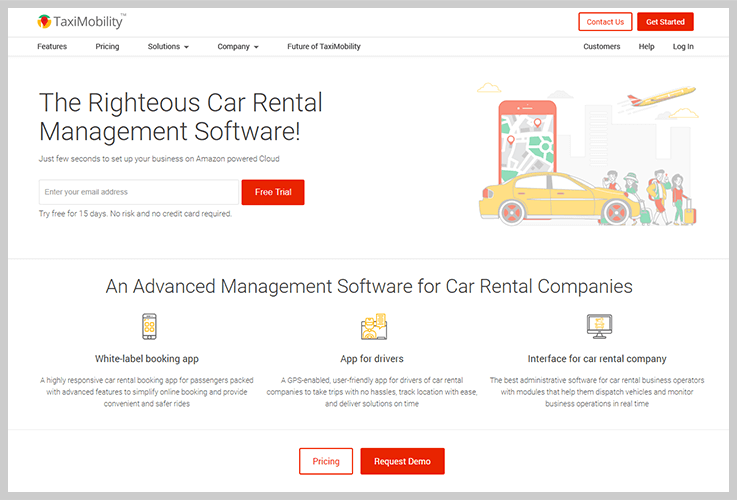 ---
Some of its amazing features are listed below:
App for Passengers –

The passenger app has attractive features like 'Split Fare', ride packages and referral program. Through this referral program, customers can earn cash-back and discount coupons.

App for Drivers –

A GPS enabled app which is beneficial for both drivers and passengers. Thus, the passengers can easily locate their driver when the GPS is enabled on the app. Also, the driver referral program provides bonuses to the driver.



Dedicated Admin Panel –

An interactive dashboard to monitor your reservations, bookings, and financial transactions. Also, the software also provides a myriad of reports and supports CRM activities.



Strategy to Beat Your Rivals –

It helps build a strategy to gain greater market share by providing competitor comparison and user research. This feature makes TaxiMobility one of its kind.

Inbuilt Heat-Maps –

Inbuilt heat-maps are yet another unique feature of TaxiMobility. It helps visualize region-wise representation of fleet availability and booking rates.

Emergency SOS Button –

TaxiMobility ensures the safety of the passengers and the drivers choosing your service. Both the apps of customers and drivers come with inbuilt SOS Button.

Replace Cash With Wallet System –

Availability of wallet system for both customers and drivers. No worries of forgetting cash or card, just fill your TaxiMobilty wallet and you are good to go!
Pricing –
The software is available in two different variants, i.e. Startup and Enterprise, with the price of $16 and $20 per Vehicle/Month respectively. For more information check out their official website.
---
NAVOTAR is an amazing cloud-based car rental booking software. It provides state of the art solutions for the management of your online business. Additionally, this software is designed specifically for firms dealing in vehicle rental services. Hence, it is fully loaded with all the essential tools you will require.

You are liable to get a free demo of the software so that you can check out the amazing functionalities on your own!

---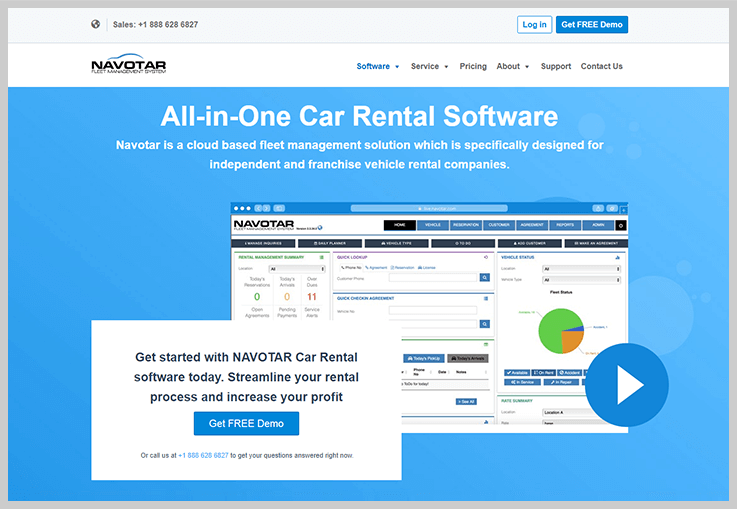 ---
Let's have a look at the key features of NAVOTAR:
Single Screen, Multiple features –

One single page for tools like reservation management, pending payments, vehicle tracker and other essential features. Just tap a few clicks, and get the work done!

NAVOTAR App –

NAVOTAR's app is available for both iOS and Android phones. It provides easy access to customer data, reservations details, and contracts. The app can also create customer profiles easily by scanning their Ids. Furthermore, you can capture vehicle damages while check-out and check-in.



Smart Chatbot –

Providing 24-hour assistance to your customers is easy with NAVOTAR's AI-powered chatbot. Therefore, you can link the chatbot to your website and Facebook page, in order to help your potential clients. Also, the chatbot is highly customizable.

GPS Tracker –

NAVOTAR's inbuilt GPS tracker helps you track your vehicles easily. It indirectly helps you understand the driver's behavior, thus ensuring customer safety. Furthermore, the software enables you to track the total miles driven by the car.

Damage Control –

Forget the worries of recording and tracking vehicle damages like dents, scratches, accidents, etc., and let NAVOTAR do that for you.



Expertly designed Reports –

Tracking the health of your business is easy with NAVOTAR. It generates various reports to track the progress of your business. To name a few, agreement summary report, vehicle utilization report, monthly financial summary, etc.



An infinite number of Rates –

Access to as many rates as you want as per the specific location and the services offered. Also, NAVOTAR enables you to edit them easily from the agreement page.

Customized Rental Agreements –

NAVOTAR provides several contract templates to choose from. Also, printing customer and rental information on the contract is a child's play.



Pricing –
For more details, kindly visit the official website and ask for a quote.
---
Trawex is a pioneer in travel based technology and software. They provide software to manage a wide range of services apart from car rental booking. To name a few, cruise booking, travel website designing, hotel booking system and vacation package system. Also, Trawex is a trusted name in more than 50 countries and four continents.

Their reservation system provides highly customizable tools for your car rental booking business.
---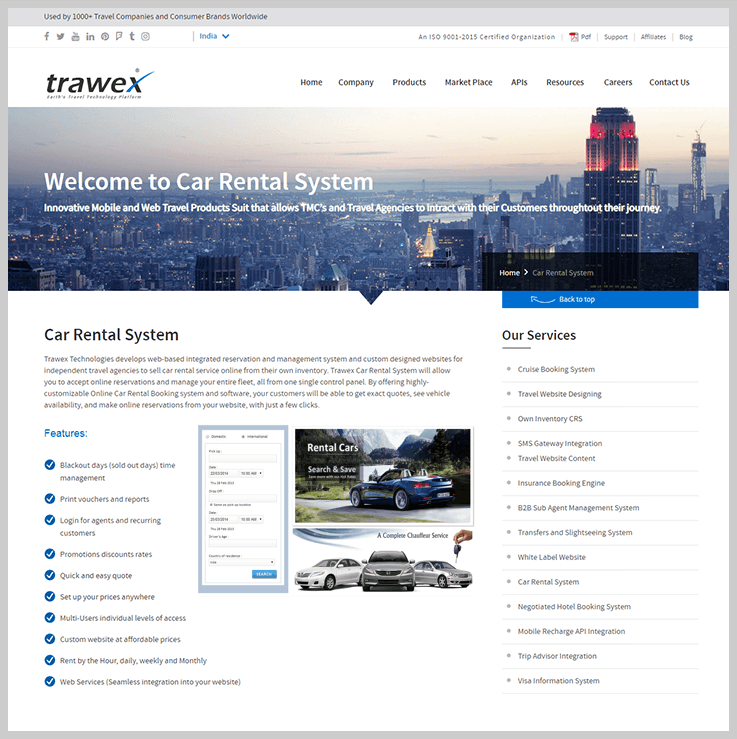 ---
Some of its unmatched features are as follows:
No Limits on Pick-up and Drop locations –

Trawex understands that any remote location can be a source for your next client. Therefore, it allows you to add as many pick-ups and dropping locations as you want.



Login Portal –

Trawex's software provides a login portal for your agents and recurring customers. Through the portal, they can get personalized services like bookings and car availability information.



Promotions and Discounts –

It's a no brainer that clients love promotions and discounts. With the help of Trawex's system, you can add discounts to your service smoothly. Furthermore, you can customize the discount percentage as and when required.

Multi-User Access –

It allows uninterrupted access to multiple users, which you can easily add. Also, you may decide on the individual level of access for each admin.

Seamless Integration –

The best part of Trawex's software is that it integrates smoothly to your website. It doesn't matter on which platform your website is built.

Multilingual Autoresponders –

You get access to customizable autoresponders, which can reply in various languages. Thus, never losing on a potential customer, speaking a different language.



Print Vouchers and Reports –

It allows you to print vouchers and financial reports in a jiffy.

Instant Reservation Number –

Use Travex and forget waiting for the reservation number. Travex allows instant reservation number generation.



Pricing –
For this, please visit the official website and ask for a quote.
---
TraviPro is another smart choice for car rental booking businesses. It offers an advanced car rental booking software for your website. Additionally, TraviPro provides clients with highly interactive and customizable tools for specific business needs.

What sets TraviPro apart from its competitors is that their car rental software offers one of the most user-friendly UI. Also, it comes loaded with all the essential features required to run your business smoothly.

---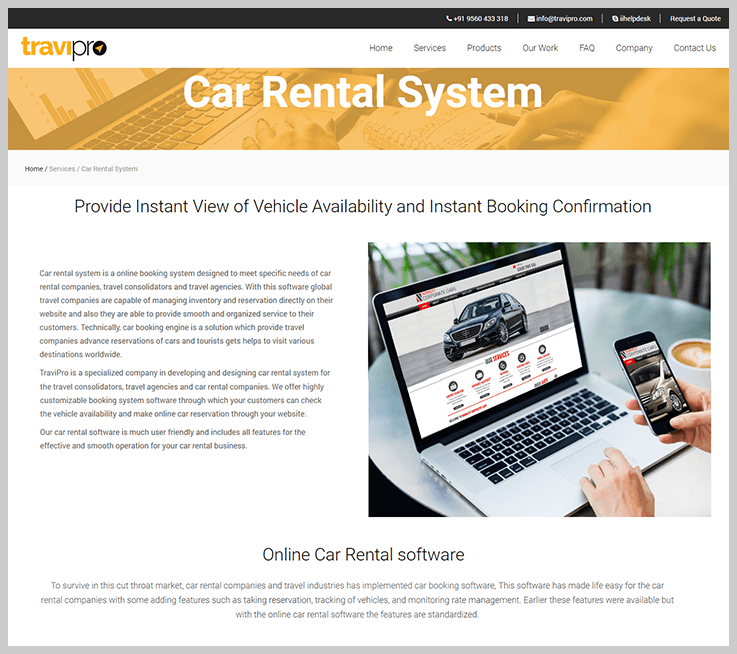 ---
Coming to the interesting features of TraviPro:
Easy and Smooth Management –

Managing car rental booking and quotes become simplified with TraviPro. Furthermore, it allows customers to easily check the booking status.

Multiple Language support –

TraviPro's car rental booking system comes with multi-lingual support. Henceforth, you won't miss any potential client due to the language barrier.

Timely Reports –

Get access to daily, weekly or monthly reports and sales analysis using TraviPro.

Safety & Security  –

TraviPro provides efficient control tools in order to ensure the security of the car. Also, it's emergency features help enhance the safety of your clients.



Top Class Customer Service –

The software has an inherent tool to track the live status of the car. Hence, it spares the customers from the hassle of calling you or visiting you.



Pricing –
You can visit the official website and ask for pricing details.
---
Wrapping It!
Definitely, a car rental booking software would help you to manage your rental business easily.
Above, we mentioned the best car rental booking software along with their features and pricing.
Out of the list of software, you can choose the ideal one based on the actual requirements of your business and its budget constraints.
Also, you can check out the demos or take a free trial to make your decision.
You May Also Like To Read-