The 10 Best Survey Software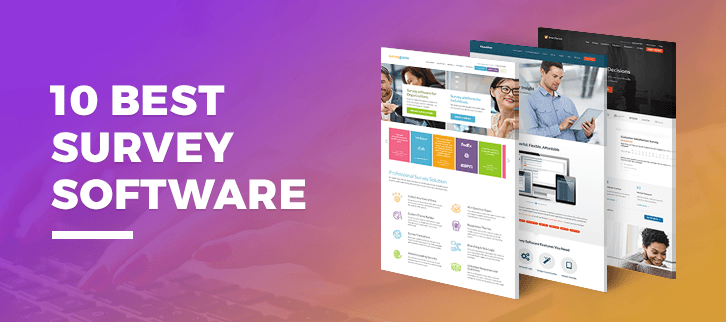 Online surveys are a brilliant step to get feedback from the users. These online surveys help to boost the customer services.
Survey software is a simple technique to understand the wants and needs of the customers. It is an important tool in market research efforts which layouts the surveys, collects the responses and figure out the results.
It is very important for your business to get the right feedback from the customer for this purpose you have to set a target of your assessment.
So here are some of the best survey software for you to choose best according to your needs.
---
The Best Survey Software
Compared (in full)
Check all the services in detail as per your needs and choose service wisely – by the end, you'll know exactly which one is the right option for you.
1. Survey Gizmo
Survey Gizmo is a simple survey software tool which let you create online surveys, queries, polls and web forms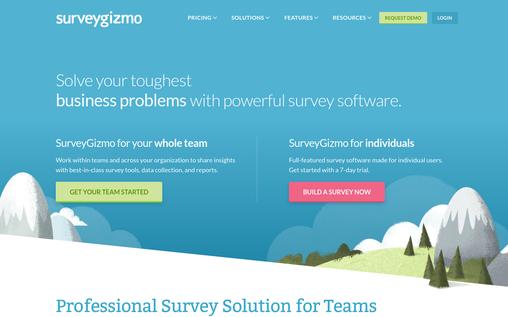 Features of survey gizmo:
Survey Gizmo is easy to use software which is equipped with more than thirty different types of questions which you can ask to your customers.
It uses Custom Question API to frame customized questions to refine your survey results according to your requirements.
Skip logic and page jumping features in survey gizmo helps to show or hide questions based on last response and even can go to nest page.
Survey gizmo creates various types of surveys which include the email analysis. It also creates campaigns on social media sites to reach more audience and to collect good quality data.
Pricing:
Survey gizmo gives a free trial version and its paid versions start from $15 per month and the price increases when you ask for more features.
---
2. Survey Monkey
Survey Monkey is one of the most popular survey tools available online. With the use of Survey Monkey, it is easy to reach a large number of audience, you just have to select the audience, design the survey and finally analyze the real-time result.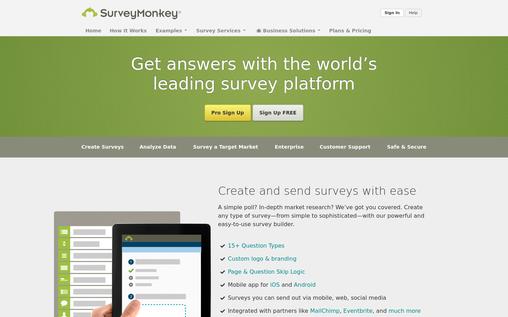 FEATURES OF Survey Monkey:
Survey Monkey can design any type of survey very easily that may be simple or sophisticated with the help of a strong and handy survey builder.
You can personalize the survey with backdrops, themes, and other features according to your requirement.
The survey created on Survey Monkey can be sent from mobile, web, and social sites.
Skip logic is also one of the features. Skip logic can change the question or the entire page according to the previous reply of the user.
Survey monkey uses real time analysis to get the analysis of your survey.
Pricing:
Survey monkey gives you the basic free version which includes 10 questions, 100 responses, and standard email support. The paid versions start at $26/month which increases with the features.
---
3. CHECKBOX
Checkbox provides you with the best survey features which are available online. It helps you to create surveys, circulation and do the collection and analysis of data.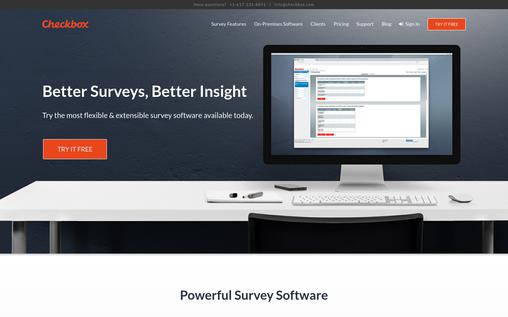 FEATURES OF CHECKBOX
Variety of questions are available on the checkbox library which makes it easy to design the survey according to your requirement
A customized survey can be created easily. You can put logos, images and backdrops of your choice
It sends the designed survey via email, social media site or it can share it on your website
It provides the real time results that can be used easily and quickly for further statistical analysis increases the data utility
Pricing:
The basic version of checkbox starts from $45 per month and then the price goes on increasing as the features increase.
---
4. QuestionPro
QuestionPro is an online program which records your respondents' answer and provides with the details of where and when the survey was done. QuestionPro can gather information offline. It even provides the privacy features to users in order to keep the data safe.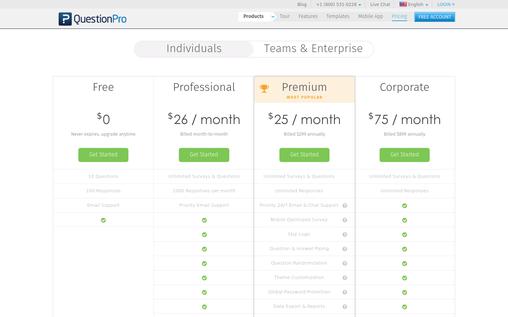 FEATURES OF QuestionPro:
QuestionPro can create surveys very quickly. It also provides themes and adds logos to your survey to make it customized. You just provide the requirements and the survey will be created by its analytical team
It can reach customers even when they are offline. Emails, social media sites, mobiles etc are some of the tools which can be used to reach the customers.
QuetionPro has a wide range of survey logic like branching and skip logic, text piping, etc which makes the survey easy and less time-consuming.
Pricing:
QuestionPro provides 10 questions. 100 responses and email support for free and as the features increase the price also increases starting from $25 per month.
---
5. Survey Anyplace
Survey Anyplace can be used on various mobile phones and also can collect the data offline. The skip feature of survey anyplace is an effective tool which resists users from asking questions that are not important to them.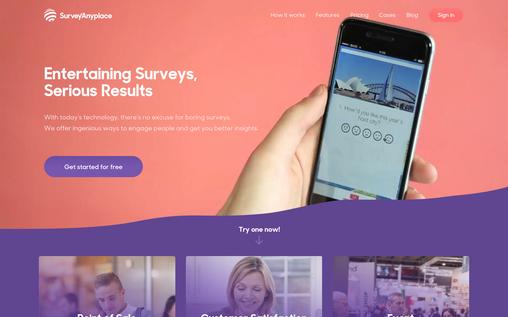 FEATURES OF Survey Anyplace:
Survey Anyplace was especially build to create attractive mobile surveys that respondent can take anywhere on any device
It collects the data even when the device is offline and when the device is online it collects all the responses and they are automatically uploaded.
The survey automatically fits the screen size of the mobile device which is used
It provides the customized view of the quiz and you can add logo, backdrops etc. according to your requirements
The survey can automatically skip question or more which are not required according to the previous answers of the respondent which make the quiz easy and shorter
Pricing:
The basic version of Survey Anyplace is free and then you can add the features as per your requirements which start costing from $29 per month and so on.
---
6. Client Heartbeat
Client heartbeat is pretty costlier as compared to other services available online. However, in return, it also offers some advanced surveying features.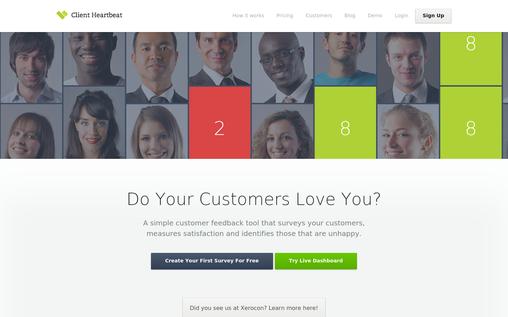 FEATURES OF Client Heartbeat:
You can organize your own survey or can choose the questions from the preloaded list used by others in your industry
Provides with current and past results of the surveys together on your company's dashboard
Client heartbeat provides you with the tools by which you can recognize the unhappy users and improve customer satisfaction in your company
Pricing:
The basic version of Client Heartbeat starts from $39/month and goes on increasing with the features.
---
7. SurveyMoz
SurveyMoz is very easy to use and is 100% secure and reliable. No earlier knowledge is required on how to create online surveys. With SurveyMoz, a simple and advanced survey can be created within a few minutes.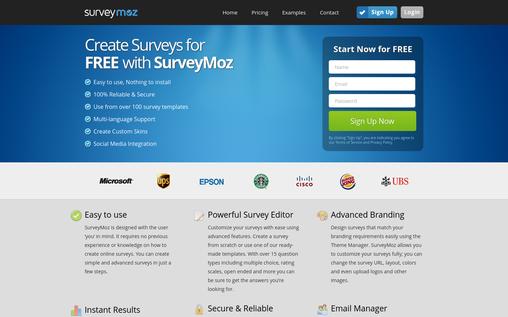 FEATURES OF SurveyMoz:
The personalized survey can be created with advanced features or you can organize the survey from already available templates
The survey URL, layout, color can be customized and even you can upload logos and other photos by using Theme Manager option
SurveyMoz performs the real-time analysis of results. Complete data can be seen step by step using filtering and export tools
You can upload contacts and customized emails can be sent in mass quantity with the help of email manager
It allows you to transfer your data to excel or SPSS for further analysis of data if required
Pricing:
Surveymoz gives 20 questions and 250 responses per month in its free version and the paid version starts from 300$ per year which provides unlimited use of its services.
---
8. SmartSurvey
SmartSurvey provides the trendy yet simple online survey services to the user and you can directly reach the clients and customers for better response. It is the trusted brand for online survey and many multinational companies are creating their surveys thorough it.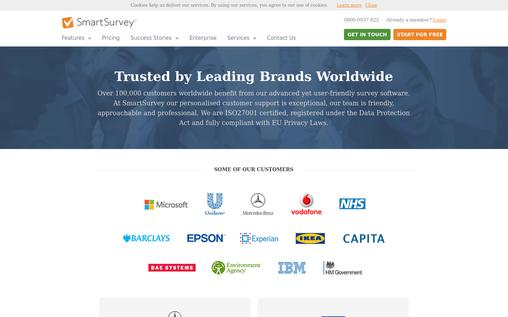 FEATURES OF SmartSurvey:
SmartSurvey uses email, social media sites, SMS and many more ways to send survey and compile result
It can design the survey in any language and is accessible from any device
The results are compiled in the form of graphs and charts which makes them easy to analyze
Customization of your brand by uploading backdrops, logos, images fonts etc. can be done using SmartSurvey
By using SmartSurvey you can easily regulate the survey track responses and can regulate all the survey templates
Pricing:
The basic version of SmartSurvey is free which gives 15 questions per survey and 100 responses per month and in the paid version the price go on increasing with the features.
---
9. GetFeedBack
GetFeedback designs magnificent mobile-friendly online surveys that help to increase the rate of response.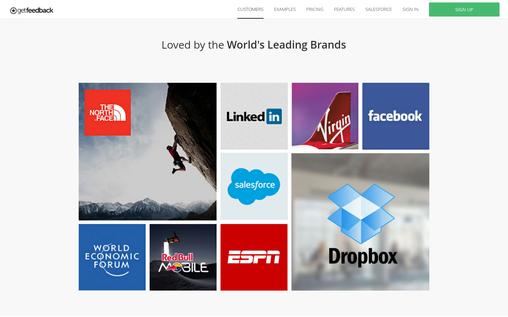 FEATURES OF GetFeedBack:
It designs the personalized survey for your brand. You can customize themes, colors and put images according to the demand of your brand
GetFeedBack is one of best the mobile-friendly survey too available on the internet
You can select the questions from GetFeedBack library which contain pre-built questions
The various reporting option is available which include summary reports, Excel/CSV report and built-in analytics
Pricing:
GetFeedBack gives the free version of their services and then the price increases with the increase of features
---
10. SoGoSurvey
SoGoSurevy is an online survey service which offers the latest features like response trend analysis, online reporting, and email support etc.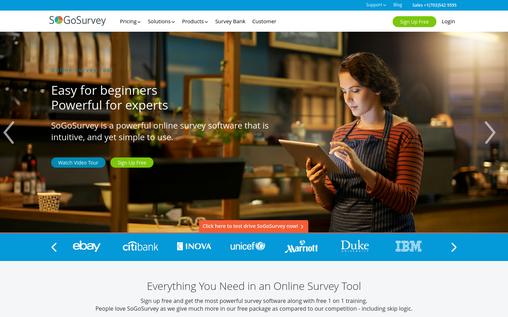 FEATURES OF SoGoSurvey:
It saves the time of the user as it provides with pre-filled information such as name, gender, company etc about the customer in an online survey
SoGoSurvey send the user to the question or page related to their previous response
It helps to create magnificent real-time reports. Various patterns are available to analyze data and present the customized result
You can customize survey according to your brand requirement by uploading logos, backdrops
It is a mobile-friendly survey tool which you can open in any mobile device
Pricing:
The free version provides 15 surveys, 30 questions and 100 responses for free. The unlimited service of SoGoSurvey starts from $144 per year.
---
Conclusion:
I hope these 10 online survey tools are useful for you. So choose the best according to your requirement and start surveying. Is any better online survey tool missed? Share it in the comment box below and we'll look forward to reviewing it.
You May Also Like:-
---