8+ Top Quote WordPress Plugins 2022 (Free & Paid)
If you have a WooCommerce business website and wish to implement request a quote page on your website.
"This blog is definitely written for you"
So, scroll down the cursor and find out what are quotes plugins & how they help you to increase the sales of any Woocommerce website.
---
---
To summarise the above lines,
These plugins create a quote button for the WooCommerce store. So, the visitors can easily send requests for a quote to get pricing details. Meanwhile, customers can add numerous products with the quantity they want to buy and submit the request. Then, the owner sends you the quotation for pricing details of selected products.
---
Lets Start A Quick Comparison Between Top Quote Plugins
---
Moreover, anyone can use these plugins who have a rental store and custom service providers. We have selected 8+ Top Quote WordPress Plugins (Free & Paid), now it's up to you which one you want to buy which perfectly match your needs. here is the list of plugins which we cover in the blog:
---
We have closely examined various WordPress quotes plugins, after the research, we found that YITH fits perfectly on top of our list. Significantly, it provides you with exemplary functionalities to create quotes button in the WooCommerce store such as hiding "add to cart" button, pricing of the product, change button style and a lot more. Apart from this, you can add the quotation button in any page of the website.
---

---
Features
Additional Cost: The admin can add additional cost at the time of new quotation such as tax cost and delivery charges.
Add Privacy Check Box: In the quote page, the owner can easily validate the privacy checkbox. Meanwhile, you can also update the privacy pages according to your needs.
Request Form: The plugins let you create a request form for the customer, so they can easily request you for a new quotation. You also want to customize the form according to your need. Thankfully, you can edit any columns and add fields which you want. For instance, you can add field of date, image uploader, checkboxes and radio buttons.
Send PDF Attachments: Send quotation with emails in PDF files, so the customer will save the quotes in their local disk.
Pricing Details
It has three types of different pricing plans:
Single Site: To add this plugin in one site, go with this plan which comes in $51.
Six Sites Plan: Get this plan at $145 which provides you with six different site support.
30 Sites Plan: This plan offers you the pricing of $100 with 30 site support.
---
In this plugin, the admin can create a contact form for a website with numerous of customization option such as adding captcha verification, URL fields, rating tab and more. Furthermore, it provides you with the real-time stats of customers quotes. Here, you can track the customer mail ID, enquiry stats. Besides this, you can delete any quotes from the dashboard.
---

---
Features
Dashboard Reply: The admin can connect with their customers directly from the dashboard as it comes with the respective messages system. From now, you don't need to go through another email platform to coordinate with them.
3rd party Informing: If any quotes generated of the 3rd party vendor product, then the system will automatically send updates to the respective product owner.
WPML Support: Product Enquiry Pro offers you with the WPML support. So, the owner can easily translate the plugin in their native language.
Analyze Queries: Here, you can filter out in between the enquires and quotes which let you easily examine the demand and the pricing request of customers.
Pricing
Single Site: Get this single site plan at $69/p.a with support and future updates.
Staging & Production: Get premium support and future updates on a yearly basis at $79.
Lifetime Staging & Production: You can avail these plan at $199.
---
It creates a platform which allows the customer/visitors to add multiple products in their request to quote page and send this request to the Woocommerce owner. It also allows the visitors to add the expected price in which they want to purchase the item.
---

---
Prominent Features
Order Creation: Every request for quotes by the customer is an order for the admin. So, he can view the request in WooCommerce new orders section and send the quotation to the respective customer.
Show/Hide Buttons: You can even show or hide "Add to Cart" and "Add to Quote" button from the product/item.
Allows Integration: Moreover, the site owner can easily add this plugin with Contact Form 7, Gravity Form 7 and Formidable PRO.
Email Template: It comes with numerous emails templates which can be easily customized with the flexible options.
Pricing Plan:
Get the full version of Request a Quote Plugin at $ 20.
---
This plugin lets you create enquiry form for your WooCommerce website where customer registered and request for quotes. It comes with on/off mode of your shopping store. If you choose off mode then visitors can view product but can't buy anything. Only request for quotes.
---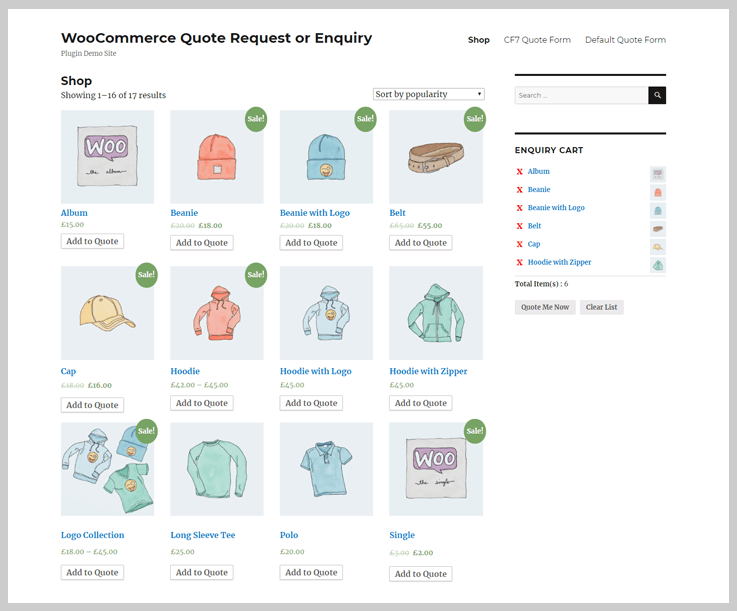 ---
Subsidiary Features
Contact Form 7: Furthermore, it provides you Contact Form 7 which helps you to easily add/remove any field in the form.
Send Quotation: With this plugin, you can quickly interact with your customers and respond to their quotes request from the admin panel. With a few steps, you can generate quotes and sen it to the customer.
Powered By AJAX: This plugin is developed with AJAX support, so you can easily search any request and query of customers.
Popup Notification: For every new update in your WooCommerce store, it will send you a popup notification. In this way, you can always up to date with the upcoming programs.
Pricing Plans
You can purchase this plugin at $17 which comes with custom and Contact Form 7 forms.
---
5. Cart to Quote – WooCommerce Inquiry Plugin
This is another rich feature packed WordPress plugin in our list which comprises the prominent features with "Add to Cart" button. Likewise, in this plugin, the customer can submit their request as a guest user as well. They do not need to fill the complete signup form. After the request, the admin can view in the dashboard and create quotation accordingly.
---

---
Notable Features
Add Expiry Date: The admin can add expiry date at the time of new quote creation. The quotation can only be redeemed till the expiry date.
User Cookie: Here, you can set the number of days to save the user quotes. After the mention days, the quote will delete automatically.
Quote Customization: To create a new quote, the store manager can easily customize the quote with multiple elements. Here, you can change the logo, table style, page footer, header colour and more.
Hide Button: Furthermore, you can hide the "Add To Cart" button, so no users can add products in the cart. They can only purchase items by request quote.
Pricing Pattern
Create a powerful quote system in your WooCommerce store by purchasing this plugin in $20.
---
NP Quote Request Woocommerce plugin is designed with the easy to dashboard which allows you to manage the multiple quotations. Moreover, you can configure this plugin in two ways which are as follows:
In this configuration, you can allow your visitors to create quotes on selected products.
You can allow creating a quote in all products of the WooCommerce store.
---

---
Exemplary Features
Order RFQ: From the dashboard, you can create orders for an RFQ(request for quote.)
Price Visibility: The owner can manage the visibility of the price of any product. Here, you can show/hide pricing detail in all product or only in selected products.
Confirmation Email: Whenever the store manager has created a new quote for any customer, this system will send a confirmation email to their registered email id.
Pricing Plan
You can avail the services of this NP Quote Request WooCommerce plugin in a free of cost. Moreover to get some additional features like lead generation and file uploading you can opt for premium extensions.
---
7. Request A Quote – WordPress WooCommerce Quote Plugin
This plugin is useful for any small types of eCommerce business, to create a powerful quote system. This plugin is compatible with any type of Woocommerce theme and can easily integrate with the WordPress website. Moreover, the admin can easily manage the settings of this plugin from the robust backend.
---

---
Subsidiary Features
CSV Import/Export: With the help of CSV files, you can export files from the previous system and import in this plugin.
Advanced Search: This plugin offers you a smart and fast search bar, so you can quickly find any quotes faster with ease.
Notification Alerts: The alert function is faster than ever, it just a matter of seconds will notify for every new task performed.
Pricing Plans
You can get this plugin at free of cost.
---
This WordPress plugin helps you to convert your shopping store into the quote system. Basically, it will change the "Add to cart" button in "Add to quote".
---

---
Notable Features
Simple Form: It let you create a simple form for users, so they can easily request for quotations.
Easy management: From the "WooCommerce Order" menu, you can manage all the new quotes and previous one.
Generate Payment Link: This system generates a unique link after the admin accepts payments. Customers can make payment and order the items.
Pricing Plans
Quotes for WooCommerce plugin can download in free of cost.
---
Wrapping Up
To conclude, here we are listed high graded 7+ quote WordPress Plugin for any Woocommerce shopping website and some of them free as well. Now, it's up to you select the best one which suits you best. We are giving the best possibilities to share all the useful information regarding plugins. If you want more information kindly check the links which are given.
You May Also Like To Read: