The 10 Best Hospital Management Software
A hospital management system is a wide-ranging, integrated information system about a hospital.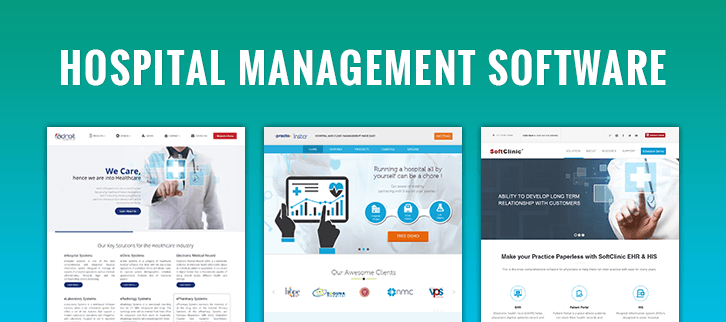 It is designed to manage and master all aspects of hospital operations in an organized way. It could be medical, administrative, legal or service processing.
It provides a comprehensive package for managing all the functional areas of a hospital.
Still battling with confusion, unable to decide the best medium to showcase your medical services?  Take a look at
Best Responsive Health & Medical WordPress Themes 2022
Best Medical Equipment, Veterinary Doctors & Dentist WordPress Themes 2022

If you're in the medical profession, you must promote your services via email. We have few essentials for you:
MailGet Bolt – Email Marketing For Hospitals, Health Centers & Nursing Homes
Best Doctor Bulk Email Marketing Services & Software For Medical & Health Clinics
Best Doctor Email Templates For Health & Medical Centres
It's necessary to organize all your documentation including bills, revenue, outpatients, inpatients, emergencies, nursing, claims, and instrument details in a systematic and clear manner.
Here's a list of 10 most used Hospital management systems.
The Best Hospital Management Software
Compared (in full)
Check all the tools discussed here in detail. By the time you get to the end of this article, you will know which service is best for your operation. Consider your particular needs as you choose software.
---
This featured software is known for advanced and paperless work in hospitals and clinics. It takes into account the needs of different types of physicians and is currently used in India and other countries by over 17,000 doctors.
It's relatively cheap and can be used in all types of hospitals or clinics, especially by physicians, cardiologists, pediatrics and ophthalmologists.
It offers prescriptions in your regional language and generates them in less than 60 seconds.  It provides the user with detailed demographical and clinical data analysis.
The main perks of using this software are the SMS facility and two-way synchronization. It has a feature to restore backups and is friendly, with multi-user and LAN compatibility.
Some specific built-in modules provided by this software are appointment scheduler, patient registration, clinical modules, indoor management, accounting, reporting module and data analysis.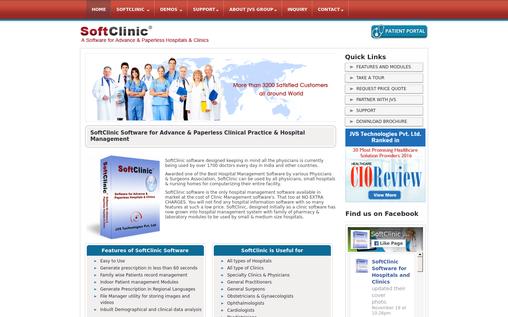 Key features of SoftClinic
Easy to use
File manager for storing images and videos
Generates prescription in less than 60 seconds
Family-wise patients record management
Compatible with any Windows
Easy to use patient-visit details
Various predefined certificates
Billing and account manager for accounting needs.
---
Adroit is a hospital management system which is designed to manage all aspects of hospital operations, especially OPD, IPD, discharge summary, patient registration, appointments, HR/payroll and corresponding service processing.
The software takes care of emergency charge, night charge, age of patients and other parameters while calculating the rate of services for a particular patient. It assigns every patient that is admitted to hospital a unique patient ID and saves all relevant data to that ID.
It is powered by superior technology. This software is best known for doubling output on just half the budget. It has a dedicated infrastructure to provide services according to requirements.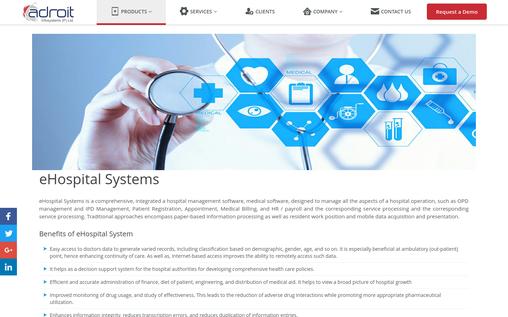 Key features of Adroit
Easy to use and eliminates errors
Enhances information integrity
Accurate organization of departments
Provides a broad picture of hospital growth
Enhances continuity of care
Improves the ability to access data easily
Reduces excessive drug utilization
---
Practo is a healthcare software company created in 2009. It provides software designed to assist millions of patients to find and book appointments with doctors and other healthcare providers.
It is used by doctors to manage their practices. The software is known asPracto Ray. It can only be operated on mobile iOS or Android operating systems. It aims to help mankind live healthier and longer.
Practo also designs software to help healthcare providers like clinics and hospitals digitize and deliver more efficient and high-quality healthcare around the world.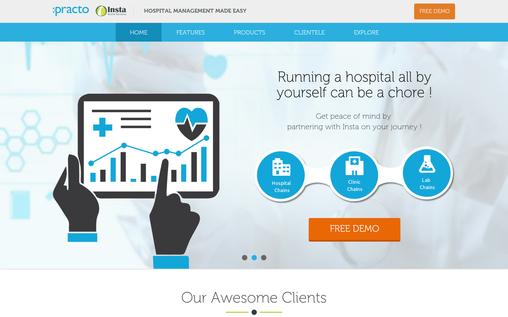 Key features of Practo
Lab radiology services
Assists patients efficiently
Easy complaint registration about equipment
Has a  dashboard facility
Facility to upload scanned copies of licenses/contracts
Reports available for maintenance schedules
Easy Stock transfer
Simple gate pass registration
Audit log
---
It is a powerful and user-friendly application that supports operations in hospitals, nursing homes, polyclinics, medical shops and pathology labs. It delivers excellent services and solutions across the healthcare industry.
It safeguards the flow of information coming through and allows efficient decision making in patient care. This application excels at reduction of errors, transcription and elimination of duplicity of information.
It contributes to the overall growth and development of the hospital. It is loaded with numerous features such as pathology, radiology and other modules like ambulance management, dietary plan, housekeeping, pharmacy, financial accounting, vaccination etc.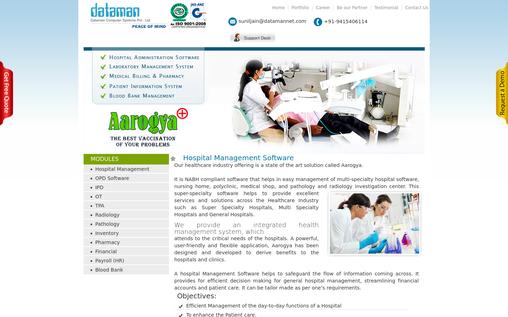 Key features of Dataman
TPA management
Better services in limited time frame
Regulates financial control
Reduces errors caused by handwriting
Easy distribution of medical aids and facilities
Enhances patient care
---
It is a web-based EHR (Electronic Medical Record) that helps multi-specialty hospitals. It is an exceptional answer for connected pharmacy or laboratory modules that will be used in the long term. It excels at maintaining patient histories, examination reports, records, on-going treatments etc. It also keeps track of drug stores, ward details, admissions, discharge, surgery details etc.
It not only keeps track of the inpatients and outpatients, but also employees who are joining or leaving the hospital. With this software you can print billing, hospital annual turnover, physician's rating etc.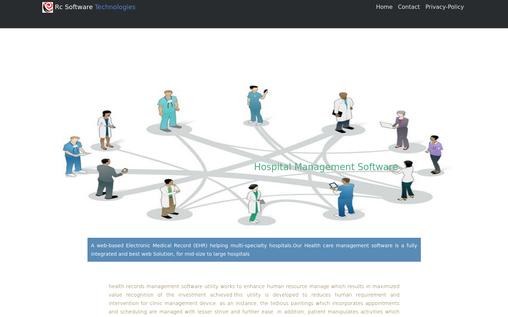 Key features of RC Software
Responsive web applications
Database-Pushed
All computerized run modules
Fitness carrier control software
Excels for pharmacy and laboratory modules
---
This is advanced software for doctors, physicians, medical practitioners, multi-specialty hospitals and small clinics in India. It keeps in mind how hospital management information works and best medical health practice in India. You can make effective decisions regarding patient care, patient management, and hospital management and it makes the work as paperless as you want.  This software is user-friendly and time-saving.
It can be accessed on mobiles, tablets, smartphones, desktops and laptops. This application seamlessly integrates, works with any device and is fun to use.  You can have access anywhere; be in touch with hospital records, prescriptions, schedules, surgeries and even OPD/IPD case papers from anywhere in the world.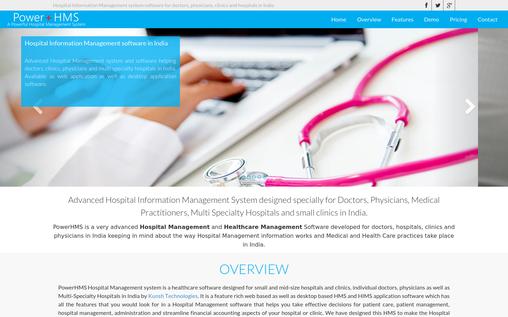 Key features of Power+HMS
Enables custom billing
Automated diagnoses and prescriptions
Easy appointment, registration and updating
Advance appointment and scheduling
Minimum stock alert
Role-based user access
Gives and manages admin rights
---
This is hospital management software designed to make hospitals paperless. It takes care of clinical, back-office and other generic activities. It integrates all the resources of the hospital into one application. This software has the exceptional capability to handle inpatients, emergencies, clinical surgeries and other patient cases.
With this software you can take control and make quick decisions through mobile and handset support. It automates workflow, manages central storage and retrieval of information and renders the hospital paperless.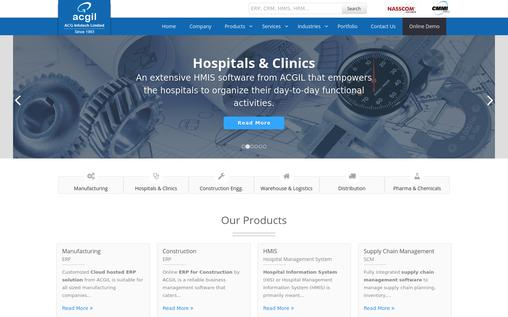 Key features of Acgil
Very little manpower required
Timely treatment decisions
Instant information retrieval
Allows remote access to stakeholders
Online claim processing for cashless patients becomes easy
Access to DICOM images if HMIS is web-based
Information sharing between health care institutions across the world
---
This software is used by hospitals, medical centers, clinics and others. It makes record-keeping of all the patients' medical details and other information easier and accessible.
It can be used by different users to easily keep, edit and update all the records of every admitted patient and it allows tracking and coordinating with other divisions, from admission to discharge. Doctors, nurses or and any other concerned personnel can have access to these details and check the status of any patient at any stage.
You can generate medical records with chargeable bills in various printable formats as required.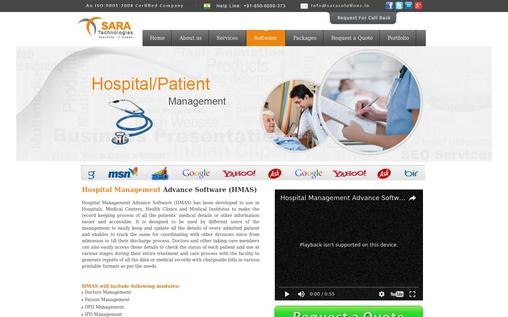 Key features of Sara Technology
Patient's complete demographic details
Overall patient data management
Automatic operating at reception
Commission reporting
OPD prescriptions and child vaccinations
Comprehensive patient billing information
Report generation
---
Practo Insta is hospital management software for clinics and hospitals that are looking to streamline operations and provide superior healthcare services to patients. It will also help you increase revenue and reduce inventory waste.
This software will help you impress your patients, and through word of mouth you'll soon have more patients coming through the door.
You can automate all departments and schedule and track medical staff.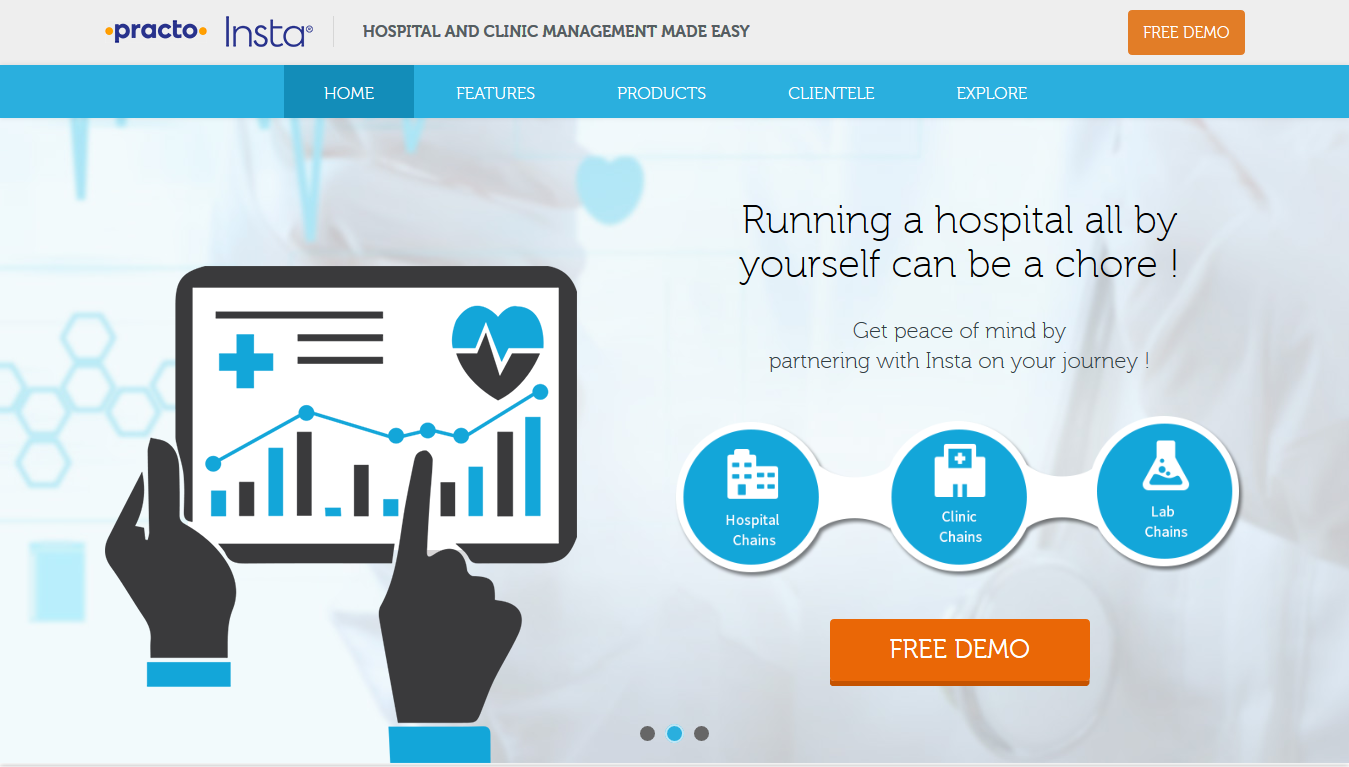 Practo Insta HMS Features
The system is comprised of modules, each which accomplishes a specific task. There are modules for in-patient and out-patient management, an operational module for hospital administrators and more.
You can track process flows, including outpatients, lab and radiology services, inpatients, insurance, stores and more.
The software is designed for the international market and can be customized for hospitals and clinics in the Middle East, Africa and India.
The integration module allows different departments within the medical facility to share information seamlessly.
---
This is a complete web-based software which provides you information anytime, anywhere. It can be used in eye hospitals, gynae hospitals, industrial hospitals and medical colleges. All the information related to fees, admission, surgeries, emergencies etc is recorded inside the software. It can be connected to clinics and branches in various areas.
It shows patience response, cost control and profitability. This application seamlessly integrates with different applications, works with any device and is fun to use.  You can have access anywhere; be in touch with the hospital records, prescriptions, schedules, surgeries and even OPD/IPD cases from anywhere in the world.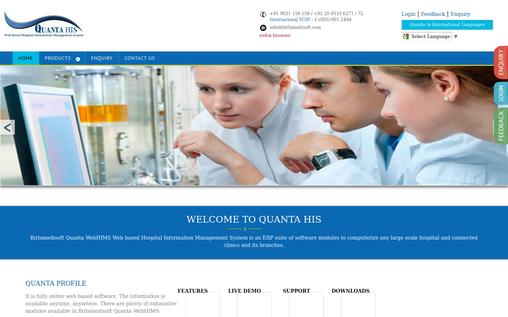 Key features of Quanta HIS
Easy-to-use modular structure
Integrated design
Multi-level security
Easy customization
GUI based and user-friendly
---
Conclusion:
Hospital management software makes all the work of a hospital paperless and integrates it into one application. It helps with decision making for hospital authorities and in developing comprehensive health care policies. With a proper system in place hospitals can improve healthcare, eliminate waste and increase efficiency.
You May Also Like:-