The 10 Best Presentation Software 2022
Are you looking for some of the best presentation software?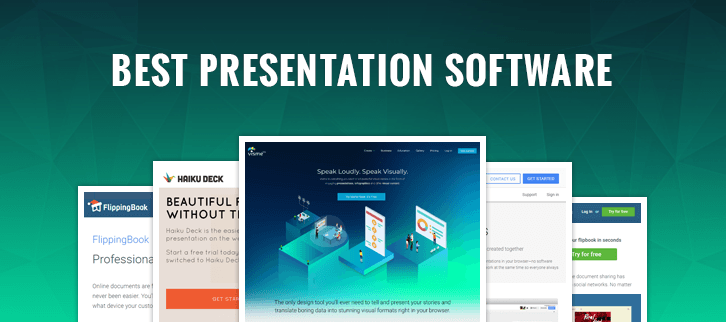 Presentation software is a very important part of the entire business process and therefore the selection of the right software is essential.
It is the medium through which you are going to propose business ideas and  projects to your bosses and clients.
Your presentation software should have tools that allow the presenter to highlight ideas in the best possible manner.
Let's have a look at all the best presentation software in detail.
---
Gsuite is one of the most widely used presentations platforms. It is one of the easiest to use and can work right in the browser, allowing collaboration and teamwork at the same time.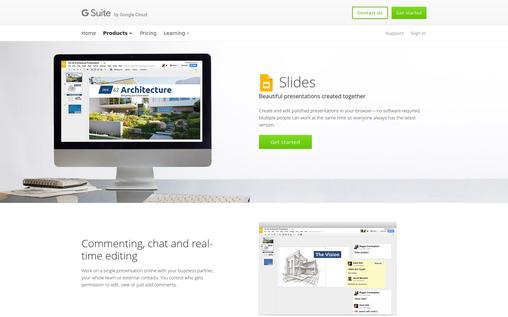 Here are some special features of Gsuite.com:
G-suites syncs documents across different platforms and hence allows access to presentations across tablets, android, IOS or Mac devices as long as there is access to the internet.
It is very easy to use. With inbuilt templates, it can be quickly and easily understood by beginners.
There is no need for special software to create presentations as it only requires a browser.
Real- time commenting, chatting and editing features can be accessed with Gsuite.
Gsuite allows the conversion of slides into any format making the process of sharing easier.
---
Prezi.com is another phenomenal online presentation program that has made a name for itself over the years. They offer two types of packages for their customers: ''Prezi'' and ''Prezi Business''.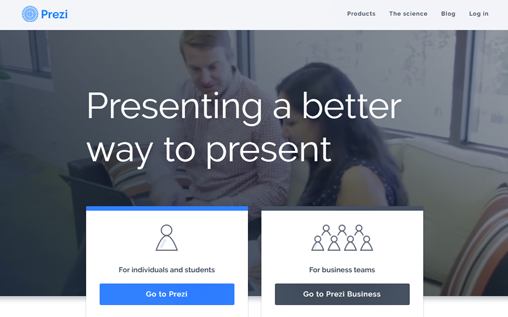 Some unique offers and features of Prezi:
The ''Prezi'' offer allows for the creation of memorable, engaging and persuasive multimedia content.
Prezi Business is designed for small businesses and large corporations.
Prezi has outstanding message portrayal power which constantly engages your audience throughout your presentation.
Further, Prezi.com holds one of the richest libraries of templates which can help with easy and quick development of powerful presentations.
Almost all file types are supported on Prezi.com. It allows upload of every type of media that needs to be used in presentations without any hassle.
Prezi allows access to content almost everywhere with the help of their mobile and tablet applications.
It organizes training and webinars which can help in enhancing presentations.
---
Emaze is said to be the future of online presentations because of its outstanding features.  It can be used on virtually every device be it Android, IOS, Mac or Windows.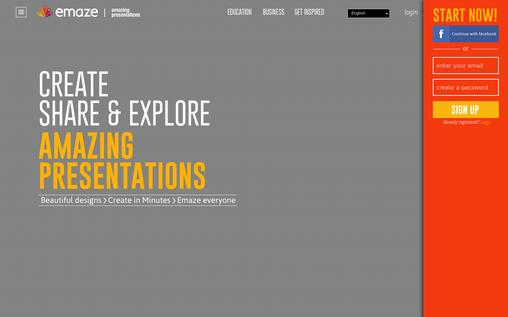 Following are some of the features which make it stand out among all other software:
It is easy to use. Their fantastic templates create presentations in minutes.
Emaze automatically saves the work online. Hence, there is no need to manually save the work to local drive or device.
It offers various slides and templates created by top designers to fit the presentation's content perfectly.
Emaze supports several languages. With the help of the automatic translation feature in Emaze, one can translate the presentations to any language.
Emaze allows access to cloud storage where all work can be stored and retrieved anywhere in the world.
---
SlideRocket is the revolutionary new software for business presentations that gives excellent results. SlideRocket was created to remove  existing faults in other presentation software.

Some of its unique features are:
SlideRocket provides its users with the ability to import all their previous presentation content. It can be imported as editable files for full compatibility on SlideRocket or as images.
It allows anytime access to presentations, whether online or offline. One only needs to log in to gain access to everything.
SlideRocket allows for easy collaboration and sharing among colleagues and clients.
SlideRocket is equipped with many design templates and layouts which allow presentations to be developed according to requirements with comparatively less effort.
---
Canva.com gives the ability to freely design very beautiful presentations. Be it work or school, Canva's presentations are suitable for all situations.

Some amazing features of Canva are as follows:
Creating a presentation on Canva is incredibly easy. One only needs to create an account and open ''Presentation'' on the dashboard. The platform is equipped with several professionally designed templates which can be chosen according to the requirements of the project.
Canva has quite a large number of stock images which can be used to make the content of the presentation more impactful. Most of the images are free of charge. However, premium photos costs nothing more than $1.
Further, customization on Canva includes choosing the fonts, colors, background, images etc which can add to the message and the beauty of every presentation. The platform boasts of 120 fonts and variety of colors which can be utilized to make the presentation personalized and professional.
---
Visme presentation software gives you an opportunity to create and present very boring data in interesting slides. It is used by over 500,000 people across the world in more than 50 countries.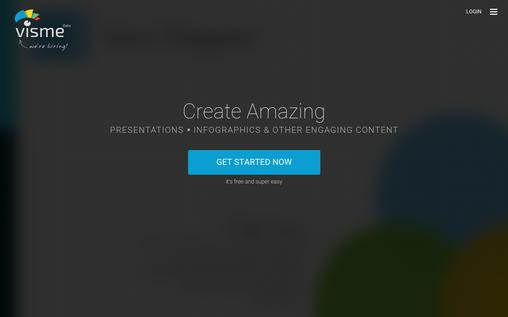 Special features of Visme are:
This software gives some of the choicest features to design and show presentations online and offline. Over 1 million pictures and icons, the ability to insert any form of media and animations are the major customization options available.
It allows sharing of content through embedded website URLs and on social media.
---
This software is the best and easiest way to bring that awesome idea to life. Haiku Deck is the fastest and most convenient method to create a presentation on android, iOS and Windows.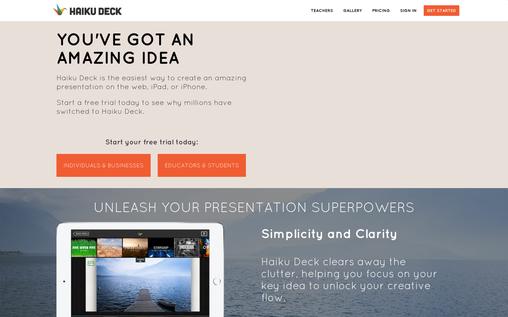 Some special offers of Haiku Deck are:
With Haiku Deck presentations are saved in the cloud for easy sharing.
It enhances your presentations and makes them ten times better with features like stylish fonts and pictures, layouts and filters etc.
It has different pricing for individuals, businesses, educators and students.
Haiku Deck provides you with optimum security and privacy services. The content and slides are securely stored with password encryption.
---
Flowvella is another sage choice of software for making a presentation. Mobility, simplicity and power are what Flowvella offers for your ideas and content.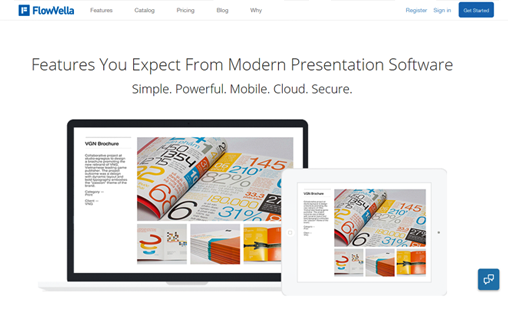 Some exceptional features of Flowvella are explained below:
Flowvella works with or without internet so one can create and present when offline. This is an important feature which most other software doesn't have.
It allows management of content by providing analytics on who viewed the content and even for how long it was viewed.
Allows the sharing of content by creating a customized URL which can be shared among friends, relatives, colleagues, clients and on social media.
According to Flowvella, mobility is first. It gives you the opportunity to access, create and edit content on a tablet, android iOS and Windows.
Security and privacy are a priority for Flowvella. Password encryption and SSL protection are inbuilt into the software.
---
Flippingbook is noted for its accessibility, interactivity and beautiful features. With the help of this software the content created can be interactive and visually impressive, making a stronger impact on viewers.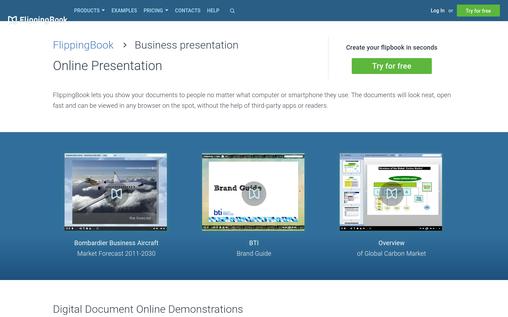 Some special features of Flipping book are:
Flippingbook gives the ability to create content on any device.
Direct links can be sent to customers to view presentations with just a click. The links can also be shared with the world through social media.
Flippingbook helps protect content from unwanted downloads and views.
It provides great navigation for text search and an intuitive turning of pages.
Flippingbook gives you a fast large document loading.This saves time for  customers who often get frustrated by slow page download speed.
---
Slidedog presentation software is free software that helps in creating seamless presentations. Slidedog is able to compile every type of media into one amazing multimedia presentation.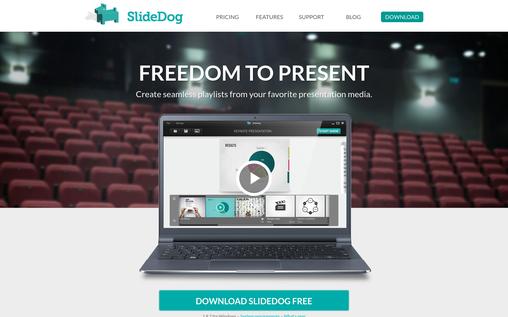 Some special features of Slidedog are:
Slidedog allows you to connect with your audience. Anyone can be allowed to join a live-stream presentation with the click of a link.
The app can be used to access content remotely on any device or platform.
Slidedog allows one to effectively engage with the audience and conduct polls. It allows comments, questions and feedback on each presentation.
With Slidedog, there is no downgrading, conversion or surprises. Everything uploaded or inserted displays exactly the way it is expected to be.
---
Conclusion:
Since each presentation software has its unique features it is very important to choose well.
Selection of the right software should be done based on the needs of the business taking into account features, multimedia requirements, price constraints and the impact of presentations developed through different platforms.
These platforms are some of the best for presentations but, care needs to be taken before selecting the final software to ensure that it meets requirements.
You May Also Like: