Doodly Review – Is This Video Creator Software Worth It?
Editor Rating:





User Ratings:





(12)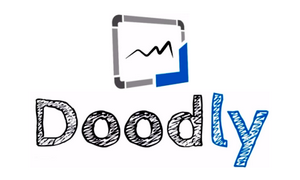 As you consider which whiteboard software is best for your project you will no doubt come across Doodly.  It is described as "robust", "easy to use", "powerful", and so on. This may be nothing more than marketing hype, so to find out the truth we decided to do a Doodly review of our own.
Whiteboard animation videos have become a popular marketing tool in recent years. They have a high conversion rate because they are eye-catching, interesting, simple and to the point, and are used to explain concepts and ideas.
Imagine that someone was explaining something to you by drawing on a piece of paper by hand and filming at the same time. That, in a nutshell, is what whiteboard animation software is. Whiteboard animation videos, or doodle sketches, as they are otherwise called, are explainer videos.
What is Doodly?
Doodly is a whiteboard animation software with a drag-and-drop interface for creating sketches. It is popular because it is so easy to use; anyone, experienced or not, can use it to create marketing, classroom, social media and any other videos in just minutes.
The software has thousands of custom-drawn images in the library. All you need to do is select the image you want, drag and drop it on your canvas, and the doodle is sketched. You can also create and upload your own images. You can add sound to your whiteboard sketches from the royalty-free audio library.
You are allowed to install Doodly on multiple computers (both Mac and PC) and use it to draw unlimited images.
Doodly Features
A vast array of custom images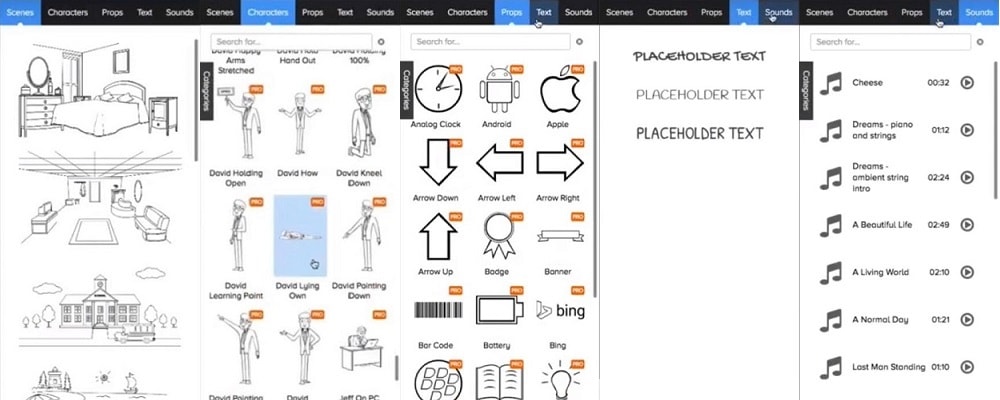 30-Day Money Back Guarantee
This is one of the reasons why so many people choose this software. It has thousands of custom images in the image library developed by a team of professional graphic artists. The images are composed of 200 different characters, each with 20 different poses.
The library also contains 20 backgrounds and hundreds of props. In other words, there is something for every topic and every niche in the Doodly library. If you have a unique request let Doodly know and their team of artists will develop it for you.
Royalty-free music tracks
Adding sound to your video sketch is easy because the software provides you with 2 soundtrack slots. One is for background music and the other one is for a voiceover. You can play around with these slots until you get the perfect blend of sound.
It allows you to add many different clips to each video so long as you trim them to the desired length.
The number of tracks you get for background music depends on the package that you buy. For Gold you get 20, Platinum allows you 40 and Enterprise users get 80 tracks.
You can add a voiceover to your video to make it authentic, but Doodly doesn't have the functionality to do this within it. You have to use alternative software and then import the MP3 track into your Doodly video.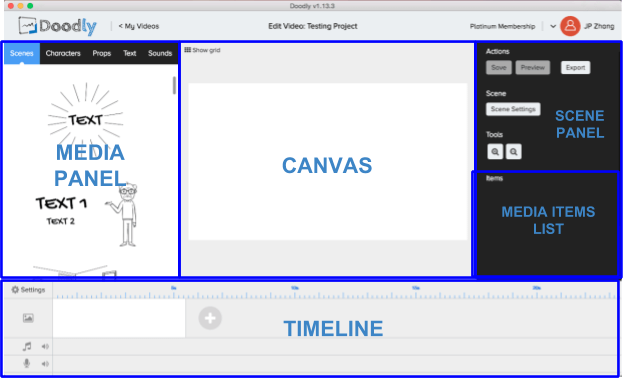 Video editing is the most complex part of creating a video, so it's important to choose a whiteboard animation software that allows for easy editing. Doodly is great at this. You can edit the timeline, which is at the bottom of the video by reordering, duplicating or deleting scenes. You can also edit the hand that is drawing your video, as well as the video's style.
On the right hand of the screen is a media list that shows you each element that you added to the video and the time you added it. You can edit your video by reordering the media list and adjust the duration of every scene.
Easy and customizable export and share
Sharing videos that are made using Doodly is easy. The software allows you to choose quality, resolution and frame rate, and the destination. After that just click the "share" button and your video goes out to your selected audience. You can export videos to Instagram, Facebook and YouTube. You can also plug them directly into your website.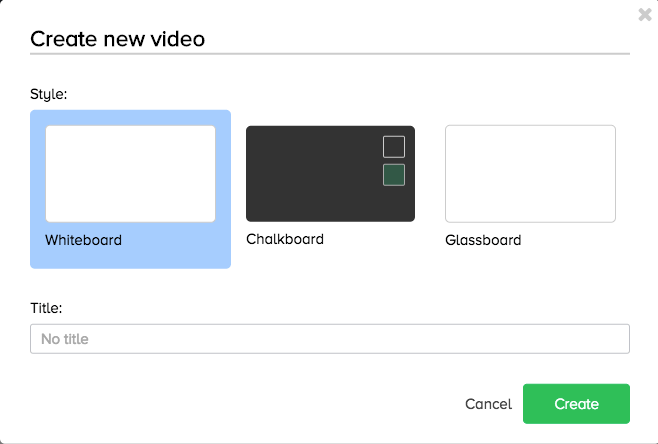 One of the things we liked most about Doody is the fact that it has a very short learning curve. Once you open the user interface, you will see everything you need to create a whiteboard video, and you don't need to have any technical expertise or experience in video making.
A lot of whiteboard animation software requires that you have an internet connection. Not Doodly; once you download and install on your computer, you can work offline for fast and glitch-free video creation.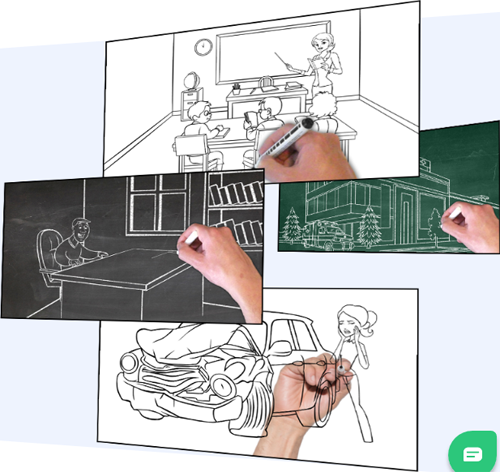 If you want to make your doodle sketches unique you will love Doodly because it gives you 4 different canvases that you can choose from: whiteboard, blackboard, greenboard and glassboard.


To appeal to your audience, you have to personalize your videos, and there is no better way to do that in a sketch video than with the right kind of hand. Doodly offers you dozens of male and female hands in different colors and sizes.
How it Works
As we have already mentioned a few times, using Doodly is easy and you don't need any technical expertise.
Step 1: Select a canvas of your choice
Step 2: Add images, text and audio by selecting from the library on the left side of your screen.
Step 3: This is optional, but if you want, you can record a voiceover and import it into your video.
Step 4: Save, choose how you would like to share and then send.
Why Choose Doodly?
There are several benefits of Doodly. As we reviewed it, here are the features that we liked the most:
The most impressive thing about Doodly is the fact that it's so easy to use. You can create a video in a matter of minutes. It is ideal even for young students.
The image and audio libraries are quite impressive, and they get regular updates.
It is one of the cheapest whiteboard animation software there is, especially when you consider the functionality and features it has to offer.
Editing and exporting videos is a breeze.
What is Not to Like?
No software is perfect, and after testing as many Doodly features as we could, we discovered some things about Doodly that need improvement:
The export process is rather slow; it takes about 40 minutes to export a clip that's about 5 minutes long, and sometimes longer when the clip is minimized to the bottom of the screen.
It doesn't have a free trial; with whiteboard software, it helps to have an initial period when you can test the software to determine whether it suits your needs.
The software doesn't have the option to sync sound and animation, leaving you to guess where a sound clip should go. Not a difficult process, but it takes a bit of time.
How Can You Use Doodly?
The sky is the limit when it comes to the myriad ways you can use Doodly. From our reviews, we decided that you can use it for:
Marketing and advertising for new and existing products
Explainer videos for products
Concept introduction and simplification in classrooms for students of all ages
Social media – whether Facebook, Instagram or YouTube, Doodly makes powerful, interesting videos that are self-explanatory
Public awareness and education videos
…and many more
Customer Support
For support, you can refer to the Doodly knowledgebase where you will find general information about the software, how to use it, troubleshooting and also information about billing and cancellations.
You can also support a support ticket, and the support staff is quick to respond. If you would like to talk to a rep there is a Live Chat option on the support page of the website.
Doodly Pricing
Although Doodly doesn't have a free trial, it is one of the cheapest whiteboard animation software in the market. It's priced in two tiers: monthly and annually.
Monthly
Standard for $39/month
Enterprise for $69/month
Annually
Standard for $20/month
Enterprise for $40/month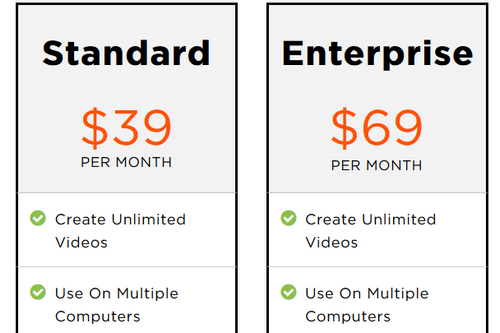 30-Day Money Back Guarantee
Do we Recommend Doodly?
Without a doubt, we think Doodly is one of the best whiteboard software for less than $100. Although it is slow to export completed videos, it has a ton of great features. The fact that it is so easy to use makes it one of our favorites.
Whether you are a beginner or an experienced videographer you will find much to like about Doodly.