5 Best Job Tracking Software 2022 | Manage Team Efficiently
Job tracking software helps project managers and teams to complete client requests and projects. It also helps you to handle limitations of time, budget and scope. Many SMEs across various industries are now using job tracking software.
This software is based on cloud technology and is available as software as a service (SaaS) by application service providers. Professionals often rely upon job tracking software which assists them in monitoring multiple sections of a business. Companies can also mitigate risk more easily nowadays by identifying the failing aspects of the project with software for time tracking that predicts completion dates for each project phase.
We have compiled a list of the 5 best job tracking software for the small business and large in order to help you to find these sophisticated tools without taking too much time.
Features and Ratings Of Job Tracking Software
After reading this, you should be able to know what you are looking for and choose the right platform for your company.
---
Joblogic job tracking software enables multiple persons within your enterprise to simultaneously log in and view jobs. The status of each job can be seen in real time as it goes from creation to completion. This informs the status of both customers and management of jobs which ensures to have confidence in expanding your service without additional costs of management. You can see the status of each job from the start to the end.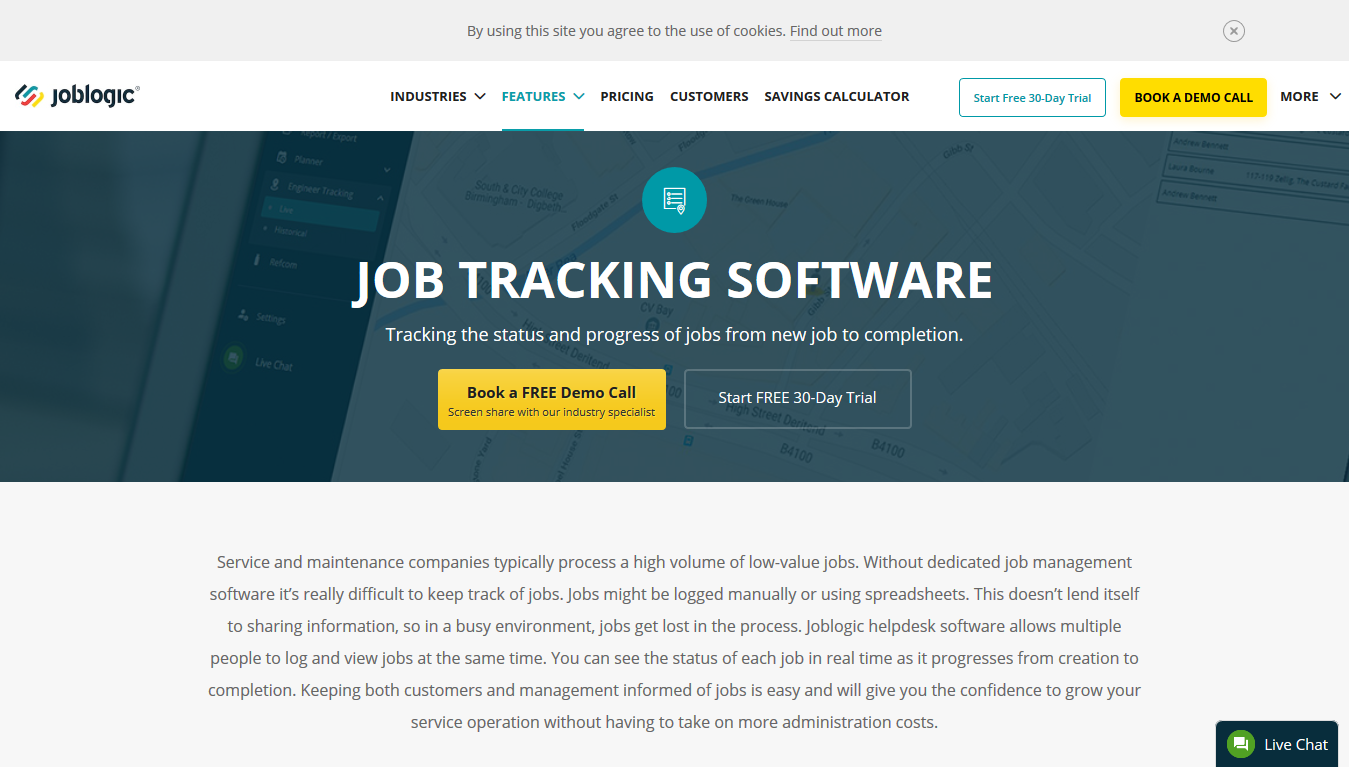 Key Features
Keeps your business under control through strong reporting and data analysis.
An automatic messaging system that keeps your clients or customers updated in real time.
It can track the progress of new jobs from beginning to completion.
Accelerates the billing process and improves cash flow.
Prevents dual data entry, integrates Joblogic in your accounts system.
Pricing
Joblogic offers a 30-day free trial. And it has two types of premium plans. Here, is the overview:
Billed Annually:
Basic – £30/user/month
Premium – £35/user/month
Enterprise – Contact the Joblogic sales team
Billed Monthly:
Basic -£35/user
Premium – £40/user
---
Boomr is a web-based job management software that allows the users to monitor, manage and organize crucial tasks. Moreover, it lets you tailor your dashboard preferences such as modifying the existing settings of manual shift entry, shift editing, geofence, auto check-out and more to make it easy to customize.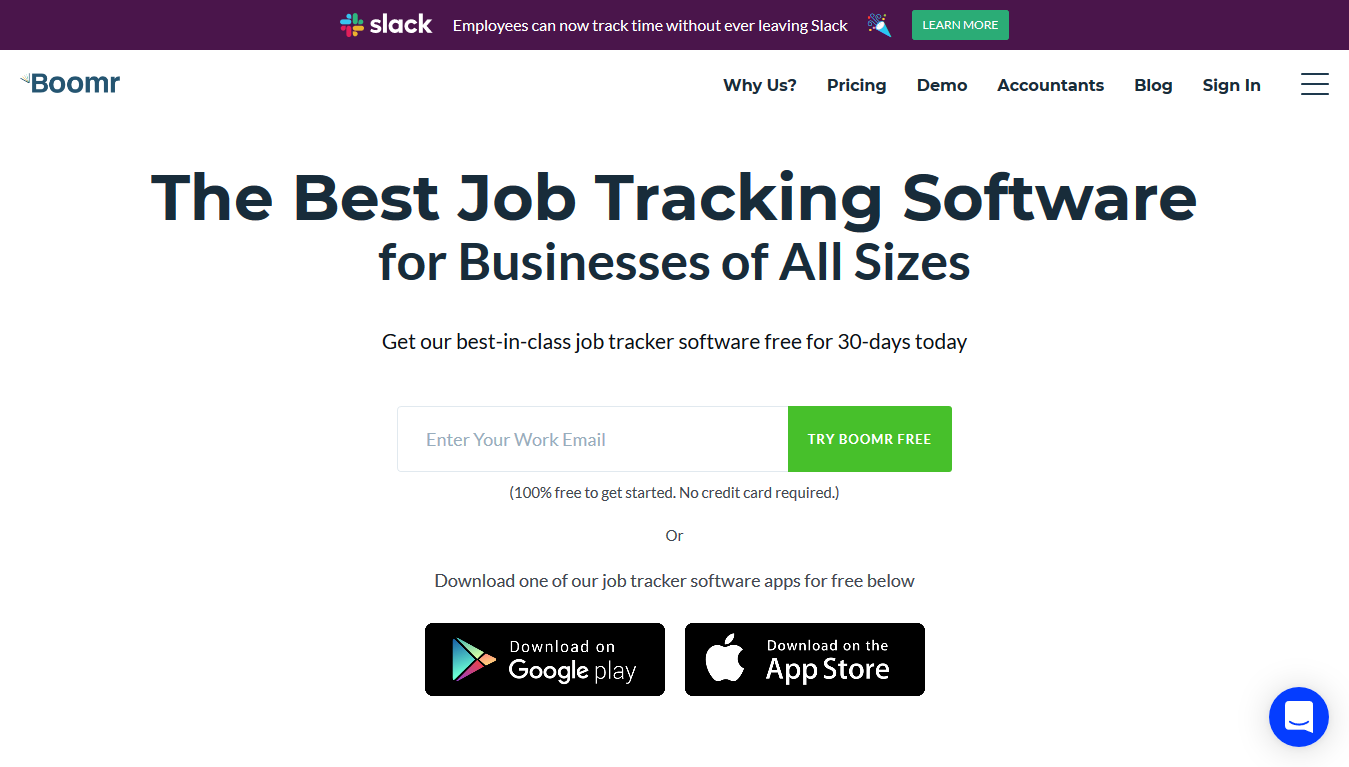 Key Features
Track the exact location of your staff using GPS tracker in real time.
Create your own custom shift rules for individual employees to automate their shift schedules easily.
Easily establish and implement custom alerts & reminders based on the individual working habits of your employees.
Eliminate expensive overtime easily if you and your staff are automatically notified to imminent overtime.
Check employee time-sheets easily and quickly identify differences in order to create a clear trail for audit.
Pricing
Standard: $5/month/user + $20 Base fee/month.
Business: $9/month/user + $45 Base fee/month.
---
For companies and industries of all sizes, mHelpDesk job tracking software makes job tracking simple. This job tracking functions are organized through tabs so that you can access from a single screen and get all the information you want about a particular job.
Any person in your team who is able to use a web browser with tabbed browsing knows how to use our job tracking software. Moreover, the benefit of keeping the whole team together with live updates can also be enjoyed.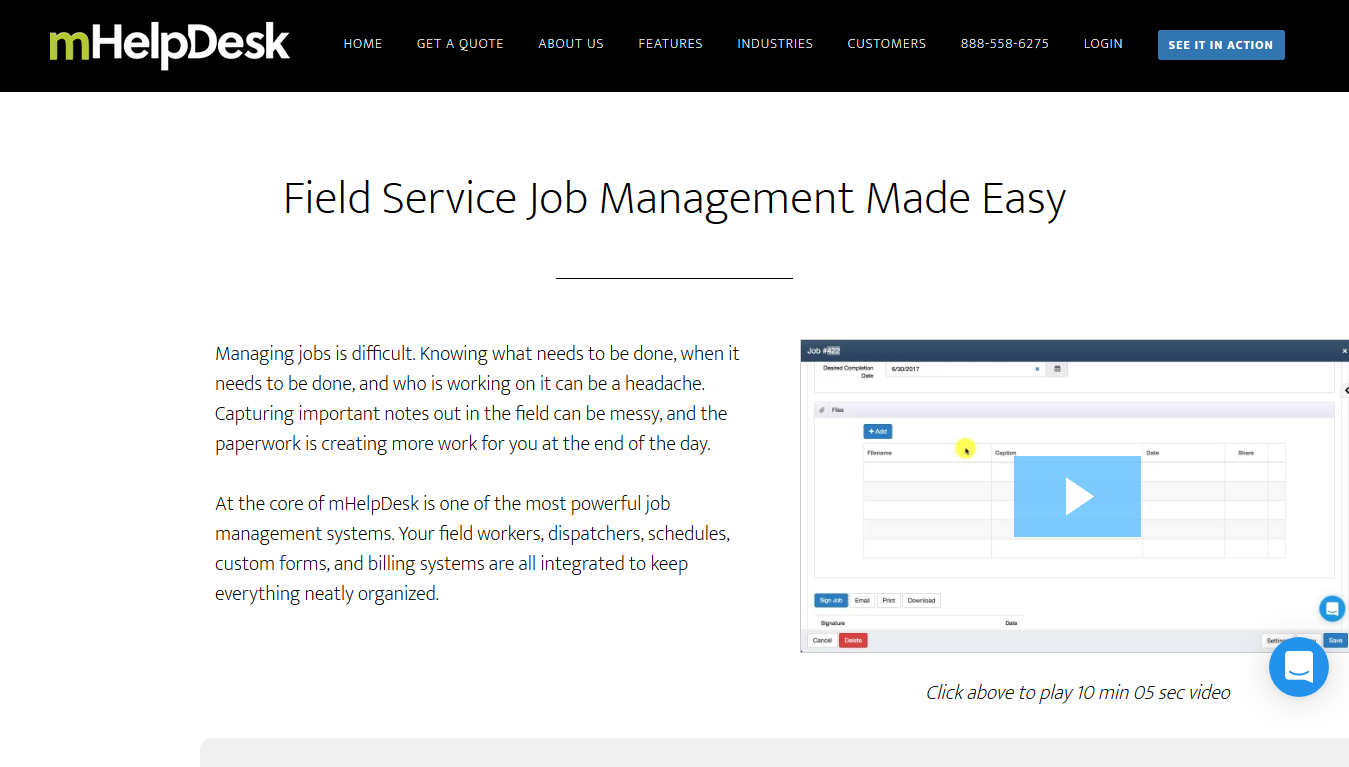 Key Features
With the drag and drop calendar feature, you can assign a job to a technician with just a few clicks and guarantee that the schedule of your team is organized and optimized.
mHelpDesk is fully compatible with Quickbooks, allowing you to transfer finished jobs directly into your accounts.
Instead of fumbling through documents or struggling to get status updates, mHelpDesk facilitates easy & quick access to information regarding your customer, jobs and the work of your field technicians.
Once the job is done in the field, you can easily convert it to a precise, professional invoice with a few clicks. Sign it immediately on your device and take your payment directly via cash, check, credit card or ACH.
Pricing
Contact the mHelpDesk sales team to get pricing details.
---
This Job Card Tracking system allows you to keep an eye on multiple jobs going on in a project. At the same time, you can also check which employee is working on that particular project. It helps you organize your jobs instantly while reducing stress. By simply starting and stopping a timer, the employee can easily track the time (and material) they have spent working with the web app.
The registered time is automatically available in the office on the working time sheet of the employee. The built-in inventory management system is easy to add additional costing such as labor costs material and also comes with the invoice generator.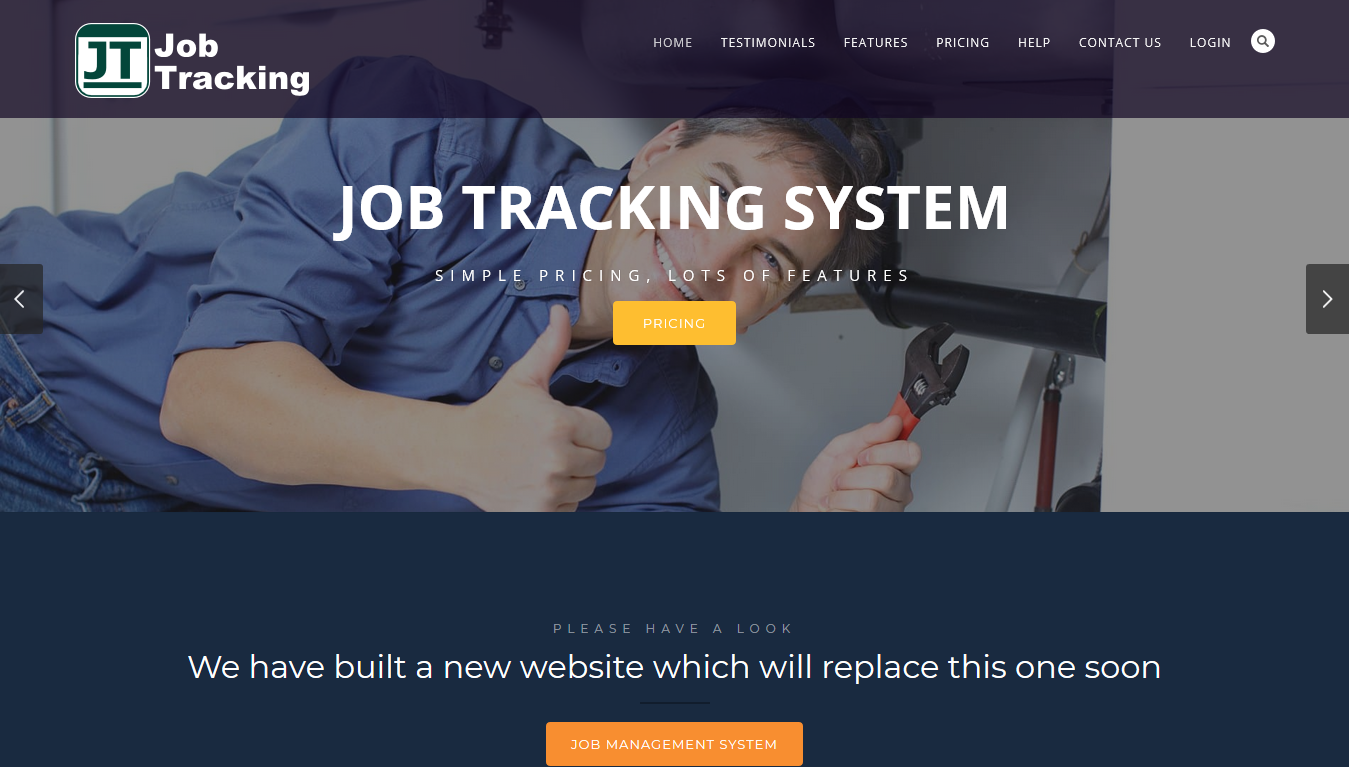 Key Features
You can complete your work faster with a quick and easy process, enabling you to invoice quickly and get paid earlier.
Our system allows unlimited access to users. This enables you to add, manage and assign employees to jobs and track the working time of employees with time sheets.
The software provides a mobile app that allows you to easily record your work time and add used materials while at the job.
Invoicing can be done with the help of your own letterhead by generating a PDF invoice, but the system also supports a number of online accounting integrations.
Pricing
Job Card Tracking offers First-Month-Free trial and after that, you pay €30/month.
---
For companies in the field of service business, job tracking is essential. FieldAware provides you accurate and efficient ways to maintain local resources both on time and to maintain the service of commercial or residential companies.
This software provides both an overview of the job status (planned, launched, on the go, worked, completed), and a detailed overview of which jobs have been performed, what items have been used, which customer assets have been affected, etc.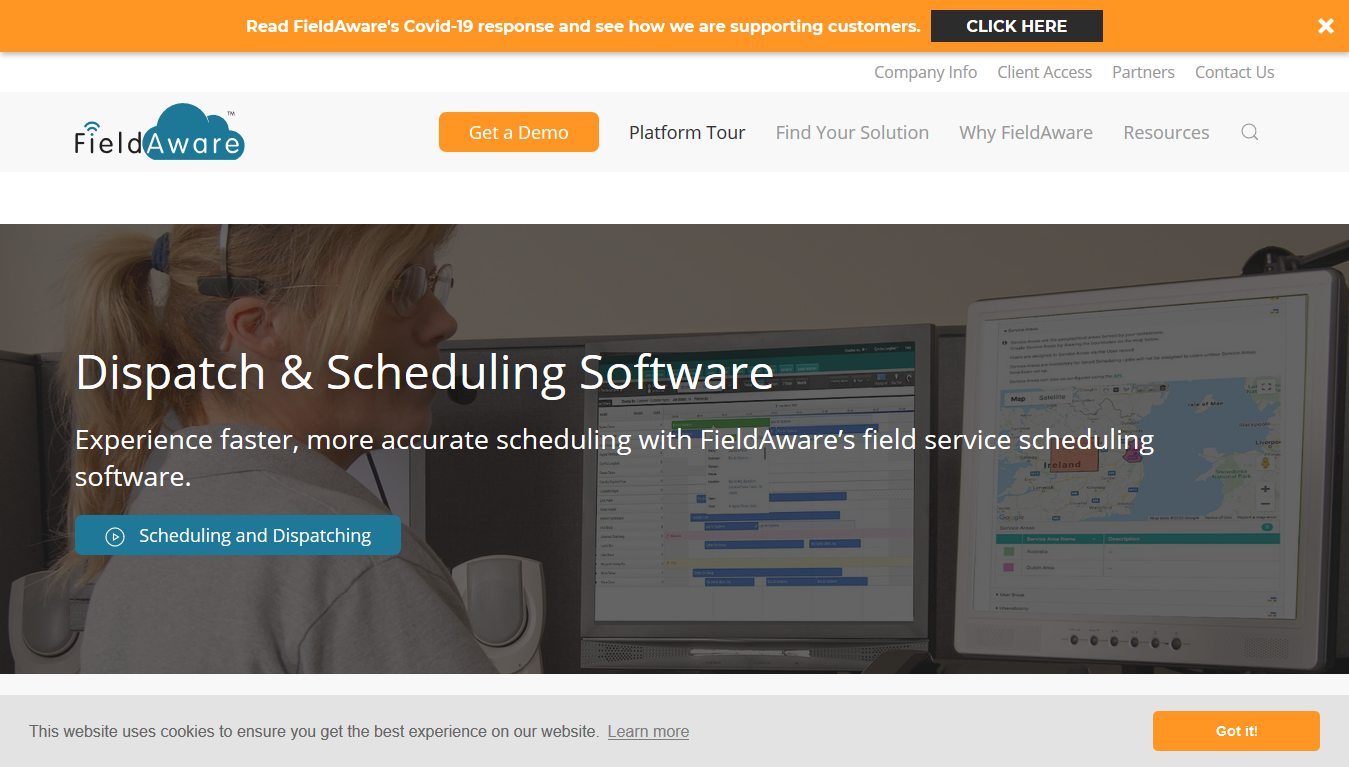 Key Features
The right software offers both a glimpse of the job status and a detailed view of the tasks performed, which items have been used, which customer assets have been affected, etc.
Job scheduling features are developed for tracking and timing technicians. They offer updates in real time when jobs are assigned and they also enable new jobs to be assigned quickly.
The functionality of task management is to provide consistency and quality for all service jobs. The creation of a standard set of tasks provides a field technician with all the information he needs about the tasks and how to do them.
Pricing
To get the pricing details, please contact the FieldAware sales team.
---
Conclusion
After gathering some detailed information, We have compiled the list of the best job tracking tools.We now hope you'll understand every aspect of the article as we have covered all the information regarding these tools. You can select any of the job tracking tools mentioned above and some of them also offers a free trial version.
You May Also Like To Read:-