10 Best Fundraising Software 2022
It is no wonder that 60% of millennials donate an average of US$481 each year. Subsequently, to manage these funds, users & entire process, non-profits use fundraising software that allows to digitize and use social media power to spread the word about their causes.
Now, the process of researching and choosing online fundraising software is a considerable thought whether your profit is small and start-up, large and well established or somewhere in between.
---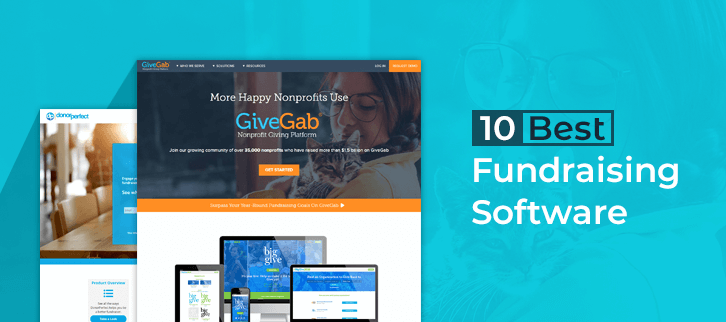 ---
There is a range of different software collecting programs with their own strengths. So how do you choose the right one for your company?
Fortunately, we did the heavy lift for you! Here in this article, we have put together the most popular software for fundraising.
Let us explore these services one-by-one.
---
Kindful is a fully featured donor management and online fundraising software. This service is designed with CRM tools, reporting, and analytical features and a full range of fundraising management capability to assist non-profit groups for their cause.
Kindful offers a complete series of fundraising services that you can take advantage of easily. This enables you to monitor donations, build customized web pages for your organizations, regulate crowdfunding and consult an extensive database for donors.
---

---
Features
In order to maximize your investment, integrations in third-party applications may enhance the capabilities of this software. It is possible to manage all of your data in a single hub alongside QuickBooks, PayPal, MailChimp with the help of Kindful.
Besides tracking your donations, you can also keep your donor's tabs on their CRM capabilities. In this way, your members and contributors can easily build stronger connections. Also, it offers tools to record your donor information in real time, including interactions, commitment amounts, and recurring donations.
In addition to its robust tools of fundraising management, Kindful offers accurate analytical solutions. With this, you can have real-time insights into your campaigns and format them for easier analysis into custom reports. This allows you to easily track how your campaigns affect various demographics.
Pricing
There are several monthly packages of $100, $200, $300, and $400. The vendor also offers a quotation-based enterprise plan.
This software is also available in different price schedules, which are paid annually according to the number of contacts that you need to accommodate on the platform.
Click Here For More Details Here
---
DonorPerfect is a comprehensive solution for data management that helps businesses build their missions and strengthen donor connections. This can decrease hundreds of administrative hours for organizations by providing donor management tools, personalized communication options, volunteer tracking solutions, social networking integrations, and information management features.
---

---
Features
Efficient Fundraising Management
DonorPerfect offers simple but intuitive features to manage, analyze and report fundraising, organize information and process payment. The platform can also support personalized communication, to-do lists, scheduling of appointments and tracking of grants. These features make it easier for users to manage the various aspects and multiple applications of their campaign.
Built-in Event Management Tools
DonorPerfect also has built-in event management capabilities in addition to its complete suite of fundraising tools. This enables you to plan and manage online registration for auctions, trips, and other events. It can also help you manage these events & track volunteers, student information and the fundraising of the social network.
Your donors and members give their information to your non-profit organization. Therefore, all your contact details should be kept confidential. So, this PCI compliant software ensure that no account information is saved. It gives donors the security they need in order to provide the financial support they need when using electronic check payments or credit cards.
Pricing
You may choose from their Lite plan at $89/month, Express plan at $159/month, Essentials plan at $269/month, Premier at $459/month, and Enterprise at $799/month.
Click Here For More Details Here
---
FundRazr is an online fundraising tool of the next generation designed for private, commercial, non-profit and educational institutions. It is intended to simplify and speed up the entire fundraising process by using the best-in-class instruments.
Instant campaign creation, donor management and sponsorship enhancement are among its key features. The platform also supports advanced integration of social media, automated milestone updates and enterprise crowdfunding.
---

---
Features
The planning stage is the longest-consuming part of the campaign. FundRazr offers tools to help you reduce your time spent building your campaigns, allowing you to initiate campaigns at the earliest possible date. It offers beautiful templates for fundraising, practical support and on-boarding pages and great step-by-step guides to help you start your campaigns.
It's hard to obtain donations for your cause without supporters. Therefore, FundRazr offers tools for building strong, active and committed supportive bases. The tools enable users to offer benefits to encourage donors, use options on the desire list and set recurring donation options for supporters.
This platform also has a sponsorship enhancement tool, which helps you develop win-win fund building policies in addition to the donor management capability of FundRazr. You can use this feature to create matching dollars and promoted incentives and to create campaigns for sponsors.
Pricing
With regard to pricing, FundRazr can be used totally free. The seller charges you only for PayPal, Stripe and WePay, the standard third-party payment processing fees. They usually amount to 2.9% + $0.30 for each country.
Click Here For More Details Here
---
Qgiv offers all-in-one financing software that simplifies and optimizes your fundraising operations for your organization. From your main control panel, you can view statements, reports, analyzes and make donations online or from a device you use every day.
It offers an online event support fundraising platform, handheld credit card donation kiosks, peer-to-peer support, and other fundraising tools.
---

---
Features
The gamification included is Qgiv's principal distinguisher. It makes it fun to give back to your donors with boards, badges, and fundraising thermometers. It is also highly personalizable, which means you can easily match your company's brand and feel.
Peer-To-Peer Fundraising Management
This feature lets your supporters create separate pages to raise funds for you and allows you to access critical marketing instruments and metrics.
Mobile Donating Instruments
It can greatly simplify the whole donation process and make donations more likely to be completed.
Pricing
Qgiv offers several affordable packages to choose from for small non-profit organizations. The Start Plan cost $0/month, their cheapest fee, with a small 3,95% + $0,30 transaction fee.
Since this tool comes with a free plan as well, small non-profits are given a leap when they launch their fundraising efforts online.
Click Here For More Details Here
---
GiveGab is a non-profit platform for online funding, support, marketing, fundraising of events and management of volunteers.
You can start outstanding campaigns using the user-friendly and customizable interface, which will certainly help you raise awareness of your missions and engage with donors.
---

---
Features
Exhaustive Tools For Collecting Funding
GiveGab offers a range of features such as the easy-to-use campaign editor and the management dashboard for your campaign to generate the maximum revenue possible. It also has a mobile design that supports social sharing, peer-to-peer pages, and fundraising team pages.
Management Of Automatic Donations
The transition to a digital workflow reduces the burden of paper and guarantees the security of bidders data. You can even create customized thanks messages to your generous bidder using the GiveGab automated donation receipt which covers EIN and total donation.
GiveGab provides endless opportunities for volunteers. You can easily assign tasks, automate emails, send messages, comment, login, upload photos and more when using this platform.
Pricing
These are priced at $79 per month, $149 per month and per quote. In addition, the respective platform fees for each package.
It also provides reasonably priced SMB packages and company packages that are packaged according to the types of characteristics you need.
Click Here For More Details Here
---
EveryAction is a unified, digital CRM system, which combines donor management with fundraising into a practical interface. This platform can streamline how users raise money for themselves with powerful tools to modernize workflow organizations, simplifies real-time analyses, optimize volunteer management and stimulate interactions with the donor.
It even offers targeted email and integration into social media to help you build highly committed supporters. In addition, all actions are promoted by one click and secondary requests are used to make supporters into donors.
---

---
Features
Workflows For Modernized Collection Of Funds
Users can access upgraded workflows to identify potential supporters, track time limits and view results by using EveryAction. It also has a strong interface with support management tools, action plan tools and the integration of social media to strengthen your workflow. In order to complement everything, EveryAction has a direct response plan wizard to plan, execute and track all efforts in one place.
Simplified Reporting On Performance
EveryAction provides instant reporting on the various dimensions of your operations in order to help you get a picture of your operations. It maintains donor details in one place to easily measure commitment. It even provides custom data visualization, so that the short-term fundraising efforts can be more effectively communicated.
EveryAction is likely to be a great option if you have existing business systems, as it features strong APIs and intelligent integrations with leading industry platforms. You can retain your previous platforms without worrying whether it is EveryAction interface compatible or not.
Pricing
A subscription scheme starts at $49/month for pricing. Contact the seller to get a quote for your business.
Click Here For More Details Here
---
Aplos is one of the most bankable tools that surely enhances donor retention. This is because it provides notifications of major donor activities that facilitate you to welcome new donors, reintegrates contributors and much more so that your loyal donors always feel welcome.
Also, the tool lets you create smart donor database for better relationships. You can easily enhance your dynamic donor base to track communication activity, notices and history all in one place.
---

---
Features
You can get to see volunteers who donated this year, people with excellent commitments, biggest donors. Identify important support groups with rules that update for more effective fundraising automatically.
The automatic donation tracking includes tracking the gifts given online by donor & purpose along with an email receipt. Further, you can also connect your PayPal account or import offline donations in order to track quick donations.
Track your donor database easily and produce reports to follow up on notable commitments.
Create custom donation forms or a website widget. Also, create recurrent donation forms and a secure donor portal to manage giving & attract loyal donors.
Allow donors to use their preferred way of payment, offer transaction fees, check how often they give, and determine how their donation is intended.
Pricing
The starting plan will cost you $49 per mo for 1-2 users, up to 500 contacts & dedicated support.
The growing plan comes with a price tag of $79 per mo for 3-5 users and includes features like partner integrations, 501 – 2,000 contacts, active support system.
Furthermore, its established plan includes 6-10 users, 2,001 – 5,000 contacts, partner integrations in just $199/mo.
Get a quote from the sales team for the most advanced plan "Thriving" which comprises 10+ users & over 5,000 contacts.
Click Here For More Details Here
---
This is one of the best online non-profit fundraising platforms that let you unleash generosity, growth, and sustainability. The software is known to assist you in acquiring more donors, cultivate donor relationships, and retain more donors in the best possible way.
It comprises various attributes like online event registrations, peer-to-peer fundraising pages and a lot more that will help you in the long run.
---

---
Features
Customized mobile donation pages enhance results by almost 40%. With this tool, you can accept all kinds of donations including one-time and recurring at multiple levels. Further, you can easily enter forms on your website in landing pages, light boxes, and widgets.
You can instantly acknowledge the donors for their online gifts via automated messages. Also, you can submit the summary reports easily to the generous donors. Personalize the messages for genuinely individual interactions with dynamically populating fields.
Customize dashboards for visualization in real time. With a single click, measure key metrics in online fundraising. Not only this, you can check the smart metrics database and track the performance of your fundraising tools.
Pricing
Get in touch with the sales team to know the price estimation of the amazing online fundraising software.
Click Here For More Details Here
---
Virtuous has been listed in the most popular fundraising software because of the multiple features that it comprises. For instance, data segmentation & search, project/fund management, robust data import/entry, popular integrations & API and a lot more.
This software is best for non-profit marketing, CRM, and donating platform that helps charities to increase their relationships with donors and to develop better ones.
---

---
Features
Email Marketing & Automation
Virtuous automation saves your time and raises more money to your entire donor file, by scaling personalized messages. You can easily build and send bulk email. Choose from our e-mail template library, sync donor search e-mail lists, and merge into fields related to all donors to improve response rates.
Software for donor management is designed to build better relationships. Virtuous CRM serves your entire staff simply enough & has a lot of features to meet all of your complex fundraising requirement. For instance, you can build connections using social media & map data and also streamline your workflow.
Integrate your web sites with popular online marketing and mailing tools. Also, you can pull in wealth & social data or sync Virtuous to your accounting system for better fundraising operation.
Pricing 
Here are the 3 pricing packages that Virtuous offers:-
Standard – Starts at $195/mo
Pro – Starts at $495/mo
Enterprise – Starts at $895/mo
Click Here For More Details Here
---
Click & Pledge is an all-in-one, non-profit cloud-based fundraising platform. It offers a wide range of features that allows you to accept online donations, raise funds between peers and your community as well as to boost donations.
---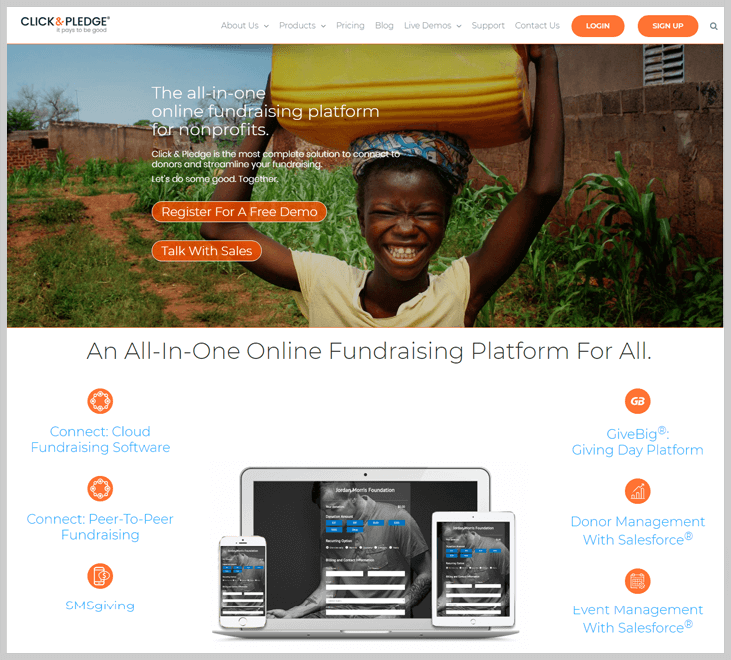 ---
Features
Click & Pledge offers a wealth of capabilities to streamline your campaigns. It also offers peer-to-peer fundraising, social media publicity, and other integrated tools in addition to workflow creation, volunteer management, and donation tracking. This allows you to access all the features required for your campaigns to plan, start and monitor.
Click & Pledge has a highly scalable interface that users can adjust to their organization's changing needs. You can be certain that they offer funding tools to support various functions for small organizations, large charities and all of them.
Processing Of Secure Donation
Sensitive data that must be protected at all times is the donor information or transaction records. Click & Pledge ensures that the unauthorized staff can safeguard themselves because the Payment Card Industry Data Standard certifies the software to the payment industry's highest safety standard.
Pricing
To complete everything, Click & Pledge is completely free of charge. Only 3.75% + $0.37 per transaction are charged by the seller.
Click Here For More Details Here
---
Conclusion
Above mentioned fundraising software integrates with financial transaction processing or payment solutions as well.
To qualify for inclusion in the fundraising category, these products will provide features for creating multiple donation and gifts, manage donor information and communications for existing or potential donors and a lot more. Moreover, it allows the user to set up, manage and monitor campaigns to attract a new donor.
Hereby, the above listing has all of these essentials which you have been looking for. You can pick any of them and start using instantly.
You may also like to read:-
Feel free to drop any suggestion or query by commenting in the below section.