MaxStat Review – Is This the Best Statistical Analysis Software?
Editor Rating:





MaxStat is described as easy-to-use, affordable, intuitive and full-featured statistical analysis software that can be used by students and scientists to analyze and break down data. Not many software in this category get these accolades, so what makes MaxStat special?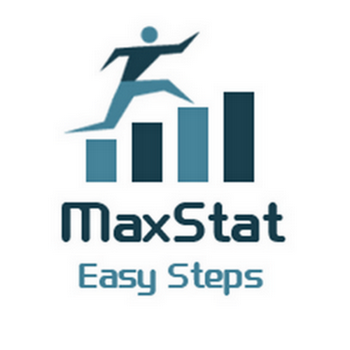 That is what this review is about. We will look at what it is, its features, the different versions and what they can do, what kind of statistics it can handle as well as pricing and drawbacks of this software.
What is statistical analysis software?
In order for numerical data to be translated into meaningful information, it has to be interpreted and analyzed. In the past, people used mathematical formulas, pen and paper to do this, but not anymore. There is statistical analysis software that can help you make sense of all kinds of data. It can show you trends, means, averages, peaks, lows and more.
What is MaxStat?
It is statistical analysis software that makes data analysis easy and quick. You don't have to be an expert to be able to use it. So long as you know what you would like to do with the data that you have collected, MaxStat will give you accurate results in no time at all.
MaxStat is called the best statistical analysis tool for a reason. It can process information in 3 easy steps. It manipulates data to give a wide range of reports including minimums and maximums, sum, mean, standard error, median, skew and hundreds of others.
You can produce reports as graphs, charts or tables, and results are easy to understand.  The software has a free version and a Pro version, and it is affordable.
Features of MaxStat
Analytics

One of the best things about MaxStat is that users with no experience can use the analytical feature with ease. The user interface is easy to read, and you can manipulate data to give you different types of results with one click.
Regression Analysis

Regression analysis is all about understanding relationships between data points so that you can make better decisions. It is commonly used in businesses, by governments and institutions that work with data. MaxStat for regression analysis is perfect as it can help you sort and understand data, compare it and make decisions.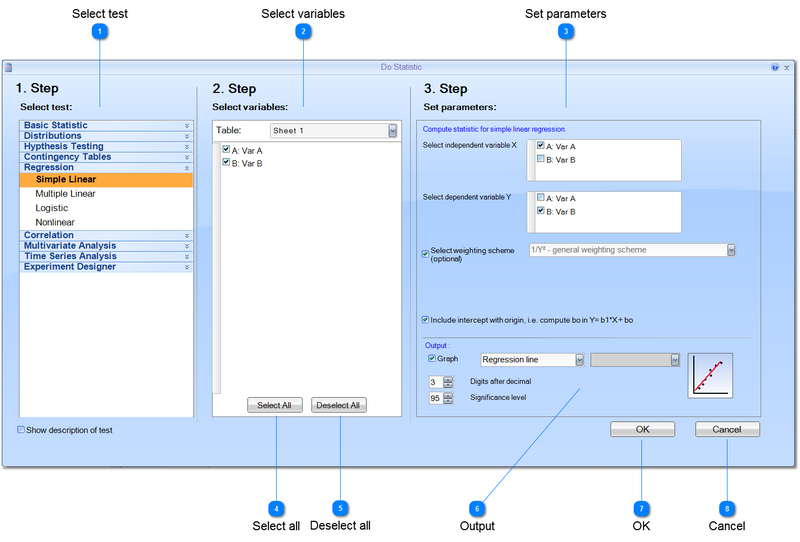 Association Rule

Association rules are necessary in data mining if you want to know how the presence of one data item affects another (or others). It is the basis of the If-Then rule. MaxStat is a good choice if this is the kind of conclusion you wish to draw from your data as it has a feature that is specifically for association discovery.
File Management & Storage

MaxStat has its own word processor. You can create and store notes that can be shared with others. Users can store all their files in this software and they can be shared with teams, colleagues or professors.
All projects are stored within one file on your computer and each project has its own label, saving time that may be spent searching for files. You can also write reports and add statistical props like graphs and charts. These reports can be shared with anyone you want.
Forecasting

Do you want to know what your data means for your future performance? MaxStat can give you an in-depth look. It has an in-build forecasting feature that can help you predict the future so that you can take necessary steps.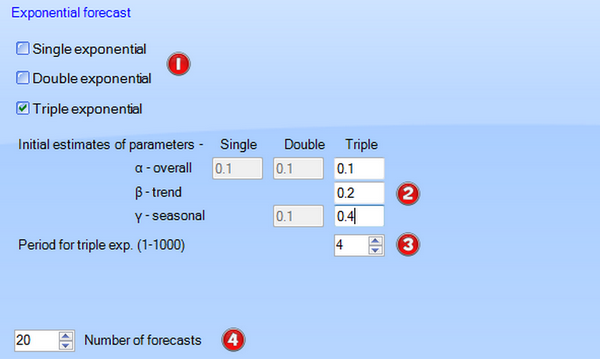 Time Series

A time series shows the value of a variable at certain points in the past, and no statistical analysis tool is complete without it. The Time Series feature in MaxStat gives you a complete picture of previous data sets so that you can see trends over selected periods.
Multivariate Analysis

Most statistical analysis software does not come with an in-built multivariate analysis tool. Maxstat does, and gives quick, reliable results.
Visualization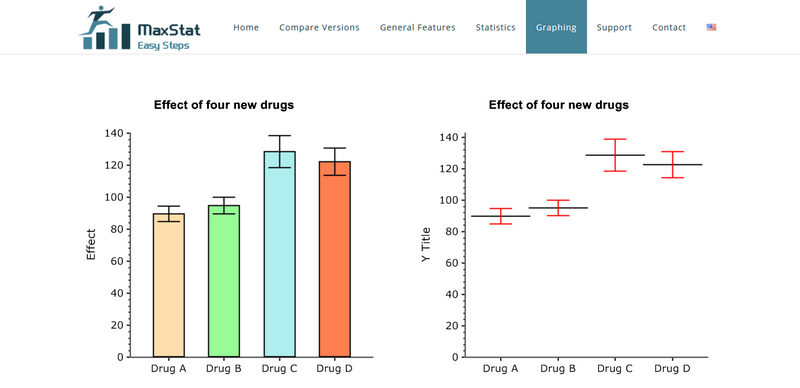 One of the best things about MaxStat is the Visualization feature. It has high-quality graphs in over 30 styles, charts and tables. All these help you communicate with others the conclusions that you draw from your data.
Benefits of MaxStat
Easy to Use
With MaxStat you don't have to be an expert; you don't have to be a statistician or even a scientist. The software is easy to use and the intuitive interface allows users to process data with ease.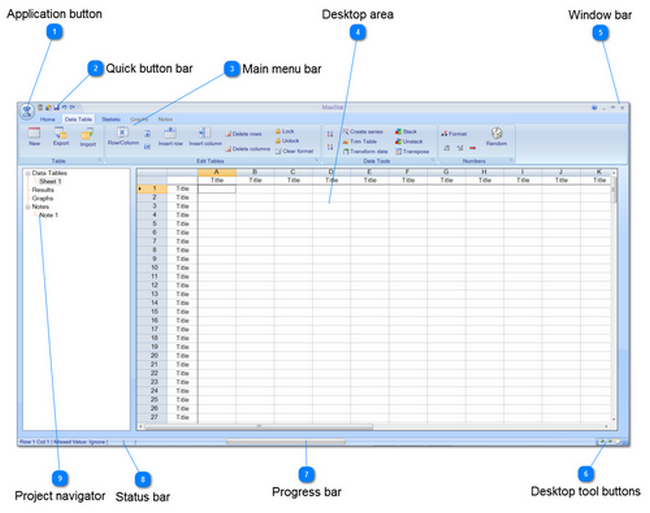 Training & Documentation
According to the website, MaxStat has "a help system that really helps". It has complete documentation for every feature including screenshots that show you exactly what you should do. There are online tutorials that show you how to get the right statistical analysis results, and there is also a guide into the basics of statistics.
Easy Spreadsheet Management
The spreadsheets in MaxStat are as easy as Excel spreadsheets. You can quickly enter data, customize and manage it, and use formulas such as averaging, transposing, stacking and more.
More Than 30 Charting Styles
Each graph style can be customized to suit your needs. You can add axes, panels, titles, legends and more. You can also make notes to append to graphs and export and merge into Excel documents.
Short Statistical Analysis Steps
Step 1: select a topic, Step 2: select variables and Step 3: set parameters. These 3 steps take place in one dialog box. You don't need to be an expert to use this statistical analysis software.
User-Friendly Interface
The MaxStat user interface is quite similar to MS Excel or MS Word and just as easy to use. There's an application button, a quick button bar, main menu bar and a desktop area. It has a Home tab, a Data Table tab, a Statistic tab and a Graphs tab all located conveniently at the top of the screen.
Advanced Features
MaxStat has advanced features that can be used for more complex statistical analysis including hypothesis, linear and non-linear regression, correlation, multivariate analysis and more.
Cons of MaxStat
There is nothing that's not to like about this software; it does exactly what it promises to do.
Who Should Use MaxStat?
MaxStat can be used by students, SME's, non-profits, enterprises, agencies and any other institution that gathers data that needs to be analyzed.
MaxStat Lite
This one is designed for non-commercial purposes, has more than 100 commonly used tests and produces results that are easy to read and interpret. It is the recommended version for students and those who do lightweight statistical analysis. It has features like 254 rows, 12 columns, 3 data tables, print preview and print, variance test, Bartlett test and many more. MaxStat Lite is FREE.
MaxStat Pricing
For the Pro version there are two types of licenses that you can choose from:
Annual License for €79
Lifetime License for €129
MaxStat Customer Support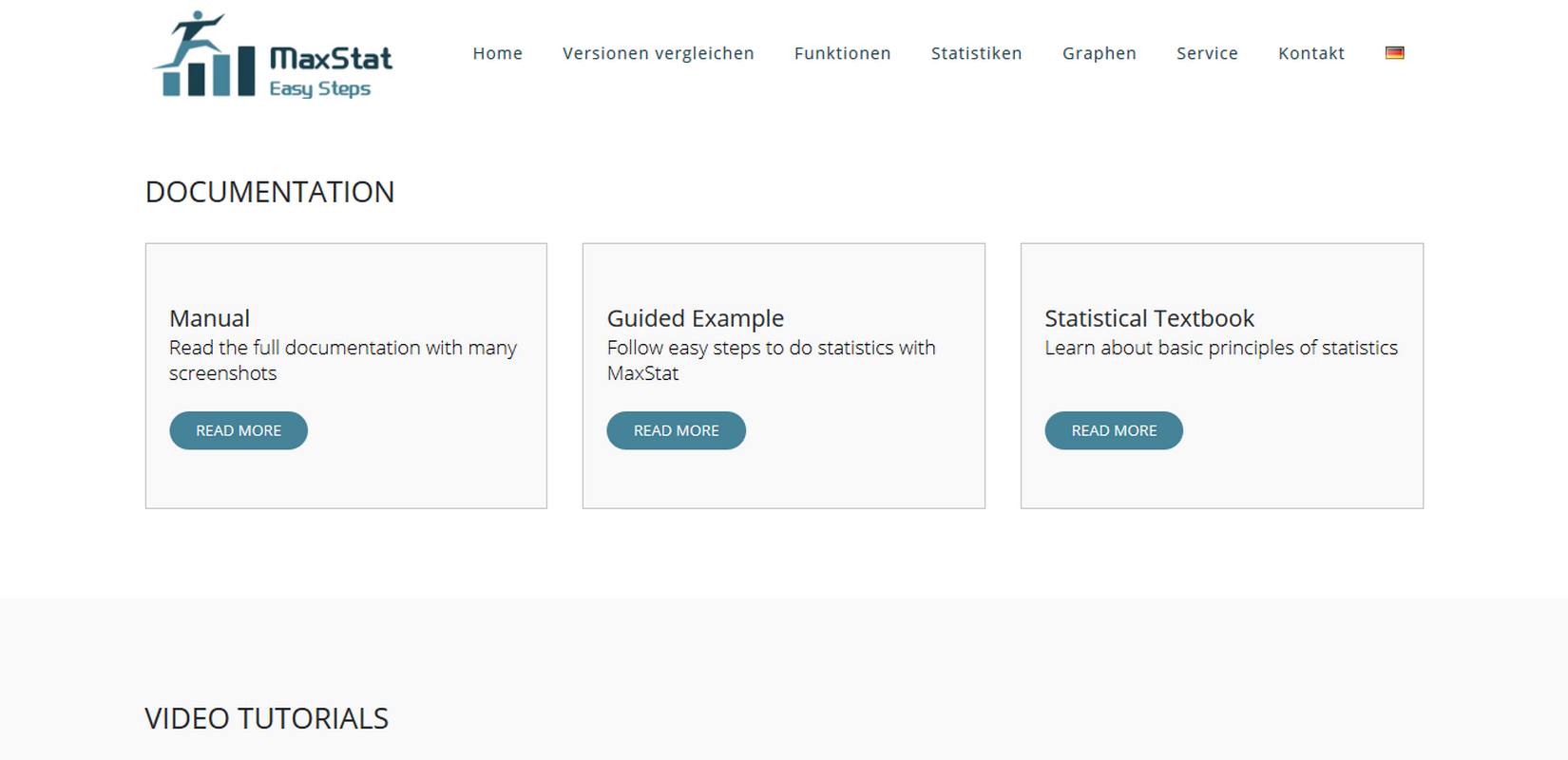 MaxStat provides documentation and video tutorials but there is no Live Support. There is a statistical textbook for those who would like to learn more about the subject. You can also email the team directly and they will get back to you within a short time.
Conclusion
MaxStat is one of the best tools for statistical analysis software. Whether you are a student or a professional, it has the right features to help you process and analyze data and give results that you can apply right away. Light users can choose MaxStat Lite which is free, but should keep in mind that it has limited features. For professionals, MaxStat Pro is recommended.
User Reviews
Jenna C. is very happy with MaxStat:
"The software went above and beyond my expectations. I was able to get the statistics I needed quickly and this software has added a lot of value to our research. It has saved us money as well! We highly recommend it!"
Charles M. feels the same way:
"I would happily recommend MaxStat as a sensibly priced alternative to SAS and other well-known sophisticated packages. I have tried the regression, normality tests and hypothesis testing components and also the timer series/forecasting parts and they are all easy to use."
James K. is happy with the user interface:
"A very well-thought-out software. MaxStat has one of the cleanest and the most intuitive user interfaces I have seen in statistical analysis software."