10 Best Facility Management Software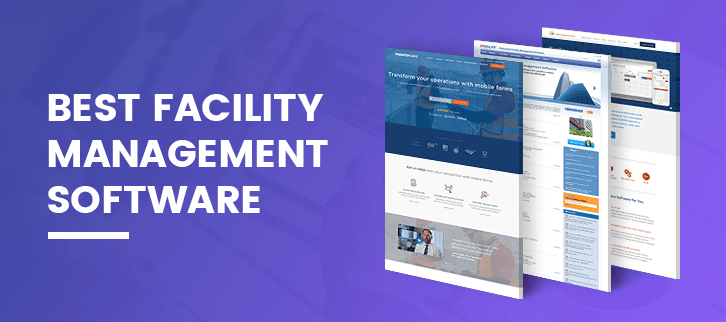 Facility management is the process of resource and asset management in the workplace to ensure that everything works with maximum efficiency and at the highest productivity/profitability.
It takes into account multiple disciplines to ensure that people, systems, places, processes and technology are working as they should.
Defined work groups can simply create forms, capture data from the field, and then send reports.
In facility management, there are two main areas to look out for:
Strategically-tactically: It helps clients and customers understand the potential impact of their decisions on the management of space, cost, services or business.
Operationally: It ensures a cost-effective environment for the occupants to function.
We have a number of Facility Management systems. The best 10 are as follows:
The Best Facility Management Software
Compared (in full)
As you read through the following facility management software think about your needs. By the end, you will know which software is best for your business.
---
ProntoForms is a Canadian technology company that has developed cloud-based software catering to businesses. It builds secure, varied forms for mobile workforce management.
It has helped numerous organizations mobilize business processes in minutes by eliminating the use of paperwork which has increased productivity. The defined work groups can create forms, capture data from the field and send reports.
They can easily deal with critical information and then act on it in real-time within a secure and managed cloud environment. All data is captured on commonly deployed mobile devices such as iOS, Android, Blackberry 10, Windows and web browsers.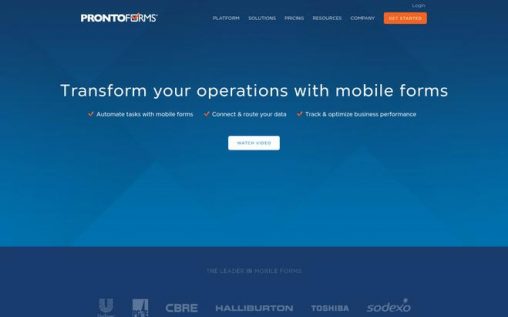 Key features of ProntoForms:
A leading product in the growing mobile enterprise market
Strong cash flow annuity build-up from high customer retention rates
Low customer acquisition cost
Predictable and growing cash flow
88% recurring revenue
Cloud and enterprise integration
Easy data collection
Simple dispatching and reporting
---
CAFM Explorer is facility management software which is used by commercial, corporate and public sector organizations and service providers. It is available in two ways: as an on-premise or cloud-based privately hosted software. It is designed for mobile users, Windows and web users.
It aims at supporting building maintenance, property management, help desk, space management, resource scheduling and cost control. All this is stored within a single integrated package.
It is highly regarded for custom support, training and consultancy services. It ensures ease of migration, installation, integration as well as a rapid return on investment. It does not just provide you with user-friendly software; its simple pricing structure allows all employees (managers and staff) to use it with ease.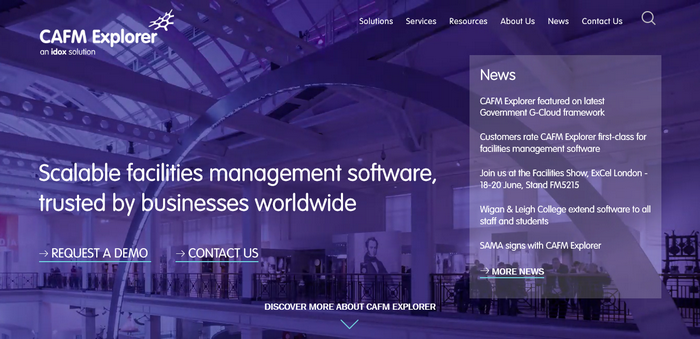 Key features of CAFM Explorer:
Maintenance of call logs
Cost control
Asset tracking
Customizable reports and dashboards
Easy-to-use asset register
Financial stability and profitability
Efficient and safe support
---
It is enterprise facility management software. It helps organizations to mobilize business processes in minutes by eliminating the use of paperwork. eFacility ensures increased productivity. Defined work groups can simply create their own forms, capture data from the field, and then send reports.
This powerful reporting tool has the flexibility to custom-filter based on criteria such as work, facility, type, order status and date. Whether it's a single-level building or multi-level building, this software can be applied to all of your maintenance operations.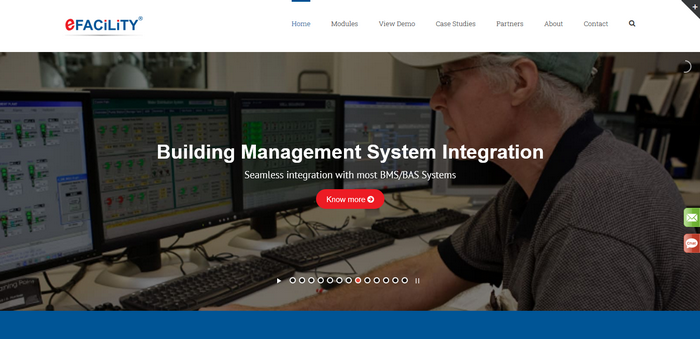 Key features of eFacility:
Online requests for appointments
Automatic bill generation
Booking, canceling and re-issuing options
Easy tracking of incoming and outgoing consignments
Helpdesk call processing
Multi-site, multi-organization and multi-level asset tree
Intuitive energy utilization dashboards
---
This is facility management software which allows you to create requests in a few minutes when you log on to the FMX Work Order Management System. It easily responds to, assigns and resolves issues while keeping track of time and money spent.
It eliminates downtime and unnecessary expenses and enables reminders so that you don't miss out on anything. It prevents double booking and enables flexible approval processes to ensure project success.
It has a unique QR code for every piece of equipment. You can save time by scanning codes from any smartphone or tablet for asset maintenance procedures and history.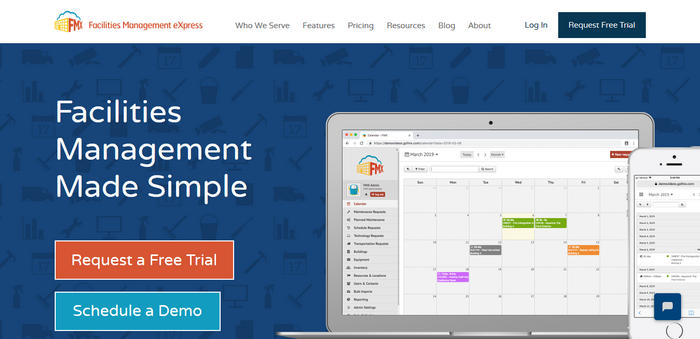 Key features of FMX:
Streamline your work orders
Organize stress-free planned maintenance
Schedule conflict-free events
Extremely user-friendly
Coordinate and maintain fleet vehicles
Enhance asset management with QR codes
---
Planon is facility management software for registering buildings and asset data. It's aimed at increasing efficiency in the planning and execution of facility processes. It includes workflow management, extensive reporting, and business analytics. This software is often fully web-based.
It provides solutions for real-estate management, space and workplace management and maintenance management.
It ensures easy integration within your IT landscape and increased data consistency, allowing real-time processing, increased cost efficiency and work productivity.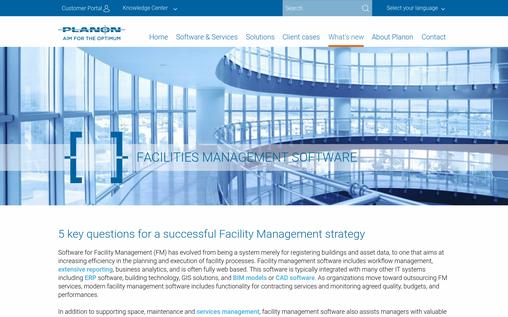 Key features of Planon:
Proven experience and solutions
Accessible support and an easy-to-use interface
Ultimate data consistency
Increased work cost efficiency and work productivity
Delivers valuable management information
Aligns with a wide range of global and local standardizations
---
OpenMAINT is an open-source solution for property and facility management which supports the management of buildings, installations, movable assets and related maintenance activities.
It helps management know how to organize and update data which is related to asset inventory in order to have smooth operating procedures.
OpenMAINT provides complete support for logistics management of movable assets, spare parts and building management. It offers asset inventory, management of registries, reports, dashboards, maps and 3D models.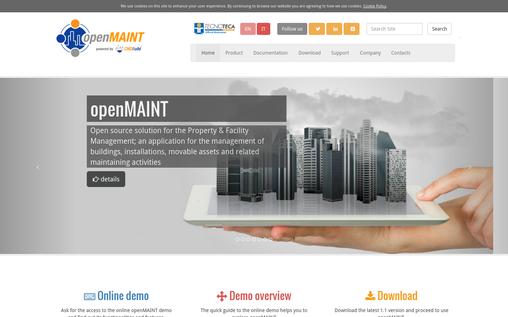 Key features of OpenMAINT:
Facility maintenance
Management of registers, budgets and purchases
Complete support for asset georeference
Complete information on static and dynamic assets
Custom-configured
Low investment software
---
Micromain is an Autodesk Authorized Developer and is known to provide excellent maintenance and facility management software and services to organizations worldwide. It has acquired clients in healthcare, hospitality, property management and the public sector over the years.
The Micromain maintenance database allows seamless planning, work order processing and effective maintenance management. It has excellent customer support, training and consultancy services to ensure ease of migration and installation.
It helps users make good decisions regarding facility upgrades and capital plans. The tool allows integration with CAD software so you can polyline drawing spaces, assign color codes and import facility drawings into the system. It ensures a cost-effective corporate environment.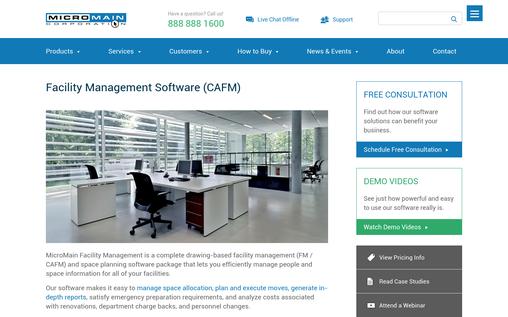 Key features of Micromain:
Best known for quality and design
Provides prioritization tools
Free consultation
Free demo videos
Work order scheduling
---
Emaint is the best-known software for facilities and building maintenance. It provides customers with the ability to track, locate and analyze all corporate assets and materials costs with a simple and easy-to-use interface.
Emain's facility management objective is to coordinate demand and supply of services and facilities within organizations. It covers maintenance, progress, buildings, design and planning in space and infrastructure management.
With this software, submitting work and material requests is as easy as sending an email or filling out a simple web form. Responding to those work requests promptly is also easier.
Managing facility requests includes juggling work requests, work orders, assets and inventory. This software provides you with a solution for all of them.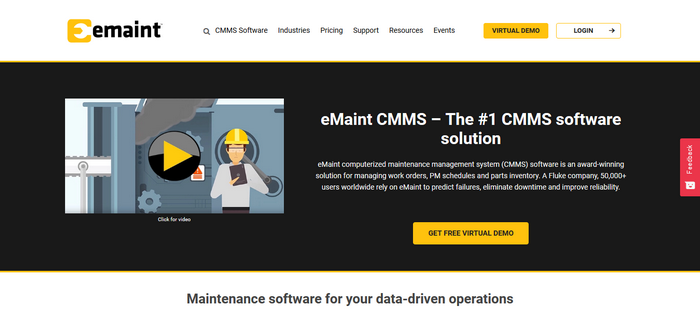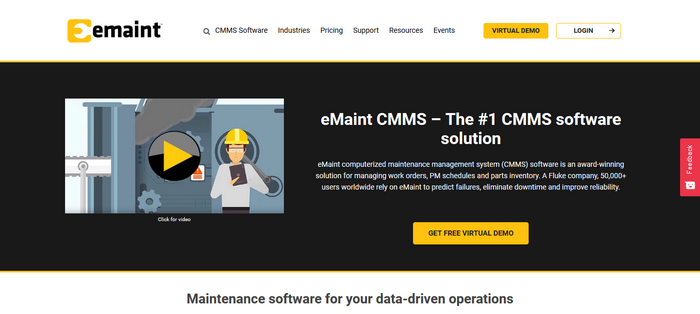 Key features of Emaint:
Controls costs
Improves productivity
High-level customer satisfaction
Easy-to-use interface
Lower labor and material costs
Easy timeline tracking
Work order tracking
Mobile facility maintenance
---
Hippo CMMS software combines user-friendly facility management features with top-notch customer support. It's topmost software modules include work order management, predictive and preventive management, asset and equipment management and resource and vendor management.
It is a perfect solution for all industries and properties. It allows users to accurately monitor building maintenance and ensures uptime for critical activities.
It does not just provide you with user-friendly software; its simple pricing structure ensures that all users, managers and employees can use this software tool. It gives your team the ability to open or close requests through a mobile app.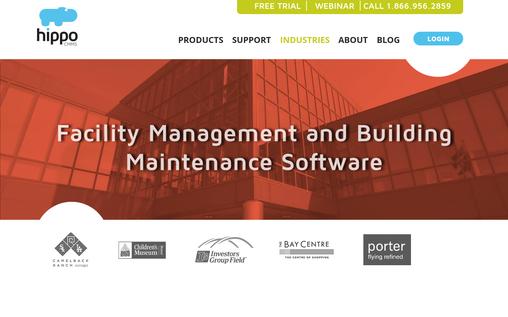 Key features of Hippo CMMS:
Hippo mobile app
Hippo reports
Resource and vendor management
Asset and equipment management
On-demand work order management
Fleet management
---
Dude Solutions is the leading provider of cloud-based operations management software to optimize facilities, assets and workflow. They empower their clients by combining innovative technology with operational insight.
This software aims at delivering incredible value to clients and users; it's a leading solution for facility management.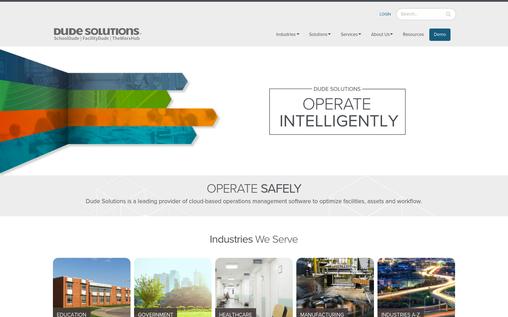 Key features of Dude Solutions:
Innovation
Superior service
Overwhelming value
Rigor and focus
Mastery in technological solutions
Predictable and growing cash flow
Low customer acquisition cost
---
Conclusion:
Facility management's main aim is to coordinate demand and supply of services and facilities within organizations. It is concerned with all aspects of space and infrastructure allocation.
Good facility management software will help your business streamline processes and eliminate, or minimize, the use of paperwork.
You May Also Like:-