6 Best Conversion Optimization Services in 2020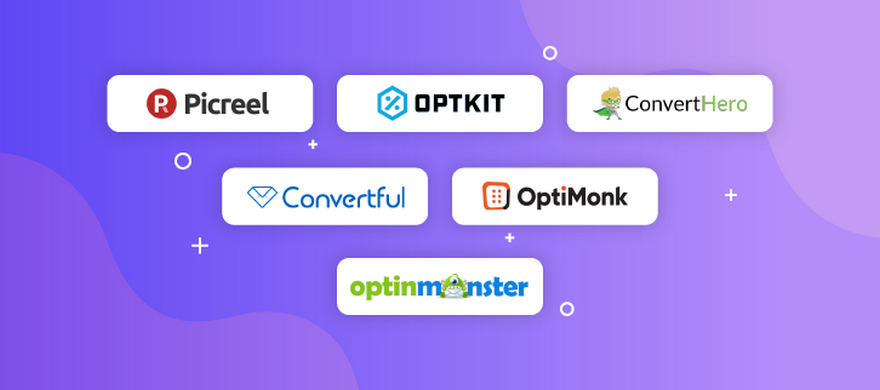 Conversion is arguably the most important thing you can do for your eCommerce business. You can sit back and hope that website visitors will complete a desired action, but that's leaving a lot to chance.
To achieve the best conversion rate optimization, you need to find reliable tools that can help you achieve your website's goals. This post looks at the 6 best conversion optimization services in 2020.
What is Conversion Rate Optimization & Why Is It Important?
There are varying tactics to bring leads to a website. You can use ads, you can write superb content that's engaging and makes users want to know more about your products, have top-notch backlinks, use videos, run social media campaigns and more.
In 2020, getting leads isn't such a big deal for anyone whose half-decent at digital marketing. The problem is conversion. What do you do with users when they click through and get to your site?
If you are not very clear on what conversion optimization is and what it can do for your business, consider this simple analogy: imagine that you have a physical store that is in a great location. You have lots of potential customers coming in through the door, but all they do is browse then leave. That doesn't do your business any good, does it? If you cannot convince most of the people who visit your store to buy something, you'll soon be out of business.
Conversion is the ability to get site visitors to complete a desired action. At the very least, you may want them to leave you their email address so that you can engage with them in the future. However, most online marketers have a singular goal: to get visitors to their site to buy a product.
Conversion rate optimization is the process to improve your site so that you can increase the conversion rate.
We will look at the key aspects of conversion rate optimization a little later. For now, let us look at the best services.

---
Best Optimization Services Available Today
The name says it all – Convertful is a lead conversion tool. It is a wholesome solution that uses behavior-based sign-up forms to help gather and convert leads. What makes Convertful unique is that you get many conversion solutions in a single affordable package.
With Convertful you can set up forms quickly and easily based on specific rules to target defined customer segments. The software is versatile and can be used by anyone from bloggers to eCommerce websites. This software works well with other common marketing tools, including ConstantContact, ActiveCampaign, AWeber, ConvertKit, GetResponse, MailerLite, Zapier, SendPulse and several others.
Convertful uses advanced targeting rules. You can, for example, create forms to target users based on the amount of time they spend on the site, which site URLs they visit, the number of pages they view, country, region and city and a series of other parameters.
The software aims to resolve everyday problems that marketers face when creating forms. It has a drag-and-drop widget editor for customizing forms, a wide variety of form templates and the ability to target leaving and returning leads.
You don't need Google Analytics to see funnel statistics, and it provides an A/B testing module so that you can perfect forms before they go live.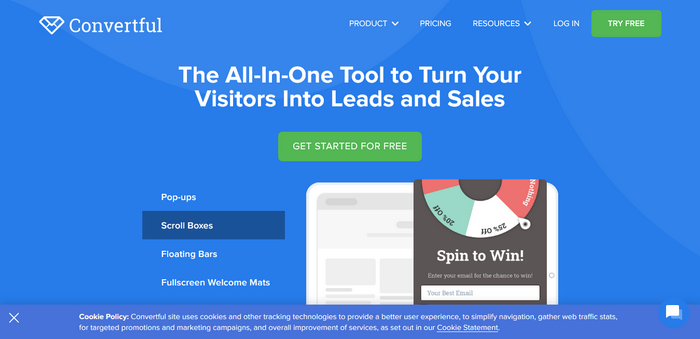 Features
Conversion boosters – the variety includes Spin-to-Win Gamification, Scratch Card Gamification, Floating Action Button, Yes/No Screens, Social Subscriptions Video Embedding and more.
A huge variety of templates – there are more than 100 to choose from, all designed from tested and tried campaigns.
Customization – whatever your conversion goal, you can customize forms to achieve it.
Precision targeting – you can show the right offer to the right users at the right time to increase conversion rates.
Integrations – use Convertful with common software like WordPress, Shopify, Weebly, Magento and BigCommerce.
Invaluable insights – reports and analytics allow you to adjust your strategy accordingly.
---
View Listing
Optimonk's marketing pitch is that it's one of the most human-centric conversion rate optimization services in the market. This software targets all visitors to your site, not just those who intend to buy or leave an email address.
It works on the premise that most visitors to a site have no intention of buying, and gives you the opportunity to convert them into leads and sales.
Because no two site visitors are alike, Optimonk allows you to personalize website messages, and each lead feels like you are talking to them. You can target the right visitors with the right message at the right time.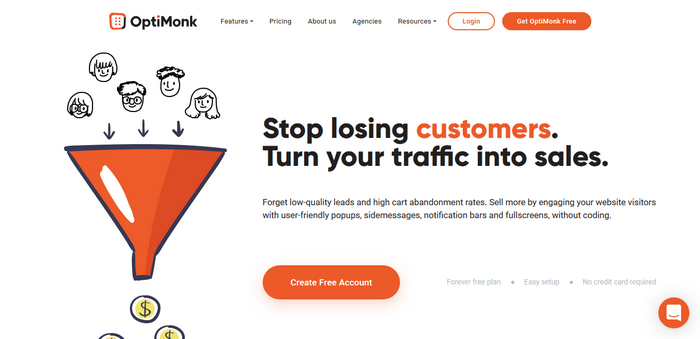 Features
Email list builder – the software provides users with incentives to help you gather more email addresses. You can also collect Facebook leads using more than 30 customizable templates.
Secondary offers – you can stop customers from abandoning carts using enticing additional offers.
Earn more for each sale – you can do a "buy one get one free" or sell similar or complementary products for each cart.
Promote special offers to first-time visitors – you can offer them discount coupons, product bundles and other enticements to get them to buy.
Gather customer feedback – for every customer who doesn't complete the desired action, you can get them to tell you why by presenting them with a simple form to fill before they leave your site.
Engage through social media – get visitors to your site to share with their social media connections.
---
View Listing
OptinMonster is very popular for lead generation and conversion, with more than a million users to date. You can create an offer, target it based on user behavior and test whether it works in real-time.
OptinMonster is simple to set up and use and has a variety of easy-to-use forms to help achieve your site's goals. You can grow your email list quickly, increase pageviews by redirecting visitors to your most popular pages, turn first-time visitors into regular visitors, reduce cart abandonment rate and more.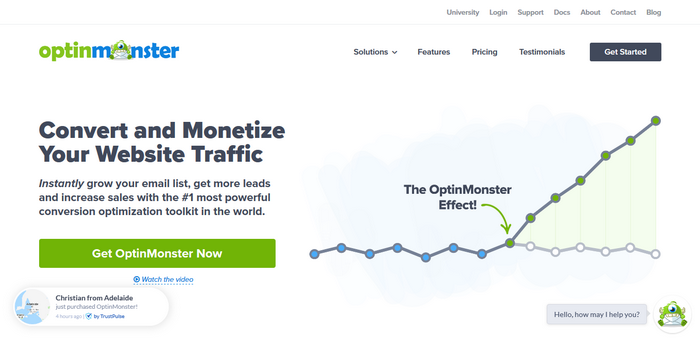 Features
Drag-and-drop builder – create effective forms quickly with features like Yes/No forms, mobile-friendly pop-ups, animation, sound effects and more.
Different campaign types – you can select from a variety of campaign types for maximum engagement with different customer segments.
A variety of campaign triggers – understand how your visitors behave and trigger them into the most desirable actions.
Targeted campaigns – no more blanket campaigns. Understand your user base, segment it, and create a campaign that talks to each user.
Integrations – you can use OptinMonster with common software like Shopify, WordPress, Facebook, iContact, SalesForce and others.
Actionable insights – get reports and data to help you adjust your marketing campaign accordingly.
---
View Listing
Picreel's main strength is in seeing what users are up to, and then sending them offers that are likely to convert them before they exit your site. It comes recommended for anyone who would like to use exit intent to increase conversions.
With this software you don't need any technical or coding expertise. By using the features provided within it you can target the most profitable segments of your user base and take appropriate action to convert them.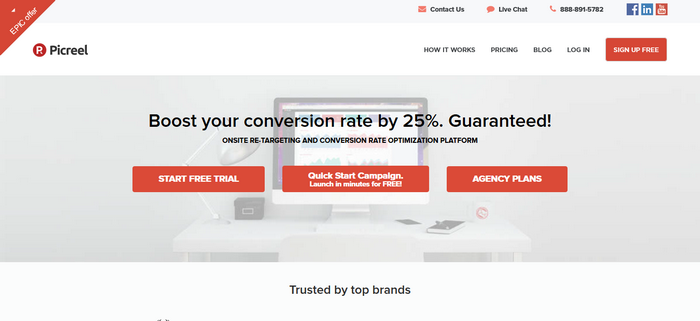 Features
Analytics – know your site visitors so that you can create forms that speak to them and increase the conversion rate.
Easy-to-use editors – you can create and customize forms in a minute with color and text effects. The software allows you to upload your own images, and for those who can code, there's the option of advanced modifications.
Personalization – you can speak to each user with dynamic pop-ups that address their needs and interests.
A/B testing lets you try out forms before they go live so you can know what works and what doesn't.
---
View Listing
OptKit is a conversion optimization software that helps you deliver the right offer to the right users at the right time. It allows you to understand context so that you can display messages when users are ready to see them.
OptKit lets you create personalized messages which increase conversion optimization rate. It fits in easily with existing software and networks and is easy to use. The software has a template directory, and users can also create their own templates and save them in the library.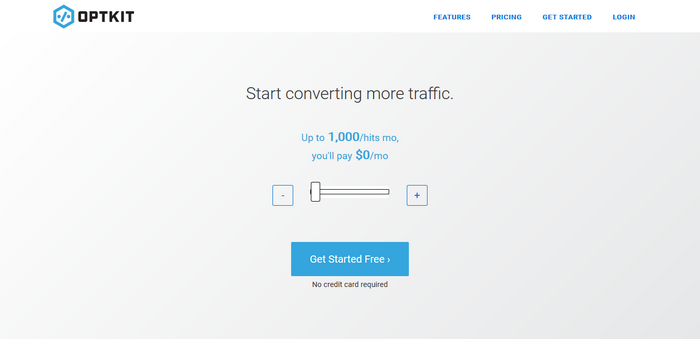 Features
Customizable calls-to-action – instead of the pop-ups that you get with most customization rate optimization services, you can modify yours to suit your users.
Conversion-focused – everything that this software does is aimed at converting site visitors into buyers.
Unlimited websites and kits – you can use OptKit on any website and it works well with a host of other tools. The software is unbranded so you can install custom logos.
Channel management – you can track all leads to understand user behavior and adjust your campaign accordingly.
Event-triggered actions – entice customers to take certain actions based on their behavior on your site.
Ability to run multiple campaigns – the software is ideal for email marketers who run several campaigns at the same time.
---
View Listing
ConvertHero is all about turning website visitors into subscribers. It specializes in getting site visitors to join your mailing list with the use of opt-in forms. They can detect the precise moment when a user is about to leave your site and make them an enticing offer so that they can subscribe and join your mailing list.
You don't have to know how to code to use ConvertHero; all the templates are pre-made, and a drag-and-drop builder allows you to set up opt-in forms in a matter of minutes.
The software uses precision targeting; instead of showing a standard pop-up to all visitors, it waits until a visitor takes a certain action, and based on that action, shows the appropriate message.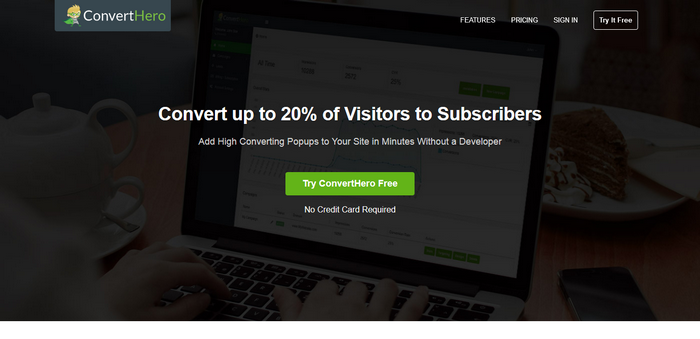 Features
Opt-in templates – there are different ones that you can choose from depending on who you are targeting and when you would like the offer to appear: opt-in modals, bribe offers, full-screen offers, opt-in with brand image, opt-in progress bar and others.
Simple builder – the simple builder allows you to create campaigns with just a few steps. Each campaign can be matched with your site design. Each element of design is customizable, and you can adjust it at any time depending on the results you're getting from your campaign.
Pop-up triggers – the pop-up trigger feature lets you choose precisely when a pop-up appears. It uses exit-intent technology (capturing users just before they exit your site). Other options for pop-ups include on-click, after a certain number of seconds on a page, or after scrolling a certain percentage of content.
In-depth reporting – a simple dashboard tells you the progress of your campaign. You can see real-time data and make adjustments as needed.
---
5 Simple Ways to Improve Conversion Rate Optimization
Even without the use of the best conversion optimization services there are several key things that you can do to make sure that your website or blog is converting leads:
Improving landing page design – whenever a user lands on your website, they should be able to find their way around and perform actions with ease. Think, for example, about the big eCommerce sites like Amazon and eBay. When you land on one of their pages you can immediately see an image of the product you are looking for, its features, you can see customer reviews and best of all, there is a cart icon. One single click on the cart icon enables you to buy the item. Very easy, right? If you want to have a high conversion rate, you should have a landing page design that makes it very easy for users to complete the action that you would like them to.
Writing high-quality content – you can have the best website design, but if it isn't supported by stellar content you are not going to achieve a high conversion rate. Content tells users about what you are selling and why they should part with their hard-earned money to own it. It must be relevant, to the point, up-to-date, interesting and descriptive of the product you want to sell.
A compelling Call-To-Action – a call-to-action, or CTA, is telling users what you want them to do once they are on your site. Never take it for granted that they will work it out for themselves. If you would like them to leave an email address, make that clear. If you want them to buy, make that clear as well with a "BUY" button.
Forms – many digital marketers are aware of the value of good landing page design and good content, but forms don't feature in their strategy. Forms are an excellent way to improve conversion optimization rates because they help you collect data about users. There are some simple rules you should follow if you want users to fill forms on your site or blog. They should look good and offer a nice user experience. They should have as few fields as possible, they should help users create strong passwords that are easy to remember and they should also be easy to submit with just one click.
Page speed – how often do you land on a site and then leave because it takes too long to load? Most users aren't very different from you. We leave in an instant world. If your pages take more than a moment to load you cannot expect to have good conversion optimization.
---
You can do all these things manually, but it takes up precious time that you can put to more productive use. Software like
Convertful
and the other ones discussed here help automate a lot of these functions.
You can use any of these tools to increase conversion rate optimization. They are designed to help you not only get more leads, but to get site visitors to buy.