Easy Sketch Pro Review – Whiteboard Animation Software
Editor Rating:





It's said that on average, good video animation software sells between 2000 and 3000 copies in its lifetime. Easy Sketch Pro whiteboard animation software has managed to sell 55,000 copies since it was first launched a few years ago.

It has been marketed as one of the best whiteboard animation software in the market. On its website, it's described as "the number 1 doodle creation software".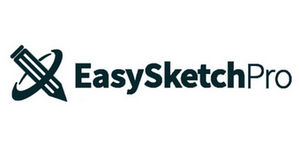 Some reviewers claim that their businesses have been transformed since they started using Easy Sketch Pro whiteboard animation software.
There's a lot of this kind of software available today, so when we hear one described in such glowing terms we are curious to see whether it really is that good. To that end, we have done an in-depth review that you can use to compare this software with others in the same category. The review will  focus on Easy Sketch Pro 3.0.
What is Easy Sketch Pro 3.0?
This is the latest version of Easy Sketch Pro, software that is used to create whiteboard animation videos for marketers, educators and anyone else who would like to use videos to put their point across. Easy Sketch Pro is designed to make anyone look like an expert.
Hiring a professional to do whiteboard videos is expensive. A simple marketing project can cost hundreds of dollars. Many small businesses, although they are aware of the benefits of this form of marketing, will avoid it because it is too expensive. Easy Sketch Pro eliminates that problem. Whether you choose the Starter Plan or Business Pro plan, you will pay a one-off price of less than $100 and you can use the software for years to come. Simply put, Easy Sketch Pro has an excellent return on investment.
Easy Sketch Pro 3.0 Features
It is very easy to use; you can sketch videos with the simple drag-and-drop feature.
The software comes with hundreds of images that you can use to create videos.
There are many different backgrounds you can choose from that are designed to appeal to different audiences.
Doing text is easy and fun with Easy Sketch Pro 3.0. It has a variety of pens, brushes, chalk, crayons and more. You can tailor text to suit your audience. If you are making a presentation for men, for example, you can choose a text style that's more likely to appeal to the male gender to make your presentation have the maximum impact.
You can easily transition sketches into video intros. Once you upload the video the software will sketch the opening scene.
You can upload your own music, images and videos.
This software works with both PC and Mac.
You can insert a video within a video.
Unlike many video editing software that require monthly or yearly payments, Easy Sketch Pro 3.0 only asks for a one-off payment. With that, you are able to access all the features and you can install your license on multiple computers.
You can increase brand awareness by adding your logo to sketches that are made with Easy Sketch Pro 3.0.
You can insert a call-to-action, autoresponders, webinar forms social media follow buttons and personal tracking codes within the videos.

Money Back Guarantee
What Makes Easy Sketch Pro Different?
What makes Easy Sketch Pro 3 unique is the Make My Video Interactive feature, which allows you to add hotspots to your videos. You can use this feature to turn any video into an interactive piece with customizable settings.
Hotspots and Make My Video Interactive
When you buy the latest version of Easy Sketch Pro whiteboard animation software you get free access to makemyvideointeractive.com. This is a platform that allows you to make any video interactive with customizable settings by adding Hotspots.
Hotspots allow you to do a multitude of things that you cannot do with other video animation software:
You can edit text size, hotspot size and hotspot color.
You can choose what time you want the hotspot to appear and where in the video it will appear.
What can you use hotspots for?
Hotspots have a variety of uses, and the more of them you use in your videos, the better for your business. They can be used to create a call-to-action, you can insert a telephone button, a Skype button, YouTube and Vimeo, SoundCloud, Facebook, Twitter, email opt-in and more.
Make My Video Interactive also allows you to choose video name, description and colors, insert your own unique brand, custom tracking code and also analytics so that you can track how much traffic your videos are getting.
Why choose Easy Sketch Pro?
This whiteboard animation software continues to be popular among marketers despite being quite new in the arena. Here are some of the reasons why people choose Easy Sketch Pro:
Easy Sketch Pro whiteboard animation software comes with commercial rights. This means that you can use it to make not just your own videos, but videos for clients too.
It can be installed on many computers at the same time. So long as you have a single license it can be used on many devices.
The price is quite low when you take into account that it packs a lot of features. Many people like the fact that there is no monthly or annual subscription.
You can import your own clips with Easy Sketch Pro, which allows you to customize your videos.
It is an excellent option because you can insert videos into animated presentations.
The call-to-action buttons are another big selling point for Easy Sketch Pro.
Easy Sketch Pro Schools Edition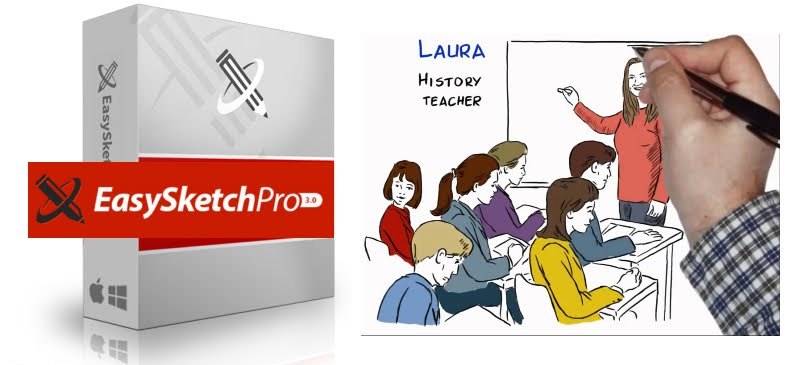 Easy Sketch Pro whiteboard animation software has a schools edition that's for students who want to create presentations to express their ideas and knowledge.
It is sold as a whiteboard animation software that offers an engaging way to present information in class, a way to increase pupil concentration and help pupils communicate more effectively, and an excellent way for teachers to present new ideas and topics.
Easy Pro Sketch Schools Edition comes with additional features:
It can be used for any subject. Schools can contact the development team to have custom images made if they are not available in the gallery.
It is downloadable and can be used offline.
It comes with a 14-day free trial period and for this particular edition, there is a support desk where you can submit a ticket.
What's not to like about Easy Sketch Pro 3.0?
While Easy Sketch Pro is excellent software for whiteboard animation there are certain things that could be better:
It's very hard to know how this software works without buying it. There is no trial version and no way for a user to test it. There are some demo videos that give you an idea, but that is not enough if you want to check whether it can perform specific tasks.
It doesn't have a cloud-based version.
Customer support is lacking for this whiteboard animation software. Even for the latest version all you can do is email.
Pricing
There are 3 packages that you can choose from:
Starter for a one-off $37 fee.
Business for a one-off $67 fee.
Business Pro for a one-off $97 fee.

Money Back Guarantee
Do we recommend Easy Sketch Pro?
Yes, we do; it is one of the best tools for whiteboard animation, and it comes with lots of features that allow for interesting animations and videos.
That said if you haven't had any experience in the past with this kind of software and you need support along the way you may want to try something else, like Moovly which comes with excellent on-site demonstrations and a comprehensive FAQ.