The 10 Best Dedicated Server Software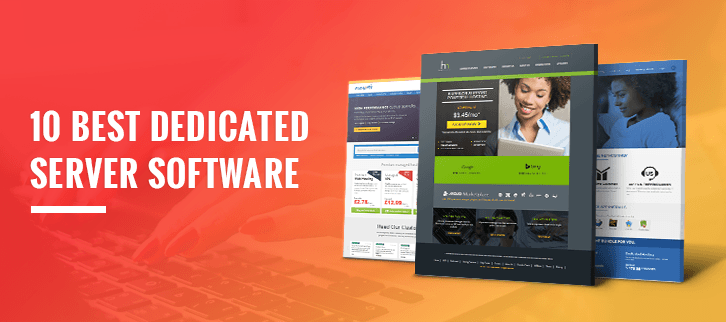 ---
Dedicated server hosting is one of the most powerful options if your website experience high traffic on and/or need optimum load-time performance.
A dedicated server is like any other server, but instead of multiple sites a dedicated server actually has a physical server that hosts only your website(s). This offers many advantages, including the fact that you don't have to worry about the problem caused by other sites hosted on the same server as yours.
Also, you will have website stability and reliability because you will have full control over every aspect of your server. You can reboot the server, install any software you want, and much more.
Typically they are more expensive than other options, but they are the perfect choice for anyone who needs extra power and customization.
Read these blogs on Web Hosting Services:-
Now let's have a look at 10 of the best-dedicated server providers.
---
The Best Dedicated Server Software
Compared (in full)
Check all the services in detail as per your needs and choose service wisely – by the end, you'll know exactly which one is the right option for you.
Bluehost provides one of the best dedicated servers and each of its dedicated hosting plans comes with almost everything you need to further develop your online businesses. All the Bluehost server are designed, built and maintained in-house for excellent performance. It provides affordable dedicated hosting services which are priced from $79.99/month to 119.99/month.
---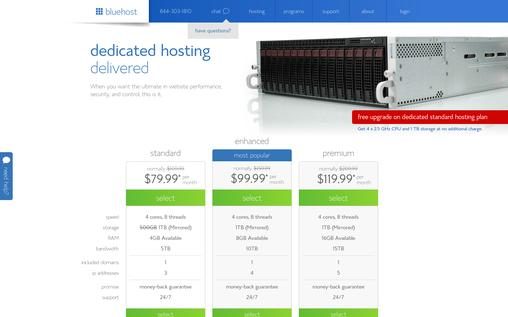 ---
Key features of Bluehost:
To ensure your data is well protected, your drives are completely mirrored.
With the advanced cPanel, you can increase the available storage space in real time without requiring any admin intervention.
It provides you full control of your server by giving you complete root access to CentOS through the improved control panel.
30-day money-back guarantee.
24/7 phone support from agents who specializes in dedicated hosting.
For dedicated hosting solutions, it has 3 pricing plans – standard, enhanced and premium. The starting package (standard plan) costs $79.99 per month for 4 cores, 8 thread speed, 1TB storage, 4GB available RAM, 5TB bandwidth and 3 IP addresses.
---
Easyspace offers fast and reliable dedicated server which is UK based. The servers are pre-built and ready to go, so you just need to install your operating system and quickly start using the server. It owns and manages 10 data center throughout the UK for resilience and security. The affordable dedicated server costs you from £24.99/pm to £199.99/pm. And all the dedicated servers come with unlimited bandwidth.
---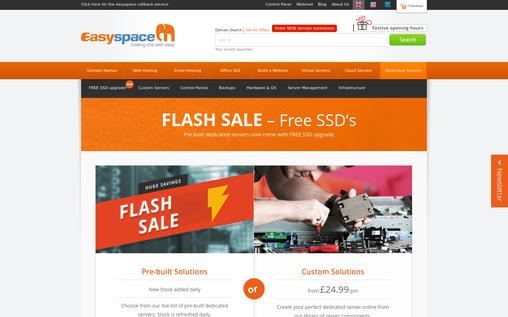 ---
Key features of Easyspace:
It always keeps you connected with 100% uptime.
Get a dedicated business manager with all the dedicated server packages.
100% uptime guarantee.
24/7 server monitoring.
24/7 ticket and UK based telephone support from dedicated server specialist.
There are 4 pricing packages – Starter, Reseller, Performance and The Beast. The starter package costs £24.99/pm which includes DualCore 2.2GHz, 4GB RAM (up to 8 GB), up to 50GB web space, unlimited bandwidth and dedicated 1 GB port.
---
HostGator offers excellent dedicated web hosting plans, ideal for large businesses and high-traffic websites. The packages are very affordable and they offer a fine set of features. With every dedicated server, you get cPanel for free. Also, you can customize your server and get maximum flexibility along with HostGator's unparalleled support. And your server will be provisioned, secured and delivered within 24 hours of purchase.
---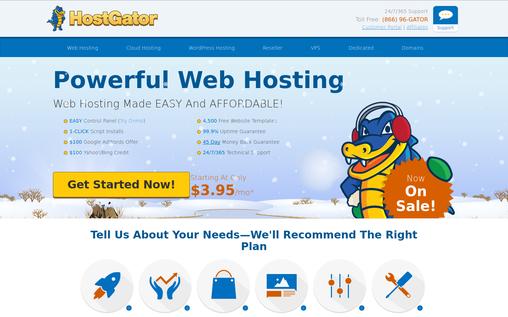 ---
Key features of HostGator:
CentOS Linux with root access (64-bit).
Unlimited MySQL database with phpMyAdmin access.
WHM Control Panel cPanel with multi-language availability and reseller management.
Supports Apache Web Server, MySQL, PHP, Python, Perl, Ruby (on Rails), and FFMpeg.
Multiple layers of network security.
Get brandable control panel with your company logo.
24/7/365 server monitoring.
24/7/365 dedicated support via live chat, phone, and Ticket System (Email).
There are mainly 4 plans to choose from – Basic, Standard, Elite and Pro Plan. The Basic plan costs $79/month with 4 GB RAM, 2 Core CPU, 0.5 TB Disk (RAID-1), and 10 TB bandwidth.
---
Nethosting offers dedicated server with exceptional customer support and unmatched reliability. It supports both Linux and Windows-based cloud hosting. It offers 4 pricing packages to choose from, and they are G6 Small, G6 Medium, G6 Large and G6 Super. The packages range from $179.95/month to $479.95/month and they are designed for medium and enterprise-level organizations requiring very high standards from their host.
---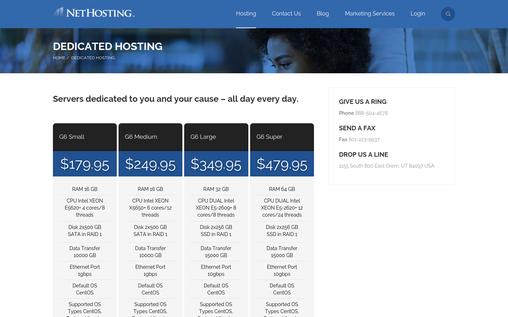 ---
Key features of Nethosting:
Supports CentOS, Ubuntu, Fedora, Windows (Default to CentOS).
100% cisco network.
It offers hardware replacement guarantee. In case your server malfunctions, Nethosting's technicians are available 24 hours a day to replace it within an hour.
100% uptime guarantee.
5 static IP addresses.
Get dedicated expert support.
The lowest pricing plan starts from $179.95/month and it includes, 16 GB RAM, Intel XEON E5620 CPU + 4 cores/8 threads, 10000 GB data transfer, and CentOS.
---
The dedicated server of Namecheap offers reliability, performance and latest server hardware. You can select the servers' setup and Namecheap sets up the servers same-day in under 4 hours. Also, most servers come with 100% uptime guarantee. The pricing range of Single CPU ranges from C$78.95/month to C$200.96/month and for Multiple CPUs, the price range is C$294.81/month to C$509.34/month.
---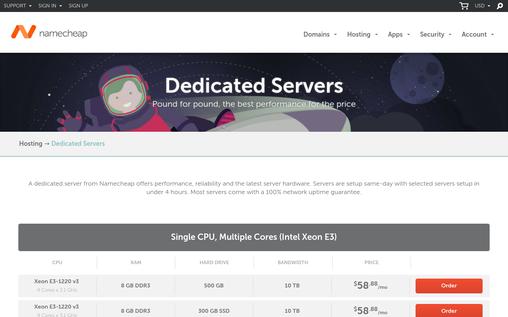 Key features of Namecheap:
All the dedicated servers are hosted in the Tier IV Phoenix data center.
Select between self-managed, managed or fully managed server management options to suit your needs. For root access, you have to choose from self-managed or managed.
There is no cost for self-managed server while the managed and fully-managed server costs you $30/mo and $75/mo respectively.
There are various pricing plans based on single CPU and Multiple CPU with Multiple Cores (Intel Xeon E3). The starting price is C$78.95/month, and it includes Xeon E3-12220 v3 CPU with 4 Cores x 3.1 GHz speed, 8GB DDR3 RAM, 500 GBB HDD and 10TB Bandwidth.
---
hostmonster's dedicated hosting is designed with cloud technology to provide managed hosting with instant provisioning. Through the enhanced cPanel you can access cPanel, server management, and other tools in one sign on. It offers affordable hosting plans ranging from $79.99 per month to $119.99 per month.
---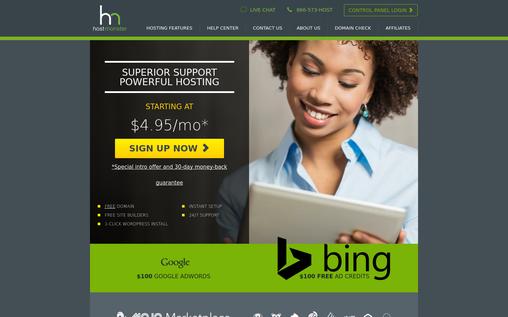 ---
Key features of hostmonster:
Your data and account information is automatically protected with RAID.
Get complete access and control over your CentOS operating system and server through the server management tools.
Storage upgrades are available at an affordable rate – 500 GB @ $50/month, 1 TB @ $100/month and 2 TB @ $200/month.
24/7 dedicated support to answer your questions quickly via email, chat or call.
30 days money back guarantee.
There are 3 pricing plans – Standard, Enhanced, and Premium. The standard plan which is the starting plan costs $79.99 per month and it includes, Dual Core, 2.3 GHz Intel Xeon Processor, 3 MB cache, 4 GB RAM, 500 GB mirrored storage and CentOS.
---
eUKhost is one of the leading providers of managed dedicated server in the UK. It comes with many amazing features such as Proactive Monitoring, 24×7 support and choice of cPanel for Linux and Parallels Plesk for Windows.
---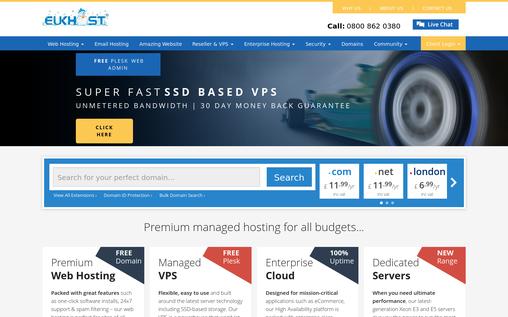 ---
Key features of eUKhost:
100% network uptime guarantee is included with all dedicated servers backed by the comprehensive SLA.
24/7 server management service at no extra cost.
Get a full 1Gbit connection with all dedicated server for high-speed network performance.
Every Windows dedicated server comes with free SmartBundle Pro (worth £450) – a leading range of business tools offering complete email and communication, file sharing, instant messaging, helpdesk and website analytics management solution.
24/7/365 phone, live chat and ticket support.
The starting plan costs £ 69 .99 /pm and it includes, Intel Xeon E3-1220v5 3.0GHz CPU, 4 Cores/4 Threads of CPU Cores/Threads, 8GB DDR4 RAM, 1 Gbit Speed, and 10 TB monthly bandwidth.
---
FatCow provides dedicated server to help you with the resources that you need to take your business to the next level. Other than maximum speed and security, you also get help of their expert team. Based on the size of your business, FatCow has 3 dedicated server pricing plans – Statup, Professional, and Enterprise which will cost you $119.99/mo, $151.99/mo and $191.99/mo respectively.
---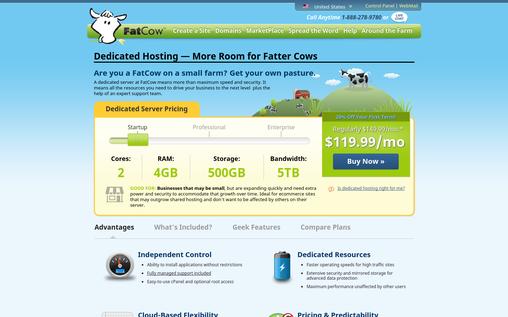 ---
Key features of FatCow:
You get an easy-to-use cPanel and optional root access. Also, you can install applications without restrictions.
For advanced data protection, you get extensive security and mirrored storage.
Instant provisioning of resources.
No overage charges for surpassing the limits.
Get a free domain name registration with every dedicated hosting plan.
Get reliable and expert support, available 24×7 via phone, email, and online chat.
The pricing plan starts from as low as $119.99/month which includes 2 cores, 4 GB RAM, 500 GB storage, and 5 TB bandwidth.
---
Omnis has been in the web hosting industry since 1999. It provides dedicated servers at an affordable price with premier customer service and maximum reliability. It offers 3 types of dedicated servers – In-stock server, premium server, and clearance overstock. In stock servers are available for rapid development, premium servers can be customized to your requirements and clearance over stock are previous generation servers that are available at a discounted price.
---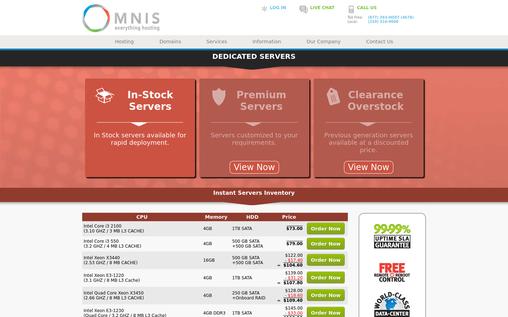 ---
Key features of Omnis:
99.9% Uptime SLA guarantee.
User-friendly control panel.
Get real-time bandwidth graphs.
Custom built premium server hardware.
Web-based reverse DNS manager.
24/7/365 technical support.
The pricing plan starts from $73 per month and it includes, Intel Core i3 2100 CPU, 4 GB memory, 1 TB SATA HDD.
---
liquidweb provides one of the best managed dedicated servers, available with both Linux and Windows operating system. It owns and operates three private data centers to provide fast, secure and reliable performance all the time. You can choose between self-managed, core managed and fully managed plans with unbeatable Heroic support. It offers various pricing packages, charging from $199/mo to $899/mo.
---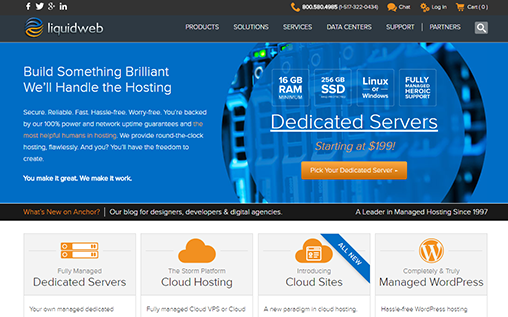 ---
Key features of liquidweb:
100% network uptime guarantee.
24/7 Proactive Sonar monitoring and server hardening via ServerSecure.
SSD RAID 1 Primary devices.
It also offers 3 packages for dedicated server bundles, starting at $359/mo.
With every dedicated server package, you get CloudFare CDN, enhanced security, built-in backups, and DDoS attack protection.
The pricing package starts at $199/mo and it includes Intel Xeon E3-1230 v5 processor with 4 cores @ 3.4 GHz / 3.8 GHz Turbo speed, 16 GB RAM, 256 GB SSD primary drive and 5 TB outbound bandwidth.
---
Conclusion
Dedicated server is a great option if you want a rock-solid website foundation. Though it's more expensive than shared hosting, but you get greater flexibility and more reliability in exchange for the additional money that you pay. So, scroll to the top of this page and choose the best-dedicated server hosts to get started.
---