Wordze Review: A Free Keyword Research Tool
Editor Rating: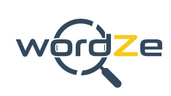 Wordze is a free keyword research tool that puts together a combination of unique features. This Wordze review will look at what they are and pricing. It will also look at how to use this software, and whether there are any drawbacks.
There are many free keyword tools available today, and they have different capabilities. Some are good for showing historical data and trends. Some are preferred because they can generate keywords very quickly and some are very good if you want to see autocomplete suggestions.
Wordze has some features that aren't commonly available in free tools, and we will look at them in detail. But first, what is it?
What is Wordze?
It is a keyword tool that provides you with the right keywords for different niches. It brings together three different keyword tools: Ultimate Research, long Tail Keywords and Keyword Analyzer.
Wordze is a unique tool because it brings you keyword ideas and search volume directly from Google Ads API. This means that whatever data you get is accurate.
What is Google Ads API?
In a nutshell, it's the programming interface for Google Ads. It allows software designers to see directly what is happening on the advertising platform, and with that information they can build software that's better suited for processes like account management, reporting, Google Ads management and keyword research.
Because Wordze taps directly from Google Ads API, it brings you data that's not only accurate but also up to date.
This is perfect for keyword research as you can see the latest terms that users are searching for. If you target them using the right content and keyword strategy, you'll get your website to rank much faster.
By using Google Ads API, Wordze can deliver a few benefits that aren't available with other free keyword research tools. They include:
Historical data and forecasts for keywords in your niche. This is important as it shows you how traffic changes over time. When you know how seasonality affects searches in your niche you can come up with strategies for how to deal with low-traffic periods.
You can search for new keywords and filter using different criteria including number of monthly searches, competition, date range, trends, locations, language and more. This allows you to create more targeted keyword research strategies.
All keyword search results can be exported to .txt and .CSV. You can also add filters to your searches. Choose what results you would like included or excluded, and specify whether you would like them to be bigger than or smaller than a certain value.
Wordze Features
Ultimate Research
This feature provides hundreds of keyword ideas at the click of a button. When you enter a suggestion and run the software it shows you keyword ideas, the monthly search volume, traffic value and the level of competition.
You can use Ultimate Research to do a broad search or an exact search.
Wordze asks you to type in a keyword, choose a project (if you don't already have one you can create it), select a country and choose a service. You can also choose a language, and then decide whether you want a broad search or an exact match. After you fill in the fields it will look like this: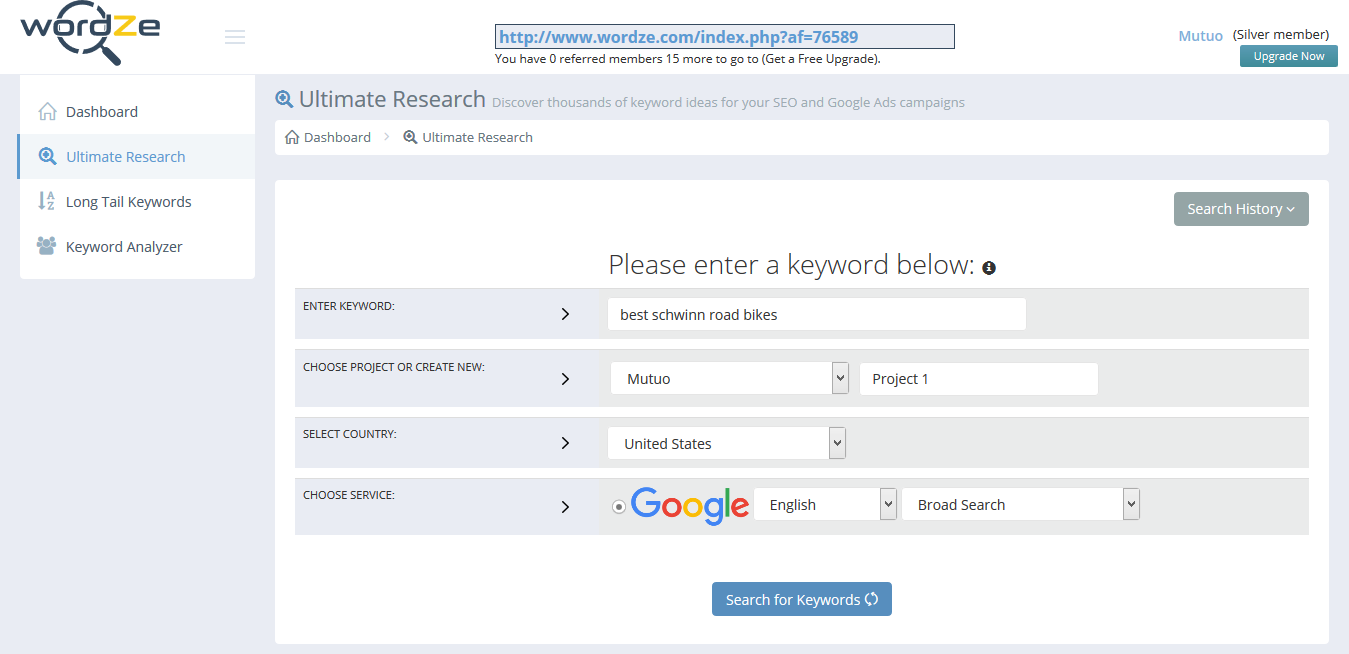 After you click on "Search for Keywords", Wordze will process your search for a few seconds, and the results you get look like this: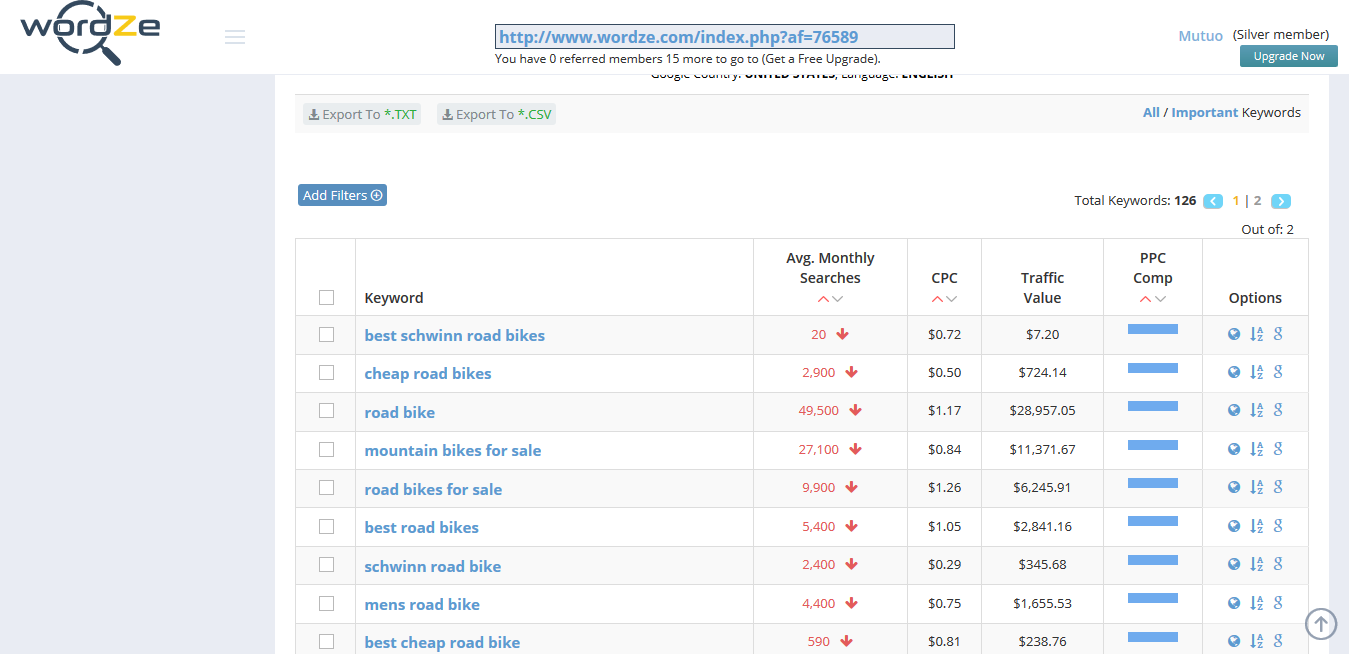 A broad search brings back a wide range of keywords in your niche, while an exact search gives you keywords that contain the exact phrase that you typed in.
Ultimate Research gives you the Pay Per Click competition, which tells you the level of competition for a particular keyword. The higher the number, the more competitive it is.
Some people may not be comfortable with this. They assume that it's better to find out the competition for organic results. While that may be true to some degree, at the end of the day it doesn't make that much of a difference.
If advertisers are competing for a certain keyword, you can be sure that they chose it because it has lots of organic searches. This makes it a high-competition keyword, and it may be harder to rank for than one with low competition.
Long-Tail Keywords
This feature helps you find lots of untapped keywords. Long-tail keywords are comprised of phrases that contain 3/4 or more words. You want to use these types of keywords because they are easier to rank for – they tend to be less competitive.
The other reason to aim for long term keywords is that they have higher buyer intent. Leads who end up on your site when they search long-tail keywords are easier to convert.

After you enter the details for your longtail keyword search and click on "Get Keyword Ideas" the results look like this: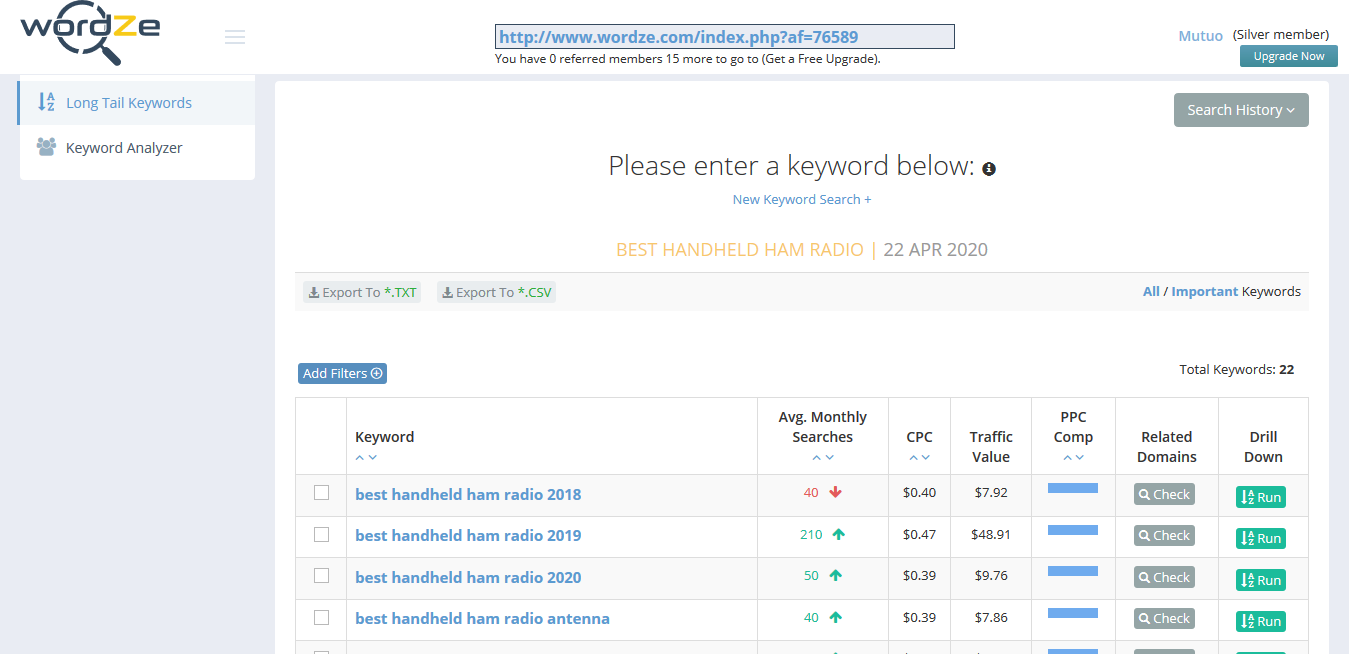 Wordze's Long Tail Keywords helps you find exactly the right kinds of phrases to get your site ranked. All you need to do is enter a phrase and click – you'll get thousands of long-tail keywords and you can see how competitive they are.
For example, someone who searches for "ham radios" may only be looking to see what kinds of different ham radios there are. However, if someone searches for "handheld ham radios," they are looking for something very specific. Odds are when they find it, and it comes at a good price from a reliable vendor they will buy.
The keywords come from Google, Bing, YouTube, eBay and Amazon. These are great resources – they get millions of searches every day and can provide great insights into what users are looking for.
This feature also shows you the trends for every keyword.
The process is easy. All you need to do is enter a keyword, choose a database and run the software. You'll get a list of keywords that shows you the monthly search volume, the cost per click for each keyword and related domains.
Keyword Analyzer
For this one, you need to upgrade your membership from free to paid. However, it's worth every cent you pay, because it saves you time and money. You can choose keywords that you can rank for quickly, making your sales cycle shorter.

You can enter the keywords you would like to search, as well as any pages you would like to analyze. You'll get results that look like this: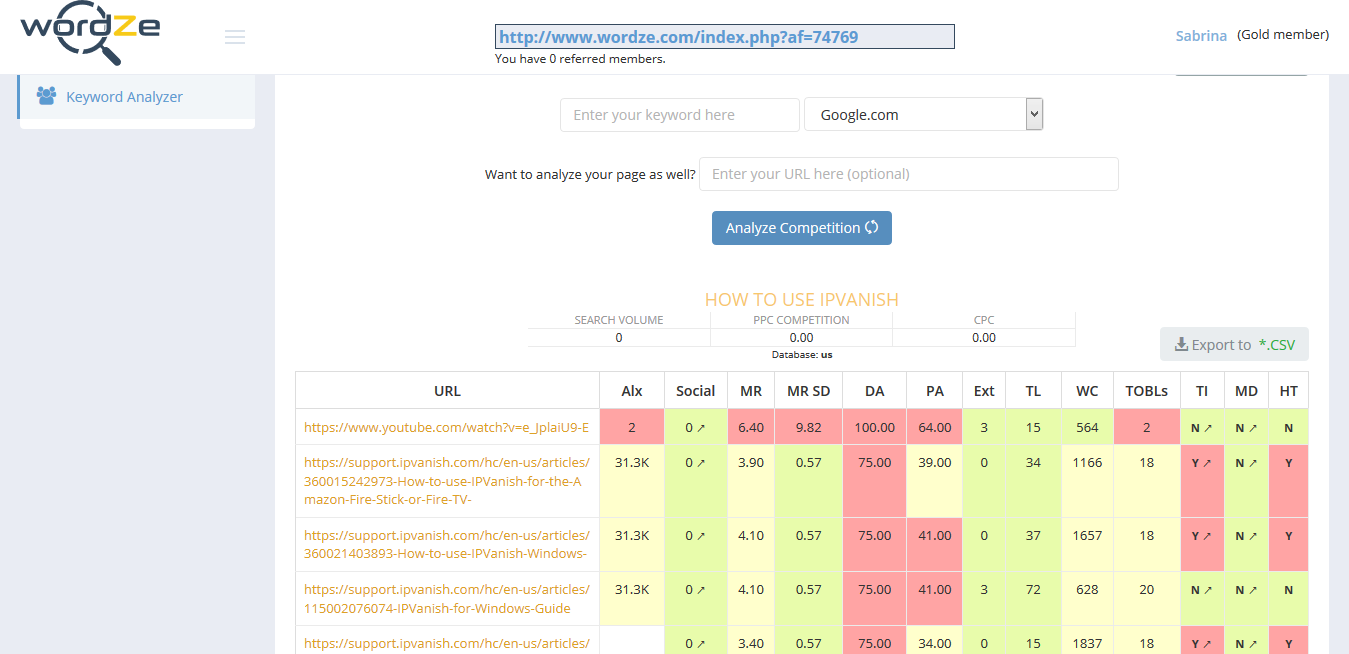 Keyword Analyzer tells you how hard or easy it is to rank for a keyword. This helps you eliminate thousands of others that would take a long time to rank for, and helps make your content more targeted. You also save money.
How Wordze Works
Are There Drawbacks to Wordze?
Like all free keyword research tools, the free version of Wordze gives you basics. If you want to do more in-depth keyword research you have to pay for the software or refer several new users to get access.
---
Conclusion
Free keyword tools are a dime a dozen, and most of them provide nothing but the most basic results. Wordze is different; by combining three powerful features, you can see thousands of long-tail keywords, their monthly search volume and competition.
It brings you keywords from the most important platforms – Google, Amazon, eBay and YouTube. This is great because you can create different kinds of targeted content for each of these sites and rank a lot faster.
If you are in the market for a free keyword research tool this is one of the best and we recommend it.