How Does a VPN Work? Everything You Should Know…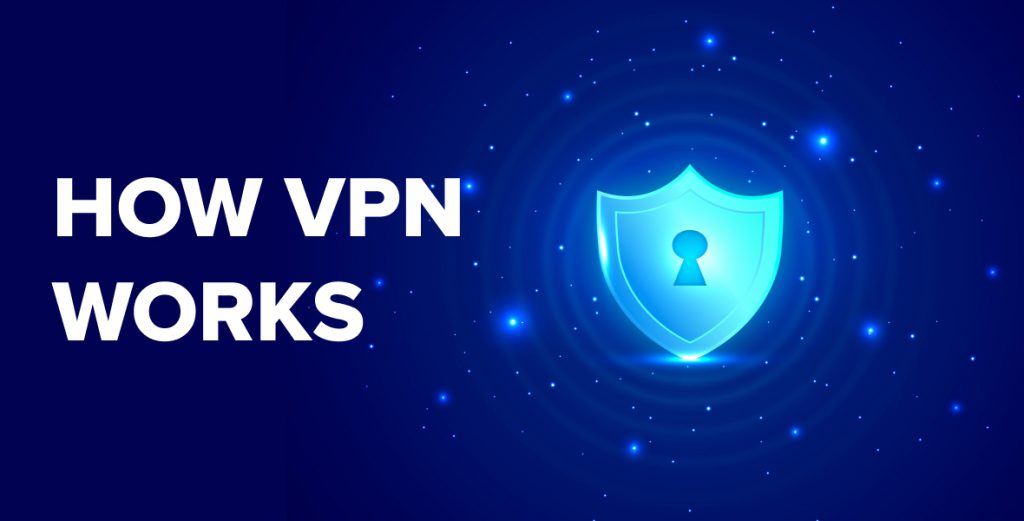 There are millions of searches every month about how VPNs work. Users ask "how do VPN work?", "how VPN work", VPN: how does it work?" So, how does a VPN work to keep you safe? Read on to find out.
An Austrian privacy activist recently asked Facebook to send him his personal data stored on their servers. They mailed him a document that was over 1,200 pages long.
It included phone numbers and addresses of friends and relatives, a history of all devices he had used to log into Facebook, events he had been invited to and an archive of his messages, including deleted ones.
Amazon collects information along these lines too, including your Alexa activity.
How much access do websites have to your internet traffic every day?
Can you stop them from viewing and collecting your data?
You can if you use a VPN to safeguard your internet connection. Understanding how a VPN works will go a long way in keeping you anonymous and secure whenever you go online.
The VPN market is huge and growing. It was estimated at $35.5 billion in 2020 and is projected to reach more than $107 billion by 2027.
The Covid-19 pandemic accelerated the work from home revolution, and this increased VPN usage by more than 27%. The sharp rise in the numbers of people working from home has seen companies and businesses adopting VPNs as a core part of their security strategy.
Italy had a 175% increase in VPN usage in 2020, and it wasn't the only country to witness a massive spike. In the US it was 133%, Spain 62%, Germany 48% and France saw an increase of almost 50%.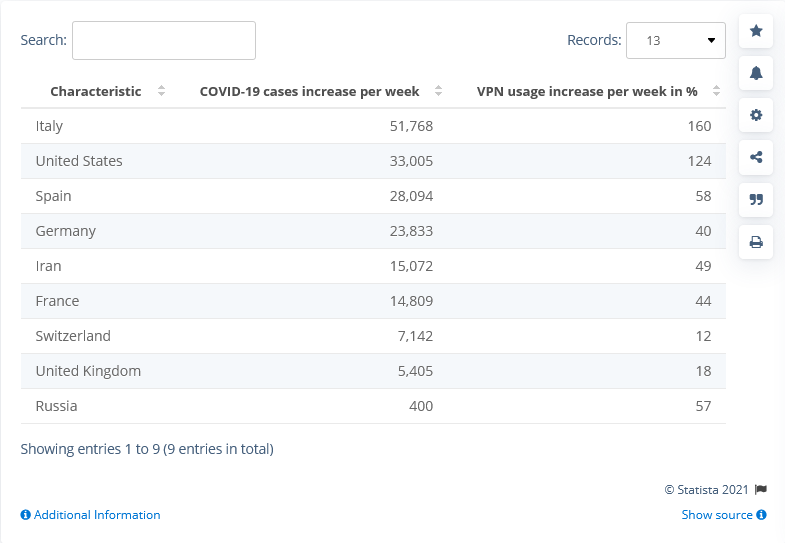 If you're new to VPNs these numbers may not mean much. However, you may be wondering how does a VPN work to keep your internet connection safe and secure and is it worth the investment?
Without going into many technical details, this post will tell you all about VPNs, how does VPN work, how to choose one for your home and business needs and also show you a comparison of some of the best VPNs in the market today.
---
What is a VPN?
VPN stands for Virtual Private Network. It is a network that encrypts internet traffic so that third parties, including your internet service provider, cannot see it.
Every time you visit a website, you connect through a server. The server is where the site is hosted. The websites you visit can see your data.
Depending on how a site is built, it can see where you are (your IP address), the kind of information you're looking for, how long you have been on it and if you download information, the site can see exactly what you have downloaded.
Servers also collect user data. For example, they can see what you do when you are online, and they have access to personal information like login credentials, credit card and banking information.
A VPN connection is the only way to make sure that this doesn't happen. When you go online with a VPN, your data passes through the VPN server. It scrambles your data and makes it useless to third parties.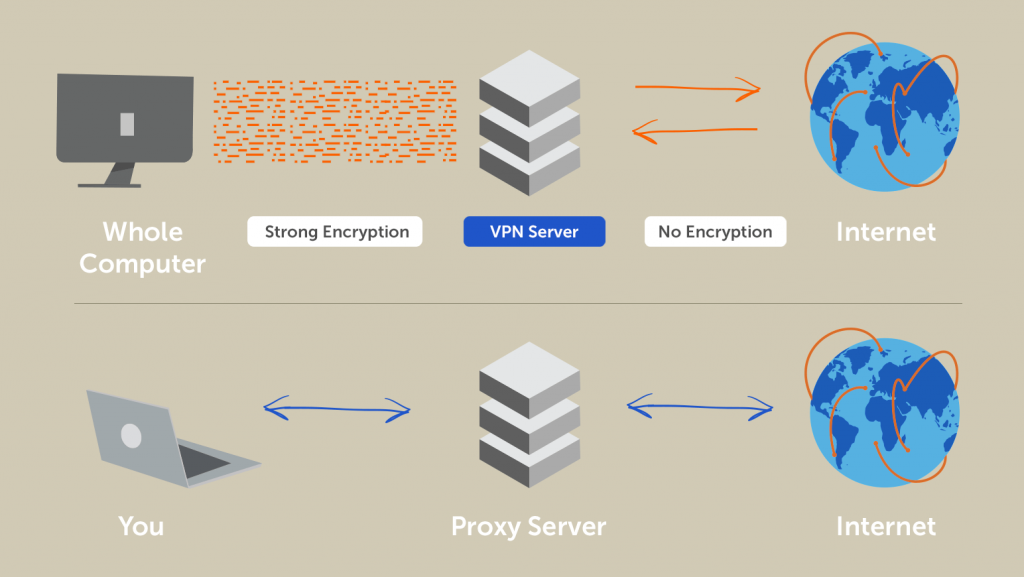 In other words, a VPN connection creates a secure network to send and receive data. It also changes your location. To anyone looking at your online activity, it appears as if you are located where the VPN server is.
You can use a VPN to secure all your devices: mobile phones and tablets, laptops and PCs and even your smart TV and gaming devices.
---
How Does a VPN Work? Encryption in a Nutshell
As explained above, when you connect through a VPN you are directed through a private and secure server that changes your IP address and encrypts your data. VPNs are able to do this using protocols.
Protocols are instructions that tell a computer how to send and receive data from a VPN server. These protocols establish and maintain a connection so long as you are online. They encrypt data and also obfuscate your IP address.
How do protocols encrypt data?
Think of your online connection as a tunnel. When you don't have a VPN, this tunnel is wrapped in a thin layer of encryption that anyone can crack with the right tools and know-how.

VPNs create their own special, dedicated channels that have additional encryption layers. When outgoing data arrives at the VPN server it is scrambled using powerful algorithms that are very difficult to crack. The scrambled data then passes through a tunnel cloaked in further layers, making it even more difficult to unscramble.
The same thing happens to incoming data. It is scrambled, passed through a highly secure tunnel, and decrypted when it arrives on your computer or device.
Your data is secure so long as you connect through a VPN. No one can see where you are or what you're doing online.
---
Types of VPN Security Protocols
To understand what is a VPN and how does it work, you need to know a little about protocols. There are many types of VPN protocols, but there are few that really matter:
OpenVPN – this is a popular, open-source protocol that deals mainly with encryption. It ensures that your data is securely encrypted and then decrypts it in the correct order. It does all this while ensuring that the encryption and decryption processes don't slow down your speeds.
IPSec/IKEv2 – this protocol deals with establishing authenticated encryption connections. It also keeps encryption stable if a user switches between connections. So, if you switch from Wi-Fi to mobile, for example, this protocol ensures that your data doesn't leak.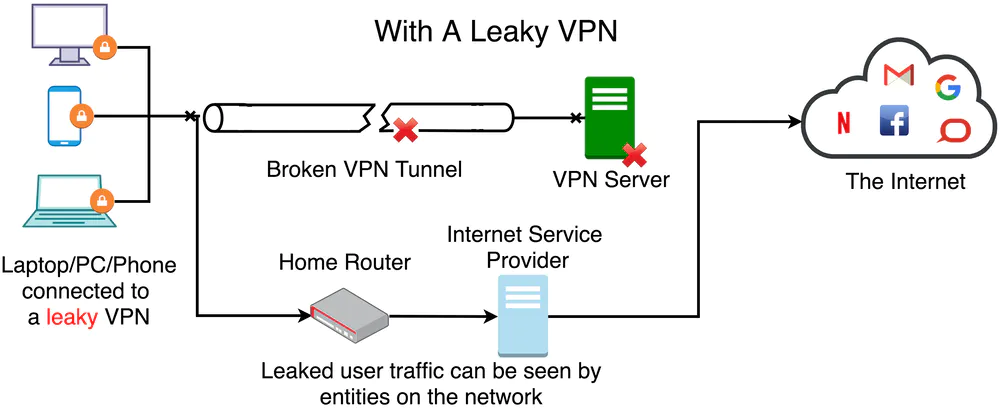 L2TP/IPSec – this provides a tunnel between your device and the VPN server. Once in the tunnel, other protocols take over to keep the data secure.
PPTP – this was the first commonly used VPN protocol. Because it is fast it is a recommended protocol for VPNs for streaming.
You'll find that the best VPNs use a combination of several protocols that do different things to provide secure connections.
Some VPNs use additional protocols like WireGuard and Chameleon to provide extra security and peace of mind.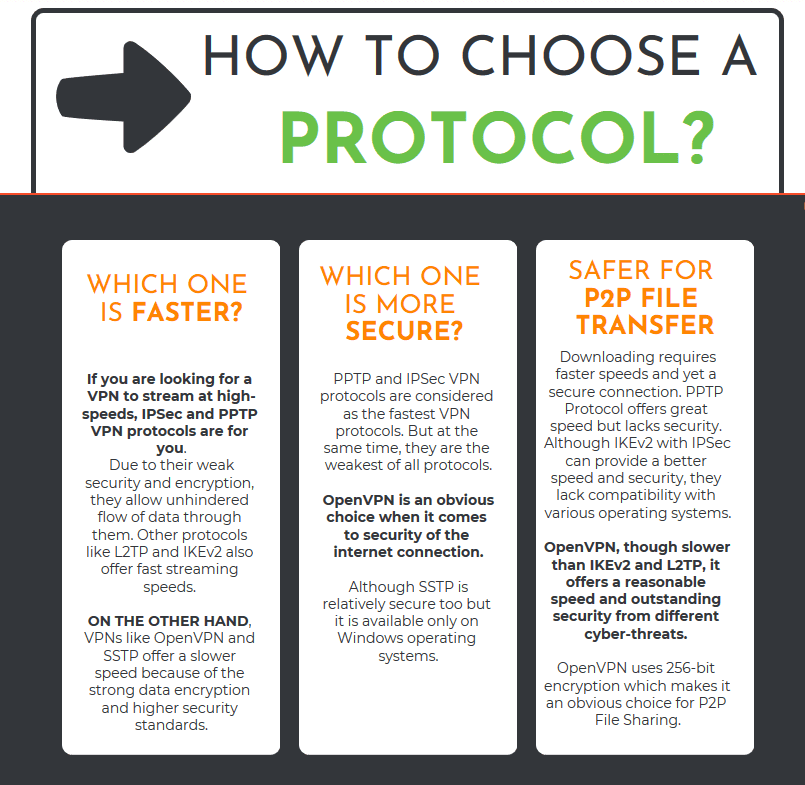 ---
What Are The Benefits of a VPN?
What can you do with a VPN? In a nutshell, you're able to secure your online presence, but exactly what does that mean?
VPNs help bypass censorship – censorship is a common problem. Some sites are banned depending on where you are, and the only way you can access them is with a VPN. Did you know, for example, that there are certain video games you cannot access from countries like Australia and the UK because they are considered too violent or overtly sexual? A VPN helps you get around the problem. In countries like Russia and China where censorship is more widespread and affects news sites and social media websites VPNs provide a secure means to go online.
Streaming – this is one of the most common reasons why people buy VPNs. Streaming platforms restrict content depending on the region. You may have a Netflix subscription but that doesn't mean you have access to all their content; you can only watch what they have licensed for your country. Streaming with a VPN gives you online privacy and allows you to log in through a remote server where the content you want to watch is licensed.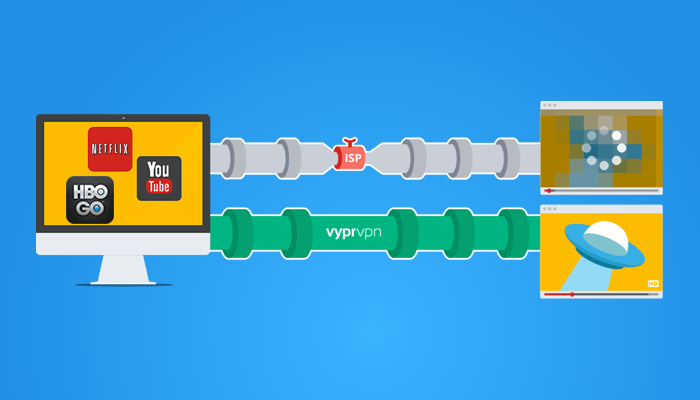 Stop tracking – a VPN will stop your ISP and other third parties from tracking your online activity. Your ISP can throttle your bandwidth if they determine that you are streaming or torrenting, and they can even point the authorities in your direction for downloading copyrighted material.
Protect your private data – each time you type in your credit card details there is a chance that a third party can access them. Even when you do online banking you're out in the open for hackers to exploit. A VPN provides a secure connection ensures this doesn't happen.
Torrenting – torrenting remains the fastest and most secure way for users to share files, but it is unlawful. You can torrent safely with a VPN.
To see all the things you can do with a VPN click here…
---
Do VPNs Really Work?
It recently emerged that Facebook was paying teens and young adults to connect to a "VPN" that was collecting all kinds of user data.
Revelations like these make some people doubt whether VPNs work. The Facebook project had nothing to do with a VPN. It was designed to secretly collect user data and learn user preferences for marketing purposes.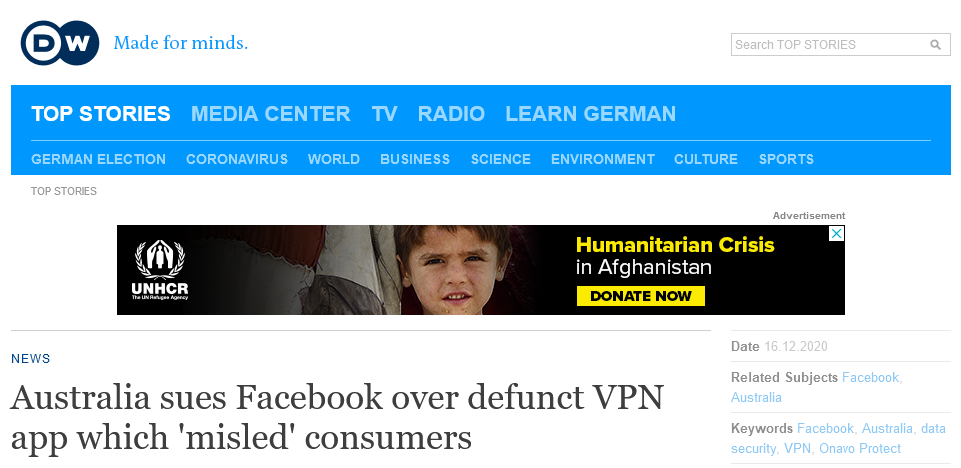 If you buy a reputable VPN from a reliable company it will work. There are fewer than 20 VPNs that are known to provide ultimate security and anonymity for their users, and if you buy any of them you'll be secure whenever you're online.
You can see a comparison of the top 14 VPNs here…
---
Drawbacks/Vulnerabilities of VPNs
That is not to say that VPNs are impregnable. Determined hackers and law enforcement have been known to get around VPNs.
However, this is very rare. By using the latest technology and encryption protocols VPNs can provide a secure connection.
Beware of free VPNs, because that is where the vulnerabilities lie. Most free VPNs don't use the most secure protocols and they gather user data to sell to third parties.
Note: Some sites treat VPN traffic as a threat and block it. Banks, especially, do this. You can get around this by waiting a few minutes and then reconnecting through a different VPN server. Alternatively, ask customer support how you can securely visit your bank without being blocked.
Note: Some devices aren't set to recognize data from VPNs. Your printer and scanner, for example, may refuse to work when you connect through a VPN. That's because they're made to recognize data from nearby devices, not servers in far-off countries. You can turn off the VPN to use these devices.
---
VPN Comparison
VPN
Recommended For…
No. Of Devices
No. Of Servers
No Logs Policy
VPN Security Protocols
Pricing (Monthly)
Surfshark
Netflix, Disney+, BBC iPlayer, Prime Video, HBO Now, Hulu, Kodi
∞
3,200+ in 65+ countries



✔

WireGuard®, OpenVPN™, IKEv2, ShadowSocks
$12.95
NordVPN
Netflix, Disney+, BBC iPlayer, Hulu, HBO Now, Amazon Prime, Kodi
6
5,200+ in 60+ countries

✔

IKEv2/IPsec, OpenVPN™, NordLynx
$11.95
VyprVPN
Netflix, Disney+, BBC iPlayer, Hulu, HBO Now, Amazon Prime, Kodi
5
700+ in 70+ countries

✔

PPTP,
L2TP/IPsec,
IKEv2,
WireGuard®,
OpenVPN™,
Chameleon™
$6.47
ExpressVPN
Netflix, Disney+,
BBC iPlayer, Spotify, Hulu, Prime Video, HBO Now, Kodi
5
3,000+ servers in 94 countries

✔

LightWay, OpenVPN™, IKEv2, LT2P/IPsec,
WireGuard®, PPTP, SSTP
$12.95
Cyberghost
Netlix, Disney+, HBO Max, Prime Video, BBC iPlayer, Hulu, Kodi
7
7,200+ servers in 90+ countries

✔

OpenVPN™, WireGuard®, IKEv2
$12.99
IPVanish
Netflix, Disney+, Hulu, HBO Max, Amazon Prime Video, Spotify, Kodi
10
1,300+ servers in 55+ countries

✔

WireGuard®, IKEv2, OpenVPN™, L2TP, IPSec, PPTP
$10.99
---
FAQ
How much does a VPN cost?
VPN pricing is often confusing for beginners. Most providers display a monthly cost but charge annually. Different VPNs have different prices and pricing models, so take the time to understand what you are buying.
You can expect to pay anything between $30 and $100 a year for a decent VPN service that offers good protection.
In most countries it is legal to use a VPN. They are banned in a handful of countries, including North Korea, Belarus, and Iraq and restricted in others, but in most places around the world you can use a VPN without breaking the law.
Can I be tracked if I'm using a VPN?
Yes, you can be tracked even with a VPN. It protects you from external sources, but sites like Google can see your online activity if you use the Chrome browser.
Do I need a VPN on all my devices?
Yes, you do. If you want to secure all your data you should buy a VPN that allows simultaneous connections to protect your mobile devices, computers and more.
It is especially critical to secure your mobile devices because you use them to go online hundreds of times a day, and you send a lot of personal information through them. Most providers have apps for android and iOS devices.
Installing a VPN on a router allows you to connect as many devices as you want with only one license.
How do I choose the best VPN?
We have done a comprehensive post on the best VPNs in the market and how to choose…
---
Conclusion
What is a VPN and how does it work? This post has given you a good glimpse into virtual private networks, how they work and what you can use them for. A VPN is the quickest, most efficient and cheapest way to ensure online anonymity and security.
Granted, a VPN cannot guarantee that you will always be secure, but it's the best software in the market today for those who seek online privacy, want to stream TV shows and movies and torrent anonymously.