IPVanish Review (11 Things to Know Before You Sign up)
Editor Rating:





User Ratings:





(12)
IPVanish is often listed as one of the top 5 VPNs. When it comes to VPNs you cannot take their word for it – many will claim to have features that aren't there. To find out the truth about IPVanish we did an in-depth, unbiased review.

---
What is a VPN?
Whenever you are online on an unprotected network such as the Wi-Fi network at home or your local coffee shop your details are accessible. A malicious hacker can find out where you are, they can see personal information such as credit card information and they can also see all the sites that you are accessing and what you are doing.
This is hardly ideal; most people value their privacy and would like to keep their activity private. That is what a VPN is for; it helps you stay anonymous every time you go online.
---
What is IPVanish?
IPVanish describes itself as "the world's best" VPN service. That is a big claim to make, so we decided to see whether it can stand up to scrutiny by testing it ourselves. At a glance, there are several things that this VPN gets right:
It has a great user interface so it's easy to use.
It has high speeds.
It's great for Netflix.
While these are excellent features, discerning users will be looking for more; they want an unbiased review that looks at all the features of this VPN so that they can know what is and isn't to like.
---
For this review we will be looking at the following 11 VPN selling points:
| | |
| --- | --- |
| Speed | Decent |
| Ease Of Use & Interface | Good |
| Number Of Servers | 1,600+ |
| Logging | Some |
| Encryption | Strong |
| Socket Security | Present |
| Unblocking Netflix | Limited |
| Torrenting & File Sharing | Good |
| Number Of Devices | Unlimited |
| TOR Use | Yes |
| IP & DNS Leaks | None |
---





Speed
When you install a VPN on any device it will slow down your speeds. Think of it as an additional hurdle that data has to go through which takes longer. The best VPN is one that slows down devices the least.
There are three points to test for when you test the speed of a VPN: download, upload and latency.
You want upload and download speeds to be high while latency is low.
For this review we will look at the download and upload speeds of the busiest IPVanish servers: Miami, Switzerland and UK.
For Miami we got download speeds of around 63.31 Mbps and upload speeds of about 83 Mbps.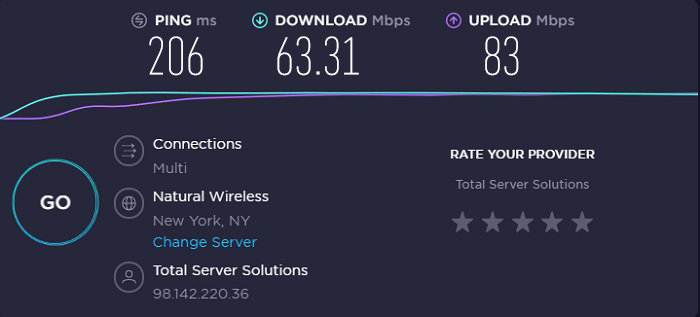 The Switzerland server gave us download speeds of about 62 Mbps and upload speeds of around 73.3 Mbps.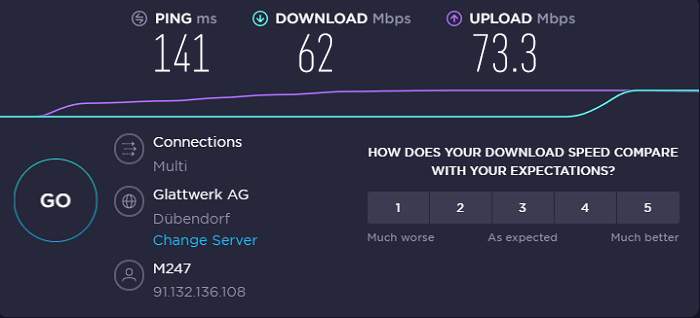 For United Kingdom we were able to get downloads of around 67.76 Mbps and uploads of 72.1 Mbps.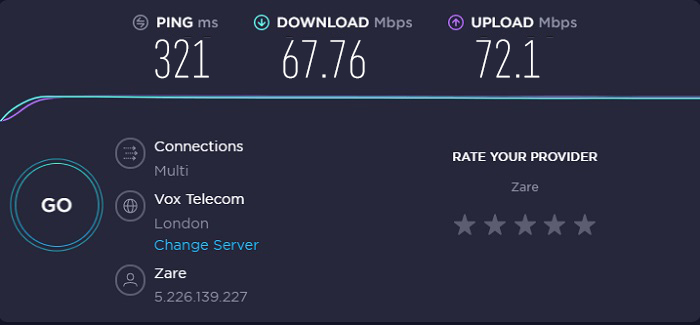 While the Miami and United Kingdom servers offer excellent speeds, Switzerland is without a doubt slow.
Keep in mind that VPN speeds are affected by many factors. Your location in relation you the VPN server and device specs are just two factors that can influence how fast your VPN is.
We found that the fastest connections were within-country – if you are in the US and you connect through a US-based server it will be pretty fast.
---





Ease of use and interface
Most reviews will mention this as one of IPVanish's best selling points. The app was designed with the user in mind. Installation is rather straight-forward and it launches right away.
The user interface is intuitive – there is nothing to figure out. The app shows you the server list (you can choose the one you want), your account details as well as settings. You can see your own location and the recommended country and server for optimal speeds.
While the VPN offers an excellent app, there are some users who feel that they should have included a setup guide especially for those who have never used a VPN before. These instructions are available online.
---





Number of servers
A VPN that has many servers is often better than one that has just a few. It allows for traffic to be split into manageable bundles.
Having many servers doesn't always mean that a VPN will give a superior service. It depends on what features the servers have and how well they are maintained.
IPVanish has more than 1,600 servers in 75 countries. This isn't a lot when you compare with services like Express VPN (3000) or NordVPN (5000) but it does rather well. The company has servers in Africa and South America which provide a much-needed presence in these regions.

Sometimes servers are configured in such a way that several virtual ones sit on one physical server. In some cases servers are configured to appear in different regions from where they are actually located.
If you care about the destinations your data travels to you may want to find out whether a VPN company uses virtual servers, or just buy IPVanish – they don't have virtual servers.
---





Logging
Think of a log as a record that shows your activity when you are online – the day and time you logged on, the sites you visited, apps activated during that time and even the time you logged off. This information, in the wrong hands, can be damaging.
IPVanish didn't do very well in the past with regards to logging. While it claimed to have a strict "no logs" policy, the company was in trouble for handing logs over to Homeland Security in 2016. The new owner of the business, StackPath, assures users that all logging loopholes are now sealed. It remains to be seen whether this is true.

However, when compared to other top VPNs, IPVanish isn't very different – they all collect some information.
The company's location matters when it comes to logging. StackPath is in Dallas, United States, and is subject to the country's laws on data sharing. It can be compelled by court order to share information about a user or users.
---





Encryption
IPVanish uses the best encryption protocol in the world – AES 256. This is the same type of encryption used by security agencies such as CIA, FBI and MI5. AES 256 can withstand any type of brute force attack.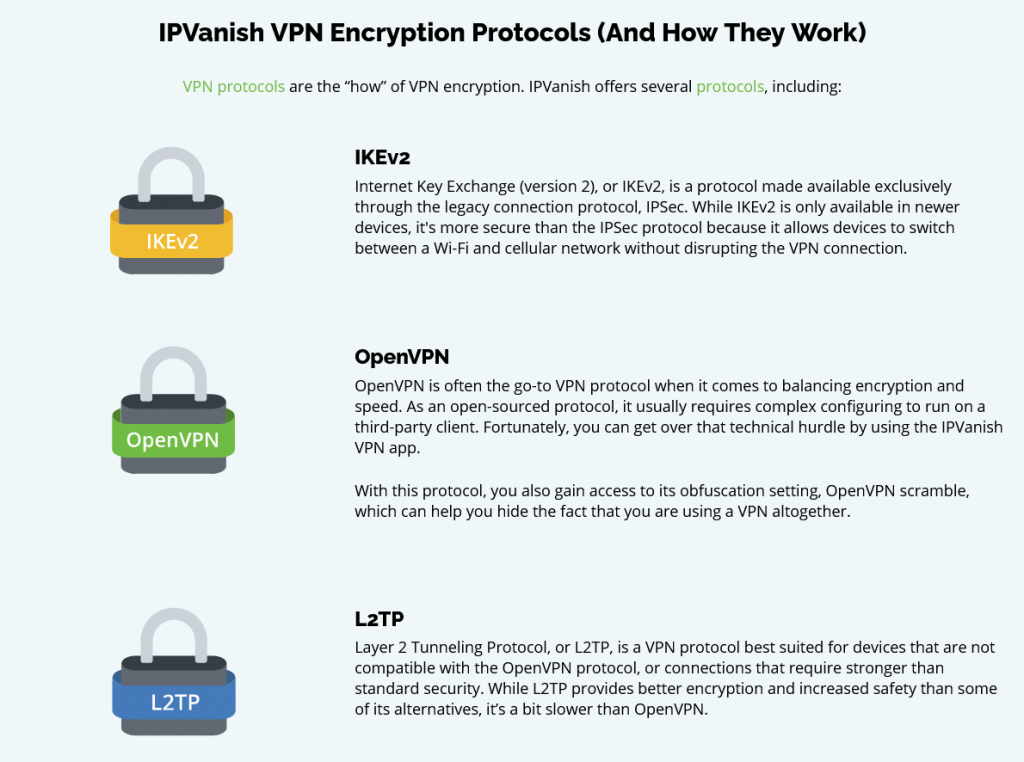 As a regular user you may assume that brute force attacks aren't something you should worry about. They happen all the time – the latest studies show that there are as many as 30,000 a day.
That's a lot, but you shouldn't worry about it if you have IPVanish installed on your devices. AES 256 will keep your personal data safe and it will also protect your websites.
---





Socket security
Most VPNs offer OpenVPN security protocol. It works just fine – users get good speeds and their data is secure. There is one challenge – OpenVPN has to be downloaded directly so that the user can access the security certificate.
IPVanish avoids this cumbersome process by offering users SOCKS (Socket Security). It is inbuilt into the VPN so you don't need additional downloads to enjoy maximum anonymity.
While users enjoy higher speeds using SOCKS, it has a downside – it isn't very secure. The software can mask your location but it can do better in terms of security.
This may all sound complicated but the important thing is to weigh the pros and cons of using SOCKS before you decide. Think about speed and ease of use vs. security.
---





Unblocking Netflix

One of the biggest selling points for any VPN is whether or not it can unblock Netflix content. IPVanish doesn't state whether or not it can. Many top VPNs avoid references to Netflix because it is a sore point – the company isn't happy that VPNs allow users to get content free-of-charge.
We decided to test IPVanish for ourselves and here is what we found: you can only unblock Netflix content if you use the server in Chicago. One would expect that servers that handle lots of traffic, like in the Canada or Netherlands would allow access but not quite.
That is not to say that Chicago is the only server that can unblock Netflix for IPVanish. They have more than one thousand servers, and if you are patient enough to try a large number you may get lucky.
For sports lovers, you have the option to buy a special IP Vanish package that allows you to stream sports from anywhere in the world.

---





Torrenting and file sharing
Torrenting is another sensitive issue for VPNs. Some steer clear, while others will not state that they support it.
IPVanish is one of the few exceptions where torrenting is one of the selling points. According to the website, you can "Torrent with 100% privacy".
---





Number of devices
This refers to the number of devices that you can connect through a single VPN license. Some of the best VPNs can only connect 3 or 4 devices at a time.
IPVanish supports an unlimited number. You can connect as many devices as you want through one account.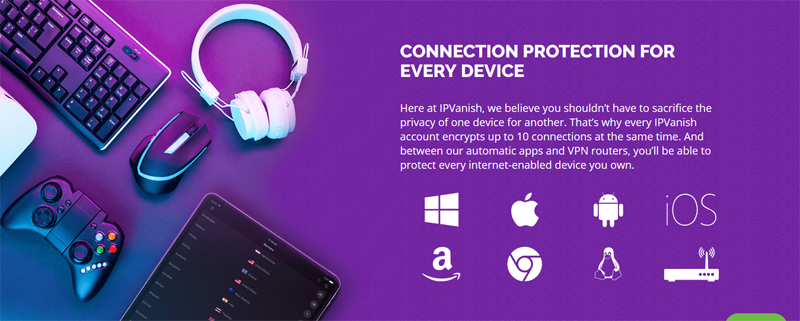 This may not seem like a big deal if you are buying a VPN for personal use, but if you have a family, or a small business with few employees it's a big plus. You can all surf anonymously at an affordable cost.
---





TOR use
TOR is the perfect tool for those who want to avoid government surveillance. In countries like North Korea or China, visiting certain sites can lead to arrest or worse, so TOR provides a perfect cover. User traffic is relayed through several anonymous sites making it impossible for authorities to trace it to a location.
Authorities are able to break into TOR from time to time. Having a VPN provides an additional layer of security making a user completely anonymous.
Some VPNs don't want anything to do with TOR, but not IPVanish. It is TOR compatible and allows for maximum privacy at all times.
---





IP and DNS leaks
VPN connections aren't always reliable. If dropped, IP and DNS leaks follow, and location information and other details end up in the wrong hands. The best VPNs have inbuilt protections against this.
IPVanish is airtight. We tested it on IPLeak, DNS Leak Test and Do I Leak and none of these revealed any weaknesses.
---
Cons of IPVanish
We have tested dozens of VPNs over the years and even the best have cons. While IPVanish does well on many fronts, there are certain things you need to know before you buy:
Negative Reviews
The biggest problem with IPVanish is the reviews. Our tests revealed that it is a reliable VPN – among the best that we could find. However, online reviews are mixed. While some think that it is a premium service, there are others who think that it isn't anything to write home about.
Complaints vary; some say it's slow to connect, others that it drops the connection every few days while some complain that it doesn't work very well on older devices.
For every negative review there are many positive ones, which is reassuring. In our experience, IPVanish is definitely one of the best VPNs available today.
---
Customer Support
Customer support at IPVanish isn't what they say it is. The company claims to offer 24/7/365 support but it can be better. In order to offer 24 hour support IPVanish would need to have a Live Chat option – we couldn't find one.
You can only contact IPVanish through a support ticket, and they take a while to get back to you. When they do, they provide a reference number and invite you to wait even longer for answers.
This is not the best VPN if you would like frequent and immediate assistance.
---
Pricing Plans
IPVanish has a simple pricing plan. You buy the VPN only, or you can buy the VPN and SugarSync storage.
$3.49 a month for a 1 month subscription.
$2.62 a month for a 1 year subscription.
$3.84 a month for a 1 month subscription.
$2.92 a month for 1 year subscription.
For each pricing plan you get a 30 day money-back guarantee.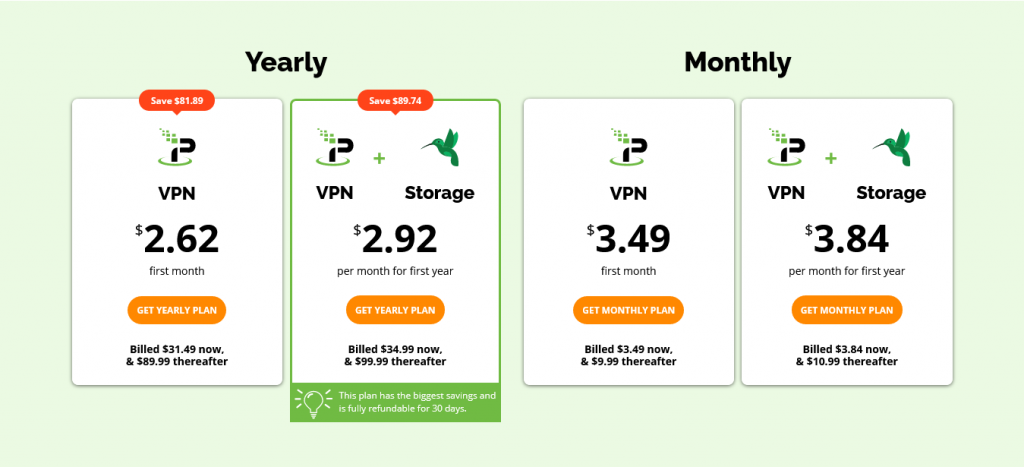 Unlike most other VPNs, IPVanish doesn't offer a 6 month subscription.
IPVanish is not expensive especially when compared to some of the premium VPNs but it isn't cheap either.
---
Do we recommend IPVanish?
Absolutely. There are several reasons IPVanish makes it to the list of best VPNs. The first is that it has a better interface than most – you will have an easy time with it. It's also fast and has many servers that are geographically spread.
Its ability to connect to 10 devices at the same time is another big plus for both business and home use.
Some people complain about the pricing, but there isn't another VPN in the market that allows you to connect to that many devices at that price. Whichever way you think about it, it's fantastic value for money.
So yes, we recommend IPVanish.
You may find other VPNs that are faster and offer better support, but for the average user IPVanish will more than get the job done.
---
IPVanish User Reviews
Exoticken likes that IP Vanish is novice-friendly:
"I am technically illiterate and I am able to have complete protection with this service. It is super easy to use and I have had zero issues with it."
Chris Anderton likes the service but thinks it should connect automatically:
"No problems with reliability or speed of connection. However, in spite of ticking the appropriate settings for auto-connect on start up, IP Vanish does NOT auto-connect (that is on a Mac, Firestick, Samsung Tablet or Samsung phone). Instead you have to remember to connect manually, which is a very simple process, as long as you remember."
Piotr Everste is impressed with IP Vanish:
"IPVanish is one of the many VPN's that I've tried over the years. The reason I stick with this one is primarily because of its user friendly interface, with a very simple and no over the top "flashy" connect button. The speed is definitely not the best in the business but it is still a solid average speed. All in all, a 4.5/5 for me."