CyberGhost VPN – Can You Trust it to Keep You Safe?
Editor Rating:





User Ratings:





(1)
Reading reviews of CyberGhost can leave you confused especially if you are new to VPNs. According to some, it is the fastest growing, one of the cheapest, based in just the right part of the world, highly secure – the accolades keep coming.
According to others, it's unreliable, has had security issues in the past and its ownership makes it untrustworthy.
What should an ordinary user believe?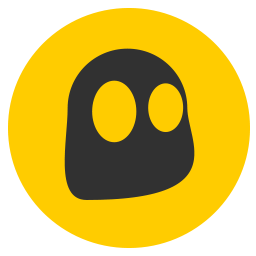 To help you make up your mind we have done an in-depth review that looks at the good and the bad. After you have read it you decide if CyberGhost is worth your money.
We ran a full battery of tests to determine how good this VPN service is, and in a nutshell, we didn't find it as unreliable as some would have you believe.
That took us aback; why would it get such negative reviews if it does what a VPN is supposed to do? We did a little digging and we found out that its problems stemmed from the past.
CyberGhost was established in 2011 by a company in Bucharest. In subsequent years it experienced some hiccups. One of the most significant was the installation of a root certificate. This meant that the company could monitor user activity (never a good thing for a VPN).
Has CyberGhost made any changes?
However, after users pointed this out the company was quick to act; they acknowledged the problem and took steps to fix it, and since then the user base has kept growing.
Today the company has new owners (more on that later), and this has left some uncertain as to its future.
---
CyberGhost VPN Review
With such a background it is important to know exactly what CyberGhost has to offer, and that is exactly what we will do in this review. We will take an in-depth look at the following areas:
| | |
| --- | --- |
| Speed | Medium |
| Logging | None |
| IP & DNS Leaks | None |
| Number Of Servers | 7,300+ |
| Locations | 90+ |
| Parent Company Location | Romania |
| Netflix | Yes |
| Torrenting | Yes |
| Ease Of Use | Great |
| Customer Support | Great |
---





Speed
Speed is significant for any VPN; if it slows down connections too much users get impatient and they seek out alternatives.
If you have read our other reviews you know what we have to say about speed: take what you read with a pinch of salt. The speed of a VPN can be affected by many factors.
Your distance from the server is one of them (the further away you are, the slower your speed may be). The type and quality of device in use can also slow things down. As well, if your ISP throttles your bandwidth you will experience slower speeds.
The speeds that we talk about here aren't absolute; when you test the VPN from your location and on your specific device you may get different results. You may find the VPN is faster or slower.
Compared to others however, CyberGhost is not the fastest VPN, or even among the top 3. We tested 4 of their busiest servers and here is what we found:
For the New York server we got download speeds of 12 mbps and upload speeds of 14 mbps.

For London download speeds were 7 mbps, and uploads were 16 mbps.
The Hong Kong server had download speeds of 5 mbps and upload speeds that were roughly the same.
The Amsterdam server was the fastest, with downloads of 55 mbps and uploads of 20 mbps.
If you are after speed, you may want to buy a different VPN (Express VPN is much faster, for example).
That is not to say that it is the slowest; there are some solid VPNs that are even slower.
In our estimation, CyberGhost falls somewhere in the middle.
---





Logging
What is logging and why does it matter when you are choosing a VPN? Logging refers to whether the VPN company is keeping track of your activities. Imagine that each time you log on the company makes a note of time, location and IP address and also keeps track of the sites you visit. If this information ever falls into the wrong hands it could lead to lots of problems.
The best VPN companies state that they do not keep logs but that isn't strictly true. In order to provide an optimal customer experience they have to retain some information.
The best VPNs are those that keep information that wouldn't hurt users in any way.
According to CyberGhost's privacy policy, "…the user's traffic data such as browsing history, traffic destination, data content and search preferences are not monitored, recorded, logged or stored… we do not store connection logs and do not have any logs tied to your IP address."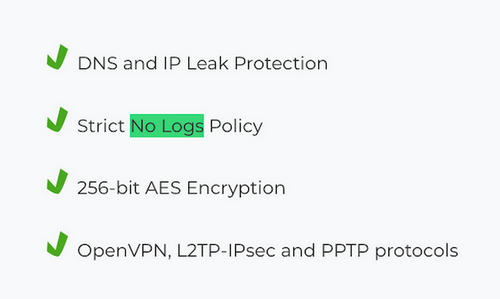 ---





IP and DNS leaks
We ran tests using dnsleak.com, ipleak.net and dnsleaktest.com. We found that although CyberGhost doesn't leak your IP address, it will occasionally show the country you are connecting from and that you are using a VPN.
For most people this is not a problem; however, if you need a VPN for political reasons and your country of origin is leaked it may be a matter of life and death, so CyberGhost may not be your best choice.
There is a good explanation for why the company reveals the VPN name: it's to avoid having their server IPs blacklisted or marked as "spam". According to them, many users are reassured by this sort of transparency.
---





Number of servers and locations
CyberGhost has more than 7,300+ servers in 90+ countries. As far as server numbers go this is good. The servers are in the US, Europe and Asia. Their busiest servers in the EU are in the United Kingdom. In Asia they have servers in Japan, Hong Kong and Singapore.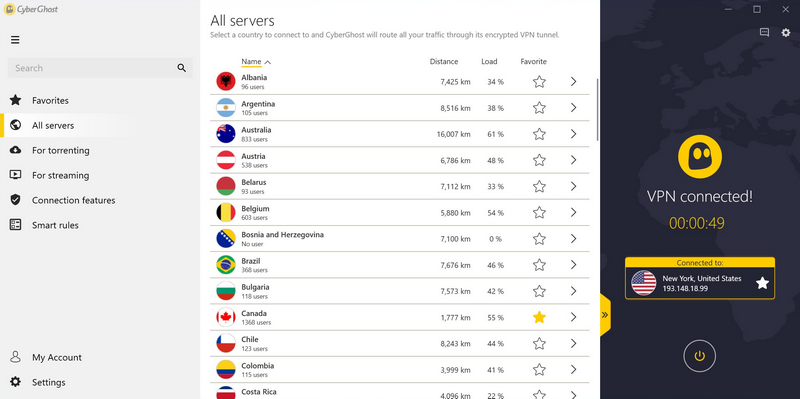 The servers offer unlimited bandwidth for up to 7 devices per user.
---





Location of parent company
The parent company is in Bucharest, Romania. CyberGhost was initially owned by Crossrider, a company by German tech entrepreneur, Robert Knapp. He later sold it to a group of Israeli investors (Kape).
The location of the company didn't change after the sale; it's still out of the 14 Eyes jurisdiction, which means it cannot be compelled to share user data by any court.
---





Netflix
CyberGhost VPN is an excellent choice if you are looking to bypass geo-restrictions on Netflix. It has a dedicated server that constantly changes its IP address to avoid restrictions.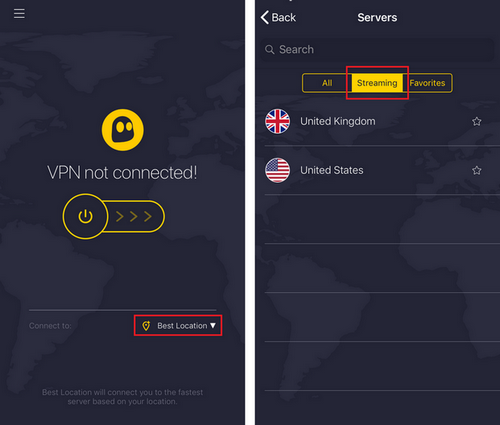 On testing, we found that we could easily bypass servers in the United States and Canada and many other locations. In addition to Netflix users have access to Hulu, BBC iPlayer, YouTube and a few others.
---





Torrenting
Some VPNs have a strict no-torrenting policy. Others, while not condemning the practice, will subtly discourage it.
Not CyberGhost; it actively encourages users to torrent and markets itself as one of the best VPNs for those who want to torrent.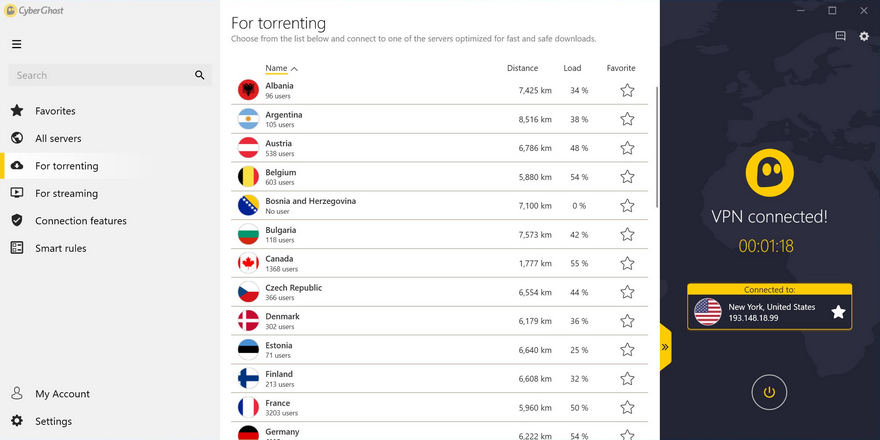 Once you install the VPN you will find an easy-to-use torrenting interface. If you click on it you get the option to torrent using untraceable servers. The process is easy and fast and users get unlimited bandwidth.
---





Ease of use
The user interface for CyberGhost is a winner; even the VPN novice can use it without any problems.

The VPN takes about 5 minutes to install. The layout of the app is clean and easy to understand. You can choose "Ghost Browsing", "Ghost Streaming", "Ghost Wi-Fi", "Ghost Downloads", "Ghost Anti-censor" or "Ghost Pro".
---





Customer support
If it was possible to give a rating higher than 5, we would gladly give it to CyberGhost for customer service.
Good customer service is hard to find with VPNs. A quick glance at reviews of the best ones reveals that many users are unhappy about customer support.
They usually complain about two things: that they have to wait for ages before they can get a response to a question, or the response they get isn't helpful.
This wasn't our experience with CyberGhost. The company has invested time and money to ensure that users get answers in a speedy and efficient manner.
It wasn't always so; when CyberGhost VPN was released in 2011 it was much like many of the others; users couldn't get the company to respond in a timely manner.
However, over time things have changed a great deal, and in our opinion they have one of the best support systems.
If you have a question, visit their website and click on the chat box – you will be asked to input your name, email, language and a short message.
As soon as you submit your query there will be someone on the other end to assist. They don't use robots; you chat with real human beings who can competently answer questions.
---
Cons of CyberGhost
No VPN is perfect, and CyberGhost has its flaws.
What is going on with the parent company?
The biggest complaint about CyberGhost VPN is that is happening with the parent company. Kape, the new owners, are a company known for their work in malware. They create and distribute it far and wide.
Some users aren't comfortable with the fact that a company that engages in this sort of work is also in charge of securing their online anonymity. There is a feeling that the company may be selling user information to advertisers, although there is nothing to back up these allegations.
It seems most subscribers aren't bothered by this; so long as they have online privacy, and are sure that the parent company cannot be compelled to share information they don't feel it matters very much.
It would be difficult to talk about the cons of this VPN without coming back to speed. While it does well on other fronts, speed is an area that needs improvement.
True, it isn't the slowest VPN service that there is, but for how much users pay it should be faster.
The VPN is listed as the fastest growing; if this is true, it's in spite of its speed, not because of it.
We weren't sure whether we should include this as one of the cons of CyberGhost VPN but we decided to anyway. Most users look at reviews before they buy, so we thought it would be relevant.
If you look at many old reviews of CyberGhost they are negative; they talk of slow connections and bottlenecks and warn users not to try it.
If you have read this review so far, you will see that isn't quite true. The VPN is a little slow, but is faster than in was initially, and better than many that are in the market today.
---
CyberGhost VPN Pricing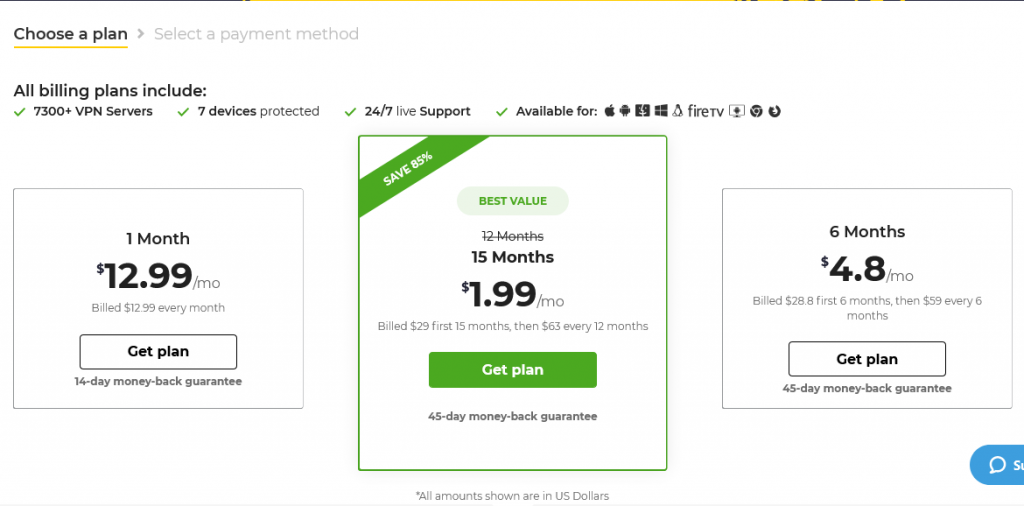 This service has a 3-tier pricing plan as follows:
$12.99 a month every month
$4.80 a month for the 6-month plan
$1.99 a month for the 15-month plan
The 3-year plan makes the most sense as it offers the highest savings. For those who worry about committing for that long, the company offers an excellent guarantee:
If you choose the long-term plans you can cancel within 45 days and get your money back.
If you choose the monthly option you can cancel within 14 days.
Their refund process is straightforward, and we haven't seen any negative comments about it.
You can pay for the service using all major credit cards, PayPal and BitPay.
Cyber Ghost uses resellers, so users are encouraged to make sure that they understand reseller policies.
---
Do we recommend CyberGhost?
This VPN is not perfect, especially when it comes to speed, but it has a lot going for it.
It has a great user interface which can be useful for those who are using a VPN for the first time. It is also secure and has lots of additional features that enable anonymous browsing. It is excellent for torrenting and Netflix and it offers great customer service.
Yes, we recommend CyberGhost. The company has made strides to catch up with the best VPN providers, and this is appreciated by users.
---
User Reviews
Bill has this to say about CyberGhost:
"I have had no problems to speak of. I have six devices connected. The iOS on my iPad was the easiest to install and does not block or complain. It seems to be the most reliable. Overall I would Recommend CyberGhost to anyone wanting secure and private browsing and communications."
Anonymous Lama thinks this VPN is pretty good:
"I did not perform an extensive benchmarking on CyberGhost, but all the features I used worked perfectly: crawling the dark net: perfect , torrenting: great, Netflix: can watch any show."

Jason Naftis is quite impressed with CyberGhost:
"Download and installation was extremely easy and straightforward. Customization to access the nearest vpn server is very intuitive and easy to use."