Dashlane Review: What You Need to Know
Editor Rating: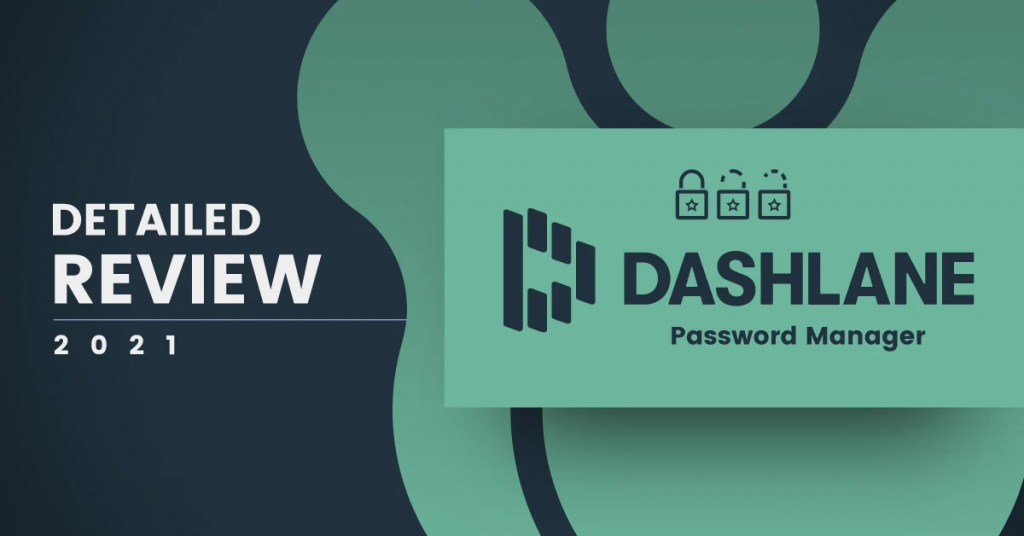 Among password managers, Dashlane has some pretty unique features: an unlimited VPN, a bulk password changer and lots of security extras. However, these features make this software rather expensive. Are they worth it? Read our in-depth Dashlane review to find out.
Dashlane is the Ferrari of password managers. It has more features than other tools in this category and you have to pay more for it. A slick user interface makes it easy to use, and for those who want to try it out before they commit, there's a free version (but with limited features).
Before reviewing this software, let's have a look at what is it and why it makes sense to have it in the first place.
---
What is Dashlane & Why Do You Need it?
You need password management software because life has become complicated. The average professional has a few dozen passwords that they need to keep track of, and that doesn't include personal ones (think social media accounts, email accounts, banking, shopping sites and more).
It is essential to keep passwords safe; in many ways, they are literally, your life. Some people resort to using one password for everything. That's hardly recommended; if someone cracks one of your accounts, they gain access to all of them.
Others write them down or enter them in a spreadsheet which is also not ideal. If someone gets hold of your documents, they have access to everything you hold dear.
Enter password manager software. It is security software that keeps track of all your passwords, and you never have to remember any of them. Better yet, password managers generate complex passwords that are protected by layers of encryption, making them very difficult to crack.
There are many password managers in the market, and Dashlane is considered one of the best because of its vast array of features.
It comes with a higher price tag which makes it unappealing for some. Others, however, are full of praise for it and they don't mind paying more to access the additional functionality it offers (it has more than 14 million subscribers).
This review will tell you all you need to know, and you can decide whether this is the password manager for you.
---
Dashlane Features





Encryption Algorithm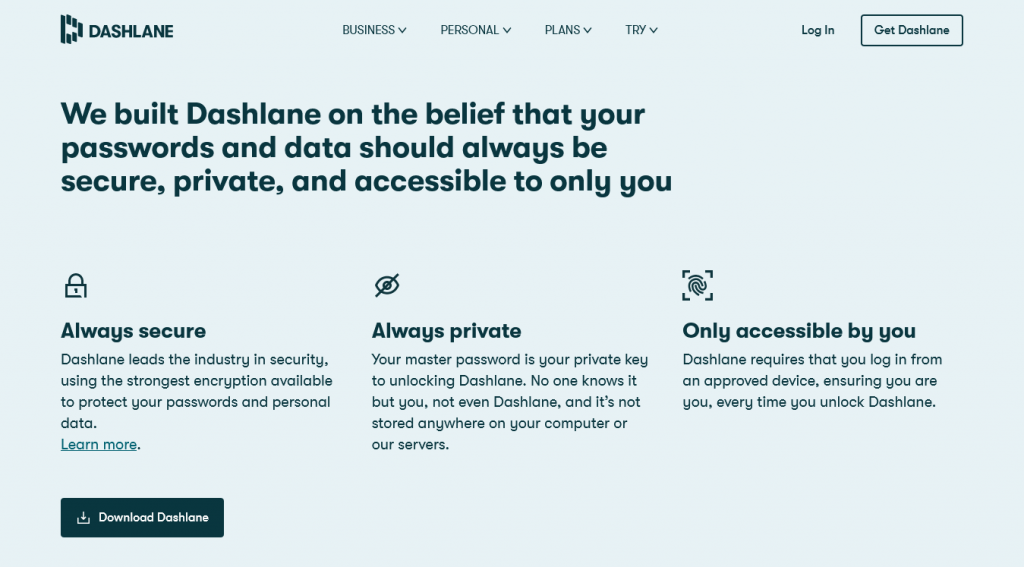 Like most other password managers, Dashlane uses AES-256 to encrypt data. Your passwords are encrypted on your device after you enter the master password, which means that even if the company's servers are hacked it remains safe.
In addition to AES – 256, the company uses two-factor authentication. It provides an additional layer of security by requiring additional verification every time you log in from a new device. You can adjust your settings to request 2FA every time you log in to Dashlane.
It works with Google Authenticator, Authy, and YubiKey (for premium subscribers) and Apple users can use their Apple watch.
The software supports TOTP (one-time passwords), although these aren't sent by text message as they can be hacked. Instead, you need to use an authenticator app.





VPN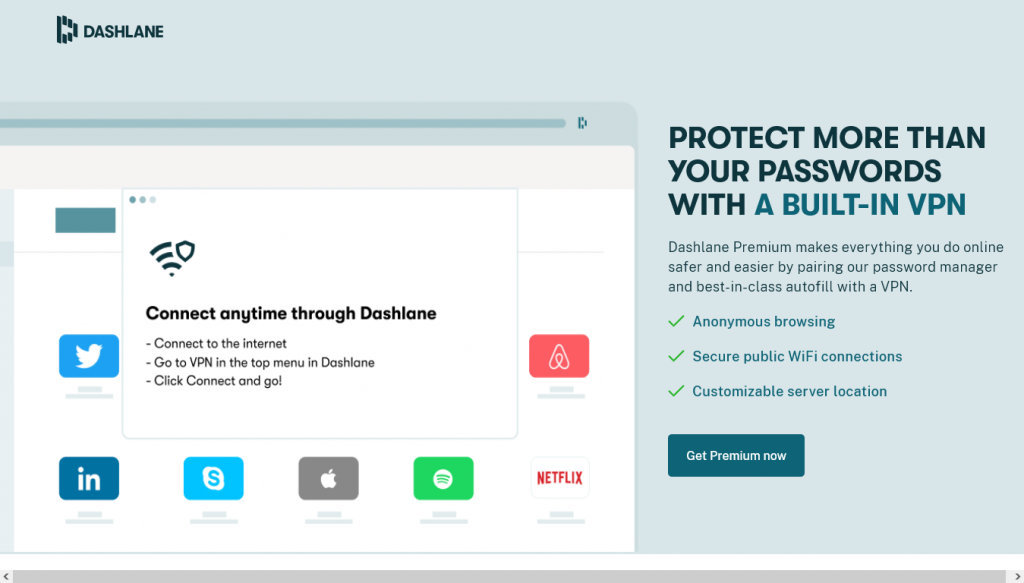 The Dashlane VPN sets it apart from other password managers. Available only to premium subscribers, it is based on Hotspot Shield's technology which is a good thing because it is a fast a reliable VPN service.
The VPN allows unlimited bandwidth and you have a selection of servers in around 30 countries.
Unfortunately, Dashlane is yet to iron out some important kinks that are necessary for a VPN. Theirs doesn't have a kill switch, and if your connection drops your details are out in the open for anyone to see. Also, it doesn't allow users to choose a tunneling protocol, and it doesn't automatically reconnect should you lose your connection.
If you are looking for VPN protection, you're better off subscribing to a proper VPN service like Surfshark, ExpressVPN, NordVPN or even Hotspot Shield; they will keep your online activity anonymous without any of the risks that come with the Dashlane VPN.





Browser Extensions
Dashlane browser extensions are available on Chrome, Edge, Safari, Opera and Firefox.
As mentioned earlier, the extensions are somewhat limited, and you can only use them to do things like generate and add new passwords, save secure notes and other ID information.
The Dashlane Chrome extension, as well as extensions for Firefox and edge, no longer communicate with the desktop apps for macOS and Windows, so you cannot sync new information.





Storage
Dashlane allows each user up to 1GB of storage information, and you can save documents in a variety of formats.
In case you're wondering, you can store things like your credit card details, passport information and other sensitive information you want to keep safe but cannot remember off-head.





Sharing
Dashlane password manager allows you to share passwords and other stored information with friends and family. You can share them one by one or in bulk.
To invite others, go to your vault and select the items. Then click on the email addresses of the other person (or people) and click "Share".





Import & Sync
This feature is available to premium users only, and they can import passwords from LastPass and 1Password, Chrome, Edge and Firefox.
The process requires you to export the passwords as a .csv file before you import them into Dashlane. Web app users are usually invited to import their data when they sign up.





Checks For Leaks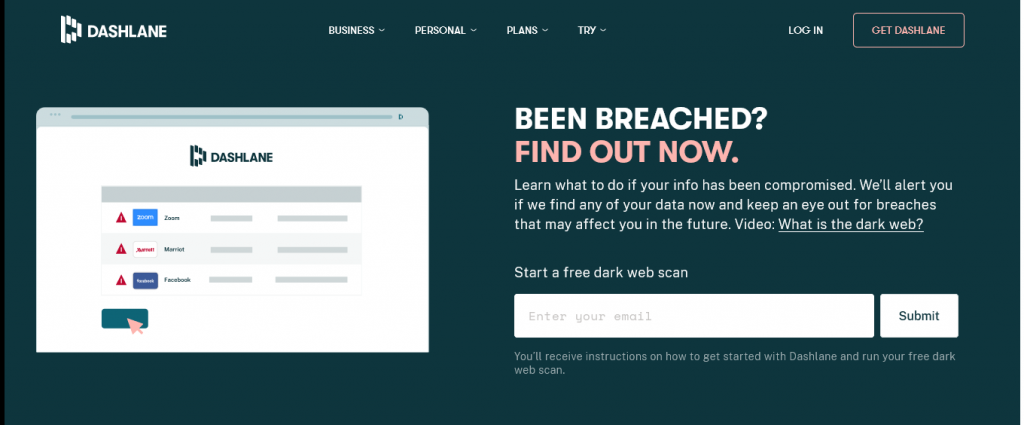 Dashlane has a Password Health feature that tells you how secure your passwords are. You can access it directly from your desktop or mobile app.
You can run it to see a password health score which shows you the total number of passwords, how many are healthy and safe and how many are compromised and weak passwords in your vault.
The software sends you instant alerts whenever a password is breached and also lets you know if any of your passwords are weak. To avoid weak passwords we suggest you use the Dashlane password generator.





Dark Web Monitoring
This password manager scans the Dark Web for any of your data that's been leaked and may be stored in a hacker's database. The scans are done in-house and if there is a problem you're alerted right away.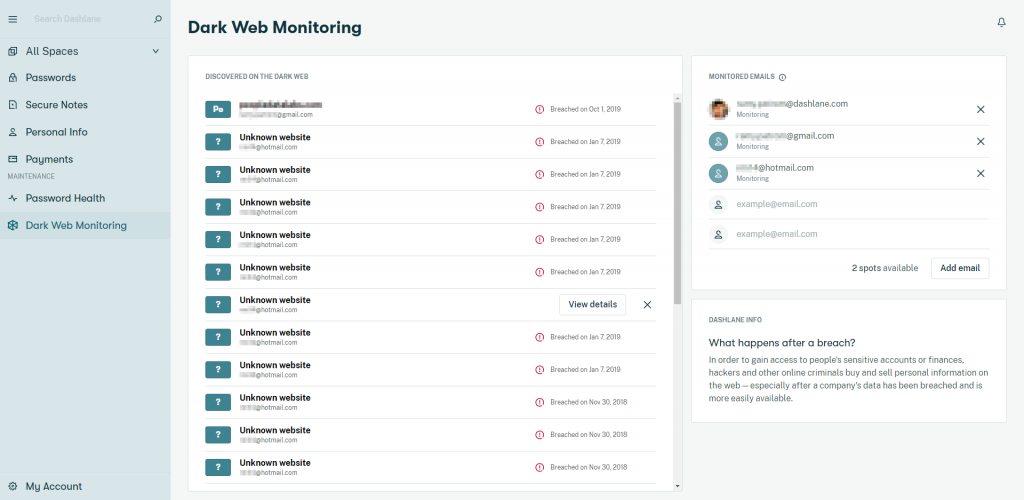 Why should you worry about your data ending up on the Dark Web? Because that's where black market data traders reside. In a nutshell, if your data ends up on the dark web, you are almost guaranteed that it will be used illegally.
---
Pros of Dashlane
It combines basic and advanced features into a neat, easy-to-use package.
You can sync passwords across all your devices (Windows, Android, macOS and iOS).
It has in-built VPN protection although with limited features.
You can use it to generate complex and secure passwords for any site.
The Dark Web scan feature protects you from extensive damage by hackers.
The Password Changer feature allows you to change hundreds of passwords with the click of a button.
It has a clean and user-friendly interface and can be used by just about anyone.
Cons of Dashlane
It is more expensive than most other password managers.
The VPN has limited functionality.
The free plan has limited features, and you can only use it for up to 50 passwords.
---
Dashlane For Desktop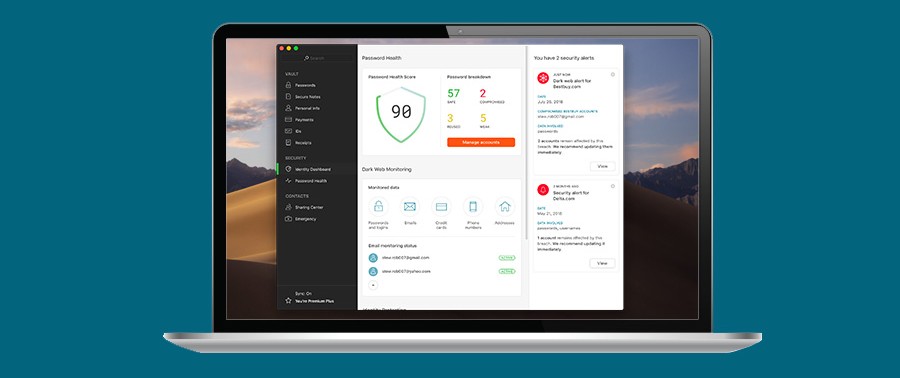 There are three ways that you can use Dashlane on desktop:
You can install the desktop app
Log into your Dashlane account on the website
Activate a browser extension
Although they come with slightly different features, they maintain a consistent look and feel, so you can easily transition from one to another.
You may want to go with the desktop app as it has the most features – the web interface and the extensions lack certain functionalities, but they have the basics and offer all the password security you need.
However, free users shouldn't expect much from the web interface as all it allows you to do is check your account settings. If you want more, you have to upgrade to the premium service.
The browser extensions work, but they are also limited. They work best if you want to quickly generate or search for a password, and they also have the form auto-fill function.
The Dashlane desktop app has everything you need. It shows your vault and shows your passwords which can be sorted alphabetically, by category, or by how often you use them.
You can also copy, edit and share passwords and you can see their history and delete them as needed.
The Password Changer feature allows you to change hundreds of passwords simultaneously.
---
Dashlane For Mobile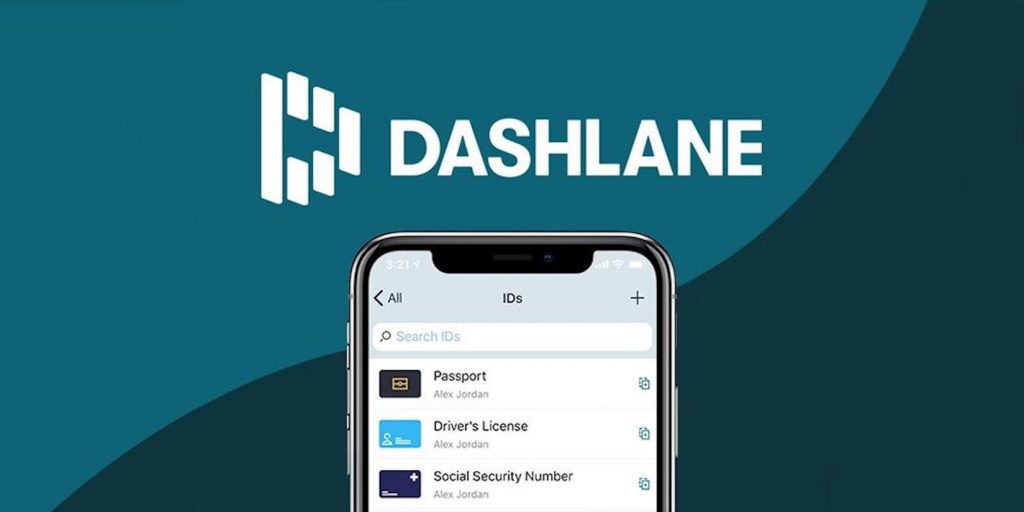 The mobile app is impressive – it is well built and has all the features that you need to access and manage your passwords. It also gives you access to the VPN, your secure notes and other important information.
It's much easier to use Dashlane for mobile on Android devices. Because Apple limits how much developers can do with 3rd party apps, you may find some features are disabled or limited.
However, Android users can log into any site by simply tapping when prompted and letting the software autofill the necessary login fields.
Note: Some websites may not be easy to navigate even with Dashlane mobile because they require tight security. You may find it difficult to log into your bank or your PayPal account using a password manager, but you can store the login details securely in your Dashlane vault.
---
Dashlane Comparisons
So far, we've seen all the great things that Dashlane can do, and some areas where it could be better. Are there other password managers that are better? Here's a quick comparison between Dashlane and two others that are considered top-notch.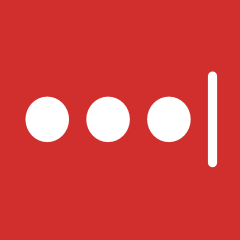 Both of these password managers consistently rank among the top 5 best, so it can be hard to decide which of them is better. However, some fine differences are worth paying attention to.
Dashlane has more security features, including the Dark Web monitoring tool, and it also provides premium users with a VPN. Granted, the VPN lacks in some important aspects, but it is there nonetheless.
LastPass has had some vulnerability problems in the past and some people aren't very happy about the privacy policy, because it states that the company "may" use your data for marketing purposes.
If we had to choose, we would go with Dashlane. That's not to say that LastPass is a poor password manager. On the contrary, it's quite good, but for what they are charging now, they should be able to take care of some of these problems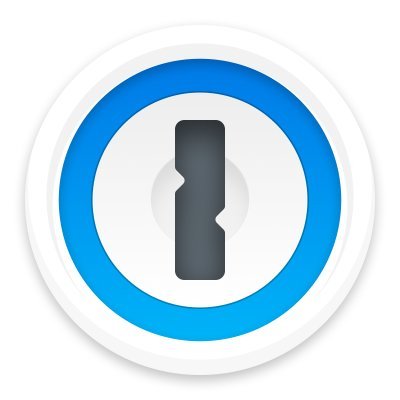 Both are solid password managers, so it can be tough to choose between the two. If you're thinking about budget, 1Password doesn't have a free plan, but it offers a cheap plan that's feature-rich.
However, if budget isn't at the top of your considerations, Dashlane has more to offer. It has a VPN for premium users and it also scans the Dark Web. It also has an intuitive user interface, is easy to install, set up and use.
---
Dashlane Pricing
Dashlane has a free plan that you can use for up to 50 passwords. However, it is rather limited because you cannot use it to store secure notes, you cannot encrypt files before you store them, it doesn't provide the password changer feature and you can only use it on one device.
Individuals and families can choose between the following packages:
Essentials – costs $2.49/month
Premium – $3.99/month
Family – $5.99/month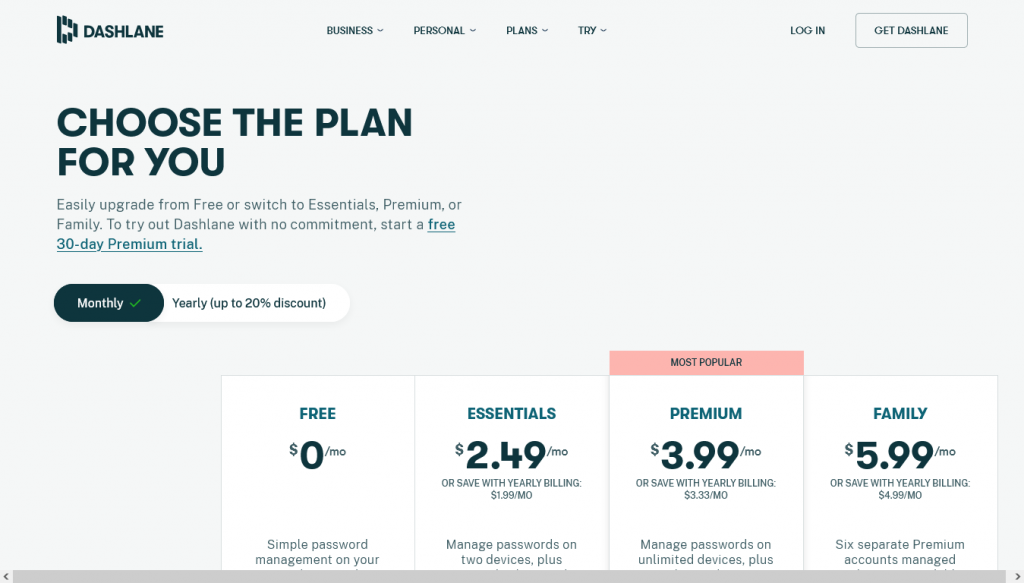 For businesses there are two tiers, and they are both billed annually:
Team – $5/month per user
Business – $8/month per user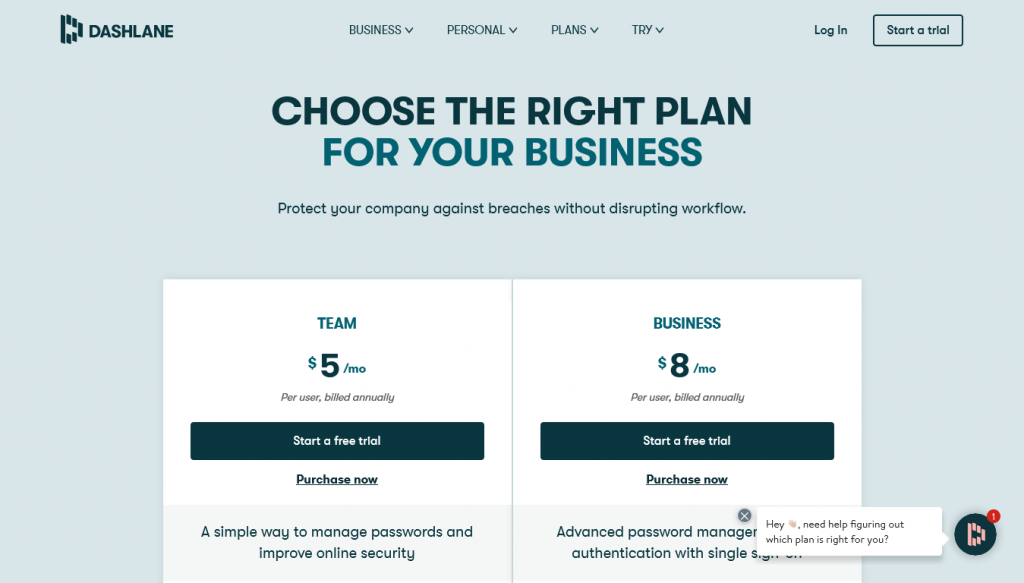 ---
Customer Support
You can contact the team through email, live chat, Twitter and Reddit. The password manager also has a comprehensive knowledge base in several languages.
Overall, their response time is quite good, and they usually respond within an hour.
---
FAQ
Yes, Dashlane is safe and it has some powerful security features. In addition to AES-256 encryption and two-factor authentication, the company provides a Dark Mode feature as well as a VPN for added security.
However, not all security features are available in the free version of this software. Users get the basics, which are enough to keep them safe from everyday threats.
The process is simple. Visit the site, set up an account, and then buy a Dashlane package that suits your needs. Install both the app and the extension for your browser.
After that you can browse normally. Whenever you visit a site for the first time, your username and password will be automatically saved to your vault.
If you have passwords on another password manager or browser you can import them through the Dashlane app.
Make sure you select the autofill feature, and the software will save you the tedious task of filling forms on sites like Amazon.
Yes, Dashlane has a free version, but it's not as feature-rich as the paid versions. You can use it to secure up to 50 passwords, it provides security alerts and reports on password health and you also get to use the password generator.
However, you don't get the benefit of features like Dark Mode, the VPN and the Automatic Password Changer.
In a nutshell, you never have to struggle to remember passwords after you buy Dashlane. It automatically collects your passwords when you log into a site for the first time, encrypts them and stores them in a secure vault. You're the only one with access to the vault, and you use a secret master password to access your data. This is the only password you need to memorize.
The Dashlane password generator ensures that each site you log into is protected by a secure, complex password that's hard to crack
---
Conclusion
If you're looking for a password manager with the best encryption and additional excellent features Dashlane comes recommended. Granted, some features aren't as good as they should be – the VPN, for example, has limited functionality.
However, as a whole, this password manager ranks among the best and you can trust it to keep your passwords and other personal information secure.