Windscribe Review – Can This VPN Keep You Safe Online?
Editor Rating:





User Ratings:





(3)
Windscribe is a new entrant in the market, but already it's making some big claims. Its website states that it's the most comprehensive privacy solution yet.
It lists features like a large network, no logs, the strongest encryption, config generators for all user devices, static IP's, port forwarding and more.
If you have any experience with VPN's you know that many make such claims but when they are tested some of the features don't hold up.
Looking at existing reviews for Windscribe VPN doesn't make things clear for users: some claim that it is a top-of-the-shelf VPN while others say that it's another wanna-be product.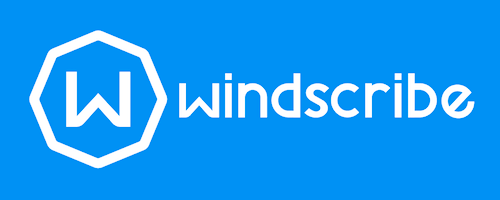 Since Windscribe is new to the market and doesn't have that many users yet we decided that the only way to know how secure it is was to test it ourselves.
This review is about the results of those tests. We will look at the pros and cons of Windscribe so that you can make up your own mind about whether it's good enough to keep you anonymous online.
Windscribe Review
This Windscribe review will look at features like speed, logging policy, number and distribution of servers and customer support. It will also delve into pricing and customer service, and you will get to see a few user reviews.
1. Speed





This is one of the things about Windscribe VPN that is confusing. Some websites explicitly mention that it is slow, while a good number of trustworthy ones say that it has decent speeds.
In the course of testing, we realized that the difference is in whether you use the free version or the paid version; the paid version offers impressive speeds so if your main concern is how fast you can connect we suggest you forgo the free offer altogether.
We looked at servers in the US, UK and Russia and for the Premium plan here's what we found:
In the US download speeds are about 30 Mbps, while upload speeds are 10 Mbps.

In the UK download speeds are 19 Mbps, and uploads are 10 Mbps.

Russia servers aren't bad either, with download speeds of about 23 Mbps and upload speeds of 5 Mbps.

If you choose free Windscribe you will see a huge difference; speeds are so slow that many people simply give up.
It is important to remember that VPN speeds are affected by a number of factors including the hardware you're running it on and where you are located.
It is fair to say that Windscribe doesn't compare to the likes of Nord VPN and Express VPN, but when compared to many others out there it isn't half bad, especially when you take into account its other features.
2. Logging policy





Logging is a major concern for any VPN user; you don't want a service that keeps information about what you do online. So how does Windscribe perform when it comes to keeping logging details?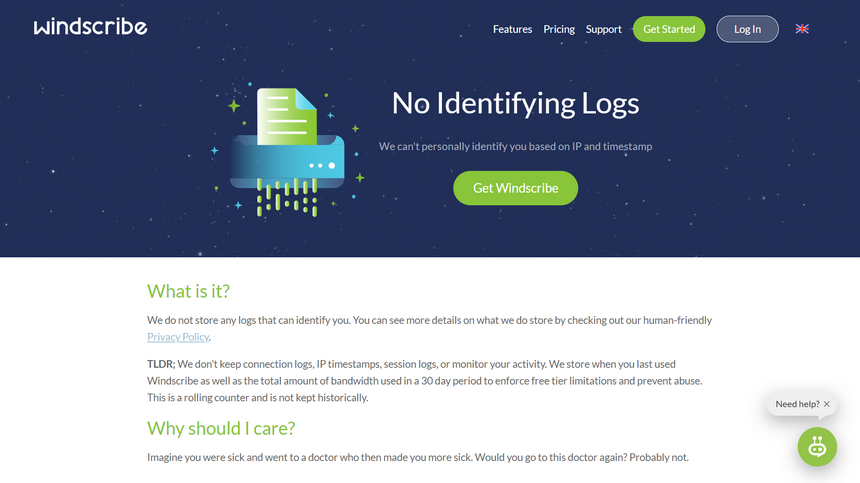 The company policy is quite clear about the information they collect: on signing up you are required to provide a user name and password. If you lose your password you need to provide an email address.
Once you're connected the VPN collects the following information: the server you connect through, your OpenVPN username, the time you connect and how long you stay connected. HOWEVER: all this information is discarded within 3 minutes of logging out of every session.
The company also logs the amount of bandwidth that you use each month. The limits are reset at the end of each month and all previous information is erased. It also uses 3rd party payment processors but all the information shared with them is trashed every 30 days.
Bottom line: Windscribe will only keep your username and password, and email address if provided. Although it may collect some additional data it doesn't keep it for any length of time.
3. IP and DNS Leaks





We did four tests for IP and DNS leaks and we found this VPN to be airtight. We used WebRTC, IP Leak Test and DNS Leak Test. For each, we found the Windscribe scored 100%.
We also checked whether the VPN exposes users to malicious software and viruses and found it to be totally secure.
4. Number of servers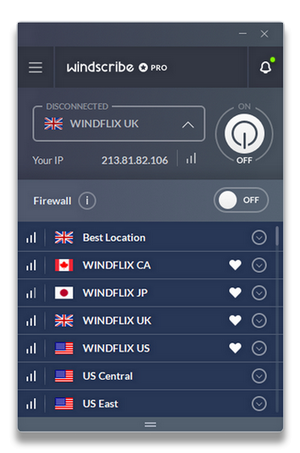 As of mid-2019, Windscibe has 450+ servers in 66 countries. It doesn't have any virtual servers. All servers are located in the countries where they are listed. Most of their servers are in North America, the EU and Eastern Europe.
You cannot compare this VPN to market leaders like Nord VPN and Express VPN which have thousands of servers in many more locations, thus much faster speeds.
However, the current Windscribe servers provide decent speeds to existing customers.
One important thing to note is there are very few servers dedicated to the free version of this software which accounts in part for the slow speeds.
5. Location





This is possibly the biggest con of Windscribe. Its parent company is in Canada which is subject to the Five Eyes Online Surveillance agreement.
In other words, the Canadian government can collect information stored in servers and use it to prosecute anyone found to be breaking the law. While the odds of this happening are slim, it can still happen, so you should decide if you are willing to take the risk.
6. Encryption





This is one of the best things about Windscribe VPN: it has the strongest encryption known to man: OpenVPN, IKEv2, TCP, UDP and SOCK55. OpenVPN is the industry standard but just to make sure that your data never falls in the wrong hands it's backed up by IKEv2.
These specs may not mean much to you if you are not an IT security professional, but suffice it to say that you cannot do better than this, at least for now. There have been no hacks on systems that use this particular combination of security protocols.
7. Netflix and torrenting





Netflix is one of the main reasons why people are choosing VPN's. When we tested Windscribe for Netflix, at first we were disappointed. But we didn't stop there.
Netflix is protective of its content, and it does everything it can to make sure that users can't gain access using VPN's.
A while back, before they caught wind, it was possible to see virtually any content from any location without restrictions. However, as soon as Netflix realized this they blocked content region by region. VPN companies have to create special software that's undetectable in order to access shows.

Windscribe has done just that. There are certain servers that you need to connect through if you want Netflix content. They call them Windflix servers, and they are located in New York, London, Tokyo and Canada.
We tested them and found that they all work pretty well, except the one in Canada (it could have been a temporary issue, so feel free to try it out yourself). You can also get BBC iPlayer.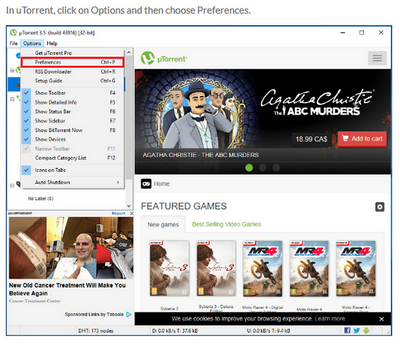 Torrenting is allowed, even encouraged on Windscribe. Users are provided with an "impenetrable tunnel" through which they can contact BitTottent peers and download content. The website goes as far as to provide tutorials on how to use common BitTorrent clients.
That said, not all servers support torrents. It depends on where the server is located; if the country has very strict digital copyright laws the servers there will not work.
Users can simply connect to servers in other countries and torrent files.
8. TOR Access





It offers a stable connection, and we didn't experience any interruptions. There is a caveat. According to customer support, "In order to use TOR, you need to download the TOR browser. You cannot access TOR/Onion websites on the Windscribe network without the TOR browser. Please use the TOR browser. Keep in mind this is a separate service from Windscribe, and we can't assist you with it further."
9. Customer Support





This is one thing that isn't to like about Windscribe. Many top VPNs have taken active steps to ensure that they provide fantastic 24/7 support. You can chat with a human being who knows what you are talking about and who can resolve an issue in a matter of minutes.
Not Windscribe; it has a chatbot called Garry that's chock-full of responses, but doesn't always understand the questions you ask. Even more annoying is that Garry can take as long as 24 hours to get back to you, and when he does it's all gibberish, nothing to do with the question you asked.
This could be one reason why Windscribe isn't making more of an impact on the market.
They have other options for customer support including setup guides, FAQs, Knowledge Bases, Subreddit and Submit a Ticket but none of these are good options when you have a burning issue.
10. Maximum Devices





You can connect multiple devices through Windscribe, which makes it perfect for home use and small businesses. However, the company reserves the right to look at each connection to see whether it supports different users, or whether all connections belong to the same client. Their policy states:
"A single Windscribe account is meant to be used by a single person, and I don't mean your marital status either. It's quite uncommon for individuals to be connected on 50+ computers, and 100+ phones at the exact same time. The bandwidth usage along with connection counts are used by our real-time monitoring system which looks at the "worst offenders" and makes a decision if this user is potentially abusive or not. Then a human makes a decision to ban the account or whitelist the "abuse" in case of a false positive."
Bottom line: you can share it with someone else at home or at work, but if those connections appear inorganic your account may be terminated.
What are the cons of Windscribe?
There are two main cons of this VPN:
That it is quite slow compared to others in the same price range in the market, and
The customer support sucks.
Also, for those who worry about governments getting hold of their data, this is definitely not the right VPN choice.
Windscribe VPN Pricing
There are three pricing plans that you can choose from:
Monthly Plan at $9/month
Yearly plan at $4.08/month
Build a Plan at $1 per location per month
You can pay for team accounts ($3 per seat per month) and static IP's.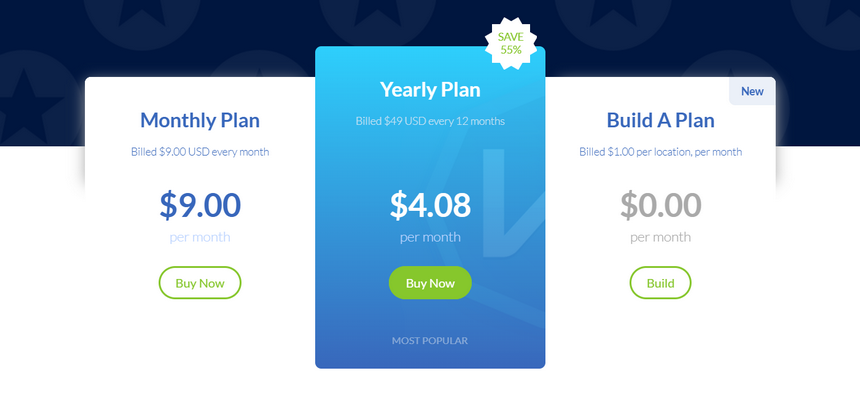 Although the website states that refunds are possible, on closer inspection, it appears that you have to meet some strict requirements to get your money back.
The refund policy states that you are strongly encouraged to try the free version of the VPN to determine whether it's the right choice.
You are required to ask for a refund within 3 days of payment, and you have to send a written request to the support desk. You only qualify for a refund if you bought directly from Windscribe.
Do we recommend Windscribe?
Yes; it is not as fast as Express VPN or Nord VPN, but it has strong features that set it apart from many other VPNs in the market. It has very strong encryption and no IP and DNS leaks and it is good for Netflix and torrenting.
Its Canadian location makes some wary, but remember the company doesn't collect any significant data about users. What it collects it doesn't keep, so there is no exposure.
Customer Reviews
Oliver0809 is very happy with Windscribe:
"After a very bad experience with NordVPN I have changed to Windscribe. Windscribe is the best VPN I have tried so far and it works perfectly. Also, I think it's a good practice to give you a real trial first so you can test the VPN first before buying an expensive subscription."
Luke thinks Windscribe is doing a great job and should keep it up:
"Windscribe has come a long way from when they started, I hope they stick to there guns about the zero-knowledge stance, and remain a VPN service that people can trust.  If windscribe dig there heals in and continue to provide this private reliable service, they will certainly be a favorable one. At the moment, these guys are one of the best!"
Elijah Gale is very happy with this service:
"Windscribe is the best free VPN service I have ever used.  It is safe, fast, and has computers in every country we need to do any business in (North America and Europe.) I recommend it to anyone who needs a safe (military-grade encrypted) fast VPN for free even if the free standard version is only 10GB/month of data."