HideMyAss Version 5 Review: Everything You Should Know
Editor Rating: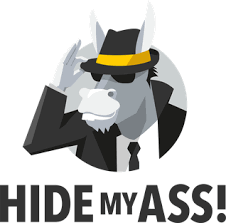 HideMyAss has been a popular VPN since it launched in 2005. Owned by security giant Avast, it has more than 10 million users worldwide. However, if you look at some top review sites you will find that HideMyAss doesn't usually come in the top 5 or even 10 VPNs.
We were curious about this, and we decided to do our own HideMyAss VPN review so that we could see what it has to offer. How is it that this service, which is trusted by so many to provide anonymity and security online, doesn't seem to make the cut in reviews? It has interesting origins, so let's start there.
A Brief History of HideMyAss
Jack Cator was only 16 years old when he created HMA! He attended a school that placed network restrictions on some courses, and fed up with this, he realized that he could write a program that went around these restrictions.
In just a few hours, and using open source code, he created a free website that users could use to access restricted content using a special URL he would give to them.
Cator realized that he had gold in his hands, created HideMyAss and started to promote it on online forums. Before long he had amassed more than 1000 users and he went on to incorporate ads as a way to make money.
Jack Cator joined college but soon dropped out to focus on HideMyAss. He built a VPN using freelancers and within 3 years he had offices in London, a fully functional VPN and permanent staff.
In 2012 the company ran into some trouble. One of its clients had used the service to hack into SONY, and when asked to provide information about this individual and his online activity, HideMyAss complied.
While HMA! continues to grow, it's had to deal with security concerns. In 2017 the company was ordered by Russian authorities to provide access to information on users in that country or face a ban. Rather than comply, the company chose to move its servers out of Russia.
HideMyAss version 5 is an attempt to deal with these issues. We will look at all the features of the VPN as well as the new additions and improvements.
What Will The Review Cover?
We will look at the following features in detail, as well as improvements, if any, in the new version.
Logging policy – New and Improved
Speed – Good
IP and DNS leaks – None
Number of servers – Lots
Location – United Kingdom
Ease of use – Great
Encryption protocol – Great
Netflix and torrenting – None
TOR access – Good
Number of devices – 5
Customer support – Good
1. Logging Policy





The logging policy of any VPN service is important; it tells you whether they keep a record of your activity, how long they keep it for, and who has access to it. The best VPNs are those that have a strict no-logs policy. This means that they do not collect any user information.
The reality is, all VPNs collect some information about users. It helps manage the service. What distinguishes a good VPN from a bad one (when it comes to logging policy) is how much information they collect and how long they hang on it.
The best VPN providers will collect as little information as possible and destroy it often. Should they be compelled to provide details about their clients, there really isn't that much to give.
In the past, HideMyAss stated in its user policy that they collected the following information: user name, connect and disconnect times, upload and download data, user IP address and the VPN server that was used to connect.
The company also monitored user activity so that they could improve servers, keep fraud and malicious software in check and prevent illicit activity.
While some of the information collected by HMA! was innocuous, some of it was quite troubling. The fact that they kept track of IP addresses and server information meant that users could be tracked down.
We already mentioned that one HMA! client used the software to hack SONY. His information was handed over to the FBI, and he is now in jail.
Of course, you didn't have to worry about this if you didn't use your VPN for anything illegal, but for those who like to be completely anonymous, HideMyAss was not the ideal VPN solution.
HideMyAss Version 5 Logging Policy Update:
In regards to data logging HMA! has made a significant and important change in the latest update: they no longer collect IP addresses, activity logs and DNS query information. This is a great improvement as users can no longer be tracked to their locations.
All data that is collected is destroyed after 30 days.

2. Speed





HMA! may not have a great reputation when it comes to logging policy but it does quite well for speed. It isn't the fastest VPN – there are others like Express VPN and Nord VPN that are faster – but what makes it the preferred choice for so many is that the speeds are decent and they are consistent.
When you connect a device through a VPN it is slower; since you are connecting through a proxy you can expect to lose some latency. Speeds are also affected by your location (the server that you connect through) as well as the kind of device you're using.
For this review we tested HMA! speeds in Warsaw, London and New York and here is what we found: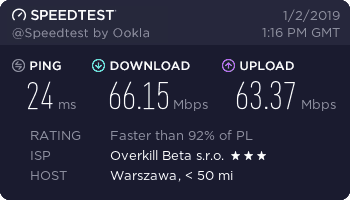 Warsaw: Download: 65 Mbps, Upload: 60 Mbps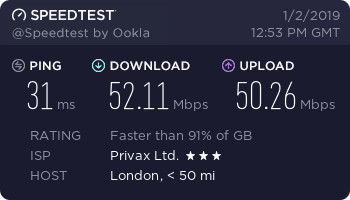 London: Download: 55 Mbps, Upload: 50 Mbps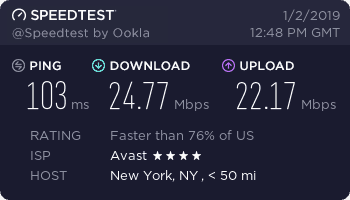 New York: Download: 20 Mbps, Upload: 15 Mbps
Unlike many other VPNs, if you change continents you won't notice much difference in speeds with HMA! This is because their servers are well distributed in locations across the globe.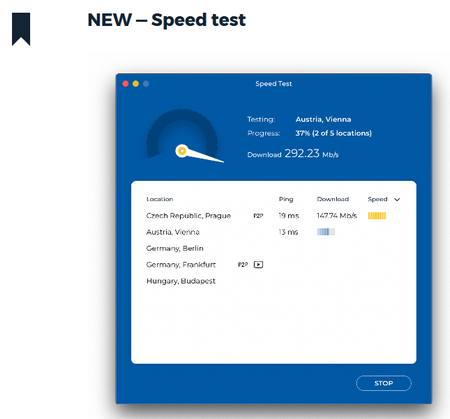 HideMyAss Version 5 Speed Update:
HideMyAss speeds weren't bad to begin with but now it's even better with the new Lightning Speed feature. Now, each time you log in, you are connected to the fastest server closest to your location.
All core data servers have 20 Gbps output and all others have a 10 Gbps output.
A new Speed Test feature on the website allows you to test speeds yourself to see that you are indeed connected to the fastest servers.
3. IP and DNS Leaks





When a VPN has IP or DNS leaks it means that when you are connected others can see you. A good VPN ensures no IP and DNS leaks. There are tests that you can use to test for this.
They include WebRTC Leak Test and DNS Leak Test. We ran both these tests and we found HideMyAss to be secure.
We ran one additional test, the VirusTotal.com test. It's used to check whether VPN installation files have malicious code, and we found them to be clean too.
HideMyAss Version 5 IP/DNS Leaks Update:
The new version has IPv4 and IPv6 for added protection against IP and DNS leaks. All DNA requests are handled through HMA! servers so data is secure at all times.
You are also safe from malware and phishing.
4. Number of Servers





One of the places where HMA! is ahead of many other VPNs is server numbers and location. The company has 1100+ servers in 190 countries that are spread over 290+ locations. Wherever you are, you can be sure that there is a HideMyAss server not too far away.
Some VPNs have thousands of servers, but they are located on two or three continents. Not HideMyAss!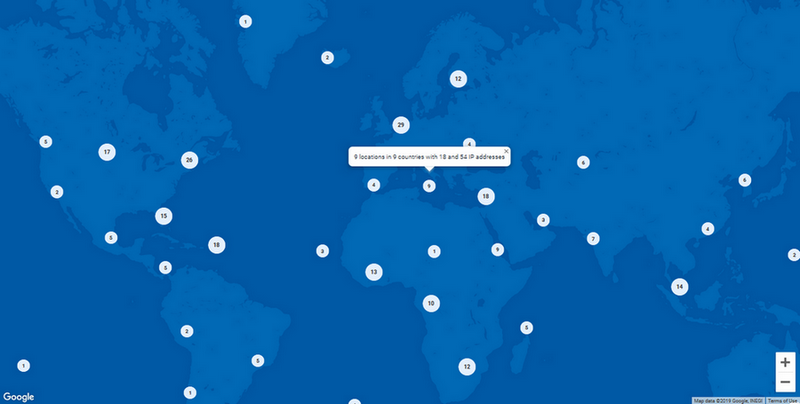 The distribution of servers is excellent: 254 in Europe, 161 Asia Pacific, 259 in North America 114 in Africa, 41 in South America and 31 in the Middle East.
HideMyAss Version 5 Servers Update:
Servers are now organized by continent and then by country and then by city to make them easier to find.
You can find city-level servers using a drop-down menu in each country.
5. Location





This happens to be one of the biggest criticisms of HMA! The company is owned by Privax in the UK. The UK is a member of the 5-Eyes Security Alliance and is therefore quite keen to find out what happens behind the closed doors of VPN companies.
Does this mean that HMA! cannot be trusted? Not quite. Before you dismiss it, think about the fact that they no longer mine IP addresses, and all the information that they collect is destroyed every month.
However, the company has been known to suspend accounts for users who violate copyright laws.
Our advice is this: this VPN is great for business and home use so long as you don't use it for anything illegal. Millions of people still use HMA! without concerns about location because they are not engaging in any sort of activity that would get them in trouble.
6. Ease of Use





One of the things that makes this VPN so appealing is that it's very easy to use, even for those who have no experience with VPNs. Just download the app and enter the authentication code, and you can start surfing the web anonymously.
The login interface is rather straightforward: enter your user name and password and you are taken directly to a screen where you can connect to the closest and fastest server. You can choose Instant Mode, Location Mode or Freedom mode, and it's easy to change settings.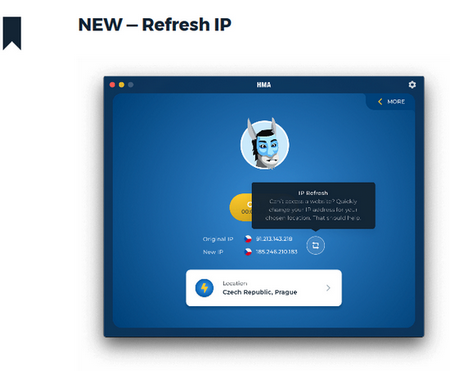 HideMyAss Version 5 User Interface Update:
IP Shuffle is a new feature that allows you to change your IP address so that you can access websites faster. The shuffle button is easy to locate, and all you need to do is click on it.
A smarter kill switch means that should you lose your VPN connection there are no data leaks.
The new split-tunneling feature allows you to choose which applications you would like to go through the VPN.
HMA launches automatically to ensure you are protected at all times.
7. Encryption Protocol





Encryption is a complicated way of saying "to scramble data". When you send data over a VPN, for additional security it's scrambled into an unintelligible mush, and then unscrambled when it reaches its destination. The stronger the encryption, the safer the VPN.
HideMyAss uses AES 256-bit encryption which has a gazillion encryption combinations so you don't have to worry on that front; the VPN uses very strong encryption technology.
HideMyAss Version 5 Encryption Update:
For Windows and android, there is OpenNPN protocol in Galois Counter mode with 4096-bit RSA handshakes authenticated with SHA256. For Mac and iOS there is IKEv2/IPSec on top of Apple's own stack.
You can choose which network you would like to connect through. Go to the settings and choose to connect through a wired connection, Wi-Fi or mobile network and you will be connected automatically every time.
All servers are protected using 256-bit encryption.
You are protected against DDOS attacks.
All this sounds pretty technical; don't worry; all it means is that HMA! has top-level encryption.
8. Netflix and Torrenting





Things get a little bit complicated when it comes to HideMyAss for Netflix. If you try to stream content, you will be able to connect to the site but you cannot stream content.
The only servers that can be used to stream are in a fictitious location, Liberty Island, but they don't work all the time. There are times when you can stream through the 2 servers in this location all day, but at other times you are only able to stream for a few minutes. Some users report good experiences with Netflix and other content providers. Others report horrible difficulties.
Bottom line, if you are looking for a VPN so that you can stream Netflix HideMyAss is not the answer. There are VPNs that do a better job.
It was expected that the new update would take care of this problem but nothing appears to have changed.
HideMyAss doesn't directly prohibit torrenting, but neither does it encourage it. This isn't unusual; there are many VPNs that don't ban torrenting, but aren't explicit about allowing it either. HMA! is the same.
Many users are able to torrent with HideMyAss without any issues, but keep in mind that the company can suspend your account if they deem your file-sharing activity unlawful.
If Netflix and torrenting are the primary reasons you want a VPN you should find alternatives that work better.
9. TOR Access





TOR works quite well with HideMyAss. You won't find much about it on their website, but a quick search reveals that many HMA users are using TOR without problems. The only complaint, and this one is to be expected, is loss of speed.
10. Number of Devices





One of the things that users want to know before they buy a VPN is how many devices they can connect using one license. HideMyAss can be used to connect up to 5 devices at the same time. You get unlimited installs, but only 5 people can use the VPN at once. It's perfect for home and small business use.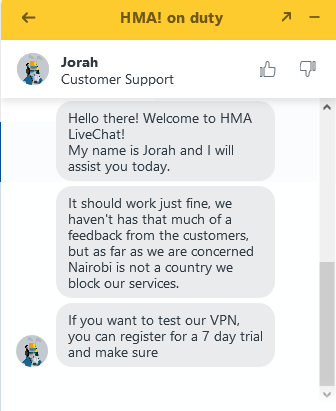 11. Customer Support





There is a "Help" button on the HideMyAss website, and if you click on it you are taken to a page that has "Everything You Need to Get Started", "Knowledge Base" and "Community". Between these three you can get lots of answers, but as we know, when it comes to VPNs sometimes you need to speak to a support person.
HMA! has a Live Chat option and although when you first click on it you get a bot called Donkey, a human rep soon comes online and answers your questions. They seem to be quite knowledgeable.
What Are The CONS of HideMyAss?
In the past, many reviews didn't give HMA! a very positive spin. The main concern was the fact that it logged and retained IP addresses for up to 3 months. The latest version has taken care of this issue, and now it's pretty much like other top VPNs.
Its location and the fact that it doesn't allow Netflix are the two other major cons of this VPN. It is also blocked in some parts of China.
HideMyAss Pricing
HideMyAss offers a pretty good pricing package, and if you compare it with other VPNs in the same price range you will find that it offers excellent value for money. There are 3 packages that you can choose from:
$11.99/month for a 1-month plan
$4.99/month for a 12-month plan
$2.99/month for a 36-month plan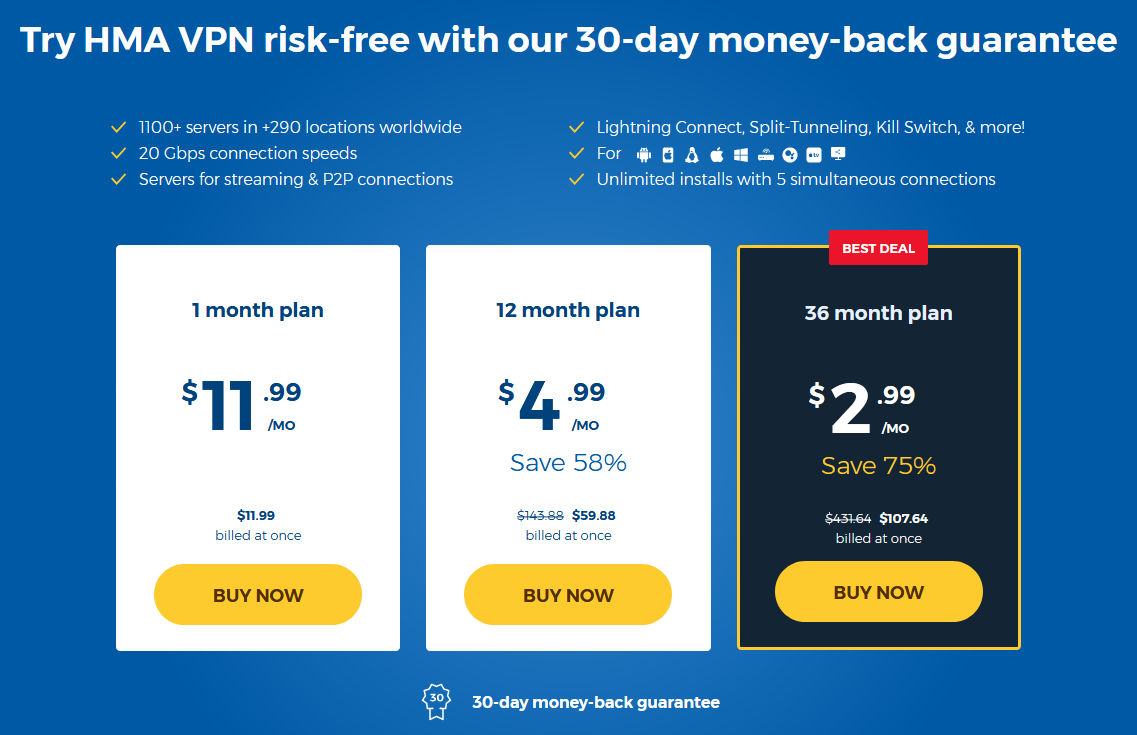 All plans have a 30-day money-back guarantee and you get 24/7 customer support. You can pay by all major credit cards and PayPal.
30-Day Money Back Guarantee
Do We Recommend HideMyAss?
Without any hesitation, the answer is yes, we recommend HideMyAss for home and business use. It's fast, the speeds are consistent, it has great data encryption, no IP or DNA leaks and it is affordable. It's also easy to use and has good customer support.
If you don't do anything illegal and you aren't looking for frills like Netflix or torrenting this is a good, reliable VPN service.
HideMyAss User Reviews
Dejan is happy that the service is no longer logging user IPs:
"Overall as just for changing the IP, it's really good service, you have a lot of options, all the logs, a variety of servers. The bad thing about this VPN is torrenting isn't going to work, which is not that good compared to the price you are paying for service. Also I think this is just my case, but still, I had an issue where my connection would drop randomly after equal interval of 20/30 mins."
Matt likes the easy user interface and the speed.
"HideMyAss works well. The UI is fantastic and the service is fast, which would probably make it more appealing to users unfamiliar with VPNs.
Ralph likes that he can travel and surf anonymously without any issues:
"I've been using HMA for 5 years. I've never had any issues with them. For work, I have to travel a lot and keeping myself private is really important to me, HMA hasn't let me down. Some of the locations are blocked but not that important for me. They still have servers around the world which are good enough for a novice user as myself. Good provider!"