StrongVPN Review – Pros & Cons of a Popular VPN
Editor Rating: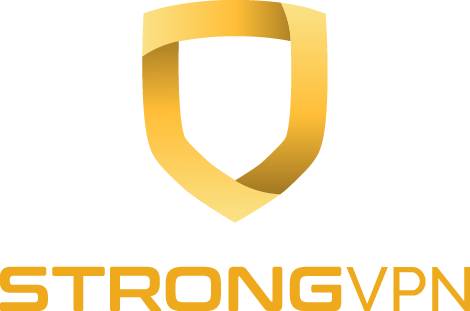 While names like Express VPN, Nord VPN and IPVanish are well known in the VPN industry, StrongVPN is not. It flies under the radar, which is surprising considering how long it has been around. Given that the company, Strong Technology LLC, was established in 2005, one would expect that it would be better known, provide superior service, and be a household name.
But this isn't the case. It is still relatively obscure, and although this VPN has some strong features, it also has some weaknesses that are hard to overlook. That is not to say that it doesn't work. It is one of the most secure, and if you are looking for Netflix, it is one of the best.
Top 3 selling points for StrongVPN:
A very strong encryption
One of the best for unlocking Netflix
It has better customer service than most
To help you decide whether it's right for your home and/or business we have done an in-depth review.
---
StrongVPN Features
Logging – None
Speeds – Medium to slow
User interface – Good
IP and DNS leaks – None
Encryption Protocol – Great
Number and distribution of servers – 950+
Location – United States
Netflix & torrenting – Great
Number of supported devices – 12
Customer Support – Great
Pricing
User reviews
---





Logging
Whether a VPN logs user data or not matters a great deal. Most paid VPNs claim that they do not log information, but to be fair, every VPN collects some information in the process of signing customers up. They will take your email address and payment details as they need this information to run the business smoothly.
Here is what differentiates the best from the rest: they destroy all the data they collect within a very short time, or they ensure it cannot be traced back to users.
So how does StrongVPN do when it comes to logging user data?
This is one of the best features of this service. It is very clear about the information it collects and what it's used for.

30-Day Money-Back Guarantee
During account set-up they will retain your email address and payment information. These are used to collect payments, create new accounts, communicate with subscribers and assist in troubleshooting.
After you are signed up they do not collect any information when you log on through their service. There is no record of what times you log on, what sites you visit or how long you stay online.
---





Speeds
StrongVPN doesn't do very well when it comes to speed. This is hard to understand when you take into account that it has been around for 15+ years. The company has worked very hard on other features, but not speed.
That is not to say that they are horrible, not by a long shot. But it isn't a fast VPN. We tested various servers, and here is what we got:
The fastest download speed you'll get is about 70 Mbps, while for uploads you'll get about 48 Mbps. Here is what we were able to get: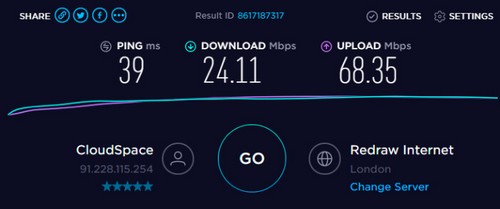 For the London server we got download speeds of 24.11 Mbps and upload speeds of 68.35 Mbps.
In Warsaw download speeds were 23.63 Mbps and upload speeds were 40.66 Mbps.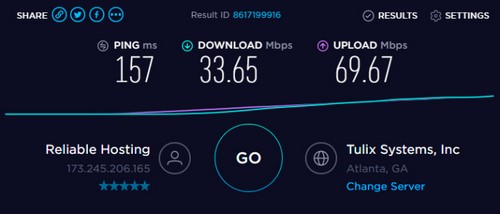 The Atlanta server had download speeds of 33.65 Mbps and upload speeds of 69.67 Mbps.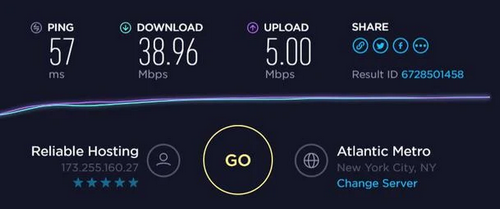 In New York download speeds were 38.96 Mbps and upload speeds were 5 Mbps.
These are not the best speeds, but keep in mind that they can vary depending on where you are and the device you're using. In some places you will get higher download and upload rates.
Also, speed is not the ultimate measure of a VPN. Many people will choose a slower VPN that offers stable speeds rather than a fast one that is inconsistent.
At the end of the day it's really up to you; if you prefer reliability, then StrongVPN may be a good choice.
---





User Interface
You may see reviews that criticize the StrongVPN user interface, calling it clunky and outdated. It used to be the case but not anymore. The company invested in a complete overhaul in 2018, and the interface is now sleek, modern and inviting.
After you purchase, you are provided a link that installs a simple app on your desktop, and there is no need to restart your computer or mobile phone.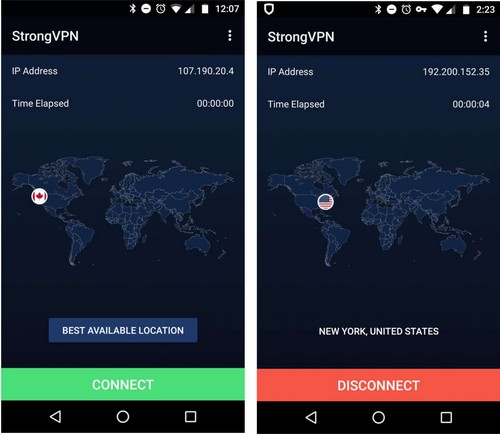 You can then choose your server, and you will see an interface with your IP address, your server and connection status.
---





IP & DNS Leaks
The reason why people invest in a VPN is so that they can stay secure whenever they are online. If there is an IP leak it defeats the purpose of the software.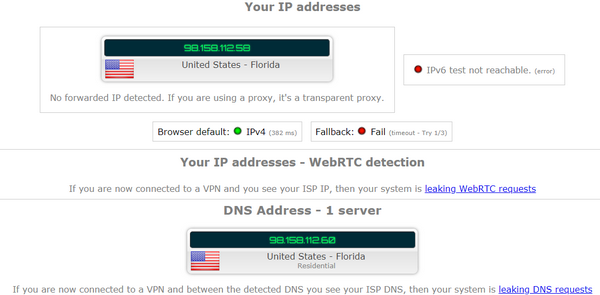 When we conducted tests to see whether there would be any IP or DNS leaks we were pleasantly surprised. Every server we tested came back completely leak-free.
The VPN has a Kill Switch, so in case your internet connection fails your system is secure.
---





Encryption Protocol
Encryption is all about encoding data in such a way that it is meaningless to all but whoever has the decryption key. VPNs use special protocols that are impossible to decipher. Data is encoded when it leaves your computer and decoded when it arrives.
One of the reasons why people choose StrongVPN is because it has such strong encryption protocols. They include IKEv2, L2TP, SSTP, OpenVPN and IPSec.
These, bundled together with AES 256-bit subscription, ensure that you are safe at all times.
These are the same encryption protocols that are used by the US government, so with StrongVPN you are as safe as you will ever be.
---





Number & Distribution of Servers
According to its website, StrongVPN has 950 servers in more than 30 countries. It recently announced new servers in Charlotte, Dublin, Glasgow, Lisbon, Mumbai, New Orleans, Santiago, Taipei and Tallinn, so it looks like they are trying to strengthen their presence in Europe and South America.
The company doesn't have any servers in China, but it works very well there and is one of the recommended VPNs for those traveling to China and Hong Kong.
Although there is a map on the app that shows server locations, you cannot click on them to connect. Instead, you have to click on "Location" to get the list of servers by country and city.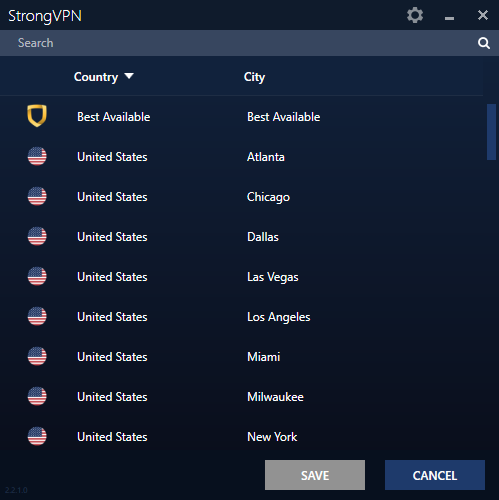 If you leave it at the default option, which is "Best Available", the app chooses the nearest server that has the highest bandwidth.
Unfortunately, servers aren't labeled, so you cannot know which one is suitable for what you want to do. If you want to connect to Netflix, for example, you will have to guess or talk to customer support.
You also cannot see the server speed, latency or load, so you have to keep trying until you find one that is working fast enough.
---





Location
StrongVPN is in a problematic location. It is in Lake Tahoe, along the California-Nevada border. The United States is a signatory to the 5, 9 and 14 Eyes Alliance agreements, and can compel private companies to surrender customer data.
This shouldn't dissuade you from using this VPN. Remember, the company has a strong no-logs policy, which means they know next to nothing about you.
If they are issued a warrant or subpoena they do not have client information to surrender, and you are safe. In all the time it has existed Strong Technology LLC has not compromised its clients in any way.
---





Netflix and Torrenting
When we started testing StrongVPN we were almost positive that it would fail when it came to Netflix. We were pleasantly surprised.
You can use this VPN with ease. Where other VPNs struggle to bypass restrictions imposed by Netflix, StrongVPN seems to have figured it out. Not only can you unlock Netflix, but it also streams without buffering which is rare.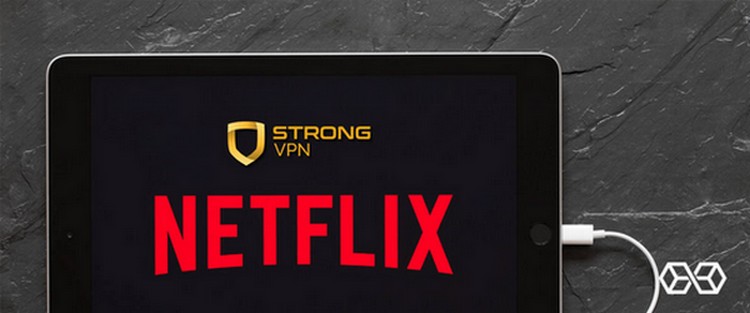 In addition to Netflix, we got through to Hulu, BBC iPlayer and Amazon Prime.
We were able to connect through the servers we tested, but there is no guarantee that you will connect through a given server. It is a matter of trial and error, but to save time you can contact customer support.
StrongVPN also works well for torrenting.
---





Number of Supported Devices
The higher the number of devices a VPN can support, the better. Some of the fastest VPNs in the market fail in this aspect because they allow only 5, and sometimes as few as 3 connections.
For families this is hardly enough when you consider that each family member has at least 3 devices (phone, tablet, laptop). For businesses it is an added cost as multiple licenses are required to secure all employees.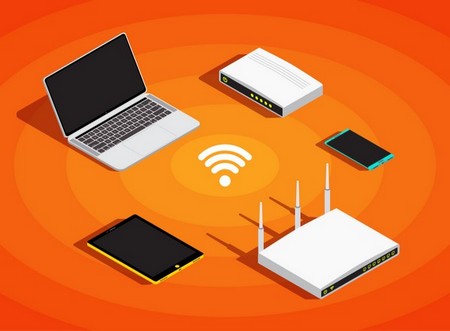 With StrongVPN you can connect up to 12 devices simultaneously, which makes this great for family use and for small businesses. It is compatible with most routers.
If you would like to connect StrongVPN to Kodi, Fire Stick, Fire TV, Xbox, PlayStation, Smart TV or Apple TV, the best and easiest thing to do is to buy a router. There is a detailed router set-up guide on the website.
---





Customer Support
This is another aspect of StrongVPN that works extremely well. VPNs are notorious for poor support. Even the best have a hard time when it comes to dealing promptly with customer issues.
StrongVPN is different. They have a Live Chat feature that is available at all times, and at the other end is a real person who can answer questions properly. We sent them a query, and they got back to us in a few seconds.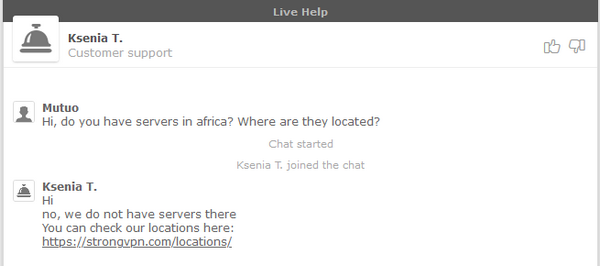 On their website you will also find detailed set-up guides, billing support, technical support and FAQ. There are also featured articles that tell you more about the software and how it works.
If these support features don't work you can always call. There is someone available to answer your questions from Monday to Friday during business hours.
---
Pricing
Some reviews speak very strongly about StrongVPN pricing; they feel that it's too high especially when you take into account the speeds. True, there are cheaper VPNs in the market that are faster, but to get onto their cheap plans you have to subscribe to their 12-month plan.
CyberGhost and Surfshark, for example, have plans that cost less than $3/month, but to enjoy them you have to lock yourself into a long-term plan.
StrongVPN has two pricing plans:
The monthly plan, which costs $3.19/month.
The 12-month plan which costs $2.13/month.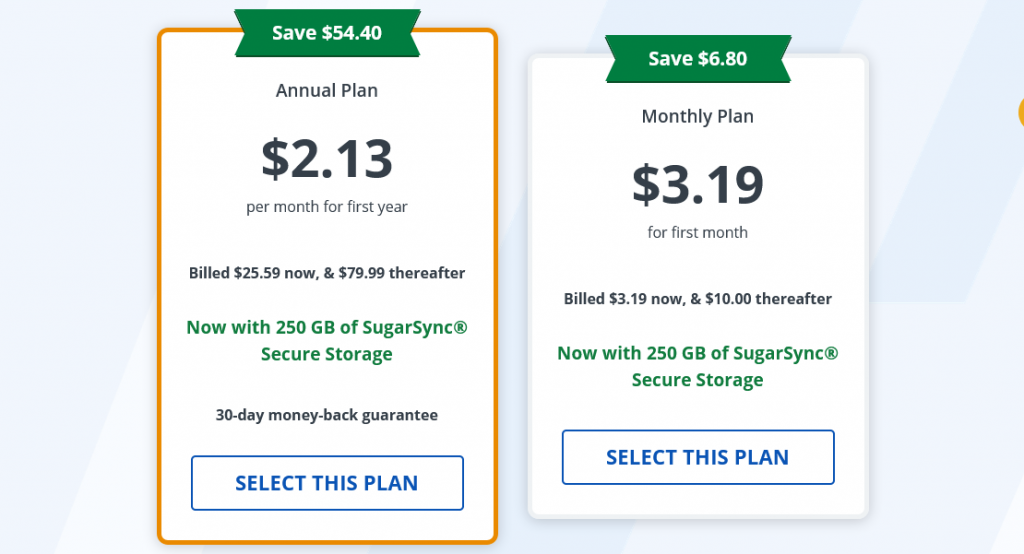 30-Day Money-Back Guarantee
There is a 30-day money-back guarantee for both plans.
---
Do We Recommend StrongVPN?
If you are a seasoned VPN user who has tried the likes of ExpressVPN, NordVPN or IPVanish, StrongVPN may not be ideal for you. You may get frustrated by its shortcomings.
However, if you are a beginner this VPN comes recommended as it has no-frills, is consistent and has great customer support.
Even with its drawbacks it has a huge customer base and continues to deliver, so it is our opinion that StrongVPN shouldn't be underestimated.
---
User Reviews
Mike thinks the service works well: "I was using Strong VPN with a desktop in China in 2010-11, and can vouch for pretty much everything in this review… a few duds, slows things down a bit, and changing servers troublesome; but good customer service/tech support and it does basically work, with no logs."
Brent says it's the best VPN he has tried so far: "I have tried about all VPN services worth trying, but I always wind up back with StrongVPN, it is not the fastest but does the job as intended. It is highly recommended, and I am not wasting time trying to find anything better, it does not exist on the private market."
Wesley is also happy with the service: "I have used StrongVPN for probably 10 years. I needed help from support a couple of times with excellent experience. Their instructions were clear and everything just worked. Speed has always been good for me. At home, I have a fast internet connection and I can't tell it slows anything down at all."